When meal delivery services first started to gain popularity back in 2012, there were really only a handful of big brands out there to choose from, the majority of which were meal kits (where you make the meals yourself).
Over the years though, the meal delivery service industry has evolved at an incredible pace. Today, the number of pre-made meal delivery services available are starting to outnumber the meal kits. Why? Now, more than ever, people are craving convenience.
One of the most popular of those pre-made meal delivery services is Fresh n Lean.
Its meteoric rise is something we've covered for years here on Food Box HQ, as well as over on our YouTube channel.
However, just because Fresh n Lean is a popular pre-made meal delivery service doesn't necessarily make it the best option for everyone.
Today we're going to review everything you need to know about Fresh n Lean, including our personal experience having used it since 2015, all the way to today.
Why trust this review? Here at Food Box HQ we've spent over five years purchasing and testing every pre-made meal delivery service that has the ability to ship to us. Since 2015 we have ordered over a dozen different boxes from every meal plan Fresh n Lean offers. This review adheres to a strict review methodology (which you can view here). We never allow sponsored content or brands to have any input on the content we create. This is to ensure that our reviews stay as unbiased and impartial as possible.
How Fresh n Lean Got To Where It Is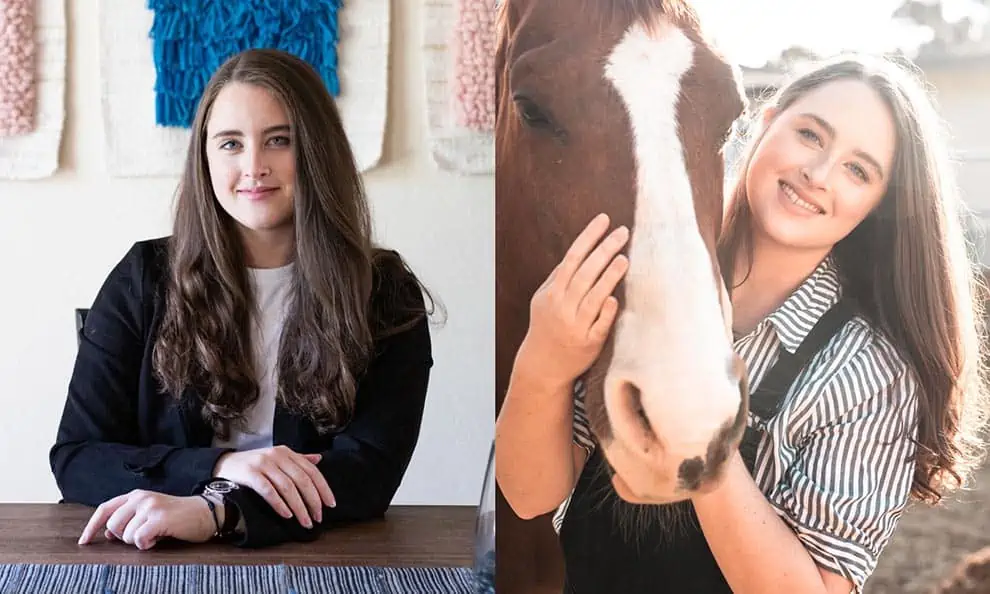 The story of Fresh n Lean starts unlike many of the other meal delivery services out there (many of which were backed with funds from angel investors and venture capital firms).
In 2010 Laureen Asseo, the founder and CEO of Fresh n Lean, was 18 years old and attending the Fashion Institute of Design & Merchandising when she found out her father was facing severe health issues due to his poor eating habits.
In order to help him, she took it upon herself to start crafting nutritionally balanced recipes and cooking him meals.
In episode 40 of "Behind Her Empire" where Laureen is being interviewed she's asked about this time in her life and she recounts it as a pivotal moment by saying, "It really was an eye opener that [my father is] not the only person that suffers with this in our country. We have a very unhealthy population."
She began meal prepping vegan meals for her father in an effort to help with his health. Over the course of 8 months, he ended up losing over 80 pounds and, in the process, his doctors gave him a clean bill of health.
It was then that people started to take notice of what Laureen was doing with her meals and how it was having real-world positive effects for her father. She began getting requests from others who wanted her to cook and prep their meals as well.
From there, Fresh n Lean was born.
Laureen worked through the rest of her college years and after graduating on building Fresh n Lean up to where it is today.
Through the years they have grown to include more than just vegan meals and now offer plans that cover a variety of different diets (which we'll be covering more below).
For more information about Laureen and how she worked to grow Fresh n Lean in the early days, challenges she overcame, and more, I highly recommend listening to the podcast I mentioned above (embedded below).
How Fresh n Lean Works (Joining & Choosing Your Meals)
Fresh n Lean works similarly to many of the other popular pre-made meal delivery services out there, such as Freshly or Factor Meals. They send you fresh (not frozen) meals on a weekly basis based on the specific plan you choose.
Upon going to their site, you'll have the ability to start out by reviewing which meal plan is best for your lifestyle. What I appreciate here is that Fresh n Lean shows you the full menu for the upcoming week (not simply example meals). I've had experiences in the past, signing up for other pre-made meal delivery services, where they do not tell you which meals you are actually going to get to select after signing up. This can be a headache if you sign up for their service only to find out they don't offer any meals you'd actually enjoy eating.
After browsing the plans and menu, you can make your final decision. It's here where you can start to customize your plan to really fit your needs. In order to do this, they ask you the following questions:
How many meals do you want each week? You can select breakfast, lunch, and/or dinner, as well as 5 days or 7 days worth of meals.
Do you have any allergies or food preferences? They allow you to exclude 3 individual ingredients from a list of over 20 and you can exclude meals based on certain allergens. We'll go over the specific food allergies and diets they accommodate a bit later in this article.
Do you want to add any additional meals or snacks? If yes, they allow you to add snacks such as nuts and granola, as well as meals and bulk orders of meats and sides. They even have a small section for accessories such as a portable meal heating unit and a freezable lunch bag, both great options for those who eat on the road or on the go.
After filling everything out, you can checkout and from there you're billed weekly based on your customized plan.
Having tried and reviewed dozens of pre-made meal delivery services, I've never encountered a one that allows you to personalize your plan to the extent that Fresh n Lean does. The level of detail you're able to customize is surprising. Not only can you make adjustments to the plan diet (e.g. keto, paleo, vegan) but also exclude ingredients you aren't a fan of eating or you're allergic to.
My Thoughts On Fresh n Lean's Meal Plans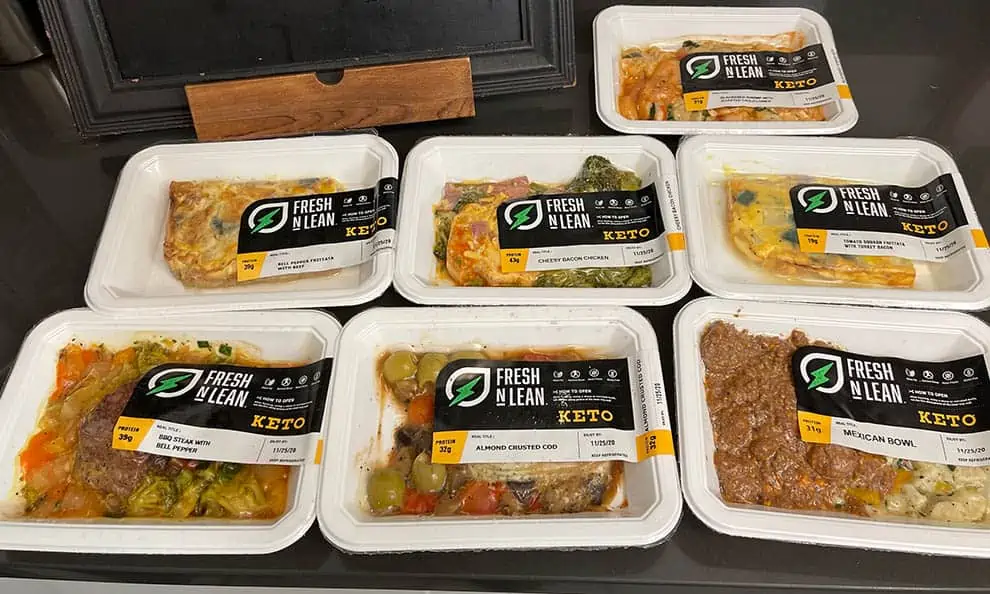 When I first starting browsing Fresh n Lean's site to see what meal plans they had to offer, to be honest, I was a bit overwhelmed. Not only do they have a lot of choices, it also seems like they're continually adding new meal plans every year. For example, they released a new Whole30 plan in August of 2021.
Here's a look at each of the plans and how they individually stack up...
Protein+ Meal Plan
This is the meal plan that Fresh n Lean markets as their "fitness meal plan". It's filled with meals that are heavy on meats, specifically lean and grass-fed meats such as chicken, turkey, salmon, and sometimes beef.
Here are the average macro counts for these meals (which I've seen change from time to time):
36g of protein
43g of carbohydrates
16g of fat
550mg of sodium
490 calories
Do keep in mind that you can customize your individual meal plan to hit specific macro goals by adding on additional meals, entrees, snacks, etc. On the flip side, you can also exclude meals.
Here are some of my personal favorite breakfast, lunch, and dinner meals from the Protein+ plan:
Mushroom And Spinach Frittata (9g protein, 9g carbohydrates, 25g fat, 440mg sodium, 300 calories): This meal is a bit unassuming. At first glance, from its shape, it looks like a literal square of food. It's only after heating it up and getting a whiff of it that it actually became something I wanted to eat. Is it a 5-star breakfast option? No. Is it cooked well, tasty, and nutritious? Yes. The ingredients are simply cage free eggs, spinach, zucchini, bell pepper, olive oil, pepper and salt.
Bolognese Pasta With Braised Beef (32g protein, 36g carbs, 16g fat, 310mg sodium, 410 calories): While I typically eat lighter lunches, this bolognese pasta is too delicious to pass up when I see it on the menu. It's very hearty and filling as it's made with beef chili meat, brown rice, and gluten-free red lentil penne.
BBQ Chicken With Broccoli And Quinoa (28g protein, 39g carbohydrates, 16g fat, 550mg sodium, 410 calories): If you've read a few of our other reviews, you know that I'm a pretty boring eater and because of that, this chicken and broccoli dish is one of my favorite entrees. It's simple, filling, nutritionally balanced, and the BBQ sauce gives the meal a sweet zing.
Keto Meal Plan
The keto diet has become one of the most popular diets in the US and for good reason. Research suggests that keto can help people lose about 2 kg more than low-fat diets do in one year.
One of the key issues people have with keto is that it is a very strict diet that requires the follower to be meticulous about the number of carbohydrates, fat, and protein consumed on a daily basis. For this reason, meal delivery services can be very helpful for those looking to follow this diet.
We've consistently ranked Fresh n Lean as one of our top picks for keto meal delivery services because of the fact that their meals not only adhere to the keto diet protocol but also offer a variety of different types of meals so you're unlikely to get bored with what you're eating.
I know from personal experience from following the keto diet that it's easy to get stuck in a food "rut", eating the same low carbohydrate and high fat foods every day. Plus, because keto restricts carbohydrates, I find that I'm usually extra hungry at certain points in the day.
From my experience, Fresh n Lean's keto meal plan does a decent job of balancing these meals so that they fit within the strict keto diet macros, taste good, and keep you full. However, they aren't perfect. More on that below...
Here's a look at the average macro counts for these meals:
30g of protein
10g of carbohydrates
32g of fat
550mg of sodium
460 calories
For reference, the macro breakdown for the keto diet is 55% to 60% fat, 30% to 35% protein, and 5% to 10% carbohydrates.
Using the average macro counts on the Fresh n Lean keto plan, we can see that average meals on this plan fall slightly out of line with the recommended macro breakdown.
30 grams of protein would be around 41%, where it needs to be between 30% and 35% to fall in line with keto.
10 grams of carbohydrates would be around 13%, where it needs to be between 5% and 10% to fall in line with keto.
32 grams of fat would be 44%, where it needs to be between 55% and 60% to fall in line with keto.
If you are following the keto diet and want to use Fresh n Lean to do so, be sure to look at the macros for the individual meals prior to purchasing in order to ensure they fit within the macros you need to hit.
Here are some of my personal favorite breakfast, lunch, and dinner options on their keto plan:
Mushroom Frittata With Ground Beef (38g protein, 3 net carbohydrates, 29g fat, 390mg sodium, 440 calories): You'll notice that Fresh n Lean's breakfast menu heavily features frittata meals. This one, like the one mentioned in the Protein+ plan, is simple, tasty, and gets the job done when it comes to fitting into the recommended keto macros.
Chicken Thigh With Almond Sauce (35g protein, 13 net carbohydrates, 31g fat, 580mg sodium, 470 calories): This bowl is one of my favorite Fresh n Lean keto lunches for the sheer fact that it fills me up when I'm following keto. Around lunch and later in the day is usually when I start to feel the hunger set in and I find this meal does a great job of keeping me full until dinner. The ingredients are also pretty simple, including chicken, cauliflower, broccoli, kate, walnuts, almond butter, garlic, ginger, and coconut cream. It's hearty and rich, yet still allows me to hit my macros.
Coconut-Turmeric Salmon (41g protein, 6 net carbohydrates, 36g fat, 460mg sodium, 530 calories): I'm not a huge fan of fish but when following keto, it makes my life significantly easier to eat it (especially salmon) because it's high in protein and low in carbs, allowing me to ensure I'm sticking to the recommended macro levels. I find this coconut-turmeric salmon is a great way to end the day. Since one of the main ingredients is a heaping serving of coconut cream, it's high in fat too.
Paleo Meal Plan
Paleo is a diet based off of what humans may have eaten during the Paleolithic era. Thus, there is a strong focus on eating foods that one could have hunted and gathered for—lean meats, fish, fruits, vegetables, nuts, and seeds.
The paleo diet does not require users to stick to strict "hard-and-fast" macros in the way that keto does. Rather, paleo is considered more of a lifestyle change.
While the paleo diet is more lenient than other diets out there, studies suggest that it can still provide users with a variety of functional benefits. These include weight loss, a reduction in blood pressure, and even a decrease in "bad" cholesterol.
Fresh n Lean's paleo meal plan does a great job of sticking to meals made with whole foods that are all gluten-free, grain-free, dairy-free, and sugar-free. Because of this, they consistently make our top picks for the best paleo meal delivery services.
Here's a look at the average macro counts for a paleo plan meal:
33g of protein
30g of carbohydrates
19g of fat
550mg of sodium
400 calories
Here are some of my personal favorite meals from Fresh n Lean's paleo plan:
BBQ Chicken With Broccoli (37g protein, 29g carbohydrates, 17g fat, 530mg sodium, 420 calories): You'll likely notice that this entree is a modified version of the BBQ Chicken With Broccoli and Quinoa I mentioned as a favorite of mine on the Protein+ plan. Again, I like this meal because it's simple, tasty, nutritionally balanced, and the BBQ sauce is delicious.
Honey Dijon Steak With Vegetables (38g protein, 16g carbohydrates, 19g fat, 470mg sodium, 390 calories): Don't expect this steak to be cooked to perfection. It's not rare or even medium rare—it leans more medium well done. That being said, I actually prefer it cooked that way when it comes to pre-made meal delivery services. This is because cooking a steak well done is going to mitigate any foodborne issues. Even though it's cooked a little more than I would like, the steak is still very tender and doesn't feel like I have to grind my teeth to eat it. The honey dijon sauce gives the dish an overall sweet, yet succulent flavor.
You'll notice that I didn't include any breakfast options above. This is because Fresh n Lean has limited breakfast options on their paleo plan and after trying many of their chia breakfast meals, I wasn't too impressed. Their limited breakfasts are a recurring issue that I touch more on later in this review.
Standard Vegan Meal Plan
The vegan diet is very straightforward. It consists of only eating meals that contain plant-based foods and nothing made with animals or animal by-products.
Following a nutritionally balanced vegan diet can be exceptionally beneficial for both your health as well as the environment. This is due to the fact that nutritionally balanced vegan diets consist of eating mostly fruits and vegetables, which can promote weight loss, reduce your risk of heart disease, and more. Furthermore, because livestock emissions account for up to 30% of global warming, by cutting back on eating animals, you're helping the environment.
As mentioned above, Fresh n Lean initially started out as a plant-based meal delivery service. While they have expanded to include other meal plans and accommodate other diets, they still have a strong focus on plant-based meals. This can be seen through the fact that they have 2 different vegan meal plans to choose from; this one (the standard vegan meal plan) and their vegan low carb meal plan (covered below).
What I personally like most about their standard vegan meal plan is the fact that these vegan meals are very well balanced. In the past, when following a vegan diet, I've had many issues with overeating heavy carbohydrate dishes such as pasta and breads as a way to fill myself up without any meat. While carbs like pasta and bread can be delicious, eating too much always leads me to gain weight.
Fresh n Lean's standard vegan meal plan doesn't only rely on fruits and vegetables, they also do a great job of incorporating complex carbs such as brown rice and quinoa as well as plant-based meats. In fact, out of all the vegan meal delivery services I've tried, Fresh n Lean seems to offer the most plant-based meat options (most of which are Beyond Meat and plant-based chick'n). Because of this, their vegan meals aren't by any means boring.
Here's a look at what an average standard vegan meal looks like in terms of macros:
19g of protein
49g of carbohydrates
14g of fat
550mg of sodium
430 calories
You will notice that the average amount of carbohydrates per meal is fairly higher than many of the other meal plan meals listed. The good news is that Fresh n Lean offers a low carb variation of this meal plan (which I cover below).
Here's a look at some of my favorite breakfast, lunch, and dinner options from this plan:
Strawberry Coconut Muffin (3g protein, 52g carbohydrates, 1.5g fat, 170mg sodium, 240 calories): Let me start by saying that this muffin is very tasty. It's especially good when you're on the go because you can just grab it and take it with you. My issue is that it's way too small for me and not filling at all. So, while I enjoy eating it, I would need at least 4 of them in order to actually feel full.
Coconut Curry Spinach With Chickpeas and Quinoa (12g protein, 61g carbohydrates, 13g fat, 640mg sodium, 390 calories): As someone who loves both Indian food and spinach, this is one of my favorite meals that Fresh n Lean offers. I'll be honest, in the meal tray it doesn't look all that appetizing. Only after I heat it up does the dish come alive with flavor, namely from the curry.
Beyond Burger® Patty With Brussels Sprouts and Wild Rice (25g protein, 47g carbohydrates, 25g fat, 520mg sodium, 490 calories): I started getting into plant-based meat after reading about just how much farming cattle contributes to the rise in greenhouse gasses. In my opinion, Beyond Burgers are the closest plant-based meat to traditional beef burgers out there and this meal doesn't disappoint. Surprisingly, the burger is nice and juicy and retains nearly the same texture as a classic beef burger. It doesn't taste exactly like a beef burger but it's pretty close.
Low Carb Vegan Meal Plan
The low carb vegan meal plan is a variation of the above standard vegan meal plan that Fresh n Lean offers. Put bluntly, it's nearly identical to the standard vegan meal plan but it offers meals with less carbohydrates.
I tend to vacillate between the 2 depending on what my dietary goals are at the time. For example, if I'm just trying to eat more nutritious, vegetable-filled meals, I tend to go for the standard vegan meal plan. On the other hand, if I feel that I've been putting on weight from eating or snacking too much, I will generally gravitate towards the low carb vegan meal plan.
Here's a look at the average macro count for meals on this plan:
12.5g of protein
11g of carbohydrates
33g of fat
550mg of sodium
295 calories
You'll notice that there's a significant difference in carbohydrate counts when comparing this low carb vegan meal plan (11g average carbohydrates) with the standard vegan meal plan (49g average carbohydrates).
Here are some of my personal favorite meals from the low carb vegan meal plan:
Curried Spinach (7g protein, 20g carbohydrates, 2.4g fat, 440mg sodium, 120 calories): As I mentioned above, I'm a big fan of Indian food and spinach happens to be my favorite vegetable. Whenever I see them combined, it's an instant win in my book.
Roasted Vegetables With Tomato Sauce (3g protein, 15g carbohydrates, 7g fat, 160mg sodium, 130 calories): This dish or "bowl" is basically a mix of veggies and spices ranging from yellow squash and bell pepper to paprika and chipotle. It's an eclectic burst of flavors that comes together quite well for a better than average low carb vegan dish.
The one big, glaring issue with the low carb vegan plan, that I've personally encountered, is there are usually never enough meals on the menu to support a full weeks worth of eating (breakfast, lunch, and dinner). In fact, I've noticed that most weeks there are really only 4 to 6 meals on the menu to choose from.
That means if you're looking for a low carb vegan meal delivery service to supplement every single meal you eat, this is not the meal delivery service to go with. Instead, you'll want to check out some of the other vegan meal delivery service options out there.
I wish that Fresh n Lean would either expand this meal plan to include more low carb vegan options or simply roll the low carb vegan meals into the standard vegan plan for more options.
Whole30 Meal Plan
Fresh n Lean's Whole30 meal plan is one of their newest offerings (as of writing this review).
If you're unfamiliar, Whole30 is a diet based on the book "The Whole30: The 30-Day Guide to Total Health and Food Freedom".
Whole30 is a 2 phase elimination diet whereby, for 30 days, you avoid all foods with added sugar, alcohol, grains, legumes, dairy, carrageenan, and sulfites. The diet also requires you to not step on the scale or take any body measurements for 30 days. The second phase involves slowly reintroducing certain foods into your diet in an effort to help you evaluate how those foods make your body feel.
The overall goal of this diet is to create a lifestyle change that sticks after the 30 days are up.
What makes Fresh n Lean's Whole30 meal plan interesting is that they are one of the few meal delivery services out there that are officially certified by the Whole30 brand. Because of this, along with the fact that they offer breakfast, lunch, and dinner (among other things, such as being highly customizable) Fresh n Lean has consistently made our list of the top Whole30 meal delivery services available.
Here's a look at the average macro counts for a Fresh n Lean Whole30 meal:
31g of protein
18g of carbohydrates
26g of fat
520mg of sodium
420 calories
Do keep in mind that there are no set macros or calories you need to follow for the Whole30 diet. In fact, they actually discourage tracking macros in an effort to make Whole30 more of a lifestyle change than a traditional diet.
Here are some of my favorite meals on this plan:
Mushroom And Spinach Frittata (9g protein, 9g carbohydrates, 25g fat, 440mg sodium, 300 calories): This is actually the same frittata meal I previously mentioned when covering the Protein+ meal plan.
Macadamia Nut Chicken Thigh With Asparagus And Kale (35g protein, 14g carbohydrates, 37g fat, 600mg sodium, 540 calories): Macadamia nuts in a chicken dish may sound crazy but if you see this on the menu when you go to order, I highly recommend adding it to your box. Not only is it chock full of veggies, the chicken is regularly cooked to perfection—juicy, tender, and bursting with flavor.
BBQ Chicken Wings (32g protein, 12g carbohydrates, 26g fat, 380mg sodium, 420 calories): This is a meal I was actually very surprised to find on their Whole30 plan menu the first time I saw it due to the fact that BBQ sauce usually has added sugars. Upon further inspection into the nutrition facts label, I saw that there are zero added sugars. This is one of my top guilt-free Whole30 meals for when I'm craving a sweet meal.
Bulk Meal Plan
Fresh n Lean's bulk meal plan is not like the other plans reviewed above. As the name suggests, with this plan you can only order bulk servings of meats, vegetables, and sides (such as quinoa and rice).
Since this plan doesn't actually send you meals, rather just individually cooked ingredients, it's not an ideal choice for most people. However, there are a specific subset of people out there who could benefit from this plan:
Bodybuilders looking to bulk up before a competition.
Athletes and others in the fitness industry who need to eat a solid diet in order to keep their energy levels high.
People who have highly restrictive diets.
The pickiest eaters in the world.
If you fall into any of the categories listed above, you'll want to consider the bulk plan over any of the others I covered.
Fresh n Lean is one of the few meal delivery services that has a bulk plan this comprehensive. For example, with meal kits such as Home Chef and Sunbasket, you can add a handful of additional pre-cooked meats to your box each week. However, their selection pales in comparison to what Fresh n Lean offers:
Chicken breasts
Flat iron steak
Seasoned salmon
Beef patties
Bison patties
Venison
Elk
Beyond Meat patties
Turkey patties
Cod
Basa
Shrimp
Quinoa
Sweet potatoes
Mixed vegetables
Broccoli
Zuchinni
Portobello mushrooms
A La Carte Ordering
If none of the above options appease your taste, that's okay because Fresh n Lean also offers a la carte ordering. However, there are some limitations.
Using the a la carte menu, you're given much more variety in terms of what meals you can select from. But you're unable to choose from every single meal option they offer across each meal plan.
That being said, the a la carte meal plan is a good option for someone who isn't sure which specific meal plan they want to try or someone who simply wants to try out Fresh n Lean first, before commiting to a specific meal plan. That's because the a la carte meal plan has the lowest minimum weekly price at $85.
Ionutrition (Now Defunct)
Back in 2015, when Fresh n Lean was still in its infancy, they decided to create a sister company called IONutrition.
At the time, Fresh n Lean was focusing more on plant-based and gluten-free meals. The idea behind IONutrition was to craft performance-based meals, with meat, to help those living more active lifestyles (such as athletes, runners, and bodybuilders).
IONutrition was short lived though since Fresh n Lean decided to roll it into its current business operations in order to expand the Fresh n Lean brand beyond plant-based and gluten-free meals.
You can watch our first review of Fresh n Lean's IONutrition above. When it initially launched, it was one of the first of its kind. Beyond Factor75 (now Factor Meals), IONutrition was really one of the only other national meal delivery services that catered to those who were looking for performance-based meals. They offered options such as paleo meals, low fat meals, and gluten free meals.
Variety Of Meals Fresh n Lean Offers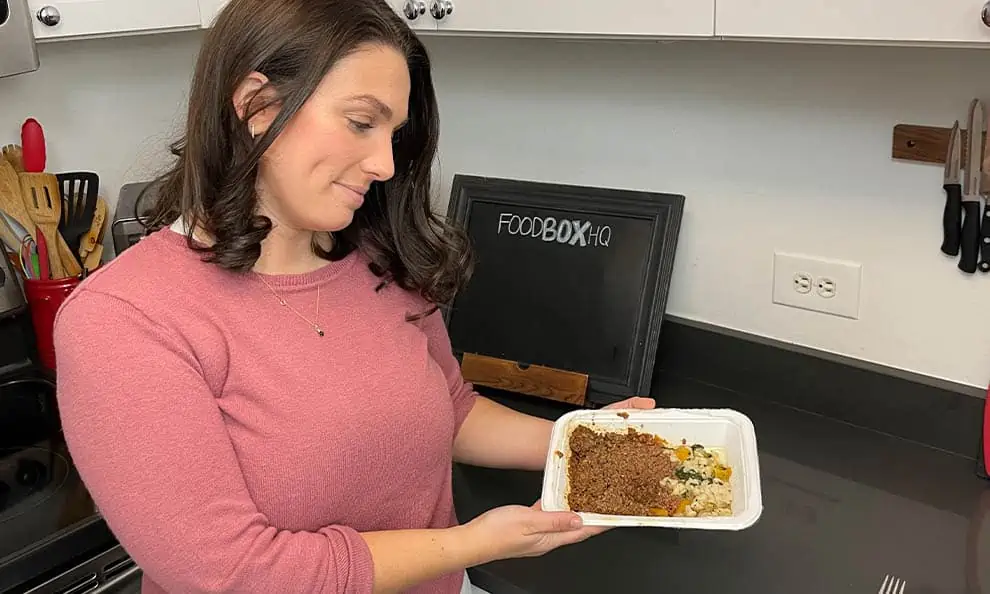 On the surface, it seems like Fresh n Lean has a huge selection of meals on their menu to choose from. However, when you look deeper, that's not really the case.
Let me explain...
In total, Fresh n Lean has dozens of different meals for their customers to choose from each week.
However, within each of their meal plans, you'll only find anywhere from 15 to 20 meal options to choose from. If your goal is to use Fresh n Lean as a way to replace all of your meals, you might be left short some days.
For example, on their paleo plan, you'll find around 15 different breakfast, lunch, and dinner meals to choose from (depending on the week). An average 7 day week of 3 square meals requires 21 meals total. Because of this, you're forced to double up on certain meals to make it through the week.
This may not be an issue for those who don't care about eating the same meal twice in a week but things get a little worse when you look at their breakfast options.
In many of their meal plans they only offer 1 to 3 different breakfast options. For example, currently on their keto meal plan they only offer one breakfast option—Mushroom Frittata With Ground Beef.
Another thing I want to call out is that Fresh n Lean's meals, across each meal plan, are not all individually unique either. What I've found having used each of the different meal plans is that they will take a dish and modify it to fit within other meal plan diets. For example, the BBQ Chicken With Broccoli and Quinoa meal on the Protein+ plan is simply modified to not have quinoa so that they can also use it on the Paleo plan as BBQ Chicken With Broccoli meal. This isn't a big deal unless you're switching meal plans for the sheer fact that you want to experience new meals and cuisines.
While Fresh n Lean doesn't offer as much variety of unique meals as would be needed to cover every breakfast, lunch, and dinner in a week, they do cover a lot of different cuisines. For example, you'll find everything from traditional American dishes and Mexican classics all the way to Indian and other Asian dishes.
Based on my experience, they also do a good job of offering meals for different taste preferences. Many of their meals are "crowd pleasers" and are not as adventurous as some of the other meal delivery services I've tried in the past.
Fresh n Lean Snacks
In addition to meals, Fresh n Lean also offers a few snacks you can add into your weekly box any time. These include granola, almonds, and coconut almond buttercups (basically their version of Reese's Peanut Butter Cups). I've tried one of each in the past and while the granola and almonds are pretty similar to what you'd find at a Trader Joe's or Whole Foods, the coconut almond buttercups are delicious.
The Good, The Bad, & The Ugly Of Heating These Meals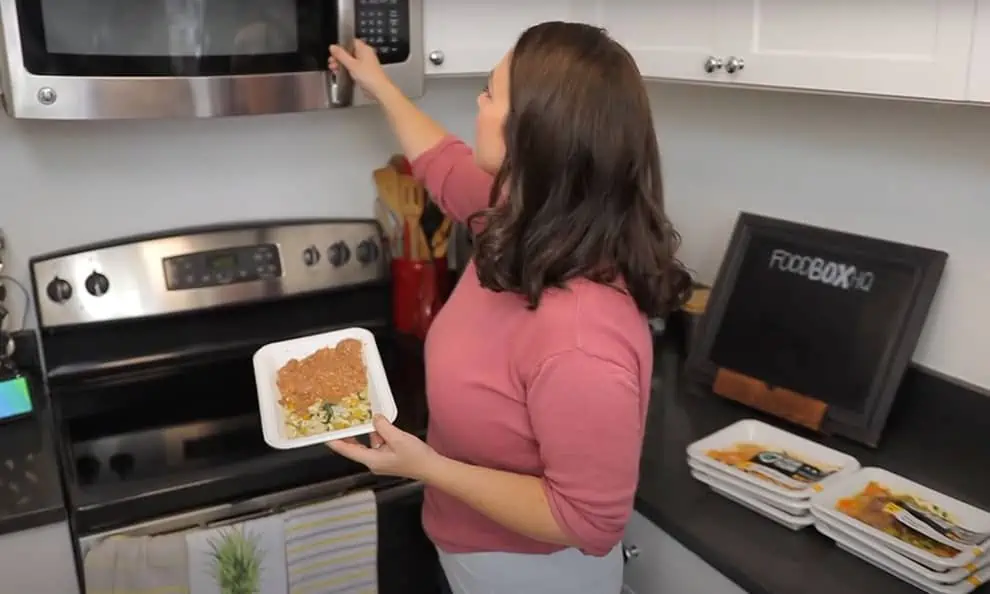 On the meal tray, Fresh n Lean lists out 3 different ways that you can heat up these meals: microwave, oven, or stovetop.
Most people will likely use the microwave to heat up these meals because it's quick and easy. From my experience, I can tell you that is not the best option. Here's why...
Fresh n Lean recommends using the microwave to heat the meal in the plastic tray it came with. There are 2 issues with this. First, there is mounting research that suggests microwaving food in plastic allows chemicals to "leach" into the food. It's recommended to transfer the food over to a microwave safe plate or bowl instead.
Food Box HQ Note: Fresh n Lean's meal trays are BPA-free and they say they are microwave safe.
Second, nearly every time I microwave meals from pre-made meal delivery services, the food never properly heats up. This is even after following the instructions on the meal tray packaging. Because of this, the food always feels like it's lacking flavor.
I've found a few workarounds that may help you.
From my experience, the best way to heat up Fresh n Lean meals is in the oven. Yes, it takes substantially longer than it would in a microwave but the flavor and texture of the meal is much more comparable to what it tastes like freshly cooked.
If you don't have the time or means to cook the meal in the oven, the next best option that I've found is cooking it on the stovetop. This does require more time than it would in the microwave but it's definitely shorter than heating it in the oven. I recommend keeping the stove on low to medium heat and continually stirring until you can smell the flavors of the meal come to life.
If you're set on using a microwave, I recommend moving the meal over to a bowl or plate and then placing a damp paper towel over it. This may sound weird but it's a little trick I picked up from an old reddit post I stumbled upon years ago. The damp paper towel apparently allows the food to heat more thoroughly. Plus, it helps keep your microwave a bit cleaner since food won't be bubbling up off the plate when it's heated.
Regardless of the heating method you choose, be sure to heat the meal so that it reaches an internal temperature of at least 165 degrees Fahrenheit (based on USDA food safety measures).
The Meals We Received In Our Most Recent Box (Taste Test)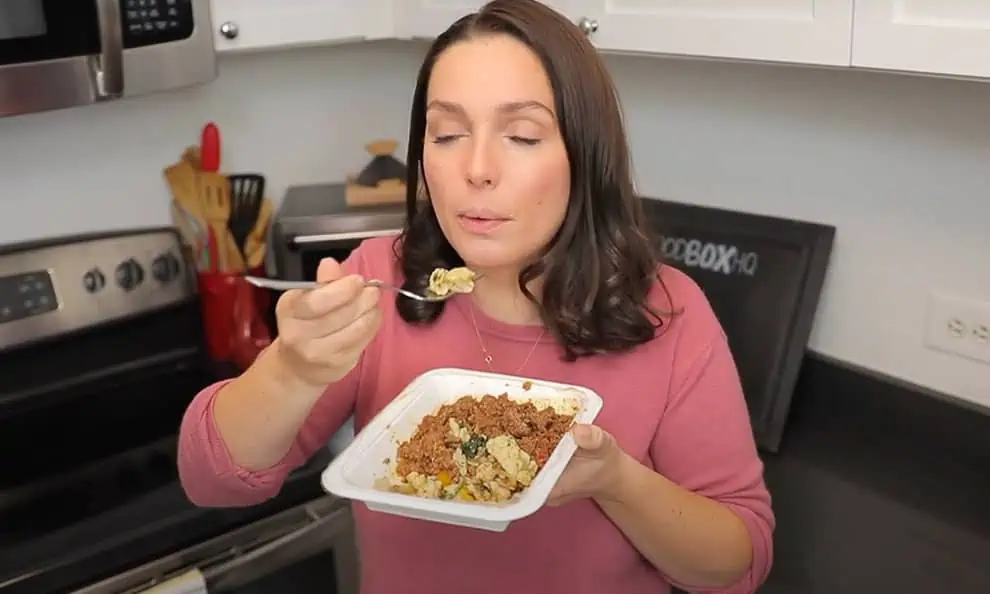 Over the years we've ordered well over a dozen different boxes from Fresh n Lean in order to test out and review their meal delivery service. This includes way back in the day when they were more focused on plant-based meals and IONutrition, all the way to more recently when they started offering more diet-specific meal plans such as their Whole30 plan.
Here's a look at the most recent meals we received in our keto meal plan box as well as my thoughts on taste:
BBQ Steak With Bell Peppers And Broccoli: Having eaten many other steak dishes from Fresh n Lean, I had a pretty good idea of what I was getting with this meal before chowing down. The steak was cooked more on the well done side but it was still fairly tender and juicy. With steak dishes, like this one, I highly recommend heating them on the stovetop to bring out the best flavor. Just be sure to not overcook it! The meal isn't as bright and colorful as how their social media posts show it but that's not to say it wasn't delicious. In fact, out of all the meals we received in this week's box, this was one of my personal favorites. It was filling, tasty, and nutritionally balanced.
Blackened Shrimp With Roasted Cauliflower: I'm not a huge fan of ordering pre-made fish meals but the menu for this week had multiple fish options so I decided to go with it. Of course this is really my own fault because I can always exclude fish as an option in my meal preferences. The meal itself was surprisingly good. They didn't skimp on the shrimp, which were fairly large in comparison to other shrimp dishes I've had in the past. As for the cauliflower, it was cooked well—still nice and crunchy.
Almond Crusted Cod: Another fish dish! Again, although I'm not a fan of most fish meals, this was my fault for not removing it from our box or setting my preferences correctly this time around. To be honest, I didn't have high hopes for a fish meal with nuts but I have to say that it was one of the more adventurous Fresh n Lean meals that I've tried. Beyond the almonds and cod, the dish also included olives and peppers. If you're a fan of the keto diet, you know that all of these ingredients add up to a high fat, high protein, and low carb meal.
Cheesy Bacon Chicken And Broccoli: This was a new one I hadn't seen on the menu before so I had to order it, especially because it combines 3 of my favorite things—cheese, bacon, and chicken. While the flavor was there I noticed that the meal was a bit soggy for some reason. My only thought is that the juices from the chicken had spread throughout the meal tray, leaving it overly soggy.
Mexican Bowl: This was the main meal we taste tested for our Fresh n Lean review in this video. It was basically like a taco bowl made with ground beef, cauliflower, peppers, and kale. The beef was still juicy and moist, and the veggies were well cooked (not soggy at all). The spice was there but it definitely was not "in your face".
Tomato Squash Frittata With Turkey Bacon: If you read over any of our favorite meals listed in the meal plans section, you likely already know that Fresh n Lean loves putting frittatas on their menu. To be honest, they're my favorite breakfast option that they serve. They're simple to heat and eat in the morning. Plus, they usually load them with meat and veggies. This one was no different. The tomato and squash were not overly "juicy", like veggies sometimes make egg-based meals. And the egg itself was cooked well. As I've harped before, these frittatas taste best heated up on the stovetop.
Bell Pepper Frittata With Beef: Again, another favorite breakfast of mine. Simple, tasty, and nutritionally balanced. The frittatas make it easier to get up and going since I can just heat, eat, and get to work.
Meal Quality: Kitchen Safety Standards, Ingredient Sourcing, & Food Allergens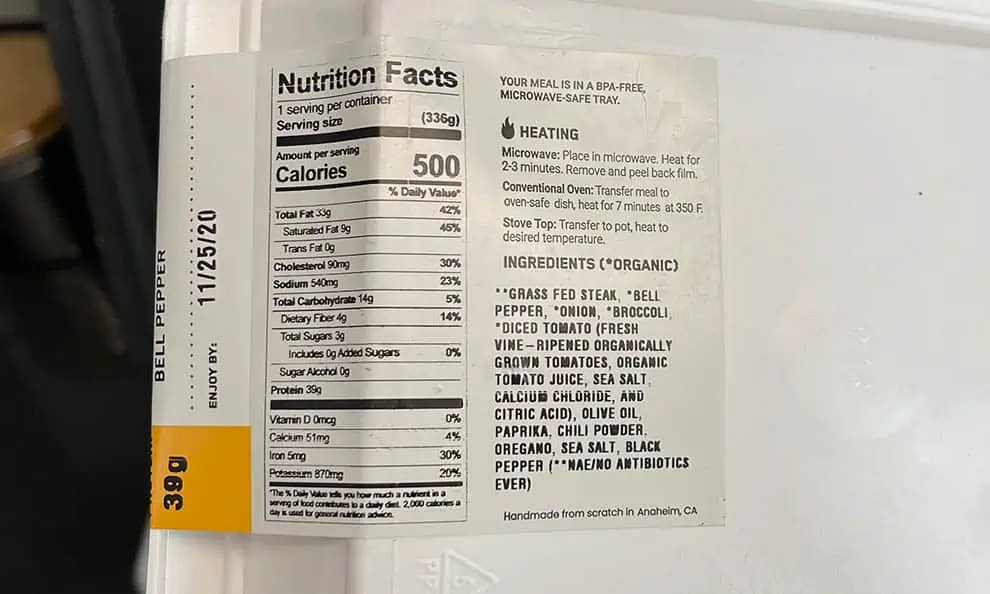 One of the biggest things that Fresh n Lean excels at when compared to its competition is ensuring the quality of the ingredients they use is top notch.
This can be seen in the fact that they go above and beyond in their certifications and food safety practices. To give you an example, here are some of the ways they ensure the quality of their meals:
When it comes to their meals, they take the same stringent approach to quality:
Non-GMO Ingredients: All of the ingredients used in Fresh n Lean meals are non-GMO.
Organic (When Possible): Fresh n Lean uses organic ingredients when they are available from the farms they work with.
Locally Grown Ingredients: They source their ingredients from local farms.
ASPCA® Shop With Your Heart Certified: They source all of their eggs according to the Shop With Your Heart protocols, which are meant to help promote sustainable and humane standards for livestock farming.
Gluten-Free Certified Kitchen: All of their meals are prepared in a certified gluten-free kitchen. However, it's important to note that Fresh n Lean meals are technically not certified gluten-free.
As noted above, Fresh n Lean allows you to highly personalize your meal plan with them. One of the main ways that they do this is by allowing you to exclude meals based on certain foods and allergens.
Here's a look at specifically what ingredients you can exclude:
Bell pepper
Chia
Chicken
Cilantro
Curry
Eggplant
Eggs
Elk
Garbanzo beans
Mushroom
Nuts
Red meat
Seafood
Sesame
Shellfish
Squash
Turkey
Olive pieces (not olive oil)
Soup
Here are the specific allergens Fresh n Lean accommodates:
Egg
Sesame
Dairy
Shellfish
Tree nut
Soy
Gluten
Packaging & Delivery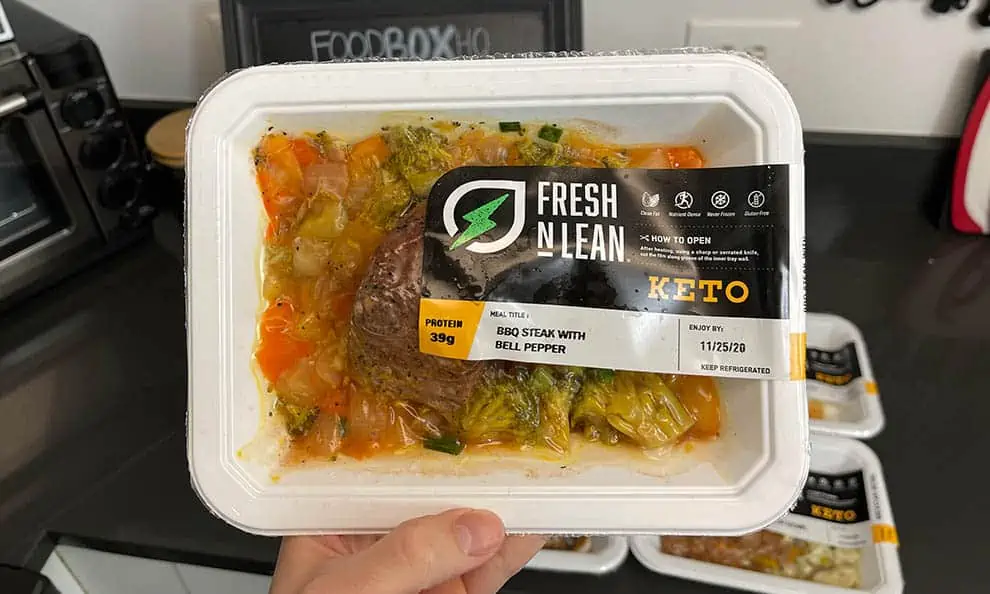 Over the years of reviewing Fresh n Lean they have made many different changes to the way that they package their meals.
When we first tested them, they were using styrofoam as an insulator, which is not great for the environment. Thankfully, they've moved over to more eco-friendly packaging. Now the inner insulation is fully biodegradable, and the cardboard as well as the meal trays are recyclable.
The ice packs are a little tricky to recycle. While the label on them says that you can pour out the internal contents of the ice pack, wash it out, and place it in the recycling, I always have a hard time getting the gel contents fully out of the liner. Plus, I never want to pour that stuff down my sink drain (even though they say to do so) in case it clogs the pipes.
The meal trays are vacuum sealed. I find this to be a double-edged sword. It's good in that it keeps the meals fresh and flavorful for longer. However, it's bad in that it makes the meal tray packaging very hard to open. In fact, I find it's almost impossible to open the meal trays without having to use a knife or scissors. Even then, I feel like I'm slicing through plastic, risking cutting myself. This may sound like something silly to call out but just wait until you try to open one!
On a positive note, the meal trays include a ton of information about the meal itself. Not only do they have the full nutrition facts listed on the meal but they also have key macro info right on the front (such as protein content), the "enjoy by" date, and all of the ingredients.
One thing that caught my attention as I was putting together this review is how eerily similar Fresh n Lean's meal packaging is compared to Trifecta Nutrition's. This is something that a Food Box HQ commenter pointed out over on our review of Trifecta Nutrition. As I did more digging, I found that not only are the meal trays identical but Fresh n Lean and Trifecta Nutrition even offer the exact same meals. You can see for yourself in this image comparing the meals. The only difference is the branding. It could be a coincidence but it's definitely weird to see...
As for deliveries, our meals have always been shipped via Fedex and we've never had any late deliveries or issues receiving our box.
Fresh n Lean does give you the ability to skip delivery days, which you can do pretty easily within your account dashboard preferences.
Customer Service Experience
Thankfully, I've never had to contact Fresh n Lean's customer service or support because of an issue with our food.
I have reached out recently via email (hello@freshnlean.com) just so that they could clarify a few things about their meal plans prior to posting this review. They responded in under 24 hours.
What's a little odd is that I initially tried to contact them via their live chat but when I clicked the link on their contact page here, nothing happened. It's possible they recently closed it down or my browser was causing the issue.
They also have a direct phone number you can call to get in touch with someone who can answer your questions—(888) 420-4080.
Fresh n Lean vs. The Competition
There are dozens of different pre-made meal delivery services out there these days. That being said, there's no doubt that Fresh n Lean is one of the most popular due to its size and scale of offerings. But does that make it the best? Let's compare Fresh n Lean to some of its most similar competitors in order to see how it stacks up.
Fresh n Lean Pricing
Fresh n Lean bases their pricing off of which meal plan you select. Here is a breakdown of how much a single-serving meal costs on each plan:
Protein+ Meal Plan: $10 per meal
Keto Meal Plan: $10 per meal
Paleo Meal Plan: $10 per meal
Vegan Standard Meal Plan: $8 per meal
Vegan Low Carb Meal Plan: $10 per meal
Whole30 Meal Plan: $12 per meal
Adding additional snacks and sides to your box will cost extra but shipping is free.
Fresh n Lean Promo & Coupon Codes
If you've made your way through our review of Fresh n Lean and you think it's the right choice for you, we want to help save you some money on your first purchase. Below you'll find the best coupon codes and promotions available for Fresh n Lean, including exclusive discounts for Food Box HQ readers only:
Coupon code "CUTLERY" will get you 5% off on any a la carte order.
If any of the coupon codes above don't work, let me know in the comments and we'll get them updated as soon as possible!
Food Box HQ Tip: Another great way to save money on your order is to use this site called Milled. It aggregates brands email marketing newsletters so you can search them and look for any discounts or deals they're running without having to actually subscribe to their newsletter.
Pros & Cons Of Fresh n Lean
Fresh n Lean has a lot to offer but there are definitely certain things that, in my opinion, hold it back. Let's take a look at all of the positives and negatives I've encountered since using their pre-made meal delivery service...
Fresh n Lean Pros
They have a huge amount of meal plan and diet variety. There is no other meal delivery service that I've tried and reviewed that offers the level of variety that Fresh n Lean does.
They are one of the most customizable pre-made meal delivery services I've ever tried. No other pre-made meal delivery service allows you to exclude over 20 different ingredients and exclude meals based on specific food allergens. You can also add additional foods and snacks to your box each week.
They are one of the few pre-made meal delivery services that gives you the ability to order bulk foods. This includes more than just beef and chicken. They have options ranging from elk to venison and beyond.
They have high standards when it comes to food safety and ingredient sourcing. Of course, you have to take their word for it based on what they say on their website. But since first testing and reviewing Fresh n Lean back in 2015, I've yet to have any issues with their meals.
Fresh n Lean Cons
Regardless of which meal plan you go with, they do not offer a lot of breakfast options. In fact, most meal plans only have 2 to 4 breakfast options per week. This means you'll have to double or triple up on some breakfasts should you want to use Fresh n Lean to cover all of your meals for the week.
Due to the fact that the meal tray is vacuum sealed, I found it very tough to open. If you have mobility issues or trouble with your hands, you may want to consider another meal delivery service.
I found the portion sizes to be standard but not large by any means. If you're a big eater, you may have to add extra meals or snacks to your box to feel full.
Frequently Asked Questions About Fresh n Lean
Having tested and reviewed Fresh n Lean over the years we've received a number of comments and messages from our readers who have specific questions about this pre-made meal delivery service. In order to help answer those questions and make this review as thorough as possible, we've decided to answer the most common questions we receive about Fresh n Lean below. Have a question we didn't answer here? Let us know in comments below and we'll be sure to respond as soon as possible.
Can you change your meal plan after signing up?
Yes, you can change your meal plan after signing up but you're not able to do it in your Fresh n Lean account. You will have to call or message customer service in order to make the switch.
Is it easy to cancel your Fresh n Lean subscription?
Yes, Fresh n Lean allows you to cancel your subscription within the dashboard of your account. Simply go to the menu and click on "Manage Subscriptions". From there, find your subscription and click "View / Edit", then click "Edit My Plan". Near the bottom of the page you'll see a link called "Cancel Subscription" that will cancel you meal plan subscription. You can reactivate it at any time.
Is it possible to gift Fresh n Lean?
Yes, they offer e-gift cards for purchase. I've found that this also acts as a workaround if you don't want to subscribe and would rather just try their service out once by using a gift card to sign up rather than a credit card.
Can Fresh n Lean help with weight loss?
Let me preface this by saying I am not a doctor, nutritionist, or dietician. For help with your weight loss goals, I highly suggest you speak with a professional. That being said, Fresh n Lean does offer meals that fall in line with popular weight loss diets—low carb, keto, paleo, etc. They have also released videos and blog articles that document customer journeys as they lose weight. Of course, take it with a grain of salt.
Does Fresh n Lean give back through any charity initiatives?
Yes, Fresh n Lean partners with non-profit groups such as The Heart of Jesus Ministry, Waste Not OC Coalition, and Grandma's House of Hope in an effort to end hunger and food insecurity across the country and the world. Through these partnerships they have donated 135,000-140,000 meals since 2010.
Which plan has the best tasting meals?
I personally enjoy the meals from the Protein+ and Paleo meal plans the most.
How long do the meals last?
They typically stay fresh in their vacuumed sealed packaging for up to 7 to 10 days after delivery, if kept in the fridge. And if you choose to keep them in the freezer, they'll be good for around 6 to 8 weeks.
Final Thoughts: Who Is Fresh n Lean Right For?
While not perfect, there is a reason Fresh n Lean consistently makes many of our top picks articles. They've worked, over the years, to evolve their meal delivery service to fit the needs of their customers.
Too often I see "big" meal delivery services stagnant over the years, almost as if they're doing the bare minimum necessary, not working to progress their service to include more meals, accommodate more diets, etc. Fresh n Lean has done all of that and more.
In my opinion, Fresh n Lean offers one of the best values when it comes to a pre-made meal delivery service that is both customizable and diet-friendly. With nutritionally balanced meals fitting into multiple different popular diets at around the $10 per serving mark, it's hard to beat what Fresh n Lean offers.
The biggest drawbacks, in my mind, are the fact that they don't offer many breakfast options and that their meal trays are hard to open. Though, that may be inconsequential for others.
What do you think? Is Fresh n Lean a meal delivery service you'd want to try? Let us know your thoughts in the comments below and if you have any questions about them!
Fresh n Lean Key Specifications
Price Per Meal: $9 to $10 per meal
Shipping Fee: Free
Diets Accommodated: Paleo, Keto, Low-Carb, Gluten-Free, Dairy-Free, Vegan, Vegetarian, Whole30
Delivery Area: Entire United States (including Hawaii and Alaska)
Previous Food Box HQ YouTube Reviews Of Fresh n Lean