Are you on the hunt for organic, pre-made meals that are packed with nutrients while still being flavorful? Fresh n' Lean has you covered with their meal delivery service that sends pre-made breakfasts, lunches, and dinners straight to your door.
While most meal delivery services only provide you with dinner, Fresh n' Lean wants to make sure you've got healthy meals all day, every day. Not only that, but they want to make it incredibly easy for you to eat right! Each of their meals are pre-made by their team of professional chefs, using only the freshest ingredients. To enjoy them, you simply need to pop them in the microwave and within a few minutes, you're ready to eat.
Today we're covering everything you need to know about Fresh n' Lean. From their different plans to our personal thoughts on how it tasted. Keep reading to learn more…
How to Join & Choose Your Items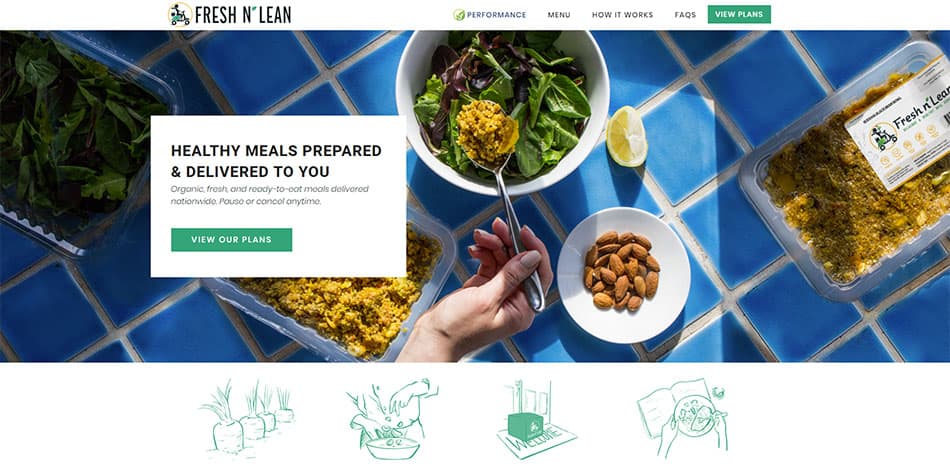 To get started, you first need to select your meal plan. At this time, Fresh n' Lean offers four different plans to choose from. Each one is designed around different dietary needs, making it easy to find something that's going to work for you and your lifestyle.
There's the ION Performance Protein + plan, which features quality animal proteins with every meal. You'll find foods like wild salmon, all-natural poultry, as well as grass-fed beef and bison. You'll also find the ION Performance Paleo plan (the exact plan you'll see us review in the YouTube video above) which is ideal for someone on a low-carb, Whole30, keto or paleo diet. These dishes feature quality animal proteins as well, but they skip the grains and legumes (that means no beans and lentils in these meals).
For those who don't eat animal products, there's a Standard Plant-Based plan. There are plenty of plant-based proteins in these meals to ensure you're still getting the recommended nutrients. And finally, there's the Low-Carb/Low-Cal Plant-Based plan for those cutting carbs and calories while living a plant-based lifestyle.
Once you've chosen your preferred meal plan, you'll need to decide how many meals you'd like to receive per day. You can choose to get breakfast, lunch, and dinner or eliminate any that you aren't interested in. From there, you'll choose to receive either five or seven days worth of food each week. This is great for anyone who wants to have Fresh n' Lean meals every day.
You're also able to specify if you have any food allergies. And you can even add additional meals and snacks, so you never have to worry about going hungry between meals. After all of your decisions are made, you simply need to go through checkout and wait for your first order to arrive at your home.
Types of Food They Offer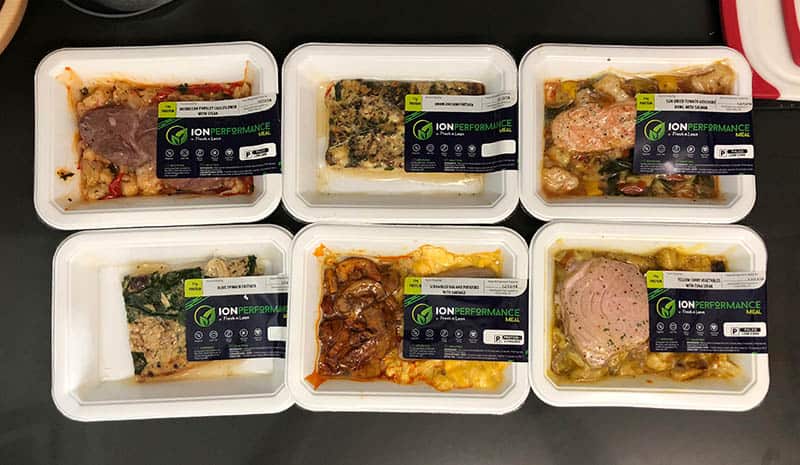 So, what's on the menu? Well, that all depends on which meal plan you choose to go with. Either way, you'll have plenty of breakfast, lunch, and dinner options to choose from. That means you'll never have to go without your Fresh n' Lean meals. And a rotating menu means you won't get bored of the selection either. Perfect if you find yourself getting stuck in a food rut often!
If you're sticking to a low-carb diet, you'll find breakfast options such as the Sun-Dried Tomato Caper Frittata and Potatoes with Scrambled Eggs and Sausage. For lunch, you can enjoy meals such as Basil Curry Bell Peppers with Chicken Breast or Balsamic Smokey Broccoli with Ground Beef. And the dinner menu includes dishes like Creamy Coconut Mushroom Medley with Salmon, Asian Citrus Brussels Sprouts with Chicken Tender, and Savory Spinach Potato Stew with Shrimp.
For those who need something more protein-packed, the ION Performance Protein + Menu is ideal. You'll find things like the Raspberry Loaf and Cranberry Raisin Walnut Oatmeal for breakfast. At lunch you can have Portobello Mushroom Red Rice Risotto with Chicken Tender or Creamy Cauliflower Lentil Stew with Shredded Chicken. And on the dinner menu, they have Danish Yellow Split Peas with Salmon and the Tokyo Street Vegetable Pasta with Ground Beef.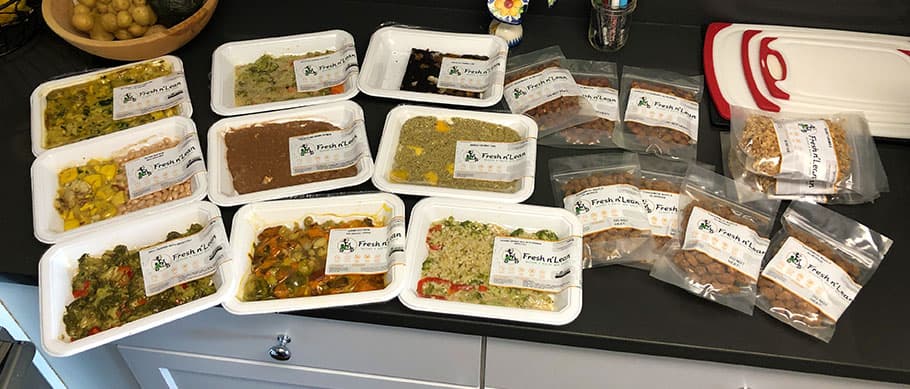 They're also one of the few pre-made meal delivery services that offers plant-based (vegan) options. And there are a ton… In the image below you'll see we received vegan options such as Chocolate Macadamia Oatmeal, Mango Coconut Chia, Balsamic Cauliflower and Yellow Squash, Bell Peppers with Broccoli, Balsamic Navy Beans with Cauliflower, Caramelized Onions and Brussel Sprouts, Sesame Brown Rice with Broccoli, Broccoli Quinoa with Dill, and Chocolate Crumble Loaf.
One of Fresh n' Lean's newest meal plans is their "Clean Keto" plan. We actually had the pleasure of unboxing and reviewing this plan over on our YouTube channel. This is one of the few keto meal kits that is not only pre-made but also offers breakfast, lunch, dinner, and keto snacks. This is a pretty big deal since almost no other food boxes send all meals (usually only dinner).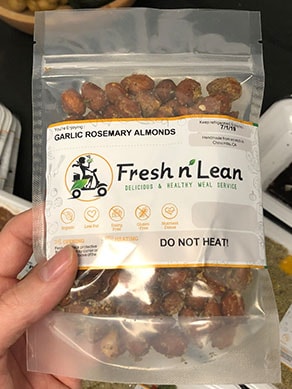 There are even snacks to tide you over when hunger strikes. They have flavored almonds that come in BBQ, Lemon Chili, Garlic Rosemary, and Cinnamon Maple. FYI, the Cinnamon Maple Almonds are delicious and we highly recommend adding them to your bag! There are also Tomato Basil Chips, White Cheddar Chips, and even Coconut Almond Buttercups.
And if you'd like, you can throw in some bulk meals and sides as well. They have quinoa, sweet potatoes, brown rice, mixed veggies, cherry tomatoes, green bell peppers, mushrooms, muffins, oatmeal, and so many other delicious things to choose from.
If you have a sweet tooth, they do not offer any dessert options as of right now.
Delivery
You can have Fresh n' Lean meals delivered anywhere in the United States, which is definitely a plus since many companies aren't able to ship to locations like Alaska and Hawaii at this time. Once you've placed an order, you can expect it to arrive at your home via either UPS or FedEx. You will receive a tracking number once your box ships, so you'll be able to see exactly when your meals are going to arrive. Orders can be expected for delivery during the week, however there are no deliveries on the weekends due to safety reasons.
No one needs to be at your residence in order to accept the delivery, so there's no need to worry if you're at work during the day. The UPS or FedEx delivery person will leave the box on your doorstep, unless you provide other special instructions for them to follow.
After your delivery has arrived, just make sure to unpack and refrigerate your meals as soon as possible. You can even freeze them if you prefer them to last as long as possible, but Fresh n' Lean recommends eating them fresh.
Packaging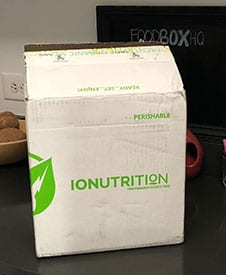 To keep everything safe during transportation, the meal trays will be delivered in insulated cardboard boxes. Fresh n' Lean also uses ice packs to keep everything cold and at temperatures that keep the meals safe for consumption. So, you won't have to worry about anything spoiling before it arrives at your door.
All of the meals you'll receive will be vacuum-sealed for optimal freshness. They also use BPA-free, recyclable trays. The plastic seals on the packaging is recyclable as well. It's encouraged to recycle the packaging, as it's important to do our part in protecting the planet. You can even recycle the ice packs by simply draining the water-soluble liquid into the sink and recycling the casing.
Freshness of Food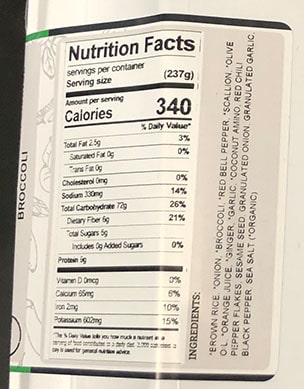 When purchasing pre-made meals, you might be worried about the quality of the food you receive. For instance, those types of dinners often get a bad reputation for lacking freshness and flavor because they're often associated with frozen dinners. However, you don't have to worry about that with Fresh n' Lean meals.
Their meals are all crafted with natural ingredients. You'll never find any processed ingredients or preservatives, plus they choose to keep oils to minimum. And the best part is no part of your meal is frozen! Instead, they focus on incorporating local, in-season produce.
So, even though the dishes are pre-made, you don't have to worry about them tasting like those frozen TV dinners you're used to.
Also, you don't have to worry about eating the meals immediately after their arrival. They typically stay fresh in their vacuumed sealed packaging for up to 7 to 10 days after delivery if kept in the fridge. And if you choose to keep them in the freezer, they'll be good for around 6 to 8 weeks.
Ease of Cooking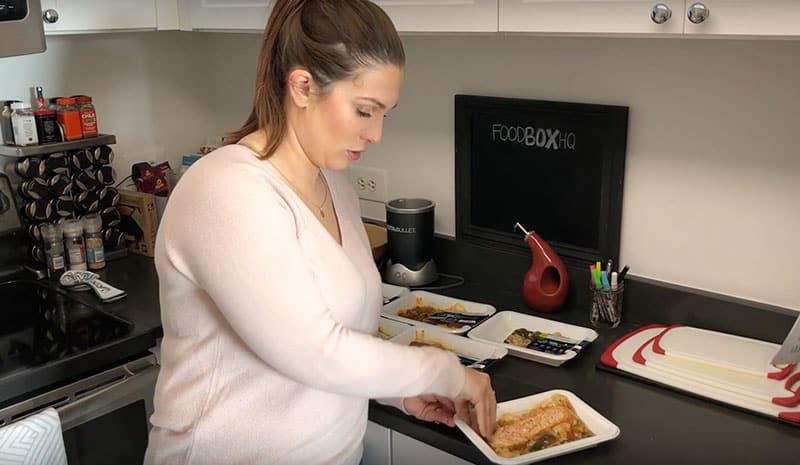 For those who aren't interested in cooking every night, Fresh n' Lean is making things pretty easy for you. Instead of spending ages in the kitchen preparing ingredients and cooking everything, you can have dinner on the table in just a matter of minutes.
To prepare your meal, all you have to do is remove the label, puncture a few holes into the plastic film, and pop it into the microwave. Your meal should take about two or three minutes to heat up and then it'll be ready for you to enjoy.
You can reheat your food on the stove or in the oven if you prefer. However, they are designed to be made quickly in the microwave. Plus, it's just a bit more convenient that way 😃! And the best part is that you don't have to worry about dirtying any dishes!
While it's not at all necessary, you can add extra ingredients or seasonings to your meals to spice them up a bit. Add some crushed red pepper to give your dish a little heat or maybe throw in some extra garlic for a pasta dinner. It's totally up to you! Just because it's pre-made, it doesn't mean you can't add your own customizations.
Taste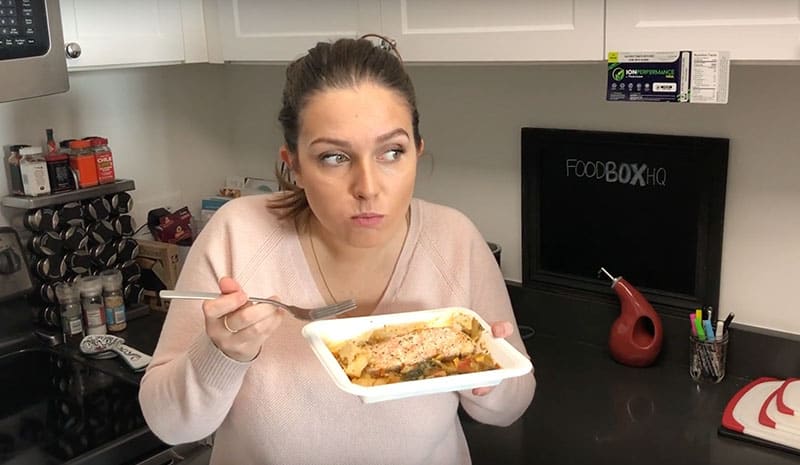 It's safe to say you can count on chef-prepared meals that use only fresh ingredients to taste pretty great! Every dish that Fresh n' Lean creates has been prepared by one of their professional chefs. With a rotating menu each week, you never have to get bored with the selection either. Plus, they source locally-grown, organic, whole-food ingredients. Nothing bland or processed here, which means you're getting a ton of flavor.
We tried their IONUTRITION performance meals first and received a box filled with…
Yellow Curry Vegetables with Tuna Steak
Sun Dried Tomato Artichoke Bowl with Salmon
Olive Spinach Frittata
Moroccan Parsley Cauliflower with Steak
Scrambled Eggs and Potatoes with Sausage
Onion Zucchini Frittata
In the video you'll see us review the Sun Dried Tomato Artichoke Bowl with Salmon. We were slightly skeptical at first because a pre-made fish meal could be a bit risky. Surprisingly, it was delicious. It didn't taste "pre-made", if you know what I mean. We even purposefully used the microwave since microwaved meals usually come out less tasty than oven-cooked meals. Even in the microwave, it didn't taste soggy or like a typical pre-packaged meal. In fact, it would be hard to distinguish Fresh n' Lean meals from home cooked ones!
The next box we tried was their plant-based (vegan) meals. For vegan meals, we were surprised they tasted as good as they did. Usually, when you have to restrict animal products like butter and fats, it can make the meal bland. However, their combination of veggies and spices really came together to make a tasty meal.
Here are the meals/snacks we received in our vegan box…
Chocolate Macadamia Oatmeal
Mango Coconut Chia, Balsamic Cauliflower and Yellow Squash
Bell Peppers with Broccoli
Balsamic Navy Beans with Cauliflower
Caramelized Onions and Brussel Sprouts
Sesame Brown Rice with Broccoli
Broccoli Quinoa with Dill
Chocolate Crumble Loaf
Cinnamon Maple Almonds (our favorite)
Hearty Granola
Garlic Rosemary Almonds
You'll notice that none of the meals are heavy on the carbohydrates, which you sometimes see in vegan meals (since they can't use meats). This makes for a healthier option.
In our keto box, we received the following meals…
Tomato and Shrimp with Zucchini and Carrot
Sun Dried Tomato Aioli Chicken Thigh with Cauliflower
Parmesan Cod with Eggplant
Ginger Seasame Glased Salmon
Venison with Mushroom Garlic Sauce
Scrambled Eggs with Beef and Cheddar Cheese
Garlic Rosemary Almonds
Smokey BBQ Almonds
Coconut Almond Buttercups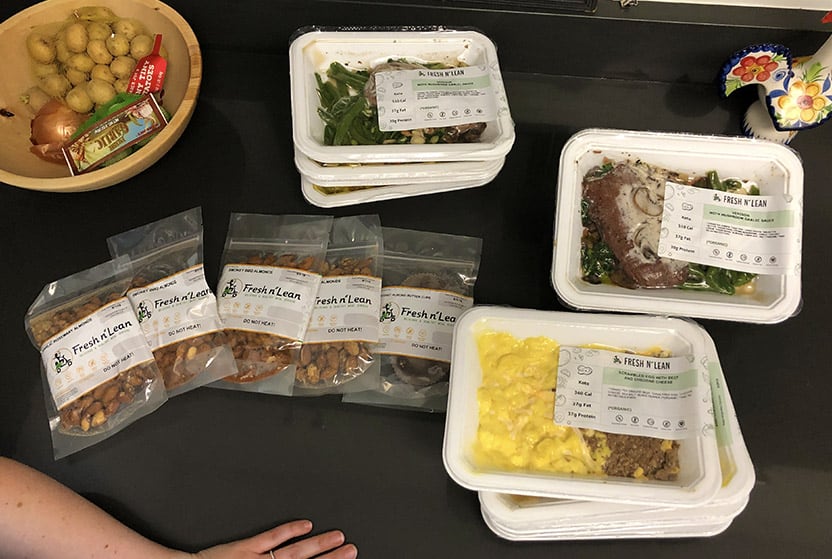 When it comes to eating keto, the most important element are your macros. Here's a breakdown of your average daily macros with the Fresh n' Lean "Clean Keto" plan: 78g of protein, 30g of carbohydrates, 105g of fat, and 1,350 calories. And yes, even the Coconut Almond Buttercups are keto with 16g of carbohydrates. Obviously, don't have a bunch of them each day but they do make for a good keto "cheat" snack.
Pricing
The cost of your dishes will really depend on which meal plan you decide to go with. Each one varies in price, with the Standard Plant-Based plan being the cheapest.
With the Standard Plant-Based plan, you'll be paying $9.33 per meal (for 7 days).
The Low-Carb/Low-Cal Plant-Based plan costs $11.33 per meal (for 7 days).
The ION Performance Protein meals are $12.25 each (for 7 days).
The meals on the ION Performance Paleo plan come to $12.69 per meal (for 7 days).
The Clean Keto meals come to $11.42 each (for 7 days).
From there, your cost increases based on how many meals you'd like to receive each week. However, you want to consider any savings you're getting by not having to make frequent grocery store trips or throw out unused groceries that have expired.  Plus, delivery is always free, which not all meal delivery services do.
If at any time you need to pause or cancel your subscription to Fresh n' Lean, you can do so through your online account. You never have to feel like you're locked into a long-term contract with them. Just make sure you make any changes in a timely fashion to be sure they go into effect. That means you need to make any order modifications or cancellations by Monday at 12 PM Pacific Time (3 PM Eastern Time).
Final Thoughts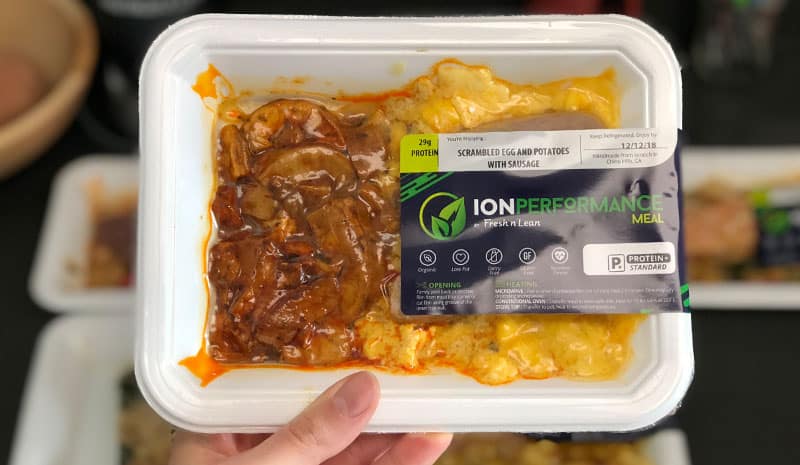 If you're skeptical about pre-made meal delivery services tasting like frozen dinners, you can rest assured that Fresh n' Lean is not like those meals at all. Not only do they have tasty and nutritious meals, they're incredibly convenient to heat and eat.
Unlike a lot of other meal delivery services, Fresh n' Lean is one of the few services that offers 3 square meals — breakfast, lunch, and dinner. That may not sound like a big deal but if you're using a meal delivery service to stick to healthy eating, it makes your life a lot easier.
For a pre-made meal delivery service, Fresh n' Lean also has a ton of variety in the plans that they offer. Usually we only see 1 type of plan (maybe 2) from pre-made meal delivery services. Fresh n' Lean offers 4 and they're all based around specific healthy diets — plant-based, paleo, low-carb, protein, etc. What's more is that each meal has all of the specific nutritional information and macros you need to know if you're keeping track.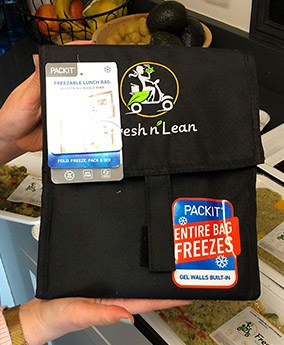 Really, the only negative we could find if that their packaging uses styrofoam. This type of material is super hard to recycle and if you're getting boxes every week on a recurring basis, it can be a huge strain on the environment. However, they did give us a really handy reusable icepack bag. This could be a great way to carry your Fresh n' Lean meals to and from your home. For example, if you bring them to the office.
Other than that, delivery is always free and they make it super easy to pause or cancel. Again, these are all things that many other meal delivery services don't offer.
So, if you're looking for a great, tasty, and easy-to-use pre-made meal delivery service, we definitely recommend Fresh n' Lean!
Have you tried Fresh n' Lean? Let us know in the comments below 😁.