Thistle—the meal delivery service named after a characteristically prickly plant.
Much like the plant itself (favored by pollinators of all kinds from bees to butterflies), the Thistle meal delivery service is more than it appears at first glance. Not just another purveyor of premade salads and soups, this meal service aims to make it easier, more convenient, and more enjoyable to follow a plant-based diet.
I don't personally follow a vegetarian or vegan diet, but I'm no stranger to the world of dietary restrictions.
Since being diagnosed with celiac disease in 2011, I've struggled to find safe foods that are delicious AND convenient. Though many meal kits offer a handful of token gluten-free options, few are designed specifically for individuals who follow an alternative diet.
Thistle is a plant-based meal delivery service. Not only is it entirely gluten-free, but it's part of Thistle's mission to meet the needs of individuals with food allergies and unique dietary requirements.
In this review, I'll cover everything you should know about Thistle based on my personal experience. From variety to taste and everything in between, I'll cover all the important details about Thistle to help you make your own decision.
Food Box HQ Disclaimer: Before we dive into this review, it's important to clarify that the content of this article is intended purely for educational and informational purposes. It should not be considered as medical advice or a substitute for professional medical evaluation, diagnosis, or treatment. If you have Celiac Disease, other dietary restrictions, or any medical conditions, consult a qualified healthcare professional before making any changes to your diet, medications, or lifestyle. Also, if you're considering trying Thistle meals, always remember to scrutinize the ingredients carefully, especially if you have known food sensitivities or allergies.
Why Should You Trust This Review?
Here at Food Box HQ, we pride ourselves on providing in-depth, honest reviews of meal delivery services. These reviews are based on thorough research and extensive hands-on testing.
As with all the meal kits we've reviewed, we subjected Thistle to our rigorous evaluation process (which you can read about here).
To deliver an objective and unbiased review, we purchased a Thistle meal box at regular retail price. Additionally, we strictly prohibit any sponsored content or brand influence in the content we create.
How We Tested & Evaluated Thistle for This Review
When reviewing any product or service, I am to be as thorough and objective as possible. Here are some of the key elements I evaluated when researching, testing, and reviewing Thistle:
Taste: You often pay a premium for convenience with meal kits, so it's important to me that the food I'm spending good money on tastes good.
Variety: As a person with specific dietary restrictions, I value a meal delivery service that offers a range of meal options and flavor profiles. In reviewing Thistle, I looked at the meal plans they offer and how they ensure variety from week to week.
Flexibility & Customizability: A good meal kit works around the customer's needs and preferences. In addition to meal variety, I looked at how easy Thistle is to customize.
Quality: Ingredient quality contributes to flavor and overall value, so I looked at the types of ingredients Thistle uses and their sourcing practices.
Delivery & Packaging: Timely delivery is everything with a meal kit, but it's the packaging that keeps the food safe and fresh during transport. I looked at Thistle's delivery options and consulted customer reviews to get an overall feel for reliability. I also analyzed Thistle's packaging to determine its effectiveness and eco-friendliness.
Ease of Use: Convenience is a major factor when purchasing a meal kit, so it should be easy to use. I analyzed the whole process of ordering a Thistle box and enjoying the products.
Value: Cost is objective, but value is subjective. In addition to evaluating the quality of Thistle meals and my personal experience with the service, I compared their costs to similar services.
While I put a lot of time and careful thought into reviewing Thistle, I recommend doing some research of your own before placing an order. My experience is my own and, though you may find my comments helpful, you might have different priorities when it comes to choosing a meal delivery kit.
It may be helpful to read other in-depth reviews, but customer comments can be insightful as well. Just keep in mind when using review aggregators like Trustpilot and Yelp that the majority of people write reviews only when they are highly satisfied or highly dissatisfied with their purchase.
These sites are a great resource to mine for details about things like pricing, delivery, and customer support, but reviews tend to skew toward the extremes rather than providing a balanced view of the service.
If you're looking for genuine testimonials from everyday Thistle customers, check out the /r/ReadyMeals and /r/mealkits subreddits. You'll notice that I've woven comments from redditors and other Thistle customers into this review along with my own personal experiences.
About Thistle: How They Came to Be One of the Easiest Plant-Based Meal Kits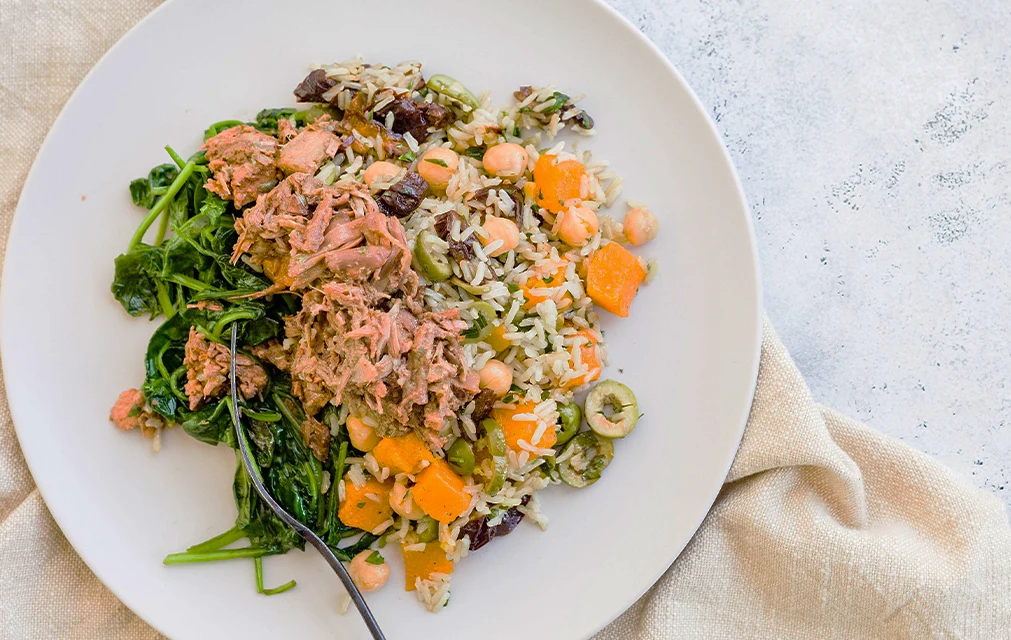 Like many meal delivery services currently on the market, Thistle began as a startup.
It was co-founded by Ashwin Cheriyan and his wife, Shiri Avnery, as a direct-to-consumer food and nutrition brand. Launched in 2013, Thistle was and remains headquartered in the San Francisco Bay Area.
Though formed a decade ago, much of Thistle's expansion has happened in the last few years.
In 2020, Thistle closed on a $5.7 million Series A round of funding led by PowerPlant Ventures. This investment represented roughly one quarter of the company's funding since its formation. A year later, Thistle secured $10.3 million in Series B capital, also led by PowerPlant Ventures with involvement from Siddhi Capital, Alumni Ventures Group, and Rich Products Ventures.
According to an article on Crunchbase News, Thistle grew its customer base by 50% between 2019 and 2021. Originally limited to the San Francisco Bay area, Thistle has expanded across California, into Oregon and Washington, and continues to work its way toward the East Coast.
While many meal delivery services like HelloFresh and Blue Apron (the OG meal kit) offer portioned ingredients and easy-to-follow recipes, Thistle has always offered ready-made meals. From grain-based breakfasts to hearty soups and fresh salads, Thistle operates under the belief that convenience is king.
But does Thistle live up to their promise of making plant-based foods easily accessible and incredibly convenient? Let's find out...
How Thistle Works
Thistle's website is one of the simpler sites I've seen in the meal kit space. Though by no means unattractive, it's incredibly easy to navigate. A few clicks is all it takes to find the information you need to decide whether it's worth delving deeper.
When you visit the homepage, you're greeted with an invitation to "autopilot your diet." After inputting your zip code and email, you'll be taken to a page where you can start customizing your plan. If you continue to scroll down the page instead, you'll find quick information about the service, a sneak peek at Thistle's "globally inspired" menu, sample pricing, and key nutritional features.
Thistle suggests that the following four features set their service apart from the competition:
Harness Plant Power – Build a plan around nutritious plant-based snacks, meals, and cold-pressed juices.
Choose Your Meals – Customize your plan with breakfasts, lunches, and dinners with optional meat protein add-ons.
Delivered to Your Door – Enjoy fully prepared meals designed by chefs and nutritionists, delivered fresh to your home.
Eat & Repeat – Change your plan as needed (skip a delivery, pause, or cancel anytime).
Thistle's business model is a familiar one. While it's a little bit of an outlier in that the meals are entirely plant-based, features like fresh home delivery and plan customization are expected at this point in the game.
That said, if the model works, why change it?
As you click around the site, you'll find menus for the current week and the next week as well as a list of Thistle's juices and sides. Though primarily a West Coast operation, Thistle is available in the greater Northeast region as well, from Connecticut to Washington D.C.
You can view menus for both the West Coast and East Coast on Thistle's site. If you start a subscription in one region, however, you won't be able to switch. If you move, you'll need to create a new account.
I liked how Thistle presents their menus. They offer breakfast, lunch, dinner, and snack suggestions for Monday through Saturday. The photos of the food look very nice and you can click on the image to bring up a description of the meal and its nutritional information.
At any point while browsing the selection, you can click Get Started Now to start building your plan.
My Thoughts On Thistle's Meal Plans
Signing up for Thistle is quick and (fairly) painless. Once you've provided your zip code (to verify that Thistle delivers to your area) and email address, you start building a plan by indicating how many breakfasts, lunches, dinners, and snacks you want to receive each week.
I appreciated that Thistle keeps this part pretty cut-and-dry. They state that one meal is equivalent to one adult serving and the price-per-meal is clearly marked. You simply toggle the meal counter up or down for each then click to the next page.
Here you have the option to add meat protein to your meals.
The default option (plant-based protein only) includes an average of 20 grams of plant-based protein in each lunch and dinner. All breakfasts are 100% plant-based. Thistle indicates that the protein in their plant-based meals comes from legumes, nuts & seeds, adashah, tempeh, tofu, and whole, ancient grains.
For an additional $2.99 per meal, you can add a 3-ounce portion of meat protein (chicken, turkey, or pork) or a mix of meat and plant-based protein to each lunch and dinner.
On this page, you'll also indicate whether you have any food allergies. This part was particularly important for me.
Thistle states in this section that their meals do not contain dairy, eggs, gluten, refined white sugars, artificial sweeteners, artificial preservatives, additives, or dyes. If you indicate that you DO have food allergies, you can then select from the following ingredients you'd like to avoid:
Shellfish
Fish
Coconut
Peanuts
Soy
Pork
Tree nuts
Though Thistle offers meals free from these ingredients, they state that their facility processes soy, peanuts, tree nuts, sesame, seafood, shellfish, eggs, and pork. Individuals with severe allergies should exercise caution. Thistle also indicates that, while they do not process gluten in their facility, they have not obtained a Gluten Free Certification.
After you've made your selections, you can view your Plan Summary. This shows how many of each meal (or snack) you've selected, the price per meal, and the delivery fee ($4.95 per delivery). If you have a gift card or promo code, you'll input it here.
The next and final stage is to provide your name, mailing address, and phone number along with your payment information.
Payment for Thistle subscriptions can only be made by credit card. When you check out, Thistle provides a date for your first delivery and notes that you'll automatically be charged weekly unless you modify or cancel your plan.
If at any time you want to stop receiving Thistle meals, you can pause or cancel your plan. You can pause your subscription for up to eight weeks at a time by signing into your account and click "Pause Plan" on your meal plan summary page. You must pause the plan by 11:59pm PST the Thursday prior to the week you want to skip.
Canceling your Thistle subscription is just as easy. On the same page, you'll just click "Cancel Plan" which appears directly below the "Pause Plan" option. Again, you'll need to cancel by 11:59pm PST on Thursday to avoid being charged for the next week.
Meals & Menu Variety (What's Good & What's Not)
Unlike some of the more well-known meal kits like HelloFresh, Thistle doesn't offer different meal plans. Every subscription is customized to suit your needs.
I like that you can choose exactly how many of each meal type you want each week instead of being boxed into a specific plan. It's also easy to bulk out your meal plan with cold-pressed organic juices, soups, and salads.
While it's nice to be able to choose the exact number of meals you get each week, that's where the customization options end for many customers. Unless you are what Thistle considers a local customer, you'll be limited to the pre-selected meals for each weekly menu.
If you live close enough to Thistle's facilities that your orders are delivered by their own drivers (instead of being shipped through a third-party service), you can make substitutions from a limited number of options. Only certain items are available on specific delivery days, however, so it's still not quite as flexible a plan as something like Sunbasket where you choose from a wide variety of meals each week.
Though you're sort-of stuck with whatever you've got in your weekly delivery, Thistle does appear to make an effort to include variety in their plans.
Breakfasts range from traditional options like smoothies and oatmeal to more interesting meals like "scrambles" with legumes and veggies, fruit crumbles, and breakfast breads (I would have loved to try the Blueberry Cream Cheese Mini Bagel). Lunches typically consist of salads or bowls with mixed greens and grains. Dinners are a little heartier—multi-grain bowls with veggies, noodle dishes, or stews.
Where Thistle really gets creative is with their snacks. I personally enjoyed the Kitchen Sink Energy Balls but they also have things like "queso" dip with veggies, nut and seed bars, mousse, and muffins.
Thistle doesn't appear to ascribe to the notion that plant-based diets are boring.
They appear to offer a decent array of meal types, flavors, and ingredients throughout the week. Salad lunches are typically paired with noodle dishes or grain bowls for dinner, so you don't have to eat salad for every meal, if you don't want to. Each weekly menu also appears to include a variety of sweet and savory options for breakfast and snacks.
It's worth noting that, in order to ensure variety while keeping their meals gluten-free, dairy-free, and allergen-friendly, Thistle makes use of ingredients some customers may be unfamiliar with.
Plant-based "cheese" was a new experience for me. If you're not a fan of beans or lentils, you'll likely be disappointed with Thistle, as they seem to be a staple. Thistle does use some conventional meal foundations like rice noodles, but you'll also find uncommon alternatives like shirataki noodles. If you've never had these before and don't follow the cooking instructions, you may not like them.
Though Thistle is less customizable than other meal plans, it may be a good option for followers of plant-based diets who want to try new flavors and switch up their routine.
My Experience with Thistle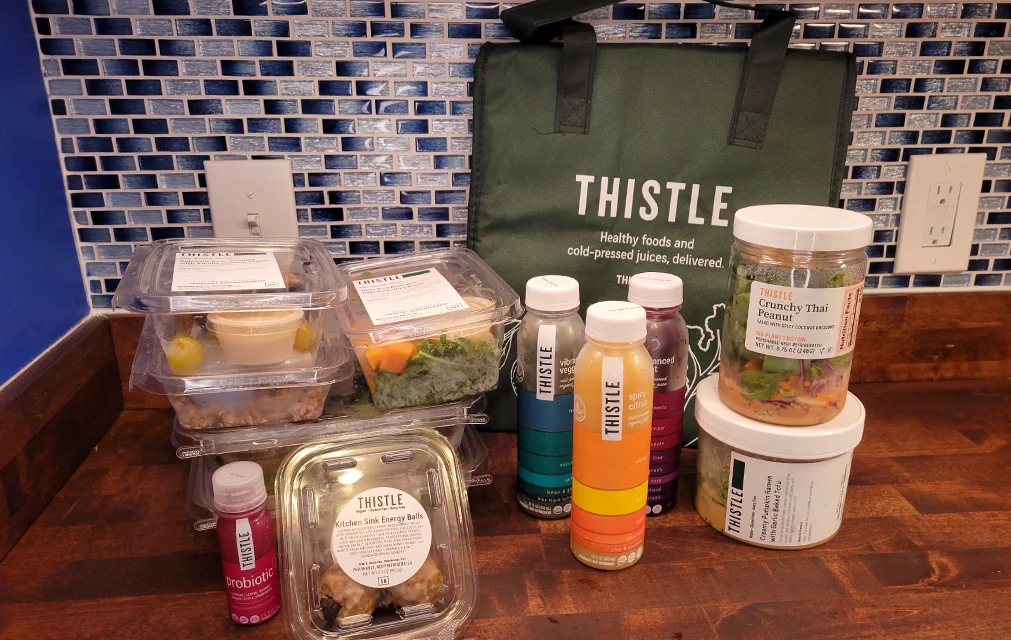 To test Thistle for myself, I ordered a mixed box of breakfasts, lunches, dinners, snacks, sides, and juices.
Here's a list of the items I received:
Super Seed Berry Meusli
Crunchy Thai Peanut Salad with Spicy Coconut Dressing
Leafy Greens and Sun 'Cheese' Salad with Herb Navy Beans
Roasted Delicata Salad with Garlic Garbanzo Beans
Dirty Rice Bowl with Paprika Kidney Beans
Creamy Pumpkin Ramen with Garlic Baked Tofu
Balsamic Pear Crumble with Vanilla Cashew Cream
Kitchen Sink Energy Balls
Vibrant Veggie Cold-Pressed Organic Juice
Spicy Citrus Cold-Pressed Organic Juice
Balanced Beet Cold-Pressed Organic Juice
The meals were packaged individually in clear plastic containers. Snacks and salads came in the kind of tear-open containers used for prepared foods at the grocery store. Soups and noodle dishes came in screw-top containers.
My Thistle delivery was packaged thoughtfully to keep the food fresh. I liked that I also received a reusable thermal cooler bag with my order.
At first glance, I was impressed with the Thistle meals I received. Knowing that the food would be fully prepared and fresh (not frozen), I wasn't sure what to expect—especially for delicate ingredients like leafy greens. On inspecting the meals without opening them, I didn't see any obviously wilted or rotting greens.
As I enjoyed my Thistle meals over the course of the next few days, the food stayed pretty fresh. I honestly didn't expect the salads to last as long as they did.
I appreciate the thought Thistle puts into packaging their meals. Some of the salads I received had dry ingredients (crunchy toppers like nuts) separated from the greens and all dressings were stored in lidded containers. Multi-ingredient salads seemed to be layered in a way that they didn't get too wet.
Though I was impressed with the quality of the ingredients and the presentation of the Thistle meals I received, I was a little underwhelmed by their flavor.
I'm a person who uses a lot of salt when I cook. I don't expect meals prepared in large batches to be perfectly suited to my own taste, but I found myself adding a lot more salt, pepper, and other flavorings to the meals than I expected to.
Now, let's get into the details for each of the Thistle meals I tried.
Taste Test of a Week's Worth of Thistle Meals
Below is a quick overview of the Thistle meals I tried. You'll find comments on the ingredients, the presentation, the flavor, and my overall impression of the dish.
Super Seed Berry Muesli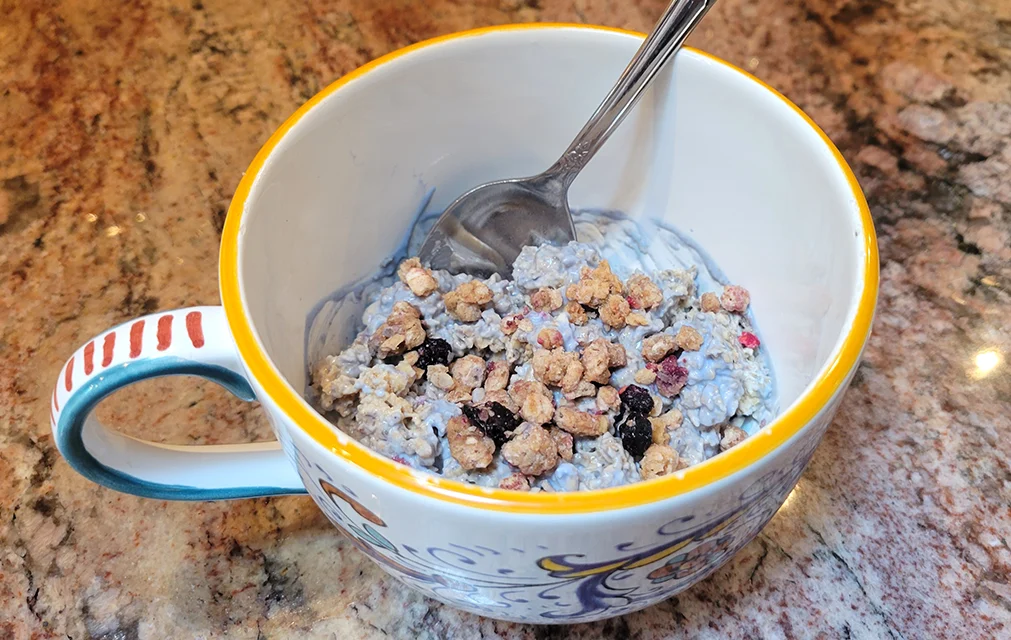 This dish consisted of a seed-based muesli with vanilla coconut milk tinted with blue spirulina. I was a little skeptical about the blue milk, but I was pleasantly surprised. The muesli offered a nice blend of textures, and it was just slightly sweet.
This meal was packaged in a plastic container with the coconut milk in a separate lidded container. All I had to do was stir the milk into the muesli and it was ready to eat.
Crunchy Thai Peanut Salad with Spicy Coconut Dressing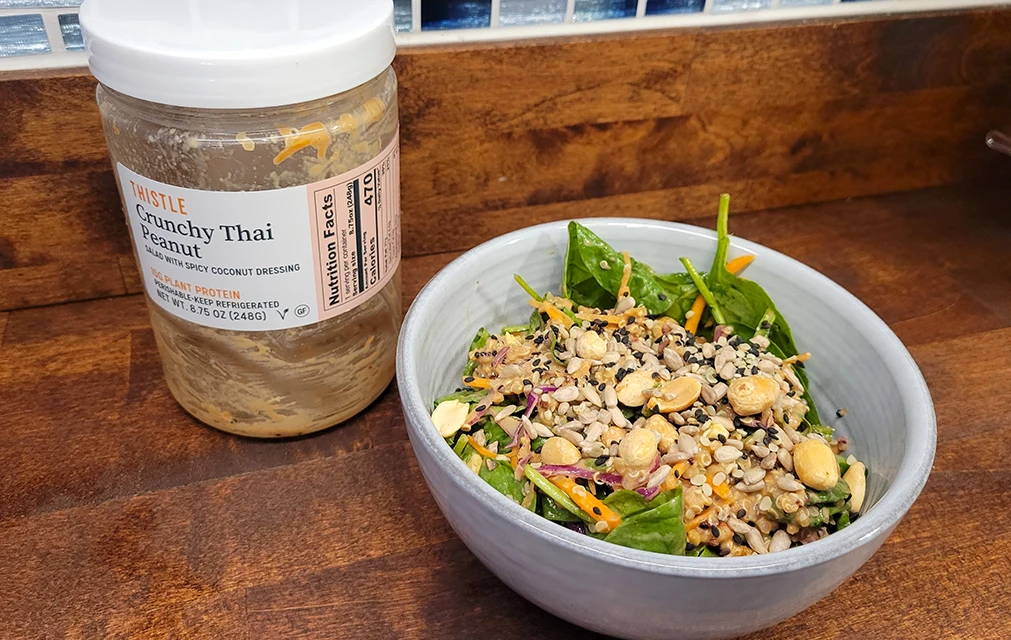 This may have been my favorite meal and it definitely would have been the best "on the go" option. The entire salad was packaged in a screw-top plastic container with the grains and veggies on the bottom and the spinach on top. The crunchy toppings and dressing were separated from the rest.
The spinach in this salad was very fresh and I liked the addition of the quinoa. I love little crunchy bits in my salads, so I also enjoyed the topping which consisted of various nuts and seeds.
My one criticism of this dish is that the spicy coconut dressing wasn't even remotely spicy. I wasn't expecting it to knock my socks off, but it was a little lacking in flavor. I found myself heavily salting the salad after mixing in the grains, veggies, and dressing.
Leafy Greens and Sun 'Cheese' Salad with Herb Navy Beans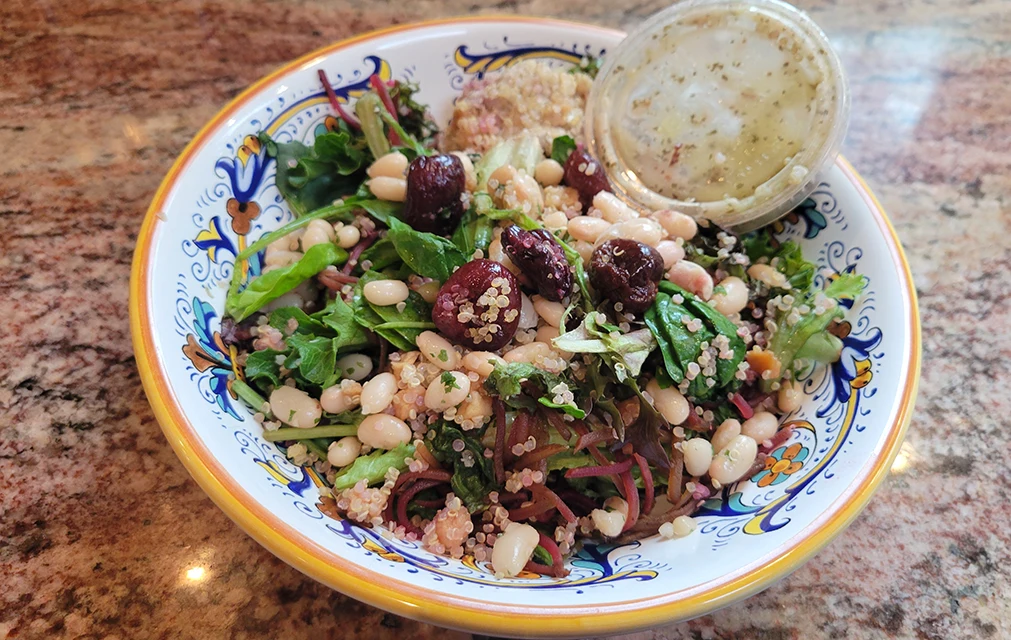 This dish was my first experience with plant-based 'cheese' and I wasn't sure what to expect. I tasted the salad first (after mixing in the navy beans and dressing) and tried the cheese separately. The salad consisted of a base of mixed greens with navy beans, pickled beets, quinoa, and cherries.
Though the dressing for this salad was a little under seasoned as well, I really liked the herby flavor. It mixed easily into the greens and other ingredients a little more cohesively than the previous salad as well. My favorite ingredient was the pickled beets. I'm typically not a fan of beets, but they were finely shredded and had a nice tangy flavor.
The 'cheese' in this dish—made from sunflower seeds—was very soft. I'm not sure if it is meant to be mixed into the salad, but I didn't see that working well for how thick it was. I won't be giving up regular cheese anytime soon, but I didn't mind the flavor.
Roasted Delicata Salad with Garlic Garbanzo Beans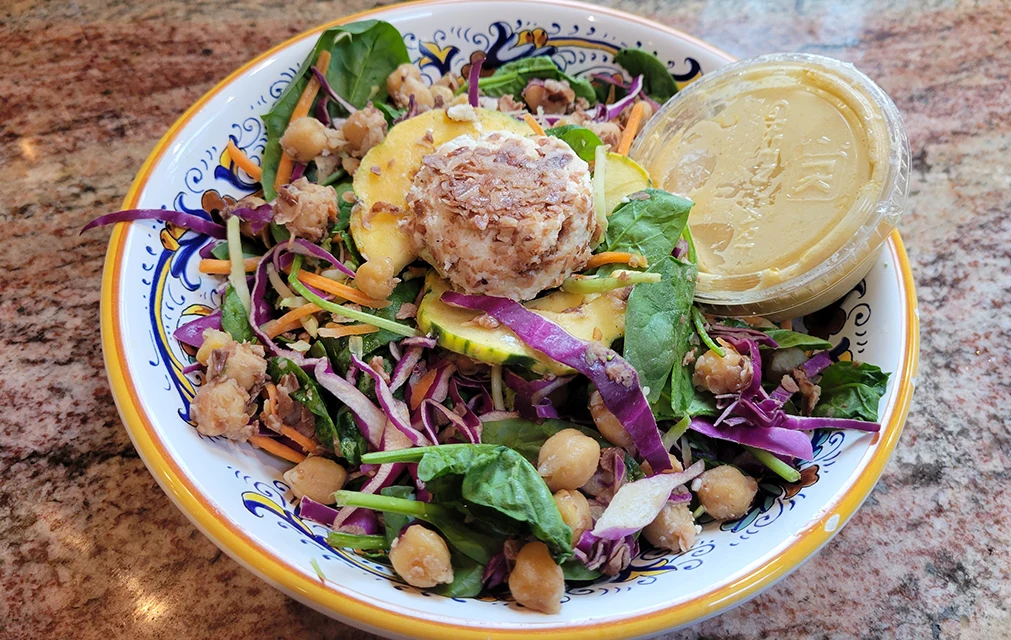 This salad is topped with a dollop of cashew cheese and I liked this version a little better. It had a nutty flavor I appreciated, though, again, it was difficult to mix into the other ingredients.
Mixed greens made up the base of this salad while shredded red cabbage and carrots gave it a little crunch. It also contained garlic garbanzo beans and roasted delicata squash.
I enjoyed the sweet mustard ranch dressing that came with this recipe. Again, it could have used a little more seasoning, but the flavor was unique.
Dirty Rice Bowl with Paprika Kidney Beans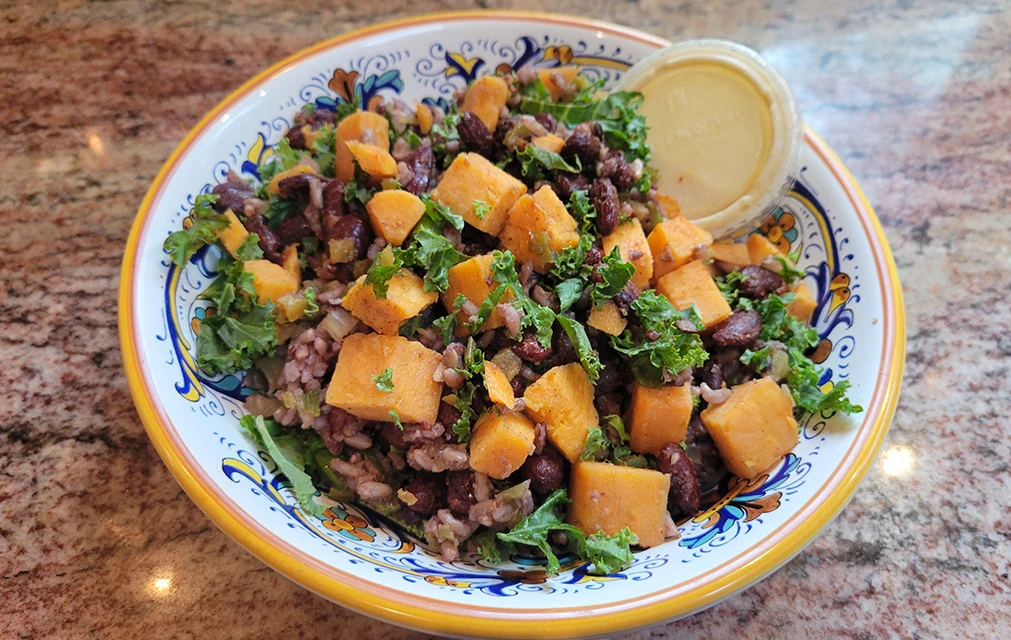 I shared this dish with my family, serving it as a side dish at dinner. It consisted primarily of dirty rice—rice cooked with onions, bell pepper, celery, and Creole seasoning. The salad also contained roasted sweet potatoes, paprika kidney beans, and a mustard aioli.
Sweet potatoes are one of my favorite foods, so I really enjoyed that part of the dish. The rice was a nice change up from the salads I'd been eating, though, with the kale, this dish still had a bit of a salad-like feel to it. I did serve it cold, however, instead of heating it in a skillet like Thistle suggests.
Creamy Pumpkin Ramen with Garlic Baked Tofu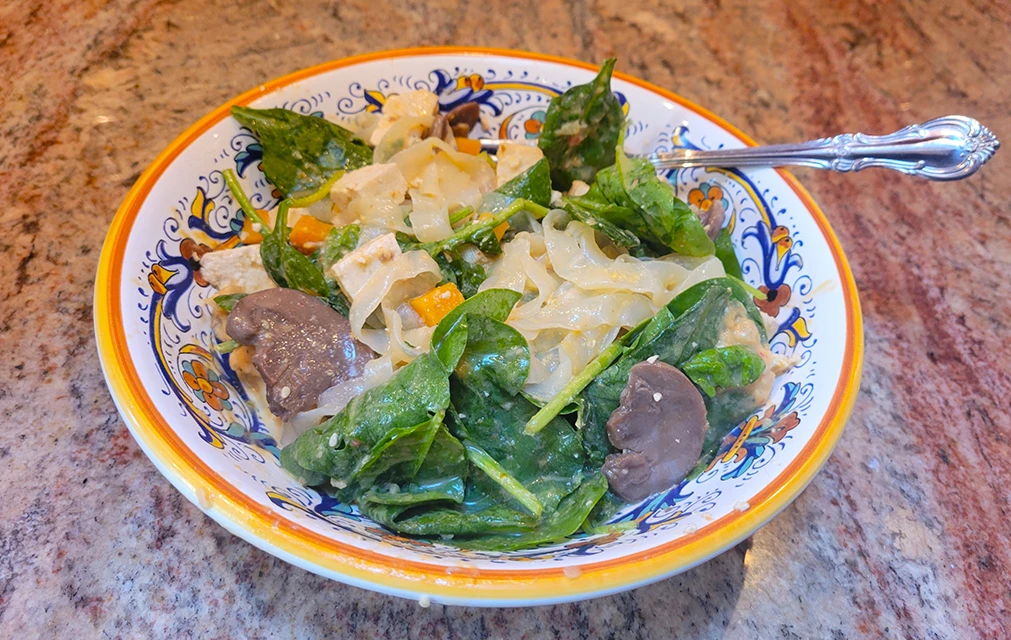 This is the dish I can see throwing unsuspecting subscribers through a bit of a loop. It's ramen that consists of a creamy pumpkin-flavored broth with roasted butternut squash, sauteed mushrooms, spinach, and shirataki noodles.
Having had to forgo wheat-based pasta over a decade ago, I've tried pretty much every gluten-free noodle alternative there is. Shirataki noodles are one of the strangest options, but I really don't mind them. They're tricky, though.
Shirataki noodles are made from glucomannan, a type of fiber derived from konjac root. They're almost entirely flavorless and extremely low in calories. If you don't cook them properly, they can be a little slimy, but they taste just fine in the right sauce. I'm not sure shirataki was the best option for this dish, but I didn't have a problem with it.
Balsamic Pear Crumble with Vanilla Cashew Cream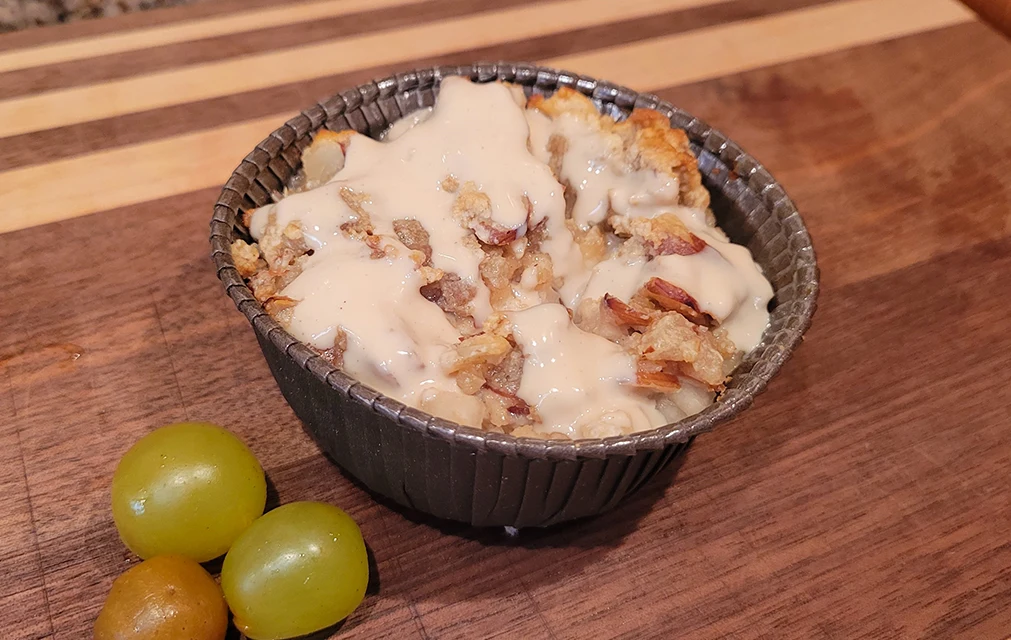 I'm not sure whether this dish was included as breakfast or a snack, but I had it for dessert. It's a cooked pear base topped with a crumble of oats and almond. It also comes with sweetened vanilla cashew cream.
I love this dish in theory. I'm generally not a fan of cooked fruit (no apple pie for me, thanks) but I do enjoy a crumble. Where this dish missed the mark for me was the balsamic flavor added to the pears. It takes the dish to a different level, for sure, but it just wasn't to my taste.
Kitchen Sink Energy Balls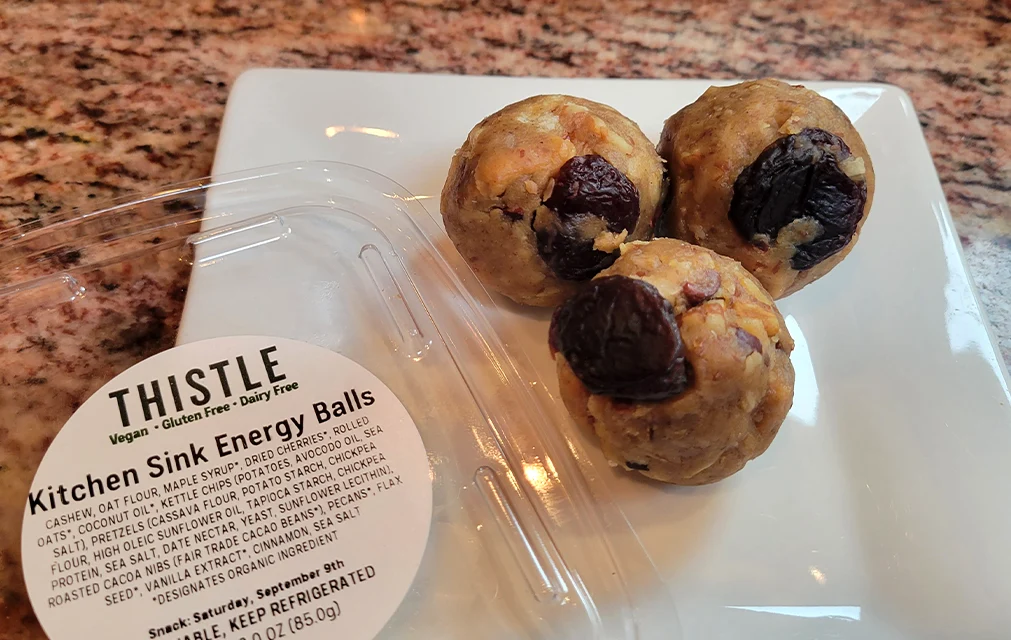 This was my second favorite dish. They're little compressed balls of oats and cashew sweetened with maple syrup and dried cherries. I loved nibbling on them as a snack, but I can see them making a nice healthy dessert as well.
Unsurprisingly, they taste pretty much like oatmeal in a ball. They weren't overly sweet, and I liked the combination of flavors. The only criticism I have is that they were a little dry, but they definitely weren't crumbly.
Vibrant Veggie Cold-Pressed Organic Juices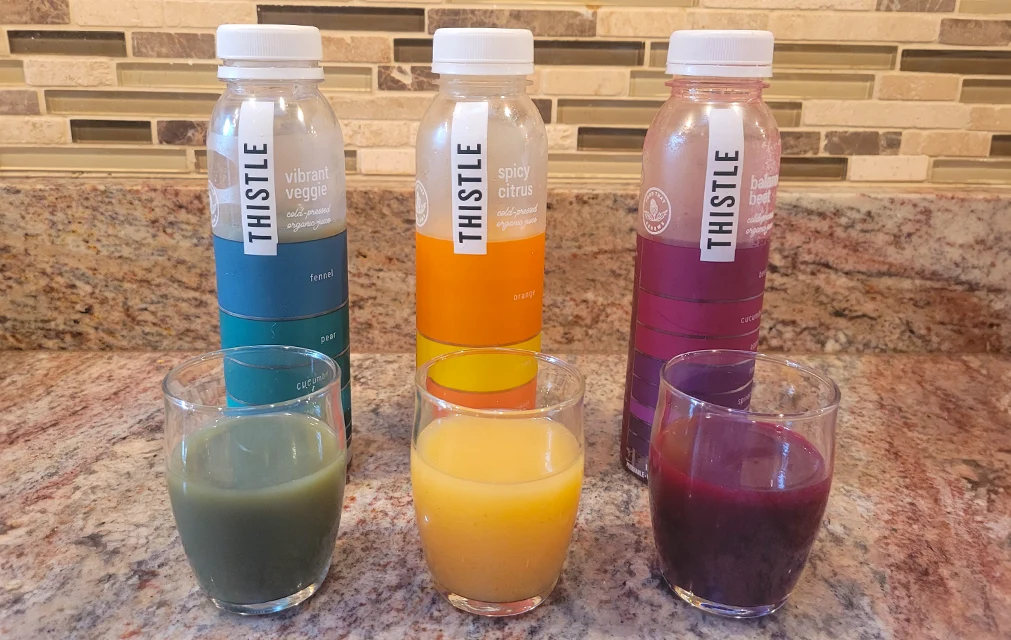 I received three organic cold-pressed juices with my order: Vibrant Veggie, Spicy Citrus, and Balanced Beet. Generally speaking, I'm not a huge fan of vegetable juice, but I didn't mind these.
The Spicy Citrus tastes the way you'd expect orange juice to taste. Though it's supposed to be spicy, the only secondary flavor I noticed besides the orange was lemon. The Balanced Beet juice was pretty good at first sip, but it had a bit of an aftertaste I didn't enjoy. Surprisingly, the Vibrant Veggie green juice might have been my favorite of the three.
Though juices like these aren't something I really enjoy, I appreciate that Thistle offers a decent variety of them. They have eight juice flavors and five "shots." I received the probiotic shot which tasted like a blend of apple and orange juice (which it is).
Thistle Meal Portion Sizes
On their website, Thistle states that each meal contains one adult serving. If you scroll through the nutrition portion of their FAQ section, however, you'll find that the sauces and dressings are typically two servings.
If you're watching your calorie intake, keep in mind that the nutritional information on each meal's packaging is for one serving.
I thought the portion sizes for Thistle meals were pretty generous. Even the salads were pretty filling because they contained grains, legumes, or hearty veggies. I actually served one of the rice bowls as a side dish at a family dinner I hosted during my week of testing Thistle.
Thistle Meal and Ingredient Quality
The quality of Thistle's ingredients appears to be very high. On their website, Thistle states that they have partnerships with local food purveyors and make an effort to prioritize sustainability. In their blog, Thistle lists some of the farms and food crafters they use.
When it comes to their meat ingredients, Thistle provides very specific information, but they do state that some (unspecified) ingredients are sourced from outside the United States.
In addition to being locally sourced, many of Thistle's ingredients are organic. They do say, however, that they can't guarantee that their ingredients may not always be organic—it depends on sourcing and availability from their vendors. They do, however, make an effort to use organic produce for all the items on the Dirty Dozen list.
Thistle's Packaging and Delivery Methods
All of Thistle's packaging is recyclable. The meals are shipped in cardboard boxes, kept cool with reusable ice packs and recyclable fiber insulation. For local deliveries, Thistle collects and reuses 64-ounce ice packs and empty Thistle bags.
Though based in the San Francisco Bay area, Thistle delivers to Oregon, Washington, Arizona, Nevada, Idaho, and Utah as well as California. They also offer limited East Coast availability between Connecticut and Washington D.C.
Because I live on the East Coast, I used a sample address in Beverly Hills to evaluate the signup process. Depending on where you live, your delivery options may be different.
The Thistle box I tested was sent overnight—I imagine from Thistle's East Coast facility in Burlington, New Jersey. It arrived via Fedex in good condition with the ice packs still frozen and all of the food was cool and fresh.
For local customers, Thistle offers the option to customize your delivery schedule.
If you want to receive delivery updates via text message, simply check the "Receive Text Updates" box on the Delivery Information page during signup. You can also select your preferences for drop-off (leave attended or hand off in person) and your desired delivery window.
While I had no issues with my own delivery, some Reddit users report spotty delivery.
Several users mentioned that their boxes had been delivered to the wrong house or that they weren't delivered at all—despite providing details about the delivery address where indicated on the signup page.
These same users commented that while Thistle is quick to make amends for delivery snafus, it seemed to be standard operating procedure to credit the order back to the user's account instead of refunding it to the payment method.
Judging based on the reviews on Trustpilot, Thistle makes an effort to resolve problems. They replied to 96% of negative reviews (and a significant number of positive ones) and many positive reviews mention strong customer service.
How Much Does Thistle Cost?
There's no denying that Thistle is expensive. If you're not willing to spend at least $50 a week, Thistle probably isn't the right meal delivery service for you.
While Thistle is certainly pricy, I can see some justification for the cost. The meals are all fully prepared, delivered fresh, and made with as many local and organic ingredients as possible. That said, I have a hard time paying almost $15 for bowl of salad greens mixed with quinoa, beans, and dressing.
Here's the undiscounted price per Thistle meal:
$12.99 per breakfast
$14.99 per lunch
$14.99 per dinner
$6.00 per snack
In the meal planner, Thistle suggests that increasing the number of meals in your plan will reduce the per-meal price.
The preset meal plan includes five each of breakfast, lunch, dinner, and snacks. If you add a sixth meal (breakfast, lunch, OR dinner), the per-meal price of all three drops by $0.50. I toggled the numbers up and down, but this appeared to be the full extent of the discount.
All Thistle meals are plant-based, but you can add meat protein (a 3-ounce portion of sustainably sourced chicken, turkey, or pork) to each lunch and dinner for an additional $2.99 each.
For the same price, you can receive a mix of plant-based protein and meat. I found this a little bit confusing, given that Thistle indicates all lunches and dinners contain an average of 20g protein from plant sources anyway. I would imagine selecting the "mix of plant-based protein and meat" option might change the ingredients used in the meal, potentially replacing some of them with a portion of meat.
On top of your weekly meal plan, you'll also pay for shipping. Shipping costs vary depending on where you live but, if you qualify for local delivery, the cost starts at $4.95.
Thistle Promo Codes & Coupons
While many meal delivery kits like EveryPlate and Dinnerly frequently offer discounts and promotions, Thistle appears to keep their pricing pretty standard. That said, I found a few promo codes online.
Coupon code "Save100" will get you $25 off your first order
Coupon code "EunicePXSG" will get you $120 off your first 5 weeks of meals
Coupon code "MOM" will get you 40% off your first order
Teachers, healthcare workers, first responders, military, and students are eligible for a 10% discount on their subscription.
If the promo codes above don't work for you, you may still be able to get a discount on future boxes by referring friends. When you sign up, you'll get a referral code to share with friends and family. For each person who uses your code to sign up, you'll receive $60 off over six weeks (the referee will get $120 off over 5 weeks).
Thistle vs. Sprinly
Another plant-based meal delivery service, Sprinly is similar to Thistle. Sprinly offers 100% vegan and plant-based meals, all of which are fresh and ready to eat.
Where Sprinly differs from Thistle is that you get to choose your meals every week. Like Thistle, Sprinly rotates their weekly menus, but you can choose to receive a random selection or choose the meals you want from the options available.
At first glance, Sprinly appears to offer mainly pasta dishes, though soups, salads, and plant-based burgers work their way into the rotation. Though fully prepared, Sprinly's meals seem to be less ready-to-eat than Thistle's, needing to be heated up before eating.
In terms of pricing, Thistle actually appears to be a little cheaper. With Sprinly, you can only order 6, 12, or 18 meals per week with costs ranging from $109/week to $289/week. If you want a customized plan that enables you to select from different meal types (with the option of adding snacks and sides), Thistle may be a better choice.
Pros & Cons of Thistle
Having thoroughly researched and tested Thistle for myself, I've summarized what I like about this meal delivery service and what I don't. Each customer's experience is unique, but the details of my experience may help you determine whether Thistle is the right option for you.
Thistle Pros
Thistle offers a healthy and convenient option for individuals following plant-based, gluten-free, and dairy-free diets.
Individuals with allergies or additional dietary restrictions may find Thistle more accommodating than many meal delivery services.
Thistle offers a variety of meal types including breakfast, lunch, dinner, snacks, sides, and juices.
Though primarily a plant-based meal plan, Thistle offers customers the option to add meat to their meals (for an additional $2.99 per serving).
Many of Thistle's ingredients are locally and sustainably sourced and many are organic.
Thistle's meals are produced in a facility that doesn't process gluten (though they are not certified gluten-free).
All meals are fully prepared and sent to your door fresh (not frozen) with zero or minimal preparation required.
Thistle Cons
Thistle is a pretty expensive option with meal prices starting at $12.99 each (shipping is generally an additional cost).
While local Thistle customers can choose their meals from a limited weekly selection, most customers cannot select the meals they receive.
Thistle isn't available everywhere in the United States. They're largely available along the West Coast and East Coast.
While Thistle's packaging is all recycling, they still use a lot of plastic. Meals are individually packaged in recyclable plastic containers.
Thistle appears to use a light hand with seasoning. Many customers comment that the meals could use more salt (though this could be a benefit for those on low-sodium diets).
My Final Review Score of Thistle
Based on all the factors I took into consideration for this review of Thistle, here are my final scores:
Taste (4.1/5): Thistle uses a wide variety of ingredients in unique combinations, but their meals could do with a little more seasoning.
Variety (4.3/5): Thistle appears to rotate their recipes frequently, but they largely stick to a menu of cold breakfasts, salads for lunch, and grain bowls or soups for dinner.
Flexibility & Customizability (4.5/5): Thistle makes it simple for allergy sufferers to tailor their plan, but week-to-week customizability is limited.
Quality (4.7/5): Thistle sources their ingredients locally and sustainably, when possible, and uses many organic ingredients as well.
Delivery & Packaging (4.5/5): Thistle uses all recyclable packaging, but they make heavy use of plastic and shipping experiences vary for customers who can't take advantage of local delivery.
Ease of Use (4.8/5): Thistle's meals are all fully prepared and many can be enjoyed as-is without needing to be heated.
Value (4.4/5): Thistle is one of the pricier options on the market, but the quality of their ingredients and the convenience of fully prepped meals provides some justification for price.
My final score for Thistle is 4.5/5. With a focus on fresh, high-quality ingredients and accommodations for allergies and dietary restrictions, Thistle is a meal delivery service that offers a great option for vegetarians, vegans, and anyone who wants to eat healthy. While there's room for improvement in areas such as taste, variety, and price, Thistle offers decent value within its niche.