Pressure cookers have come back into style in recent years, and for good reason. They're one of the easiest ways to cook a delicious dinner in minimal time.
What if you combined the ease of pressure cooking with the convenience of meal kits? Well, that's exactly what Tiller & Hatch did.
Tiller & Hatch is a meal delivery service that specializes in sending you pre-prepared frozen meals that can be thrown into any pressure cooker to be cooked.
Emily and I decided to try out this one of a kind frozen pressure cooker meal delivery service to see if it's worth it. Read our in-depth review and personal experience of using Tiller & Hatch below...
Background On Tiller & Hatch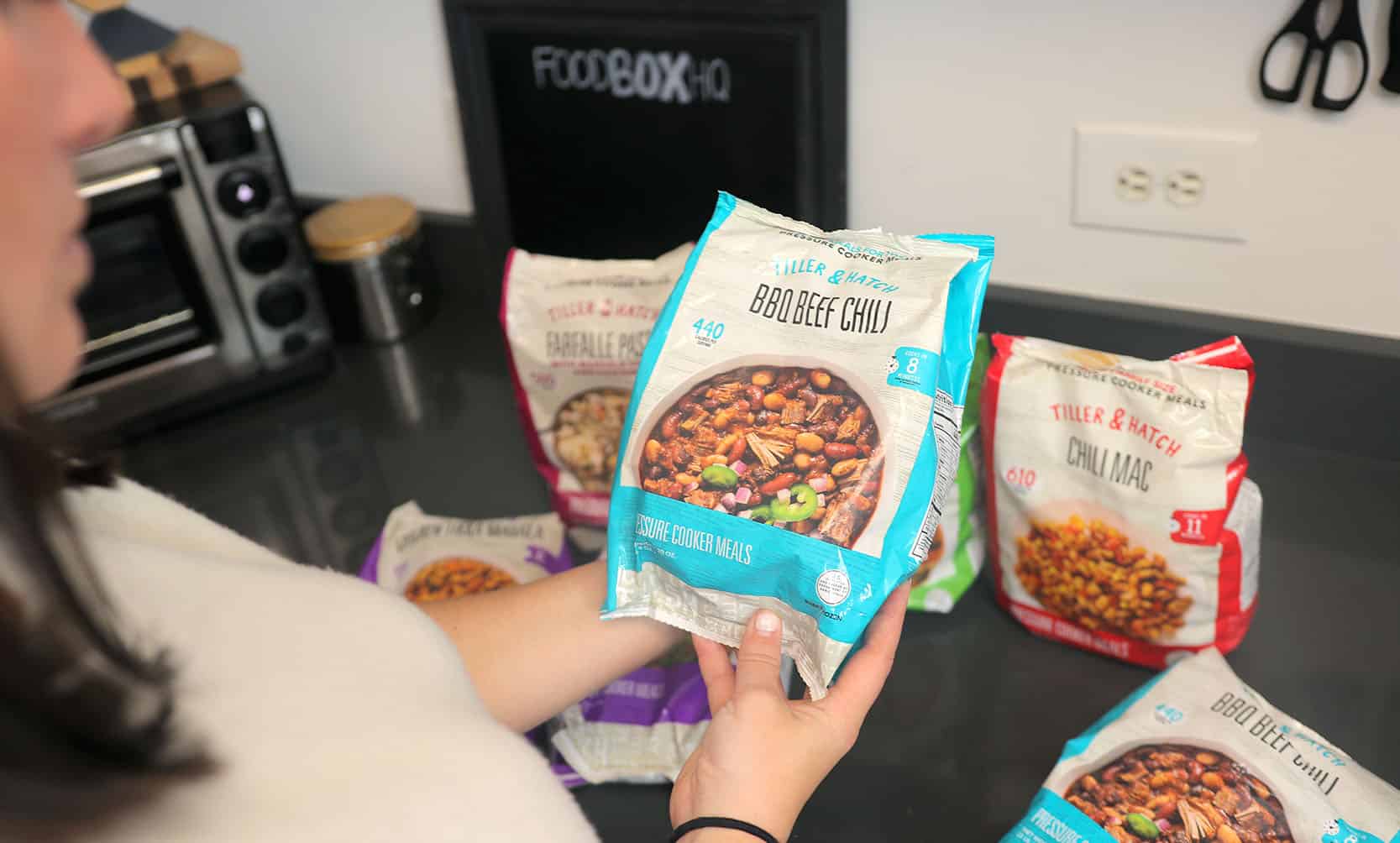 Emily and I have an Instant Pot we ordered after seeing all the hype for it years ago. Even though it's a fun kitchen gadget and relatively easy to use, we found we never really used it after the first few weeks of owning it.
When researching new meal delivery services to review for this site, we stumbled upon Tiller & Hatch. Interestingly enough, it's one of the few pressure cooker meal delivery services available.
What really caught my eye was that Jennifer Lopez and Alex Rodriguez are some of the co-founders of the business. They've said that their goal with Tiller & Hatch is to create flavorful, nutritious and budget-friendly meal options that can be made quicker than conventional cooking.
They also donate a portion of their proceeds to charities working to fight hunger. Recently, they partnered with Feeding America to launch a "Million Meal Tour" where they will be traveling the country donating food to local food banks.
How Tiller & Hatch Works – Subscriptions Plans & Single Orders
There are a few different ways to use Tiller & Hatch...
You could subscribe to receive 4, 6, or 8 Tiller & Hatch meals sent to your doorstep every 4 weeks directly from their website. Each meal is going to be 4 to 5 servings. Do note that since this is a frozen meal, you don't have to use the whole bag when cooking either. So you can easily portion out a bag of meals to be used 2-3 times between 1-2 people (rather than the 4-5 servings the whole bag calls for). Because of this, Tiller & Hatch could be a good option for both single person households and big families. This is a big deal because most of the other meal delivery services are really meant for one or the other.
If you don't want to subscribe, you can also order single bags of Tiller & Hatch online through Walmart or Target (for in-store pickup).
Meal Variety & Quality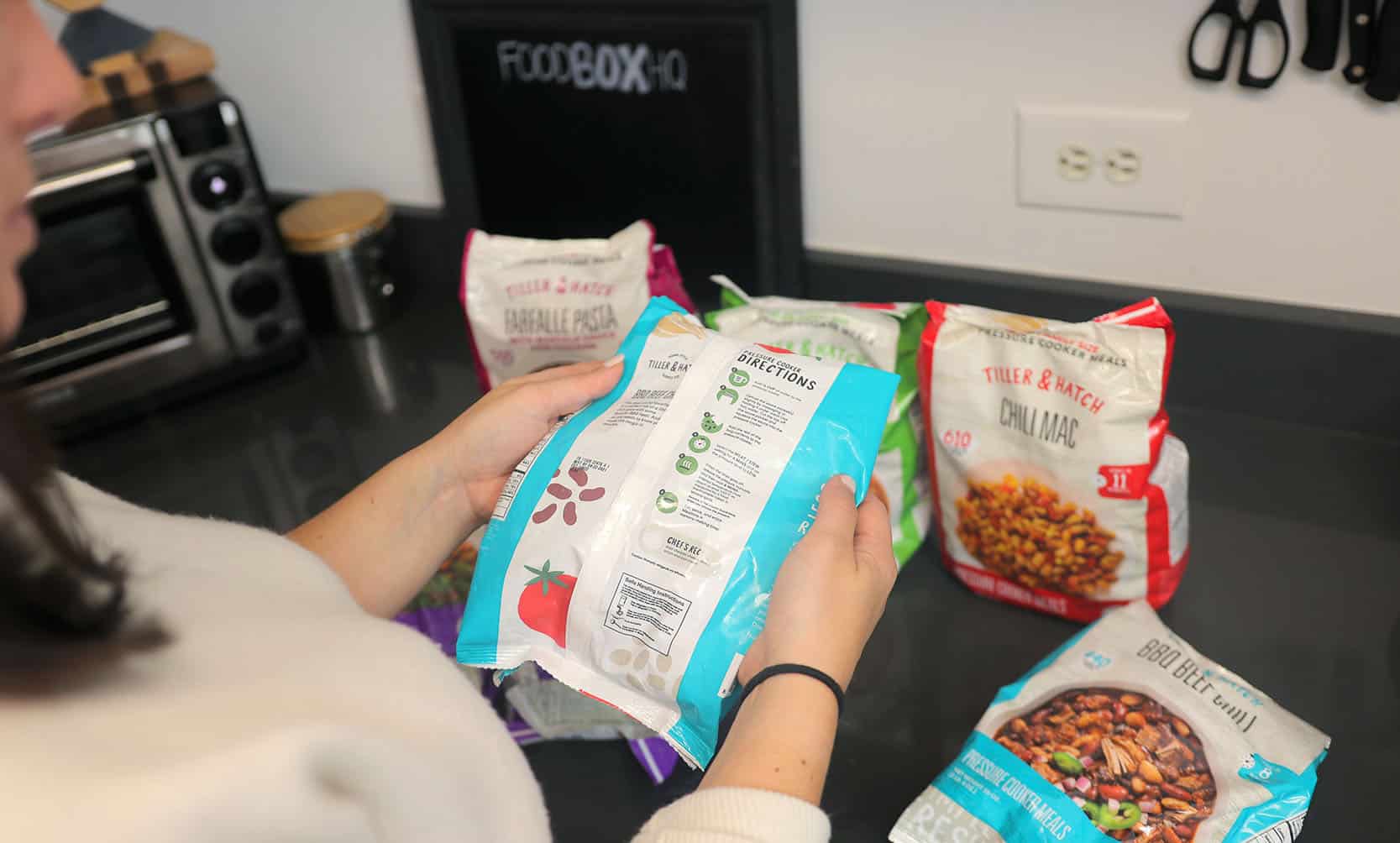 Unfortunately, at the time of writing and reviewing Tiller & Hatch, they don't have many meals to select from. At any given time, I've never seen more than 9 different meals available. Here are those meals:
Chili Mac with Beef
BBQ Chili with Beef
Italian Gnocchi With Chicken
Tikka Masala With Chicken
Santa Fe Style Pasta With Chicken Breast
Farfalle With Marsala Sauce And Chicken
Chicken Tortilla Stew With Black Beans, Red Pepper And Corn
Cajun Style Chicken Stew With Pork Andouille Sausage
Coconut Chicken Stew With Vegetables And Rice
They're also occasionally offer a frozen dessert such as their Cookie Pie.
In terms of the overall quality of the meals (not the actual taste, which we go over below),I would consider them just "okay". There are no additives, non-GMO ingredients, no preservatives, no hormones, no antibiotics, and no MSG used. Some ingredients used are also organic.
However, I've noticed that many of the meals are loaded with calories, sodium, and carbohydrates. This could present a problem because, while their serving size is 1 cup, I found myself eating at least 1 ½ servings/cups per meal. To put this in perspective, here are the nutritional facts for their Chili Mac and Beef meal: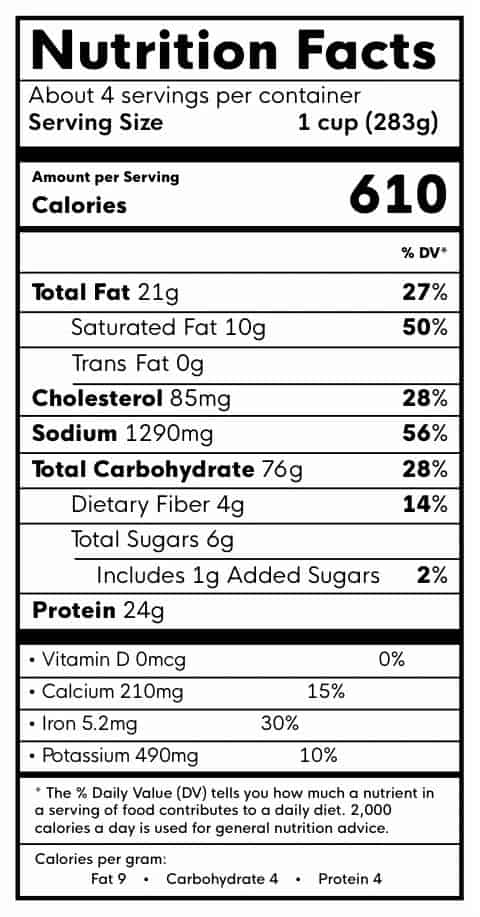 One serving is over half the recommended daily sodium level. That being said, each meal has different nutritional levels so you have some variety. But at only 9 meals to choose from, it's not that much to choose from.
Delivery & Packaging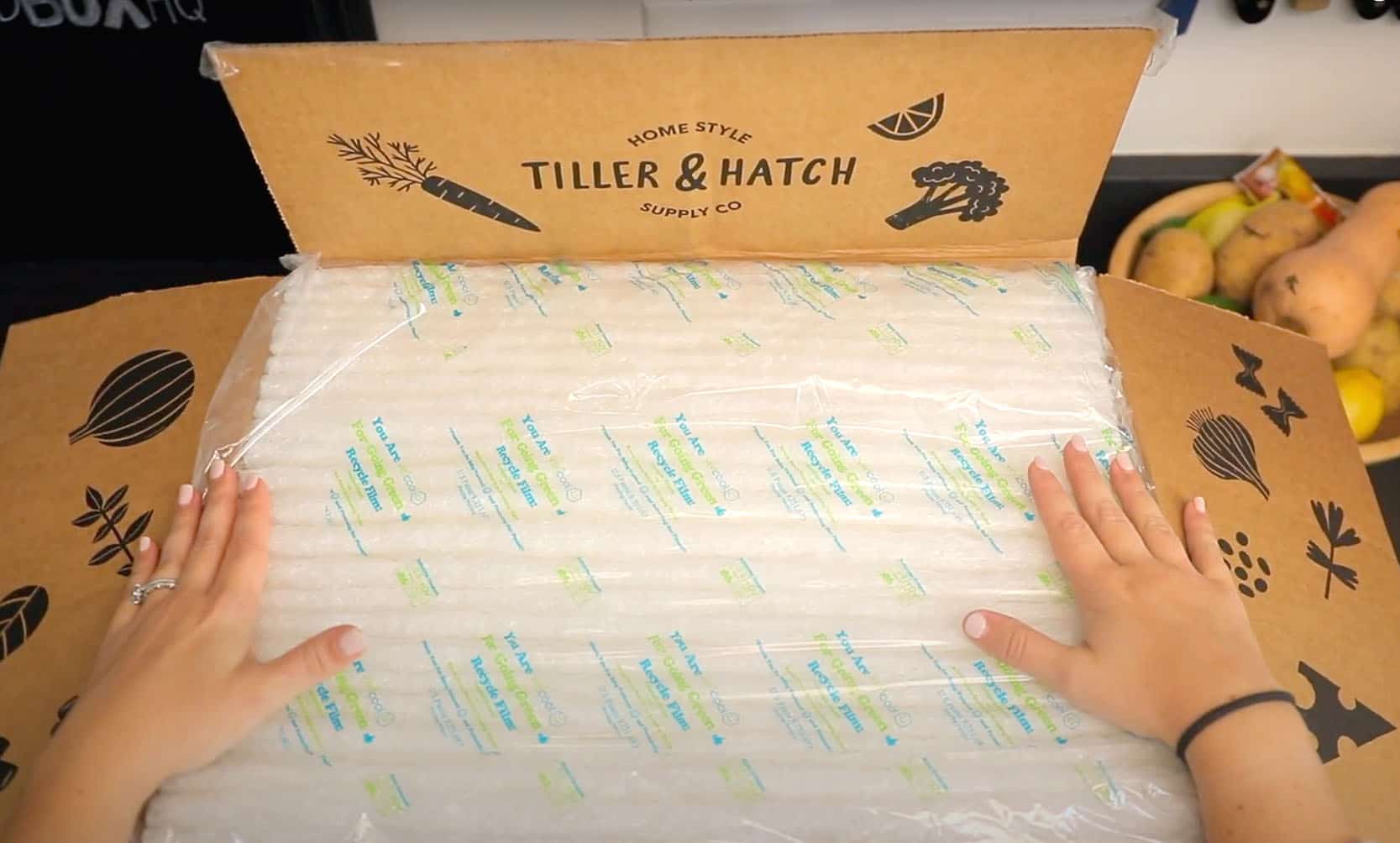 If you opt to order a subscription through Tiller & Hatch directly, your delivery will be sent via UPS or Ontrac, depending on your location. Orders placed Sunday through end of day Wednesday ship the same week you ordered. Orders placed Thursday through Saturday ship that following Monday. They'll send you tracking info once it does ship so you know exactly when it will arrive
The packaging they use is surprisingly environmentally friendly. The box is cardboard and can be recycled. The inner insulation is made from a water-soluble and compostable material that is 100% green. This means you can literally put it under water and it will dissolve away. Just be sure to take it out of its plastic wrapper and recycle that.
The meals are packed between dry ice wrapped in plastic, so be careful opening. The dry ice can be placed in your sink to let it dissolve. Then you can just recycle the outer plastic it was in.
Our Recent Tiller & Hatch Meals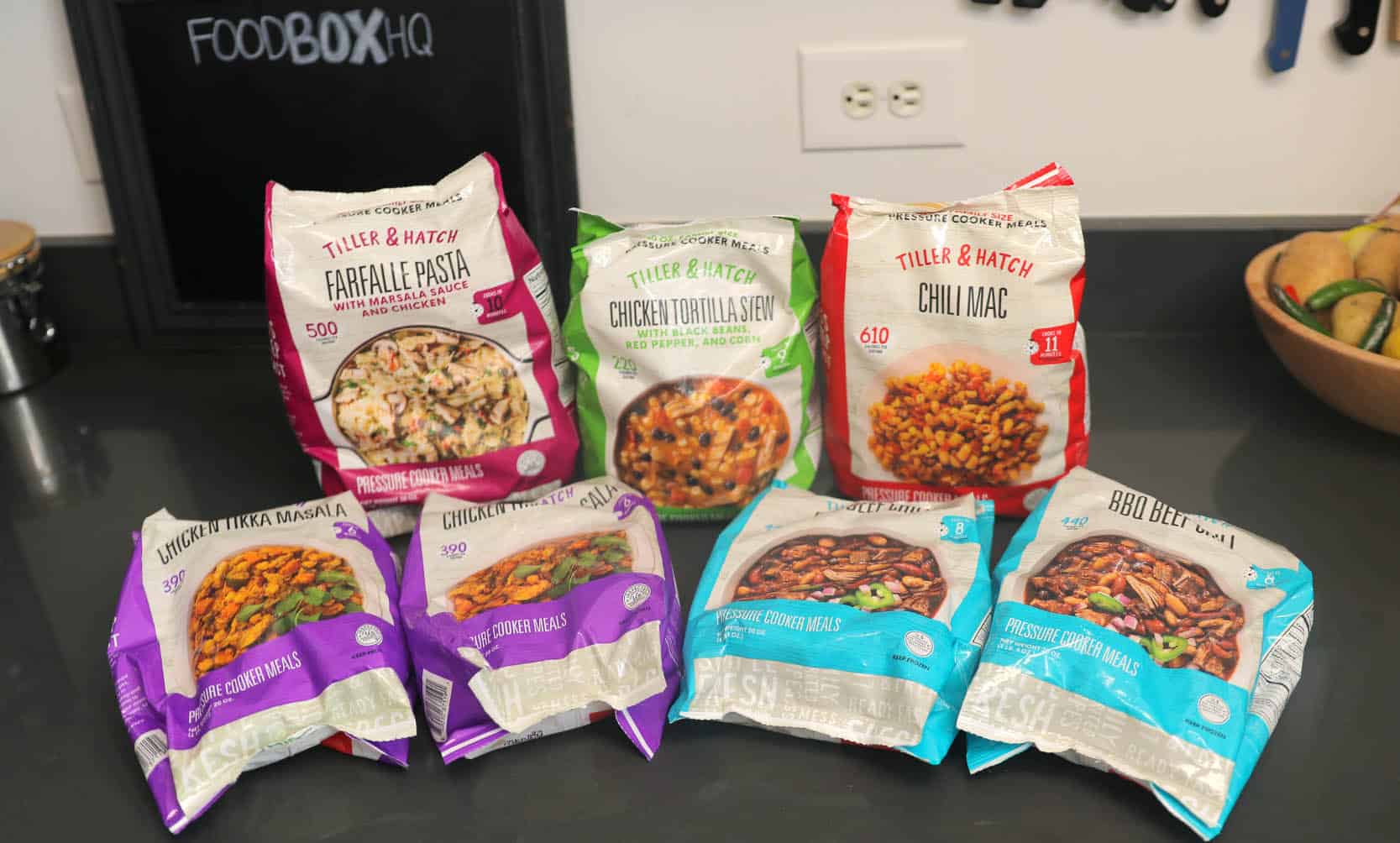 Now let's get to the good stuff—the meals we recently tried! Here's what came in our recent box, along with our thoughts on the taste of each…
Chili Mac with Beef: You can't really go wrong with comfort food like a "mac and beef". Even though this meal wasn't exactly the healthiest of the five we received, as noted above, it was definitely one of the tastiest.
BBQ Chili with Beef: This meal was delicious. Because of the way the pressure cooker actually cooks, it's perfect for these types of chili's. The sauce added a nice BBQ flavor without being too "in your face". The beef and beans also retained a lot of their flavor too.
Tikka Masala With Chicken: As a fan of Indian food, I enjoyed this meal but I would say it was lacking a bit of flavor compared to our usual Tikka Masala we order from our local Indian restaurant. That being said, it was still creamy, hearty, and filling.
Farfalle With Marsala Sauce And Chicken: I'd place this as my third favorite (behind the BBQ Chili and Chili Mac). It has a creamy consistency and the pasta wasn't mushy/soggy.
Chicken Tortilla Stew With Black Beans, Red Pepper And Corn: This one was middle of the road. It wasn't necessarily bad but it wasn't necessarily packed with flavor.
The Cooking Process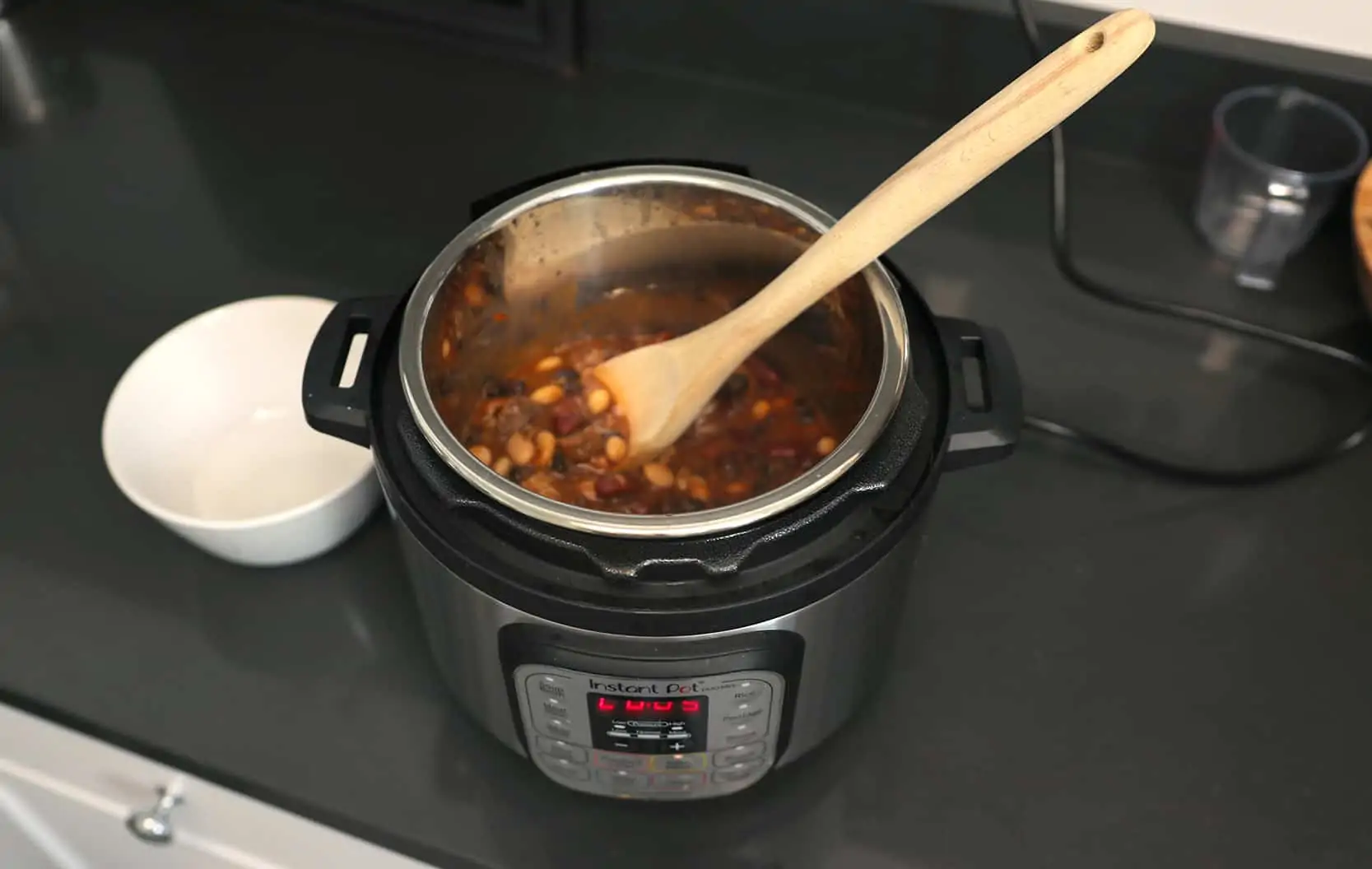 This is the biggest selling point of Tiller & Hatch—it is super easy to make these meals. You can make them in any pressure cooker just following the directions on the back of your bag. Most of the time, that means adding a certain amount of water to your pressure cooker, adding in the sauce packet, and then adding in the ingredients before locking the lid and starting the pressure cooking process.
One thing to note though is that the bags all come with separate sauce packets. Since they'll be frozen too, in order to add them into the pressure cooker, you'll want to run it under warm water so you can "squeeze" it out of the bag.
All of the meals we cooked were incredible easy to make and each took under 6 minutes until it was ready to eat. That's pretty incredible considering these are pre-prepped frozen meals, not pre-made. Tiller & Hatch's super quick cooking time rivals how quickly a lot of pre-made meal delivery services take to heat up in the microwave!
Even if you don't have a pressure cooker, you can still cook Tiller & Hatch meals. They won't be as quick and easy to make but it's still possible. They list out how to cook each on the stove top here. If cooking this way, I suggest using a big wok like this one.
What Are The Pros & Cons?
While there is a lot I like about Tiller & Hatch, it's definitely not perfect. Let's go over both the pros and the cons so you can make the best decision based on your needs...
Pros of Tiller & Hatch
It doesn't get easier to make a meal than this. Due to the nature of pressure cooking, these big meals are ready to eat in under 7 minutes. That is impressive!
They're one of the few meal delivery service options for both single person households and big families. Being frozen means you don't necessarily have to use the full bag. Just pour any amount into the pressure cooker based on the number of mouths you need to feed.
On a per-serving level, this is definitely the most budget-friendly meal delivery service we've seen. These meals will be around $3 per serving. To put that in perspective, the least expensive meal kit options we've ever reviewed (Dinnerly and EveryPlate) are around $5 per serving.
It's a really great backup meal option. Since these meals are frozen, it's super easy to throw them in your freezer until you actually need to use them.
Cons of Tiller & Hatch
Some meals can be hit or miss in terms of flavor. I wasn't a huge fan of the majority of the meals we tried but there were some delicious ones (like the BBQ Chili).
In my opinion, a lot of them have high calories, sodium, and carbohydrates.
There are no diet specific meals. It would be nice if they offered at least one or two plant-based options.
The meals can be "heavy" in your stomach because there are a lot of chili's, stews, pasta bowls, etc.
Tiller & Hatch Coupons
If you're set on ordering your first box of Tiller & Hatch meals, congrats! Below you'll find the best coupons and discounts currently available:
We include multiple different types of coupon codes just in case one doesn't work. If you find that any of the coupon codes above do not work or you've found better ones available, please let us know in the comments below!
Final Thoughts
I think Tiller & Hatch is a great concept. Being frozen, the meals stay good for a long time and since they're cooked in a pressure cooker, they're ready to eat in minutes.
That being said, in my opinion, Tiller & Hatch doesn't feel fully "done" as a meal delivery service. It's a good meal option for those looking for quick budget-friendly dinner option that's not junk but it's lacking a lot of key things many other meal kits and meal delivery services offer: There's not much meal variety (really just chilis, stews, pasta bowls), there are only 9 meals to choose from, and there are no diet friendly options (as of writing this review there is not even one plant-based meal).
Also, I've found the majority of the meals are super heavy and packed with calories, carbohydrates, and sodium. However, they're definitely better than most drive-through meals.
Tiller & Hatch is not a bad meal delivery service but I wouldn't recommend subscribing unless you love pressure cooking and need a super quick dinner-only meal delivery option on a regular basis. This is because you're likely to get bored of the same 9 meals after about 2-3 boxes.
However, if you do own a pressure cooker, I would recommend buying a few bags at your local Target or Walmart and keeping them in your freezer as a "backup" meal for when you don't feel like cooking or you just want the easiest pressure cooker meal.
On a more personal note, Emily and I have had our pressure cooker for over 2 years but barely used it up until we started trying Tiller & Hatch. It has definitely save us time and energy on those days where we just don't feel like cooking or ordering but we still want something that tastes homemade.
Have a question about Tiller & Hatch we didn't answer? Have you tried Tiller & Hatch before? Let us know in the comments below!