If you're someone who loves to cook but hates the hassle of meal planning and grocery shopping, you've probably looked into HelloFresh to make mealtime easier. This meal kit delivery service has gained popularity over the years, providing their subscribers with pre-measured ingredients and easy-to-follow recipes that make cooking at home a breeze.
As someone who has used HelloFresh for years, I've personally observed a significant transformation in the way the company handles its recipes. From the variety of options available to the physical recipe cards they send, HelloFresh has made notable changes over time. But what truly stands out to me is how their recipes have evolved and improved.
In this article, we'll be diving into my personal experience with HelloFresh recipes, highlighting both the good and the bad. We'll explore the team behind HelloFresh's recipes and how they use customer data to create meals that are tailored to individual tastes. We'll also take a closer look at each of HelloFresh's meal plans, the recipes you can expect to find in each, as well as the pros and cons of their recipe cards.
So, whether you're a seasoned HelloFresh cook or you're considering giving them a try, keep reading to learn more about their recipe offerings.
Who Designs HelloFresh's Recipes?
HelloFresh has a team of culinary professionals who design their recipes. This team includes chefs, professional recipe developers, nutritionists, and dieticians who work together to create recipes that are both delicious and nutritionally balanced. They draw inspiration from a variety of different cuisines and cooking styles, and they are constantly experimenting with new ingredients and flavor combinations.
What's more, HelloFresh also relies on customer data to make the most well-informed decisions regarding their recipes. They analyze around three million customer comments and ratings every month and sort them based on sentiment to improve existing recipes, create new ones, identify the best and worst performing recipes, and improve the quality of the ingredients. HelloFresh is amazingly able to use their in-house technology to pinpoint customer feedback to a specific recipe, supplier, and recipe developer.
Once a recipe has been developed, it goes through a rigorous testing process (as you can see in the video above) to ensure that it's easy to follow and can be prepared by home cooks of all skill levels. During this testing process, HelloFresh's nutritionists also evaluate the recipe to ensure that it meets their strict nutritional standards.
HelloFresh's Recipe Recommendation Algorithm
One of the things I've noticed that HelloFresh is very good at is evolving their recipes to best suit the needs of their customers. It's what has caused them to undergo such a dramatic change from the point I first tried them years ago to today.
How do they do this so effectively?
HelloFresh collects and analyzes customer data to sort recipe options in a way that is tailored to each individual's tastes. This algorithm takes into account various factors such as dietary restrictions, flavor preferences, and past order history.
Through the use of recipe sorting algorithms, HelloFresh tries to ensure that each customer is presented with recipe options that are most likely to appeal to them. For example, if a customer prefers spicy foods, the algorithm will show them options that have a higher level of heat, while someone who prefers milder flavors will be shown more mild options.
I've personally noticed that over the years HelloFresh has tailored my recipe choices to options that are more in line with my tastes. For example, I tend to see less recipes with pork as a main ingredient and more recipes with chicken.
The Different HelloFresh Recipes On Different Plans
HelloFresh offers a number of different plans and within each of those plans you'll find different types of recipes. The recipes on each plan cater to a variety of different cooking styles, cuisines, taste preferences, and more.
Something to keep in mind about HelloFresh's plans is that selecting one doesn't remove the recipes from other plans. Selecting a plan (or multiple plans) simply indicates to HelloFresh your taste preferences and tells them what types of meals to recommend.
Below is in overview of the different plans and the types of recipes you're likely to see on each…
Meat & Veggies Plan Recipes
When it comes to HelloFresh's Meat & Veggies plan, the name says it all. With a menu that features a combination of meats and vegetables, this plan offers a broad range of recipes that cater to different tastes and preferences.
This is the plan I usually go with and on it I mainly see recipes for classic comfort foods like chicken pot pie as well as more fun recipes like chicken and waffles. I've found that this plan is usually the best option for those who are looking for a broad range of recipes that can appeal to most taste preferences.
The meat options on this plan tend to feature a variety of chicken, turkey, and pork recipes, with occasional premium picks like beef and fish that come with an additional cost. However, if you're looking for more exotic meat options like venison or bison, they are not typically included in this plan.
The chicken recipes, in particular, offer a wide range of preparation styles, from the classic roasted chicken to the more flavorful herb-infused or spicy options. Meanwhile, the turkey dishes usually tend to feature ground turkey. The pork options include chops, tenderloin, and ground pork, with flavors ranging from tangy barbecue to savory mustard.
While premium picks like beef and fish tend to be on the pricier side, I've found that they provide a great opportunity to try out different cuts and preparation methods. For instance, the beef recipes may feature sirloin, flank steak, or even filet mignon, while the fish options may include salmon, cod, or tilapia.
I've noticed that occasionally the recipes in this plan will feature more exotic or less common vegetables like asparagus or bok choy, but they are not as frequently included. Nonetheless, these options add an extra layer of variety to the recipes and offer a chance to try new flavors.
For those looking for more vegetable-focused recipes, HelloFresh does offer plans that cater specifically to vegetarian diets (which I'll cover below). However, I've found that the Meat & Veggies plan provides a balanced mix of meat and vegetables that can still satisfy those seeking to add more vegetables into their meals.
Here are some of my favorite recipes on this plan…
Veggie Plan Recipes
HelloFresh's Veggie Plan is a vegetarian meal plan that offers a range of vegetable-focused recipe options. With recipes like lentil shepherd's pie, roasted vegetable fajitas, and spinach and ricotta cannelloni, this plan offers a diverse range of flavorful and exciting meat-free meals.
While some of the recipes on this plan may be more carb-heavy with a focus on pasta-based dishes, there are also a handful of healthier and lower-carb options available. For instance, this plan includes recipes for zucchini fritters and cauliflower rice bowls that provide a more nutritionally balanced alternative to some of the more indulgent pasta dishes.
What I love most about this plan, though, is the sheer variety of meal options available. The recipes are not just basic salads, but exciting and unique meals that highlight the flavors and textures of vegetarian ingredients.
Here are some of my favorite recipes on this plan…
Family Friendly Plan Recipes
HelloFresh's Family Friendly Plan is a meal plan designed to cater to families, with recipes that are both kid-friendly and crowd-pleasing. This plan features a range of (mostly) easy-to-prepare recipes that are specifically designed for busy families who want to enjoy delicious and satisfying meals without sacrificing taste or quality.
From hearty and wholesome dishes like baked honey mustard chicken to more creative and flavorful options like Korean beef rice bowls, this plan offers a diverse selection of recipes that are meant to please even the pickiest eaters.
Here are some of my favorite recipes on this plan:
Fit & Wholesome Plan Recipes
HelloFresh's Fit & Wholesome Plan is a meal plan designed to provide more nutritionally balanced recipes than the others. I've found them to be lower in calories and sodium compared to other plans.
From lean protein options like grilled chicken and turkey to veggie-based meals like lentil soup and black bean enchiladas, I've noticed that the Fit & Wholesome Plan offers a range of recipes that are both wholesome and flavorful.
While some of the recipes may still be carb-heavy like other HelloFresh options, they are designed to be both nutritionally balanced and portion-controlled, with around 400 to 600 calories per serving. The plan also includes recipe options for various dietary needs, such as gluten-free meals. However, you'll want to keep in mind that these meals are not certified gluten-free.
Here are some of my favorite recipes on this plan:
Quick & Easy Plan Recipes
What I love about this plan is the wide variety of quick recipes it includes. From one-pot meals to oven-friendly options and simple (yet comforting) soups, there's something for everyone, regardless of cooking skill level.
While some of the recipes on this plan may be less complex than those found on other plans, I've found that they are by no means boring. The Quick & Easy Plan offers a range of flavorful and satisfying recipes, from classic comfort foods like spaghetti and meatballs to more innovative dishes like teriyaki meatballs and zucchini boats.
Here are some of my favorite recipes on this plan:
Pescatarian Plan Recipes
If you're a seafood lover following a pescatarian diet or just looking to cook more seafood recipes, HelloFresh's Pescatarian Plan might be worth considering. While I've noticed that the plan does not offer a massive amount of seafood meals, I have found that the ones they do offer are both well-balanced and flavorful.
The seafood options on this plan range from classic choices like salmon and shrimp to lesser-known options like tilapia. Each seafood meal is paired with vegetables, such as green beans and kale, to create a balanced and satisfying dish.
Here are some of my favorite recipes on this plan:
Customizing HelloFresh Recipes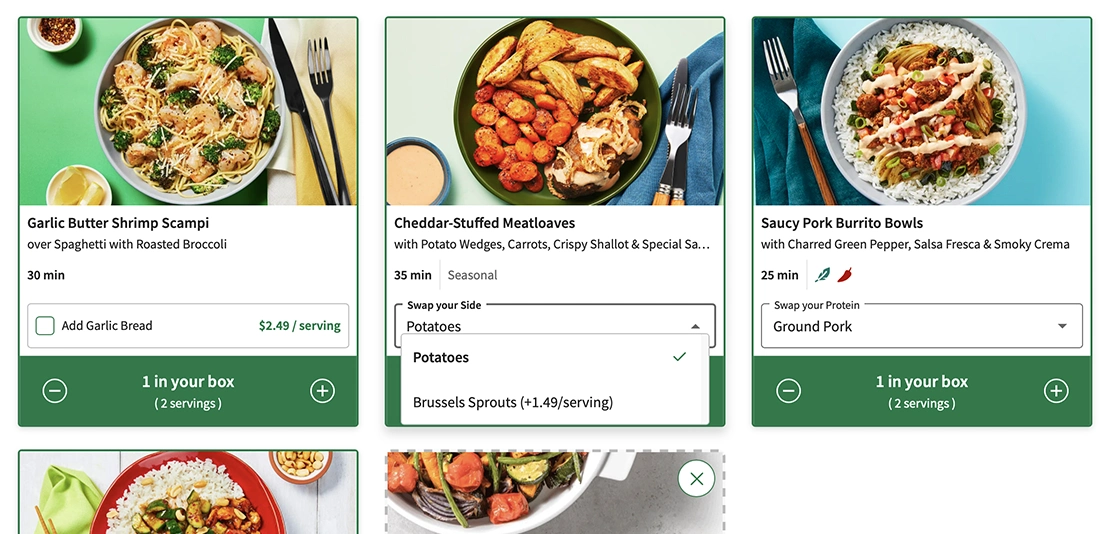 Regardless of the plan you choose, HelloFresh gives you the ability to customize certain meals. They call this "HelloCustom."
With this feature, you have the ability to swap like-for-like ingredients, add extra protein, or upgrade certain ingredients for a little extra cost. For example, if a you prefer chicken strips over pork strips, they can make that switch. Or, if you want double the bacon in your pasta, you can add extra protein. And if you fancy beef rump instead of beef strips, you can upgrade the ingredients to take their dish to the next level.
The Culinary team at HelloFresh has tried and tested all of the recipes, ensuring that each ingredient change is still just as good as the original. The custom cooking instructions are available on the recipe card, so there's no guesswork involved after you make the change.
I tend to use HelloCustom when I see a meal I like but there's an ingredient I'm not a fan of. For example, if a recipe calls for bell peppers but I would prefer mushrooms, I can easily make that substitution (as long as that's one of the substitutions offered). This feature not only allows me to customize meals to my taste preferences, but it also reduces food waste by ensuring that I am using ingredients that I enjoy and won't go to waste.
What To Know About HelloFresh's Recipe Cards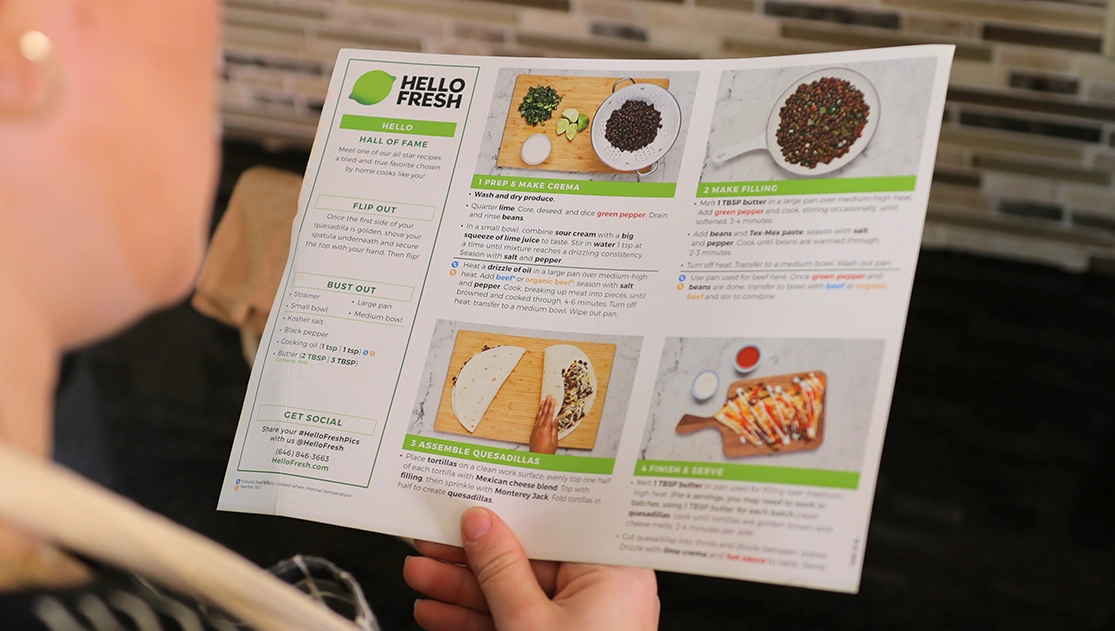 HelloFresh's recipe cards are well-designed and easy to follow, making them a great resource for home cooks of all levels. I've found the recipe cards to be organized in a clear and intuitive way, making it easy to follow along, with each step of the recipe laid out in an easy-to-follow format.
One of the things I appreciate most about the recipe cards is the inclusion of pictures at each step of the recipe. These pictures give me a visual guide for each step of the cooking process, making it easy to see what the dish should look like at each stage. This may be particularly helpful for those who are less confident in their cooking abilities, as it provides a bit of reassurance that they're on the right track.
When I come across recipes that I particularly enjoy, I like to keep the recipe card and add it to my collection. I find that having a physical copy of the recipe makes it easier to revisit the dish later on, and also helps me to keep track of my favorite recipes. To keep my recipe cards organized, I use a 3-hole puncher and store them in a binder, making them easy to access whenever I need them.
Here's an overview of the key details included in every recipe card they send…
A Picture Of The Dish: Before you even start cooking, you'll get a visual idea of what the final result should look like.
Recipe Name: This is clearly labeled at the top of the card, making it easy to quickly find it in your collection.
Ingredient Overview: A list of all the ingredients you'll need to make the recipe, with clear quantities specified for each one.
Prep Time And Cook Time: The estimated time it will take you to prep the ingredients and cook the dish, so you can plan accordingly.
Calorie Count: The number of calories per serving is listed on every card, so you can make informed decisions about your meals.
Colored Border: Each recipe card is color-coded to match the corresponding bag of ingredients in your delivery. This sounds like a little details but it makes it much easier to match up your bag of ingredients to the recipe card.
Utensils And Additional Ingredients: The card lists any kitchen tools or extra ingredients you'll need to complete the recipe.
Step-By-Step Overview: The heart of the recipe card is the step-by-step instructions for making the dish. These are presented in a very clear and easy-to-follow format, usually spanning 5-6 steps.
Although the HelloFresh recipe cards are generally easy to follow, there are a few drawbacks that you should be aware of before diving in.
One of the most frustrating issues that I've come across while cooking HelloFresh's recipes is the inconsistency in the estimated prep time. While some recipes can be prepared in the time indicated on the recipe card, many others can take much longer. I find this particularly frustrating when I choose a "Quick & Easy" recipe with the expectation of saving time on a busy day only for the recipe to end up taking much longer than the estimated prep time indicated.
Additionally, I've found that a significant portion of the prep time is often spent on chopping ingredients. To save time, I've invested in a vegetable chopper, which has reduced my prep time by a decent amount for most recipes.
As a self-proclaimed "intermediate" when it comes to cooking, I find that the cooking tips provided by HelloFresh in their recipes can be useful. However, I have noticed that some of these tips may not be sufficient for those who are just starting out, especially when it comes to basic techniques such as chopping garlic.
Thankfully, HelloFresh has an extensive YouTube channel that offers tutorials on beginner, intermediate, and advanced cooking techniques. The tutorials are a great resource for those who want to learn more about cooking and honing their skills. However, accessing these resources requires some effort on your part, as HelloFresh doesn't directly link to them through their recipes. It would be more helpful if they provided links (or even QR codes) to their video tutorials on the recipe cards.
Another issue to note is that HelloFresh's recipe cards provide a limited nutrition breakdown, with only the calorie count included. If you're looking for more detailed nutritional information, you'll need to visit their website and search for the specific recipe.
Though, even on the recipe page itself, the nutritional information is limited to the amounts of each macro without specifying their daily value. This lack of transparency may be frustrating or concerning for those who are trying to keep track of their daily macro or calorie intake, especially if they're following a specific diet plan.
Final Thoughts
While not perfect, HelloFresh's recipes are among my favorite when compared to the dozens of other meal kits that I've tried throughout the years.
Their dedication to taking customer feedback and turning that into actionable and beneficial changes in their recipes has been noticeable over the years. I particularly like that they integrate that feedback into the personalized menus in order to customize the recipes I see on a weekly basis. What's more, they take that customization to the next level by allowing me to personalize my recipes by upgrading and swapping ingredients to make my meal perfectly fit my preferences.
Have a question about HelloFresh's recipes? Let me know in the comments!