If you're following a gluten-free diet and want to make mealtime a bit easier, you've probably looked into meal delivery services such as meal kits.
While there are dozens of different meal kit options out there, HelloFresh is known for being one of the most popular options out there. In fact, it's one of our favorites here at Food Box HQ.
That begs the question, do they have gluten-free options? More importantly, are those gluten-free options nutritionally balanced and tasty?
The answer to both is a resounding... yes!
In this article we'll cover everything you should know about HelloFresh's gluten-free meals, including how to find them, what to make sure you do before adding meals to your box each week, my favorite HelloFresh gluten-free meals, and much more.
Food Box HQ Disclaimer: The information provided in this article is not intended to be a substitute for professional medical advice, diagnosis, or treatment. Always seek the advice of your physician or other qualified healthcare provider with any questions you may have regarding a medical condition. Never disregard professional medical advice or delay in seeking it because of something you have read in this article. If you have or suspect that you have a medical problem, such as celiac disease, please contact your healthcare provider immediately. Always consult with a medical professional before making any changes to your diet.
What To Know Before Ordering Gluten-Free Meals From HelloFresh
First things first, HelloFresh is not a certified gluten-free meal delivery service. If you have celiac disease, a gluten intolerance, or a gluten sensitivity, you may want to look into other meal delivery services that are either certified gluten-free or those that cook all of their meals in a gluten and wheat-free kitchen.
That being said, you can still find gluten-free meals using HelloFresh. You just need to be a bit more mindful about the meals you select.
The good news is that HelloFresh tags all of their meals with specifics about which diets they fall under as well as if they contain gluten and wheat.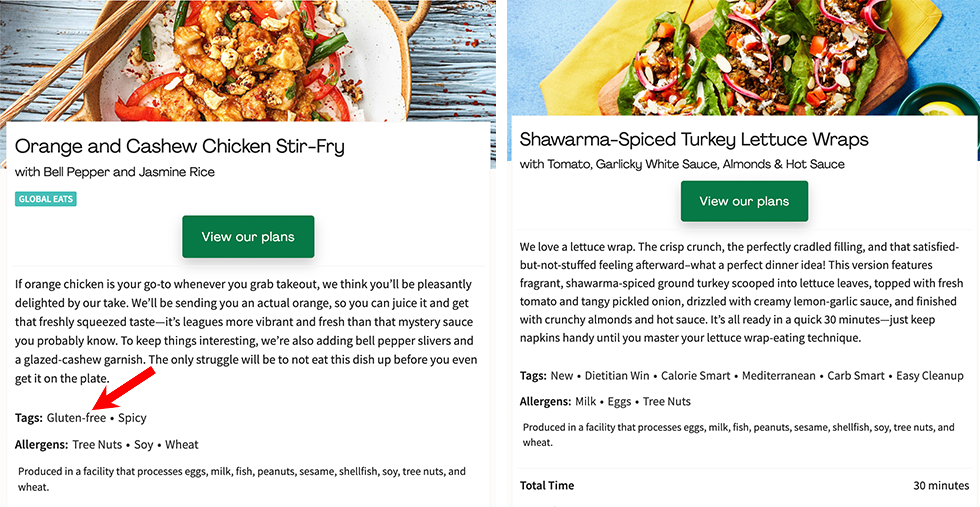 As you can tell from the image above, it's pretty easy to tell which dishes are gluten-free and which aren't.
Out of the 30+ meal options HelloFresh has on their menu each week I've noticed that around 5-10 of them will be tagged as gluten-free.
With that said, just because a meal isn't labeled as gluten-free doesn't mean that you can't make it gluten-free.
I've come across tons of people who have highly specific food allergies and diets that make HelloFresh work for them through substitutions. Here's one redditor who's both lactose as well as gluten-free and they're very happy to have found HelloFresh.
The trick to making HelloFresh work the best while following a gluten-free diet is with substitutions.
HelloFresh wrote a very informative blog article about how to properly make gluten-free swaps for many of their popular gluten-containing ingredients. Here's a quick overview of what they mention…
Swap their panko for crushed nuts or corn tortilla chips.
Swap their pasta for gluten-free pasta or "zoodles" (if you have a spiralizer).
Swap their bread for a gluten-free bread option (such as Schär or Udi's).
Swap their hoisin and soy sauce for tamari (a gluten-free soy sauce alternative).
If you can make those 4 swaps, you'll be able to choose from even more HelloFresh meals on their menu (beyond the ones tagged as "gluten-free").
My Favorite HelloFresh Gluten-Free Meals
Having used HelloFresh since 2017 I've tried hundreds of their meals over the years (here's our first video ever using it). If you're looking for inspiration, I'm going to share some of my personal favorite gluten-free meals. So the next time you see any of these options on the menu, you know they're worth trying.
Creamy Dill Chicken with Roasted Potatoes and Green Beans
This "Hall Of Fame" HelloFresh meal is not only one my favorites but many others on the HelloFresh subreddit forum like it as well.
The meal was surprisingly easy to prepare, taking only 30 minutes from start to finish. As usual with HelloFresh recipes, the instructions were very clear. I only needed to use a baking sheet and a large pan so cleanup was easy as well.
The dish had a rich, creamy, and slightly tangy flavor from the sauce which is a mixture of dill, sour cream, and Dijon mustard. The pan-seared chicken had a nice crispy crunch but was cooked perfectly tender and juicy on the inside.
Nutritional Info:
430 Calories
15g Fat
35g Carbohydrates
5g Sugar
6g Fiber
40g Protein
115mg Cholesterol
480mg Sodium
Prep Time: 30 minutes
Difficulty Level: Easy
Cherry Balsamic Pork with Thyme-Roasted Potatoes and Broccoli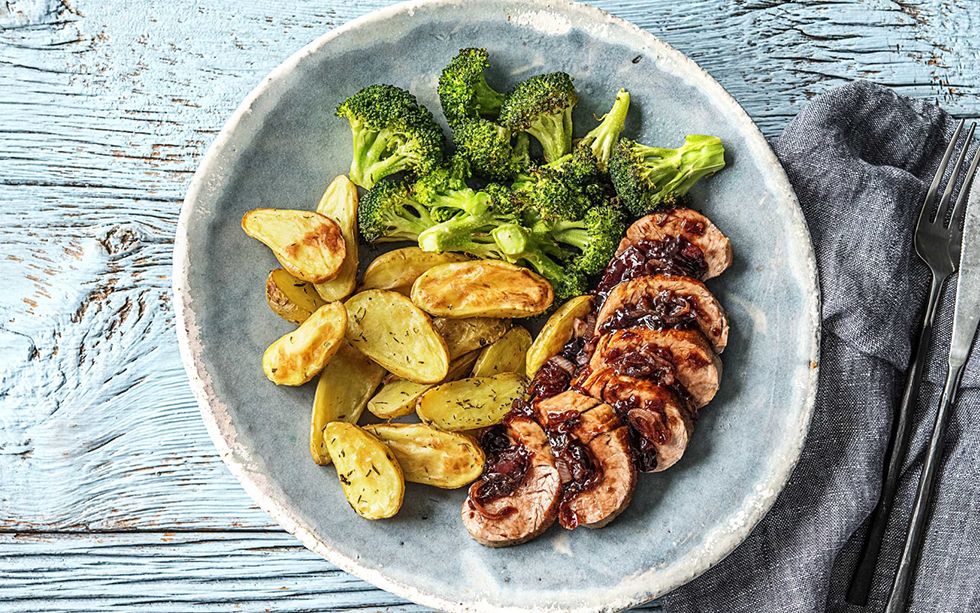 This one is slightly more adventurous than the creamy dill chicken meal from above. I know what you're thinking, cherry and balsamic pork? Stick with me, though, because this meal is absolutely delicious (and others agree).
It was very simple to prep and cook, taking around 30 minutes total. You only need a baking sheet and pan so clean-up was also simple.
The standout flavor of the dish was, obviously, the cherry balsamic glaze. The cherry added a bit of sweetness (with a slight bite) and the balsamic gave it a tangy and mildly sharp flavor.
Overall, with the thyme-roasted potatoes and broccoli, it was a delicious and filling dish.
Nutritional Info:
570 Calories
21g Fat
52g Carbohydrates
19g Sugar
8g Fiber
39g Protein
125mg Cholesterol
160mg Sodium
Prep Time: 30 minutes
Difficulty Level: Easy
One-Pot Tortilla Soup with Black Beans, Corn, Bell Pepper, and Avocado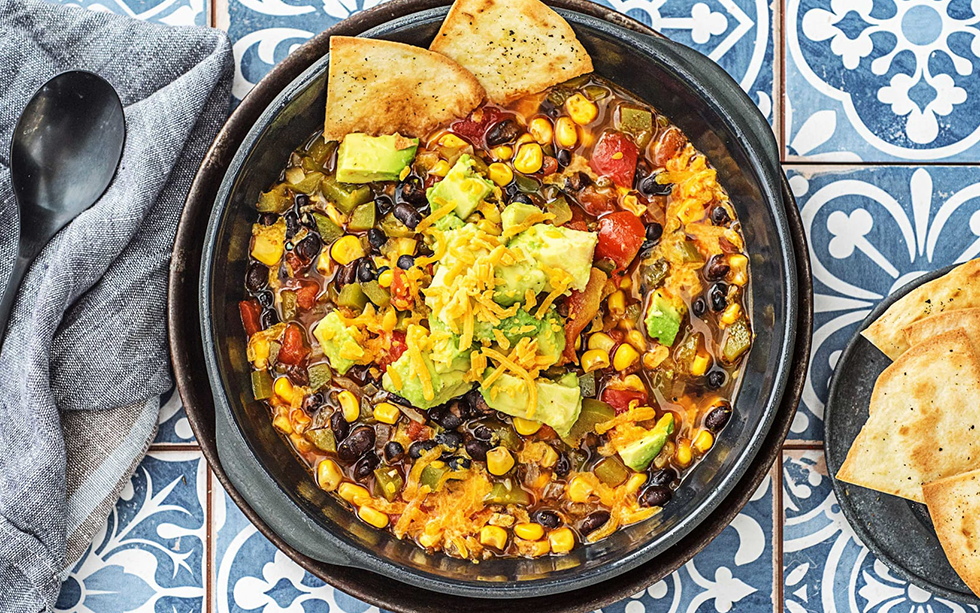 One of my favorite aspects of HelloFresh is that they diversify the difficulty levels of the recipes you'll find on their menu on a week to week basis. So you'll see many "one-pot" options like this tortilla soup, which is both easy to make and delicious.
Unsurprisingly, prep and cooking only involves throwing everything into a single pot. The only other prep work needed for this recipe was to get all of the ingredients ready (washing, drying, peeling, and chopping everything).
In my opinion, this dish is best eaten in the Fall and Winter months as it's perfect for warming you up. The combination of crispy tortillas, black beans, corn, bell pepper, and avocado, plus a hint of chili heat, creates a very hearty soup. The addition of cheddar cheese brings a rich and creamy texture to the dish that makes it both filling and flavorful.
Should you decide to make this dish, you may want to pull back on the amount of salt they recommend in the recipe. As this reddit comment mentions, the salt content that they recommend can make it a little too salty.
Nutritional Info:
810 Calories
36g Fat
89g Carbohydrates
14g Sugar
31g Fiber
33g Protein
25mg Cholesterol
880mg Sodium
Prep Time: 30 minutes
Difficulty Level: Easy
Peppercorn Pork Chops with Rosemary Mashed Potatoes and Roasted Broccoli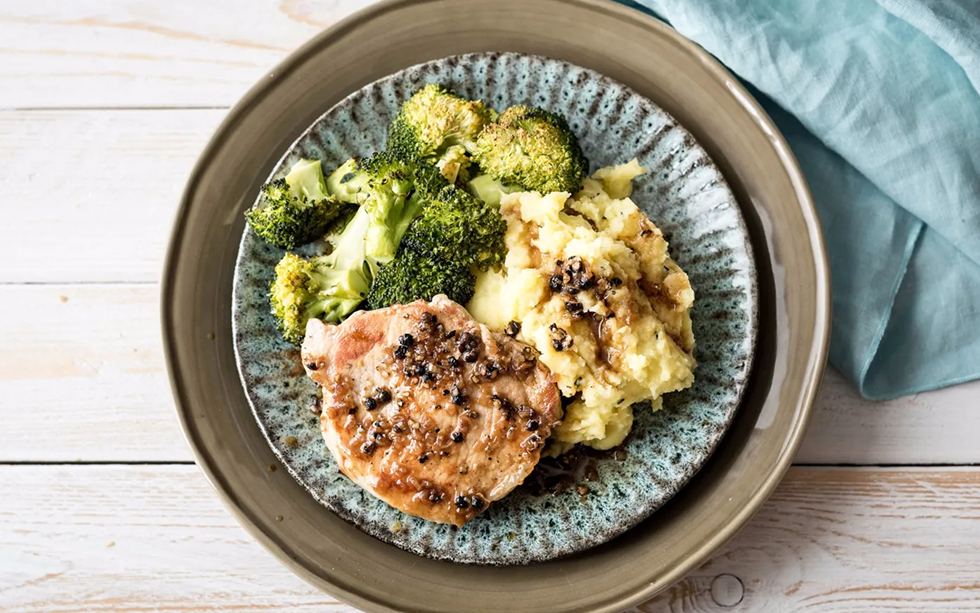 This was another fairly simple recipe to follow. It was a bit time-consuming with all the preparation needed, boiling the potatoes and roasting the broccoli in the oven, but overall, it was easy to make.
The sauce made with shallots, rosemary, black peppercorns, chicken stock, and sour cream was delicious, adding a nice savory flavor to the pork chops and mashed potatoes. The roasted broccoli was a great side dish that balanced out the meal.
Overall, it was a tasty and comforting gluten-free dish.
Nutritional Info:
570 Calories
23g Fat
44g Carbohydrates
7g Sugar
7g Fiber
49g Protein
0mg Cholesterol
331mg Sodium
Prep Time: 30 minutes
Difficulty Level: Easy
Stuffed Zucchini Boats with Mushroom Duxelles, Quinoa, and Parmesan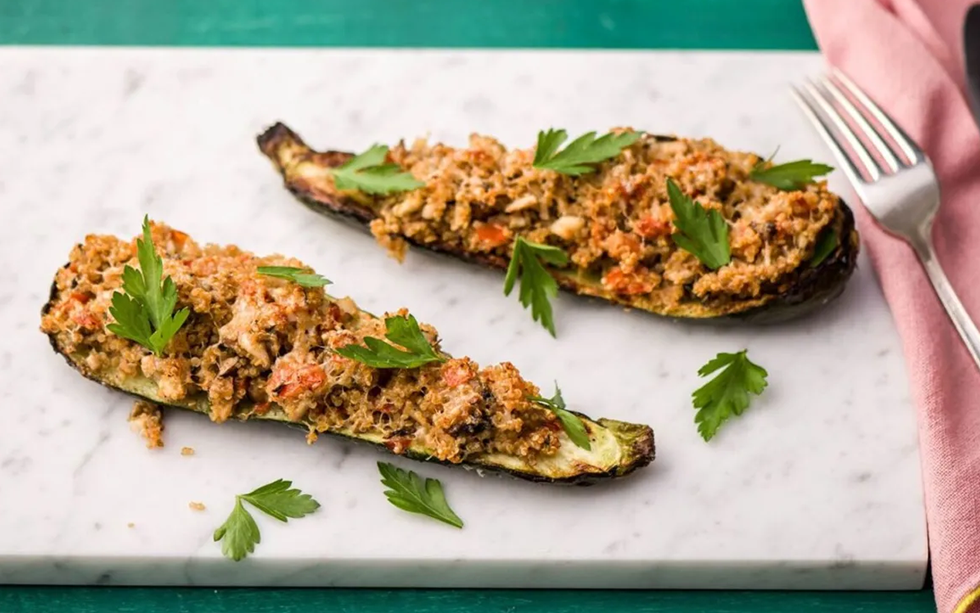 If you're looking for a slightly more challenging recipe to test your culinary skills, this stuffed zucchini boat dish is a great option to consider.
HelloFresh offers a few different variations of this zucchini boat meal (all of them seem to be a hit) but this is my personal favorite gluten-free version.
The recipe was rated as having medium difficulty, but I found it to be pretty manageable. The prep time was a bit longer than the recipes outlined above, but you really only need a baking sheet and pan to cook everything.
The combination of the sautéed mushrooms and shallots, the quinoa, and the salty parmesan cheese created a perfect balance of flavors. The roasted zucchini added a tender sweetness to the dish, making each bite even more enjoyable than the last.
Nutritional Info:
493 Calories
26g Fat
54g Carbohydrates
12g Sugar
9g Fiber
19g Protein
30mg Cholesterol
394mg Sodium
Prep Time: 35 minutes
Difficulty Level: Medium
Sticky Honey Drumsticks with Jasmine Rice and Broccoli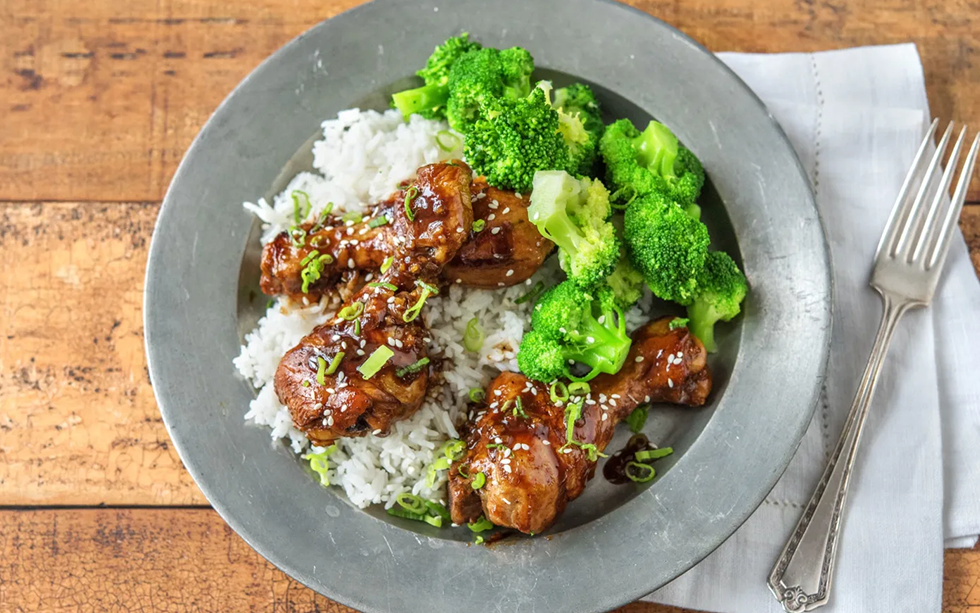 This recipe is a bit more involved than most others but if you want to get your carb-fix, this is the dish to do it.
It requires you to know slightly more than the basic cooking skills, such as searing and reducing sauces. Though, the recipe card does a good job of walking you through the whole process.
If you're up for a moderately more difficult cook, the payoff is worth it. These were some of the most succulent drumsticks I've ever had. The sauce on them was deliciously sweet and tangy. Since there was a little left over I drizzled it on the rice and it was mouthwateringly good.
The one downside is it's packed with salt so, as I mentioned with one-pot tortilla soup above, you may want to pull back on how much salt you add to this one too.
Nutritional Info:
907 Calories
35g Fat
63g Carbohydrates
15g Sugar
4g Fiber
75g Protein
280mg Cholesterol
1312mg Sodium
Prep Time: 40 minutes
Difficulty Level: Medium
Butternut Squash Protein Bowl with Beans, Walnuts, and Feta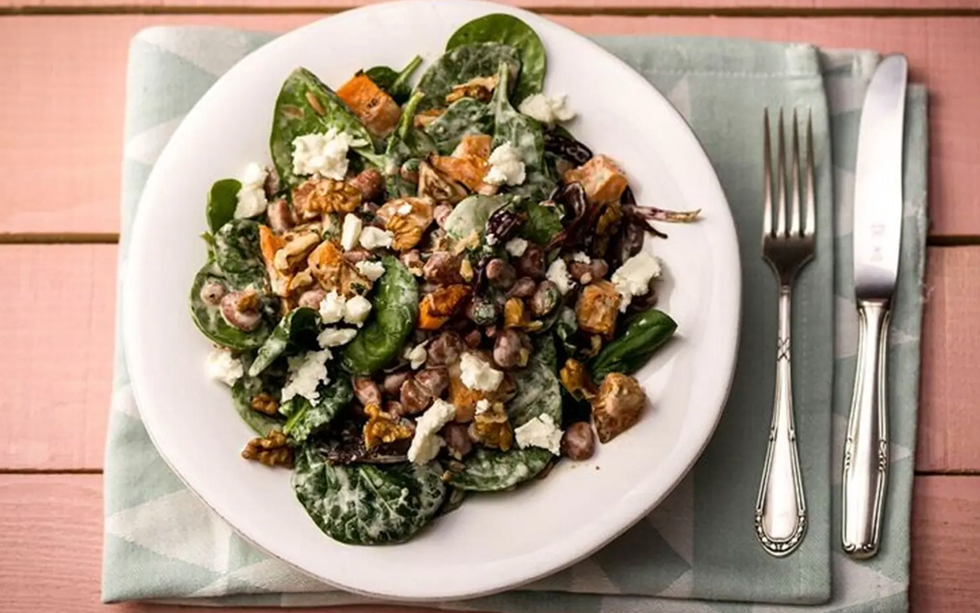 This is one of the most refreshing veggie-based gluten-free dishes that I've had from HelloFresh. Plus, if you're vegan, you can swap out the yogurt and feta to make it fully plant-based.
Making the dish wasn't super easy but it also wasn't super difficult. You only need a strainer, baking sheet, and bowl so clean-up is pretty simple too.
Not only did the meal come out visually appealing, it was very filling and flavorful too. The dish had a perfect balance of sweet and savory flavors, with the roasted butternut squash and red onion providing a delicate sweetness, and the feta cheese, walnuts, and yogurt dressing giving it a satisfying tanginess.
The yogurt dressing was the highlight of the dish for me. The creamy consistency was the perfect complement to the tender and crispy roasted butternut squash and red onions.
Nutritional Info:
Calories
Fat
Carbohydrates
Sugar
Fiber
Protein
Cholesterol
Sodium
Prep Time: 35 minutes
Difficulty Level: Easy
Final Thoughts
While HelloFresh isn't a certified gluten-free meal delivery service, you can definitely make it work for the gluten-free diet. The key is to be mindful of what you're adding to your box and make sure the recipe is tagged as "gluten-free".
If you want to see what types of gluten-free recipes you can expect, you can view all of their past gluten-free meals here. While HelloFresh does rotate their menu weekly, they also bring back customer favorites so you may see some of those options on the menu again.
Have a question about HelloFresh's gluten-free meals? Let me know in the comments below!