Instant smoothies delivered right to your doorstep. Sounds too good to be true, right?
That's what I thought when I first stumbled upon Kencko, a smoothie delivery service that claims to offer quick alternatives to your typical fruit and veggie smoothies. The difference being Kencko's smoothies come freeze-dried.
How does a freeze-dried smoothie stack up to regular homemade smoothies or even the ever-popular Daily Harvest and Splendid Spoon? I had to find out!
Keep reading to see what my experience using Kencko for two weeks was like, how it stacks up to the competition, and if it's worth checking out...
What Is Kencko & How Does It Work?
Kencko is not like your typical traditional smoothie delivery service. In fact, I hesitated wanting to try them out to write this review because I originally wrote them off as a supplement company.
However, the more that I looked into their service, the more that I realized they are legitimate smoothies. Just not the way that we're all used to seeing them.
Kencko uses the process of freeze-drying organic fruits and vegetables, which they then crush into a powder and mix together to create their different smoothie blends.
You then pour your smoothie powder into a shaker bottle (which comes in your box), shake it up, and it "magically" creates your smoothie.
What I find most intriguing about their smoothies is that they only use fruits and vegetables in their powders. That means zero "natural flavors", artificial coloring, preservatives, etc.
What's more is, according their website, each smoothie packet has the same nutritional benefits as 2.5 cups of fresh produce.
Freeze-Dried vs. Real Fruits & Vegetables
Freeze drying foods is nothing new. In fact, rudimentary freeze-drying can be traced back to the 15th century.
It's the process of dehydrating food to the point where there is little to no water still being retained. This helps prevent food from spoiling.
In times when refridgeration isn't available, freeze-drying is a good alternative (if not even better). This is because some freeze-dried foods can last upwards of 25 years. However, freeze-dried fruits can only last around 2 years.
For these reasons, we often see freeze-dried foods marketed as long-lasting emergency food options.
Though it helps food last longer, does that food still retain the same nutritional properties? Surprisingly, yes.
Research has shown that while freeze-dried fruits and vegetables contain slightly lower amounts of certain vitamins, they are still rich in antioxidants and fiber. Researchers agree that the amount of nutrients lost from freeze-drying is so small that it's insignificant in the big picture.
Kencko Subscription Plans
They currently only offer 3 different subscription levels, each shipped monthly:
20 Smoothie Plan
30 Smoothie Plan
60 Smoothie Plan
There's no long-term commitment so you can cancel your subscription any time.
Smoothie Variety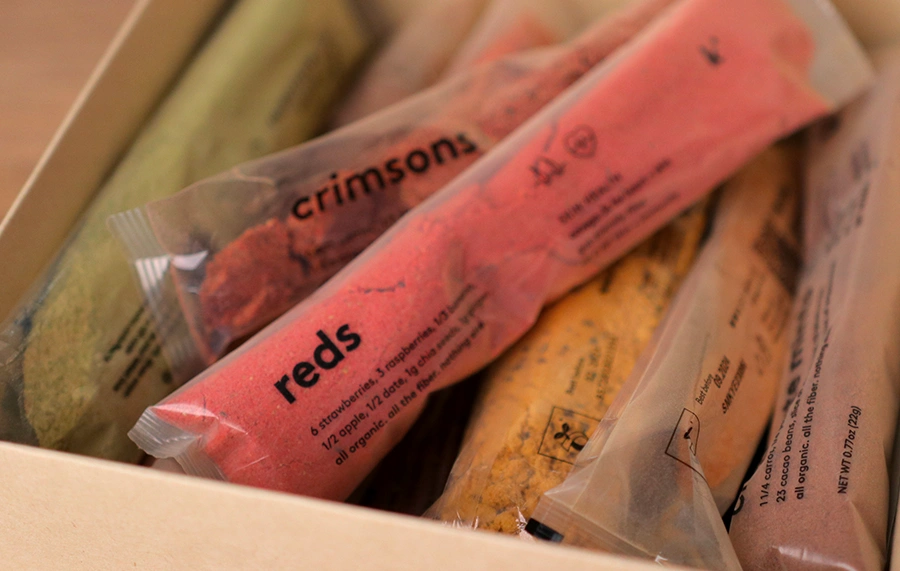 Variety is where Kencko really stands out from the crowd. They have such an interesting and eclectic mix of smoothie flavors available. Each of which focuses on a different functional benefit.
Here's a rundown of what they currently offer...
Blushes (Get Glowing): Mango, papaya, strawberry, passionfruit, orange, lucuma, carrot, beet, apple, cayenne pepper
Corals (Performance): Beet root, apple, carrot, orange, mango, ginger
Crimsons (Brain Boost): Açai,banana, strawberry, apple, mango, cinnamon, chia seeds
Golden Plums (Skin Health): Plum, papaya, pineapple, carrot, rhubarb, coconut water, thai lime leaf, coriander seed, apple
Golds (Recovery): Cacao, banana, strawberry, pea protein, dates, baobab powder, flax seeds
Greens (Energy Surge): Spinach leaves, kale leaves, kiwi, pineapple, apple, banana, ginger
Mint Greens (Mental Focus): Apple, mango, banana, orange, cucumber, sweet potato, parsnip, spearmint, wheatgrass, ginger
Mochas (Mental Focus): Coffee, cacao beans, maqui, berries, dates, strawberry, shiitake mushroom, chaga mushroom, baobab powder, cinnamon
Peaches (Skin Health): Peach, carrot, rhubarb, strawberry, sweet potato, coconut water, baobab powder, flax seeds, apple
Purples (Anti-Inflammatory): Blackberry, blueberry, raspberry, cranberry, banana, strawberry, dates
Reds (Skin Health): Strawberry, raspberry, banana, apple, dates, ginger, chia seeds
Yellows (Immune Support): Carrot, pineapple, banana, mango, cinnamon, apple
Ambers (Repair): Passion fruit, banana, dates, apple, baobab powder, yellow beetroot, chia seeds, turmeric
Beet Reds (Performance): Apple, strawberry, beetroot, banana, raspberry, carrot, cranberry, lucuma
Oranges (Power Up): Orange, pineapple, papaya, apple, rhubarb, turmeric
Rubies (Balance): Raspberries, sweet potato, apple, goji berries, orange, dates, pumpkin, red pepper, maca
Spicy Tomatoes (Invigoration): Tomato, apple, banana, spinach leaves, chia seeds, dates, kombucha, cayenne pepper
As you can see, Kencko has a pretty diverse selection to choose from with 20 different flavors. In my opinion, they do a good job of mixing up the flavors between bold/adventurous and traditional. For example, their "Blushes" flavor in a mix of fruits and vegetables most of us are likely to have had in a smoothie before (mango, orange, strawberry, carrot). On the other hand, their "Rubies" flavor has sweet potato, dates, pumpkin, and maca—all ingredients that are little more adventurous. This type of variety allows picky eaters and more daring eaters to each get their fill.
What I really appreciate, though, is that they rotate in different flavors month to month. For example, their "Pumpkins" flavor is a limited edition Fall flavor. From my experience, many other smoothie delivery services generally stick to their core flavors and only on occasion rotate in new flavors.
Diets Kencko Accommodates
Kencko only uses organic fruits and vegetables in their smoothies so they fit into quite a lot of different types of diets. Here are some of the most popular they fit into:
Vegan
Vegetarian
Gluten Free
Delivery & Packaging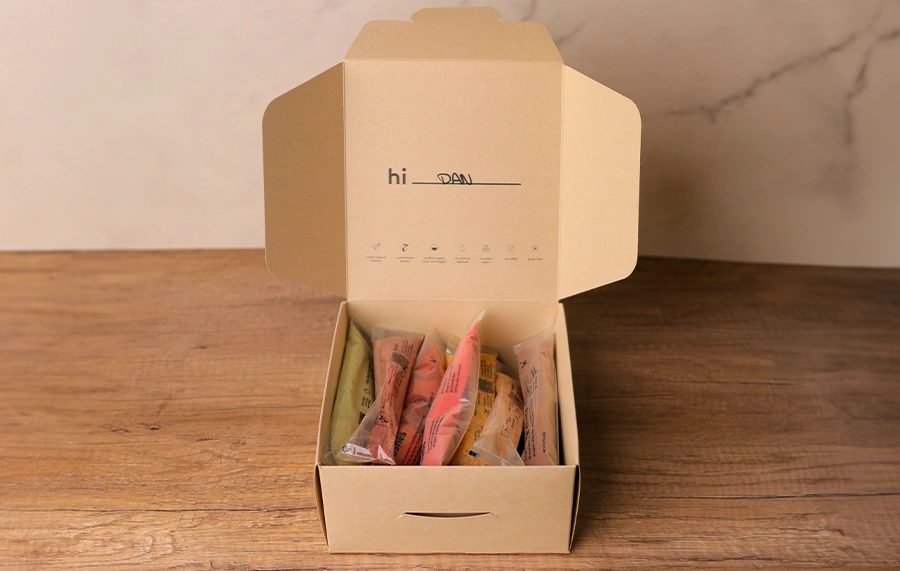 Our first Kencko box showed up at my doorstep about 5 days after we purchased it. It was shipped via DHL.
When your box is shipped, Kencko offsets the carbon produced by investing in certified climate protection and carbon management projects that neutralize the impact of its journey to your door.
The box we received was smaller than I thought it would be—housing only our shaker bottle, smoothie packets, some informational cards, and stickers. Compared to the giant boxes Daily Harvest and Splendid Spoon have sent us in the past, it was a breeze to carry the Kencko box back up to our apartment.
Inside the box there is no insulation or any packing paper to keep things from bouncing around. Not a big deal since the shaker bottle is pretty sturdy and the packets can't necessarily get damaged in transit unless the box is destroyed.
What I find to be the best aspect of Kencko's packaging is that they use compostable plastics. Many other food delivery services tout that they use recyclable and recycled plastics. However, the reality is that only about 9% of plastic worldwide is actually recycled. The rest sits in landfills.
Kencko's plant-based packaging material is certified for industrial composting. This means that it biodegrades within 90 days in a suitable facility. Even if it does end up in a landfill, it will not create microplastics when it breaks down or toxic fumes when it is incinerated.
The Shaker Bottle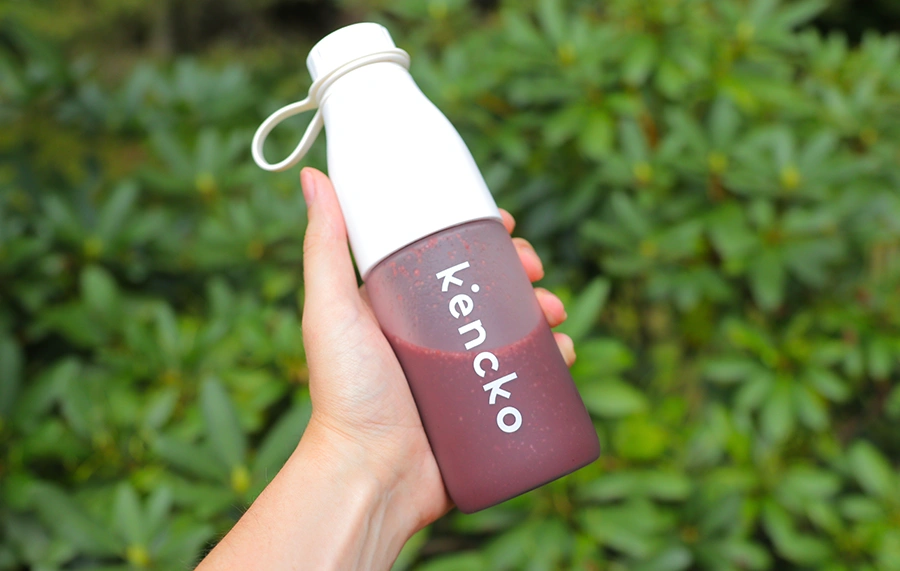 The shaker bottle that comes in your first subscription order is more than just a simple reusable bottle. In fact, its design is very well thought out.
The bottle itself is both BPA-free and dishwasher safe, making it very convenient to reuse. Since it unscrews into 2 sections, it's also very simple to clean.
Between the two sections of the bottle there's a "filter" that helps blend the smoothie powder with the water or liquid base you're using. I found this to be a much better alternative to mixing in a glass with a spoon, which causes the powder to clump up.
The cap on the bottle seals very well too. I've had way too many issues in the past with reusable bottles leaking in my bag on the way to the gym or office, so I very much appreciate this leak-proof design.
Last, there's a loop where you can either hold on to the bottle or attach it to a bag.
Taste Test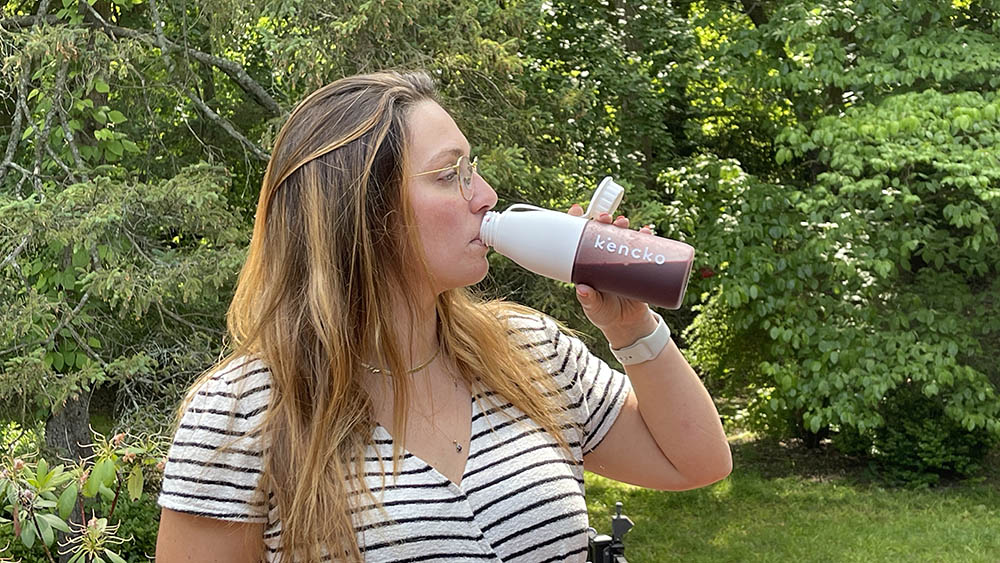 While Kencko has good variety, interesting flavors, and environmentally friendly packaging, do the smoothies actually taste good?
We tried 10 different flavors over the course of 2 weeks. Below are my thoughts on each of the flavors...
In our first box we received the following (as seen in our original YouTube review):
Pumpkins: This flavor definitely had a Fall pumpkin spice vibe about it. The first taste that hit was the pumpkin, cinnamon, ginger, and nutmeg. I did notice a slight grittiness when swallowing, which is likely from the pea protein.
Yellows: Compared to the other flavors in this box, I found Yellows to be the most tropical and fruity. You can definitely taste the pineapple, mango, and apple—all of which give it a very sweet flavor profile.
Greens: This is the flavor you can see Emily taste test in the original video review above. Overall, it was good. There was a big mix of flavors in this one. First, you get hit with the slightly bittersweetness of the pineapple and apple. Then the ginger really kicks in.
Crimons: I had this one in the morning, as it bills itself as "brain boost". I can't say that I felt much of a boost of energy or focus but it had a decently sweet flavor profile.
Corals: This was probably my least favorite out of the flavors we received in this box. It seemed a bit too heavy on the beetroot and ginger, which seemed overpowering to me. Also, it felt like the smoothie was turning my lips redder every time I drank it.
In our second box we received the following:
Golds: Kencko bills this flavor as "performance" and while I'm not a huge fan of added protein in a smoothie, I have to say this one was actually pretty tasty. The flax seeds, cacao, banana, and strawberry are all ingredients I usually use in the smoothies I make with my Nutribullet at home.
Mochas: This was the smoothie I was most excited to try because it combines things I usually have in my day to day—smoothie, coffee, and mushrooms. I skipped my morning coffee for this smoothie just to see if it could kick me into gear like my morning coffee does. Surprisingly, it did give me a decent amount of energy and focus. I wouldn't say it was the most delicious out of all the flavors I tried but I don't usually find coffee to be delicious either. I would say that it had a bit of a rich flavor, likely from the cacao beans, with a sweet aftertaste.
Peaches: This was the flavor I was a bit apprehensive to try, simply because I never usually drink smoothies with sweet potato (other than once or twice when we were reviewing Daily Harvest). However, it ended up being one of my favorites. I barely tasted the sweet potato. It had much more of a fruity flavor from the peach, strawberry, and apple.
Jades: This was definitely one of the most interesting flavors out of all the ones I had previously tried. That's not to say it was bad but I didn't exactly find it to be "tasty". The lime, kombucha, and matcha all seemed to overpower the taste of the smoothie a bit.
Rubies: This was the most adventurous flavor that I ended up really liking. It starts with a very sweet flavor profile (from the goji berries, orange, and dates) but the aftertaste is slightly spicy (from the red pepper).
I specifically used water as a base for all of the smoothies because I wanted to make sure I didn't influence the taste with any additional flavors.
One thing I did notice is that all of the Kencko smoothies I tried didn't have a traditional smoothie consistency. Rather than being a bit thick, they all seemed to be more like fruit/veggie infused water.
Using a liquid base such as almond milk, which is inherently thicker than water, could help make these smoothies feel more like traditional smoothies.
Frequently Asked Questions About Kencko
In my research for this review, I found a lot of people asking questions about Kencko and the specifics of how it works. To help answer all of the questions out there about this smoothie delivery service, I rounded up the most asked questions, along with their answers below.
Is it filling enough to replace a meal?
While Kencko does say that you can have one as a replacement for breakfast, I would definitely not consider Kencko to be a full meal replacement. While they do contain about 2 cups of fruits and vegetables, each packet is only about 80 calories.
What can you use as a smoothie base?
If you like your smoothies with more of a thicker consistency, I highly suggest using a plant-based milk such as almond milk. All of the Kencko smoothies I've tried have been much more like a fruit infused water than a traditional smoothie.
How are the smoothie packets supposed to be stored?
Keep them in a cool and dry place, away from direct sunlight. I keep mine in my pantry. This will ensure that the packaging doesn't get damaged. I also suggest using the full packet once you open it.
How long do they last?
Kencko says that each packet should last between 3-6 months from when you receive it. However, they go on to say that it's still safe to use the smoothies for up to three months after the "Best Before" date.
What are Kencko's gumdrops?
They're basically a fruit and vegetable packed alternative to traditional gummy candies. They follow the same approach and branding as their smoothie packets. Each gummy packet has different fruits and vegetables that make up a unique functional benefits. Look out for our full Kencko gumdrops review later on.
What does "Kencko" mean?
It means "health" in Japanese.
Kencko Nutrition Coach
One of the most interesting aspects of Kencko's service is that every membership comes with a complimentary one-on-one health coach.
You can speak with the coach prior to joining to get a better grasp on what your nutrition goals are and what to aim for.
Then, twice a month, you can schedule check-in calls to speak with the coach about where you're at and how you're reaching your goals. They also offer unlimited support by text/email, plus recipe ideas and fact sheets.
Kencko vs. The Competition
Kencko sits in a very unique position among all of the smoothie delivery services that we've tried in the past. While they bill themselves as a smoothie, they are almost incomparable to services such as Splendid Spoon, SmoothieBox, or Daily Harvest (all of which send you frozen or premade smoothies). For that reason, it's hard to even make a direct comparison with some of the more well known smoothie delivery service out there.
However, there are a handful of other comparable freeze-dried smoothie delivery services that have popped up recently, which are direct competitors to Kencko...
TUSOL: On the surface, both TUSOL and Kencko look very similar. They both offer powered smoothie subscriptions, similar flavors, and they even have similar branding. However, after trying both I favor Kencko a bit more. First, TUSOL only has 4 flavors to choose from (Balance, Calm, Illuminate, and Rejuvenate). Second, they use ingredients such as xanthan gum and stevia, whereas Kencko only uses organic fruits and vegetables (no added sweeteners). Last, Kencko gives you a shaker bottle that's specifically meant to be used with your smoothie whereas TUSOL does not.
Vejo: Out of all the smoothie delivery services I've tried, Vejo is the most unique. Their smoothies are mixed using the Vejo blender bottle, which acts like a Keurig coffee machine. You input your smoothie "cup" at the top of the blender bottle, add a liquid base, and the bottle automatically blends it for you. It's a genius concept. Plus, like Kencko, Vejo's smoothies only use freeze-dried fruits and vegetables.
Everipe: Out of all three Kencko competitors listed here, Everipe is likely the most comparable. Both Kencko and Everipe offer smoothie packets made from only freeze-dried fruits and vegetables. Where they differ though is while Everipe offers 5 different flavors to choose from, Kencko has 20 (as of writing this review). Everipe does allow you to purchase without subscribing so they could be a good option if you simply want to test the waters with freeze-dried smoothies before jumping in.
Kencko vs. Making Your Own Smoothies
I'll be honest... Kencko is not much like making traditional smoothies in a blender. There are some similarities in taste and sweetness but I don't think they're even on the same level.
Kencko didn't convince me to give up my Nutribullet in favor of daily freeze-dried smoothies. However, that's not to say I didn't enjoy using them.
Kencko got their flavors down. They have something for everyone and they do a decent job of replicating some classics like the "banana, strawberry, blueberry" as well as more tropical smoothie flavors. The drawback in comparison with traditional smoothies you make at home is that they taste fresh. That freshness can't be replicated with freeze-dried fruits and vegetables.
What I love about Kencko's smoothies is the convenience. For me, making a smoothie at home is easily going to take at least 10 to 15 minutes, if not more. That includes pulling out the blender, prepping all the ingredients, blending, pouring into my to-go cup, and washing everything.
With Kencko it's really as simple as pouring the packet into the bottle and shaking it up—it literally takes less than a minute total.
If you value your time above everything else, Kencko is a no brainer.
Kencko Pricing
Kencko's subscription plan pricing is broken up into 3 tiers...
20 Smoothies are $59.80 per month ($2.99 per smoothie)
30 Smoothies are $80.70 per month ($2.69 per smoothie)
60 Smoothies are $149.40 per month ($2.49 per smoothie)
Kencko Pros & Cons
While overall I enjoyed Kencko, there are definitely aspects of their smoothie delivery service that I wasn't that impressed with. To help you determine if Kencko is right for you, I've outlined what I like versus what I don't...
Kencko Pros
They offer a lot of variety. Out of all the freeze-dried smoothie options out there, Kencko offers some of the most diverse selection of flavors available. The only other comparable service in terms of amount of variety offered would be Vejo.
The quality is top notch. Kencko definetly prioritizes quality. All of their ingredients are organic and they only use fruits and vegetables in their smoothies.
They're one of the only services that offers a nutrition coach. I love the fact that Kencko is taking a holistic approach to health by allowing their members to consult with their nutritional coach up to twice per month by phone and have unlimited conversations via email/text.
The shaker bottle is a great extra touch. The shaker bottle that comes with your first box is not only free but also very high quality. I've ended up using it as a reusable water bottle in addition to using it for smoothies.
It's highly convenient. In my experience, Kencko saved me an extra 15 minutes each morning in comparison to making a smoothie. So if you're looking to reclaim some of your time, this could be a good option.
They're one of the most environmentally friendly food delivery services we've tried. Kencko far surpasses other smoothie delivery services out there when it comes to being environmentally conscious. Their packaging uses compostable materials, every delivery is carbon neutral, and they're a certified B corporation.
Kencko Cons
Some flavors are "out there". I'm not going to lie, not every flavor I tried was great. The good news is that they have enough variety to choose from that you aren't stuck reordering flavors you don't enjoy. Plus, they're always rotating in new flavors and limited edition flavors.
Consistency is not like traditional smoothies. Don't expect Kencko to have the consistency of your typical traditional smoothie. It's much closer to fruit infused water.
It's not a meal replacement. Kencko says that you can have one of their smoothies as a breakfast replacement but even when I tried that I still felt hungry. The smoothies are less than 100 calories and aren't filling in the same way a traditional smoothie is.
Kencko Coupons
If you're ready to order your first Kencko box, we're here to help save you money. Use any of the coupons and promo codes below at checkout.
Coupon "FREEBOTTLE" will get you 10% off at checkout.
Coupon "KENCKO20" will get you 5% off at checkout.
Coupon "AMY" will get you 10% off at checkout.
We like to include multiple different promo codes just in case one isn't valid anymore. If you find that any don't work or you know of better options, leave a comment below!
Final Thoughts: Is Kencko Worth It?
When I buy fruits and vegetables to use in my smoothies at home I'm almost always having to throw away something that I didn't fully use that went bad. I like that Kencko offer single-serving smoothies that I can use whenever. And the fact that they have such a long shelf life means I don't have to worry about them spoiling.
I've found them to be perfect on long car rides or when traveling. I took a few on a recent trip to Orlando and was able to have a smoothie on our plane ride — not something I would have been able to do with a traditional smoothie.
Are they a direct replacement for traditional smoothies? I don't think so. They may have the same nutritional profile and benefits but they lack the "freshness" I'm used to when drinking a smoothie right from the blender.
That being said, Kencko is one of the most convenient smoothie delivery services I've ever reviewed.
So, if you're looking for all the nutritional benefits of a smoothie, without the hassle of actually having to make one, Kencko could be a great option to consider.
Have you tried Kencko before? Have a question we didn't answer? Let us know in the comments below!