Let's be honest… Who doesn't love a good smoothie? It's a guilt-free, on-the-go drink that can pack all the vitamins and nutrients you need for the day.
What we all don't love is the time it takes to wash, prep, and choose ingredients to make it.
Smoothie making is a learned skill—sometimes you make something delicious, and other times you pour a funky brown glob down the sink in disgust. Unfortunately, I speak from experience.
Today I'm happy to say that we're testing out SmoothieBox.
SmoothieBox takes the guesswork out of the ingredient choice and is highly convenient as there's no prepping, washing, or chopping involved. Can something so easy and convenient be as delicious as a fresh, homemade smoothie?
In this review, we'll cover that important question, as well as everything you need to know about SmoothieBox.
How SmoothieBox Started
SmoothieBox is a sister company to the popular meat delivery service, ButcherBox. Interestingly, this little-known fact is hard to come by, as the SmoothieBox website doesn't share anything about who they are or why they started. So, I had to do a little digging… which wasn't fruitful.
As strange as it sounds, I was slightly disappointed they don't share about who they are or their story. As a consumer, I like to see the heart behind a company's motives—I want to know why they want to share smoothies with the world.
It's a tiny downside, and it doesn't reflect on the quality of the smoothies in any way. Perhaps in the future they'll give more background to who they are for the sake of curious consumers who purchase with intention, like myself.
How SmoothieBox Works
Signing up and ordering smoothies with SmoothieBox is pretty simple. They offer three options:
20-count box
30-count box
"Build Your Own" Box
You can place a one-time order or subscribe to a recurring box. They're one of the few smoothie delivery services we've tried that allows you to place a one-time order. Most make you subscribe.
If you sign up for a subscription, you can choose to receive your box every four, six, or eight weeks. On your first purchase, they default your recurring order to 4 weeks, so you'll have to contact customer support if you wish to change your order frequency. You can pause, cancel, or reschedule at any time. Shipping is always free—another nice perk.
A Deeper Look At SmoothieBox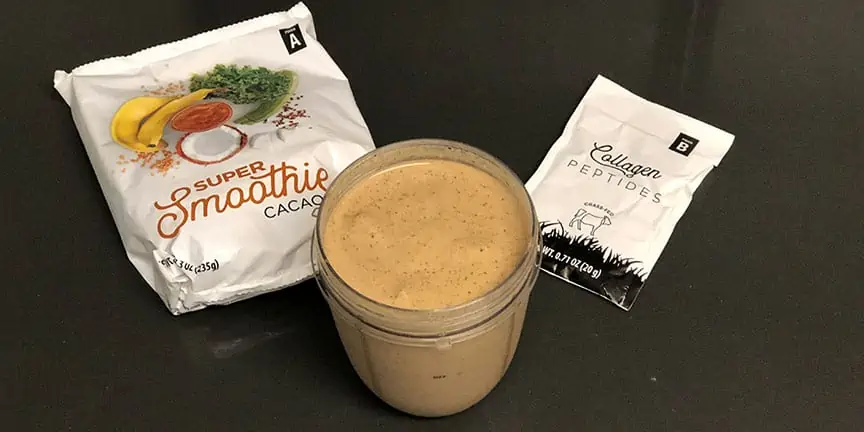 SmoothieBox is a frozen smoothie delivery service that sends you bags with pre-prepped smoothie ingredients. The smoothie ingredients they send are flash-frozen at peak ripeness to ensure quality and freshness.
Within each bag, you'll find an assortment of diced fruits and vegetables that you pour into your blender. Add some liquid of choice, blend, and you have a smoothie ready to drink.
They offer six flavors: Berry, Chocolate, Mango, Orange, Green, and Strawberry Banana. Along with their smoothie packs, they offer "boosters" such as protein powder and collagen packs. You can add protein to your smoothie to build muscles. Or, if you choose collagen, for healthy skin, hair, joints, and tendons.
What I appreciate about SmoothieBox is that all the ingredients used are organic and non-GMO. What makes them unique is that they aren't trying to sell exotic or crazy smoothie flavors (like other smoothie delivery services we've tried *cough* Daily Harvest *cough*). Rather, they focus on traditional smoothie flavors most of us all know and love. The best part is that every smoothie is a mix of fruits, vegetables, nuts, and seeds. Not many other smoothie delivery services we've reviewed add in nuts and seeds.
When I make homemade smoothies, I love to add vegetables and seeds along with fruits. One of the things I don't like about smoothies from other sources is that they usually only have one or two vegetable smoothies, and the rest are just fruit. When I drink a smoothie, I want as much raw goodness as I can get without compromising on flavor.
With SmoothieBox, that's what you're getting—smoothies with all the fruit and veggie goodness you're after.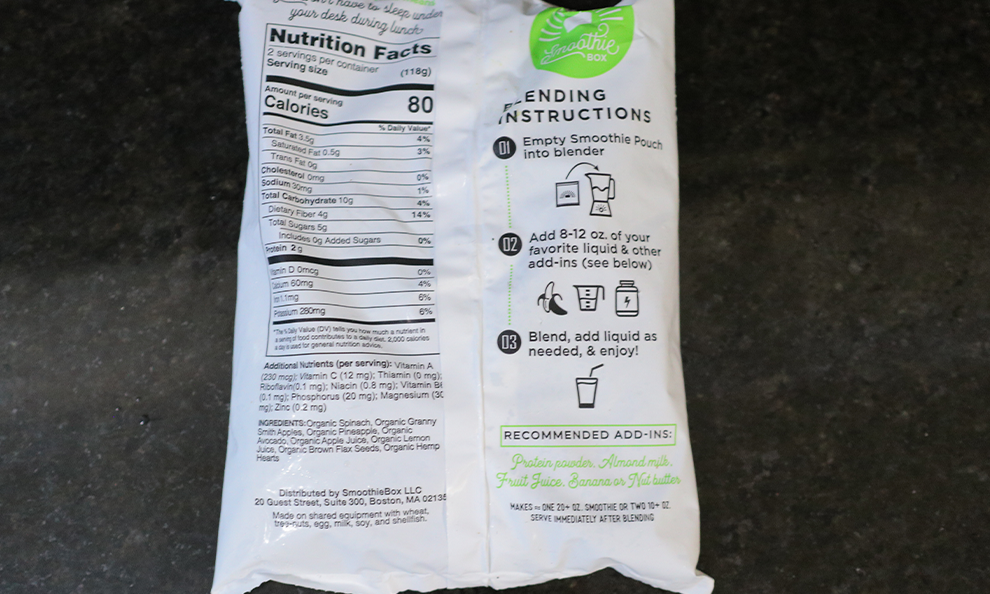 Another unique aspect of SmoothieBox is that all their base flavors can be added on to. In fact, they encourage customizing their smoothies to your liking. They set the foundation with the base ingredients, but the smoothie flavor and texture can be enhanced or altered quite easily if you so desire. They even add notes on each smoothie bag about what could be added. For example, some of my smoothies recommended adding nut butter and half a banana, among other things.
The flexibility and play that comes with making these smoothies is unique, especially compared with other ones we've tried. With SmoothieBox, I really enjoy the convenience of frozen and pre-prepped ingredients and the freedom to add whatever it is I'm craving or wanting that day.
Overview of SmoothieBox Plans
SmoothieBox's 20-count box is their most popular plan and includes:
5 Berry Smoothies
5 Chocolate Smoothies
5 Strawberry Banana Smoothies
5 Mango Smoothies
With this plan, there's room to add "boosters" to your box, such as their Super Greens, Grassfed Collagen, or Chocolate Vegan Protein.
The 30-count box is SmoothieBox's "Try All" box and includes all six flavors. This means, in addition to the flavors listed above, you'll also receive:
5 Green Smoothies
5 Orange Smoothies
Keep in mind, if you order the 30-count box, you won't have the option to add any "boosters."
If you want to build your box, you have to order at least four smoothie packs. This option is best for those who know exactly what they want or don't want a specific flavor found in one of the above boxes.
I found that if you order four smoothie packs, there's room to add a booster to your order, but if you order more won't be able to add a booster.
It's definitely a little odd that you can only add boosters to certain boxes and not others.
Making My SmoothieBox Smoothies
Each flavor comes in an individual box that holds five smoothie bags. The smoothie bag has instructions for how to make the smoothie, which says to pour the contents into a blender and then add 8 to 12 oz liquid of choice.
At first, I didn't follow the instructions and only added about 4 oz of liquid. Not only am I rebellious, but I also like my smoothies to be a little thicker. Though, I learned the hard way that because the ingredients are frozen and somewhat difficult to blend, at least 8 oz of liquid (yes, I should've listened to the recommended amount) will help.
Despite my fears that it would be more "liquidy" with the recommended amount, the smoothies turned out surprisingly thick. Plus, the more liquid you add, the more there will be to enjoy!
Each pack says it makes two smoothies or at least two serving sizes. Based on making my own smoothies, I say it makes the perfect amount for one regular-sized smoothie and two small smoothies to share.
If you're looking to use these smoothies as a meal replacement, you shouldn't plan on sharing them with someone else. Or, you could add more to the smoothie to help bulk it up, such as any of their recommendations (e.g. nut butter, a banana, protein powder).
SmoothieBox Taste Test
Now let's get to the good stuff and what you really want to know: my honest review of how the smoothies tasted.
I received the 30-count SmoothieBox so I could try all the flavors. Here are my thoughts…
Strawberry Banana Smoothie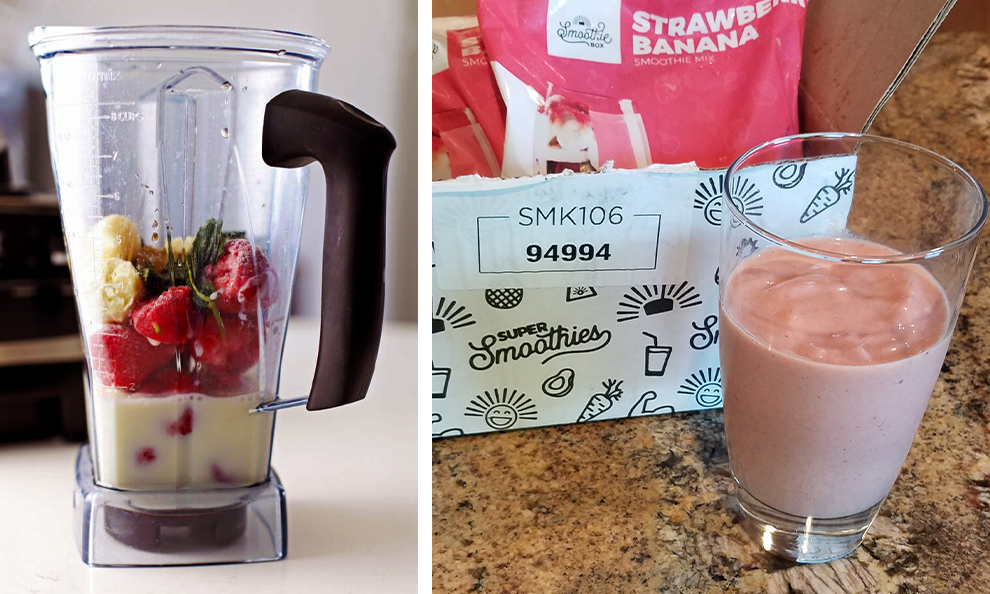 The strawberry banana smoothie is one of my favorites from SmoothieBox. It's hard to go wrong with the delicious combination of strawberries and bananas, and SmoothieBox didn't disappoint.
The smoothie was thick and creamy, fruity, and most importantly, quite tasty. Along with strawberries and bananas, it had:
Sweet Potato Puree
Raw Hemp Hearts
Lemon Juice
Beet Juice
Cauliflower
Banana Puree
You would think the strong flavor of beets would come through, but I couldn't detect it at all. The most prominent flavors were strawberries, bananas, and hemp hearts.
Chocolate/Cacao Smoothie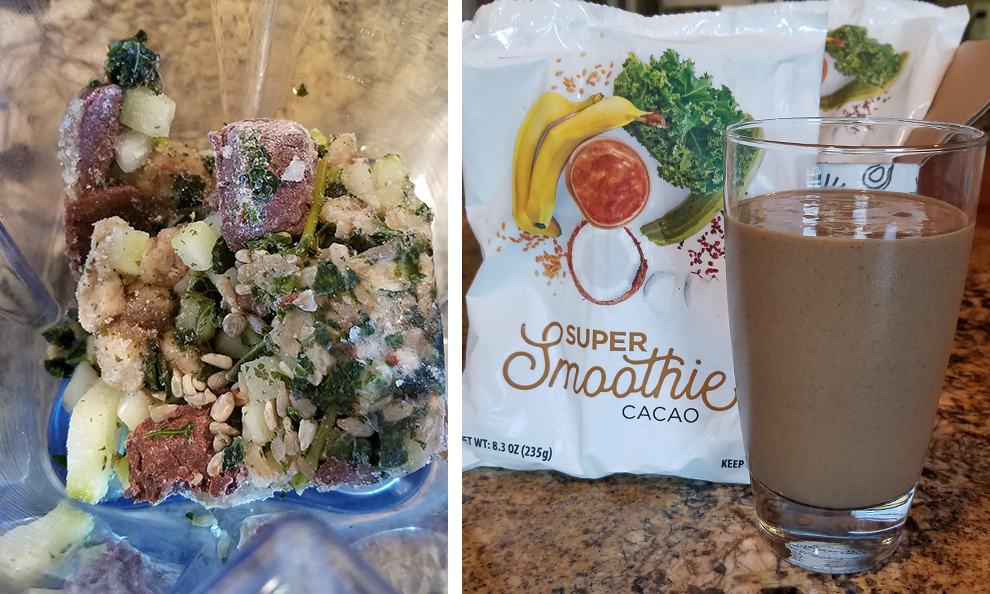 This smoothie is the best way to satisfy a chocolate craving as it left me feeling full and satisfied (without the guilt). That said, I'm an advocate for eating what you crave without the guilt anyways—as long as there's balance, of course. But with this smoothie, I felt nourished and that I gave something healthy, balanced, and beneficial to my body.
This was one of my favorite smoothies, especially when craving something sweet and chocolatey. I will say it was powerful and bordered on the bitter side. I added half a banana to sweeten it up a bit more, and it was absolutely perfect.
Along with delicious cacao chips, the chocolate smoothie has:
Bananas and banana puree
Zucchini
Kale
Coconut water
Sunflower seeds
Coconut cream
Cacao nibs and cacao powder
I love the addition of zucchini, kale, and sunflower seeds in this smoothie. The taste of these ingredients is barely detectable, and if you add a fresh banana to it, you won't notice them at all.
Overall, I was super impressed with SmoothieBox's chocolate/cacao smoothie.
Mango Smoothie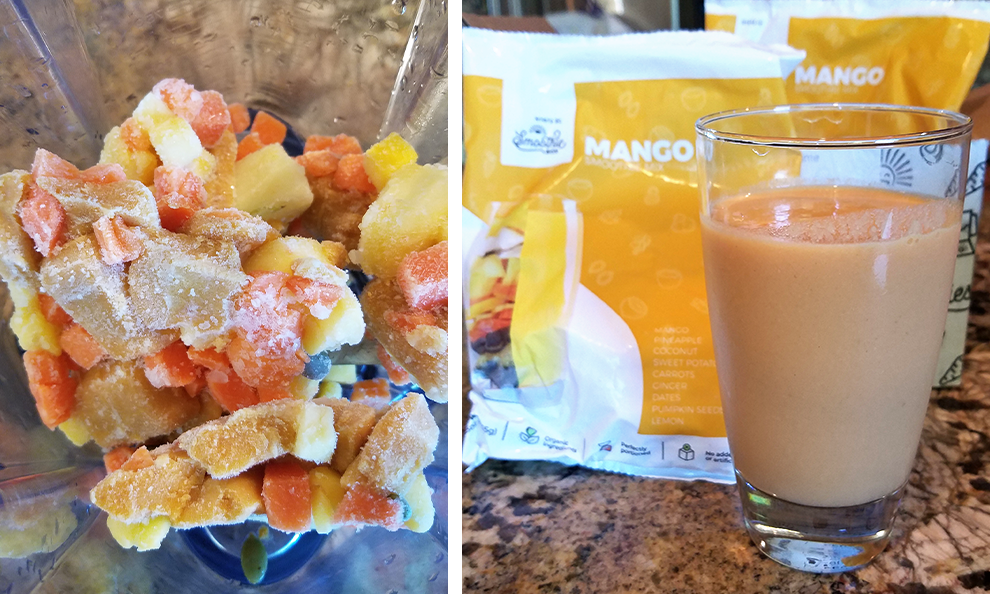 The mango smoothie was good, but it wasn't my favorite. The taste of the ginger comes through a bit stronger than I expected. I'm not a huge ginger fan and tend to only like it occasionally. For that reason, I may not be the best judge for this particular smoothie flavor.
If you favor those ingredients, you may end up enjoying this smoothie more than I did. The mango/pineapple flavor pairs well with the ginger, and they help balance each other out. Even though I didn't enjoy the ginger as much, the smoothie still has an impressive ingredient list:
Mango
Pineapple
Sweet potato
Carrots
Ginger
Coconut Cream
Lemon Juice
Pumpkin seeds
Coconut water
Dates
Orange/Clementine Smoothie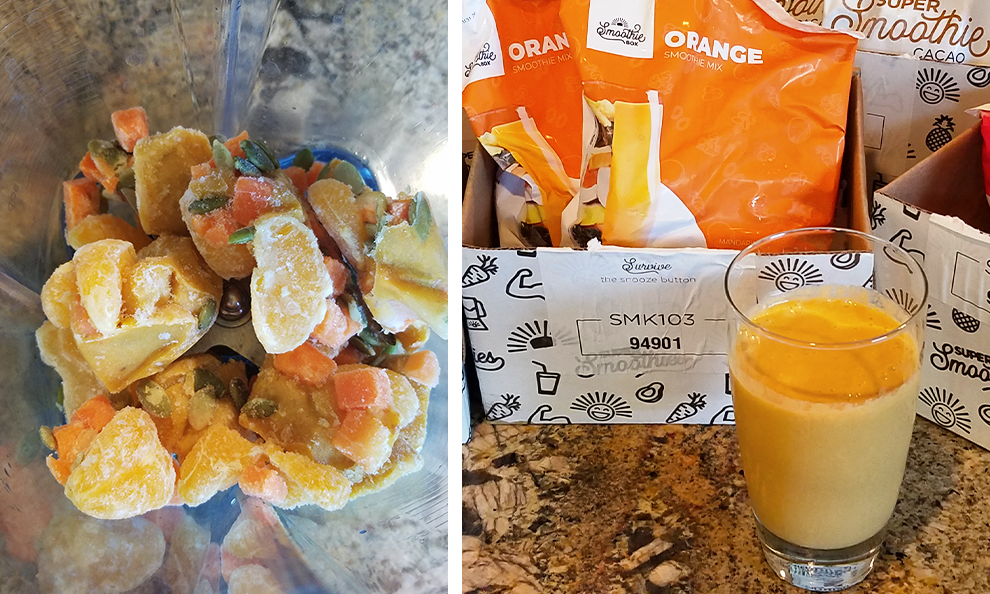 The orange smoothie would have to be my second to least favorite. The ginger, carrots, and sweet potato were even stronger in this smoothie than in the mango smoothie. I wasn't feeling it and was, unfortunately, unable to finish this smoothie.
To be honest, it wasn't that this smoothie tasted bad. If your body is craving these ingredients, I could see it being a delicious smoothie.
Here's why it didn't work for me specifically… Orange and ginger are "warming" to the digestive system. My constitution (specifically in the digestive tract) doesn't need any more "fire," so I tend to not be a fan of these foods.
All that to say, I'm not the best judge for this smoothie. Though, if you love the flavor of oranges and ginger, then you'll probably be a fan.
Here's everything you'll find in the Orange smoothie:
Mandarin
Sweet potato
Carrots
Ginger
Coconut Cream
Lemon juice
Pumpkin Seeds
Coconut water
Dates
Berry Smoothie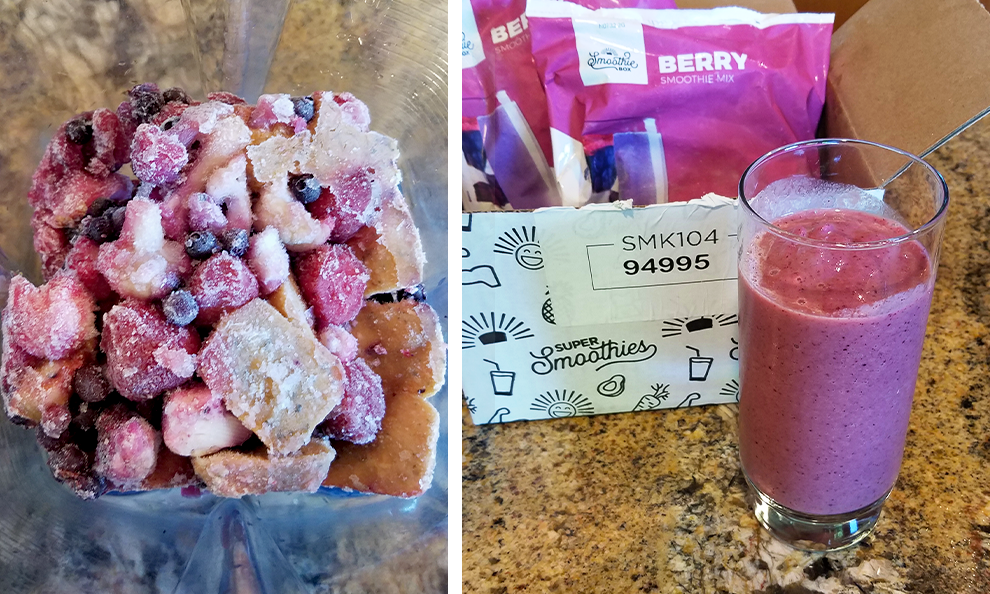 I thoroughly enjoyed the berry smoothie. However, I think it could be a bit more flavorful. While the taste was pleasant, it was also pretty mild. If you're excited about adding more to your smoothie, such as yogurt, a juicy peach, or nut butter, this would be a great smoothie to do that with.
One of the things I enjoyed about the berry smoothie was how pretty it was! The berries create a beautiful purple color that is truly striking and a delight to drink. Plus, it was perfectly creamy and quite filling.
Here's all the fruit and veggie goodness you'll find in the Berry Smoothie:
Blueberries
Strawberries
Cauliflower
Sweet Potato Puree
Banana Puree
Raw Hemp Seeds
Lemon Juice
Beet Juice
Green/Apple Smoothie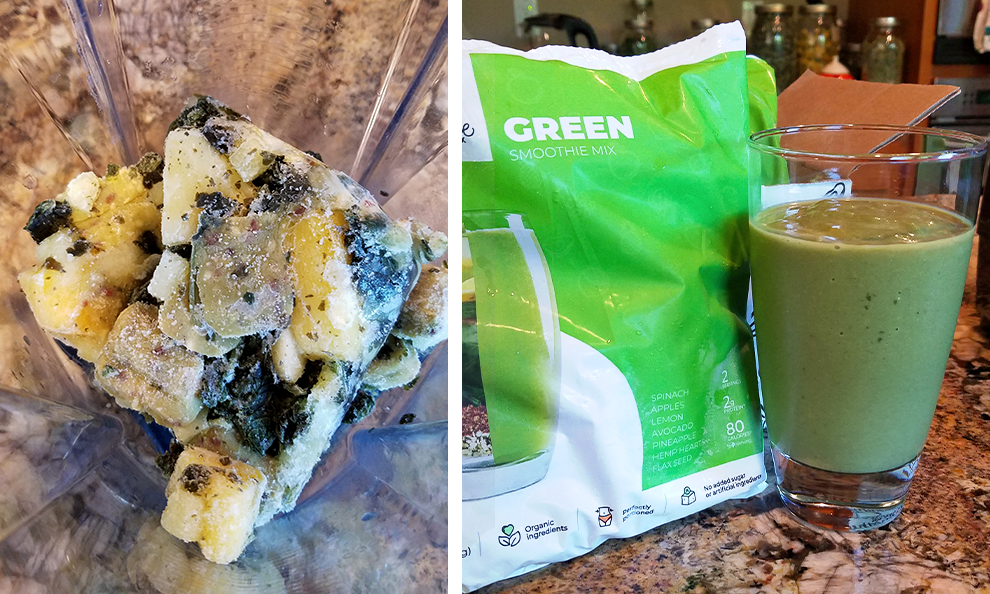 This smoothie would have to be my least favorite out of the six. I was quite disappointed about this because I love "green" smoothies, and it was the first one I was excited to try. The taste was alright at first, but then there's this bitter/savory aftertaste that I found to be entirely unpleasant.
Granted, "green" smoothies aren't known for their delicious flavor. The good news is that you can easily improve the taste by adding orange juice, sweetened yogurt, or a banana. I'm hoping in the future, SmoothieBox will adjust the ratio of ingredients or the ingredient list itself to improve the taste a bit. I think this smoothie has a lot of potential, but there might need to be some tweaking with the ratios or ingredients to get the flavor just right.
If you've tried this smoothie and had a different experience, let us know in the comments!
The Green Smoothie consists of:
Chopped Spinach
Granny Smith Apples
Avocado
Pineapple
Lemon juice
Apple juice
Flax seed
Hemp Hearts
Is SmoothieBox as Good as a Fresh Homemade Smoothie?
The answer to this question depends on your ability to make a homemade smoothie. If you're a pro smoothie maker, I would say SmoothieBox isn't quite as fresh or delicious as a homemade smoothie. That said, it is pretty darn close.
The difference lies in the freshness and juiciness of the fruit. Freshly picked, ripe fruits simply have a flavor incomparable to frozen or freeze-dried fruits, even if you freeze them at peak freshness. However, frozen fruit has nearly the same nutritional quality as fresh fruit does, especially if the fruit freezes at peak freshness. So, it's really just a flavor comparison.
Homemade, fresh smoothies are definitely at the top when it comes to flavor, but SmoothieBox's frozen smoothies sit right beneath it as a close second.
My Delivery
At this time, SmoothieBox ships everywhere in the contiguous United States. That means they can't ship to Alaska, Canada, or Hawaii.
It took about two weeks to receive the SmoothieBox from the time it was ordered. My box was delivered during the day and was outside in the hot August weather for a few hours. Because of that, when I opened the box all the dry ice had evaporated.
Luckily, SmoothieBox must have known this would be a problem, as they included a handy guide on one of the cardboard liners. By going through the questions, I knew the smoothies were just fine—albeit a little melted but still cold to the touch. As long as the smoothies are placed in the freezer immediately upon opening the box, they'll stay in good shape.
Packaging Material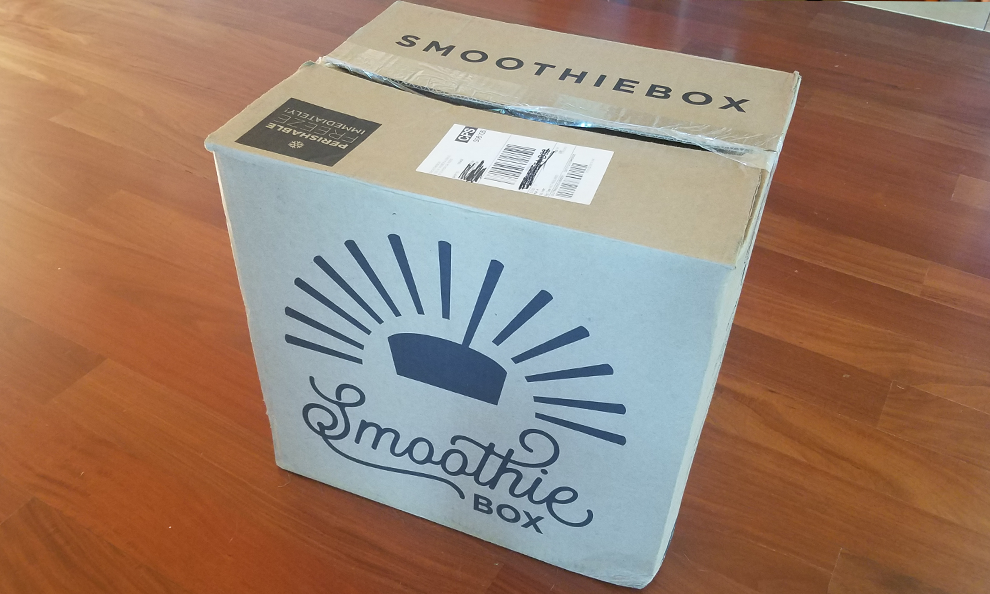 The box was packed nicely, and none of the smoothie boxes were damaged. The tape job wasn't the best and was partially busted. Luckily, that didn't affect the smoothie boxes in any way.
The box itself is 100% recyclable, including the paper insulation. The smoothie boxes are also recyclable, but the plastic smoothie bags are not. I could be wrong about that, but I was unable to find any information on SmoothieBox's website about the plastic they use. Because the plastic bag didn't have a recycle symbol, in the trash it went!
This is a downside of using SmoothieBox; it creates a lot of waste. It would be awesome if they were able to use biodegradable plastic bags made from plant material or even just use recyclable material for all of their packaging. If the packaging is indeed recyclable, then that information isn't reflected anywhere I can readily find on their packaging or website.
SmoothieBox vs. The Competition
SmoothieBox is unique as it's one of the only well-known smoothie delivery services that only offer frozen smoothies. They don't offer anything else, such as oat bowls or pre-made meals, as many of the other smoothie delivery companies do.
Nonetheless, there are a few popular smoothie companies that are worth comparing them to…
The main difference between SmoothieBox and their competition is how simple and affordable they are. Sometimes a lot of options are great, and sometimes they aren't.
When it comes to smoothies, it's nice to have a company that offers well-known favorites with an ingredient list you can recognize and trust. Plus, with their smoothies, you have the freedom to add an ingredient of choice, such as protein or fruit, which isn't a recommended option for most other smoothie delivery services since it could mess with the flavor.
SmoothieBox Pricing
Here's where things got a bit interesting and confusing on their website. Here's what the price is displayed as:
20 Count Box: $104
30 Count Box: $168.50
Two options are available: "subscribe & save $25" or "buy one time." When I clicked on the "buy one time" option for the 30 count box, the price jumped to $258! That's a $90 difference from what was previously displayed. I couldn't figure out why (where does the "save $25" fit into this?). The math didn't add up…
I reached out to customer support, and they explained there's a price difference between when you subscribe versus when you order one-time. When you subscribe, each smoothie pack is $32.50, and when you order one time, the price is $43 per smoothie pack. That's about a $10 difference, which compounds the final price at checkout.
The good news is that the customer support was very friendly and helpful. Overall, It would be nice if the website was clearer with their pricing and more accurate with how much you'll save by subscribing versus ordering one-time.
Even with the pricing confusion, I'm impressed with how affordable SmoothieBox is, given the quality and quantity of their smoothies. I feel as though you are receiving "more for less" (quality over quantity) when ordering with SmoothieBox.
SmoothieBox Price Comparison
With a subscription, SmoothieBox's smoothies are $6.50 each. For a one-time order, they are $8.60 each.
To put into perspective how affordable SmoothieBox is, I compared SmoothieBox's prices with other popular smoothie delivery services.
Daily Harvest: $8.49 each
Frozen Garden: $7.69 each
Splendid Spoon: Depends on the plan, but a plan of just 5 smoothies equals $14 each.
Vejo: A pack of 4 smoothie pods is $12.00, making each pod $3.00.
With this one-to-one comparison, Vejo appears to be the most affordable option. However, one SmoothieBox pouch makes a 20 oz plus smoothie compared to Vejo's 12oz smoothies. You can also add more to your smoothie with SmoothieBox if you desire, but you can't add more to a Vejo smoothie.
As you can see from this comparison, if you subscribe to SmoothieBox, the price is more affordable than if you were to place a one-time order. However, you're never locked into a subscription, so if you receive your first box and don't want to order anymore, you can just cancel your subscription.
SmoothieBox Pros & Cons
Whew, we covered a lot in this article. Let's take all that information and wrap it up into what I loved about this smoothie delivery service and what I didn't…
SmoothieBox Pros
They are highly convenient. What I loved about SmoothieBox was how quick and easy it was to make a smoothie. Having a smoothie ready in less than 5 minutes after a long workout when you're tired and sore is incredible. I was very thankful for SmoothieBox on many occasions for that exact reason.
Easy way to get a lot of fruits and vegetables in for the day. SmoothieBox smoothies have all the raw goodness you need. Each smoothie is packed with fruits and veggies.
They keep things simple and balanced. I love how balanced the ingredients are in each of the smoothies. I also like that they offer traditional flavors that are familiar and easy to enjoy for most people. Plus, it's nice to build off the base flavor with whatever fresh fruits or vegetables you have on hand.
Their website offers recipes and resources. This is a neat feature of SmoothieBox, as it helps you learn more about the benefits of smoothies and how you can become a pro smoothie maker yourself.
They use high-quality, organic, non-GMO ingredients. I'm quite particular about what I choose to eat, and oftentimes I won't buy something unless it's organic or non-GMO. So, when I saw that all their ingredients are organic and non-GMO, I was super excited.
SmoothieBox Cons
Their flavors are a hit or miss. Some flavors are delicious, while others are mild or tasted "off" (I'm pointing at you Green smoothie). I haven't decided whether the mildness of the smoothies is a pro or con, as it allows you to add more ingredients, but it's also nice to have a flavorful smoothie right at the start. I'll let you decide for yourself on this one.
Their website has some inconsistencies. There is a general lack of information on their website about the details of the service itself. I had to contact customer support to answer a few common questions that weren't answered on their website.
They only offer a few flavors. Again, this could be a pro or con depending on how you look at it. However, it would be nice if they added a couple of new flavors so there's more to choose from.
Final Thoughts: Is SmoothieBox For You?
If you're on the lookout for affordable, "no-fuss" smoothies, then SmoothieBox is for you. It's also perfect for those looking for convenient, balanced, and quick smoothies that can easily be added to.
I would say SmoothieBox isn't for "smoothie connoisseurs" or adventurous eaters. They offer six traditional flavors with well-known ingredients. If you want to try something new or exotic, Daily Harvest would be a good service to check out.
Overall though, SmoothieBox is a very good smoothie delivery service, and I encourage you to give them a try if you're looking for easy and delicious smoothies.