For anyone who is trying to lose weight, you likely know just how difficult a journey it can be. It's often challenging to plan your meals and avoid the temptations of those unhealthy foods you once loved. Fortunately, one meal subscription is working to make weight loss easier and more attainable for all of its customers.
Diet-to-Go has developed a meal subscription service that sends delicious food to your doorstep every single week. Their meal plans have been designed with the help of chefs and nutritionists to ensure you're getting flavorful, healthy meals that will allow you to see weight loss.
They aim to change the perception of healthy eating by giving people the great tasting foods they love, while also ensuring they're nutritious. They're able to do this with the help of some talented chefs who prepare every meal in their USDA-certified kitchen. With their meal plans, healthy eating is easy and affordable.
How to Join & Choose Your Items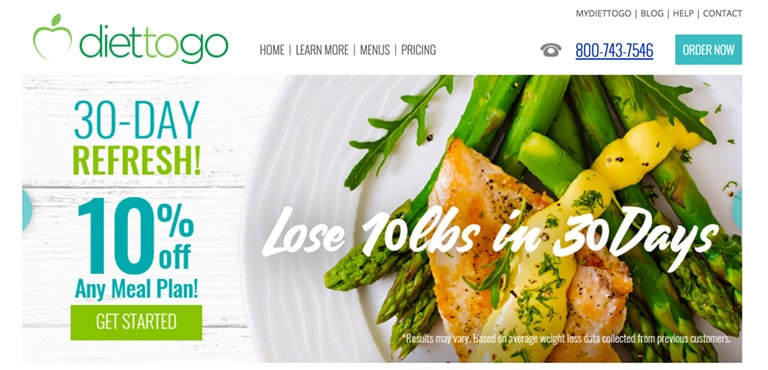 To join Diet-to-Go and begin receiving their meals, you'll first be prompted to enter your zip code. Once you've done this, you'll receive an approximate ship date for your first order and you'll be prompted to select your plan. They currently offer four different meal plans, which includes Balance, Balance-D, Carb30, or Vegetarian. Each one is developed by chefs and nutritionists to provide you with meals that are healthy, but also taste great.
Balance Plan
The Balance plan is their most popular. It's a calorie-controlled plan to promote weight loss and it's also heart-healthy. The meals in this plan are controlled for sodium, carbohydrates, fat, and cholesterol. You also will not find any red meat or pork with the Balance plan.
Balance-D Plan
Balance-D is a plan that has been approved by doctors and follows the Diabetes Association Nutritional Guidelines. For anyone who is managing type-2 diabetes or would like to prevent it, this plan is a great option. This particular plan is designed to control your blood sugar levels naturally.
Carb30 Plan
The Carb30 plan that Diet-to-Go plan offers is very similar to the Atkins diet. It restricts carbs like fruits, yogurt, and bread. You'll consume an average of 30 net carbs per day with this particular plan. It's great for jumpstarting your weight loss and is ideal for those who love eating meat. It's also advised that you do not add in fruit, bread, or other carbs on your own while following this regime.
Vegetarian Plan
And finally, there's a Vegetarian plan for anyone who does not eat meat. This plan is designed similar to the Balance plan, but excludes all meat ingredients from its meals. It does include eggs and dairy. While on this plan, your primary sources of protein will come from dairy, eggs, beans, and some soy.
Once you've chosen your plan, you'll move through a few more questions before being able to place you order. For example, if you were to choose the Balance plan, you'll be asked if you'd like to receive the original plan or if you'd like to exclude seafood. Next, they ask your gender in order to cater the meals to you. The women's meal plan will have you consuming 1,200 calories per day, while the men's meal plan is 1,600 calories per day.
Your next decision is to choose how many meals you'd like to receive each week. You have choose to receive meals for five days or seven days. Then, you're asked if you want just two meals per day (this means no breakfast on their plan) or if you'd like to receive three complete meals. This is all part of being able to customize the plan to your unique needs.
After you have placed your order, you can customize the menu to your liking. This will ensure you receive the meals you're most interested in consuming so you can be sure it's something you'll enjoy eating. Having the ability to choose your meals is always a huge plus and will make this weigh loss plan much more enjoyable.
Types of Food They Offer
There are plenty of options for breakfast, lunch, and dinner with Diet-to-Go's meal plans. As mentioned, you'll be able to choose your meal preferences to pick the dishes you'd like to try out. This will make it much easier to stick to the plan, especially since everything looks amazing.
For breakfast on the regular Balance plan, you'll see options such as: an Egg Quesadilla, Fruit & Granola Parfait, Chocolate Zucchini Bread, a Raisin Bran Muffin, and even Waffles with Peaches & Apples in Syrup. Their lunch dishes include: Chicken Florentine Burger, Turkey Reuben Sandwich, Chicken Black Bean Wrap, and Shrimp and Pasta Salad. For dinner, you'll be choosing from meals such as: Stuffed Shells with Tomato Sauce, Barbecue Chicken, Baked Salmon with Pineapple Salsa, and much more.
For those with specific dietary needs, you're unfortunately out of luck when it comes to Diet-to-Go's offerings. They do not provide gluten-free meal plans, kosher meal-plans, or vegan meal-plans. While there are meals that may meet these needs, there's always a risk of cross-contamination and they do not promise those meals will meet any strict guidelines for your needs.
Delivery
If you're interested in trying Diet-to-Go, you'll need to make sure they deliver to your area. Currently, packages can be sent anywhere within the contiguous United States. Unfortunately, they are unable to ship deliveries to customers in Hawaii, Alaska, and Canada due to the need to keep food fresh during transportation and also because of regulations with customs.
Deliveries are shipped out via FedEx on Monday and they typically arrive within one to three days. Once your order has shipped, an email containing your tracking information will be sent to you. This will allow you to keep an eye on your package and will let you know exactly when to expect its arrival.
They try to keep shipping costs low, but due to the weight of the packages and how quickly they need to arrive, this does come at a price. Customers are required to pay $19.98 for shipping on weekly orders.
If you ever find that you're going out of town, you can always pause your subscription ahead of time. You can do this by logging into your online account and selecting the days you need to pause delivery on.
If you'd prefer to pick up your meals in person, you can do so at one of Diet-to-Go's local pickup areas. They have over 200 pickup locations and you can find the one nearest you via their website. If you choose to do this, all you need to do is select local pickup during checkout when placing your order. Pickup typically takes place on Tuesdays and Fridays from 5 PM until closing, you'll want to check with your nearest location for more details on their business hours.
Packaging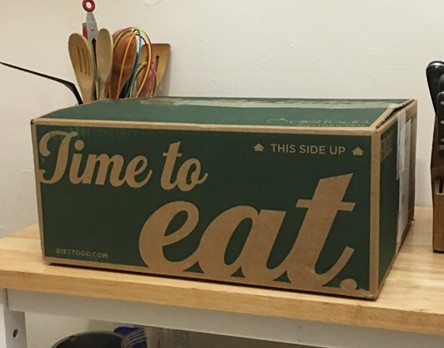 Because everything needs to be kept cold, meals will need to be shipped in special packaging to ensure all items stay fresh and safe for you to consume. Diet-to-Go packs all the meals on dry ice and ships them in large, styrofoam containers. If you order anything that isn't required to stay cold, it will be packed in a separate box and shipped with the cooler.
The amount of dry ice required for your meals will depend on a couple of factors. When packaging your order, they will consider the climate you live in as well as the time of year to ensure the right amount of dry ice is used to keep your meals cool. It's normal for meals to thaw upon arriving on your doorstep. All you have to do is take them out of the box and place them in your freezer and they'll be fine to enjoy later.
Freshness of Food
Diet-to-Go is committed to creating meals that are not only easy to prepare, but also good for you. You can feel confident in knowing the food you're enjoying from them is free from preservatives and other additives. They have also limited the use of artificial sweeteners in the meals they create. A few side items (such as yogurt and syrup) do contain artificial sweeteners, but you can easily avoid them if you'd like. All you have to do is simply swap out that item for something else that doesn't contain artificial sweeteners.
They do not use organic ingredients exclusively in their meals. This means that not everything will be organic, but they do use organic ingredients whenever possible. Even though everything isn't organic, you can still be reassured that everything is high-quality.
The meals are prepared fresh in their kitchen and then flash-frozen to preserve them. Once you've received your items, you should take them out of the box and place them in the refrigerator. The meals have a refrigerator shelf-life of seven days, so if you aren't going to consume them by that time, you can place them in the freezer. Meals can be frozen for up to 30 days.
Ease of Cooking
Because the meals are flash-frozen, they'll obviously require a little cooking before you can enjoy any of the food. However, it won't take a lot of effort on your part! Unlike some food subscriptions where you receive the ingredients and you have to put the meal together on your own, these are frozen and just need to be heated.
All you have to do is following the cooking instructions with your meal. It shouldn't take much time, so you'll be able to enjoy your meals in no time at all! With the meal plans from Diet-to-Go, there's no excuse for not having healthy meals ready for you to eat. You can fix something that's fast and easy, but also nutritious. It's going to help you avoid the drive-thru and over takeout places and provide you with hearty and healthy meals.
Taste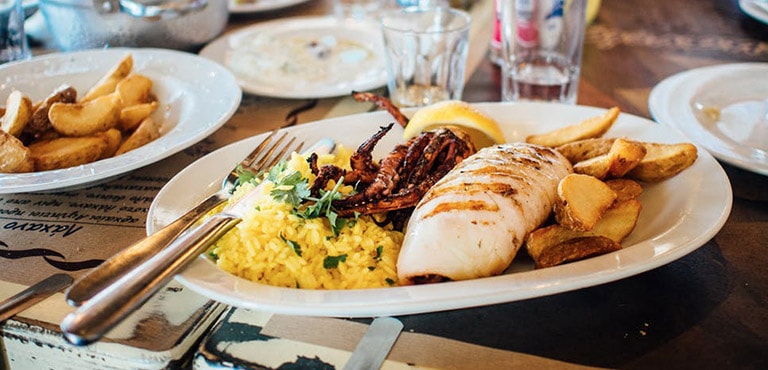 One of the biggest misconceptions when you're trying to lose weight is that you can't eat any of the foods that taste good. People think they have to cut out all of their favorite dishes just to be able to shed those last few pounds. Things like burritos, burgers, and pancakes are often on that "do not eat" list.  When it comes to Diet-to-Go, this isn't necessary at all!
With any of their meal plans, you're given a plethora of delectable dishes to choose from. Each one looks and tastes so great that you'll quickly forget you're following a diet plan! In fact, there aren't many weight loss plans out there that allow you to indulge in pasta, burgers, waffles, and burritos, but this one does.
For breakfast, one of our favorites is the Egg and Broccoli Pie. Not only is it filling and a healthy way to start your day, but it's also delicious. It's the perfect option for those mornings when you have time to sit down and enjoy a proper breakfast.
For lunch, the Chicken Philly Sub is an incredible choice. Once you take your first bite into this sandwich, you'll forget that you're actually eating something that's good for you. Not only that, but it's going to help keep you full until dinnertime. And when dinner rolls around, the Mexican Style Turkey Burrito is one dish you'll love to have. There won't be any need to head to a burrito restaurant because you can have this one right at home!
Pricing
The price you pay is going to depend on how many meals you choose to receive. As mentioned above, you have the option to receive five or seven days worth of meals each week. You're also able to choose between two or three meals per day.
For example, if you choose the original Balance plan with seven days worth of meals at three meals per day, it will cost $173.99 per week. When you consider how much you likely spend on groceries each week, this really isn't a bad price. You'll also have to pay $19.98 for shipping each package.
Final Thoughts
Whether you're trying to lose weight or you want to maintain a healthy weight, Diet-to-Go is a great option for you. Their meal plans make nutritious eating simple and affordable as meals get delivered straight to your doorstep every week. It's even better that they won't break the bank! And you won't have to cut out any of your favorite dishes because Diet-to-Go has plenty of meals to choose from. You just might forget you're even on a healthy eating plan.