As a parent, you're likely always on the hunt for an easy, nutritionally balanced meal to feed your little one. Well, you're in luck. These days there are literally hundreds of different types of meal delivery services out there ready to make your life a little easier. The problem now becomes which one is right for you?
Having spent over half a decade covering the meal delivery industry, I've personally reviewed hundreds of different meal delivery service boxes with my wife, Emily. Some good, some great, and some... pretty bad.
To help you find the right meal delivery service for your child, we've gone over all of our past reviews, researched all the kid-specific meal delivery services currently available, and narrowed down the best for each lifestyle.
The following meal delivery services are fit for babies, toddlers, and kids under 13 years old.
Best For Picky Kids
What It Is: Yumble is a pre-made meal delivery service for kids ages 1 to 12 years old. They allow you to select from a variety of different types of meals, which are delivered weekly. The meals stay good for about a week in the refrigerator. If they need to stay good longer, we've placed them in the freezer to prolong their shelf-life. Since the meals come pre-made and fully cooked, they can be cooked in the microwave within 2 minutes. We've also used the oven and stove to heat them up. While it takes longer on the stove or oven, the meals do taste better.
The Details: There is a lot of variety in the meals that they offer. You'll have around 40 meals to choose from each week. We particularly like that they have selections for both picky eaters and more adventurous eaters. They have pasta dishes with fun names like "Bowl of Yays Pasta" made with organic tomatoes and vegetable marinara sauce. There are protein-packed options such as Cheesy Broccoli and Meatballs as well as Chicken Marinara and Alfredo. They also have "good for you" snacks such as protein snack poppers made with grain and flax seed.
Why It Made This List:
In many of their meals they "hide" veggies in the sauces or within other aspects of the meal (for example, their "Hidden Veggies Pocket & Rice" meal). This is perfect for kids who are not fans of eating their vegetables.
There are a lot of organic meal options to choose from. In fact, the vast majority of their meals all use organic ingredients.
They include a fun little extra goodie in each box for kids, such as stickers. We've received plate holders in the past, which help keep kids plates from sliding around as they're eating.
While they have a lot of meal options for kids who are picky eaters, I also found that they do have some more adventurous meals. This makes it a good option for introducing your little one to more diverse meals and maturing their palate.
Best For Any Age
Nurture Life (Ages 10 Months to 13+ Years Old)
What It Is: Nurture Life is similar to Yumble in that they are also a pre-made meal delivery service for kids. However, they can fit into kids lifestyles that are 10 months old up to 13 years old. Technically, they also offer adult meals too. Their main selling point, and one of the key reasons they made this list, is that they grow with your child (from baby meals to meals to teens).
The Details: Nurture Life sends you your meals on a weekly basis. They have a big focus on nutritionally balanced meals—vegetables, whole grains, proteins, etc. While their meals are less likely to make the pickiest eaters happy, they do have a great variety to select from. For babies, there are finger foods such as Chicken Meatballs & Pasta, Egg Bite, Sausage & Sweet Potato, and Oatmeal Protein Bite & Sweet Potato. For toddlers there are finger foods and meals such as BBQ Pulled Pork with Carrots & Cornbread, Bolognese with Penne, and Chicken Bites with Mashed Sweet Potatoes & Green Beans. For kids there are meals such as Chicken Parmesan with Broccoli, Pesto & Cheese Ravioli, and Minestrone Stew. For teens/adults there are meals such as Pot Roast with Mashed Potatoes, Veggie Ragout Pasta with Fresh Mozzarella, and Butter Chicken with Peas, Rice & Mini Naan.
Why It Made This List:
They have different types of meals for different occasions, such as finger foods, portable "on the go" meals, shareable meals (perfect for siblings), and traditional "heatable" meals that can be made in the microwave or stove/oven. I found this to be great for families who are always on the move.
While they cater to kids meals, Nurture Life does have teen and adult meals that are actually hearty and tasty too. FYI, the portion sizes are bigger for the adult meals. This could make it the perfect meal delivery service for the whole family.
They have a dietary filter on their menu which allows you to select meals from the following options: milk free, egg free, gluten free, fish free, sesame free, coconut free, pork free, and vegetarian.
Best For Supporting Growing Mind
Cerebelly (Ages 5 Months To 6 Years Old)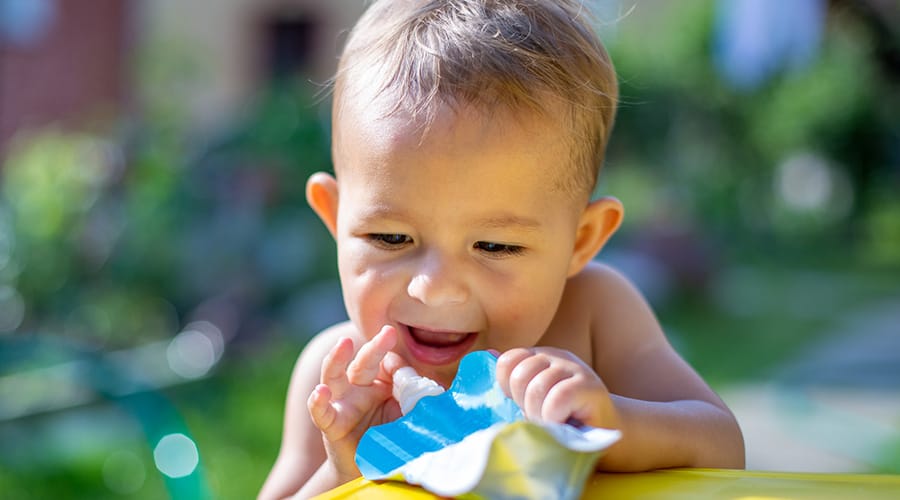 What It Is: Cerebelly is a pre-made meal delivery service for babies ready to eat solid foods up to toddlers (6 years old). This is the only meal delivery service that has been created by a neurosurgeon mother to support the natural growth of a child's brain.
The Details: Cerebelly does not offer traditional meals, such as the ones Yumble and Nurture Life does. They are puree squeeze packets that can be eaten at home or on the go, without having to be heated. Example purees you're likely to see include Sweet Potato Mango, Butternut Squash White Bean, and Spinach Apple Sweet Potato. In addition to purees, they also offer a variety of "smart bars", which are similar to their purees in having vegetables, fruits, grains, and other nutritious ingredients. Example bars include Carrot Raisin, Blueberry Banana Sweet Potato, and Apple Kale. Do note that they do not rotate their foods like many other meal delivery services on this list do. What you see on their menu today generally stays the same week over week.
Why It Made This List:
Their meals are fun to eat, making it a good option for the pickiest kids. For example, they recently teamed up with Peppa Pig on some new limited edition bars.
They're one of the only meal delivery services that are formulated by doctors to support a growing brain.
Like Yumble, they sneak in veggies and fruits so kids don't even realize what they're eating is good for them.
Best For Flavor & Ingredient Variety
Little Spoon (Ages 5 Months To 7 Years Old)
What It Is: Little Spoon is a pre-made meal delivery service that specializes in meals for both kids and toddlers. They offer "Babyblends", which are a variety of purees for babies. They also have full meals for toddlers and up. Though they say their meals are good for kids up to 10 years old, they seem to be more situated for those 7 years old and lower (based on size and meal variety). In addition to meals, they also offer "Boosters" which are supplement powders that can be added to meals (like a seasoning) for a variety of different situations.
The Details: Little Spoon has a big variety to choose from when it comes to their purees, currently around 30 different types. They also have some unique blends that aren't available in any of the other meal delivery services. You'll find flavors such as Pitaya Pineapple Spinach Banana Coconut Oil, Carrot Mango Coconut Milk Turmeric, Avocado Green Apple Broccoli Spirulina, and Kale White Bean Pear Basil Quinoa Avocado Oil. They also have a decent selection of meals to choose from, currently over 20. You'll see meals such as Roasted Turkey, Spinach and Cheese Ravioli, and Turkey Kale Sliders. What I like most is that, like Yumble, they also "sneak in" vegetables through their sauces and in other ways. Do note that their meals do not rotate on a weekly basis. However, they do offer limited edition purees every so often. As for their Booster supplement packs, they have vitamin and probiotic versions.
Why It Made This List:
They're very open about where they source their ingredients from (all from farms within the US).
All of their fruits and vegetables are non-GMO and the majority are organic as well as seasonal.
They're one of the few that offer vitamin and probiotic supplements as an add-on and in a powder form for meals, making it easier for kids to actually take.
They have a large selection of baby foods that include a nice mix of ingredients and flavors. This could be a great way to introduce your child to new foods.
Best Baby Food For Their First Year
Yumi (Ages 4 To 24 Months)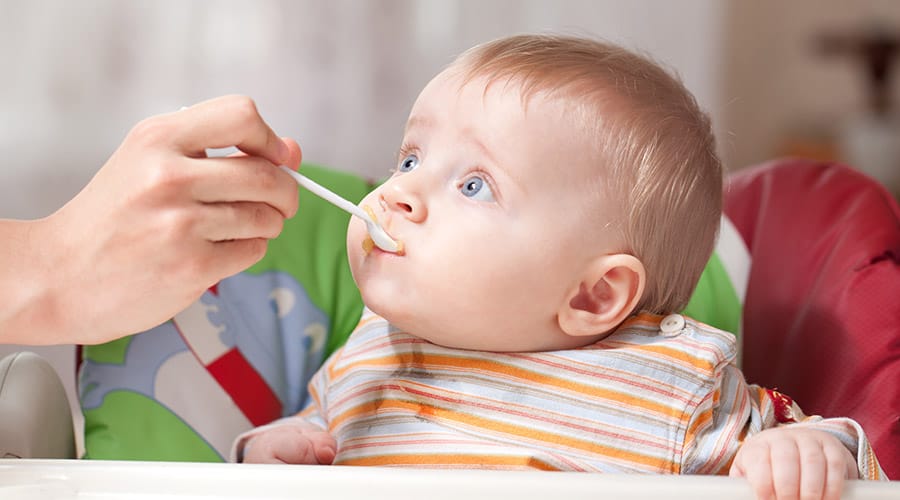 What It Is: Yumi is a pre-made meal delivery service for babies only (up to 12 months old). Unlike all of the other meal delivery services on this list, they break down their meals into different stages. Stage 1 meals are single ingredient purees for ages 4-6 months. Stage 2 meals are multi-ingredient purees for ages 7 months and older. Stage 3 meals are multi-ingredient purees with seeds and grains for ages 9 months and older. Stage 4 meals are "pinchables", which are small pieces of real food the baby can grasp to eat for ages 10 months and older. Lastly, there are finger foods for ages 11 months and older.
The Details: Yumi has the most diverse breakdown of baby foods on this list. Splitting up the meals by age allows you, as the parent, to know exactly when to transition from one type of meal to the other. Below are example meals you can find in each stage.
Stage 1 Meals (4-6 months old): Broccoli, Carrot, Pear, Butternut Squash
Stage 2 Meals (7+ months old): Spinach & Japanese Sweet Potato, Dragon Fruit & Pear, Carrot & Mango
Stage 3 Meals (9+ months old): Mango Chia Pudding, Polenta Mushroom Bolognese, Butternut Squash Curry Bowl
Stage 4 Meals (10+ months old): Black Bean Sweet Potato Combo, Coconut Peas & Carrot Combo, Squash Quinoa Combo
Finger Foods (11+ months old): Banana Bread Bite, Sweet Potato Latke, Beet Burger Bite
Why It Made This List:
They structure the first year of your baby's meals very well. Everything is organized, making it very easy to know what to feed your baby and when as they grow.
They have a great selection of high-quality baby meals. All of their meals have no gluten, no dairy, no allergens, no GMOs, no added sugar, and they're never fortified.
All of their meals are 100% organic.
Best For Cooking With Kids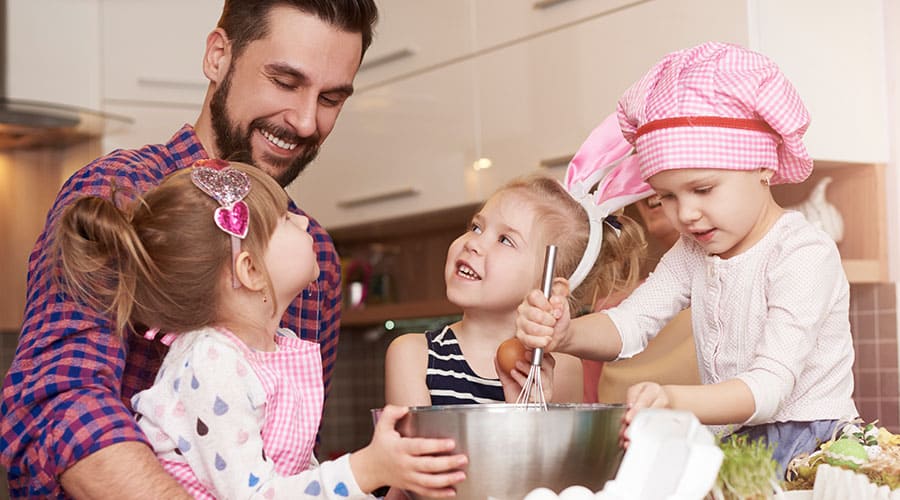 What It Is: One Potato is a meal kit specifically gear towards family cooking. They send you all the ingredients (pre-chopped) that are needed to make your meals. In addition to meals, they also have add-ons such as smoothies and cookie dough to make a variety of different cookies.
The Details: One Potato is one of the few meal kits out there that is meant to include children in the cooking process. This means that every aspect of the meal kit is made fairly simple. The ingredients are pre-chopped, the seasonings are pre-measured, and the sauces come pre-made too. This means kids don't have to fiddle around with dangerous kitchen utensils but they can still learn how to cook. Plus, since a lot of the preparation process is already handled by One Potato, it helps busy parents get a meal on the table much quicker than a traditional meal kit. One thing to keep in mind though is that because these are more kid-friendly meals, they are not going to have gourmet cuisines. You're likely to find meals on their menu such as Beef & Potato Pierogi's, Fettuccine with Asparagus & Seasonal Vegetables, and Herb Roasted Chicken with Brussel Sprouts and Polenta Fries.
Why It Made This List:
This is the perfect meal kit for parents of kids 7+ years old who are looking to teach them how to cook. While there are tons of other meal kits out there, this one has simple recipes that don't require a ton of involved prep work to create. This makes the cooking experience fun and informative for kids.
From our experience, the meals are quite good. Don't expect 5-star restaurant quality but they definitely have a lot of great tasting options to choose from.
The meals can be made from scratch within 30 minutes.
All of the produce is seasonal, organic, and non-GMO.
Food Box HQ Note: If you're looking for a somewhat similar meal kit that's less expensive, try Dinnerly or EveryPlate. Both have meal plans that are around $5 per serving. Since they're more budget-friendly, they also have quick recipes that are fairly simple to make like One Potato. However, they aren't necessarily made for families to cook together like One Potato is structured.
How We Selected The Kids Meal Delivery Services On This List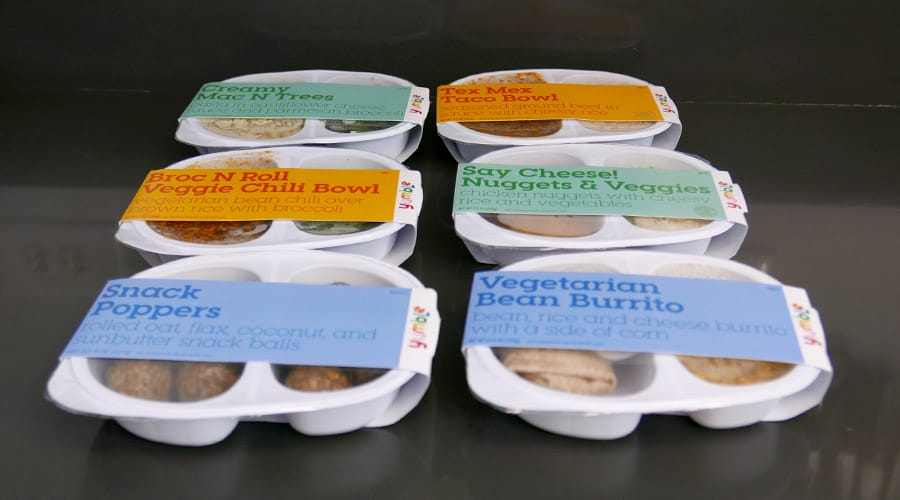 "Kids" is a fairly broad term so we decided to narrow down our search to only meal delivery services that focused on anyone ages 4 months to 13 years old. Before 4 months old, babies are still breastfeeding and after 13 years old, kids turn to teenagers.
While there are a lot of different types of meal delivery services out there, there aren't a whole lot that are geared towards kids in the 4 month to 13 years old age range. So, we first started by simply narrowing down all of the kid meal delivery services out there.
We decided against including traditional meal kits like Sun Basket or pre-made meal delivery services like Freshly because these services were designed with adults in mind. That being said, some traditional simple meal kits like EveryPlate, Dinnerly, and even Gobble, can provide a great meal kit to make with your older kids (6+ years old).
Once we narrowed down the competition, we began researching and testing based on what parents have been saying across the internet (on forums, reviews left on other sites, etc). We also narrowed down the list based on our previous reviews. You can watch unboxing videos of all the kids meal delivery services on this YouTube playlist.
We choose the final list based on our research, reviews, and personal tests. We looked for the following in each service listed above:
High-quality ingredients (organic whenever possible, not processed)
Balanced meals (vegetables, proteins, whole grains, etc.)
Easy to use and customize when possible
Has the ability to remove or filter out meals with certain allergens
Saves parents time and energy
Has meal kids actually want to eat—taste good!
What To Know Before You Order
While I am a big fan of meal delivery services, that does not mean they're right for everyone. There are big differences between these kids meal delivery services and anything you're likely to pick up at your local grocery store. Here's what you should keep in mind before you purchase:
You're going to pay a premium for the service taking care of the preparation/cooking, being able to customize, high-quality ingredients, etc. For example, the per-serving cost for Yumi's baby food is around $4 and the per-serving cost for Yumble's toddler meals is around $7 (exact price depends on your plan).
Some of the services are very similar to each other in terms of the actual food so your final decision may come down to personal preferences regarding pricing, shipping, etc. It's important to note that taste is subjective. What one child might love, another may hate.
Many of these types of services do not have a lot of breakfast options. This is one of the odd things about the meal delivery services in general though, many companies just ignore breakfast as a meal. For example, Yumble has around 40 meals on their menu but only 2 are breakfasts. This may not be an issue for babies (since they can eat a puree meal any time and not care) but it might become one as they get older.
There will be an environmental impact. Regardless of which kids meal delivery service you go with, there will be waste involved. Thankfully, most of the kids meal delivery services on this list use environmentally-friendly packaging that is easy to recycle.
Have a question about kids meal delivery services we didn't answer? Have you tried one before? Let us know in the comments below!