As a parent, chances are you have your hands full. Getting the kids to and from school or practice, going to work, cleaning up the house — days can be jam packed with things to do.
One of the most important aspects of your day is, most likely, ensuring your little one is eating meals that they enjoy and aren't loaded with "junk" ingredients. But of course, prepping and cooking those meals takes time.
If you're a parent looking for a pre-made meal box for your kid, you're in the right place because today we're exploring Yumble. They're a pre-made (not frozen) meal kit specifically made for children.
Started by a mom of three named Johanna Parker, she previously found herself in a similar situation as most parents — spending a ton of time planning, prepping, and making healthy meals for her kids. After realizing others shared her frustration, she created Yumble.
Fast forward, after appearing on Shark Tank, Yumble exploded in popularity and has rode that wave to become one of the best-selling kids meal kits currently on the market.
But what is it really like using their meal kit? And more importantly, do the meals actually taste good?
Emily and I got our hands on a box from Yumble and put our taste buds to the test. Keep reading to find out everything you need to know about their meal delivery service and if it's the right choice for you!
How Yumble Works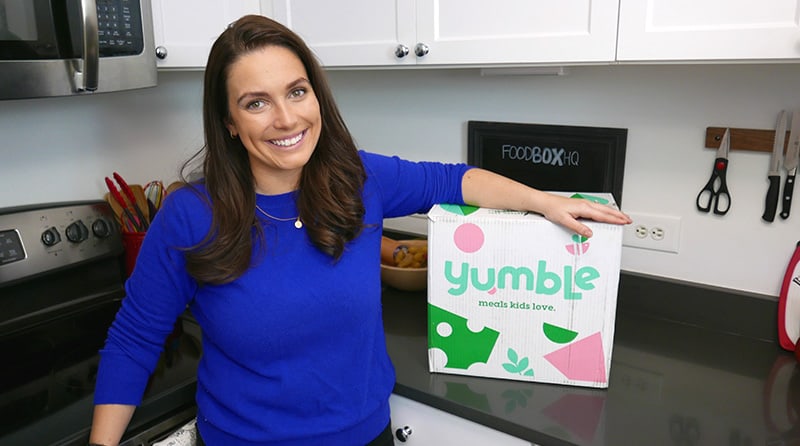 Yumble isn't a meal kit in the sense that they send ingredients so you make the meals. Instead, they send you pre-made meals that are cooked by their chefs and kept cold until they are ready to be eaten.
These "heat and eat" type meals sometimes get a bad reputation since many people compare them to the TV dinners you're likely to see in the frozen section of your grocery store. Since Yumble meals are not frozen and they're made by their team of chefs, similar to the way Freshly works, I like to think of them like having a personal chef prep/cook everything for you.
Types of Meals Offered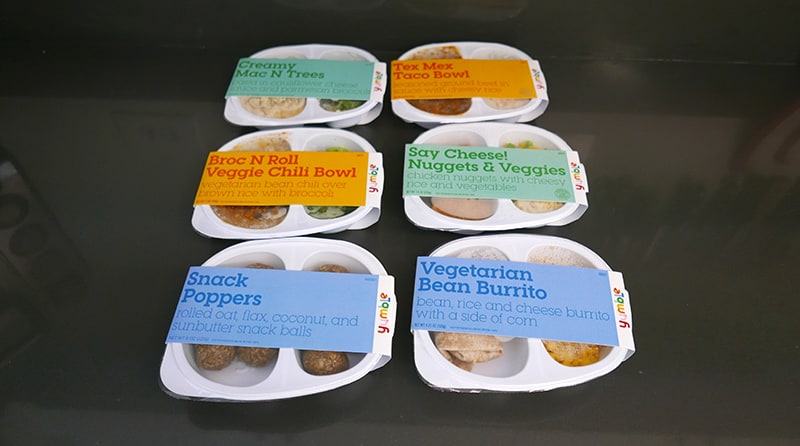 The first thing I noticed about Yumble when we were researching what meals to get in our first box was that they're very much kid-specific foods. You're not likely to see meals with any diverse or complex tastes (sorry, no filet mignon on this menu). But, to be honest, that's probably a good thing.
If you're a parent, you're probably well aware of the fact that most kids are picky eaters. Yumble seems to understand this so the meals you'll see on the menu are classics like chicken nuggets or mac and cheese. However, Yumble takes these classics a step further by giving them a "good for you" twist.
For example, their Chicken Nuggets & Veggies meal is organic, gluten-free, soy-free, and egg-free. They even "hide" extra vegetables in the cauliflower puree cheese sauce. For any parent trying to get their kids to eat more veggies, this could be a game-changer. Especially considering the shocking fact many kids go without eating vegetables days at a time.
We'll go over the specific meals we got in our box below, along with a taste test of each.
Plans Offered
Yumble makes their plans pretty straight-forward with two options based on how many meals you'd like to get in your box each week.
There's the 6 meal per week plan (the one we went with) and the 12 meal per week plan. Unfortunately, they don't have any "a la carte" options whereby you can add a specific number of meals to your box. This can make it a little harder for parents with more than two kids. A work around for bigger families could be to order 2 plans but that would require multiple accounts to do so — possibly an unnecessary hassle.
Nutrition & Dietary Restrictions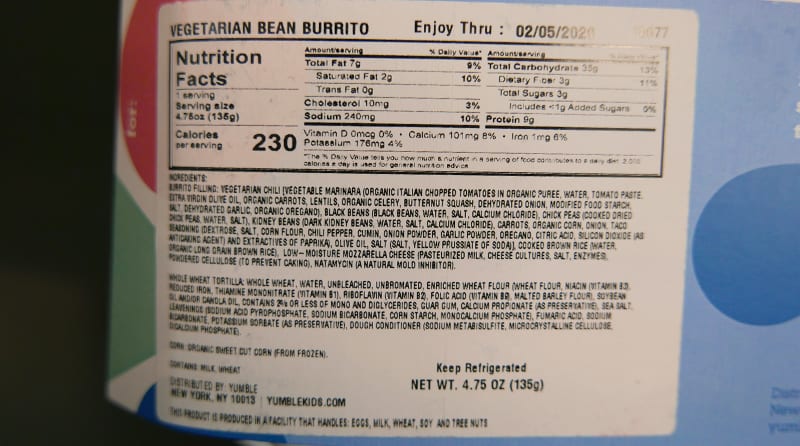 As briefly touched on above, Yumble meals are "good for you" twists on classic kids meals. I noticed that not only are they portion-controlled well but they aren't loaded up with artificial junk, unnecessary sugars, or high on carbohydrates.
Here's an example of the nutrition facts in one of the meals we got in our box (and one of their most popular meals), Creamy Mac 'n Trees Mac and Cheese with Broccoli.
Main Ingredients: Organic Broccoli, Organic Cauliflower, Gluten-Free Elbow Pasta
280 Calories
12g Total Fat (7g from Saturated Fat, 0g from Trans Fat)
70mg Cholesterol
420mg Sodium
32g Carbohydrates
3g Dietary Fiber
3g Total Sugars (0g Added Sugar)
13g Protein
They also have meals specific to certain dietary/food restrictions such as: gluten-free, milk-free, soy-free, egg-free, and vegetarian. However, their meals are cooked up in a kitchen that also handles eggs, milk, wheat, soy, and tree nuts. And it doesn't look like they are certified gluten-free either. These are only aspects to consider if your son or daughter has a food allergy, gluten allergy, or celiac disease.
Delivery
At this time, Yumble delivers their kid-friendly meals to most of the East Coast of the United States, Texas, California, and parts of the Midwest. They are expanding their delivery coverage area, allowing them to reach more and more customers over time.
Once your order has shipped out, you will receive tracking information via email. From there, you can expect your order to arrive by 8 PM on your scheduled delivery date. There's no need to be home in order to receive the delivery. Our box was left in our mail room on the day we were expecting it.
Packaging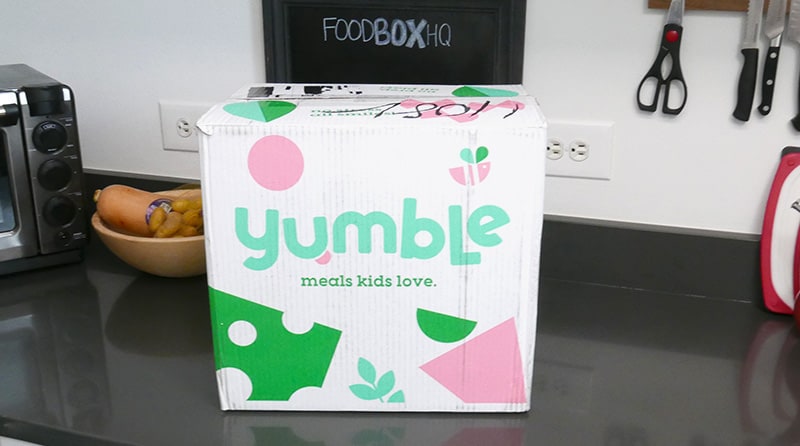 All of Yumble's meals are prepared and packed in a USDA inspected kitchen and are then cooked, cooled, and packaged following USDA guidelines. This basically ensures the food preparation, cooking, and packaging process is up to a certain regulatory standard.
What's great to see is that the entire package is recyclable — the outer cardboard box, the insulation liner, the ice packs, and even the meal trays themselves.
Upon opening our box, I noticed they keep everything packed pretty tight, with an icepack on top of the meals as well as on the bottom to keep them cold in transit. In the unboxing portion of our video review, you can see that all the meals we received were kept cold, safe and undamaged while they were being shipped to us. 
What Meals We Got In Our Box (February 2020)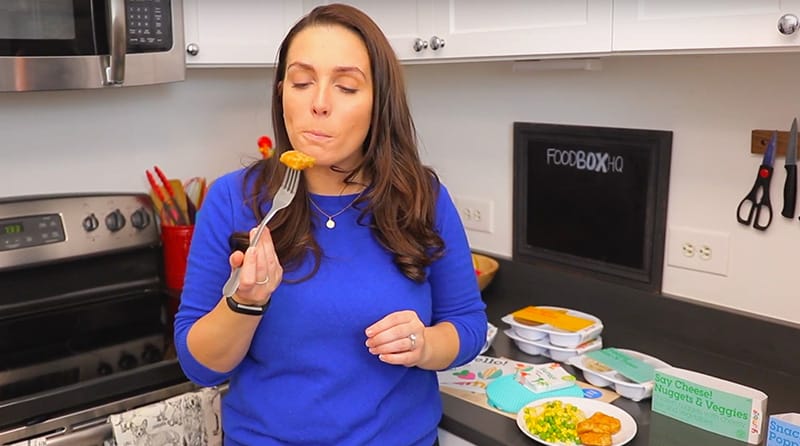 Now let's get to the good stuff! Here's an overview of each meal we received in our box, along with our thoughts on it…
Vegetarian Bean Burrito with a side of Corn
It's great to see that they offer vegetarian options that are more than just a simple salad or something that a kid might find boring or flavorless. The burrito is whole wheat and inside are two different types of beans — kidney beans and black beans. In order to keep it portion-controlled and keep calories at 230, it's not loaded with ingredients. Overall though, even without any meat, this burrito tasted delicious.
Snack Poppers (Rolled Oats, Flax, Coconut, and Sunbutter)
While not technically a meal, I found these snack poppers to be a tasty mid-day treat. For tasting sweet and savory, they're surprisingly loaded with some great ingredients — rolled oats, honey, flax seeds, and coconut. This makes it the perfect protein, fiber, and omega-3 packed snack. After eating these, I liked them so much that I actually looked up the recipe so I could make these in the future!
Say Cheese! Chicken Nuggets with Cheesy Rice and Vegetables
This is the meal we taste tested in the video review. It's probably the most interesting of the meals we received. On the surface it looks like a simple chicken nuggets, rice, and veggies meal. However, the "good for you" twist is the chicken nuggets are organic and gluten-free, the corn is organic, and their "cheese" is actually a cauliflower puree (which surprisingly tastes just like cheese). If you've watched the video, you can tell this one was one of Emily's favorites.
Broc N Roll Veggie Chili Bowl (Vegetarian Bean Chili Over Brown Rice with Broccoli)
This is another vegetarian meal Yumble offers. The chili itself was delicious and not spicy at all, so perfect for a kids taste buds. The one downside to this one is that they don't add any flavors/spices to the broccoli, so I could see how kids might end up skipping eating their veggies on this meal.
Tex Mex Taco Bowl (Seasoned Ground Beef in Sauce with Cheesy Rice)
This one was another one of my personal favorites in terms of flavor and variety of ingredients. The beef they use has zero antibiotics and is non-GMO. In addition to all of the vegetables being organic, they also "hide" veggies in the cheesy organic brown rice sauce.
Creamy Mac N Trees (Pasta in Cauliflower Cheese Sauce and Parmesan Broccoli)
This is the Yumble "twist" on mac and cheese (hence the pun) which uses gluten-free pasta. It's also another dish where they hide veggies in the cheesy sauce. What I liked about this one is that they added a little dash of parmesan cheese over the broccoli florets, which gives them a bit more flavor and entices kids to actually eat all of their vegetables.
Surprise Gifts In Our Box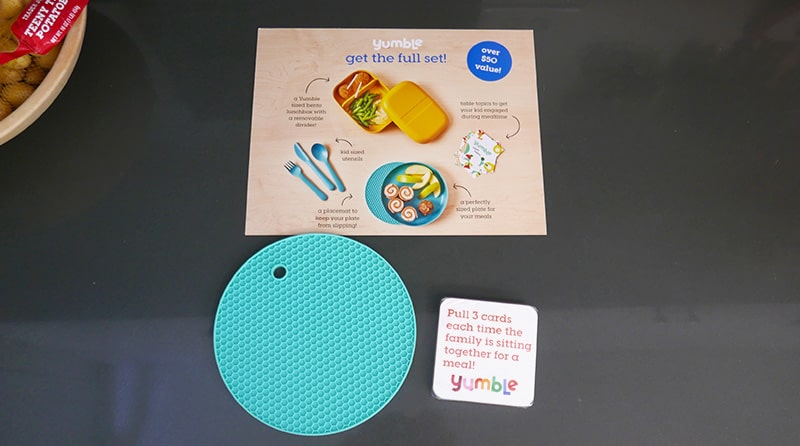 In addition to the meals above, we also received some fun (and free) extra goodies in our box…
Yumble stickers
Placemat to keep the meals from sliding around
Packet of table topics
In the first 4 weeks you receive Yumble, you'll get a different gift in your box. The first week you'll receive the placemat and table topics. The second week you'll receive a reusable plastic fork, knife, and spoon. The third week you'll receive a reusable plastic plate (which matches the utensils received the week before). The fourth week, your final gift is a reusable plastic lunchbox.
Out of all of the extras they send, I think parents will appreciate the table topics the most. They're basically a packet of cards that have conversation starters on them but specifically for kids. To give you an example, one of the cards says: "What are 3 things you are grateful for today?" Some cards are funny, some are informational, and some make you think but the purpose of them is to help parents and kids get to know each other better, share their experiences, and learn new things.
Yumble vs Similar Services
While there are a handful of kids meal delivery services currently available, there aren't any that are too similar to Yumble's service. Many of the other meal kits are geared toward young kids, around 1 to 4 (babies and toddlers). Yumble meals are fit for kids a bit older, around 4 to 10.
The only other comparable meal box would be Nurture Life's Kids Menu. Like Yumble, they also offer pre-made meals and the same amount of meal variety each week (around 20 meals to select from). The meals themselves tend to be similar too — "good for you" twists on classics. For example, Nurture Life has their own version of Mac and Cheese made with cauliflower "cheese" sauce. The main difference I can see between both services is that Yumble offers more variety within their meals. So using the same mac and cheese example, Nurture Life's mac and cheese meal only includes mac and cheese. On the other hand, Yumble's mac and cheese meals always have a side dish too (for example, "Creamy Mac N Trees" has a broccoli side).
Pros & Cons of Yumble
To help you make a final decision and determine if Yumble is the right meal box for you and your little one, let's go over all the main positives and negatives of their service…
Pros
It's super convenient. The biggest benefit is that there's really no cooking involved here. As these meals are pre-made, you simply need to heat them up. Ultimately, it'll get you out of the kitchen so you can spend more time making memories with the family.
They use quality ingredients. After reviewing all the ingredients used in their meals, I noticed that they prioritize organic, non-GMO, and antibiotic free all the time. You're also unlikely to see any artificial "junk" listed on the ingredients either.
They offer vegetarian options. This may not be a huge deal for some but introducing kids to vegetarian meals at a young age could help them make better food decisions in the future.
They "hide" veggies in the meals. This is a really smart idea to help kids eat more vegetables and get the nutrients they need without them even knowing.
Cons
Not a ton of variety on a recurring basis. You're likely going to see most of the same meals week to week. That being said, there are around 20 options to choose from.
They aren't packed with tons of different/unique flavors. For picky eaters, this might be good but if you're looking to expand your child's taste palette, you may want to prepare the meals yourself or possibly use another box.
Coupons
If you've made up your mind and you're ready to go with Yumble, we're here to help save you some money! Below you'll find a list of the most up-to-date coupons and promo codes that they have available. I included a variety of different ones just in case one doesn't work.
We constantly update the coupons to make sure they're the best ones available. If you find one that is better or one doesn't seem to be working, please let us know in the comments below and we'll get it updated as soon as possible.
Final Thoughts: Who Is Yumble Right For?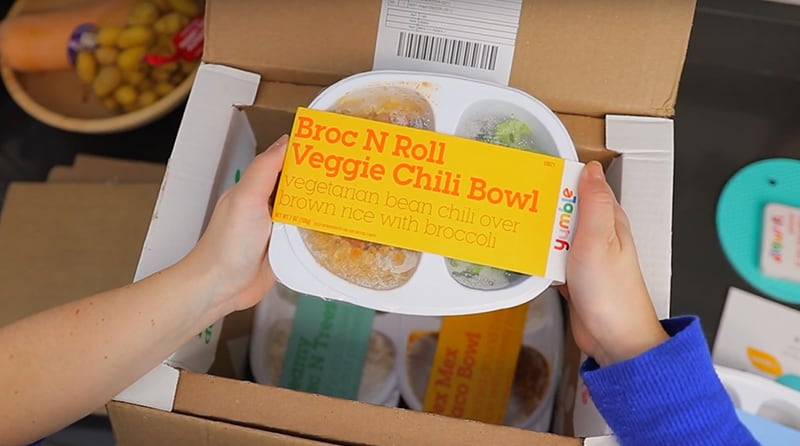 Back when I was a kid, I'd get sent to school with my generations "meal kit" — a Lunchables pizza kit. Remember those? Today, when I look at the ingredients list I can't even believe what I was actually eating. It was loaded with a ton of nasty additives, as many kids meals are (even today). Luckily, Yumble is a far cry from those types of kids meals.
If you have a kid age 4 to 12 and you'd like to reclaim some of your time during the day, Yumble is a really great option. I really appreciate that they value quality ingredients and include plant-based meals too.
While we're not parents yet, Emily and I were both surprised at how convenient and cute Yumble is. There aren't many 100% kid-specific meal kits available as of writing this review so Yumble really is in a category by itself and they overdeliver (especially with the addition of fun activities in each box).
Have you tried Yumble? Have a question we didn't answer? Let us know in the comments below!