Today there are more meal kit options to choose from than ever before. From meal kits that serve different diets such as keto and paleo (like Green Chef) to ones that focus on more adventurous options (like Sunbasket).
But what if you just want to cook quick and easy meals that also taste good? That's where Gobble comes in.
Gobble is a meal kit that claims their meals can be made within 15 minutes. We decided to put them to the test and find out if that's true!
Today we're reviewing Gobble to see if this meal kit is as easy and delicious as they say it is...
How Gobble Works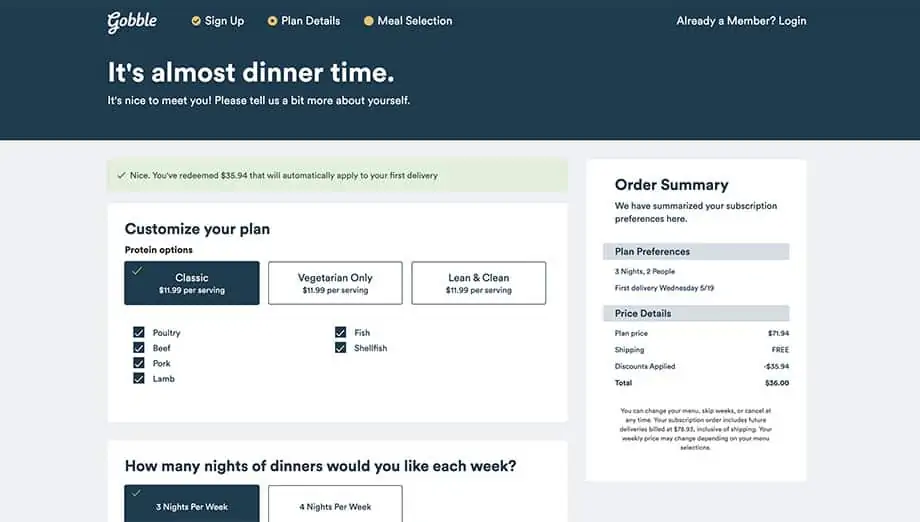 Gobble works very similarly to most of the other popular meal kits out there.
When you initially sign up, they give you the option to customize your plan to best fit your needs. For example, they'll ask:
What proteins would you like to see on your menu? Poultry, beef, pork, lamb, shellfish, fish?
How many nights of dinners would you prefer to receive each week?
How many people are you feeding?
From there, they put together your plan.
Compared to many other meal kits, I found the sign up process to be quick but not super customizable. For example, with Marley Spoon, they asked me a handful of questions such as "Do you prefer recipes that are quick or relaxed?", "Do you prefer recipes that are traditional or adventurous?" and "Do you prefer recipes that are hearty or light?".
By doing this upfront while I'm signing up, they're able to customize my menu to really fit my personal tastes. Although, if you're not a picky eater, this might not bother you.
Gobble Meal Plans
Currently, Gobble has 3 different meal plans:
Classic: This plan is going to include all of their meals—meat based and vegetarian. If you're not sticking to any specific diet or you'd like to be able to choose from the full menu, this is the plan to go with.
Vegetarian: As the name suggests, these are going to be meals without any animal proteins. I've found that most of the vegetarian meals are salads.
Lean & Clean: This is their low carb and low calorie plan. Each meal is around 600 calories but they don't explicitly tell you the average amount of carbohydrates to expect in each meal. From my experience, they're under 35 grams of carbohydrates.
Gobble Meals (Variety & Customizations)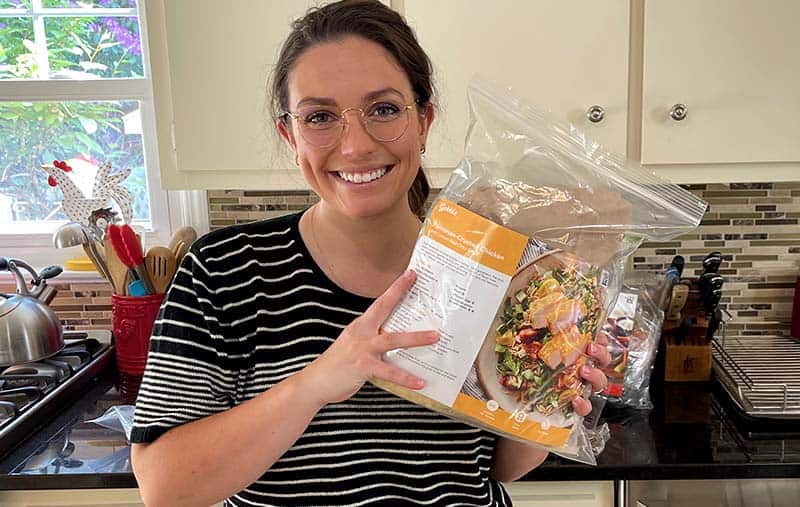 Gobble has a lot of variety on their menu. They offer breakfasts, lunches, dinners, extra meat add ons, sides, desserts and snacks to choose from each week to add to your box.
I've found that the amount of variety you have to choose from each week on their menu varies depending on the plan you're on.
For example, if you're on their Classic plan, you'll have around 14 meals to choose from each week. If you're on their Vegetarian plan, you'll have around 4 to 5 meals to choose from. And if you're on their Lean & Clean plan, you'll have around 4 to 5 meals to choose from.
Here are some example of meals you'll find on each plan...
Classic Meal Examples
Lemon Pepper Chicken with Nectarine & Tomato Salad and Pesto Bread and Boneless Skinless Chicken Breasts
Pork Tenderloin Medallions with Asparagus, Barley and Red Wine Cherry Sauce and Pork Tenderloin Medallions
Chicken au Poivre with Demi-Glace & Roasted Garlic Mashed Potatoes and Skin on Chicken Breast
Vegetarian Meal Examples
Roja Chilaquiles with Spinach & Avocado Salad and Vegetarian
Mediterranean Falafel Wrap with Feta Cheese & Tzatziki Sauce
New Orleans Portobello Muffaletta Sandwich with Baby Gem Lettuce Salad
Lean & Clean Meal Examples
Seared Steak with Charred Shishito & Sweet Peppers with Romesco Sauce & Hazelnuts and Top Sirloin Steaks
Turmeric Marinated Chicken Thighs with Chinese Broccoli & Thai Peanut Sauce and Southeast Asian-Style Marinated Chicken Thighs
Chicken Waldorf Salad with Blue Cheese & Walnuts and Boneless Skinless Chicken Breasts
In addition to their regular menu options, they also have premium meals (such as grilling kits) and specialty kits to feed up to 4 people.
I found that while there isn't a huge amount to choose from each week, of the meals they do offer, they do a great job of mixing it up to include a variety of different cuisines and food options. From my experience using Gobble over the years, I've seen everything from classic Italian dishes to island dishes such as poke bowls.
Meal Customization
One thing I really love about Gobble is that they allow you to customize most meals to fit your personal preference. For example, we were recently looking at ordering the Cilantro Pesto Salmon with Cauliflower Couscous but I'm not a huge fan of fish. Instead, we swapped the salmon for chicken breasts.
You can also upgrade options within meals such as making meats organic, double up on meats, or switch to just vegetarian options.
This is something I first saw when we tried Home Chef and I found it to be a great way to make a dish fit my exact taste.
Breakfast Options
Gobble offers around 6 different breakfasts to choose from each week, many of which are premade.
Here are some examples:
Artisanal Belgian Waffles with Maple Syrup & Cinnamon Brown Sugar Butter
Petite Leek & Cheese Quiche
California Eggs Bruschetta Caprese
Dessert Options
Gobble offers around 4 desserts to choose from each week. Here are some examples:
Valrhona Chocolate Lava Cake
Chocolate Chip Cookie Dough
Pumpkin Swirl Cheesecake
Side Options
Something that Gobble offers that a lot of popular meal delivery services don't are sides. Here are some examples:
Baked Garlic Bread
Za'ater Naan Bread
Five Cheese Mac & Cheese
Meat Add On Options
Gobble also offers extra meat add ons, regular and organic. Here are some examples:
Organic Boneless Skinless Chicken Breasts
Salmon Filets
Top Sirloin Steaks
Wild Jumbo Shrimp
Gobble Recipe Cards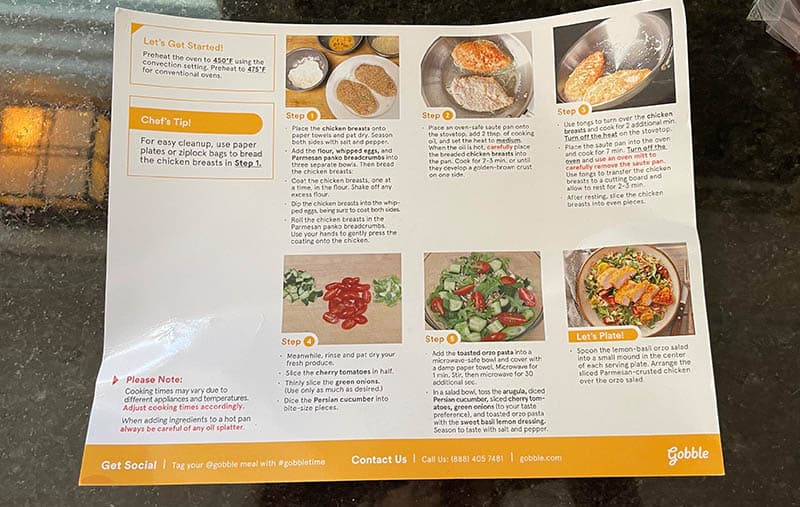 The recipe cards Gobble includes with each meal include all of the essentials needed for cooking. You'll find the ingredients, supplies needed, allergen information, calories, spice level, and of course the steps needed to cook to the actual recipe.
Each recipe step has a picture of what everything is supposed to look like at that point in the recipe. I like when meal kits do this because it easily helps me know exactly what I need to be doing at a glance, saving me time.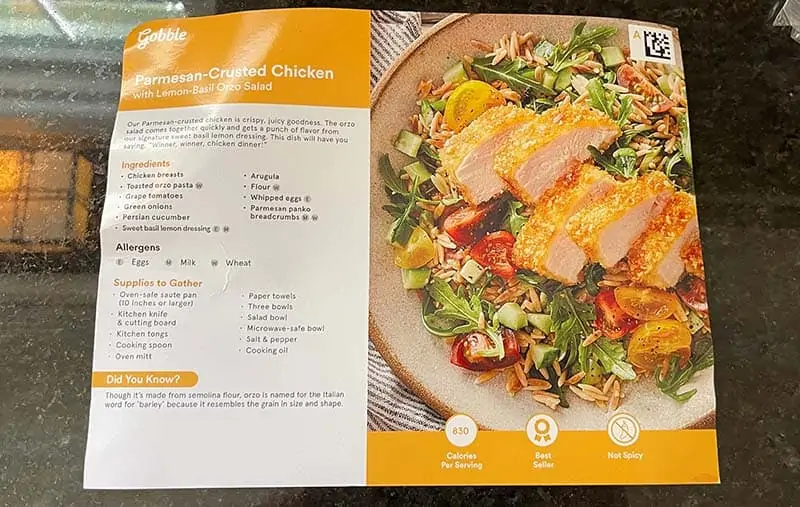 A nice little bonus is that they also include little facts about each recipe. For example, in our Parmesan-Crusted Chicken with Lemon-Basil Orzo Salad, they have a "Did You Know?" section that says, "Though it's made from semolina flour, orzo is named for the Italian word for 'barley' because it resembles the grain in size and shape."
Delivery & Packaging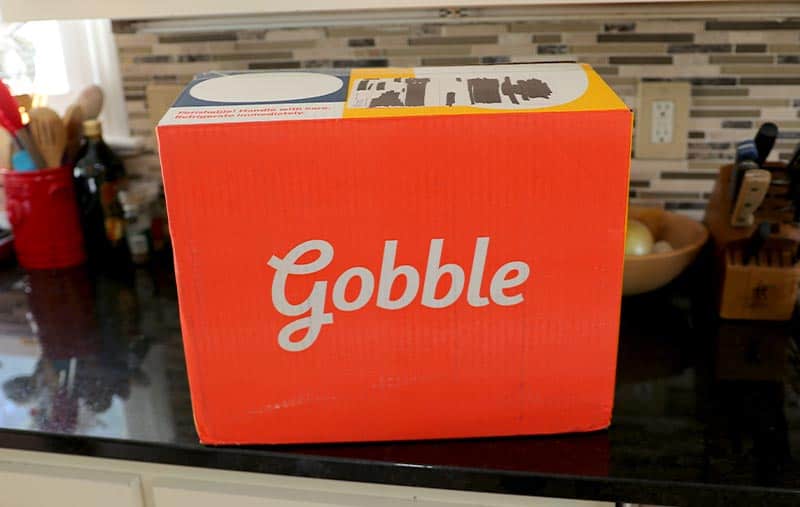 Gobble can deliver to most states within the continental US. Right now the only exceptions are Montana and limited service to Nebraska and New Mexico.
All of our Gobble boxes have been delivered via Fedex. It's generally never taken longer than 2 days for our box to go from their warehouse to our doorstep.
The Gobble box itself is packed with a bubble insulation. This is used to protect the ingredients from bumps while in transit and keep everything nice and cool. Speaking of keeping things cool, Gobble includes a few ice packs at the bottom of the package to keep everything nice and cold. This is also where you'll find any meats or ingredients that need to stay as cold as possible in transit.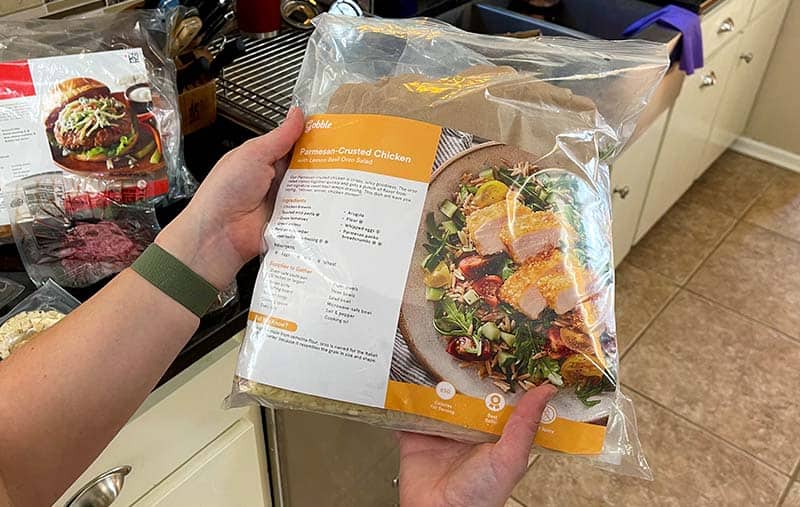 The one issue I have with Gobble's packaging is the amount of plastic involved. Most meal kits already use a lot of plastic to contain the ingredients. However, Gobble uses the most plastic out of any meal kit we've tried. As you can see in the video review, the bag that contains the ingredients is plastic. Then, within that bag, each item is also wrapped in plastic. And there seems to be some unnecessary plastic use, such as wrapping some vegetables in plastic. All this plastic is recyclable but it still would be better to see more eco-friendly options or less plastic in general.
Managing Your Gobble Account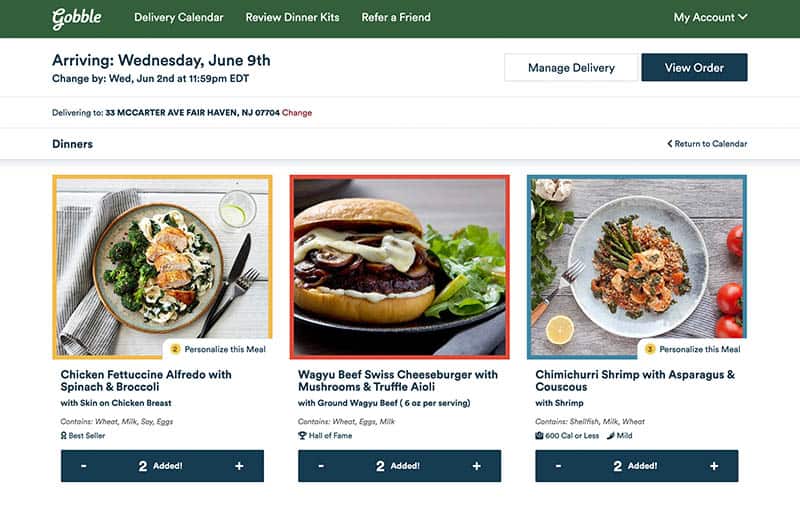 The actual process of going about selecting meals and making any changes is very straightforward.
On your main account page you'll see a list of your upcoming boxes with the option to make any changes to the meals. It's here that you can personalize the meal, as mentioned above. For example, swapping out meats, doubling up, or upgrading.
While they mention some specifics about the meals on the main menu page (such as if it's vegetarian or if it's a customer favorite) they don't give you any ability to filter down meals by elements such as calories, diet, etc.
When it comes to actually managing your delivery, Gobble goes above and beyond what many other meal kits offer. For example, you can have your box shipped to a completely different address and change your delivery date for one specific order.
Being able to change your delivery address is actually pretty useful. For example, Emily and I were going to be at her parents' house one week. Instead of skipping our Gobble order, we just opted to have it shipped to their home instead so we could cook it with them. Plus, we were able to double up on servings so we could feed the whole family.
They also give you the ability to skip weeks, for example if you were going to be away.
Our Recent Gobble Meals (Actual Cooking Time & Taste Test)
Now let's get to the good stuff—what we received in our box!
Parmesan-Crusted Chicken with Lemon-Basil Orzo Salad (18 Minute Cook Time)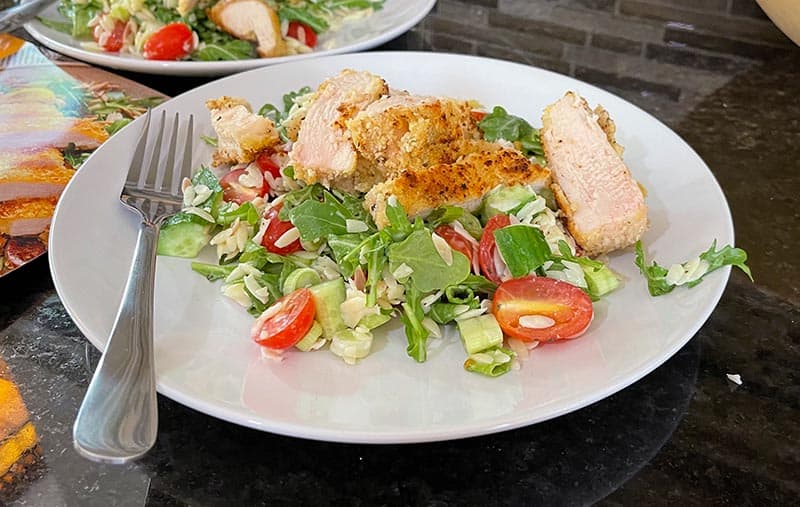 This is the meal you can see us make in the video review above. The prep and cooking process was pretty simple to follow. However, it did use a lot of kitchen items because we needed to bread the chicken breasts ourselves using 3 different plates. In terms of taste, it came out delicious. The overall meal was nice and light but filling enough to the point where we didn't feel hungry after eating. With the mix of greens and tomatoes, it also felt very nutritionally balanced.
Buffalo-Style Burger with Broccoli Slaw & Creamy Buttermilk-Ranch Dressing (12 Minute Cook Time)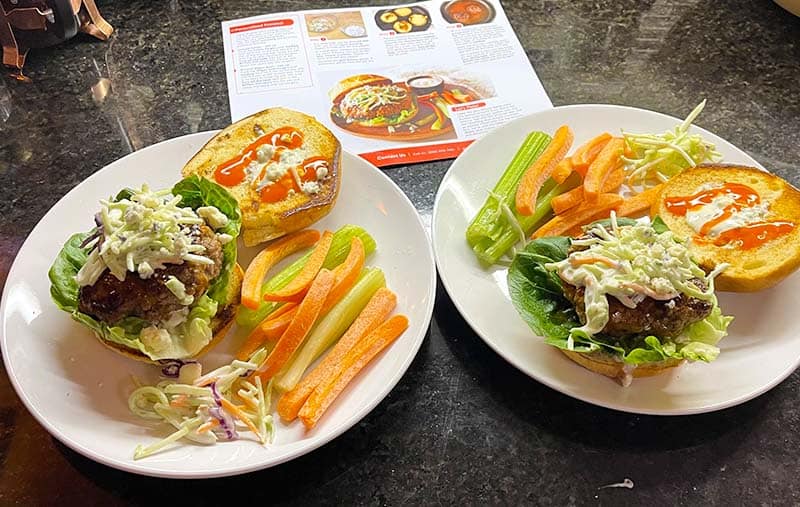 These burgers were very simply to make and ended up being the quickest to cook. This was my first time having buffalo-style burgers and it definitely won't be my last. The feta cheese mixed with the buttermilk-ranch dressing made the perfect pairing with the juicy burger. The only downside was that the burger itself was rather small compared to most other burgers we've made from other meal kits.
Sheet Pan Lemongrass Chicken with Jasmine Rice & Burmese Salad (15 Minute Cook Time)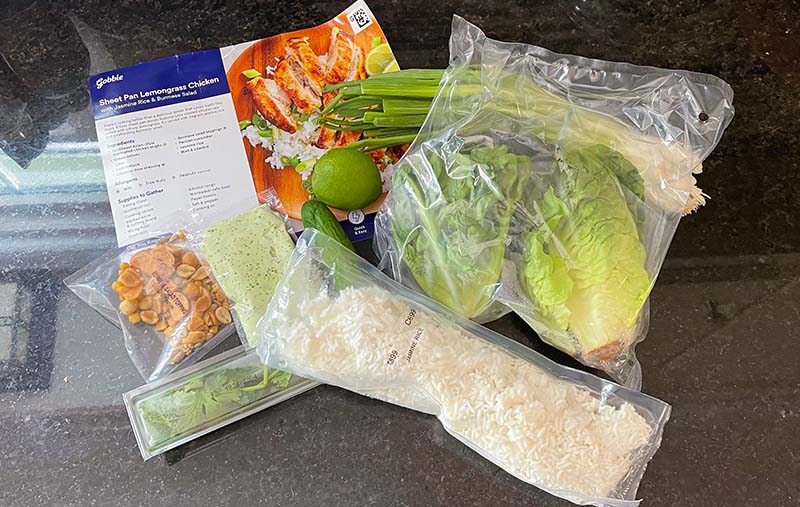 Like the Parmesan-Crusted Chicken dish, this one was also very light. With the addition of mint and cilantro, it made for the perfect summer-day dish. The chicken thighs came pre-marinated, which made the cooking process very simple.
Valrhona Chocolate Lava Cake (Premade)
These looked so good that I actually didn't even heat them up before eating them. I just bit right in! Still, they were rich and creamy—the perfect chocolate dessert. We'll definitely be ordering these again and when we do I'll remember to heat them up this time :).
Petite Bacon & Tomato Quiche (Premade)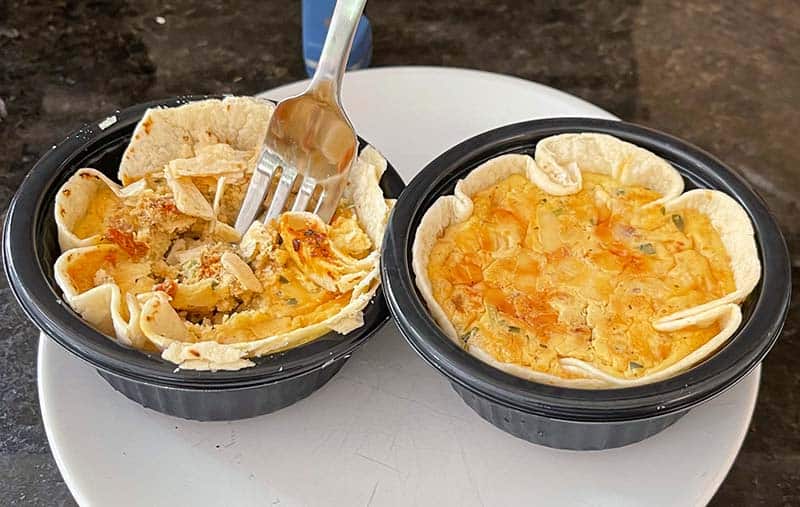 Quiche are one of my favorite breakfasts and these did not disappoint. They're premade and just need to be heated up, which makes them great for eating on the go in the morning. They have a few different versions of quiche each week but I find that this bacon and tomato one is my favorite.
Chicken Tortilla Soup (Mostly Premade)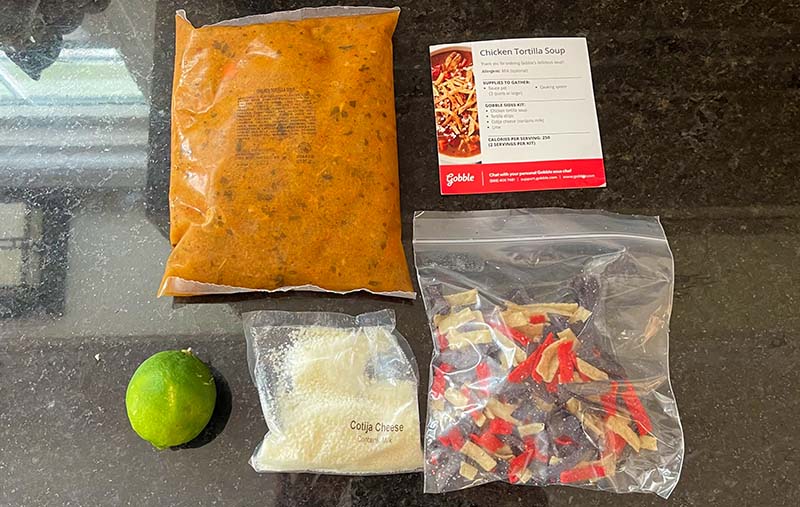 Since the soup comes premade, this dish was super simple to make. We just had to sprinkle the tortilla and cheese, and voila we had a soup. The taste was spot on—not that spicy but hearty enough from the beans where it could definitely be its own meal.
Cookie Dough
This is one of Gobble's desserts we've been adding to our box ever since our first review back in 2017. They are absolutely delicious and worth throwing in your oven after cooking your main meal so you have warm and freshly baked cookies to eat after dinner.
Food Box HQ Note: Emily secretly ate the cookie dough before I could get a proper picture.
Gobble vs. The Competition
Gobble is pretty similar to the other popular meal kits out there these days. That being said, there are some key differences to be aware of.
First, Gobble is going to be the meal kit with the easiest to make meals. From all of our tests, their meals have taken around 15 minutes to make. The most amount of time we've ever spent cooking a Gobble meal was around 20 minutes.
That's not to say there aren't other meal kits out there with simple options. For example, Home Chef (which is similar to Gobble) has oven-ready meals which require very little prep and can be cooked around 20 minutes.
Like Home Chef, Gobble also allows you to double up and swap proteins. However, I've found that Gobble offers more ways to customize. For example, they generally give you 2 or more meat options to swap for.
When it comes to meal variety, there are definitely other meal kit options out there that have more and possibly better selection (depending on what you like). For example, Sunbasket also offers breakfast, lunch, and dinner options but they have over 20 different meals to choose from each week. Plus, Sunbasket has a marketplace filled with everything from premade meals and produce to snacks and desserts, which can basically replace grocery shopping entirely
Gobble Frequently Asked Questions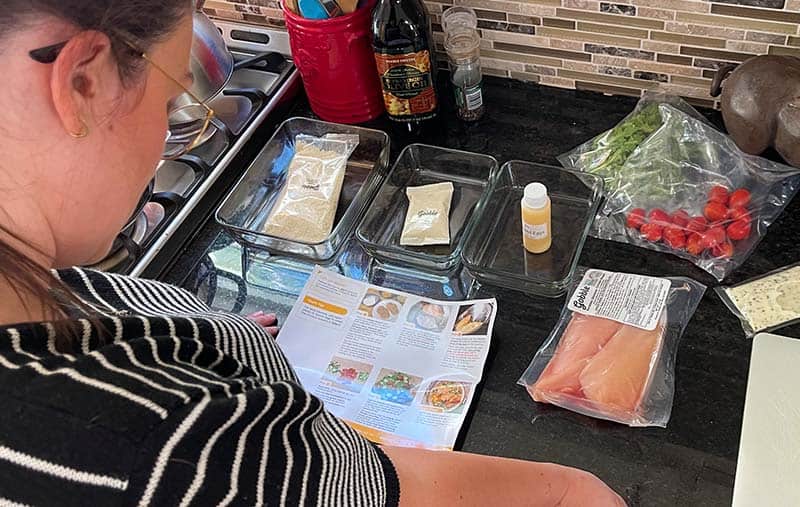 Since initially reviewing Gobble, we've received a bunch of comments and questions on social media as well as on our YouTube videos about their meal kit. I decided the best way to address these questions is by taking the most common ones and creating an FAQ section here. If you have a question we didn't answer in this section, let me know in the comments below!
Do The Meals Actually Only Take 15 Minutes To Make?
For the most part, yes. Out of all the Gobble meals we've tried, the majority took around 15 minutes to make. You'll notice in the video review above, we time how long it took us to make the parmesan-crusted chicken and it was around 18 minutes. This is slightly off how long it actually takes because we had to film and photograph the cooking process (for this review you're reading) so it's likely closer to 16 or 17 minutes when you take out setting up the camera, filming, and taking photos.
Does Gobble Fit Into Any Specific Diet?
While Gobble has a "Lean & Clean" meal plan that says that the meals are low carb, I personally would not consider them to be that low carb. A lot of the meals I've tried on this plan have been around 35 grams of carbohydrates and up. There are better low carb meal delivery services out there, which we've tested and reviewed here. However, if you're looking for a calorie-restrictive option, the "Lean & Clean" meal plan may be a good one to consider since most of the meals are around the 600 calorie mark.
Is It Easy To Cancel Your Gobble Subscription?
Not really. I found that Gobble makes it pretty tough to cancel or deactivate your account. In fact, I could not find any way to do it inside my account when logged in. Instead, I had to search to find this page.
Gobble Pricing
All of Gobble's plans (Classic, Vegetarian, and Lean & Clean) all come out to $11.99 per serving/meal, regardless of how much you order. This is kind of unfortunate seeing as how most other meal kits reduce the cost per serving as you order more. For example, Marley Spoon's 2 person plan with 2 meals per week is $10.99 per meal but 6 meals per week comes out to $8.49 per meal.
Gobble does not give you any discount the more you order. This can make it very expensive for bigger orders and possibly cost prohibitive for families of 4 or more.
Personalizing your meal also incurs extra charges. For example, when we swap out regular chicken breasts for organic, it's an extra $3.99 charge on our box for the week.
That's just the tip of the iceberg. Some of the premium meals can nearly double in price compared to regularly priced meals. To give you an example, we were going to add the 12 ounce ribeye steak meal to our recent box until we saw it was $28.99 per serving. That would have been nearly $60 to cook 2 steaks ourselves! We could go out to a restaurant and order the same meal for less.
Gobble Pros & Cons
Now that we've gone over what our personal experience was like using Gobble, let's talk about what we enjoyed and what could be improved.
Gobble Pros
Gobble's meals are some of the quickest we've ever made. Even stacking them up against other meal kits that offer quick recipes and oven-ready meals, Gobble's recipes are still some of the fastest to prep and cook.
The meals taste delicious. Surprisingly, each of the meals we've had from Gobble over the years of reviewing them have been very tasty.
Consistent quality. Gobble is one of the few meal kits where we've never had any issues with missing ingredients, poor recipes, or packaging issues.
They offer decent add ons. While they don't offer a ton of options like Sunbasket or other meal kits with full marketplaces, Gobble does have a great selection of breakfasts, lunches, dinners, sides, extra meats, and desserts to choose from each week.
A lot of ways to customize. Being able to customize my meal to fit my exact taste preferences by swapping meats or doubling up is a huge perk.
Gobble Cons
It can be expensive. At $11.99 per meal, Gobble is one of the most expensive meal kits we've ever tried.
Their packaging has a ton of plastic. While it is all recyclable, I found that Gobble had some of the most plastic waste out of any meal kit we've tried.
They made cancelling a pain. It shouldn't feel like searching for a needling in a haystack to cancel or pause your plan.
Gobble Coupons & Promo Codes
If you're looking to order your first box from Gobble, we're here to help save you money. We scour the web looking for the best deals to share with our readers. Here are the best Gobble promo codes and coupons you can take advantage of:
Coupon "SPRING36" will get you your first 6 meals for $36.
Coupon "EMAIL80" will get you $20 off your first 4 deliveries.
Coupon "COMEBACK30" will get you $30 off your first delivery.
We like to include multiple different coupon codes to use, just in case one doesn't work.
Final Thoughts: Who Is Gobble Right For?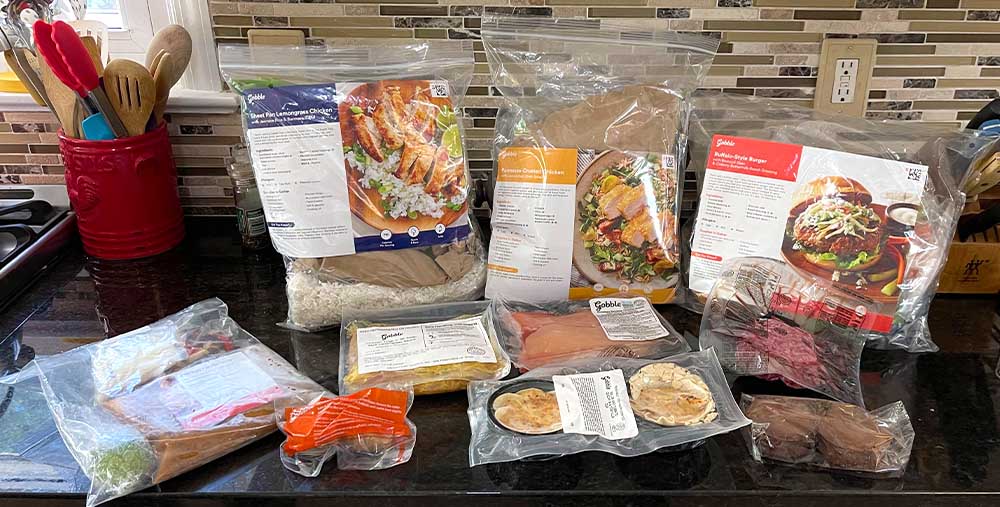 While convenient, Gobble can be expensive. In fact, they're more expensive than a lot of prepared meal delivery services we've reviewed in the past.
Does that mean they're a meal kit you should automatically skip? Not exactly.
If you enjoy cooking but have limited time or you're looking to learn how to cook, Gobble's convenience makes them a great meal kit to consider. Their recipes focus on simplicity and many of them take care of certain tedious steps for you. For example, pre-marinating meats or including premade seasonings. By doing this, they allow you to simply focus on the essentials of the recipe.
Now that they have more add on options, you could use Gobble to cover the bulk of your meals for the week. However, their breakfast options don't cover 7 full days of meals.
The biggest selling point for me when it comes to Gobble is the customization ability. If you're a picky eater, this could make Gobble a no-brainer. Does a dish sound good but you don't like salmon? Swap it for chicken. Wish a certain dish had more meat? Double up on it. This is a feature I hope more meal kits implement in the future.
Have you tried Gobble before? Have a question about their meal kit we didn't answer in this review? Let us know in the comments below and we'll get back to you as soon as possible!