Back in early 2020, when the world went on lockdown, Emily and I were looking for an easy and affordable way to get produce sent directly to our doorstep. That's when we originally heard about Misfits Market.
The concept of buying "ugly" produce really intrigued us so we decided to try them out.
Since then we've used their produce delivery service on and off for over a year now. In that time though, they have changed their service pretty substantially.
In this review, we're going to cover what our personal experience has been like using Misfits Market, what we love about the service, and what could definitely be improved.
About Misfits Market: Why Buy "Ugly" Produce?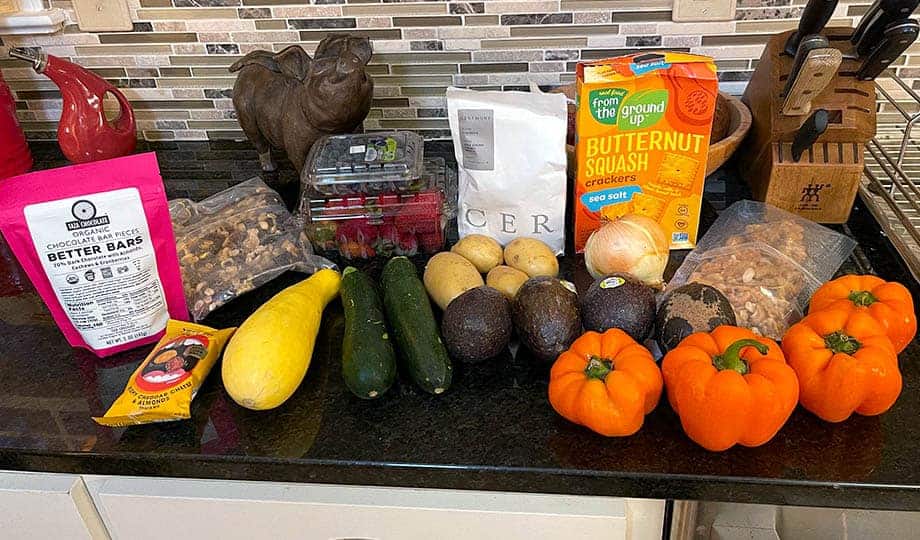 Before hearing about Misfits Market, I had no idea of the level at which food was wasted before it even hits a grocery store.
According to the USDA, nearly one third of the food produced by farmers goes uneaten. While that fact is staggering alone, it just barely scratches the surface of the bigger issue—the environmental problem. Every year, 30 million acres of cropland, 4.2 trillion gallons of water, and nearly two billion pounds of fertilizer are used to grow food that is never eaten (source).
The problem with food waste is hard to pinpoint because it can occur in every step of the supply chain. However, one of those steps is so ridiculous I laughed when I first heard it.
10 million tons of cosmetically imperfect or unharvested foods are wasted each year simply because most grocery stores have such strict "beauty" standards for produce.
Misfits Market was created out of the idea to try to make an impact against food waste by taking these cosmetically imperfect (yet still edible) fruits and vegetables that grocery stores don't want and would have been thrown away, and creating a produce delivery service.
How Misfits Market Works
Getting started with Misfits Market is pretty straightforward. They currently offer 2 different types of plans.
Mischief Box: This plan is $22 per box and includes 12 types of produce with 1 to 2 portions of each type. I've found this to be the best option for those living alone or couples.
Madness Box: This plan is $30 per box and includes 14 types of produce with 2 to 4 portions of each type. This is the box Emily and I use. It includes more produce but we like to cook with vegetables as much as possible and it encourages us to actually eat more fruits through the day.
In each plan, you are able to customize your box to your liking. If you don't, Misfits Market will send you a random selection of produce.
One important thing to note, that Misfits Market doesn't really do a great job of explaining, is that these plans basically work as a credit.
To give you an example, we use the Madness Box, which gives us $30 worth of food. If we don't customize our box, Misfits Market will send us $30 worth of produce. However, if we choose to customize our box, we have to add at least $30 worth of food. If we go over $30 worth of food, we pay the difference as an additional fee.
Food Variety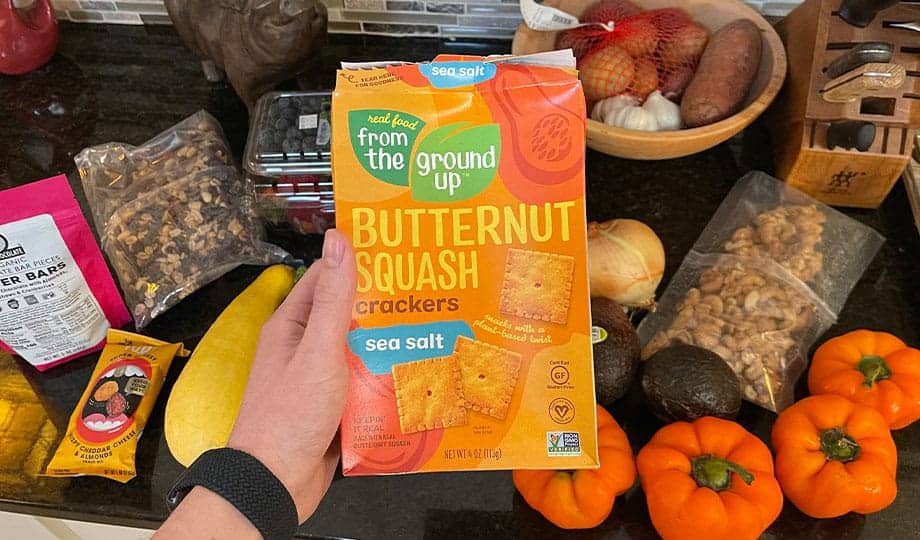 While Misfits Market started out purely as a produce delivery service, they've recently evolved into becoming much more.
Today, you can add a variety of fruits, vegetables, and even pantry essentials to your box. Here's a brief overview of some of their offerings...
Vegetables: This is where Misfits Market really shines when it comes to variety. They've sent us a ton of vegetables that range from classics like green cabbage and bell peppers all the way to more obscure vegetables like romanesco broccoli (this one doesn't even look real).
Fruits: Misfits Market has all the regular selection of fruits you'd see at a grocery store (such as multiple varieties of apples, bananas, strawberries, and blueberries). We've never really received any obscure fruits, even when we don't customize our box.
Pantry Items: This is one of Misfits Markets newer categories. To be honest, it basically transforms the service from simply a produce delivery service to nearly a full grocery delivery service. I say "nearly" because they don't offer any meats. What you will find are more dry goods like snacks, cereals, and even milks (as well as plant-based alternatives).
Packaging: The Good, The Bad, & The "Ugly"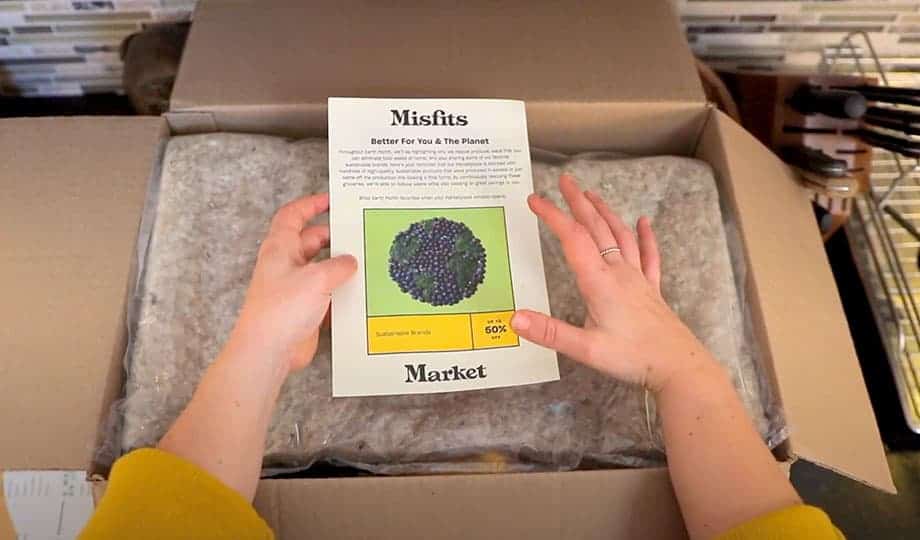 Misfits Market does a good job of making sure their packaging is environmentally friendly.
Their cardboard boxes are recyclable.
The inner popbox organizer and insulation are both 100% paper and recyclable as well.
The bags they sometimes use to wrap foods are also compostable.
I've also noticed throughout the time using Misfits Market that they use minimal packaging. This is where things go a little south.
For an environmental perspective, I see why they're using less packaging but, as you can see in the images and review video above, the fruits and vegetables are all mostly unprotected in the box. While it's great they don't use plastic or any additional waste to pack them in, this can lead to them getting thrown around in the box while in transit.
There have been instances where we've received a broken cucumber, broken carrots, and bruised fruits that was clearly the fault of the delivery driver. But Misfits Market could figure out a way to protect the individual items in an efficient and environmentally friendly way.
Delivery
As mentioned above, we started our Misfits Market subscription back in early 2020. Apparently, we weren't the only ones who thought this was a good idea. Back then, so many people were ordering that they literally had to pause subscriptions for new customers. Luckily, we got in before that.
Because of all the issues surrounding delivery and new customers, we ran into some odd issues back then. For example, every once in a while, our box would accidentally get sent to Georgia. This is exceptionally odd because Misfits Market is located in New Jersey and we live in New Jersey. My only thought for why this could have happened is that we live in Hoboken, New Jersey and there is another Hoboken located in Georgia…
Unfortunately, because of these delivery issues, our box would go from New Jersey to Georgia and back to New Jersey. This meant that sometimes our boxes would come with spoiled food. Thankfully, customer service would simply send us a new box right away. The only issue with that is because we were on weekly deliveries, we would end up getting the new box and then get our weekly box a few days later. This meant way more food than we could eat and led to us actually wasting food (which was the whole thing we were trying to avoid in the first place).
The good news is that we have not had any of those issues since early 2020 and delivery has been normal.
What Came In Our Recent Box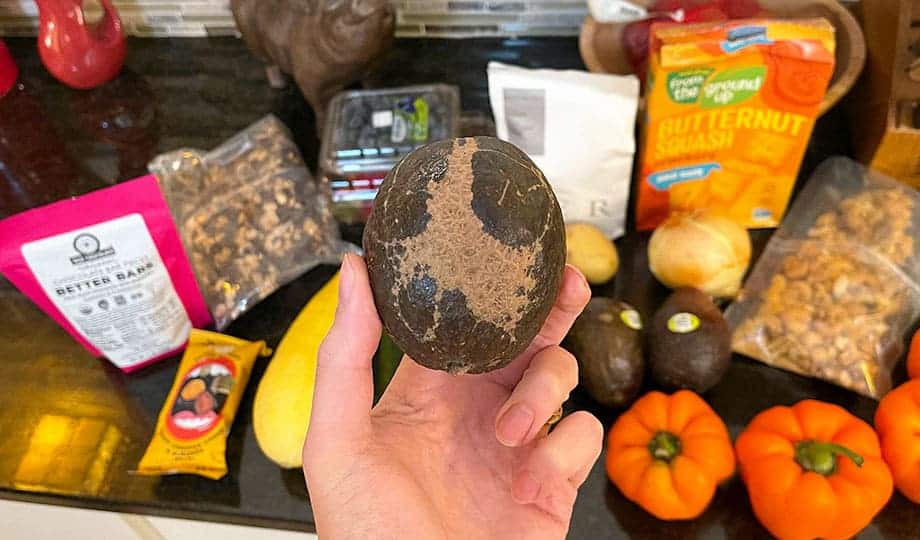 Here's a look at what we received in our recent box:
Zucchini: These were pretty normal. They had a few scratches on them but nothing too bad.
Bell Peppers: These were just perfectly ripe when we opened the box so we had to prioritize eating them first.
Onion: Also normal looking and tasting. In transit, it looked like a lot of the outer skin came off.
Avocados: The 2 avocados we received were really the only "ugly" foods in this box. As you can see in the image and video unboxing, one had a scar and the other was slightly red. What's funny though is that both were perfectly ripe. Check out how green the inside is on them in that photo below!
Potatoes: Nothing out of the ordinary with these.
Strawberries: These came packed nicely in a cardboard liner to ensure that they didn't open inside the box, which is nice. The strawberries themselves were ripe, none were spoiled or moldy.
Blueberries: The blueberries also came packed with a cardboard liner. However, they were definitely a little under ripe and pretty tart.
Cashews & Trail Mix: These are some of the newer add on items that Misfit Market offers. To be honest, they're pretty standard. It's nice that you can through it into your box but they're nothing extraordinary.
Hilo Life Super Cheesy: I saw this when scrolling through some of the newer foods Misfit Market offers and it stood out. I'm always on the hunt for low carb snacks and this one fit the bill. They're cheese dusted almonds. I never knew cheese and almonds would actually taste good, but they do.
Butternut Squash Crackers: I saw these when scrolling around and they reminded me of Cheez Its I used to eat as a kid. While they don't taste anything like Cheez Its, they're actually quite delicious and addicting. Yes, they do actually taste like butternut squash.
Coffee: These were whole beans from Ceremony Coffee Company. As a coffee snob, I was impressed that Misfits Market offers such high quality beans from craft roasters.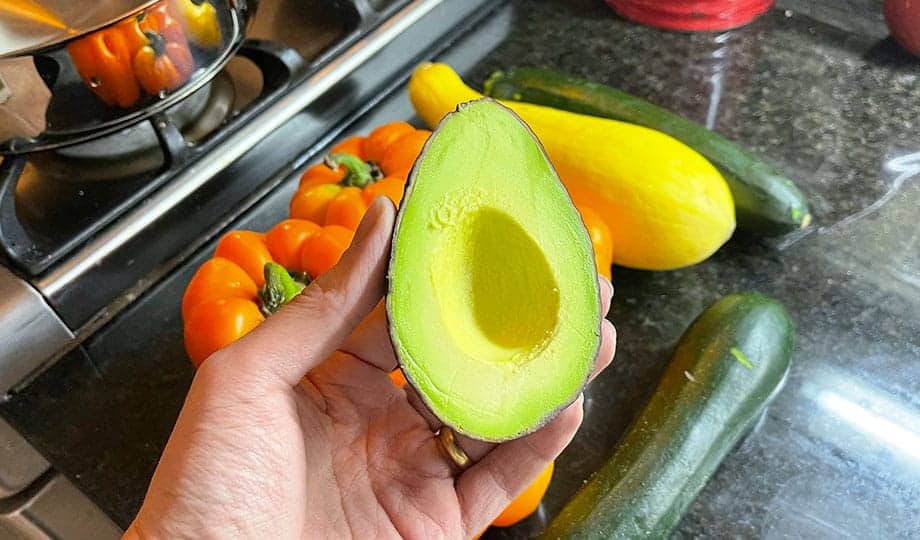 They also include a little pamphlet that lets you know how long the produce in your box lasts and a recipe card that gives you meal ideas for using your produce.
Price Comparison
One of the biggest selling points of Misfits Market is price. They say that you can get "up to 40% off grocery store prices" right on their homepage. Let's see if that's true by comparing the price of what we received above to our local grocery store (via Instacart).
Misfit Market Price
Organic Large Hass Avocados, 2 Ct — $3.98
Organic Zucchini, 1-2 Ct — $0.89
Organic Yellow Onion, 1-2 Ct — $0.89
Organic Yellow Potatoes, 2-3 Ct — $1.20
Organic Mixed Bell Peppers, 2 Ct — $5.98
Organic Strawberries, 1 Lb — $3.99
Organic Blueberries, 6 Oz — $2.99
Butternut Squash Crackers with Sea Salt, 4 Oz — $1.99
Keto Snack Mix, Super Cheesy Crispy Cheddar Cheese & Almonds, 1.48 Oz — $0.99
Organic Maple Roasted Cashews, 8 Oz — $4.99
Whole Bean Coffee, Synthesis, 12 Oz — $10.99
Organic Chocolate Almond Trail Mix, 16 Oz — $7.99
Grocery Store Price
Organic Large Hass Avocados, 2 Ct — $3.84
Organic Zucchini, 1-2 Ct — $2.19
Organic Yellow Onion, 1-2 Ct — $1.24
Organic Yellow Potatoes, 2-3 Ct — $3.29
Organic Mixed Bell Peppers, 2 Ct — $5.48
Organic Strawberries, 1 Lb — $7.69
Organic Blueberries, 6 Oz — $4.39
Butternut Squash Crackers with Sea Salt, 4 Oz — $4.16 ($24.99 for a 6 pack here)
Keto Snack Mix, Super Cheesy Crispy Cheddar Cheese & Almonds, 1.48 Oz — $2.49 ($14.94 for a pack of 6 here)
Organic Maple Roasted Cashews, 8 Oz — $5.99
Whole Bean Coffee, Synthesis, 12 Oz — $15.00 (via their website)
Organic Chocolate Almond Trail Mix, 16 Oz — $8.49
This price comparison actually surprised me. Nearly every item we ordered from Misfits Market was less expensive than its counterpart from our local grocery store (via Instacart). There were a few items I couldn't find on Instacart so I linked directly to other sources where they could be purchased.
One thing to keep in mind though is that Misfits Market charges a shipping fee of $5.50. But even factoring that in to the cost above, it still comes out cheaper than what I would have paid using Instacart.
Customer Support
I mentioned above that we initially had a few delivery issues where we needed to contact customer support. The process was very simple. We simply emailed and let them know what happened. They checked the tracking info to confirm the delivery issue and immediately sent another box.
Misfits Market vs. Imperfect Foods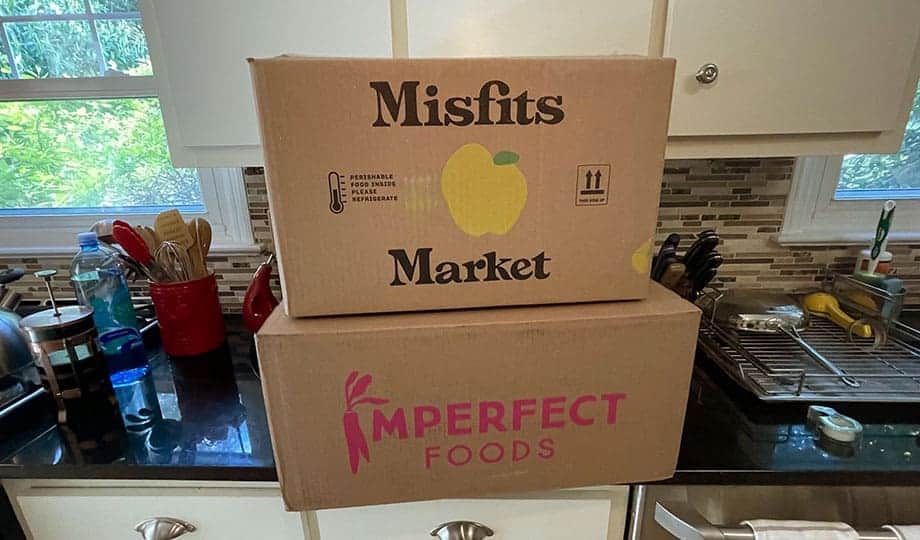 If you've been researching produce delivery services, you've probably come across Imperfect Foods (previously called "Imperfect Produce").
Both Misfits Market and Imperfect Foods started out as produce delivery services. However, I've noticed that they've both been neck and neck in changing their services to become more like full grocery delivery services.
The biggest difference between the two is that Imperfect Foods offers more food variety, specifically when it comes to meats. Misfits Market currently has zero meats or plant-based alternatives. On the flip side, I've ordered everything from grass-fed beef to chicken using Imperfect Foods.
Misfits Market vs. Community Supported Agriculture
Community Supported Agriculture (also called a "CSA") is basically a produce subscription but from your local farmers. If you are only looking to purchase produce, I highly suggest supporting your local farmers by seeing if there are any CSA's that can deliver to you here.
If you need more than just produce or there are no CSA's that can deliver to you, definitely consider Misfits Market.
Misfits Market Frequently Asked Questions
Through researching and writing this review, I noticed a lot of questions pop up over and over again. I decided to add this section to help anyone that may have similar questions and need answers.
How many days does it take to receive your Misfits Market box?
It generally has taken no longer than 3 days for us to receive our Misfits Market box after our order has been placed and confirmed. As you can see in the screenshot above, our order was confirmed on April 14th and we received it on April 16th.
What do you get if you don't customize your box for the week?
If you don't customize your box and add what you specifically want, Misfits Market will send you an assortment of produce (both fruits and vegetables). With any box we haven't customized, it's been a bit of a mystery what we'll receive. Sometimes it's classics like strawberries, blueberries, apples, and pears. Sometimes we get strange looking vegetables like that romanesco broccoli. The good news is that Misfits Market will email you when it's time to customize your box so you don't have to worry about remembering each week.
How do you dispose of the ice packs?
Over the past year over using Misfits Market we've only ordered a handful of items that needed to be kept cold (during the hot summer months). I noticed that they used a water-based ice pack that they say is drain-safe. Although, I'm very hesitant to pour anything down my drain that isn't water.
How do you cancel your Misfits Market subscription?
Misfits Market makes canceling simple. Just log into your account, click "Manage Subscription" and scroll down to where it says "cancel". They also give you the option to temporarily pause and skip weeks whenever you'd like.
Can you select and change your preferred shipping day?
Yes, it's very easy to change your preferred shipping day. You simply log into your account, go to "Manage Subscription" and you'll see a section called "Subscription preferences". There you'll be able to change your preferred shipping day to any day of the week. You can also change your delivery frequency from weekly to biweekly.
Where does Misfits Market get its produce from?
They source their foods from all over the Americas.
Pros & Cons Of Misfits Market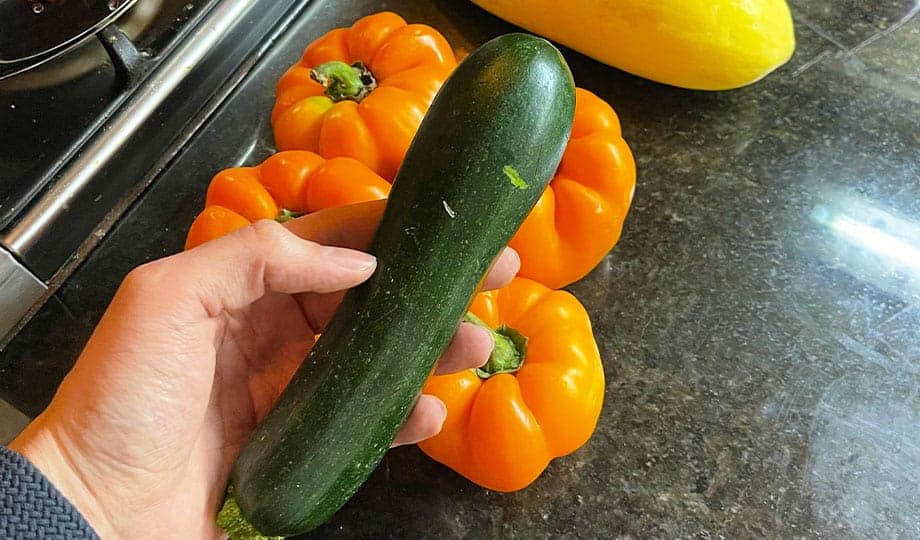 Now that we've gone over our personal experience using Misfits Market, let's talk about what we love and what we think could be improved…
Misfits Market Pros
It helps make a dent against food waste. While the issue of food waste is a lot bigger than ugly produce being thrown away, I can feel good that I'm at least taking one step towards helping simply by ordering produce.
The box is fully customizable. This allows you to get whatever you'd normally get at your local grocery store. Plus, you can customize the day it's delivered to ensure you're home.
They offer a huge selection of produce. As mentioned above, some of the produce we've received in our Misfits Market box I didn't even realize existed. So it's a fun way to explore new foods too.
I've found them to be the same price or cheaper than our local grocery store. Surprisingly, almost across the board, their prices have been lower than purchasing it from our local grocery store.
Misfits Market Cons
In 2020 we had a few issues receiving our box. It hasn't happened since early 2020 when everyone was scrambling to get food but we ran into a few delivery issues.
Not allergen friendly. Unfortunately, there are no ways to tell Misfits Market that you have a specific food allergy.
They can't fully replace grocery shopping. My one wish is that Misfits Market offered meats like Imperfect Foods does. That would make it a one-stop grocery shopping experience.
Packaging of the individual produce could be better. Occasionally I've noticed scuff marks and bruises on produce that definitely happened in transit. This could be remedied by having a better packaging system in place to protect the individual items rather than throwing everything into one box.
Misfits Market Coupons
If you've made it this far and you're looking to place your first Misfits Market order, we're here to help. We've gathered all of the best coupons and promotional codes below to help save you some money.
The coupon code "SPRING30" will get you 30% off your first order.
The coupon code "COOKWME-BI3KFJLBAPT" will get you $15 off your first box. (FYI, this is our referral code so we will also get a $15 account credit).
If any of the promo codes above are not working or you know of any better ones, please let us know in the comments below!
Final Thoughts: Who Is Misfits Market Right For?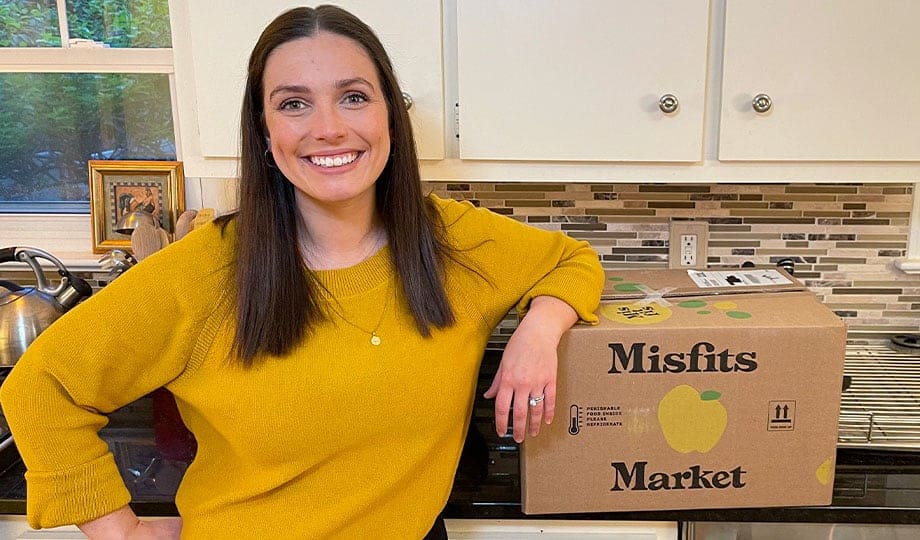 Over our time using Misfits Market, we've been happy with our experience. It's been one of the easiest ways to ensure that we eater better food throughout the week.
The funny part is that the foods they've sent us really haven't been "ugly" like they claim they are. Sure, every once and a while we get a weird looking vegetable or fruit. But for the most part, everything has looked pretty much what I'd expect from the grocery store.
If you're very particular about your produce, this box probably isn't for you. You're likely to occasionally get odd-looking fruits and vegetables. And if you don't customize your box, you could end up with produce you don't really prefer.
That being said, I would consider this box to be a great value for what you get. Nearly everything we've received over the years has been organic and less expensive than what we'd get in our local grocery store, which makes it super convenient to eat better.
Overall, I'm impressed with Misfits Market. My one wish is that they continue adding more food variety (such as meats, pastas, and premade foods) to really make this a full grocery delivery service.
Have a question about Misfits Market we didn't answer? Leave your comment below and we'll get back to you as soon as possible!