With meal kits becoming ever more popular, it's easy to feel overwhelmed with the increasing number of of them out there. We took the plunge and compared Marley Spoon and HelloFresh, two big names in the industry to see how they compare.
In this comprehensive comparison, we'll take a look at how they measure up against one another in basic aspects such as user experience, the plans they have available and how much they cost overall (including a per-meal price breakdown), as well as how the nitty-gritty details like nutrition, dietary accommodations, and customer support work out.
Our Contenders: Marley Spoon vs. HelloFresh
Meal kits are great for making the process of buying and cooking meals more convenient. Not only do you have all the ingredients portioned out and ready for cooking your recipe of choice, but you also get all of it easily delivered to your doorstep in one organized package.
Both Marley Spoon and HelloFresh some of the first meal kits we ever tested here at Food Box HQ. They're also two of the most popular meal kits out there. If you're unfamiliar with them, don't worry. First thing's first, before we jump into the comparison, let's breakdown how each came to be...
Quick Overview Of Marley Spoon
In 2016, German-based Marley Spoon partnered with celebrity chef Martha Stewart to launch the meal kit service we know today, bringing her recipes and cooking techniques even closer to our dining table.
While Martha Stewart is known for being a legend in the kitchen, Marley Spoon keeps it simple with balanced, easy-to-prepare meals that are easy enough to cook provided you already have some basic cooking skills under your belt.
With a roster of 40 recipes rotated weekly, Marley Spoon is known for fancier, diverse meals that are said to come directly from Martha's recipe books.
Quick Overview Of HelloFresh
HelloFresh and Marley Spoon share similar roots—both were founded in Germany, although HelloFresh has been around since 2011, a full five years longer than Marley Spoon has been around.
They're one of the best-known meal kit services in the market, providing convenient, crowd-pleasing recipes.
Being one of the biggest meal kit subscription services around, HelloFresh offers food options created by a multitude of different types of chefs—from Michelin star chefs to Instagram famous food bloggers.
Ordering Process
Like most meal kits, Marley Spoon delivers your meals in the form of pre-portioned ingredients in a box to your doorstep once a week. The meal kit box contents are then made fresh in your kitchen using your cooking utensils and tools. In our tests, we noticed that Marley Spoon doesn't provide cooking basics like oil and salt. You'll have to come up with those on your own before you start making your meals.
When you visit Marley Spoon's website as a first-time user, you start off by choosing your meal kit. You'll get the option to choose between a 2-person box or a 4-person box, with the ability to choose how many meals a week you'd like (from 2 to 6).
The next steps are selecting your location, picking your preferred delivery day, keying in your delivery address, then ironing out payment details. Only after all that do you get the chance to choose your meals and set up a taste profile where you note any dietary restrictions and the kinds of protein you prefer. You can pick your own meals, or you can go with the preselected options and let your meal kit surprise you.
Marley Spoon lets you pick from 40 different recipes each week, so you're spoilt for choice. There are vegetarian and vegan options, different meats, healthier meals, quick meals made in under 30 minutes, and family-friendly meals.
Once you're done picking out your meals for the week, all you have to do is wait for your delivery to arrive on the chosen delivery day.
In my experience, ordering meal kits functions about the same across most out there. It's hard to deviate much from the basics of filling in payment and location details, then picking out what you'd like to eat for the week. Because of this, the HelloFresh signup process functions similarly to Marley Spoon.
During sign-up, we start off by selecting a plan from the options that HelloFresh provides: meat & veggies, veggie, family-friendly, fit & wholesome, quick and easy, and pescetarian. After that, selecting your meal plan is a breeze—pick whether you're serving two or four people, and then how many meals a week you'll be having.
Next, you get to pick the meals you'd like to have for the week. HelloFresh populates the selection according to the preferences you've outlined in previous steps, but you can pick recipes from other plans if you'd like.
All in all, I found the website navigation and sign-up process was relatively straightforward and similar for both of the meal kit subscription services.
One of my biggest gripes with both is that you can't select meals before paying for both Marley Spoon and HelloFresh. That being said, you can take a look at their menu for the week ahead before signing up.
One key difference I noticed with the menus was that with Marley Spoon, you could click into the recipe card to look at details like nutritional information, cooking steps, ingredients required, and food allergens present in the meal, while with HelloFresh, you only get to do that once you've signed up and paid for your subscription.
It's a small detail, but we think it's important to have all the information on hand when it comes to a significant decision like food. Plus, some people who are either following a strict diet or have certain food allergies might need to see all the nutritional information and ingredients before subscribing.
For this round, Marley Spoon is the winner.
Meal Plans & Cost
Both Marley Spoon and HelloFresh have a sliding scale pricing model for their meal plans, where the more you order, the more affordable it gets. This makes sense because delivering in bulk will always be more cost-effective than delivering smaller amounts, as packaging and shipping costs decrease as quantity sold increases.
Here, we list out what Marley Spoon and HelloFresh cost per week according to their meal plans, as well as the average nutritional value of their meals so that comparing prices is easy peasy.
| | | | | | |
| --- | --- | --- | --- | --- | --- |
| Marley Spoon | | | | | |
| 2 people | | | | | |
| Meals per week | 2 | 3 | 4 | 5 | 6 |
| Total servings per week | 4 | 6 | 8 | 10 | 12 |
| Cost per serving | $11.99 | $10.49 | $9.99 | $9.99 | $9.49 |
| Shipping | $8.99 | $8.99 | $8.99 | $8.99 | $8.99 |
| Total cost per week | $56.95 | $71.93 | $88.91 | $108.89 | $122.87 |
| Average cost per serving | ~$14.24 | ~$11.99 | ~$11.11 | ~$10.89 | ~$10.24 |
| 4 people | | | | | |
| Meals per week | 2 | 3 | 4 | 5 | 6 |
| Total servings per week | 8 | 12 | 16 | 20 | 24 |
| Cost per serving | $9.99 | $9.49 | $8.99 | $8.99 | $8.49 |
| Shipping | $8.99 | $8.99 | $8.99 | $8.99 | $8.99 |
| Total cost per week | $88.91 | $122.87 | $152.83 | $188.79 | $212.75 |
| Average cost per serving | ~$11.11 | ~$10.24 | ~$9.55 | ~$9.44 | ~$8.86 |
| | | | | | |
| --- | --- | --- | --- | --- | --- |
| HelloFresh | | | | | |
| 2 people | | | | | |
| Meals per week | 2 | 3 | 4 | 5 | 6 |
| Total servings per week | 4 | 6 | 8 | 10 | 12 |
| Cost per serving | $11.99 | $9.99 | $9.49 | $8.99 | $8.49 |
| Shipping | $9.99 | $9.99 | $9.99 | $9.99 | $9.99 |
| Total cost per week | $57.95 | $69.93 | $85.91 | $99.89 | $111.87 |
| Average cost per serving | ~$14.49 | ~$11.66 | ~$10.74 | ~$9.99 | ~$9.32 |
| 4 people | | | | | |
| Meals per week | 2 | 3 | 4 | 5 | 6 |
| Total servings per week | 8 | 12 | 16 | 20 | 24 |
| Cost per serving | $9.49 | $8.49 | $7.99 | $7.99 | $7.99 |
| Shipping | $9.99 | $9.99 | $9.99 | $9.99 | $9.99 |
| Total cost per week | $85.91 | $111.87 | $137.83 | $169.79 | $201.75 |
| Average cost per serving | ~$10.74 | ~$9.32 | ~$8.61 | ~$8.49 | ~$8.41 |
Now that we have the pricing laid out, we can see that Marley Spoon and HelloFresh are pretty close in terms of cost per serving/meal. The price difference only really starts to show when you order in large quantities.
One key thing to note though, like most meal kits, they have discount coupons for first-time users. HelloFresh also has discounts available for students and healthcare workers, as well as military and veterans.
This round's win goes to HelloFresh, since they're a little more affordable overall. Plus, they offer additional discounts to eligible individuals.
Recipe Variety & Ingredients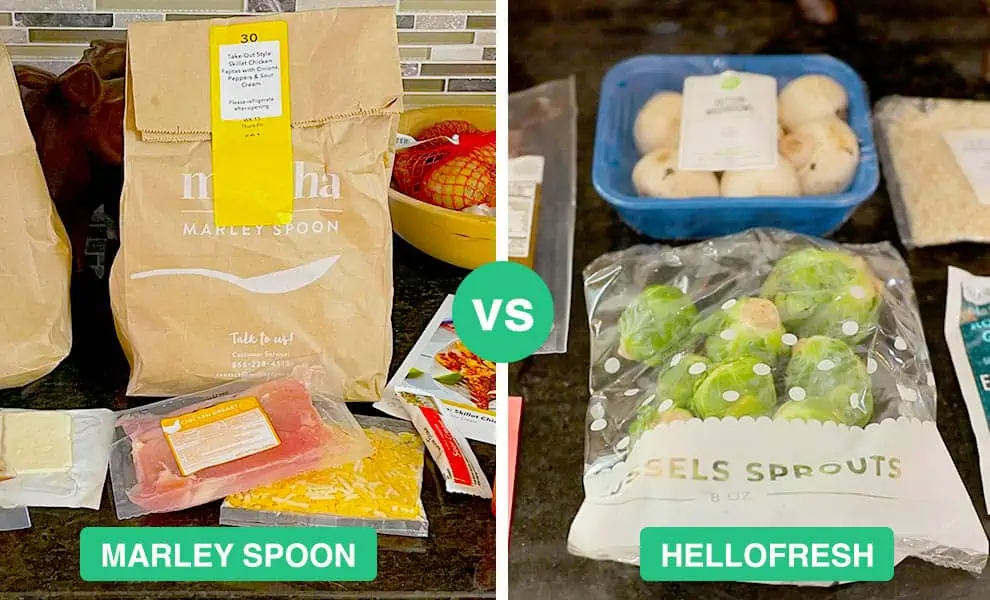 While Marley Spoon gives you a whopping 40 recipes to choose from every week, HelloFresh only has about 25 choices at any given time.
For Marley Spoon, the recipes come from five categories:
Family-friendly: Best for kids with more discerning palates.
Under 30 minutes: Best for those who want to make a quick meal.
Meat and fish: Best for the carnivores among us.
Vegetarian and vegan: Best for the plant-based eaters out there.
Health and diet: Best for those looking to take care of their bodies.
Each meal recipe has tags that can be used for sorting and selecting convenience. I found this to be very convenient, since you'll be able to tell from a glance whether the recipe is right for you.
In our tests, we found the meals to be fairly nutritious, very tasty, and sustainable. In fact, with some recipes we made, the meals were so hearty there were occasionally leftovers and additional ingredients that could be used in other dishes.
The recipes available are usually meant for lunch and dinner, but there are also a handful of options like appetizers, breakfast foods, and holiday dishes. If you're looking for even more to add into your meal kits, Marley Spoon has add ons that include desserts, smoothie bowls, coffee, and meat variety packs.
Around special events and holidays, Marley Spoon also includes extras like dessert baking kits, so you can take part in the holiday cheer without having to go out of your way to get more groceries. They are one of the few meal kits that allows you to order a Thanksgiving meal kit.
From my experience using Marley Spoon, I found that they do their best to use quality, fresh, and seasonal ingredients. Some of the ingredients they use are organic and sourced locally.
What I found really interesting, though, is that Marley Spoon sources their pasta from a small family-run pasta producer in Italy.
Specific food items also come from their country of origin, like their pasta which comes from Italy. This is a nice touch and, for perspective, no other meal kit I've tested does this.
They also use antibiotic-free chicken in their meal kit boxes, although it's not 100% clear whether the other meats are antibiotic-free as well.
On the other hand, HelloFresh's selection is nothing to scoff at. The recipe plans they offer are divided into six broad categories:
Meat and veggies: Their basic plan with a good variety of recipes.
Family-friendly: Easy on prep and kid-approved.
Quick and easy: Fast meals done in 30 minutes or less.
Veggie: Plant-based meals that are vegetarian but may not be vegan.
Calorie smart: Recipes that are about 650 calories or less and approved by their in-house dieticians.
Pescatarian: Seafood only meals with no meat.
These recipes can be upgraded by selecting gourmet options or add ons for a small extra fee. Certain recipes even let you select a healthier option or add on ingredients at no extra charge, like swapping fried chicken for grilled chicken or adding on a beef patty to your burger.
HelloFresh also has extra add ons courtesy of HelloFresh Market, which lets you add on extras like pantry staples, produce, and even extra meals for breakfast, lunch, and snacks.
Like Marley Spoon, HelloFresh works closely with suppliers to make sure that they have ingredients that are sustainable. Their exhaustive supplier list is denoted here, and their adherence to the Broiler Chicken Standard ensures that all of their chicken is antibiotic-free. HelloFresh also makes it a point to provide hormone-free chicken and pork as well as sustainable seafood.
Overall, I have to end this round in a tie. Based on our experience using both Marley Spoon and HelloFresh, I have to say that they both offer quality ingredients and recipe variety.
Cooking Process & Support Material
As with most meal kit services, both Marley Spoon and HelloFresh send a chilled box full of pre-portioned ingredients to your doorstep once a week.
Unless you have a massive refrigerator that can store the box as is, you'll probably have to unpack the box to check on the integrity of the ingredients. It's worth noting that we've never had any issues receiving spoiled or damaged ingredients with either meal kit. However, in our research for this article, others have.
Marley Spoon's meal kit box comes with supporting materials for each recipe. These are usually printed recipe cards, step-by-step instructions, and a list of kitchen tools you'll need to prepare the food.
Basic nutritional information for the recipes will already be on the company website, but the recipe cards will include them as well as allergen information and any tips that might apply to make cooking easier. You'll also get photos that help you with cooking, so you know exactly what the prepared ingredients and meals are supposed to look like. I've found these added photos at each step to be a lifesaver when cooking, since it easily (and visually) allows me to know what step I'm supposed to be on.
From my experience, Marley Spoon makes you cook for real. By this I mean it's best if you already have some skill in the kitchen, and better still if you enjoy actually cooking.
The good news is while you're on the website selecting meals for the week, you can check the recipe steps to make sure you're not signing up for something too complicated.
As for HelloFresh, I've found their recipes to be a little more approachable in terms of cooking skill level. They use relatively simple steps to help you get your food on the table at a decent speed, and the kitchen equipment you'll need are also common things like a saucepan and a regular chef's knife.
Like Marley Spoon, HelloFresh's recipe cards have photos and instructions that guide you through the cooking process step by step. They also have a list of kitchen tools and cooking staples that you'll need to prepare the recipe, some tips for prep, nutrition, and allergen information, as well as an estimate on time spent making the dish.
I have found that certain HelloFresh recipes involve some multitasking, where you'll be cooking one thing while another part of the dish is being prepared. If you're new to cooking, not so great at multitasking, or you don't have all of the tools required for the recipe, it may be a bit overwhelming or challenging. That being said, I do believe multitasking in this way has made me a better cook.
HelloFresh and Marley Spoon's recipe cards are formatted similarly. It makes sense that they wouldn't deviate too much from a tried and tested recipe structure.
With both, I do recommend reading through the recipe once beforehand. I've found that the blocks of text that accompany each visual step can be hard to read while trying to cook at the same time. Reading through the recipe card and preparing the utensils you might need ahead of time can prevent any last-minute scrambling.
Our contenders have met with another draw in this area since I believe Marley Spoon's cooking skill requirements and HelloFresh's need for multitasking cancel each other out.
If you're looking for simple, convenient, quick meals, both Marley Spoon and HelloFresh have shorter recipe categories and pre-made meals that help cut down on prep time and cooking steps.
Convenience & Ease Of Use
Now that we've gone through the ingredients and the cooking process, how do Marley Spoon and HelloFresh measure up in terms of overall convenience? After all, the main reason people opt to use a meal kit over going grocery shopping is to make their lives easier.
When you sign up for Marley Spoon and HelloFresh, you automatically get an online account to manage your meals with. Skipping a week or pausing your subscription is easy to do once you're logged in. This is all pretty standard in the world of meal kits.
Both Marley Spoon and HelloFresh use the preferences you selected during the sign-up process to decide what to automatically put in your box each week. This is so that, if you don't select the meals yourself, you'll still be sent a box each week. In my experience, both do a decent job of recommending meals. However, with both boxes there have been times where I've switched out all the meals they were going to send me and replaced them with my own selections.
Using these meal kit services isn't limited to just your desktop browser—they both have mobile apps available on iOS and Android. I found that their apps are basically copies of what you'll find simply logging into your account on their respective websites.
As for their recipes, I like that Marley Spoon and HelloFresh both allow for add-ons, so you can have leftovers or extra servings for more people. You can also opt to omit ingredients, if you like.
While HelloFresh and Marley Spoon recipes let you know what pantry essentials you'll need, Marley Spoon sometimes asks for additional ingredients like flour or eggs, which not every cook will have on hand if they're expecting the meal kit box to cover all the key ingredients. I also tend to find HelloFresh's cooking steps to be easier to follow when compared to Marley Spoon. This makes HelloFresh a little more convenient and easier for novice cooks.
This round goes to HelloFresh since Marley Spoon's cooking complexity and extra ingredient requirements can be finicky to handle when you're in a pinch.
Meal Taste, Nutrition, & Portion Size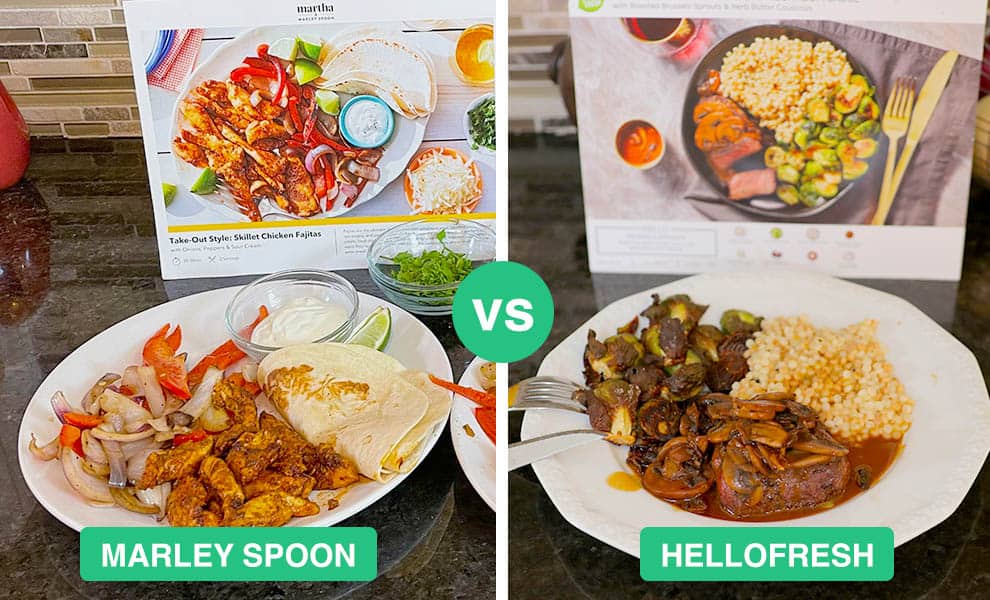 In my experience, Marley Spoon and HelloFresh both offer some of the tastiest meal kit meals you can order. And that's coming from someone who has tried nearly every single meal kit that delivers nationwide. However, I have noticed that Marley Spoon's recipes can be slightly inconsistent. That is to say, sometimes we have received recipes that were just "off". Take for example, the Spice-Crusted Steak with Frizzled Onions and Chopped Salad we featured in our review here. Following the recipe led to overcooking the steak and undercooking the onions. Plus, the breakdown of the portions of everything seemed off. We received a lot more salad than any other portion of the meal. Could this have been user error? Maybe, but it's happened a few other times.
That's not to say that Marley Spoon's meals all taste bad. In fact, the vast majority have been delicious. From my experience, they do a great job of taking Martha Stewart inspired meals and bringing them to your taste buds.
Looking to HelloFresh, I actually think they're very similar when it comes to overall taste of meals. Having used both over the years, it's clean that both prioritize flavor over everything else.
Here are a few of my personal favorite HelloFresh meals:
Here are some of my personal favorite Marley Spoon meals:
I also highly suggest watching our HelloFresh YouTube review and Marley Spoon YouTube review to see our taste test of both. It'll also give you a better idea of what the whole cooking process is like for both too.
As I referenced earlier, Marley Spoon meals run big. Although they have slightly more expensive pricing, this makes it feel like I'm getting my money's worth.
I've also noticed that some ingredients in Marley Spoon's boxes include a little extra to account for minor errors, and they often come with a note suggesting ways you can use it in another dish.
Overall, Marley Spoon does a decent job at meeting dietary needs in their meals. The ingredients are usually fresh and minimally processed. I've noticed that their meals come with a good balance of macronutrients too. Diet-specific meals are often tagged with attributes like low calorie, low carb, keto-friendly and nutritious. A Marley Spoon staff nutritionist ensures that meals tagged with these specifications adhere to their respective dietary requirements.
Many HelloFresh meals I've made have been very rich in flavor. That usually means added calories in the form of butter and sugar, though, and while I personally wouldn't say no to more of the tasty stuff, the more health-conscious among us might prefer to opt for alternatives or skimp on these ingredients altogether.
In terms of nutrition and portion size, HelloFresh does what is expected in both areas, with standard servings and nutritional information readily available on their website recipe cards. I recommend looking at each meal's nutrition details before selecting them, especially if you're trying to pay attention to your food intake—some dishes that seem healthy can pack a surprising amount of carbs, fat, and calories.
However, HelloFresh has dietitian-approved meals that cater to the calorie-conscious and carbohydrate conscious, using the recipe tags "calorie smart" and "carb smart" respectively. Every week has a decent amount of variety for specific diets, so filling your box isn't too restrictive.
Final verdict for this round... Marley Spoon wins by a hair! While both Marley Spoon and HelloFresh provide delicious, balanced, and fairly nutritious meals, Marley Spoon's bigger portion sizes tip the scale in their favor.
Dietary Accommodations
While Marley Spoon and HelloFresh allow for personalizing and customizing their meals, there's a limit to how far that can go, especially for folks with diet restrictions, food allergies, and ingredient sensitivities. Neither service can guarantee that they can prevent cross-contamination, although the option to omit specific ingredients is still available.
Marley Spoon caters to the following dietary preferences:
Vegan
Vegetarian
Gluten-free
Dairy-free
Low-carb
Low-calorie
Their weekly menu usually has a handful of each type of meal listed above, but the options available might not always be enough to fill a whole week's worth of meals if your dietary restrictions are particularly strict.
Marley Spoon's recipe cards don't have detailed allergen and diet information available at a glance. For example, if you're allergic to wheat or milk, you'll have to click into the recipe page to be able to see whether the dish contains these ingredients. The recipes also can't be filtered or sorted by ingredient, which makes clicking in to confirm every meal's ingredient and allergen list a little time-consuming.
HelloFresh tags their recipes using attributes like:
Veggie
Calorie smart
Carb smart
Plant-based protein
Spicy
Lightning fast
Take out favorites
Hall of fame
Gourmet
Easy prep
Meal prep
You'll be able to pick meals that fit your dietary needs this way, as they allow you to filter the available recipes according to tags. Like Marley Spoon, fewer meal options will be available if your diet is particularly restrictive, and prices don't change according to the menu plan you pick.
HelloFresh also discloses allergen information in their recipes, so you can make an informed decision when picking out dishes for the week. Generally, they leave it up to you to decide what you'd like to eat, with options available for swapping out proteins like chicken and beef if you prefer one over the other.
Marley Spoon and HelloFresh are tied here since their dietary accommodations are relatively similar. While you can customize your meals up to a certain point, if you have strict diet restrictions and allergies, I would recommend using a different meal subscription service that caters to specific dietary needs.
Delivery
Marley Spoon ships to 46 out of 50 states in the US, while HelloFresh ships to all 48 continental states (excluding Alaska and Hawaii).
The available delivery days you can pick from when ordering will differ according to your zip code.
When your meal kit box is due to be delivered, you can track your order in Marley Spoon by clicking on the "Current Orders" tab and then selecting "Track Delivery" when you've found your most recent order.
You can also track your order with HelloFresh by clicking the tracking link provided in the email they send you. The Marley Spoon and HelloFresh mobile apps have the option to track orders in-app as well.
For this section, HelloFresh emerged as the victor as their network of fulfillment centers helps them deliver to more places than Marley Spoon does.
Refunds, Making Changes, & Canceling
Marley Spoon and HelloFresh will both reimburse you if the box sent arrives in unsatisfactory condition. To get a refund, you'll have to contact support and walk through the complaint and refund process with them, after which you'll get your money back once your payment provider has processed the refund.
With Marley Spoon, any changes made to your order should be done six days before your delivery is due to ship, as they'll start the packing and billing process by then. HelloFresh is about the same with order changes —you can amend your order up to five days before it's shipped.
Managing your account with Marley Spoon is easy to do using the settings tab. You'll be able to switch plans, skip a week, pause your subscription and cancel your subscription without the need to contact support. With HelloFresh, it's nearly identical.
This round ends in a tie! Both are pretty straightforward about refunds, changes, and the canceling process.
Customer Support
Marley Spoon and HelloFresh have robust support for customers in the form of FAQs and blog posts, but if you find yourself needing more help, Marley Spoon can be contacted by phone, email, chatbot, online contact form, and their app. HelloFresh's customer support avenues are a little more limited, as you can only contact them through chat, phone, online contact form, and their mobile app.
Marley Spoon is the winner this round as I like having the extra option to email in if I need help with my subscription.
Packaging & Environmental Sustainability
Because meal kits involve pre-portioned ingredients, the amount of individual packaging pieces in a box can quickly rack up.
Marley Spoon's delivery boxes are no exception from the packaging mountain, but they make a point of making sure that the majority of the packaging can be recycled or at the very least safely discarded. Their website notes that the paper used in their meal kits is made from sustainably sourced forests, and their ice packs contain non-toxic materials that can be drained directly into the trash. They also have explanations on how to recycle and discard their packaging pieces once you're done with the box.
One thing I like is that Marley Spoon even gives you the ability to opt to not receive printed recipe cards in your Marley Spoon meal kit delivery box. Instead, digital recipe cards will be sent to you by email.
HelloFresh's packaging is also relatively eco-friendly, with recyclable boxes, and paper bags, recyclable ice packs and cooler bags working together to keep your food fresh. Oher packaging components like insulation were made with recycled fabric, while the ice pack was similar to Marley Spoon's in that the contents could be drained into the trash and the plastic bag recycled after.
Like Marley Spoon, HelloFresh also has additional information on their packaging and instructions for recycling available on their website.
Both Marley Spoon and HelloFresh work with accredited C02 offsetting partners to reduce their carbon footprint, which is a nice touch considering how much packaging and emissions come about as the result of meal kit deliveries.
HelloFresh goes a step further by disclosing their list of suppliers on their website and participating in eco-friendly initiatives. They have a social responsibility initiative called Beyond the Box, where they provide food donations to local communities. Customers have the option of contributing by purchasing Meals with Meaning as an add-on to their regular order.
With that, it's clear that this round is HelloFresh's win. I really like the transparency they have with their suppliers, as well as the extra steps they're taking to give back to the community are a bonus.
The Winner Is...
It was a close match, but after tallying up their wins and losses in the final round, HelloFresh appears to be the winner.
| | | |
| --- | --- | --- |
| | Marley Spoon | HelloFresh |
| User Experience | | |
| Ordering Process | ✔ | |
| Meal Plans and Cost | | ✔ |
| The Food | | |
| Recipe Variety and Ingredients | TIE | TIE |
| Cooking Process and Support Material | TIE | TIE |
| Convenience and Ease of Use | | ✔ |
| Meal Taste, Nutrition, & Portion Size | ✔ | |
| Dietary Accommodations | TIE | TIE |
| Important Details | | |
| Delivery | | ✔ |
| Refunds, Making Changes and Cancellation | TIE | TIE |
| Customer Support | ✔ | |
| Packaging & Environmental Sustainability | | ✔ |
| Total Wins | 3 | 4 |
That's not the end though. Both meal kit delivery subscription services bring something special to the table, and while HelloFresh is a great all-rounder and crowd-pleaser, what might be right for one person might not be great for the next person.
HelloFresh is a good option for you if you're a family with picky eaters, as their robust selection of recipes features tried and tested meals that cater to most palates, even those who are hard to please. Since their meals don't take too long to prepare, they're also good for people who are looking for a convenient, efficient meal planning process that cuts down on time and effort while still bringing homemade, relatively healthful meals to the table.
As HelloFresh recipes don't demand much in terms of cooking ability, they're great for those who want to learn how to cook, those who have learned the basics of cooking down, and those who simply want to cook and eat something delicious. It's one of the more affordable meal kit options out there, and in general, it does a little bit of everything moderately well as a traditional meal kit that has spent a long time in the market.
Marley Spoon works for intrepid home cooks who are already familiar with fundamental cooking skills and have basic cooking essentials in their kitchen already (e.g. flour, eggs, salt, pepper, oil). Martha Stewart's personal twist on their meals really elevates the overall cooking and eating experience. You should also have a little extra time to dedicate to preparation, as the steps can be a bit more involved when compared to HelloFresh.
However, because both HelloFresh and Marley Spoon cater to the general population, they can't provide for highly specific requirements. If you have severe food allergies or intolerances, the potential for cross-contamination in their facilities means that you're better off with a dedicated diet meal subscription service that can accommodate your specific restrictions. Customers with specific diets like keto, paleo, or vegan would also probably be better served by meal kit subscription services that cater specifically to those diets. Don't worry though, there are plenty out there.
What do you think? Would you try Marley Spoon or HelloFresh? Let us know your thoughts in the comments below!