If you're on the hunt for a meal kit, chances are you've come across Sunbasket and HelloFresh.
Both are two of the most popular meal kits around and while they look similar on the surface, they're far more different than you might think.
One is known for its adventurous and delicious meals that are fairly simply to cook, while the other offers some of the most eclectic variety of recipes out of most of the meal kits currently available. But which is right for you?
Today we're going to be putting Sunbasket and HelloFresh in a head-to-head comparison to help you figure out which one is the best option for your needs.
Quick Overview Of Sunbasket
Sunbasket is a meal delivery service and marketplace that focuses on providing nutritionally balanced meals made with fresh, organic ingredients.
It was founded in 2014 by Adam Zhabar and award-winning executive chef Justine Kelly. Every meal on their menu is crafted by their chefs and approved by their in-house dieticians.
They don't offer traditional meal plans. Rather, their meal delivery service works similar to a marketplace where you can choose amongst a variety of meal kit meals, pre-made meals, and more. I'll cover more details on this a little later on.
Not only are their ingredients fresh, organic, and sustainable, but their packaging materials are also some of the most environmentally friendly that I've seen to date when it comes to meal kits.
Quick Overview Of HelloFresh
As one of the most well-known meal kits around, HelloFresh aims to cater to the majority of diners by providing crowd-pleasing and fun meals that I've found to be both tasty and pretty easy to make.
They first began in Germany in 2011, eventually expanding to the United States in 2013. Over a decade old, they now serve 16 different countries and host a variety of other meal delivery services under the HelloFresh company umbrella. These include Factor Meals, Green Chef, EveryPlate and more.
Like Sunbasket, HelloFresh has a variety of recipes to choose from weekly that are crafted by their in-house chefs and nutritionists. Additionally, HelloFresh also has their own marketplace where you can add-on certain foods such as fresh produce, snacks, desserts, sides, and more.
Ordering Process
I found Sunbasket's signup process to be quick and easy, with its user-friendly website and mobile app, available on both iOS and Android. First, you decide whether you'd like to go for their regular meal kits (which take up to 40 minutes to prepare) or their Fresh & Ready meals, which are "heat and eat" style pre-made meals that are ready in under 5 minutes.
Next, they give you chance to disclose any dietary preferences. You can skip this step if you don't have a specific diet you adhere to, but you can choose between these options to help further narrow down your menu choices if you so wish:
Paleo: Their highest protein dishes, made without corn, dairy, soy, or grains.
Gluten-Free: Meals that are free of added gluten and use wheat alternatives. Due note that Sunbasket is not certified gluten-free and their meals are prepared in a facility that handles wheat. Therefore, they may not be the best option for those who follow a strict gluten-free diet. Here are better options.
Vegetarian: Meals made without meat, fish, or poultry.
Pescatarian: Meals that only use seafood as their source of protein.
Mediterranean: Meals that follow the Mediterranean diet. They are rich in protein, fiber, and heart-healthy fats.
Diabetes-Friendly: Meals approved by the American Diabetes Association.
These options function as a guideline for when you're picking out your meals, and you can always select meals from other diets later on if you like.
What's really nice is Sunbasket even allows you to continue customizing your menu selections by selecting from an impressive list of specifications that includes options for avoiding specific proteins, macronutrients, and common allergens. I haven't seen this level of personalization from many other meal kits I've tried.
If you choose to go with their Fresh & Ready plan instead of their meal kit plan, there aren't as many options. The biggest bummer, though, is they don't allow you to filter the meals according to specific details the way that they do with their meal kits meals. On top of that, you can only select Fresh & Ready meals for one person, up to 10 servings at a go. Because of this, I don't believe their Fresh & Ready plan is a good alternative to other pre-made only meal delivery services such as Fresh n Lean or Cookunity.
Once all the plan selections are done, Sunbasket asks how many servings you'll need and how many dinners you'd like for each week. You'll need to provide your email address and zip code before you can move on to selecting meals and filling in your billing and shipping details. After that, you're on your way to getting your first box.
I quite like that Sunbasket allows you to pick out your meals before filling in payment details, so you can take a look at the options they have available before making a commitment to their subscription service. Some other meal kits I've reviewed in the past have hidden the meal selection step until after payment, which I think is a little sneaky.
If you're not ready to hash out the nitty-gritty of subscribing just yet, one of the nice things is that Sunbasket does have a menu page on their website where you can browse through their recipes for the next two weeks as well as previous weeks.
As for HelloFresh, you start off similar to Sunbasket's onboarding process, where you first specify your meal preferences according to the specifics below:
Meat and Veggies: Their basic plan with meals that include meat and vegetables.
Family-Friendly: These are their quick, easy to prepare, and kid-approved dishes. I found them to be slightly less "adventurous" as their other meals but they are good for more picky eaters.
Quick and Easy: Meals that take 30 minutes or less to cook.
Veggie: Meals that are vegetarian (though not always vegan) and are made without meat, fish, or poultry.
Calorie Smart: Meals that are 650 calories or less per serving.
Pescatarian: Meals that feature seafood, without meat or poultry.
After selecting your food preferences, you'll get to choose the number of people you're serving, and how frequent you want the meals to be.
HelloFresh assigns a delivery date for the first box once you've registered for an account and filled in your zip code. Though, what's nice is that you can change that date to any other date if the one they chose doesn't fit your schedule. You can also add on delivery instructions telling them where to leave your package.
Like Sunbasket, HelloFresh lets you look at their weekly menu before subscribing. However, they let you flip through the next six weeks instead of past weeks plus next two weeks like Sunbasket does. It's a small touch but I like being able to look farther into the future so that I can plan my meals better.
The only trade-off is that you have to subscribe before you can click into the recipe cards to see more information on their menu page. I found a small workaround for this by simply taking the name of the dish on the menu and inputting it into HelloFresh's recipe database here. It takes a few extra steps but it'll allow you to see the specific information about the meals prior to subscribing.
When it comes to the overall ordering process, Sunbasket takes the cake as they disclose their weekly menu in a way that I found to be much more user-friendly and comfortable to navigate. Their robust menu customization options are also superior to what HelloFresh offers during the onboarding process.
Meal Plans & Cost
Now let's take a look at how much subscribing to these meal kit delivery services will cost. To make it easy to compare, we calculated the average cost per serving for both services according to the meal plan options they offer.
| | | | | |
| --- | --- | --- | --- | --- |
| Sunbasket | | | | |
| 2 people (Meal-kits) | | | | |
| Meals per week | 2 | 3 | 4 | 5 |
| Total servings per week | 4 | 6 | 8 | 10 |
| Cost per serving | $14.49 | $13.49 | $12.49 | $11.49 |
| Shipping | $9.99 | $9.99 | $9.99 | $9.99 |
| Total cost per week | $67.95 | $90.93 | $109.91 | $124.89 |
| Average cost per serving | ~$16.99 | ~$15.16 | ~$13.74 | ~$12.49 |
| 4 people (Meal-kits) | | | | |
| Meals per week | 2 | 3 | 4 | 5 |
| Total servings per week | 8 | 12 | 16 | 20 |
| Cost per serving | $12.49 | $11.49 | $11.49 | $11.49 |
| Shipping | $9.99 | $9.99 | $9.99 | $9.99 |
| Total cost per week | $109.91 | $147.87 | $193.83 | $239.79 |
| Average cost per serving | ~$13.74 | ~$12.32 | ~$12.11 | ~$11.99 |
| 1 person (Fresh & Ready) | | | | |
| Meals per week | 4 | 5 | 6 | 7 |
| Cost per serving | $12.99 | $12.99 | $11.99 | $11.99 |
| Shipping | $9.99 | $9.99 | $9.99 | $9.99 |
| Total cost per week | $61.95 | $74.94 | $81.93 | $93.92 |
| Average cost per serving | ~$15.49 | ~$14.99 | ~$13.66 | ~$13.42 |
| Meals per week | 8 | 9 | 10 | |
| Cost per serving | $10.99 | $10.99 | $9.99 | |
| Shipping | $9.99 | $9.99 | $9.99 | |
| Total cost per week | $97.91 | $108.9 | $109.89 | |
| Average cost per serving | ~$12.24 | ~$12.10 | ~$10.99 | |
| | | | | | |
| --- | --- | --- | --- | --- | --- |
| HelloFresh | | | | | |
| 2 people | | | | | |
| Meals per week | 2 | 3 | 4 | 5 | 6 |
| Total servings per week | 4 | 6 | 8 | 10 | 12 |
| Cost per serving | $11.99 | $9.99 | $9.49 | $8.99 | $8.49 |
| Shipping | $9.99 | $9.99 | $9.99 | $9.99 | $9.99 |
| Total cost per week | $57.95 | $69.93 | $85.91 | $99.89 | $111.87 |
| Average cost per serving | ~$14.49 | ~$11.66 | ~$10.74 | ~$9.99 | ~$9.32 |
| 4 people | | | | | |
| Meals per week | 2 | 3 | 4 | 5 | 6 |
| Total servings per week | 8 | 12 | 16 | 20 | 24 |
| Cost per serving | $9.49 | $8.49 | $7.99 | $7.99 | $7.99 |
| Shipping | $9.99 | $9.99 | $9.99 | $9.99 | $9.99 |
| Total cost per week | $85.91 | $111.87 | $137.83 | $169.79 | $201.75 |
| Average cost per serving | ~$10.74 | ~$9.32 | ~$8.61 | ~$8.49 | ~$8.41 |
From a glance, it's apparent that HelloFresh costs less on average. Sunbasket's price range goes from $10.99 per meal at their lowest to a hefty $16.99 per meal at their most costly, while HelloFresh is much more affordable with each serving costing between $8.41 to $14.49 depending on the number of people served and total servings per week.
Sunbasket offers a $90 off discount (our affiliate link, which will activate the coupon) and free shipping for first-time users, while HelloFresh has discounts available for students, medical providers, nurses, hospital employees, military personnel, and veterans. While calculating Sunbasket's average cost per serving, I added on their $9.99 shipping fee (even though it's waived for your first box) since estimating the cost over time involves factoring in all of the components billed.
I do want to note that Sunbasket's Fresh & Easy pre-made meals cost less than their meal kits. My guess is this is due to the fact that the meal kit recipes can be customized and need more "behind the scenes" work than their pre-made meals do.
HelloFresh wins this round by being the more affordable option. However, Sunbasket's added cost might be worth it if you have specific eating preferences. It's worth noting that Sunbasket has a dietitian, nutritionist, and health coach on staff helping to design their meals, which may also account for their higher prices.
Recipe Variety & Ingredients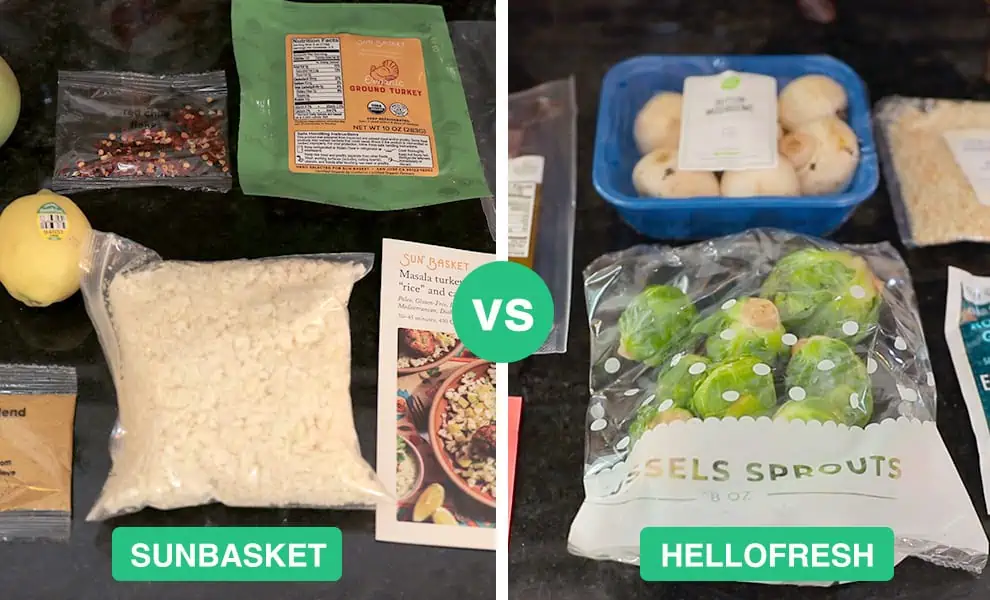 Sunbasket offers about 30 recipes rotated weekly, consisting of both meal kits and pre-made options. Just by skimming the menu, it's clear that their recipes feature a diverse variety of cuisines from all over the world (which I'll cover a little later on).
You can pick your meals on your own, or you can leave it up to Sunbasket's selection algorithm, where they do the work of choosing your meals according to the preferences you selected during the signup process.
I do want to note that their algorithm isn't always perfect. There have been times where I've forgotten to select my meals for the week and Sunbasket has sent me some meals I wasn't a huge fan of. Though it hasn't happened often, I thought it was worth mentioning.
What I really love about Sunbasket's menu is that they give you the ability to swap in different proteins. This means you can substitute in proteins such as filet mignon, New York strip steak, wild-caught halibut, jumbo shrimp, and even plant-based proteins like meat substitutes and tofu.
Sunbasket also has a huge variety of add-ons divided into categories like breakfast, lunch, proteins, snacks, pasta, desserts, drinks, and more. Having tried nearly every meal kit currently available, I can honestly say that Sunbasket has one of the most impressive meal kit marketplaces available for these types of add-ons.
Sunbasket's executive chef, Justine Kelly has extensive experience working in top San Francisco restaurants. As a result, Sunbasket's ingredients come from well-respected farms and fisheries, with organic produce, antibiotic-free, and hormone-free meat, as well as wild-caught fish. All of their ingredients are raised and grown responsibly and sustainably, and if they ever have to send non-organic produce, eggs, or dairy products, they include a note to let you know. Sunbasket's level of commitment to high-quality ingredients is one of the highest I've seen, which may also play a factor in their higher prices.
As I touched on earlier, Sunbasket is organic-certified, and they use mostly USDA-certified organic produce in their meal kits. They also share an in-depth look at which farms they source ingredients from. I appreciate their commitment to ingredient sourcing transparency—it's not something many meal kits fully disclose.
Meanwhile, HelloFresh offers a robust selection of over 30 recipes rotated every week. Their meals vary, with both adventurous meals and interesting twists on classic dishes.
Like Sunbasket, HelloFresh provides the option to swap certain proteins for something else in their dishes, although the selection isn't quite as impressive. More recently, they launched HelloFresh Market allowing you to pick from a large variety of gourmet meals, breakfasts, snacks, proteins, pantry items, some pre-made foods, and even a limited amount of produce.
HelloFresh is known for being strict about their ingredients, and they disclose their supplier list on their website here.
Though HelloFresh isn't certified-organic like Sunbasket is, that doesn't mean they don't care about the quality of their ingredients. They've noted that their employees make on-site visits in order to audit the quality of their vendors. Their meat products are hormone-free and compliant with animal welfare standards. Additionally, their seafood is sustainably sourced, bringing wild-caught and ethically farm-raised fish to their recipes. You can read more about their ingredient sourcing in their sustainability report here.
Overall, it looks like this win goes to Sunbasket, due to their recipe variety and ingredient quality. Naturally, you're paying a little more for the extra attention to detail, but I think it's worth it if you really care about the quality of what you eat.
Cooking Process & Support Material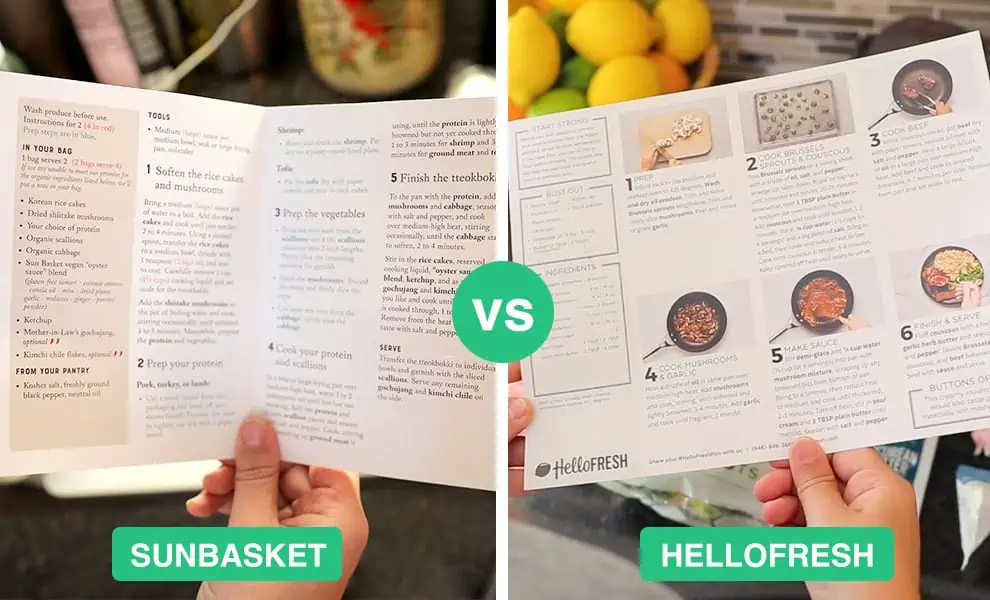 Like most meal kits, Sunbasket sends you your box weekly. I found the packaging to be really well organized. The meal kit recipes are divided into paper bags, while the Fresh & Ready meals are labeled with what meal they are, along with nutritional information and heating instructions on the back of the packaging.
From the dozens of meals I've made with Sunbasket, I found them to be fairly simple to make and should be easy enough for novice chefs. Most recipes are also relatively quick to prepare. On average, they say their meals take about 30 minutes to make. However, take that with a grain of salt. There have been instances where I've approached the 45-60 minute mark while cooking a Sunbasket meal. Of course, that could be due to my own slowness.
Sunbasket's support material comes in the form of a recipe booklet, unlike the cards I've seen from other meal kit subscriptions. It's designed well but it does have some flaws.
On the front, you'll get a full-color picture of the dish you're preparing with the name of the recipe, the diets and preferences it's suitable for, and some extra details like cook time, total calories, and the number of servings it makes.
Inside the recipe booklet, an ingredient list for the recipe is included, along with step-by-step instructions on how to prepare the dish. If you're looking for more information, you'll find a short description of the dish as well as nutritional information on the back of the pamphlet.
This may seem a bit nit-picky but the one issue I have with their recipe booklet is that reading while cooking can be a little tough. This is mainly due to the fact that the text is a bit smaller than traditional meal kit recipe cards as well as they don't include pictures at each step to help you follow along like HelloFresh's recipes do.
One solution I found to this is to simply switch to digital recipes, which makes reading the recipes a bit easier since you have more control over the text size. Sunbasket has all of their meal kit recipes available on their website and on their mobile app, which is available on Android and iOS. They also have articles about cooking tips and techniques on their blog, which I found to be pretty helpful.
As with most meal kit services, you're expected to have some basic pantry ingredients on hand—namely oil, salt, pepper, and sugar. You're also meant to have some key kitchen equipment, like a pot, a frying pan, a knife, and a couple of mixing bowls.
One thing I noticed was that Sunbasket has a long list of cooking times for the different proteins available for use in their recipes. It makes sense considering their numerous protein customization options, but I recommend reading through the recipe carefully, as the sheer amount of extra information can be overwhelming and confusing when you're in the heat of the moment trying to cook. It's possible they chose to have recipe booklets instead of the more common recipe cards to accommodate these extra instructions, and they might have omitted the photos that usually come with them for the same reason.
As for HelloFresh, I found their meal kit recipes to be fairly in line with Sunbasket's. They offer a good amount of variety when it comes to complexity of cooking—allowing novices and intermediate cooks to shine. Though, some more complex dishes (usually found under their "gourmet" line) tend to take a bit longer to make.
If you're not a fan of clean-up, HelloFresh might not be up your alley as their recipes use quite a few cooking utensils, pots, and pans. That being said, because of the variety of their recipes, you can opt for their quicker recipes. I'm a big fan of their one-pan meals for days when I don't want to spend much time in the kitchen cooking or cleaning up.
In terms of support material, HelloFresh has recipes cards that are succinct, easy to read, and offer full photos of where you should be at each step of the cooking process. Having visual aids to go with the recipe steps is really helpful for beginner cooks who might not know what the steps are supposed to look like.
Like Sunbasket, HelloFresh also has its recipe cards available through its website or mobile apps, so if you ever misplace your cards, you can get the recipe instructions online.
HelloFresh takes the win this round for their recipes with varying levels of complexity (such as their Quick & Easy plan meals) and well-designed recipe cards that I find make cooking a bit easier than Sunbasket's recipe booklet does.
Meal Taste, Nutrition, & Portion Size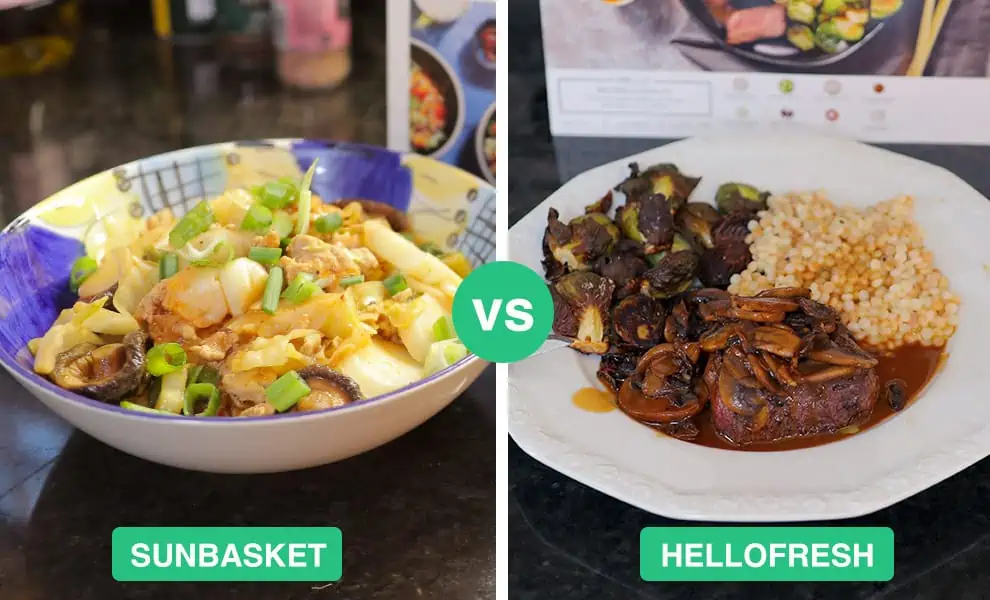 While on the surface Sunbasket and HelloFresh seem to offer similar meals, taste is really where they differ.
From my experience, Sunbasket prioritizes meals that challenge your taste buds (in a good way). Thus, they lean into more eclectic and unique dishes that may not be as well-known as what you're likely to find on HelloFresh's menu.
Here are some examples of past favorite Sunbasket meals I've had to pique your interest…
I've made some delicious meals with Sunbasket and while not every single one has been perfectly delicious, I personally enjoy being able to try new dishes that are beyond my comfort zone. On the flip side, though, picky eaters may want to look elsewhere.
As I touched on above, their meal kit meals are dietitian, nutritionist, and health coach approved. They commonly feature organic vegetables, whole grains, and high-quality lean proteins.
In general, Sunbasket's meals come in at about 400 to 800 calories per serving. What surprised me most is that even many of their heavy pasta dishes come in around the 600 to 700 calorie mark per serving (here's an example).
I found the portions of Sunbasket's meals to be big enough to be satisfying but nothing too out of the ordinary when it comes to meal kits.
I do particularly like that they focus on nutrient-dense, health-minded meals. That said, some of their meals contain a fair amount of sodium and saturated fat. While that can be adjusted during cooking, it's worth mentioning for those who need to pay strict attention to those nutritional macros for health purposes.
Meanwhile, HelloFresh may be more suited to those who care more about taste and overall flavor, as I found their meals are much richer than Sunbasket's. Their focus on taste means that, on average, HelloFresh recipes tend to use more salt and butter to bring more flavorful to the dish.
Where HelloFresh really shines is when it comes to their different spice blends. These are little packets of pre-made spices they include in certain recipes. They do an incredible job of bringing out the flavor of meals and taking them to the next level. Here's a look at some of the more popular ones.
To be honest, some of the most delicious meal kit meals I've ever had were from HelloFresh. A handful of the more notable meals I've made include the following…
If you want the best of both worlds—more health-minded meals that taste great—HelloFresh does have calorie smart and carb smart recipes available weekly.
As for portion sizes, I found HelloFresh's regular meal kit meals tend to be pretty comparable to what Sunbasket offers. Although, HelloFresh does offer a handful of gourmet-style meals every week (which they call their "Premium Picks" meals) which I've noticed are slightly bigger portions. These meals do cost extra and the added cost depends on the specific meal but I found it's usually around $6 to $7 extra per serving.
It was a close round but HelloFresh just barely inches out Sunbasket to take the win. While Sunbasket does offer interesting and unique cuisines that are geared towards more adventurous eaters, HelloFresh's meals are more approachable for the everyday eater. Sunbasket's meals are generally, in my eyes, more nutritious, but HelloFresh does offer some nutritionally balanced meals too. Lastly, HelloFresh's premium meals technically do have bigger portions than Sunbasket's.
Dietary Accommodations
I like that Sunbasket makes nutritionally balanced meals that cater to many food intolerances, allergies, and dietary restrictions. As is usual with most meal kit subscriptions, you'll get fewer options available for selecting every week the more specific requirements you have in your diet.
Sunbasket offers meals that are paleo, keto, vegan, vegetarian, gluten-free, and diabetes-friendly on top of allowing you to avoid specific proteins and allergens. These meals aren't boring, either, and you'll usually be able to fill your box with a few dishes instead of having to go without or eat one or two things for a week.
The one big downside to filtering Sunbasket's meals by specific dietary preferences is that some weeks there are dietary categories that have little to no recipes to select from. For example, the moment of writing this comparison article, there are no gluten-free meals to choose from. On the flip side, however, there are over 10 paleo meals to select from and over 20 dairy-free meals.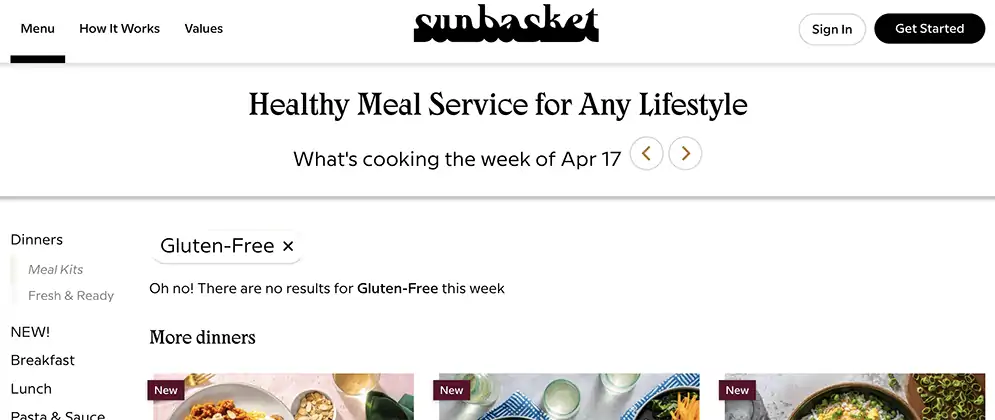 While they accommodate an impressive range of diets, Sunbasket makes it clear that they pack their meals in a facility that handles all of the major allergens, so cross-contamination is still a risk. If you have a severe allergy or intolerance, I highly suggest not using Sunbasket and opting for a meal delivery service that is better suited to serve your specific needs.
HelloFresh, on the other hand, has a few meal plans that cater to diet restrictions like vegetarian, pescatarian, and calorie-smart preferences, but they don't accommodate much more beyond that. HelloFresh sometimes lets you swap proteins to make more meals plant-based or vegetarian, but the changes occasionally cost a little extra regardless of whether it's plant-based or animal-derived.
Like Sunbasket, HelloFresh's meal packing facilities are not allergen certified, which means that cross-contamination poses a health risk to those with severe allergies and intolerances. If you have a life-threatening allergy, it's best to consult with a doctor on whether either one of these services is good for you.
For this round the winner is Sunbasket. While both Sunbasket and HelloFresh offer some similar diet options (such as Mediterranean, pescatarian, and vegetarian) Sunbasket does offer more selection in certain other areas—namely when it comes to paleo, dairy-free, and soy-free meals.
Delivery
Currently, Sunbasket ships to most of the US except for Alaska, Hawaii, Montana, North Dakota, and some parts of New Mexico.
During the signup process, Sunbasket helps identify whether you're in an area they deliver to when you fill in your zip code.
Like HelloFresh, Sunbasket also lets you select your preferred delivery day, so you can ensure you'll be home the day of the delivery. This can be a big plus for those who live in apartment buildings. I personally used to get meal kit meals delivered to my last apartment and the delivery drivers would sometimes mess up and leave the box outside our building or at another random spot where I couldn't find it. Being able to leave specific instructions can be really helpful for those with hard to find front doors.
HelloFresh is a little more accessible in that they deliver to all states across the continental United States except for Hawaii and Alaska. Like Sunbasket, they'll let you know whether they can deliver to you once you've keyed in your zip code, and you'll have the option to select your preferred delivery day later in the signup process.
For both Sunbasket and HelloFresh, deliveries normally arrive between 8am and 8pm on weekdays. However, Sunbasket only offers delivery for Monday through Thursday, while HelloFresh delivers all days of the week.
HelloFresh wins in this round, as they offer more delivery day options and more delivery areas.
Customer Support & Order Modifications
Sunbasket's customer support is available by phone, text, email, or chatbot. They also have a comprehensive FAQ section for customers who prefer to figure things out on their own.
One interesting option they have for support is getting advice and answers from other Sunbasket customers, which I've never seen before. This feature is available through their chatbot, where you can opt to speak with an agent or with a "customer expert" depending on your preference.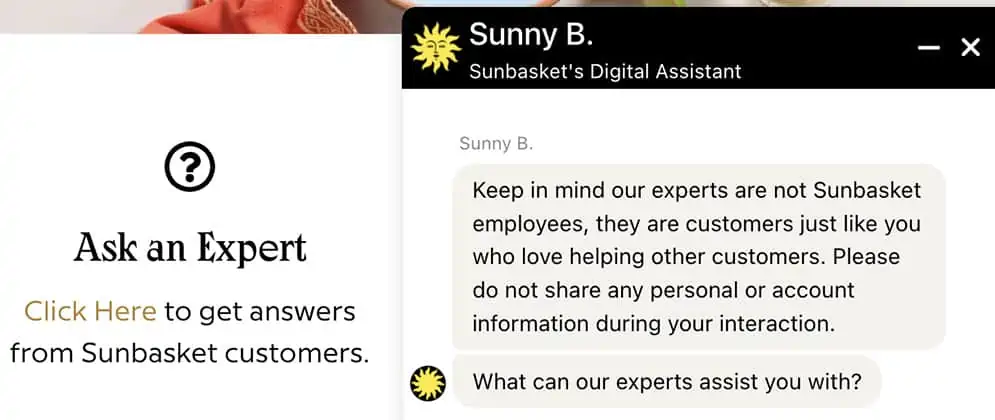 I found modifying my Sunbasket order to be very easy. All you have to do is log into your account and make the necessary changes before Wednesday at 12pm PT.
What's really nice though is Sunbasket's money-back guarantee, which they call their "100% Mouthwatering Guarantee". If you're dissatisfied with your meals they'll give you a full refund.
If you'd like to cancel your subscription with either HelloFresh or Sunbasket, they both require that you answer a few mandatory questions before you can do so. HelloFresh gives you offer incentives if you stay, which is a nice added perk. You won't have to engage with customer service or jump through too many hoops for either subscription before you cancel.
If you're looking for help with your HelloFresh order or simply want to ask a question, they have an online form, a chatbot, a phone support line, and an informative FAQ section available. I particularly like that HelloFresh's phone line has a live waiting time alert, so I can get a sense of how long it's going to take to get in touch with an actual human.
It was another close round but Sunbasket takes the win. While order modification and cancelling is pretty much the same for both services, Sunbasket is very clear about their money-back guarantee whereas HelloFresh isn't. I also think it's interesting that Sunbasket gives you the ability to speak with current customer "experts" about any questions you might have.
Packaging Sustainability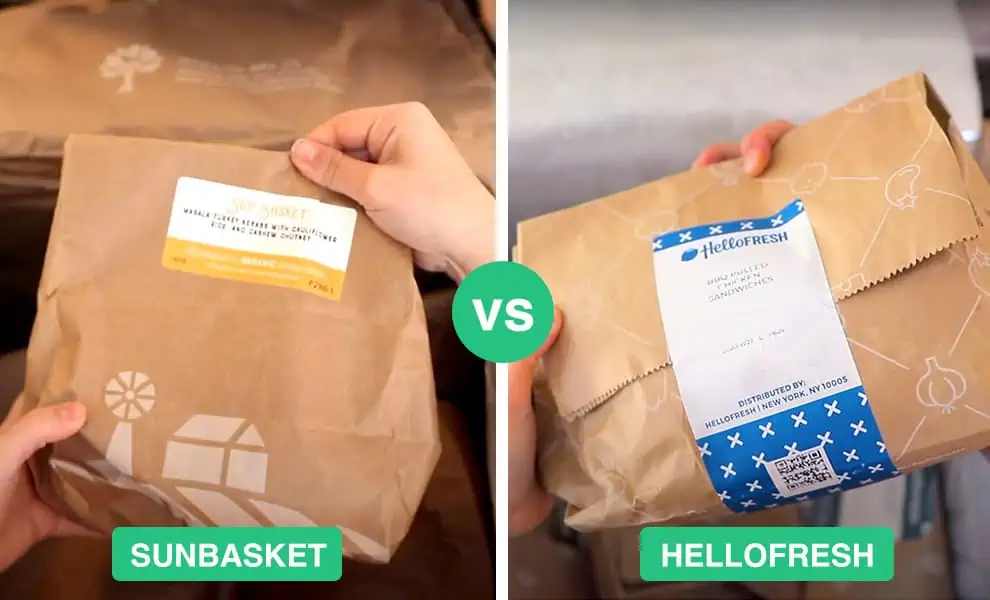 It's clear to me that both Sunbasket and HelloFresh take sustainability seriously.
Sunbasket's boxes are made from recyclable cardboard, while the insulation is made of reclaimed denim or paper depending on the local climate. The meal kits themselves come with recyclable paper bags, but a fair amount of plastic is used in packing the produce, seasonings, and gel packs.
Fortunately, most of their packaging is recyclable or compostable (their meal trays are made from upcycled sugar cane). Although, depending on how your town handles recycling, you might have to travel to a specific recycling center to make sure that certain materials are recycled. Sunbasket does provide information on how to properly recycle and compost their packaging materials. It's little details like these that help us all make better, more eco-friendly decisions.
As for HelloFresh, most of its packaging is recyclable, or compostable in some way, much like Sunbasket's. Their boxes come well organized, with recyclable cardboard, honeycomb paperboard, paper bags, and box separators making up the bulk of the packaging.
What I find particularly commendable about HelloFresh is that they are continually taking active steps to become more sustainable as a company and beyond. For example, they're one of the first meal kits that is 100% carbon neutral. Additionally, they've helped setup plastic collection centers in Indonesia to prevent thousands of pounds of plastic from entering the ocean.
While both meal kits take their packaging sustainability seriously, HelloFresh really goes above and beyond with their environmental activism. Because of that, HelloFresh wins this round.
The Winner Is…
It's time for the moment of truth, where we tally up each service's wins to see how they did.
| | | |
| --- | --- | --- |
| | Sunbasket | HelloFresh |
| Ordering Process | ✔ | |
| Meal Plans & Cost | | ✔ |
| Recipe Variety & Ingredients | ✔ | |
| Cooking Process and Support Material | | ✔ |
| Meal Taste, Nutrition & Portion Size | | ✔ |
| Dietary Accommodations | ✔ | |
| Delivery | | ✔ |
| Customer Support & Order Modifications | ✔ | |
| Packaging Sustainability | | ✔ |
| Total Wins | 4 | 5 |
I do have to say that this was a very close call but with the votes tallied, the winner is HelloFresh!
Personally, I believe both of these meal kits are great options but for different types of people.
If you're someone who enjoys trying new cuisines and flavors, Sunbasket is going to give you all that and more. I find their meals to be much more of an "experience" than HelloFresh's—they're fun, unique, and interesting. Though, because you're trying new meals you may have not had before, that does mean you may not fall in love with every single meal.
On the flip side, HelloFresh prioritizes flavor among everything else when it comes to their meals. Year over year, I've consistently been impressed with how tasty their meals have been. Of course, the trade-off with that is HelloFresh doesn't offer as many health-conscious or nutritionally balanced meals as Sunbasket does.
Both Sunbasket and HelloFresh are not only 2 of the most popular and biggest meal kits out there, they're also taking big strides to expand their services. While Sunbasket has introduced pre-made meals and is growing their marketplace of add-ons, HelloFresh is increasingly developing their meal variety and now they have have their own marketplace (albeit smaller than Sunbasket's).
Have a question about either Sunbasket or HelloFresh? Let me know in the comments below!