With so many meal kits currently available, trying to pick just one can be overwhelming.
If you've done any research into the world of meal kits, you've likely come across Blue Apron and HelloFresh. They are, among all of the meal kits out there, two of the most popular.
I've personally used both HelloFresh and Blue Apron since they first got their start, many years ago. While they may seem similar on the surface, I've uncovered some very big differences between both that that make one a clear winner.
In this article, we're going to determine which is the better meal kit by placing them head-to-head in the following criteria: ordering process, meal plans, cost, recipe variety, ingredients, cooking process, support material, convenience, ease of use, taste, nutrition, portion size, dietary accommodations, delivery, customer support, order modifications, and packaging.
By the end of this, we'll know who's the overall winner, and we'll also know who does better in certain areas.
Before we begin, though, let's first get to know our contenders…
Blue Apron Overview
One of the oldest meal kit delivery services in the industry, Blue Apron has been serving hungry Americans since 2012. While that's over a decade of sending meals, they haven't gone stale with age. On the contrary, in fact, they keep things fresh by regularly adding new recipes to their menu and launching brand partnerships (from Whole30 to Weight Watcher's) all the time. They've also expanded to include curated wine pairings with meals and a market where you can purchase meal kits, ready-made meals, kitchen tools, and cookware.
HelloFresh
Hailing from Berlin, Germany since 2011, HelloFresh is very well known amongst the sea of meal kit providers out there, and with good reason. They feature a great variety of easy to make and tasty recipes that won't break the bank.
HelloFresh Market adds to its already impressive range of menu choices by allowing you to include extra items like breakfasts, snacks, drinks, and even fresh produce in your boxes.
Today, HelloFresh serves 16 different countries all over the world with brands like Green Chef, EveryPlate, and Factor Meals under their belt.
Ordering Process
In general, ordering from both HelloFresh and Blue Apron is pretty straightforward, though there are some minor differences you'll want to be aware of.
The first thing you'll likely want to do, before you even begin to create your account, is to view the menu on both HelloFresh's and Blue Apron's site to make sure they have meals you're interested in. The good news is that both meal kits allow you to view their menu of upcoming meals.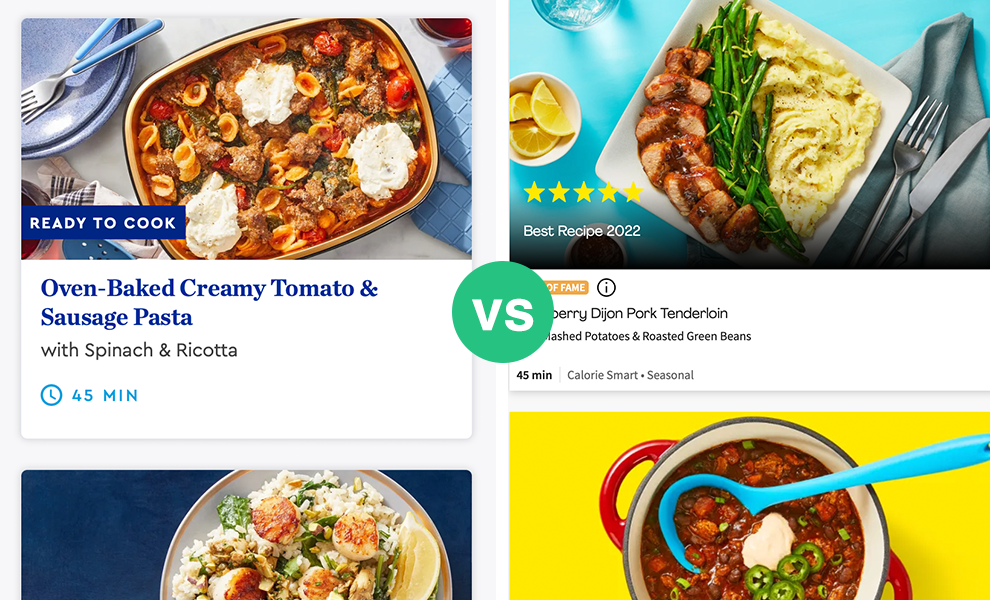 Blue Apron's menu gives you a look at which meals will be on the menu for the next 4 weeks whereas HelloFresh allows you to see what meals are planned for the next 6 weeks.
On Blue Apron's meal recipe page they give you a great overview of the recipe by including what ingredients are included (visually laid out), the instructions, and which cooking utensils are needed.
I really like that Blue Apron provides comprehensive information on their recipes, including complete nutritional information. Although, one thing they don't have is allergen information, so if you have any specific dietary restrictions, you'll probably have to do some leg work by manually checking their recipes for problem ingredients.
HelloFresh also shows you nutritional information when you click on their full recipes. Unlike Blue Apron, which has a comprehensive breakdown of the meal's nutrition facts listed on their website, HelloFresh only shows you the basic macronutrients like calories, fat, saturated fat, carbohydrate, sugar, dietary fiber, protein, cholesterol, and sodium. This can be a deal-breaker for those who need to see all of the nutritional information before signing up.
HelloFresh is also great about communicating allergen information and they even let you sort their recipes according to dietary requirements and ingredients in their Cookbook section. Blue Apron also lets you do this to some degree if you check out their recipe cookbook, but HelloFresh takes it a step further by disclosing allergen information in every recipe.
After getting an understanding of which meals you may like for both meal kits, you can move on to the sign-up process.
With Blue Apron, you start off by customizing your meal plan by choosing the number of people you're serving and the number of meals you're planning to make.
They also let you select from the following food preferences:
Chef Favorites: Popular menu items that are specially curated.
Wellness: Health-centric, balanced meals that are Weight Watcher's (WW) approved.
Family Friendly: Simple, crowd-pleasing, and hearty meals that are just as easy to assemble as they are to clean up.
Fast & Easy: Quick, easy meals that are ready in 30 minutes or less.
Veggies: Vegetable-centric dishes without poultry or meat that may still contain dairy and eggs.
This helps Blue Apron calibrate their weekly recommended menu for you, so they can get a sense of what meals you'll enjoy.
Next, you're prompted to create an account (via an email and password) and to provide your address and zip code so Blue Apron can tell you which delivery days are available for your order.
Closer to your meal kit delivery date, you'll receive an email telling you that your meal is packaged and ready for shipping, complete with a tracking link as well as a list of the staple ingredients and kitchen equipment you'll need for the week.
Like Blue Apron, HelloFresh is also easy to sign up for. In fact, the onboarding process is nearly identical in that you first select your plan preferences (number of people cooking for and meals). After, HelloFresh lets you select the following plan preferences:
Meat & Veggies: The most basic plan featuring a variety of classic HelloFresh recipes.
Family Friendly: Recipes that are both easy to prepare and kid-approved.
Quick & Easy: Simple meals that take 30 minutes or less to make.
Veggie: Vegetarian meals.
Fit & Wholesome: Dishes that come in at 650 calories or less per meal
Pescatarian: Recipes that feature seafood as their main source of protein, without meat or poultry
The final step for both HelloFresh and Blue Apron involves checking out and paying before you can select which meals you want for your first order. It is a bit of a bummer that both HelloFresh and Blue Apron make you pay before you can finalize your order but this is standard practice among most meal kits.
For this round, Blue Apron and HelloFresh are tied as HelloFresh's lack of comprehensive nutritional information and Blue Apron's omission of easily accessible allergen information cancel each other out. The redeeming factor of both is that they have intuitive ordering processes that make subscribing to their services a breeze. I just wish they were both slightly more transparent, especially for customers who have highly restrictive diets, health concerns, or ingredient sensitivities.
Winner: Tie
Meal Plans & Cost
Now that we've covered the sign-up process for both HelloFresh and Blue Apron, let's find out just how affordable each of these meal kits are. To make things easier for you, I've listed out the price per serving, the number of people served per meal, and the number of meals per week as these amounts change depending on what you select in both services.
After that, we spent a little time calculating the actual average cost per serving, as the prices on the Blue Apron and HelloFresh websites don't factor in shipping costs.
| | | | |
| --- | --- | --- | --- |
| Blue Apron | | | |
| 2 people (Signature for 2) | | | |
| Meals per week | 2 | 3 | 4 |
| Total servings per week | 4 | 6 | 8 |
| Cost per serving | $9.99 | $8.99 | $8.99 |
| Shipping | $9.99 | $9.99 | $9.99 |
| Total cost per week | $49.95 | $63.93 | $81.91 |
| Average cost per serving | ~$12.49 | ~$10.66 | ~$10.24 |
| 4 people (Signature for 4) | | | |
| Meals per week | 2 | 3 | 4 |
| Total servings per week | 8 | 12 | 16 |
| Cost per serving | $8.99 | $7.99 | $7.49 |
| Shipping | $9.99 | $9.99 | $9.99 |
| Total cost per week | $81.91 | $105.87 | $129.83 |
| Average cost per serving | ~$10.24 | ~$8.82 | ~$8.11 |
| 2 people (Vegetarian for 2) | | | |
| Meals per week | 2 | 3 | 4 |
| Total servings per week | 4 | 6 | 8 |
| Cost per serving | $9.99 | $8.99 | $8.99 |
| Shipping | $9.99 | $9.99 | $9.99 |
| Total cost per week | $49.95 | $63.93 | $81.91 |
| Average cost per serving | ~$12.49 | ~$10.66 | ~$10.24 |
| 2 people (Wellness for 2) | | | |
| Meals per week | 2 | 3 | 4 |
| Total servings per week | 4 | 6 | 8 |
| Cost per serving | $9.99 | $8.99 | $8.99 |
| Shipping | $9.99 | $9.99 | $9.99 |
| Total cost per week | $49.95 | $63.93 | $81.91 |
| Average cost per serving | ~$12.49 | ~$10.66 | ~$10.24 |
| | | | | | |
| --- | --- | --- | --- | --- | --- |
| HelloFresh | | | | | |
| 2 People | | | | | |
| Meals per week | 2 | 3 | 4 | 5 | 6 |
| Total servings per week | 4 | 6 | 8 | 10 | 12 |
| Cost per serving | $11.99 | $9.99 | $9.49 | $8.99 | $8.49 |
| Shipping | $9.99 | $9.99 | $9.99 | $9.99 | $9.99 |
| Total cost per week | $57.95 | $69.93 | $85.91 | $99.89 | $111.87 |
| Average cost per serving | ~$14.49 | ~$11.66 | ~$10.74 | ~$9.99 | ~$9.32 |
| 4 People | | | | | |
| Meals per week | 2 | 3 | 4 | 5 | 6 |
| Total servings per week | 8 | 12 | 16 | 20 | 24 |
| Cost per serving | $9.49 | $8.49 | $7.99 | $7.99 | $7.99 |
| Shipping | $9.99 | $9.99 | $9.99 | $9.99 | $9.99 |
| Total cost per week | $85.91 | $111.87 | $137.83 | $169.79 | $201.75 |
| Average cost per serving | ~$10.74 | ~$9.32 | ~$8.61 | ~$8.49 | ~$8.41 |
Blue Apron comes in at about $8 per serving at their lowest and $12.50 at their highest, while HelloFresh's meals cost anywhere from about $8.50 to $14.50 per pop depending on the meal plan you've selected. Naturally, the more you order, the less the meals will cost as bulk purchases mean that less time and energy is spent finagling your order.
Blue Apron offers discounts to military, veterans, students, teachers, medical staff, first responders, and seniors over 55 years of age. Meanwhile, HelloFresh has discounts available for medical providers, nurses, hospital employees, military, veterans, and students.
It's close, but Blue Apron edges towards victory by being slightly more affordable and by offering discounts to senior citizens and teachers, which HelloFresh doesn't do. These are small differences, but they add up over time.
Winner: Blue Apron
Recipe Variety & Ingredients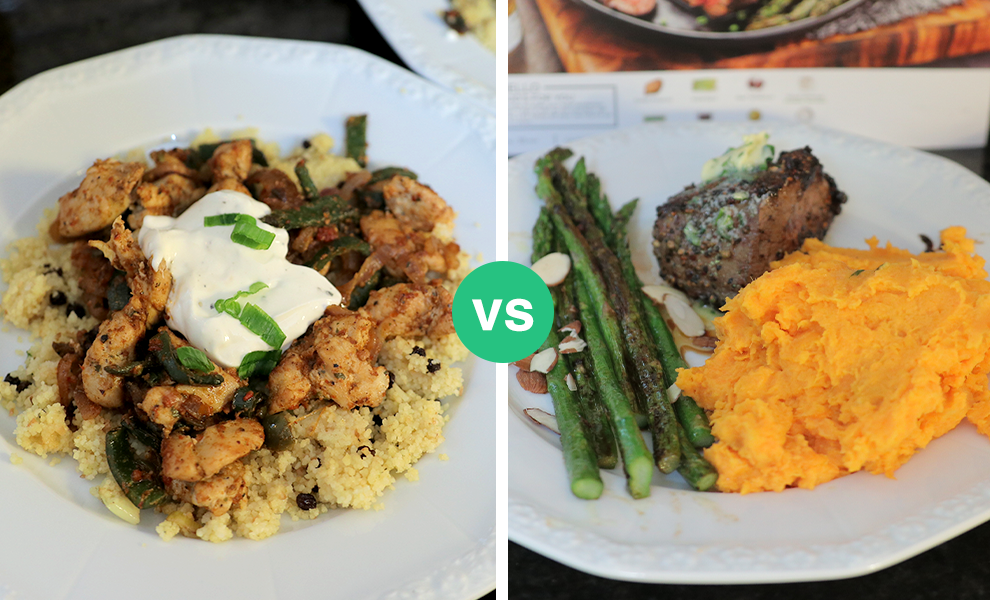 Meal kit subscription services aim to replace having takeout regularly with home-cooked meals that you'll love having again and again. That means that their recipe variety and ingredient quality have to be top-notch to keep you interested and satisfied.
Blue Apron's meals are relatively healthy, with lean proteins, healthy grains, and fresh vegetables making up the bulk of their recipes. If you're looking for something filling, they also have a few pasta dishes and comfort foods like enchiladas and pizza on their menu at any given week.
Overall, Blue Apron leans towards more interesting flavors and ingredients in their recipes. Their name is a reference to French culinary tradition, where apprentice chefs wear blue colored aprons while they learn to cook. The emphasis on learning and exploration is definitely reflected in their recipes, where I've noticed that they occasionally use more complex cooking methods to spice things up (pun intended).
On average, Blue Apron has about 20 recipes in rotation every week and not all of them all meal kit meal. Some of the meals are pre-made meals where all you have to do is heat them up and they're ready to go.
They have a decent selection of meals for their Signature for 2 plan. However, I noticed that the number of choices drops drastically for the Wellness for 2, Vegetarian for 2, and Signature for 4 plans.
If you're looking for some extra variety in your box, Blue Apron also has a wine subscription service where you can opt to get 500ml bottles of wine paired with your meals.
Like HelloFresh, Blue Apron also has a market where you can purchase items a la carte. This includes wine, cookware, spice blends, meal kits, and bundles as add-ons to your box. The protein bundles and extra meal kits are great for when you're having friends or family over since they're geared towards larger groups of people.
Blue Apron takes the quality of its ingredients seriously. All of its produce items are free of genetically modified organisms (GMOs), with some ingredients being organic (depending on availability). That being said, while they comply with the requirements for being organically certified by having only non-GMO produce on their menu, their recipes are not certified USDA organic.
I have never had any issues with ingredients from Blue Apron being spoiled, broken, or mis-measured.
Blue Apron also makes it a point to ensure that all of their animal protein comes from farms and distributors that meet their stringent animal welfare policy. The animal feed the farms they source meat from use must be free of antibiotics, hormones, and animal by-products.
Any seafood used in Blue Apron's recipes has been approved by Seafood Watch, a sustainable seafood advisory list under the Monterey Bay Aquarium. They also work with artisanal purveyors and family-run farms for certain specialty ingredients.
HelloFresh has a bit more going for them in terms of recipe variety, with about 30 different dishes available weekly. I found that their recipes were more crowd-pleasing in nature, featuring mostly comfort foods with occasional international flavors thrown in for the more adventurous palates. This makes them great for families or picky eaters, as their dishes are usually kid-friendly enough to make sure everyone at the dinner table gets fed.
For those who are looking to cover more than just lunch and dinner with a meal kit, HelloFresh has a plethora of add-ons available through their HelloFresh Market, including quick meals, breakfast, sides, proteins, desserts, and snacks. They also have protein swaps and ingredient upgrades available for an additional charge, just in case whatever they have on the menu isn't to your taste.
Similar to Blue Apron, HelloFresh sends high-quality, fresh ingredients in their boxes. Some of their menu items are organic, but not all of them are. HelloFresh also sources hormone-free chicken and pork, as well as sustainable, ocean-friendly seafood that is either farmed or wild-caught.
Like Blue Apron, I've never had any issues with HelloFresh's ingredients coming spoiled, broken, or mis-measured.
It looks like HelloFresh and Blue Apron are evenly matched in terms of ingredients, as they both do their best to provide better quality ingredients that come from sustainable sources. As for recipe variety, while Blue Apron features a great range of dishes inspired by cuisines all over the world, HelloFresh still has the higher ground due to having more options than they do.
Having tried hundreds of different meal kit boxes, recipe variety is one of the most important points to consider when subscribing to a meal kit. Thus, HelloFresh's robust recipe selection wins them this round.
Winner: HelloFresh
Cooking Process & Support Material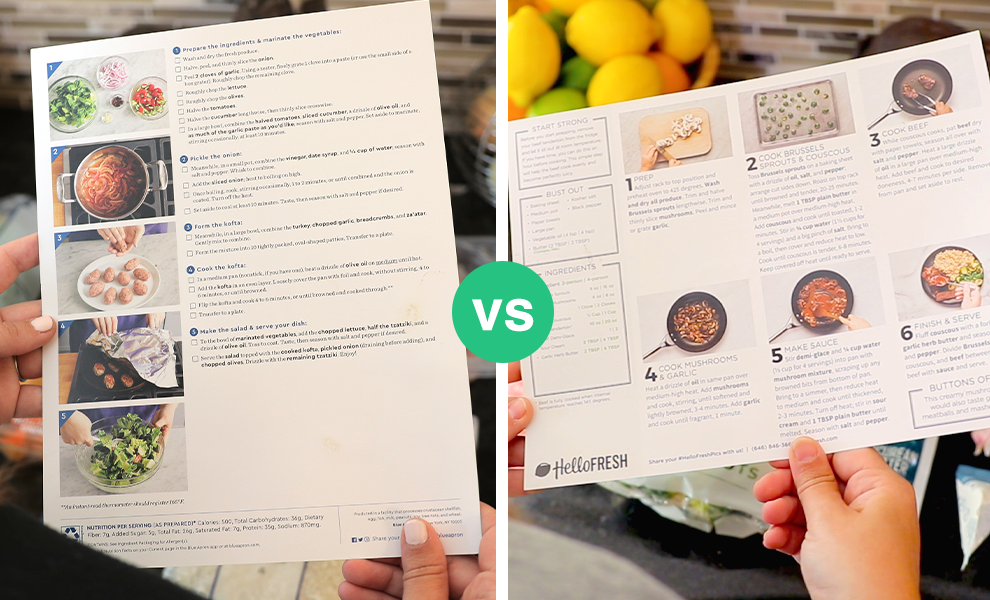 Blue Apron's cooking process for many of their meals is relatively involved, taking up to 45 minutes for the longer recipes. That being said, while some recipes can be a bit complex, I found that they're still accessible to beginners, as they provide clear, concise instructions that are easy to follow. The recipe steps are broken down into convenient, bite-sized stages. I've never felt overwhelmed cooking a Blue Apron meal—even some of the more involved ones.
Each Blue Apron recipe card comes with full-color photos depicting the recipe and the steps required to make it, as well as additional information like the ingredient list and a short description of the dish. If you want even more help with your meal, the recipes on Blue Apron's website and mobile app feature further guidance like videos showing cooking techniques, which are also accessible through Blue Apron's blog and their YouTube channel. I found these extra resources to be helpful in grasping the fundamentals of cooking and making me a better cook in the process.
With Blue Apron, you don't need too much in the way of cooking equipment or pantry staples. In most of the Blue Apron meals I've made, all I've needed was is a pan, pot with a lid, cutting board, chef's knife, baking sheet, and/or some aluminum foil. Keep in mind that they don't include pantry staples like salt, pepper, and cooking oil in their meal kit boxes, so be sure to have those on hand.
As for cooking skills, as long as you can use a knife and follow directions, you should have no problem making Blue Apron's meals. Only rarely have I ever encountered a recipe where I stumbled or got confused as to what I needed to do next. You're expected to know some basic culinary skills and Blue Apron does expect you to multitask, so their meals might not be ideal for completely new cooks.
If clean-up is a chore you'd like to avoid, Blue Apron's easy prep and clean-up meals are probably better for you as they usually only involve one pan or something similar. Their other recipes tend to use multiple pots, pans, and utensils, so you'll wind up with a decent amount of dishes to work through and clean after your meal.
Meanwhile, HelloFresh meals take about the same time to prepare and cook as Blue Apron's meals, taking between 15 to 50 minutes from start to finish depending on your skill level. Although, I have noticed that HelloFresh does offer more quick to cook meals than Blue Apron.
HelloFresh meals still use the standard amount of pots and pans, so you won't save much in terms of time spent cleaning up. However, if you're pressed for time, they also have easy clean-up recipes that only use one pot or one pan as an option.
I found HelloFresh's recipe cards to be very simple and easy to follow, with tips, ingredient lists, and step-by-step instructions featuring full-color photos guiding you through preparing the meal. Like with Blue Apron, you're only required to have basic kitchen equipment, some pantry staples, and some beginner skill in the kitchen.
Other than that, the only challenge you'll face with HelloFresh is timing your cooking so that every component of the meal is ready at the same time, which takes some multitasking and finessing. This can be challenging even for seasoned home cooks, so if you're just starting out with HelloFresh, I recommend reading the recipes thoroughly before you get started and taking it easy so you don't stress yourself out too much while cooking.
This section looks like another tie, as HelloFresh and Blue Apron are relatively similar in terms of their cooking process and support material. Whichever meal kit you decide to go with, you'll be well supported by their detailed recipes, clear instructions, and robust support material available on both their website and mobile app.
Winner: Tie
Convenience & Ease of Use
Having used both Blue Apron and HelloFresh over the years, I found them both very convenient. Let's be honest, meal prepping doesn't get much easier than having all the ingredients pre-portioned and delivered to your doorstep.
Beyond meal kit meals, though, both Blue Apron and HelloFresh offer pre-made meals as well. I found this to be a nice way to offset days when I know I'm going to be busy and don't want to cook. Additionally, they both have marketplaces where you can add more than just meals to your box.
Blue Apron's market lets you order cookware, wine, meal kit bundles, protein packs, and spice blends. They also have add-ons on their menu such as appetizers, sides, and desserts.
HelloFresh has a more expansive marketplace, allowing you to add-on extra meals, desserts, produce, snacks, and even some pre-made breakfast items.
HelloFresh wins this round, simply because its assortment of options beyond just meal kit meals makes it much more convenient to use.
Winner: HelloFresh
Meal Taste, Nutrition, & Portion Size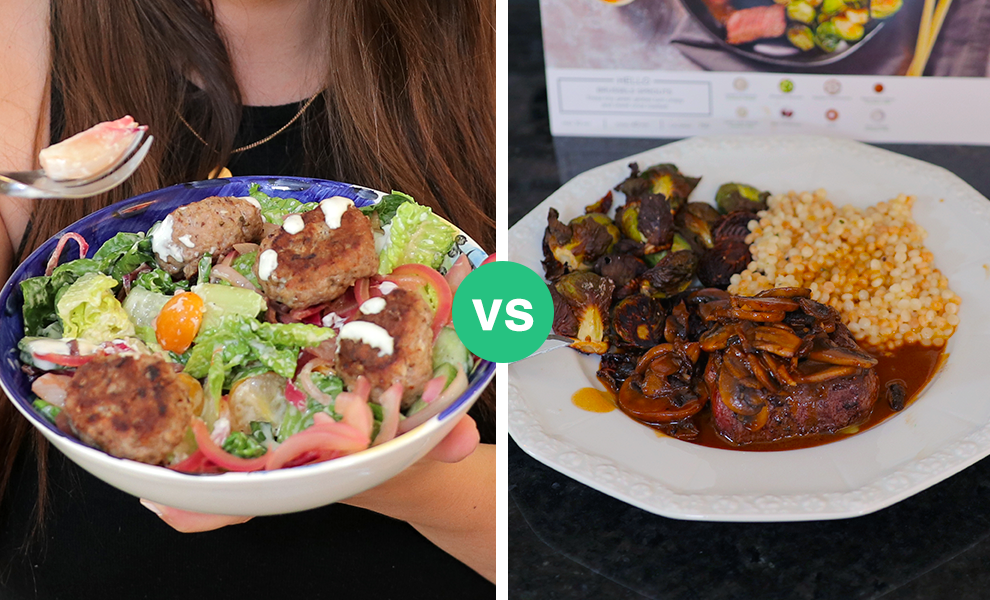 Now let's talk about one of the most important aspects of both Blue Apron and HelloFresh—how the meals actually taste.
The good news is Blue Apron and HelloFresh are two of my personal favorites when it comes to the actual taste of meal kit meals. However, they do this in two different ways.
Blue Apron tends to focus on meals that feel more restaurant-quality. When I bite into one of their meals, it generally tastes like something I would order at a nice restaurant. To give you an example, you're not going to see sloppy joe's or mac and cheese on the menu. You will see meals like Oven-Baked Creamy Tomato & Sausage Pasta with Spinach & Ricotta and Pan-Seared Duck & Orange-Fig Sauce with Roasted Vegetables (both of which are some of my favorite Blue Apron meals).
Most Blue Apron meals tend to be upgraded versions of meals you already know. For example, you won't see a traditional cheeseburger and fries but you will see a Korean-Style Cheeseburgers with Sesame Sweet Potatoes (another favorite of mine).
On the flip side, HelloFresh meals are a bit more extravagant in terms of flavors and a bit heavier. This is because many of the meals are loaded with carbs, salt, and butter (except for those on the "Fit & Wholesome" plan).
The meals I've had using HelloFresh have been some of the tastiest meals I've ever cooked. Some favorites include their Firecracker Meatballs, Organic Chicken & Maple Carrot Power Bowls, and Lemony Spaghetti with Brussels Sprouts.
When it comes to nutrition, Blue Apron features relatively wholesome meals ranging from 500 to 1200 calories per serving. While some meals include simple, refined carbohydrates, most are relatively balanced (according to their nutrition facts).
Some of their meals are tagged with traits like:
600 Calories Or Less: Reduced-calorie meals for the calorie-conscious.
Vegetarian: Meat-free meals that may still contain dairy, eggs, and honey.
Diabetes-Friendly: Meals made according to American Diabetes Association guidelines.
Carb-Conscious: Meals that contain a maximum of 48 grams of net carbohydrates per serving.
Mediterranean Diet: Meals made to adhere to the Mediterranean diet.
WW-Approved: Meals that include Weight Watcher's (WW) points information and focuses on vegetables and lean protein sources.
Plant Forward: Meals with smaller amounts of animal-derived protein.
These tags help you determine whether their meals meet your dietary needs. What's nice is you can adjust your account preferences to select them by default if you so wish.
The serving sizes are fairly generous with Blue Apron, and I've never been left hungry after eating any of their meals. That being said, I've noticed some of their pre-made meals are on the smaller side.
HelloFresh also seems to have a good balance of carbohydrates, protein, fat, and vegetables in their recipes, although their meals seem to be more focused on overall taste. Their recipes can be a bit caloric, coming in at about 500 to 1000 calories or more per serving. Although, that is still slightly lower than Blue Apron's maximum of 1200 calories per serving (most are around 600 to 700 calories).
Some of HelloFresh's meals have high amounts of sodium, fat, and carbohydrates, which is understandable considering their emphasis on delicious meals. If you're so inclined, you can always swap olive oil for butter or pad the meals with more vegetables in some cases. Overall, though, HelloFresh meals are very much filling.
Compared to Blue Apron, HelloFresh has more vegetarian and health-conscious options available, in part due to their larger menu. Combined with their slightly lower calorie count and meals with big portions, HelloFresh wins another round.
Winner: HelloFresh
Dietary Accommodations
Neither Blue Apron nor HelloFresh offer meal plans that cater to specific diets, like gluten-free, vegan, or keto. While Blue Apron does have meals that are WW-approved as well as Mediterranean diet meals, diabetes-friendly, carb-conscious and calorie-conscious meals, they cannot supply you with enough meals to make breakfast, lunch, and dinner every day of the week.
Blue Apron's menu is a little more limited than HelloFresh's, and if you opt for their Wellness for 2 or Vegetarian for 2 meal plans, there really isn't much to go with, which is a bit disheartening. The more dietary restrictions you have, the fewer options available for you to choose from, and you might have trouble filling your box with meals if the recipes Blue Apron has for the week don't pique your interest.
Meanwhile, HelloFresh accommodates certain diets like pescatarian and vegetarian diets, but like Blue Apron, there isn't much more to go with beyond avoiding certain proteins and allergens. Also like Blue Apron, if you are on a specific diet, you're unable to get a full day's worth of food (only lunch and dinner).
HelloFresh does let you know if their meals contain any common allergens, though, and they have more specific diet options in general due to the size of their weekly menu. They also have more protein swap options available than Blue Apron does, so even if you're not a fan of a particular protein, you can always swap it for a different kind that you prefer.
It's important to note that both HelloFresh and Blue Apron package their ingredients in facilities that process common allergens, so they're not suited to individuals with severe food allergies or intolerances.
While it was a close round, HelloFresh squeaks out another win due to the fact that they can accommodate specific diets (vegetarian and pescatarian).
Winner: HelloFresh
Delivery
Like most meal kits, Blue Apron and HelloFresh both deliver to the contiguous United States, except for Hawaii and Alaska. With Blue Apron, there are a couple of restrictions where they don't deliver on Mondays. I thought this was a little strange, considering HelloFresh allows deliveries on all days of the week.
Since HelloFresh offers delivery of all their offerings on all days of the week, this round goes to them.
Winner: HelloFresh
Customer Support & Order Modifications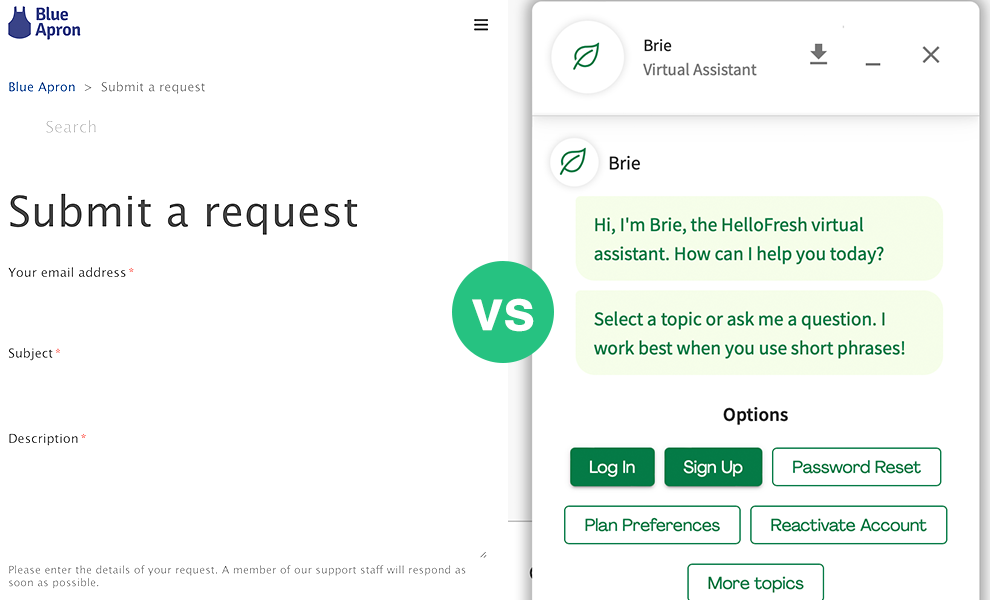 Blue Apron's customer service can be reached through multiple channels, namely an online contact form, email, phone, and chatbot.
As for HelloFresh, they can be reached using their phone line, chatbot, and an online contact form. I liked having the option of a live waiting time alert with their phone support, as it's reassuring to know when I'll actually get to speak with someone.
Modifying your order is pretty easy with both Blue Apron and HelloFresh, as all you have to do is log in to your account and make the changes on their website or in-app before their cut-off time, which is six days before for Blue Apron and five for HelloFresh.
The real difference lies in canceling your order. With HelloFresh you can simply cancel in your account settings. Although it is a little annoying that they make you answer a couple of mandatory questions before you go. Be sure to make sure you actually click the final "cancel subscription" button to seal the deal once you're done with the questions.
Meanwhile, Blue Apron's cancellation process is a bit more involved, as you have to email cancellations@blueapron.com to do so. After you've sent the email, they will send back instructions for how to fully cancel.
I found that the extra steps for canceling your Blue Apron subscription were largely unnecessary, as I much preferred not having to get in contact with anyone like with HelloFresh. Combined with HelloFresh's convenient live waiting time alert for their customer service phone line, HelloFresh wins this round.
Winner: HelloFresh
Packaging Sustainability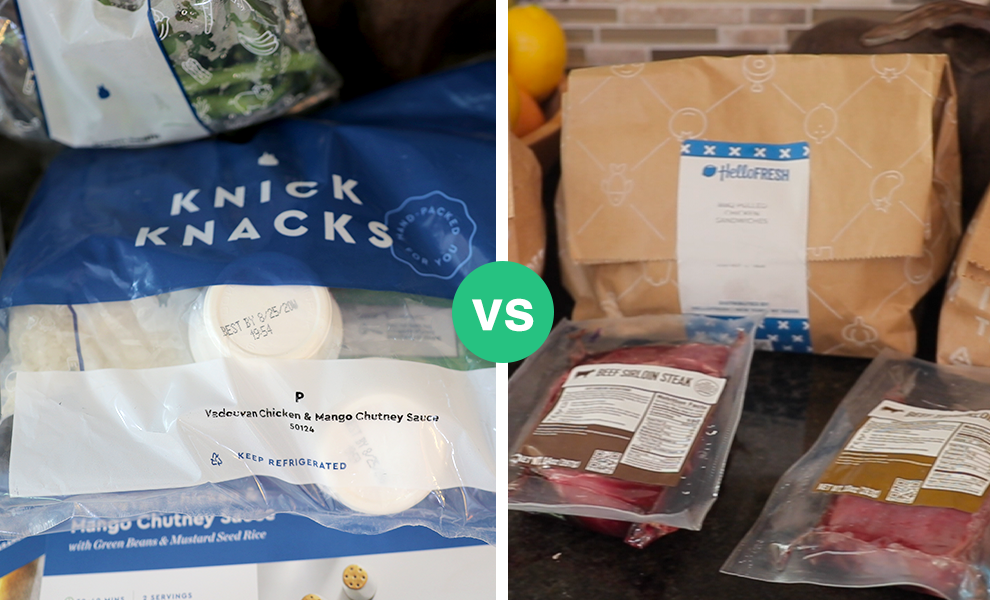 Meal kit services often get a bad rep for their packaging even though they reduce overall food waste and trips to the grocery store. With that said, Blue Apron and HelloFresh take extra steps to make sure their packaging is sustainable.
Most of Blue Apron's packaging is recyclable, and their cool packs can be cut open and drained into the sink (once fully melted). They provide detailed instructions for recycling on their website.
While Blue Apron uses a fair amount of single-use plastic in their meal kits, they have a goal to use 100 percent recyclable, reusable or compostable packaging by 2025, which isn't too far from now. I'm excited to see how their packaging will change as the deadline for their goal looms nearer.
Compared to Blue Apron, HelloFresh packs more of its items in paper bags, which cuts down on the use of plastic to portion ingredients and group meals together. Like Blue Apron, HelloFresh also does a good job of letting you know how to recycle their packaging.
Both HelloFresh and Blue Apron are carbon neutral, meaning they offset the greenhouse gasses that they emit in the production and shipping of their boxes.
HelloFresh is the winner of this round due to the fact that their boxes use less single-use plastics than Blue Apron.
Winner: HelloFresh
The Winner Is...
| | | |
| --- | --- | --- |
| | Blue Apron | HelloFresh |
| Ordering Process | TIE | TIE |
| Meal Plans & Cost | ✔ | |
| Recipe Variety & Ingredients | | ✔ |
| Cooking Process & Support Material | TIE | TIE |
| Convenience & Ease of Use | | ✔ |
| Taste, Nutrition, & Portion Size | | ✔ |
| Dietary Accommodations | | ✔ |
| Delivery | | ✔ |
| Customer Support & Order Modifications | | ✔ |
| Packaging Sustainability | | ✔ |
| Total Wins | 1 | 7 |
We've made it to the end!
Having tallied up their wins, losses, and ties, it looks like HelloFresh wins by a landslide. From what we've seen in this comparison, HelloFresh really does live up to their crowd-pleasing claims. It's no wonder they're so popular, as they're a very well-rounded meal kit delivery service.
HelloFresh is great for a wide range of eaters— from big families to simple picky eaters—as they have an impressive selection of recipes featuring meals that cater to a variety of palates. Since most of their meals take, on average, around 30 minutes to make, they're also great for people who are trying to save time and energy in their weekly meals.
If you're an adventurous eater or new cook looking to broaden your cooking skills, Blue Apron is likely going to be a better choice for you. I quite liked Blue Apron's gourmet, premium menu, and their wine subscription options are pretty unique as no other meal kit I've tried offers wine pairings. While HelloFresh is good for families and people with young kids, Blue Apron is better suited to couples that don't have many dietary restrictions and are looking to learn how to cook more upscale recipes.
With that said, both of these meal kits are not suitable for those who have severe allergies or intolerances, as they both prepare and package their meals in facilities that handle allergens. If you need more customization and modifications, it's best to go with a meal kit service that caters specifically to these needs.
Have a question about HelloFresh or Blue Apron I didn't answer in this article? Let me know in the comments below!