Food Box HQ Note: We've recently updated this article with new information about the Home Chef and HelloFresh, including updated pricing and taste feedback from our most recent reviews of Home Chef and HelloFresh. We want to make sure our readers have the most up-to-date information, so we hope you find these updates helpful in your decision-making process.
Meal kit services can be great for a lot of different reasons. Not only are they convenient, but they also make it easier to eat better by taking the tedium and stress of planning meals out of the equation.
Seeing as how we collectively spend over 30 minutes per day (adding up to over 15 hours per month) on just prepping, cooking, and cleaning up when it comes to mealtime, it makes sense why someone might want to rely on a meal kit to make their life easier.
Today there are more meal kits than ever to choose from. Two of the most popular being Home Chef and HelloFresh.
If you're trying to understand the differences between them and find out which is right for you, you're in luck. In this article we're putting Home Chef and HelloFresh in a head-to-head comparison to see how they compare from A to Z. We'll cover everything from the ordering process, to the food, all the way to getting the meals on the table. Plus, since we've thoroughly tested both of these meal kits, you'll be able to get a firsthand look at what our experience was like using them.
A Brief Background Of Our Competitors
Home Chef and HelloFresh both came to be in the early 2010s, and with the small two-year age gap between them, it's going to be interesting to find out out how these relatively similar meal kit giants compare against each.
Before jumping into how they each work, let's go over a quick overview of each.
Quick Overview Of Home Chef
One of the most popular meal delivery services on the market, Home Chef started when their CEO, Pat Vihtelic partnered with a chef back in 2013 to craft easy-to-follow recipes to be both crowd-pleasing and approachable for the most novice cooks out there. They're best known for their impressive customization options, which we'll touch on a little later, as well as making their recipes versatile enough to satisfy the pickiest of eaters.
Five years after their start, Home Chef was acquired by Kroger for a deal worth $700 million, expanding their reach into grocery stores and making their meals available in Kroger supermarkets nationwide.
Quick Overview Of HelloFresh
When most people think "meal kit", the first brand that comes to mind is HelloFresh. This is not only because they've spent a significant amount of money on advertising over the years but they're also one of the very first meal kit services to gain popularity in the United States.
A little older than Home Chef, HelloFresh was founded in 2011 in Germany. It quickly rose through the ranks to become one of the biggest meal kit delivery services in the world, distributing meals to 16 different countries to date.
Like most other meal kit delivery services, including Home Chef, HelloFresh sends you pre-portioned ingredients with step-by-step instructions on a weekly basis.
Besides the standard meal kit delivery, they now also have HelloFresh Market, where customers have the option to add on groceries and pre-made meals to their weekly meal kit order.
Ordering Process
Home Chef emphasizes flexible, customizable meal plans. This sets them apart from many other meal kits we've reviewed in the past that may not always have versatile options.
With Home Chef, we start off the signup process by selecting either Home Chef as it is with their regular variety of meal kits, or Home Chef's Fresh & Easy plan, which features meals that are low prep or no prep (for example, oven-ready meals).
There's also an option to select dietary preferences for the calorie-conscious or carb-conscious, as well as a section dedicated to opting out of commonly avoided foods like different meats, shellfish, tree nuts, mushrooms, and peanuts. I've noticed more and more meal kits start to offer this level of personalization, which helps accommodate picky eaters and those with food allergies.
You can also take a quiz where Home Chef asks you how much you enjoy cooking, the types of meals that excite you, your regular daily meal prep levels, and your cooking priorities. I found that this quiz does a good job at helping them predict what to put in my meal kit every week. Though it's not perfect, the more I've used Home Chef, the more it's learned my meal preferences and better predicted what I'll enjoy.
Once you've built your plan based on how many people you're feeding, you'll be able to set up billing information and get started on picking your meals. What I particularly like here is even if you're not ready to commit just yet, they allow you to check out their menu beforehand. Though this may seem like an obvious feature, some meal kits we've reviewed in the past have chosen to hide their weekly menu and only allow you to view it after you've purchased a subscription.
Home Chef's menu shows you online recipe cards that immediately display potential allergens, and you can click into the recipe itself where important information such as nutritional information, cooking steps, required equipment, and ingredients are listed. This level of transparency regarding recipes is a great plus for customers who need to be careful about exactly what it is that they're eating.
As for HelloFresh, the sign-up process is nearly identical, with only very minor differences. You get to pick between the following meal plans when you first get started:
Meat & Veggies
Veggie
Family Friendly
Fit & Wholesome
Quick & Easy
Pescatarian
After that, you decide on the number of meals you're getting for the week and for how many people, then it's smooth sailing towards picking your meals past the registration page, billing address page, and payment page.
I found getting detailed information about the meals available for HelloFresh to be a little tougher than it is with Home Chef. For example, if you click on the menu button, you'll get to see the recipes they have in rotation for the next six weeks, but you won't be able to click on them to find out more about them (as you can with Home Chef).
I was able to find a workaround by inputting the name of any meal they list on the menu for the week into their recipes page here. It's not totally clear why they make people jump through an extra hoop just to get more information on the meals.
In general, I found that both Home Chef and HelloFresh have intuitive, straightforward steps to signing up, with the one key difference being the accessibility of recipe information. Home Chef wins this round as their user-friendly, transparent, and customizable sign-up system lets you get all the information you need with ease before your purchase, which is especially important for customers with dietary restrictions.
Meal Plans & Cost
Home Chef and HelloFresh have a sliding scale for their meal plans, but Home Chef kicks it up a notch by allowing you to order meals to feed up to six people per week.
Many popular meal kit services we've reviewed in the past only accommodate families of up to four people. This means if you've got a big household, Home Chef has you covered.
Listed below you'll find our cost breakdown for Home Chef and HelloFresh respectively:
| | | | | | |
| --- | --- | --- | --- | --- | --- |
| Home Chef | | | | | |
| 2 people | | | | | |
| Meals per week | 2 | 3 | 4 | 5 | 6 |
| Total servings per week | 4 | 6 | 8 | 10 | 12 |
| Cost per serving | $11.99 | $9.99 | $9.99 | $9.99 | $9.99 |
| Shipping | $10.99 | $10.99 | $10.99 | $10.99 | $10.99 |
| Total cost per week (including shipping) | $58.95 | $70.93 | $90.01 | $110.89 | $130.87 |
| Average cost per serving (including shipping) | ~$14.73 | ~$11.82 | ~$11.36 | ~$11.08 | ~$10.90 |
| 4 people | | | | | |
| Meals per week | 2 | 3 | 4 | 5 | 6 |
| Total servings per week | 8 | 12 | 16 | 20 | 24 |
| Cost per serving | $9.99 | $9.99 | $9.99 | $9.99 | $9.99 |
| Shipping | $10.99 | $10.99 | $10.99 | $10.99 | $10.99 |
| Total cost per week (including shipping) | $90.91 | $130.87 | $170.83 | $210.79 | $250.75 |
| Average cost per serving (including shipping) | ~$11.36 | ~$10.90 | ~$10.67 | ~$10.53 | ~$10.44 |
| 6 people | | | | | |
| Meals per week | 2 | 3 | 4 | 5 | 6 |
| Total servings per week | 12 | 18 | 24 | 30 | 36 |
| Cost per serving | $9.99 | $9.99 | $9.99 | $9.99 | $9.99 |
| Shipping | $10.99 | $10.99 | $10.99 | $10.99 | $10.99 |
| Total cost per week (including shipping) | $130.87 | $190.81 | $250.75 | $310.69 | $370.63 |
| Average cost per serving (including shipping) | ~$10.90 | ~$10.60 | ~$10.44 | ~$10.35 | ~$10.29 |
| | | | | | |
| --- | --- | --- | --- | --- | --- |
| HelloFresh | | | | | |
| 2 people | | | | | |
| Meals per week | 2 | 3 | 4 | 5 | 6 |
| Total servings per week | 4 | 6 | 8 | 10 | 12 |
| Cost per serving | $12.49 | $9.99 | $9.79 | $9.79 | $9.79 |
| Shipping | $10.99 | $10.99 | $10.99 | $10.99 | $10.99 |
| Total cost per week (including shipping) | $60.95 | $70.93 | $89.31 | $108.89 | $128.47 |
| Average cost per serving (including shipping) | ~$15.23 | ~$11.82 | ~$11.16 | ~$10.88 | ~$10.70 |
| 4 people | | | | | |
| Meals per week | 2 | 3 | 4 | 5 | 6 |
| Total servings per week | 8 | 12 | 16 | 20 | 24 |
| Cost per serving | $9.79 | $9.49 | $9.29 | $9.29 | $8.99 |
| Shipping | $10.99 | $10.99 | $10.99 | $10.99 | $10.99 |
| Total cost per week (including shipping) | $89.31 | $124.87 | $159.63 | $196.79 | $226.75 |
| Average cost per serving (including shipping) | ~$11.16 | ~$10.40 | ~$9.97 | ~$9.83 | ~$9.44 |
Food Box HQ Note: Keep in mind that meal kits are constantly changing their prices. These numbers are correct as of publishing this article but if you notice they've changed, please let us know in the comments below and we'll update everything as soon as possible.
Home Chef starts out being more affordable than HelloFresh in the beginning, especially when it comes to smaller quantities like feeding two people up to three meals a week.
As the serving quantity goes up, though, HelloFresh's average cost per serving goes down much more than Home Chef. In fact, on the biggest 3 plans that HelloFresh offers, the average cost per serving (including shipping) is under $10 per serving. None of Home Chef's meals come in under $10 per serving (on any plan).
Though HelloFresh lets you pick from six different meal plans when you sign up, Home Chef gives you the option of omitting specific ingredients or taking their quiz. Both ways of selecting meal plans are great, but I really enjoy Home Chef's versatile approach and extra choices.
Home Chef has discounts for health care workers, teachers, and students, while HelloFresh has discounts for health care workers, military, veterans, and students. There are also discounts available for first-timers, where users can get a certain amount off spread out across a set number of boxes. You can find the most up-to-date coupons for Home Chef here and the most up-to-date coupons for HelloFresh here.
When comparing Home Chef and HelloFresh in terms of cost and plan options, it's clear that HelloFresh comes out on top. While Home Chef does offer larger meal plans to feed up to six people per week, HelloFresh's average cost per serving is lower across most plans, making it a more budget-friendly option.
Recipe Variety & Ingredients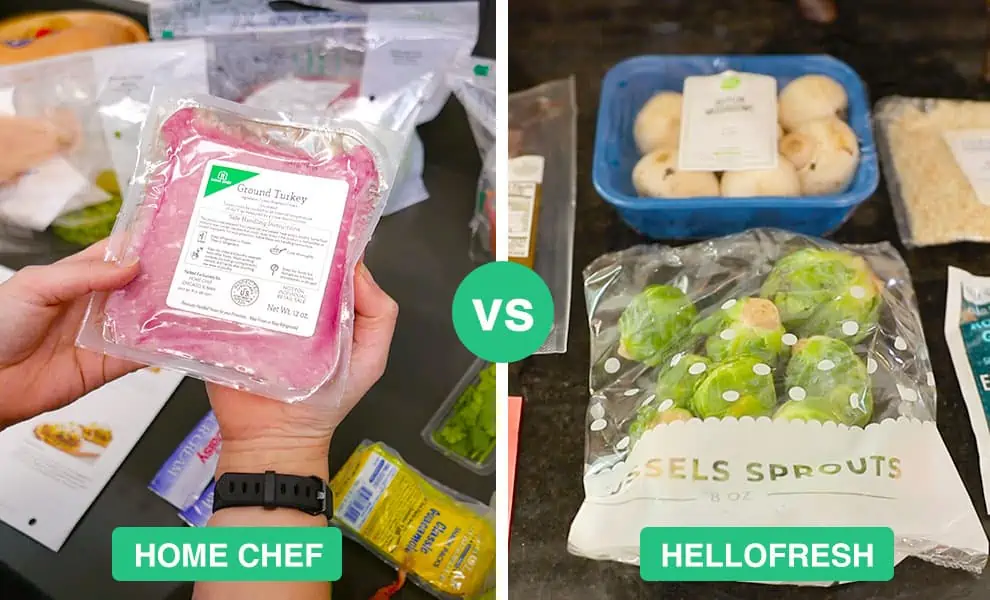 Both HelloFresh and Home Chef give you the option of going with their recommended selection, which is tailored to the preferences set during the sign-up process. You can also edit the weekly menu to pick the recipes that catch your eye. Having used both meal kits for extended periods of time, I've noticed they both do a good job at "guessing" what meals I'll enjoy.
With Home Chef, almost every meal is customizable to your preference. They allowed me to swap proteins and even go without protein in certain cases, making the meals vegan. I was able to choose from around 30 recipes every week, with extra add ons like desserts, snacks, and additional protein portions (such as chicken breasts, beef patties, and more).
Home Chef has different meal options tagged for differing meal styles, among them being:
Primary meal kit dishes, which are classic meals with simple recipe instructions.
Culinary collection, which are gourmet options with higher quality ingredients.
15-minute meal kit, where the ingredients come pre-chopped.
Grill-ready, which include prepared ingredients that come ready to be grilled.
Oven-ready, which include pre-chopped ingredients that come in a tin pan.
Fast & fresh, which include fresh ingredients that don't need any preparation or cooking.
4-serving meals, which are recipes made in one large pan.
Regardless of which meal option you go with, I found that the majority of Home Chef's meals aim to please as many people as possible. I've seen everything from traditional comfort foods to classic meat and veggie dishes on their menu.
As for their ingredients, Home Chef sources most of their produce locally, with organic or antibiotic-free meat options available for those who want them. Their meals come free of any preservatives, additives, and fillers since most of their dishes are made with minimally processed whole foods.
HelloFresh offers a good variety of dishes that are categorized according to meal type and diet. They have everything from plant-based and vegetarian options to and low-carb and pescatarian options available. Like Home Chef, they also offer "quick and easy" meals and calorie smart meals.
I found HelloFresh's meals to be a bit more adventurous than Home Chef's. Their recipes are also a little more worldly, with healthy representation from a decent amount of cuisines. They have up to 35 recipes rotated weekly.
Like Home Chef, HelloFresh also has gourmet options and gives you the ability to swap or double up on portions (for a small upcharge). In my time using their meal kit, I noticed that some of HelloFresh's ingredients are name brand, and some of their fresh produce items are also organic.
HelloFresh meals also come free of any preservatives, additives, and fillers as well as using minimally processed ingredients (when possible).
Though, what I particularly like is that HelloFresh takes steps to ensure animal welfare. For example, they abide by the Broiler Chicken Welfare Policy, which means that by 2024 they will...
Provide the chickens they use more space.
Improve the environments that their chickens live in.
Ensure the chickens are humanely cooked.
Verify their suppliers follow this new animal welfare policy.
In addition to meals, both meal kits offer a market for add-on meals, snacks, desserts, and more. Whereas Home Chef offers a few dozen options, such as some snacks like a charcuterie board and desserts like chocolate lava cake, HelloFresh takes things to another level. Their marketplace features a much wider range of options, including pre-made meals, appetizers, breads, snacks, sides, desserts, and even bundles where you can buy breakfast items in bulk. However, what I really appreciate about HelloFresh's market is that they usually discount certain items (which is something I've never seen Home Chef do).
HelloFresh and Home Chef both offer a great selection of recipes, with a lot of variety and options available for add-ons and ingredient substitutions. While both these services work with reputable suppliers to ensure quality, sustainable, and ethical produce ends up on your table, HelloFresh takes it a step further by disclosing a list of suppliers on their website as well as taking steps to ensure the welfare of the animals used in their meals. Because of this, as well as their more robust market for add-on foods, HelloFresh wins this round.
Cooking Process & Support Material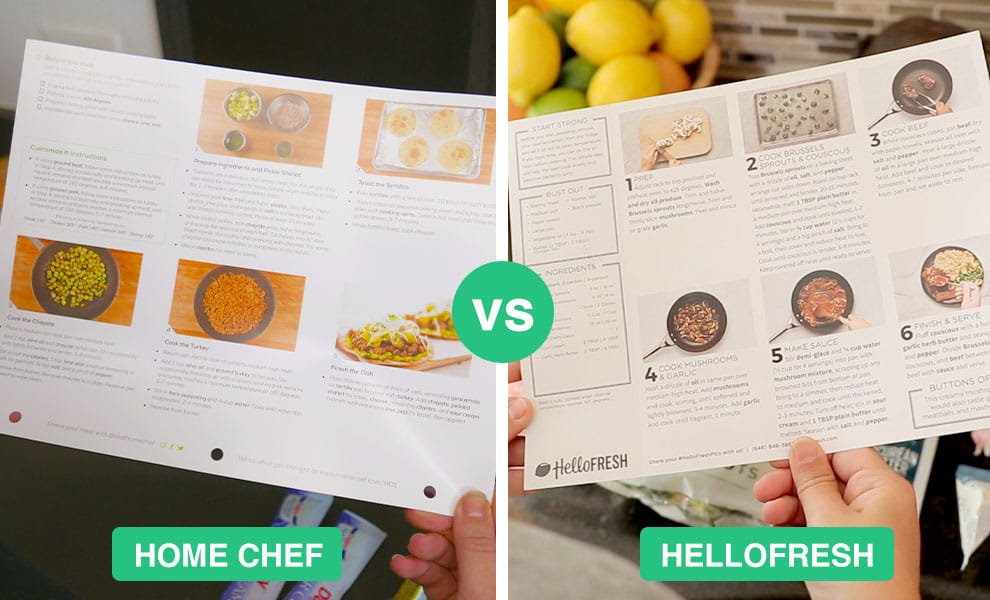 Home Chef sends you a weekly box of neatly packaged, pre-portioned ingredients that are ready for cooking whenever you are.
Each meal also comes with a detailed recipe card that includes nutritional information, spice level, shelf life, cooking time, recipe difficulty, required equipment, a list of ingredients needed to make the dish, and step-by-step instructions complete with full-color pictures for reference.
If you've misplaced your recipe card, Home Chef has them available on their website and on their mobile app. The app also contains your order information, a section for logging meals, and a handy bookmark function to keep track of the meals you liked.
I found the recipe cards easy to follow, with clear instructions including additional instructions for any substitute proteins you might have opted for.
Based on my experience, I don't believe you need to be a whiz in the kitchen to be able to make Home Chef meals. All you need are some basic cooking skills like knowing how to cut things into pieces with a knife as well as some knowledge of basic culinary terms, and you're set.
Do be aware that your kitchen should be stocked with some basic cooking equipment like a knife, a cutting board, a couple pots and pans, and a colander. You'll be able to figure out what exactly you need during the cooking process from the required equipment list in the recipe cards. You'll also need to have certain pantry ingredients on hand like oil, salt, and pepper. However, if you find yourself with a recipe that needs extra oil or seasoning, that's usually provided for in the meal kit box.
I've never found myself surprised by something I needed when cooking a Home Chef meal, be it seasoning or cookware. Most of what's needed is either included or should be a pantry staple. In fact, sometimes Home Chef goes above and beyond in what they include in their box. For example, their oven-ready meals come with a tin to cook the meal in. This isn't something they necessarily have to include but it definitely makes the cooking and clean-up process easier.
If you're using HelloFresh for the first time, their recipe cards come with a binder so you can keep them safe and use them again at a later time. It's worth noting that Home Chef also sends a binder to store your recipe cards with. My wife and I actually still use the Home Chef recipe binder we received in our first box back in 2017.
Detailed in the HelloFresh recipe cards are important details like step-by-step instructions, photos in full color so you'll know what each step is supposed to look like, a list of required kitchen tools and staple ingredients as well as an estimated preparation time. Like Home Chef, HelloFresh also has all of their recipes online.
A convenient feature that sets HelloFresh apart from Home Chef is their color-coded recipe cards that match the bags in which the ingredients are packaged. This seemingly small detail makes finding the right ingredients incredibly simple, as you can just look for the color that corresponds with the recipe card. It's a small touch that adds to the overall convenience of using HelloFresh, and it saves time when you're trying to quickly find the right ingredients for your meal.
HelloFresh and Home Chef recipe cards are very similar and cater to home cooks with minimal skill levels. However, HelloFresh's recipe cards do an excellent job of taking more involved steps and breaking them down into simple and easy-to-follow instructions. Even if a recipe seems complicated at first glance, their instructions are purposefully designed to make the cooking process as straightforward as possible. Some of their recipes may include sub-steps or multitasking, but their cards provide clear guidance on how to manage these tasks so that even novice chefs can get meals on the table with ease. While it's true that these steps may seem overwhelming for someone new to cooking, I found that HelloFresh's recipe cards are still accessible and designed to make the cooking experience enjoyable.
While both meal kit services provide easy-to-follow recipe cards, I found that HelloFresh's instructions are slightly more user-friendly and cater to all skill levels. They have made a lot of updates to their recipes over the years, making them even more accessible and customizable with their "HelloCustom" feature. HelloFresh's updates and customization options make it the winner of this round. They prioritize making their recipes easy to follow and accessible for all home cooks, which is a crucial aspect of the meal kit experience.
Meal Taste, Nutrition, & Portion Size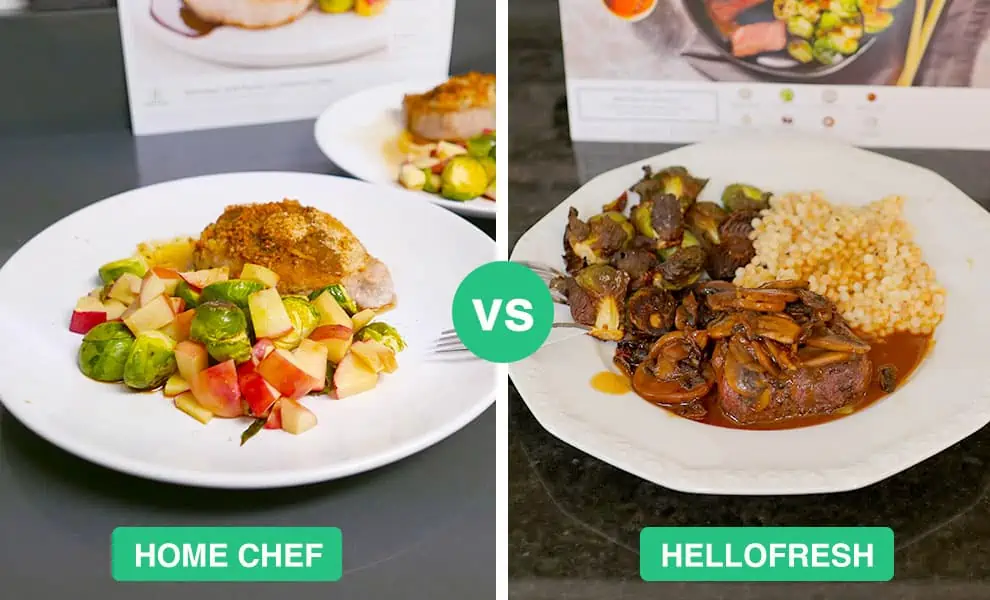 For the most part, I was very happy with the meals that I received from both Home Chef and HelloFresh—but for different reasons.
I found Home Chef's meals tend to lean more traditional. That's to say, many are recipes that my wife and I would make at home (given we had the ingredients). In fact, some of our favorite meals from Home Chef we've replicated on our own.
Here's a look at some meals I've enjoyed over the years:
HelloFresh, on the other hand, tends to lean into meals that are a bit bolder than your average lunch or dinner. In my opinion, they do a great job of putting interesting twists on dishes to really take them to the next level.
Here's a look at some of my favorite HelloFresh meals my wife and I have made over the years:
I've noticed a definite flavor difference between HelloFresh meals and Home Chef meals. The main one being HelloFresh's meals tend to taste more restaurant quality while Home Chef meals tend to feel more homestyle.
That's not to imply one is better than the other. Rather, I believe HelloFresh's meals are better suited for those who prefer to take some risk when tasting new foods whereas Home Chef is better suited to less adventurous eaters.
Only on rare occasions have I had a meal from either Home Chef or HelloFresh that disappointed me. What's usually happened in these cases comes down to a miscommunication in the recipe—whether I've read it incorrectly or for some reason it just didn't cook right according to the directions. However, overall, I've been less disappointed with HelloFresh. Their meals have consistently impressed me with interesting and unique flavors that I wouldn't necessarily think to combine on my own. I appreciate how they often include different spice blends and sauces to add depth to the dishes, and I've discovered new ingredients that I wouldn't have tried otherwise.
When it comes to the nutrition of the meals from Home Chef and HelloFresh, it's worth noting that while they both do a good job of keeping things balanced, I've noticed that some of HelloFresh's meals are higher in sodium and calories than I'd like. However, for the most part, both meal kit services offer meals that contain a meat, vegetables, and a complex carb, making it easier to get a balanced meal without having to put too much thought into it. I never found it too hard to find balanced meals with either Home Chef or HelloFresh but HelloFresh does tend to lean more towards comfort foods. While those comfort foods taste good, they may not be the healthiest.
That being said, with the amount of variety each has on their menu, you can really eat however you prefer. For example, I like to eat meals that are as nutritionally balanced as possible during the week and cheat one day on the weekend with an unhealthy-ish meal (e.g. pizza or cheeseburger). Both Home Chef and HelloFresh give me the ability to do this with their menu.
As for portion sizes of meals, I've found that HelloFresh offers meals with slightly bigger portions. In my recent review of HelloFresh, I noticed that many meals my wife and I received seemed larger than what I've had from Home Chef in the past. For example, in this video review you can see all of the extra leftover food we had after making two servings.
Overall, Home Chef and HelloFresh do a good job when it comes to taste, nutrition, and portion size. However, based on my personal preferences, I would have to declare HelloFresh as the winner of this round. While Home Chef offers traditional homestyle meals that are easy to replicate, HelloFresh offers bold and innovative flavors that are as close to restaurant-quality as I've ever had. While it's worth noting that some of their meals may have higher levels of sodium and calories than I prefer, I particularly appreciate the generous portion sizes that HelloFresh offers. In my opinion, the larger servings add to the overall value of their meal kit, and it's always great to have leftovers for lunch the next day.
Dietary Accommodations
While Home Chef has a relatively impressive set of options you can customize your meals with, it's definitely not easy to fill your box if you have a restrictive diet like vegan, keto, or paleo. HelloFresh isn't any better.
If you do follow a specific diet, you'll have to do some leg work to find out if the recipe you have in mind can be adjusted to meet your needs, and you might also have to opt-out of some ingredients and substitute them with something more diet-friendly.
With Home Chef, you can filter out common allergens when choosing meals, which we think is pretty handy for anyone who abides by specific diet restrictions. However, while Home Chef tries to prevent allergen cross-contamination, they disclose on their website that their facilities are not allergy-certified so cross-contamination might still occur.
The ingredients you can opt to omit include:
Shellfish
Tree nuts
Peanuts
Soy
Wheat
Dairy
Pork
Beef
Poultry
Fish
Honey
Eggs
Mushrooms
You can also opt for calorie-conscious and carb-conscious meals, so I think that Home Chef has most of its bases covered when it comes to allowing customers to customize based on general dietary preferences.
HelloFresh also lets you select specific meal plans where you can opt-out of certain proteins, but not quite to the same level as Home Chef does.
While HelloFresh doesn't accommodate highly specific or restrictive diets, I found that the meal plans that they offer do lean into some general diets. To give you an example, they do have a vegetarian option that you can select when creating your plan. They also have a "Fit & Wholesome" option, in which the meals tend to be lower in calories and carbs than many of their other meals.
HelloFresh wins this round. Even though both meal kits give you the ability to filter out specific ingredients, HelloFresh takes it up a notch by allowing you to focus your menu by specific general diets (vegetarian, plant-based, pescatarian, low carb, low calorie).
Food Box HQ Note: Before moving on, I do want to note that both Home Chef and HelloFresh aren't suited to those with severe allergies or strict dietary needs.
Delivery
The order and delivery processes for Home Chef and HelloFresh are relatively simple. Every week, you select the meals you want and pick your preferred delivery date, and voilà, your meal kit box arrives on your doorstep within the set time window allocated by the delivery company (usually Fedex or UPS).
Home Chef and HelloFresh both deliver everywhere in the United States except Alaska and Hawaii. When you key in your billing address and zip code, you'll usually be able to find out whether these meal kit subscription services deliver to you.
Home Chef is also available at select Kroger grocery stores. To find a participating location near you, check out their website's store locator feature.
This round is Home Chef's win, as their boxes are available in some grocery stores in addition to their regular online meal kit service.
Customer Support & Order Modifications
If you're looking to modify or cancel your subscription, Home Chef's cut-off time is at noon CT on the Friday prior to the next delivery week, while HelloFresh requires that you get any changes done by midnight PST five days before your next delivery day. In this case, HelloFresh is a little more forgiving and flexible with last-minute order changes. You can still make changes after Home Chef's cut-off time by calling customer service, but that's a bit of an extra hassle.
In general, making modifications, substitutions, cancellations or any other changes to your order is an easy, user-friendly experience whether it's with Home Chef or with HelloFresh. With HelloFresh, however, you have to answer a few mandatory questions and click through some incentives (to try and win you back) before you're allowed to actually cancel your subscription. Home Chef also has a survey you can fill out when they're canceling their subscription, but it's optional.
As for customer support, both Home Chef and HelloFresh have pretty robust and informative FAQ sections. If customers have additional questions, they can be reached by contact form (email), phone, and chat.
On a more personal note, using Home Chef was one of the few times I had an issue with a lost meal kit box. It ended up being delivered around 3 days after it was supposed to arrive on my doorstep and, because of that, all of the food had spoiled. When I reached out to Home Chef, they asked a few questions about the box (to ensure the food has actually spoiled) and once verified, they immediately sent another.
While I haven't had a specific reason to contact HelloFresh, I've heard from others that they will credit or refund you based on damaged or spoiled foods.
As with most of the big meal kits, the customer service and order modification process with both HelloFresh and Home Chef is pretty standard across the board. Because of that, this round ends in a tie.
Packaging Sustainability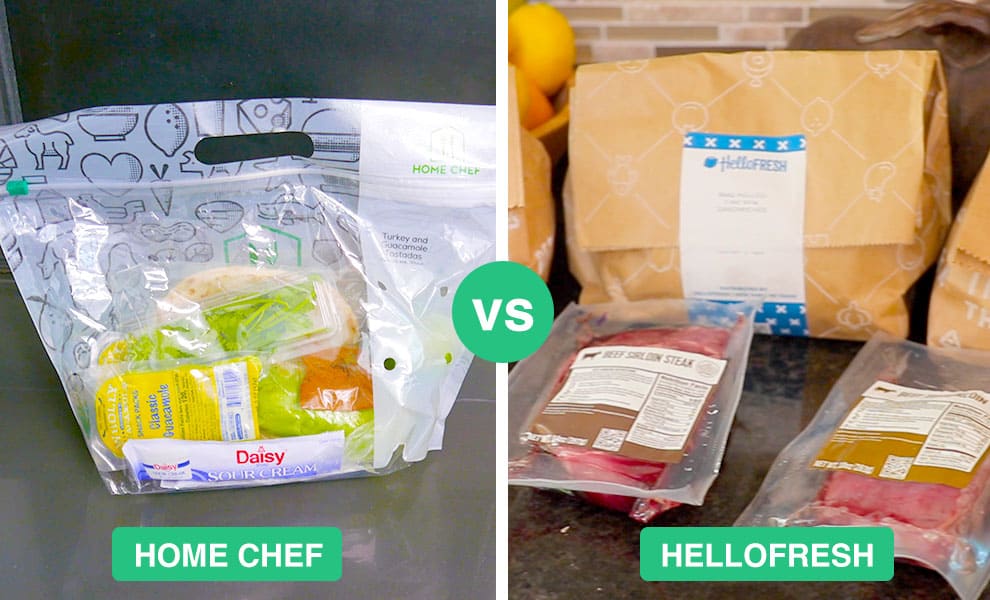 Home Chef delivers their boxes in mostly recyclable packaging. Each meal is packed in a large plastic bag, and all items go into a partially recycled cardboard box with a recycled cotton and denim insulated liner that has to be separated before recycling. They say that you can dispose of the contents of the ice packs in the trash and recycle the plastic liner. However, I tend to keep and reuse them whenever I can.
HelloFresh, on the other hand, takes it one step further with the sustainability of their packaging. Like Home Chef, they pack their meals inside a cardboard box using an insulated material to keep everything cool in transit. That insulation is usually ClimaCell—in warmer weather they switch to a thinner material. ClimaCell is non-toxic and made of 90% paper and corn starch, making it very easy to recycle and environmentally friendly.
What's more, HelloFresh offsets 100% of their carbon footprint.
While HelloFresh and Home Chef both have eco-friendly, recyclable packaging and participate in initiatives that reduce their environmental impact, the cherry on top for me was HelloFresh's willingness to take sustainability to the next level with some more thoughtful packaging materials and a carbon-neutral initiative.
The Winner Is...
With the votes tallied, it was a very close call. However, it looks like HelloFresh is our winner!
| | | |
| --- | --- | --- |
| | Home Chef | HelloFresh |
| User Experience | | |
| Ordering Process | ✔ | |
| Meal Plans and Cost | | ✔ |
| The Food | | |
| Recipe Variety and Ingredients | | ✔ |
| Cooking Process and Support Material | | ✔ |
| | | |
| Meal Taste, Nutrition, and Portion Size | | ✔ |
| Dietary Accommodations | | ✔ |
| Important Details | | |
| Delivery | ✔ | |
| Customer Support and Order Modifications | TIE | TIE |
| Packaging Sustainability | | ✔ |
| Total Wins | 2 | 6 |
As both HelloFresh and Home Chef cater more to the tastes of the general public, they're not great for those who have severe allergies or strict dietary requirements due to the risk of cross-contamination. That being said, I still believe they're both solid choices if you are looking for a traditional meal kit. I've personally had great experiences with both.
Home Chef's meals are good for those who like classic or more traditional dishes that feel homestyle.
Meanwhile, HelloFresh is great for cooks who want to expand their culinary horizons and try uniquely delicious meals.
Have a question about HelloFresh or Home Chef that wasn't answered in this article? Let me know in the comments below!