When it comes to wine, my biggest issue is where do I start. Not only are there so many varieties of wine but there seems to be so many sub-variations between where those wines are made, the year they're from, etc.
It can be so overwhelming walking into a wine store that I often just pick a wine that fits my budget with a wine label I like. Or, to be safe, I end up just sticking with the same old wine I've drank for years (Catena Malbec).
Then I was introduced to the vast world of "wine clubs" and met Winc (formerly called "Club W") in 2017. I was intriguided by this wine of the month style club and decided to try them out. Well, a lot has changed with their service since 2017 so we've updated this review to reflect all of those changes.
In this review we'll uncover every important detail about Winc — from how it works to our personal experience — in order to help you find out if it's the right wine club for you.
Let's jump into it!
A Brief History of Winc
Winc originally started out in 2012 as a wine club called "Club W", which was basically a watered down version of what it has become today. They would send a box of wine curated to your taste based on the results of a quiz to determine your palette.
When they first started out, they would buy wine in bulk to resell. However, since making the switch to "Winc", they've adjusted to make all of their wines in-house (more on that below).
The founders behind Winc are more than just wine lovers. Co-founder Brian Smith is a sommelier, which is an impressive feat considering there are only 172 in the world!
Fast forward to today and Winc has become one of the 50 top wineries in the world, which they accredit to making decisions based on customer data.
How Does Winc Work?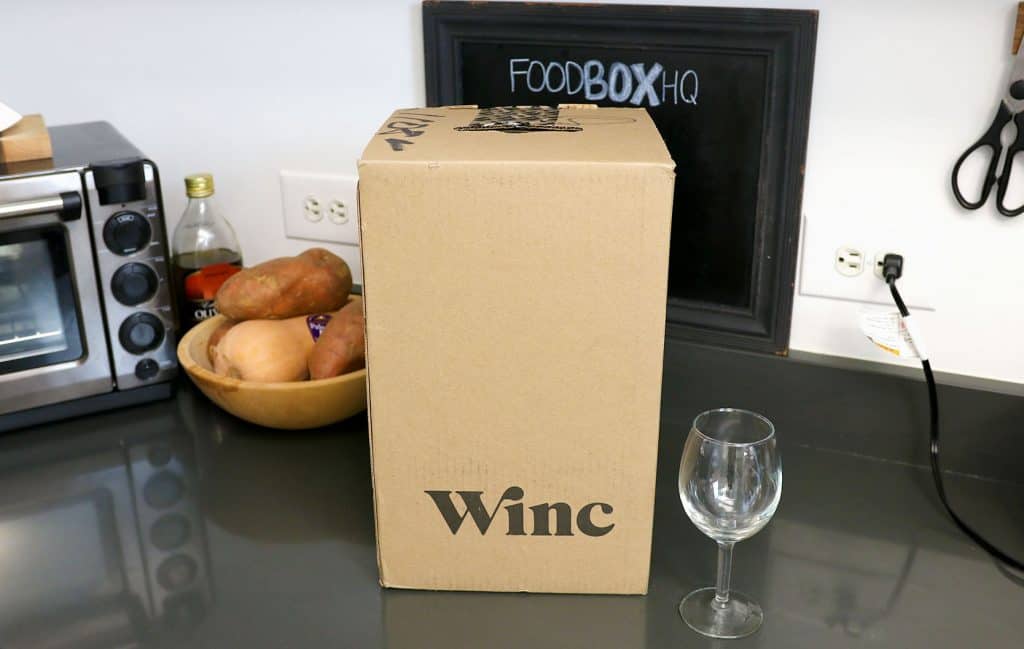 Winc is both a wine club and a traditional online wine seller. This means you can become a club member and have wine shipped to you at a discounted rate on a regular basis or you can simply order one-off wines without any commitment.
As mentioned above, what sets Winc apart is that they're much more of a tech company than many would assume. They have a vast amount of data based on customer buying habits and even recommend wines to fit your personal profile.
For example, when I first signed up for Winc, they asked a handful of simple questions to better understand my wine and taste preferences:
How do you like your coffee?
How do you feel about salt?
Do you like citrus?
Do you like earthy flavors like mushrooms and black truffles?
Do you like blackberries, blueberries, and raspberries?
How adventurous are you when it comes to food and drink?
These questions, while seemingly random, help Winc understand what flavors you prefer, how acidic you like your wine, if you prefer sweet vs tart, and more.
Based on my answers, Winc surprisingly paired me up with the varieties I prefer — full-bodied reds and some light whites.
However, the initial quiz is just the start. They'll begin recommending wines to you, which you can either accept and add to your cart or decline. The more you interact and engage with these selections, the better Winc becomes at recommending wines to you as you proceed. This is also true after you receive and taste your wines.
Once you actually get to drink the wines they send you, you'll have the ability to rate them. This further helps Winc learn and adjust its recommendations to fit your specific tastes.
Types of Wine Winc Offers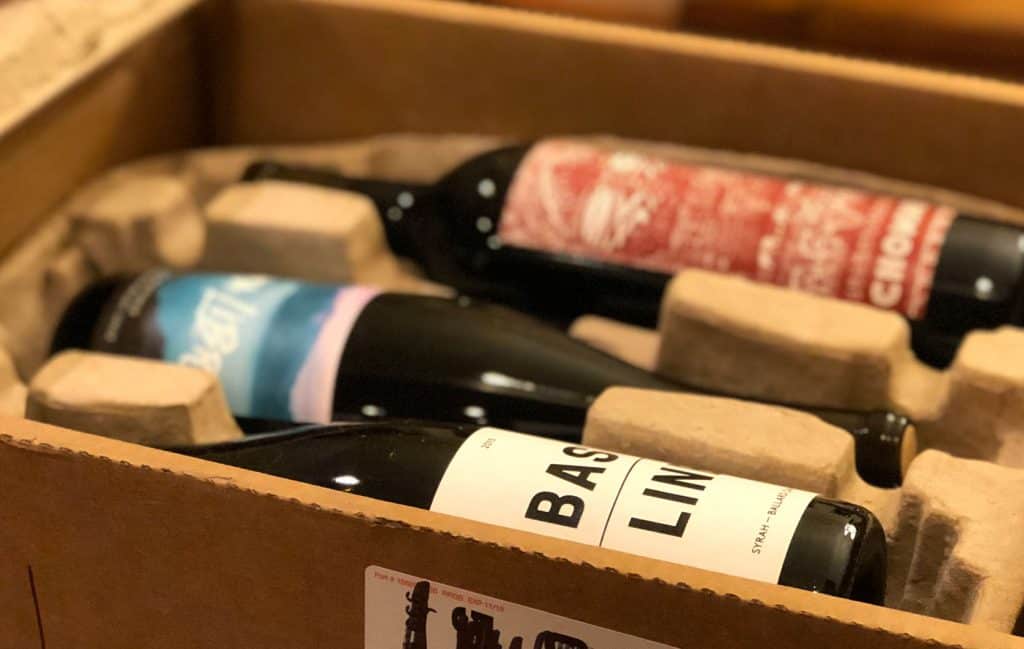 Winc offers all of the wine types you're likely to see at any wine store: Red, White, Cider, Rosé, Sparkling, and they even offer Vegan wine.
They also offer a ton of different varietals. Here are some of their top ones:
Chardonnay
Cabernet Sauvignon
Pinot Noir
Sauvignon Blanc
Riesling
Pinot Grigio
Merlot
Zinfandel
Viognier
Grenache
Malbec
Unlike other wine clubs, Winc is one of the few that actually produces the wines they sell. This means all of the brands you see on their website actually fall under the Winc brand "umbrella". Here are some of the most popular brand names you're likely to see:
Pacificana: This brand is their flagship. These are all going to be classic California styles of wine with the most selection available including Chardonnay, Merlot, Zinfandel, and Cabernet. Winc uses this brand to give back to the environment. They teamed up with 1% for the Planet to give 1% of all Pacificana sales to benefiting and preserving the environment.
Wonderful Wine Co.: This is one of Winc's newer and more popular "niche" wine brands. All of the wines under this label are going to be sustainable and have zero additives. They'll also be naturally low in sugar and carbohydrates, making them a great option for those following keto or paleo diets.
Baseline: This is one of Winc's more premium labels. They started this brand by allowing Ryan Zotovich, the director of winemaking at Winc, to create his "dream wine". They poured all of their time, energy, and money into everything from choosing the right growers to the barrel selection. This line also happens to carry my favorites from Winc.
Field Theory: This is another one of their "premium" labels that began as a project to celebrate unique varietals from unfamiliar places. Wines under this label will be small lots from rare vineyards. These are for the more adventurous drinkers.
Winc Membership
One pivot that Winc made after relaunching from Club W is that they split their service up from only being a club/membership to now being a club and also allowing one-off orders.
The membership process is a bit different than other wine clubs (and slightly confusing). Instead of having a fixed plan that you sign up for, their membership gives you monthly credits which are redeemable for wine each month. So, Winc's membership technically costs $59.95 per month but that money is turned into credits, which you'll see in your account, and can use at checkout to pay for your wine. Make sense? It can be a little confusing.
There are two main benefits to becoming a member. First, you'll receive exclusive discounts on all of the wine compared to what they sell for to non-members. I've noticed it's around a 10% discount, or more. Second, shipping is free to members who order 4 bottles or more.
Navigating The Winc Site

In general, when it comes to wine, there are a ton of options to choose from. This is often what trips me up and confuses me when I walk into a wine store. Where do you even start? Beyond reds and whites, there are tons of varietals, and even more regions to consider. Once you've decided on all of that, you have to consider flavors… Do you like it sweet, tart, fruity, woody?
With the amount of options out there when it comes to wine, it's important to be able to navigate any online wine shop properly. This is where I think Winc shines. Navigating and finding the right wines on their site is a breeze.
First, when you hit their site, you'll have the ability to filter your search by the following:
Wine Type: Which specific type of wine you like. Red, white, rose, sparkling, cider, etc. They have 39 different options.
Wine Varietals: This will be everything from chardonnay to merlot.
Region: This will be the region the wine came from. You can select from California, France, Italy, Argentina, Spain, and Portugal.
Body: Light or full.
Winemaking Specifics: This is where you can really niche down what you want in a wine. They have wines that are low alcohol, low sugar, low sulfur, natural, organic, sustainable, and vegan.
Sweetness: This is where you can choose the level of sweetness you prefer in your wine — dry to sweet and everything in between.
Once you've narrowed down your wine and filtered by your preferred selections, they take it a step further on each individual wine page by listing out the specifics of each wine. This includes:
Body
Sweetness
Alcohol Content
Winemaking Specifics
Flavoring
What The Wine Pairs Well With
How To Serve It
Member Ratings
With hundreds of wines to choose from on their site, I'm impressed by the extra step they took to make the navigation as user-friendly as possible and include all the relevant information needed to best understand the wines.
Delivery
Since we're dealing with alcohol, delivery works a bit differently than normal. First thing to note is that there will be some restrictions.
Unfortunately, Winc can only able to ship to states that have laws that permit the shipment of wine directly to consumers. The states that are unable to accept orders are the following: Alaska, Alabama, Arkansas, Delaware, Hawaii, Kentucky, Michigan, Mississippi, Oklahoma, Rhode Island, South Dakota, and Utah. For those who live in Michigan, you'll want to contact Winc for assistance because there are specific shipping restrictions in place. They currently do not ship to South Dakota due to carrier limitations.
There are also certain zip codes within Florida, New Hampshire, Connecticut, and West Virginia that do not allow shipments. If you live in any of the zip codes in these states that don't allow for delivery, you can contact Winc to discuss possible shipping options with them to see if they can work out a solution.
All packages from Winc will be labeled as containing wine. They will require an in-person signature from someone who is 21 years of age or older. You'll want to keep this in mind when choosing your shipping address because someone will need to be present to accept the order. This means you cannot ship your order to a P.O. Box. You can, however, choose a business address if possible. The carrier will not leave the package unattended, even if they have a signature for you on file.
Another option is to arrange for your apartment building's doorman to sign for it on your behalf. Or you can have the package delivered to your local FedEx office for pick-up. They'll hold your package for five business days. You just have to present your identification and tracking number in order to retrieve it from them.
The good news about delivery with Winc is that shipping is absolutely free when you order four or more bottles of wine. If you purchase three bottles, you're looking at a shipping fee of $9. I recommend keeping this in mind when placing your order because you can always add a cheap fourth wine if you'd like to avoid paying for shipping costs. Their cheapest wine starts around $12.
Once your order ships out, you'll be provided with a shipping confirmation email that contains a tracking number. This will allow you to keep an eye on your package every step of the way as it heads to your home.
Monthly orders are processed on the same day every month, which is the date you joined the Winc membership. If you're curious, you can log into your account and find your order date there. Your order will ship within two business days of processing. Shipping usually takes three to seven business days. I've noticed it has never taken longer than 5 days to receive our Winc box.
Packaging
Glass bottles are being shipped so it's incredibly important that they stay as safe as possible when being delivered. It's not like food, that can take a little bump or two in transit.
Thankfully, the Winc box that holds the wine is both effective and efficiently built. Upon opening it, you'll notice there are some pamphlets. One will be information about the wine and another will be an advertisement insert. They use advertisements in their boxes to offset the shipping costs (like many meal kits do).
The wine itself is packaged tightly in a cardboard tube that fits the specific amount of wine that you have. In all of the Winc boxes we've received, there have never been any issues with broken bottles.
The box itself is built with a handle on the outside, which makes carrying the wine safe and easy. Rather than lugging it around with two hands, you can carry it with one.
What We Received In Our Most Recent Winc Box (June 2020)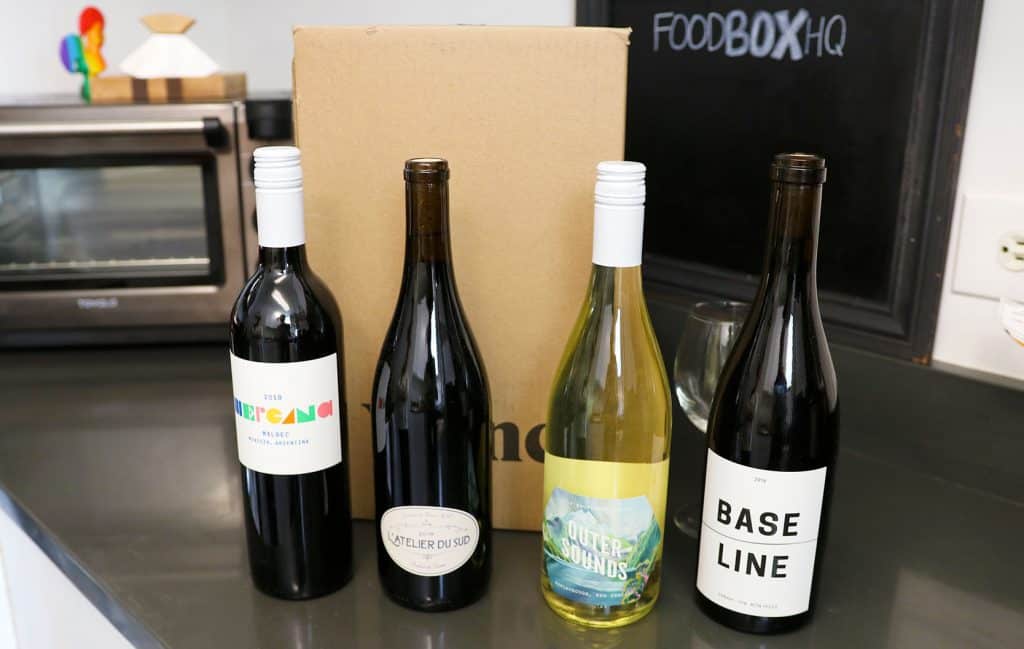 Now let's get to the good stuff — our wine! Here's what we received in our most recent box…
2018 Mercana Malbec
This was a round and fruity wine, which surprised me for a malbec. I tend to find them a bit more acidic and "spicy". In addition to plum, red cherry, and vanilla, it had some savory notes as well.
2019 Outer Sounds® Sauvignon Blanc Marlborough
I'd categorize this white as the perfect summer evening drink. One sip, with eyes closed, and you'll feel like you're on a beach. It has a refreshing and tropical feel with notes of guava, lime, and pineapple. For someone who doesn't particularly like whites (they aren't my first choice) I enjoyed this one!
2016 Baseline® Syrah
I've had wines from Winc's Baseline label before and was really impressed. This one didn't disappoint. It was a complex and textured wine with notes of blackberry, dark plum, and pepper. We had this with steak and it was delicious!
2018 L'Atelier du Sud® Red Blend
If you're looking for a wine that tastes like "wine", this is it. It has all of the stereotypical wine tasting notes — blackberry, slightly earthy, and a bit of rosemary. If you add this one to your box, be sure to let it breathe for 20+ minutes before enjoying. I actually ended up liking it more the second glass I had, after dinner.
Winc Wine Education
One of the fun things about wine (besides drinking it) is learning about how it was made, what is goes with, where it's from, etc.
When we first tried out Winc in 2017, they used to send you a booklet with information about all of the wines in your box. You can see us opening it here. Unfortunately, Winc does not send out that booklet anymore. I've noticed that they occasionally will include a pamphlet with information on a specific wine brand they carry but nothing about all of the wines will be included in the box they send out.
However, all of the information about the wines you purchase are available on their website. And the information they include, which we covered above, is pretty extensive.
Is Winc Environmentally Friendly?
It may surprise you but Winc is one of the most environmentally friendly services we've reviewed that isn't a meal kit. Here's why…
You know those foil wrappers covering the cork that come on most wines and champagnes? They aren't really necessary and mostly function as a decoration on the wine bottle. Winc has completely done away with them. This not only saves you money, it also saves massive amounts of that foil going into landfills.
As mentioned above, their packaging is almost entirely cardboard, which is 100% recyclable. No single-use plastics are used inside the packaging.
The wine bottles, once drank, can all be washed out and recycled as well.
They use a "just-in-time" inventory strategy, which means the wine bottles only travel when they are 100% complete and ready to be shipped to your door. This reduced their carbon footprint by around 50%.
They support sustainable farming and winemaking by opting for organically grown grapes and minimal intervention during the production process.
In addition to all of the above, they have a partnership with 1% for the Planet where 1% of all of their Pacificana sales go to helping the environment.
Pros and Cons of Winc
Now that we've reviewed all aspects of Winc, from their wine delivery service to our personal experience, let's go over the top things we love and what we don't…
Winc Pros
You're not locked into a subscription. If you just want to sample their wine before diving in and committing to a membership, they make it easy to do so.
They make their own wine. The dirty secret behind many wine clubs is that they purchase cheap bulk wine wholesale and resell it with a different label. This is a practice known as "private labeling".
They're environmentally friendly. I was pretty surprised to learn that Winc is one of the most environmentally friendly wine clubs out there.
They have a huge selection. Any wine variety you can think of, from merlot to rosé, Winc likely has it.
They use their data to constantly improve. Not only do they use your engagement with their wine (rating, buying, etc.) to improve your personal recommendations, they use all of their customers data to understand which wines to produce and which to remove.
Very simple to navigate and find your preferred wines. Since there is so much selection, being able to find the right wines for you is important. They have an easy to use interface, especially when compared to some other big online wine shops.
Winc Cons
No "ultra" high-end wines. The highest priced wine you'll find on Winc is from their Baseline line of wines at around $50. So if you're a wine snob looking for luxury bottles of wine, this isn't the site for you.
Their membership credit system can be a little puzzling. I found that their membership system is a little confusing. Your credits are replenished each month but sometimes the wines you purchase don't equal the credits you have in your account. This leads to credits "rolling over" into the next month.
Does Winc Offer Any Coupons or Promo Codes?
Yes, they do! Here at Food Box HQ we want to help you save the most amount of money on your purchase. We've scoured the web to find you the best coupons Winc currently has available:
Use coupon code "follow35" for 35% off your first order.
We include a few different coupon/promo codes for you to use just in case one doesn't work. If you find none work or you've found a better one available, please let us know in the comments below!
Final Thoughts: Who Is Winc Right For?
From starting out as a basic "wine of the month" club to becoming one of the largest purveyors of wine online, Winc has made a lot of progress since we first reviewed them.
Their service really is perfect for the beginner to intermediate wine lover. They have an incredible selection of high-quality wines that are not overly expensive. Plus, they manufacture all of their own wines in-house (unlike others who just private label theirs).
What I love most about Winc is that they are pushing the bounds of what wine can be. For example, their Wonderful Wine Company line of wines is committed to sustainability and clean ingredients — organic fruits, pesticide-free, low-carb, and low-sugar.
My one gripe with Winc is that I wish that they would make credits system a little easier to use. Maybe they even do away with credits altogether and just allow members to pay a monthly fee to receive a deep discount on wines.
Overall though, based on the progress they've made over the years, Winc has become one of the best membership wine clubs online.
Our Past Winc Reviews
Have a question about Winc we didn't answer? Have you tried their wine club before? Let us know in the comments below!