Offering farm to table meals, Paleo on the Go delivers healthy Paleo and AIP (Autoimmune Protocol) meals directly to your door.
Don't have time to pack a lunch but still want to lead a Paleo lifestyle?  There are tons of clean eating lunch options for you to take to work.
Aren't big into meal prep but still want yummy dinners waiting for you when you come home? Potpies, seafood pasta, and tacos are ready to go.
Trying to get your autoimmune disease or digestive disorder under control? There are meal plans specifically targeted for your ailments.
Not only does Paleo on the Go whip up culinary masterpieces with the help of their talented Executive Paleo Chef, but they are a brand to trust with official Paleo certifications. You're looking at a subscription box service so revered that they've been featured in Paleo Magazine, as well as the popular paleo book "The Paleo Approach".
Let's take a dive to see what this team of Paleo chefs and bakers have to offer you!
How to Join & Sign-Up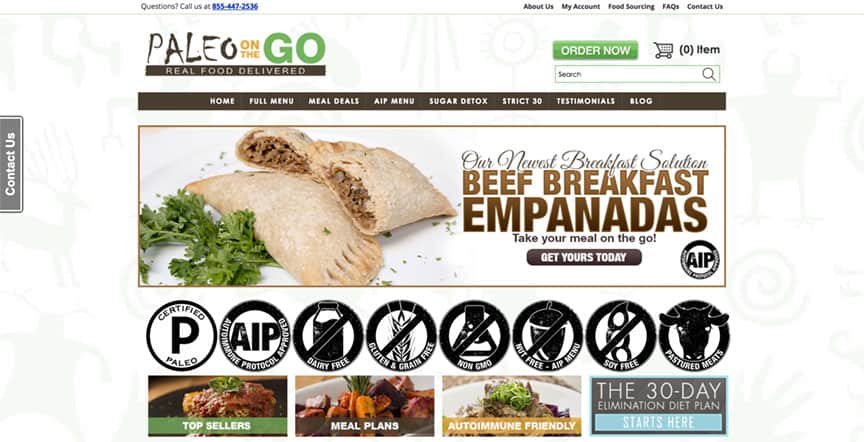 Paleo on the Go subscription boxes do things a little differently than other food subscription boxes on the market. Instead of locking yourself in to a 1-year or 6- month contract of regular deliveries, you simply choose meals or meal plans as you go. From a la cart meals all the way up to a 30-day meal program, you can tailor your deliveries to match your lifestyle throughout the year.
Here are the ordering options Paleo on the Go offers.
Option 1: 'Choose as you go' individual meals
Instead of committing to an entire meal plan, you can enjoy the ease of selecting whatever your appetite craves. There is a minimum order, however, of $99 so you'll be choosing several meals for the week.
Choose dishes a la cart such as…
Paleo Banana Nut Muffin
Butternut Squash Lasagna with Beef
Rosemary Garlic Roasted Root Veggies
Loaded Baked Sweet Potato Soup
Option 2: Meal Subscription Plan ($333 Value For $300)
Meal subscription plans still allow you to choose your meals a la cart, but in larger quantities at once. Order in quantities that meet $300 or $500. The benefit here is that you get around a 10% discount and free shipping.
Option 3: Weekly/Monthly Meal Deals
Let Paleo on the Go map out your meals for you with a preset menu. Here are a few examples of meal deals that are offered…
Paleo Meal Deal - 14-complete meals, 2-treats, 2 broths and a bonus soup -$295
Creamy Chicken and Bacon Alfredo
Zesty Salmon Burgers with Avocado Sauce and Sautéed Kale
16 oz. Certified Organic Free Range Chicken Bone Broth
Melt in Your Mouth Blondies
30 Day Elimination Diet Plan - 60 Meals Provided- $1,299
2 meals per day
Elk Burger with Mushrooms paired with Collard Greens with Bacon
Bacon Wrapped Meatloaf with Cauliflower Mashers
Sweet Potato Hash with Breakfast Sausage
Pesto Zucchini Noodles with Wild-Caught Gulf Shrimp
There is also an Autoimmune Protocol Friendly Meal Deal set on offer.
Types of Food Offered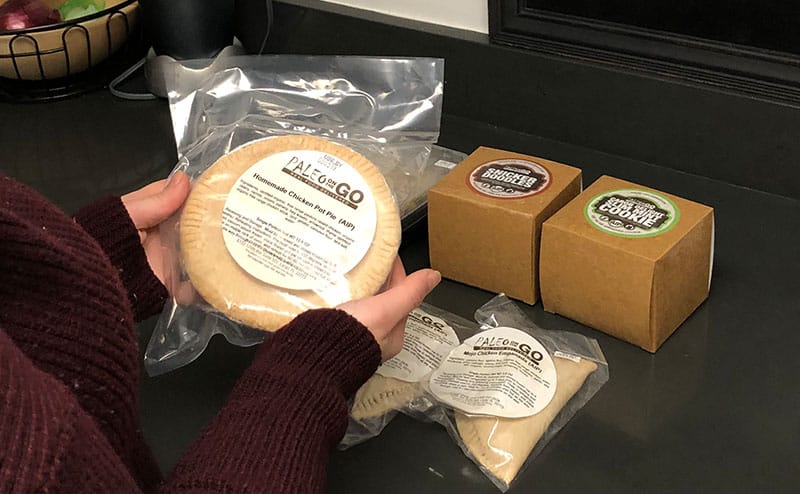 You'll find specialty food options for breakfast, lunch, dinner, snacks, and even dessert. They've got conveniently organized food categories for Paleo Desserts, Paleo Sauces, Paleo Breakfasts and more, which make filling up your cart a breeze.
No matter your diet or nutritional need, Paleo on the Go has food suggestions to match it.
Sugar Detox → Riced Cauliflower
Strict 30 Detox → Bangers and Mash
AIP Friendly → Pot Pies
You get the picture...
Each and every meal that you order has been designed to provide a proper balance of nutrition and carefully measure portioned sizes:
Protein Portions with veggies and sauce- 6-10 ounces
Soups and Stew Portions- 16 ounces
Pot Pies Portions- 18.5 ounces
Vegetable side portions- 6-8 ounces
In addition to pre-made meals, this subscription site also offers some hard-to-find paleo food options such as raw sugar-free bacon, raw chorizo ground sausage, and paleo AIP tortillas. Yum.
Delivery
Paleo to Go delivers anywhere in the USA - even Alaska, Hawaii, & Puerto Rico. You've got options in both price and shipping time, so let's break them down…
Guaranteed 2-day Shipping for continental US and
$20 - Continental US
$60 - Hawaii, Alaska, & Puerto Rico
Guaranteed 1-day Shipping
$15 - Florida
Spend $333 and your delivery ships for free (except Hawaii, Alaska, & Puerto Rico)
Upgrade to Overnight Shipping for only $20 extra on top of your regions standard shipping price
Saturday deliveries are an extra $20 per your request. No delivery on Sundays.
Once your order has been placed, you'll receive a confirmation email complete with a tracking number.
Packaging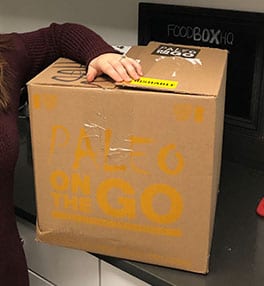 Each order will be packaged and shipped together. The meals come frozen so you can expect an insulated cooler with dry ice that will help to slow the thawing process.
Inside your box, you'll find that the meals themselves come packaged in microwavable and oven-friendly containers with a plastic film and instructions for cooking.
Lastly, the meals are packed inside of a recyclable material that cushions and insulates them while in transit. So you don't have to worry about them spoiling or bouncing around in transit.
Freshness of Food
Meals will show up at your door pre-made and recently frozen. This means no cooking to worry about and no big mess to clean up.
Every ingredient from bison to bacon and coconuts to cocoa is sourced directly from small farms that are organic and environmentally conscious. When it comes to sauces and oils, you can expect them to be free of preservatives, MSG, and highly processed vegetable oil.
You can trust that these meals were made in a real kitchen by real chefs that follow health and safety regulations. In fact, Paleo on the Go has their official Food Production Permit Issued By The Florida Department of Agriculture.
Ease of Cooking
If you've got an oven or a microwave, you're all set. Meals come pre-made by the expert chefs at Paleo on the Go and frozen for delivery. Unbox, unwrap, and following the reheating/thawing instructions that come with every meal.
Typically, when you receive your meals you can thaw them overnight and get to cooking the next day. Alternatively, you can store them in your freezer for a later date.
Taste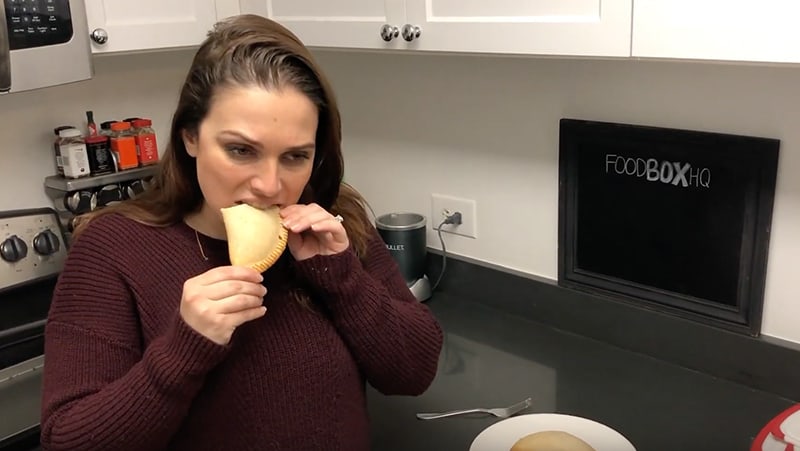 Naturally, you might be hesitant to order frozen, pre-made meals online. The saving grace here is that your meals have been made with fresh with quality ingredients, and fly off the shelves so quickly that they are as fresh as frozen can get. In the case of soups and stews, flavors might even be brighter and more delicious as the flavors have had the chance to blend together.
In our initial box that we reviewed, we received the following...
Brisket with AIP BBQ Sauce & Roasted Garlic Mash
Snickerdoodles
Carob Delight Slim Mint Cookies
Mojo Chicken Empanada
Beef Breakfast Empanada
Homemade Chicken Pot Pie
We first tried both of the empanadas. They were very quick and easy to cook — just had to throw them in the oven and wait. In terms of taste, they were pretty on-par with a regular empanada, which is surprising considering the dough is a speciality paleo dough.
What really surprised me was how good the beef brisket ended up turning out. It was one of the most tender and juiciest beef briskets I've ever had.
Other than the meals, the two cookies we had were incredible. I didn't have high hopes for a paleo-specific cookie but both the snickerdoodle and slim mint cookies blew me out of the water. Seriously, you have to try these to see how good they really are.
Final Thoughts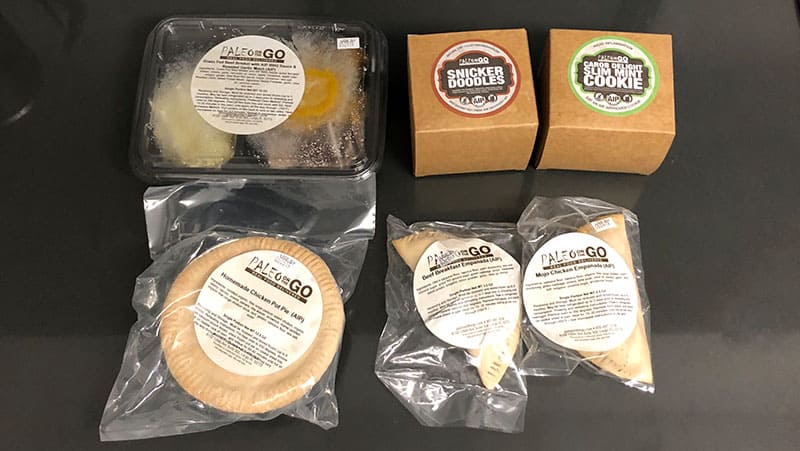 The biggest problem for people living with API, gluten allergies, or a dairy intolerance is keeping up with keeping healthy. It's a daily battle to find the time and the ingredients to meet your dietary needs and restrictions while still allowing yourself to enjoy your favorite foods. If you can relate, then Paleo on the Go subscription boxes are an option worth checking out.
Don't be afraid to think outside the box with these meals in terms of how this food service can fit into your life. With a freezer shelf life of 1 year and 5 days, many Paleo on the Go customers take these meals traveling on a road trip and heat them up in their hotel room. Other customers decide to make the transition to paleo gradually by slowly incorporating these meals into their weekly diet along with mainstream meals.
The best part is you don't have to sacrifice taste. While these meals are paleo and AIP compliant, they actually ended up tasting really delicous. If you do end up ordering from Paleo on the Go, do not forget to try their cookies. They are life changing!
To sum it up, you've got options. There's no pressure with this subscription food service as they don't force you into contracts or huge prepaid bundles. There is also nothing to loose if you fall off your diet, as these meals will be waiting for you when you're ready. Check out their blog which offers plenty of tips, advice, recipes, and motivation to keep you going.