Have you ever thought about doing a juice cleanse, but felt totally confused on where to begin? It's safe to say you probably aren't alone in feeling that way! Doing a juice cleanse can be a little intimidating, especially if you've never done one before. Luckily, there are some companies out there that make the process a little easier.
That's where Juice From the Raw comes in! They're a delivery service that provides you with a wide selection of juices to help you kickstart your cleanse. They've taken the guesswork out of juice cleanses by delivering high-quality juices that provide exactly what your body needs in a fasted state (e.g. all the right vitamins, nutrients, minerals, and even pribiotics). Plus, they have a variety of cleanses you can try out.
All of this is available today thanks to a business that was started back in 1976. That year, Ouri Galili created a small, local fruit and vegetable store in Brooklyn. It soon became a pretty popular shop that customers from all over the New York City area frequented for all their produce needs. Now, his children have gone on to open three other stores to continue building on their father's legacy. That has since expanded in the online juice company available to us today.
Keep reading to learn more about Juice From The Raw and what our experience was like...
How to Join & Choose Your Items

There are tons of resources on the Juice From The Raw website about completing your first juice cleanse. So if you've never done a juice cleanse or juice fast, don't be worried about the process. It's actually pretty simple and not as hard as many people think it is.
If you're ready to move forward, they have a variety of cleanses to choose from. First, you'll want to choose if you are a beginner, intermediate, or advanced when it comes to doing a cleanse. They have different options for each one so you can make sure everything is best suited to your needs.
In the beginner category (the one we chose for our review video) they have three different options available. These options include the 3-Day Whenever Juice Cleanse with Coconut Fusion, the 3-Day Whenever Cleanse with Cashew Coffee Milk & Probiotics, and the 5-Day Juice Cleanse n' Lunch.
If you've done a juice cleanse before, you may consider yourself an "intermediate". In their Intermediate category, you'll find the 3-Day Believer Cleanse with Coconut Fusion, the 3-Day Believer Cleanse with Cashew Milk, and the 3-Day Believer Cleanse with Probiotics. And for someone who has done many juice cleanses and considers themselves more advanced, they have the option to choose the 3-Day Forever Detox Cleanse with Coconut Fusion or the Maintenance Greens.
All you have to do is choose what level you're at and then decide which cleanse is right for you. Most of the cleanses last for at least three days, which is pretty manageable for anyone that's just getting started with cleanses. You can also see a full list of the juice flavors and nutrition information on their site, so you'll know exactly what you're receiving with your order.
Types of Juices They Offer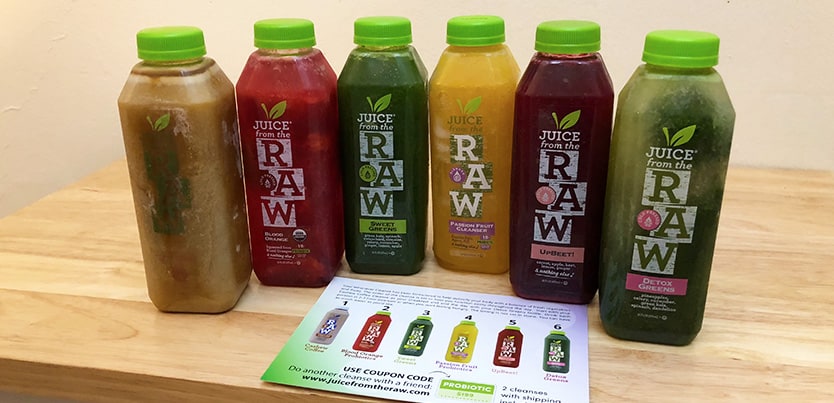 Juice From the Raw has a variety of juice flavors that you'll be able to try when beginning one of their cleanses. Each cleanse provides you with an assortment, so you'll have the opportunity to try them all. That may be a little scary if you have a picky palate, but you might be pleasantly surprised by how much you enjoy them! We enjoyed just about every single juice they sent except for the Cashew Coffee one. It just tasted too much like an iced coffee (which some people may actually enjoy).
Like most juice companies, you're going to find the classic green juice which is their Detox Greens flavor. It contains pineapple, celery, cucumber, green kale, spinach, and dandelion. They also offer Sweet Greens, which has apple, celery, cucumber, green kale, spinach, Swiss chard, romaine, lemon, and ginger.
Other available flavors include Pineapple Apple Mint, Spicy Lemonade, UpBeet!, Coconut Fusion, Cashew Coffee, Blood Orange Probiotics, and Passion Fruit Cleanser.
In our 3-Day "Whenever Cleanse" we received the following juices:
Cashew Coffee
Blood Orange Probiotics
Sweet Greens
Passion Fruit Cleanser
UpBeet!
Detox Greens
All of their juices are cold pressed, USDA organic, gluten-free, non-GMO, vegan, and kosher. That means you can feel confident about the quality of juices you're receiving with every order. There are no processed or mystery ingredients lingering in these.
Delivery
One of the struggles when ordering from meal delivery services is that sometimes they aren't able to deliver to your area. The good news is, Juice From the Raw ships their products nationwide, so you can place an order online and have them sent straight to your home.
When placing your order, you'll have the option to choose the date of delivery for your juices. This means you'll know exactly when they'll arrive and you can plan to start your cleanse accordingly. However, you'll want to keep in mind that the juices will arrive frozen, so they'll need time to defrost first. You'll be able to start your cleanse the day after they arrive.
FedEx is the carrier that will deliver your package. It's not always guaranteed that FedEx will leave your package if you aren't home to receive it, but most of the time they will. If you anticipate that you won't be home to accept it, you can send Juice From the Raw an email to let them know. They'll include a note for FedEx letting them know to leave the package at your door if you're not available.
Packaging
Your order will arrive in special packaging to keep the juices cold during transportation. When they arrive, they should still be frozen. If they aren't, there's no need to panic though. Juice From the Raw states that as long as the bottles are cold, they're still safe to drink. Although, if you have any concerns, you can always contact them with your questions.
Our juices arrived 100% frozen so we actually needed to wait 24 hours before we could start our juice cleanse. Keep this in mind when you order. Especially if you want to do the juice cleanse as soon as possible.
Everything will arrive in a polyurethane cool liner, which is what they've used to pack the juices in. After you've unpacked your order, you can dispose of the trash and recycle anything that your local recycling facility accepts.
Freshness of Food
All of the juices are unpasteurized, which means all the good bacteria inside them is still alive. This is the reason why the juices arrive frozen and in special packaging to ensure they retain their health benefits, probiotics, and stay fresh.
The juices will last in the freezer for up to six months. And they can be stored in the fridge for three to four days after they've defrosted. Keep this in mind so you know how to store them properly if you don't drink them right away.
They're all made of fresh, organic ingredients so they're high-quality juices you can enjoy. There's no need to worry about what they're made of or what you're putting into your body.
We had zero issues with freshness. In fact, they tasted so fresh it wouldn't surprise us if the juices had just been made a day prior to us receiving them!
Ease of Cleanse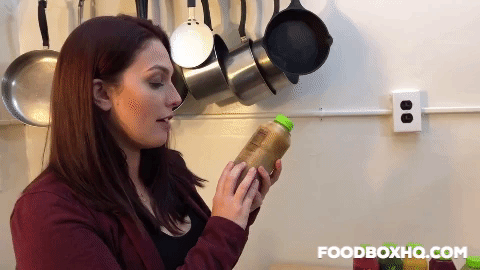 A great thing about Juice From the Raw is that you don't have to prepare anything. When people normally think of a juice cleanse/fast, they envision having to buy a juicer and make everything themselves. Juicers can cost hundreds of dollars and what are the chances you use it again when you're done with the cleanse? When you go with a juice cleanse program there's no need to think about all of that—just open your juice and you're good to go.
They've also made it incredibly easy for you to stick to the cleanse. You'll be provided with all the juices you need for three or five days, depending on your choice. And then, you drink the juices in the order they have specified. While you technically could switch it up, they highly recommend you follow the plan they've outlined for you.
Sticking to our "Whenever Cleanse" was pretty simple. There is really only two things that we had to deal with. First, you're not chewing anything all day. That sounds like it's not a big deal but by day three you just want to chew something. Maybe it's just a mental thing. Second, since you're intaking less calories you're going to have less energy. So by day two or three you may feel tired.
Taste
All of the juice blends taste great, which makes it much easier to get through a few days of strictly consuming juices. You might not even miss your solid foods! And once you've conquered one juice cleanse, you'll be better prepared to do another one later on.
Below is a rank of which juices in our "Whenever Cleanse" that we liked most (first) to which we liked the least (last).
Detox Greens
Blood Orange Probiotics
Sweet Greens
Passion Fruit Cleanser
UpBeet!
Cashew Coffee
Of course, taste is subjective so you might like some more or less than we did.
Pricing
Pricing on your juice cleanse is going to depend on which option you choose. The beginner cleanses cost $169.99 for the 3-Day Whenever Juice Cleanse with Coconut Fusion, $199.99 for the 3-Day Whenever Cleanse with Cashew Coffee Milk & Probiotics, and $219.99 for the 5-Day Juice Cleanse n' Lunch. If you're lucky, you maybe be able to snag them while the cleanses are on sale, which will save you some cash!
You will also have to pay shipping fees for your order. The cost per cleanse is $29.95. However, they do offer free shipping codes from time to time, so you'll want to keep an eye out for them. That'll help bring the cost down.
Final Thoughts + Our "Whenever Cleanse" Results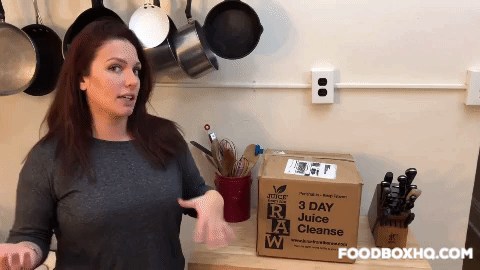 For anyone looking to try a juice cleanse for the first time, Juice From the Raw is a great company to try out. They have a nice selection of juices when it comes to juice cleanse levels (beginner, intermediate, and advanced) which I find to be a major bonus. Plus, they've taken all the guesswork out of cleansing. They provide you with exactly what you need and share the order in which the juices should be drunk. It's the best way to make juice cleansing even easier.
I only wish that we had the ability to choose which juices we could drink, like an a la carte style program. Being stuck with certain juices (like the Cashew Coffee that we didn't like) can be a bummer.
Another aspect of the juice cleanse that was a little tough was not being able to eat solid foods. But it's not like that's a surprise. If you're not someone who wants to give up solid foods entirely during your cleanse, consider trying their 5 Day Juice Cleanse 'n Lunch. This is one of the few juice cleanse programs around that allows you to eat a salad in the middle of the day.
If you're looking to drop some weight as quickly as possible, Juice From The Raw is a really great option. After the three days was over, Emily ended up losing seven pounds. That's a pretty incredible amount of weight to lose in just three days and any more might have actually been dangerous. However, the weight loss was pretty noticeable in the review video we shot.
Have a question about Juice From The Raw or juice cleanses in general? Feel free to leave your comment below and we'll get back to you as soon as possible!