There's no denying that the holidays can be a little stressful, especially if you're the one hosting the family dinners. When Thanksgiving rolls around, it's likely that you just want to relax and take time off with your family. However, there's no such thing as relaxing when you're having everyone over for dinner and doing all of the cooking. Or is there?
Your holiday dinners can now be even easier with the help of Thanksgiving meal delivery services. Some of these options provide you with pre-made meals you simply need to heat up, while others deliver the ingredients and recipes for you to cook yourself. Either way, they're sure to make your Thanksgiving prep a breeze!
Best Overall
Crowd Cow
What It Is: Crowd Cow is one of the most established and popular websites to buy meat from online. They were originally founded as a way for multiple people to buy a stake in a cow and split all the meat that came from it (hence the name "Crowd Cow"). Since then, they've transformed into one of the biggest high quality meat delivery services in the United States.
Types Of Thanksgiving Foods Offered: Pasture-raised whole turkeys (12-15 lbs), roasted potatoes, grilled creamed corn, pumpkin cheesecake, apple pie.
Pricing: 12 lb turkey is currently $99.99.
Why It Made The List:
We've tried Crowd Cow's meat dozens of times over the years since they first started and have always been impressed with the quality.
Everything comes frozen so you can order early and plan your meals in advanced.
They have a huge selection of meat—from turkey and chicken all the way to game meat such as wild boar and venison.
They offer premade meal options such as their sides, desserts, and bundles.
Best For Big Turkeys
Meat n Bone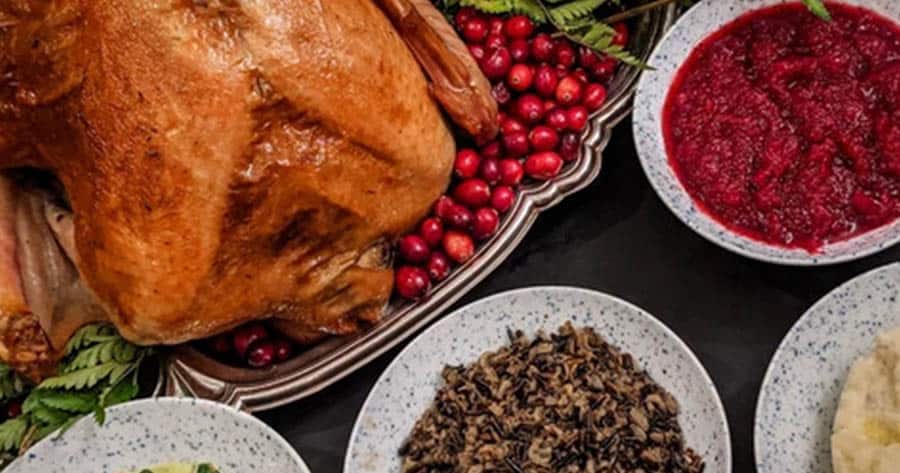 What It Is: Meat n Bone is a meat delivery service that specializes in high quality meats ranging from poultry and beef all the way to game meat such as elk and venison. Their service is similar to Crowd Cow's in that they only focus on the highest quality meats (e.g. wagyu).
Types Of Thanksgiving Foods Offered: While Meat n Bone doesn't offer nearly as much variety as Williams Sonoma or Harry & David, they do make it up in quality. They have Thanksgiving Amish Turkeys as big as 32 lbs as well as homemade cranberry sauce, stuffing, and mashed potatoes.
Pricing: Their smallest 8-12 lb turkey is $89.99 and their largest 28-32 lb turkey is $219.99.
Why It Made The List:
Meat n Bone only offers these Thanksgiving foods around Thanksgiving and they cook everything the week of Thanksgiving to ensure maximum freshness.
Their food is prepared by chefs at their restaurant (The Wagyu Bar) so you know you're getting meals crafted by pros.
Their turkeys are very high quality. They're raised by Amish farmers in Troy, Michigan, given free range, eat a diet of corn and soybeans, and have zero hormones or steroids.
Best For Variety
Goldbelly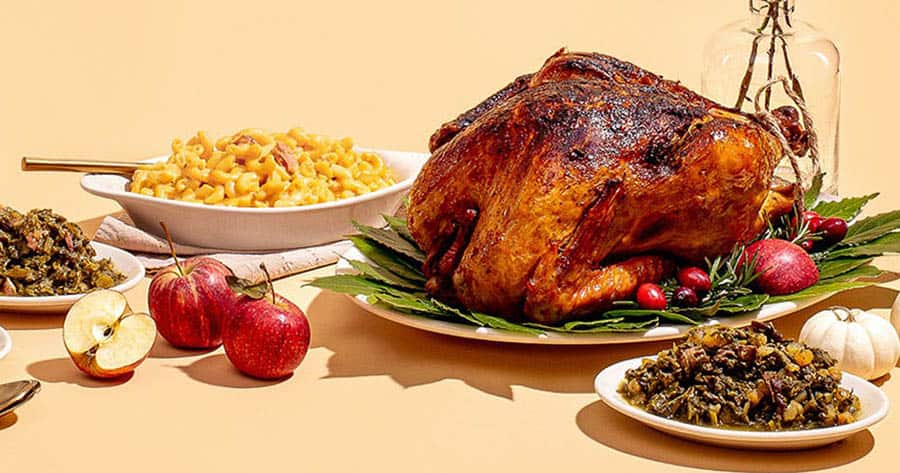 What It Is: Goldbelly connects restaurants across the nation with customers. This means that you can order from restaurants anywhere in the United States and, as long as their food can travel well frozen, it can be shipped to your door. There are hundreds of different restaurants on their site to choose—from big name brands like Wolfgang Puck to small town restaurants.
Types Of Thanksgiving Foods Offered: There are literally hundreds of different types of Thanksgiving food options offered on Goldbelly such as full free-range turkeys (cooked or uncooked), the infamous turducken (turkey, duck, chicken), Thanksgiving lasagna (what?), pumpkin pecan cheesecake, and much more. Seriously, go check out everything they have to offer. The amount to choose from is incredible.
Pricing: The price you pay is going to depend on what you specifically order. Some foods will have shipping included but not all.
Why It Made The List:
If you're looking for the best variety, nothing beats Goldbelly. There are options for the pickiest eaters all the way to the most adventurous.
Because they have so much variety, you can find some very interesting meals and desserts. For example check out this Turporken with Cajun Cornbread Stuffing or this Turkey Stuffing Cranberry Sandwich Kit here. You can definitely wow your guests ordering from Goldbelly.
They're one of the few on this list that have a nice selection of diet-specific Thanksgiving meals. You can filter by things like kosher, vegan, gluten free, vegetarian, paleo, nut free, and more.
Best Build Your Own Bundle Option
Omaha Steaks
What It Is: You're likely familiar with Omaha Steaks and know them for their mail order steak business. In fact, they're one of the oldest meat delivery services around. In addition to steaks, though, they also have a huge selection of additional meats, sides, appetizers, and desserts.
Types Of Thanksgiving Foods Offered: Omaha Steaks offers both fully cooked Thanksgiving meal bundles as well as "build your own" style bundles. Or, you can order a la carte. They have turkey, roasted garlic mashed potatoes, green bean casserole, pumpkin pie, and much more.
Pricing: Their "Build Your Own Thanksgiving Feast for Six" is $179.99.
Why It Made The List:
Omaha Steaks is a brand name that nearly everyone is familiar with.
They're one of the only meal delivery services that allows you to build your own Thanksgiving meal bundle and customize it to your exact preferences.
They have a huge amount of variety to choose from when it comes to appetizers, sides, and desserts.
Best For Just Turkey
Porter Road
What It Is: Porter Road is one of my personal favorite meat delivery services. They take the quality of their meat very seriously. For example, they do not freeze their meat because that creates ice, which can harm the fibers of the meat, reducing its flavor.
Types Of Thanksgiving Foods Offered: They only offer turkey.
Pricing: Their 16-19 lb turkey is $168 and their 10-12.5 lb turkey is $125.
Why It Made The List:
If you only need a turkey and want to its the highest quality, Porter Road is a great option.
Their turkeys are pasture-raised and are both hormone free and antibiotic free.
Best Meal Bundles
Harry & David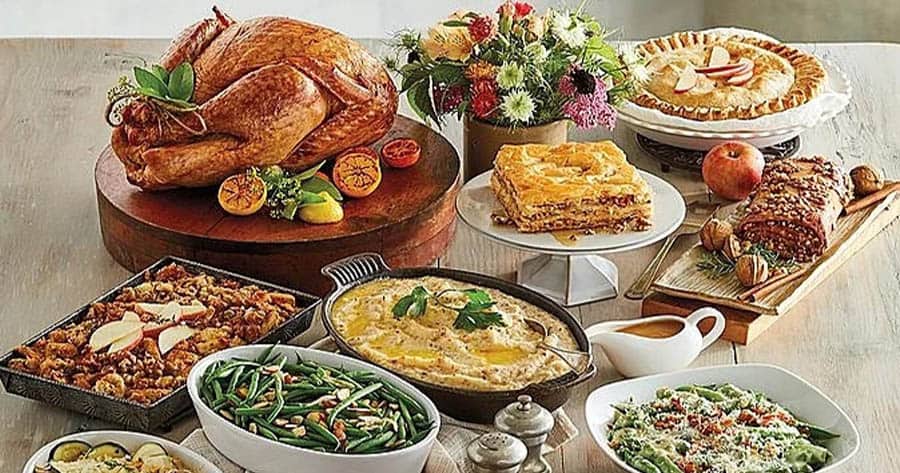 What It Is: You've likely heard of Harry & David's gift baskets before. However, they deliver much more than gifts these days. You can now find food bundles on their site to fit nearly every holiday, party, or get together.
Types Of Thanksgiving Foods Offered: Gourmet Turkey Feast Bundle that includes 10lb turkey, apple sausage stuffing, creamy Brussels sprouts with bacon, brown sugar sweet potatoes, pumpkin cheesecake, classic turkey gravy, and spiced cranberry chutney.
Pricing: Gourmet Turkey Feast Bundle starts at $229.99 and can be upgraded.
Why It Made The List:
Harry & David is one of the few on this list that has a specific Thanksgiving bundle, allowing you to get everything you need in one click.
In addition to their Thanksgiving dinner bundles, they also offer appetizer bundles, dessert bundles, and more.
In my opinion, this is one of the most convenient ways to get a gourmet-style Thanksgiving dinner on the table.
Best Luxury Thanksgiving Dinner
Williams Sonoma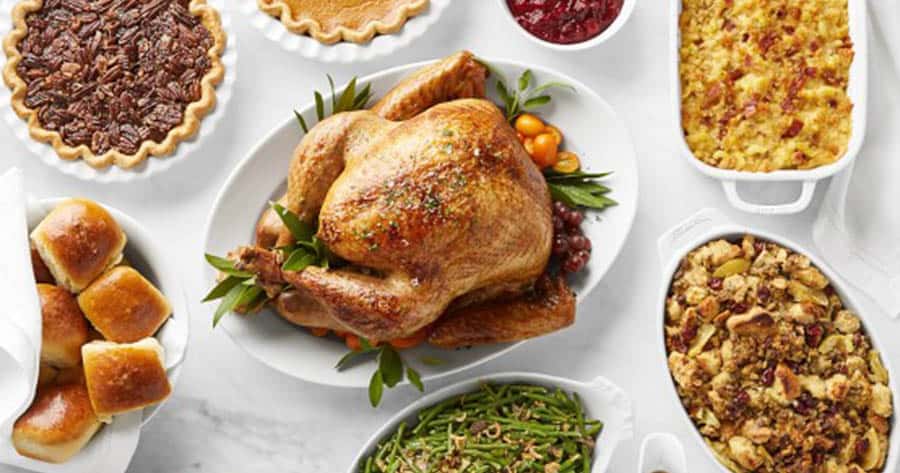 What It Is: Williams Sonoma offers more than just luxurious homegoods. When ordering online, you'll see that they have a tremendous selection of foods. Known for their quality and attention to detail, if you're looking for an unforgettable Thanksgiving meal, Williams Sonoma might be the best option.
Types Of Thanksgiving Foods Offered: They offer quite literally every Thanksgiving food you could imagine. Their Ultimate Thanksgiving Dinner bundle includes a 12–14 lb free-range turkey, sausage apple & cranberry stuffing, buttermilk chive mashed potatoes, traditional green bean casserole, sweet yam casserole, brussels sprouts with bacon, gravy, cranberry chutney, and pumpkin pie. Or, you can order a la carte from their incredible selection of foods including appetizers such as assorted brie and desserts such as Georgetown cupcakes.
Pricing: Their Ultimate Thanksgiving Dinner (which serves 8) is $449.95. This makes them one of the most expensive options on this list.
Why It Made The List:
They have some of the most luxurious foods out of any option on this list—perfect for entertaining a large party.
Since they have both bundles and a la carte options, you can customize to best fit your needs.
They offer gluten free options.
Honorable Mentions
While researching these Thanksgiving dinner meal delivery services, we narrowed down our top picks to the sites listed above. However, there were a few options that we feel are still good options but may not be ideal for everyone. For those, we decided to list them here in our "honorable mentions" section.
Amazon Fresh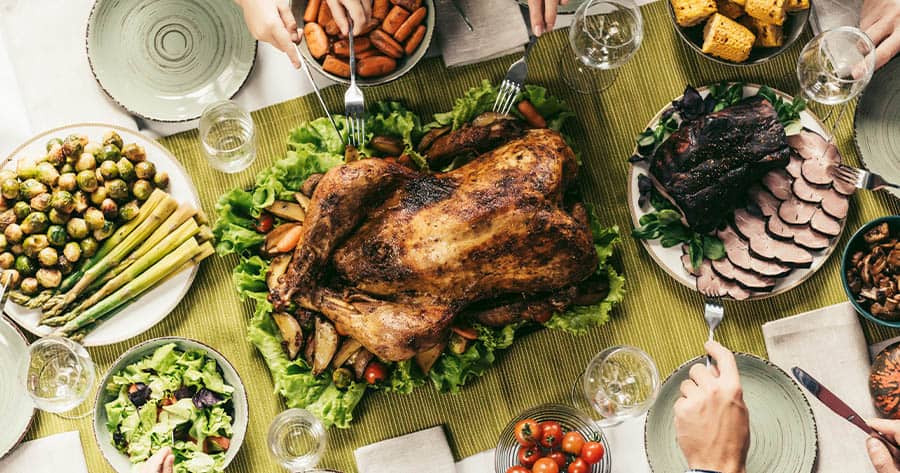 What It Is: Amazon Fresh is Amazon's online grocery store. They cannot deliver to every location in the United States, which is why we didn't include it above. However, if they can deliver to your location, they might be the perfect option for you.
Types Of Thanksgiving Foods Offered: Being a grocery store, Amazon Fresh offers nearly every Thanksgiving food you could want. Do be aware that, unlike many of the businesses listed above, Amazon Fresh does not cook any of these foods. You'll find everything from Butterball Turkey to Stovetop Stuffing.
Pricing: Based on my experience, the cost of food on Amazon Fresh is very comparable to what I would pay at my local grocery store (such as ACME or Stop & Shop).
Why It Made The List:
Amazon Fresh could be a convenient option for someone who enjoys cooking but doesn't want to deal with the hectic nature of shopping for food around Thanksgiving (e.g. dealing with sold out ingredients and waiting in line at your local grocery store).
They have nearly every classic Thanksgiving food and ingredient—from gravy to stuffing.
You can order and schedule your delivery so that you can be home to put away all of your groceries on your terms.
Whole Foods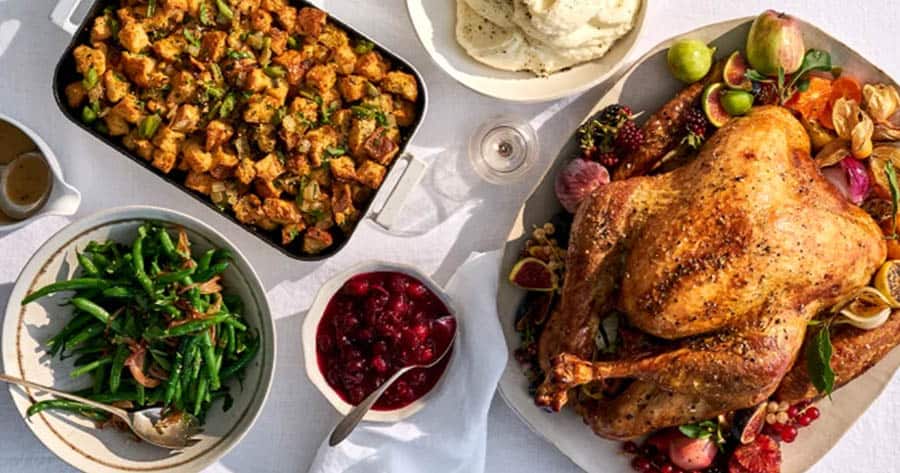 What It Is: Whole Foods now offers special catering for Thanksgiving dinner. You can reserve your order online and pick it up or have it delivered right to your doorstep.
Types Of Thanksgiving Foods Offered: They offer Thanksgiving meal bundles as well as a la carte options. This includes a Thanksgiving Feast for 12 that comes with a classic roast turkey, sliced ham, green beans, creamed spinach and kale, roasted butternut squash with cranberries, mashed potatoes, herb stuffing, turkey gravy, brioche rolls, apple pie, and pumpkin pie.
Pricing: Their Thanksgiving Feast for 12 is $299.99.
Why It Made The List:
Ordering from Whole Foods means you don't have to worry about any food being shipped in a box and whether or not anything might happen to it while in transit.
Unlike the options above, if you're able to order from your local Whole Foods, you may be able to get a better deal than if you were to order from an online delivery service because you'll save on shipping fees.
While not the cheapest, Whole Foods does have high quality foods that you can count on being delicious.
What To Consider Before Ordering
Before you make a final decision on which service to use for your Thanksgiving dinner, you'll want to consider a few things first...
How many people will you be having for dinner?
The amount of people that are going to be showing up at your house plays a huge role in what you want to order and how much you want to order. Make sure you have a final headcount before ordering or else you could end up with too much or (even worse) too little.
Does anyone have special dietary needs or allergies?
It's important to consider that some people may have food allergies (such as peanut allergies) or dietary restrictions (such as gluten free or vegan). To properly accommodate these people, you may want to have food options specifically for them to eat. When choosing from the options above, make sure you read through to see what diet-specific meal options they have that you can choose from. For example, Williams Sonoma and Goldbelly both offer a variety of diet-specific meals.
When will people will show up at your house?
Knowing when people will show up at your house will give you an idea of how much food you'll want to spread out throughout the day. For example, if people are showing up at 1pm and you're eating dinner at 6pm, you'll want to make sure you have enough appetizers set out for guests to eat so they aren't starving by the time dinner comes.
How much time do you want to spend in the kitchen?
Some people enjoy cooking Thanksgiving dinner, as it's part of their tradition. Others, however, are happier when they have the time to mingle with their guests. Decide how you would prefer to spend your Thanksgiving day and order accordingly. For example, if you want to not have to think about cooking, consider a premade bundle from Williams Sonoma or Harry & David. Or, if you do prefer to cook, consider Crowd Cow or Meat n Bone.
What is your budget?
Lastly, don't forget about your budget. It can be easy to spend hundreds of dollars on premade Thanksgiving meal bundles but if they're out of your price range, that's okay. You can still pick up a turkey, some stovetop stuffing, gravy, and canned cranberry sauce at your local grocery store for relatively cheap and feed a whole family.
How We Selected The Services On This List
If you made it this far, you can probably tell we take meal delivery services seriously. Our goal is to research, test, and review every food box out there to help consumers just like you make informed decisions.
Here's how we chose the Thanksgiving dinner meal delivery services on this list...
Thanksgiving Meal Diversity
You'll notice that not a lot of the services above are the same. This is because we looked for options that will accommodate a variety of different types of people with different tastes. That's why you'll see options such as Williams Sonoma (where you can find luxurious dinner offerings) as well as Goldbelly (where you can find small town restaurant meals).
Options For Every Budget
Not everyone has the ability to spend the same amount on Thanksgiving dinner. As such, we wanted to make sure that we were as inclusive as possible by researching and including both high-end luxury options and more budget-friendly options.
Options For Those With Dietary Restrictions
It's possible that, on Thanksgiving, some of the people at your dinner may have some type of food or dietary restriction. To make sure that they also have meal options, we included services in the above list that have specific diet and allergy friendly foods.
Options To Feed Parties Of All Sizes
Some people are going to have dozens show up for Thanksgiving, others may only have a few. We wanted to make sure that the options we recommended gave people the ability to customize their meals to best fit the amount of guests that will be at their Thanksgiving.
Options That Have Both Variety & Quality
The most important aspect of our selection process is that we researched and included services that has both variety and quality in the meals that they offer.
Have a question about any of the Thanksgiving dinner meal delivery services listed above? Have you tried any? Let us know in the comments below!