With the holidays fast approaching, you might want to start thinking about what you can gift to the special men in your life. There's no denying that they're often hard to shop for, but if the men you're shopping for are foodies, we have a few ideas!
To help you out, we've compiled a list of the 15 best food gifts for men. These are all amazing gifts any food lover would be thrilled to see underneath the tree this holiday season.
View Our Favorite Food Gift For Men
1. Mantry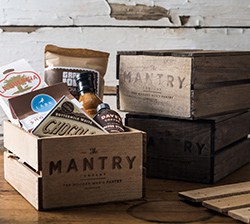 How would that man in your life like to receive incredible treats from some of the top artisan food makers across the country? Well, that's exactly what Mantry promises to deliver! They source only the highest quality products so you can be sure that special someone is receiving only the best. Plus, it's a gift that keeps on giving because they receive six food products every two months. So, they'll be thinking about that amazing Christmas gift all year long!
Each order is shipped in an impressive, handmade wooden crate that can easily be reused for another purpose. The products you receive are curated around a theme such as "Bacon Nation" or "Bourbon BBQ." Inside the box, there will be six full-sized food products every time. This ensures the men in your life will have plenty of goodies to try out!
In a previous "Pizza Party" box, Mantry included the following: Del Duca Prosciutto, Vermont Smoke & Cure Pepperoni, Hayden Flour Mill Pizza Flour, Grey Ghost Lemon Sugar Cookies, Jar Goods Classic Red Sauce, and The Gracious Gourmet Artichoke Pesto. It's everything needed for a delicious and homemade pizza night.
Packed inside a past "Bourbon BBQ" box, customers found a variety of tasty items. Mantry included Skillet Bacon Spread, Vermont Smoke & Cure Pepperoni, Bittermilk Old Fashioned, Chef's Cut Chipotle Jerky, Halfpops Chipotle Popcorn, and Hot Georgie Soul BBQ Sauce.
To gift Mantry to someone in your life, you have three options. You can choose to gift just one box for $59. However, if you'd like to give a subscription, you can choose between three Mantry boxes that are delivered over the course of six months for $159 or six Mantry boxes delivered over 12 months for $299.
2. Carnivore Club
Any meat lover is sure to enjoy a subscription to the Carnivore Club! It's actually the world's first subscription service that features premium, cured meats that get delivered straight to your door. The Carnivore Club features a new artisan each month, ensuring you get plenty of variety with your subscription.
If you'd like to gift the Carnivore Club box to someone in your life, you have two options to consider. You can purchase their Classic Box, which comes with four to six handcrafted cured meats. Inside, you will find things like Italian Salami, Spanish Jamon, and American Bacon. You can also gift a snack box, which contains four to six items such as jerky, meat sticks, biltong, and more.
Everything is packed inside a wooden crate, which has been created from pine. Much like the wooden Mantry crate, the person who receives this gift is able to reuse it as well. Plus, when everything is packed neatly in this wooden crate, it's sure to look impressive upon opening.
If you'd like to gift someone the Classic Box, you're looking at a price of $55 for one box. The Snack Box costs $39. When ordering, you have the option to select which months you would like someone to receive an order from the Carnivore Club. This means you're able to gift an entire subscription if you'd like!
3. ButcherBox
Is there a guy in your life that could use an easier way to find high-quality meats? That's where ButcherBox comes in! ButcherBox is committed to providing their customers with humanely raised meats that have never been treated with antibiotics or hormones. The beef is 100% grass-fed and grass-finished, they offer Heritage Breed pork, and free-range, organic chicken. This means you can feel good about the meat you're eating, instead of wondering what could be lurking inside.
With a subscription to ButcherBox, there's no need to go hunting down local butchers who sell premium meat. Instead, everything is delivered straight to your door for you to cook up and enjoy. All you have to do is choose the box you'd like to order and allow ButcherBox to curate the selection you receive.
When placing your order, you'll need to know what kind of box that special man in your life would most want to receive. ButcherBox offers a Mixed Box, Beef & Pork, Beef & Chicken, All Beef, or a Custom Box. Having this choice allows you to ensure your gift has everything they want. However, there are also add-on items you can include with your order.
The contents of the box will change from month-to-month. You can expect to find things like ribeye, New York Strip, chicken breasts, sirloin steaks, and chicken thighs. They also have ground beef, top sirloin, premium steak tips, stew meat, boneless pork chops, baby back ribs, and drumsticks. If you're interested in add-on items, there will be items such as: burgers, uncured bacon, breakfast sausage, filet mignon, and so much more.
If you want to order ButcherBox as a gift, it will cost $129 to get the Mixed Box, Beef & Pork, Beef & Chicken, or All Beef. This provides enough meat for 24 meals, which comes to $5.38 per meal. If you'd like enough meat for 48 meals, you can step it up and pay $238. The cost per meal would then be $4.96.
4. Craft Beer Club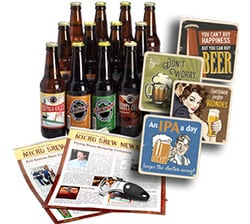 Do you know a beer aficionado who loves to try out new drinks? The Craft Beer Club just might be the perfect gift for him! It's a beer of the month club that includes 12 world-class craft beers. Each monthly selection is produced by small-production, independent artisan craft beer brewers. These brewers use traditional brewing methods.
With each order, you will receive 12-ounce beers in four different styles. There will be three bottles of each beer inside your box. Craft Beer Club also includes their Monthly Beer Club Newsletter, which shares the story behind each beer, where it originated, and what pairs well with it.
Some of the beers they've featured in the past have included: 3 Sheeps India Pale Ale, Dick's Brewing English Dark Mild Ale, Blue Pants Porter, and 3rd Wave American Pale Ale. The monthly selection gives the beer lover in your life a chance to try out new different breweries and flavors all at one low cost.
If you'd like to gift someone with a membership to the Craft Beer Club, it will cost $42 per shipment. You can choose to deliver just one box, or you can add on additional boxes to extend the subscription.
5. BBQ Box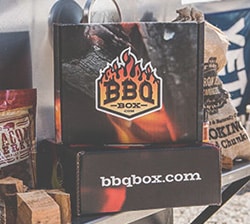 If you know someone who lives to barbecue, getting him the BBQ Box is a no-brainer! It's a monthly subscription that contains the essentials for an amazing barbecue feast. Each box contains one sauce or marinade, one rub or spice, one delicious edible (such as a jerky), one sample package of premium wood chips, and one custom recipe from Myron Mixon that'll help you put your new goodies to use.
With all these must-haves on hand, the person you give this gift to just needs to grab some meat and fire up that grill or smoker. Before you know it, he'll have a delicious dinner ready for him and his family to enjoy. You'll want to make sure you have invite to that dinner too!
To gift a subscription to the BBQ Box, you'll want to know a few key things about the person the gift is intended for. You'll be prompted to select this person's favorite BBQ region from a list of the following: Memphis, Carolinas, South Carolina, Kansas City, Texas, East Texas, Alabama, St. Louis, Virginia, or other. Then, they'll asked what this person's favorite protein is (pork, chicken, steak/beef, turkey, or fish).
BBQ Box costs $24.99 per box plus an additional shipping fee. It's a pretty affordable price for anyone who loves to cook up some great barbecue no matter what time of year it may be!
6. SumoJerky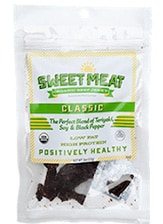 How would your dad, husband, or brother like to receive delicious jerky in the mail every month? If that special man in your life is a big fan of both snacking and meat, SumoJerky just might make the perfect gift! It's a monthly subscription that delivers new brands and flavors of jerky to you to try out and enjoy.
You can be assured you're getting delicious snacks with SumoJerky as well. Their team searches for gourmet jerky makers, taste tests them and reviews their ingredients, and then selects the best ones. Those are the ones that you'll find on your doorstep each month. Inside the box, you can expect to find jerky from brands like Jerk 'N Pickle, Sweet Meat, Grandpa's, Jonty Jacobs, and Dried and True.
If you'd like to gift delicious jerky to someone in your life, SumoJerky makes it easy to do so. Each gift box contains at least three bags of jerky and every one contains at least two servings. A serving of beef jerky is one ounce and has about 100 calories. The minimum order option you have is to gift three months of SumoJerky, which will cost $97 plus shipping. You can also give someone six months of SumoJerky for $175 plus shipping or 12 months for $299 plus shipping.
7. ManSnacks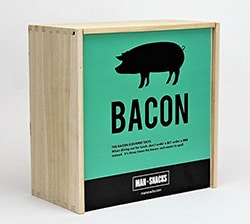 If you'd like to give someone a gift basket without the actual basket, ManSnacks is a great option to consider. They deliver "manly grub, awesome gear, and great tools in manly wooden boxes." Each box is sure to contain something that will put a smile on the receiver's face this holiday season! All you have to do is select the themed box that would most suit their interests.
The gift boxes they currently offer include the following: Fire, Beef, Bacon, World's Greatest Dad, Man Grub, The Outdoorsman, God of the Grill, Best Dad Ever, Gear Head, Golf, Fish, The Handyman, Man Snacks, and Man Candy. They range in price from $39.99 to $59.99.
If you'd like to give something special to the greatest dad, there's a box for it! The World's Greatest Dad box contains a World's Greatest Dad Mug, Toffee Pretzels, Dad's Root Beer Barrels, Monterey Jack Cheese, Bacon & Chives Cheese Spread, Beer Nuts, Tiramisu Wafers, and Mini Tabasco Hot Sauce.
For the grill master of your life, he's sure to love the God of the Grill box. It contains a Cedar Grill Plank, Grilling Rub, Smoker Box, Bone Suckin' BBQ Sauce, Bacon Hot Sauce, Sriracha Seasoning, BBQ Apron, King of Pop Buffalo Popcorn, and Hickory Wood Chunks.
8. Candy Club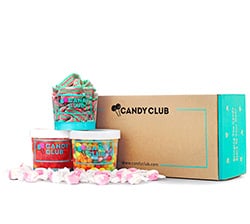 If the special someone in your life has a bit of a sweet tooth, you can gift him with something from the Candy Club. It's a subscription based service that delivers premium candies to your door every single month. And who could resist that?
Their service works by first having you take a candy quiz that is then able to recommend treats based on your own tastes. If you're giving this one as a gift, you might have to do some sneaky research to find out what the intended receiver might like. Then, they'll receive a box that contains three different candies, plus extra candy scattered throughout the box.
Candy Club does allow you to select your own candy, but you do have the option of choosing their curated boxes. This means you don't have to worry about receiving candy you won't like.
You can choose between three options when giving Candy Club as a gift. There's a three-month plan which costs $29.99 per month, a six-month plan that costs $24.99 per month, or a 12-month plan that costs $21.99 per month. You will also have to pay shipping costs.
9. Cratejoy (Robb Vices)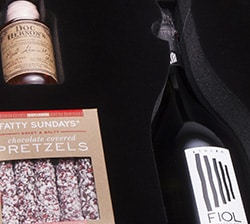 For something completely different, you might want to take a look at the Robb Vices subscription from Cratejoy. This particular subscription is from Robb Report magazine and is designed to give the receiver a taste of the good life on a monthly basis. Signing up promises you fine wines, spirits, foods, toys, tools, tech, and accessories.
Each month, there will be a premium editorial book that tells the story of the items included in the box, as well as how they're connected. What's even better is that the value of the actual box is two to five times the cost of the actual subscription, meaning you're getting an incredible deal by signing up. For $89 per month, whoever you gift this box to is sure to enjoy it tremendously!
10. SaloonBox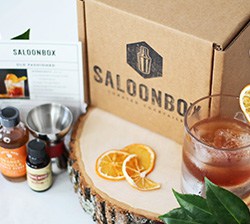 Do you know someone who loves to create and drink their own refreshing cocktails? If so, you'll want to check out SaloonBox. When you visit their website, you can check out seasonal recipes for great drinks. Many of the drinks will contain hard-to-find ingredients and ones that are sometimes not available in smaller quantities. But you don't have to worry because everything is then delivered straight to your door to await mixing.
Since SaloonBox sends exactly what you need, you don't have to go on the hunt for ingredients nor will you have to spend tons of money on large quantities of items. You can say goodbye to big bottles of alcohol that wind up going unused!
Inside the box, there will be recipe cards. They have easy-to-follow recipes to mix your own drinks, as well as information about the mixologist, drink, and techniques behind the cocktail you're making. There will also be some top shelf spirits that you usually can't get in small sizes, as well as small batch syrups, bitters, garnishes, and more. SaloonBox even adds a description of each featured ingredient in your drink to help you learn more about it.
If you'd like to give someone the gift of SaloonBox, you have a few options to choose from. You can opt to deliver them one, three, six, or 12 months of a SaloonBox subscription. This will range from $39.99 to $450, depending on the length of the subscription. You also have the option to choose your own kit, which gives you the ability to pick from some of the most popular past recipes. You can also order bar tools and starter sets to help someone create the at-home bar of their dreams or you can simply choose a gift card!
11. Omaha Steaks
If you want, you can even give someone the gift of Omaha Steaks! This is the perfect way to gift someone with high-quality meats for plenty of meals to come. You can cover all the bases with The Bountiful Gourmet option, which contains 19 items inside the package. There are four five-ounce top sirloins, four chicken fried steaks, four Omaha Steaks burgers, four gourmet jumbo franks, 12 all-beef meatballs, a 16-ounce package of Omaha Steakhouse fries, and a signature seasoning packet. This option will cost you $79.99, but it's sure to put a smile on any man's face!
For something a little different, you can opt for The Tasteful Gift package. This contains two five-ounce filet mignons, two five-ounce top sirloins, two four-ounce boneless pork chops, potatoes au gratin, caramel apple tartlets, and a signature seasoning packet. This one will cost $69.99. You really can't go wrong with Omaha Steaks for the carnivore in your life!
12. Man Crates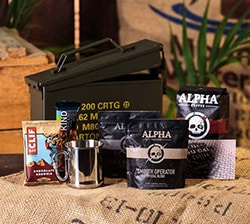 Similar to ManSnacks, Man Crates offers a variety of boxes you can choose from. Each one contains curated items so you can choose the one that's right for that special man in your life. And with so many different options to choose from, you're sure to find something that's right for him.
A few of their available creates include: The Bacon Crate, Coffee Ammo Can, Morning Glory Crate, Exotic Meats Create, Booze-Infused Jerky Crate, Taco Mania Crate, the Ramen Connoisseur Crate, and the Pasta Craft Crate. There's even  a Jerky Piñata, a Hot Sauce Making Kit, and a Sriracha Crate. The options really are endless, so it's safe to say you'd find something that suits even the pickiest man in your life.
Inside The Bacon Crate, you'll find bacon and bacon-flavored items. It contains Jeff's Jerky Honey Jalapeño Bacon, Jeff's Jerky Maple Bacon, Bacon Popcorn, Bourbon Bacon Seasoning Grinder, Sir Francis Bacon Peanut Brittle, and Terrapin Ridge Farms Hot Pepper Bacon Jam.
For the hot sauce aficionado, he'll love the Hot Sauce Making Kit. Inside, you'll find Carolina Reaper Pepper Puree, Naga Morich Pepper Puree, Habanero Pepper Puree, Pull-Handle Food Processor, Stainless Steel Funnel, Chemical Resistant Gloves, three Boston Round Bottles, and official Man Crates instructions and recipes.
When ordering from Man Crates, you can expect to spend anywhere from $24.99 to over $100. With so many different boxes available, they all vary in price so it depends what you're looking for.
13. The Bro Basket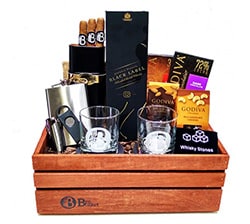 Who ever said that gift baskets had to be boring? Over at The Bro Basket, they've set out to make gift baskets cool again with plenty of options for your dad, husband, brother, or any other man in your life. And with so many different baskets to choose from, it's going to be hard to leave their website without making a purchase! You'll certainly find something to get for all those hard-to-shop-for men in your life.
If there's a man in your life who loves snacking, he's sure to appreciate the Junk Foodie Party Package. It contains four bags of Fruit Lay Chips, six bags of Nabisco Cookies, two packs of beef jerky, two bags of candy and/or candy bars, two bags of Popcornopolis gourmet flavored popcorn, a bottle of Kettle One vodka, four Red Bull cans, two BroBasket coasters, and one greeting card with your special message on it. All of this is packed into a reusable BroBasket Tub, so there's no baskets here! This particular option will cost you $114.95 if you purchase it as is. You are, however, able to customize it.
There are plenty of other options with alcohol and snacks your guy is sure to love. But if he's more of a Health Nut, they even have a Crossfit inspired gift. It contains six cans of Chicken of the Sea tuna, six Zone Perfect Protein Bars, five packs of beef jerky, four Muscle Milk portable protein drinks, two packs of whey protein powder, a Smart-Shake Shaker Bottle, and a greeting card. This one is packed into a reusable BroBasket crate. You can get all of this for $99.95.
14. Broquet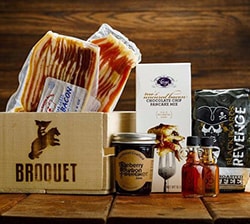 How would bacon chocolate and bourbon maple barbecue sound to the man in your life? If you think it would be a hit, check out Broquet. You'll find all kinds of options to choose from, including bacon, barbecue essential, a hot sauce tasting kit, beef jerky, and so much more.
To make someone's morning a little brighter, go for The Wake and Bacon kit. It contains a pack of chocolate chip pancake mix, two packs of dry cured bacon, a jar of blueberry bourbon jam, a bag of premium artisan coffee, and a three-pack of maple syrup sampler bottles for $79.
For the grilling fan, you can go for The Apple Wood kit. For $89, this one has Rufus Teague Whiskey Maple BBQ Sauce, Rufus Teague Meat Rub, gourmet mustard, stainless steel turner tongs, silicon basting brush, applewood smoking chips, stainless steel smoking box, a grill surface thermometer, and Rufus's Award Winning Ribs recipe.
15. Spartan Carton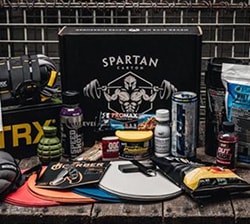 For the men in your life who are on a fitness kick, you may want to take a look at Spartan Carton. It provides their customers with the protein, supplements, snacks, and gear they need to stay in shape. All you have to do is pick your box and wait for it to be delivered. It's sure to be a hit with the fitness fanatics in your life!
You have two options when ordering from them. There's a Citizen Box, which costs $25 per month, and the Warrior Box, which costs $99 per month. Both boxes contain consumables and gear, including at least three supplements, three snacks, and outdoor/workout gear. These items could be protein/energy/meal replacement bars, pre and post-workout supplements, vitamins, nutritional snacks, and protein-enhanced products. The outdoor/workout gear could be READYMAN products, firestarters, workout ointment, etc.
Both boxes also come with suggested workouts and healthy recipes to keep you on track with your fitness goals. If you opt for the Warrior Box, you will also receive extra consumables and/or gear from time to time.