The sad reality is, we never know when disaster could strike. Whether it's a devastating situation caused by Mother Nature or something else, the best thing we can all do is to be prepared. Although emergency preparedness is probably the last thing on your mind, it's better to be safe than sorry.
Fortunately, there are a lot of companies that provide you with emergency food supplies such as dehydrated and freeze-dried foods, which you can store specifically in the case of a catastrophic event. That means if something were to happen, you and your family would still have plenty of food and water to survive should you not have access to traditional foods and a clean water supply.
To help you learn more about these companies, we're sharing the 11 best emergency foods so you can stay prepared.
1. Wise Food Storage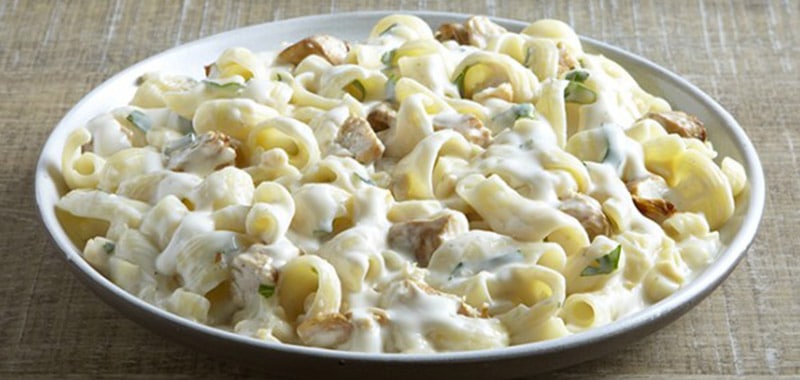 One company that can fulfill all of your emergency preparedness needs is Wise Food Storage. They offer starter kits for those who are just beginning to build their emergency stockpile, plus survival backpacks. The starter kits provide you with an assortment of freeze-dried foods, which includes breakfasts, entrées, and drinks.
The backpacks they offer are great to bring along for camping or any outdoor expeditions. There are numerous options to choose from, which contain items such as food, water pouches, a first aid kit, tissues, a dust mask, waste bag, and wet naps. You can even get a backpack with a portable stove, flashlight, whistle, blanket, playing cards, and more. They've really thought of everything when it comes to these survival backpacks.
2. Nomad Nutrition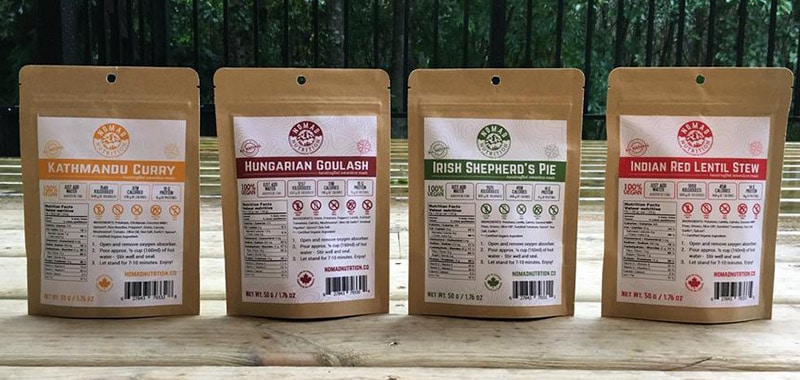 Nomad Nutrition doesn't exactly promote themselves as being an emergency food option. Instead, they set out to provide nutritious meals for backpackers, hikers, climbers, hunters, and anyone else setting out on an outdoor adventure. These meals are packed with nutrients, plant-based, and made locally in the Pacific Northwest.
Even though their goal wasn't to create an emergency food supply, it's still a great option to consider. The reason being, all you have to do is add water to the food to create a surprisingly tasty meal. Not only that, but they provide a few different options to add to your stockpile. Nomad Nutrition offers Irish Shepherd's Pie, Indian Red Lentil Stew, Hungarian Goulash, and Kathmandu Curry. After all, no one said your emergency food had to be bland!
Another benefit is that these meals are crafted in an allergen-free facility. They're gluten-free, dairy-free, soy-free, palm oil-free, and non-GMO. They're also 100% vegan, so it'll be suited to a variety of diets.
3. Be Prepared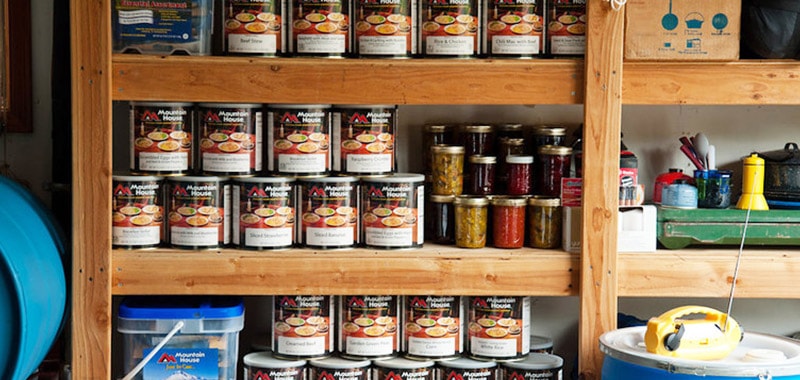 From food to other essentials, Be Prepared has an assortment of things everyone needs in their emergency preparedness stash. For food, they offer entrées and meals, meats, fruits, vegetables, dairy, eggs, cereals, grains and pasta, beans and legumes, and also desserts and drinks. That means you can even stock-up on ice cream sandwiches while you're ordering your breakfast skillet and beef stroganoff with noodles. Who's hungry?
When browsing their entrées and meals, you'll find meals such as creamy potato soup mix, chili mac with beef, rice and chicken, lasagna with meat sauce, sweet and sour pork with rice, and chicken stew.
If you need to stock up on other essentials too, they provide water reserves, tents, lighting, cooking tools, and other items. It's basically a one-stop shop for all your emergency needs.
4. eFoods Direct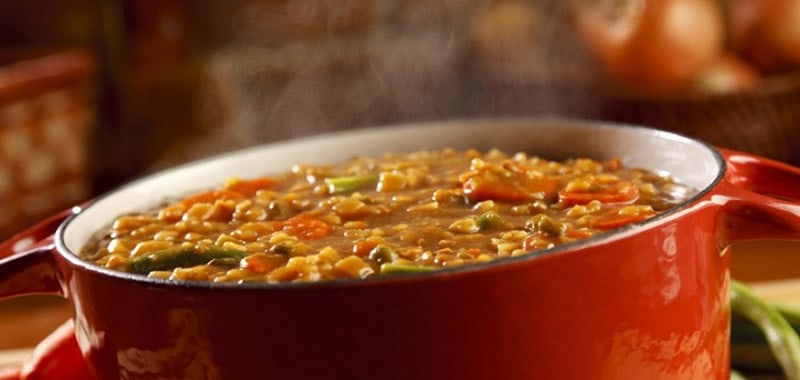 When ordering from eFoods Direct, you'll find that you can receive anywhere from a 72-hour kit to a one-year supply of food. They even offer a one-year food pack that's large enough to feed a family. How amazing is that? However, you can also buy cases of individual foods, if you prefer.
They offer cases of beef stroganoff, black bean burgers, cheesy rice casserole, corn chowder, Italian tomato pasta, and more. Everything is dehydrated and easy to prepare when you need it the most.
If you order one of the larger food supply packs, you'll get breakfast options (oatmeal, multigrain cereal, pancakes), and assortment of entrées, sides (white rice, black beans, pinto beans), and drinks (instant milk and orange drink).
5. The Ready Store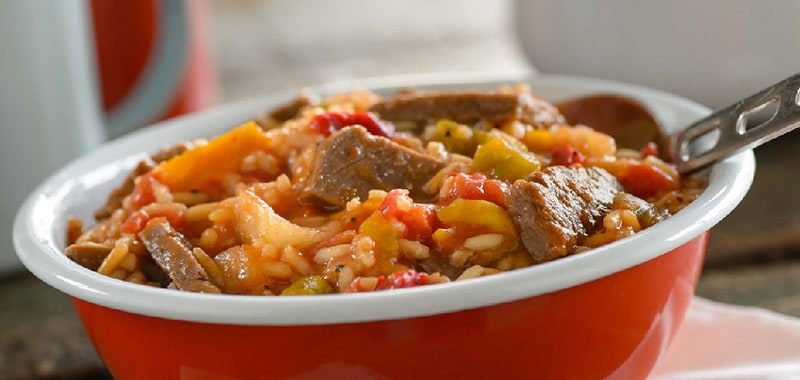 From meals, water storage, tools, and other emergency gear, The Ready Store has you covered. You can buy individual packets of freeze-dried food like pasta alfredo, barley soup, and sweet and sour stir fry. This provides an easy way to try their products before you commit to buying a larger supply.
If you decide you're ready to go all in and stock-up on all the food you'll need, they offer various storage kits to choose from. They range anywhere from a three-month supply to a full year's worth of food. Those kits include breakfasts, fruits, main entrées, and vegetables to provide you with everything you'll need in an emergency situation.
6. My Food Storage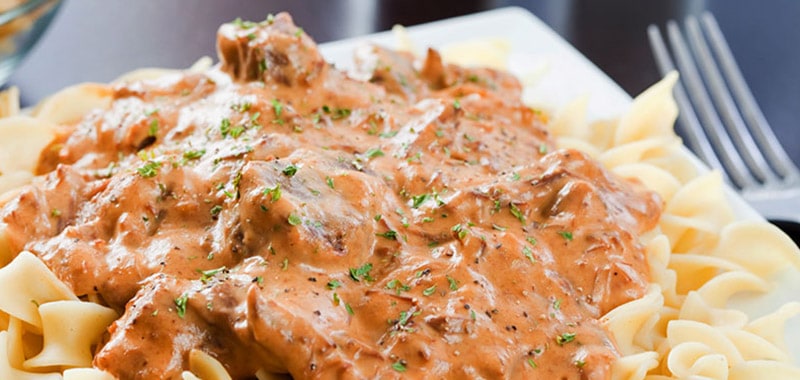 My Food Storage states they offer better prices than their competitors, so if you're looking to get the most bang for you buck, they might be the ones to consider. Based on our research, they are one of the cheapest (while still maintaining a level of quality). They offer long-term food storage, emergency food kits, freeze-dried meats, fruits and vegetables, water filters and kits, as well as other products you may need.
For long-term food storage, you can stock up with anywhere from a one-month food supply to a one-year food supply, depending on what you feel you need. These kits come with both breakfasts and entrées and are suitable for adults and children. The foods you'll find in the kits include: granola, apple cinnamon oatmeal, stroganoff, lasagna, pasta alfredo, and even macaroni and cheese.
7. Legacy Food Storage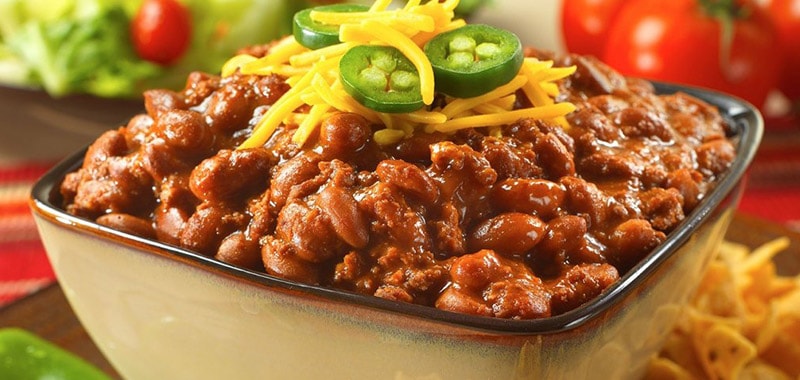 When it comes to Legacy Food Storage, they claim to have the lowest food cost per pound. They also offer larger serving sizes than many other companies, are non-GMO, and made in the United States. They also offer gluten-free options for those who have a sensitivity or allergy to gluten.
They provide a selection of entrées, side dishes, meats, breakfast options, and drinks. However, if you want to try it out before you commit to making a large order, they do offer samples you can try out. This is great if you don't want to spend a bunch of money right off the bat. If you're ready to order a larger stock, they have plenty of options to choose from.
You'll find breakfast dishes like maple oatmeal with brown sugar, strawberry creamy wheat, and pancake mix. They also have Italian pasta with marinara, pasta primavera, cheese and broccoli soup mix, and classic chili mix, just to name a few of their entrées.
8. Food Insurance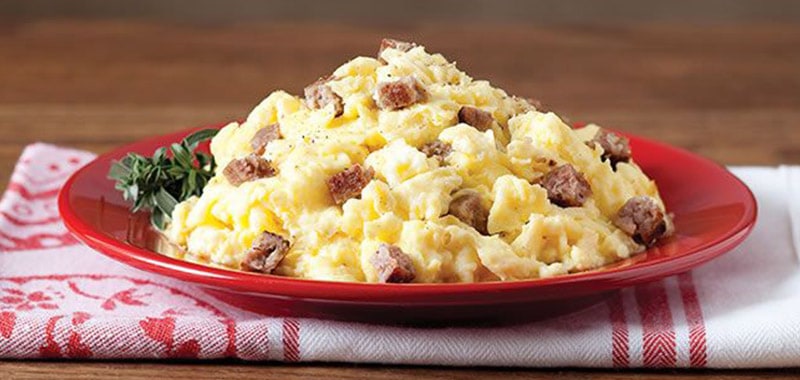 When checking out the Food Insurance website, you'll notice they have their own brand of food, but that they also offer items from a brand called "Daily Bread". Their long-term kits will provide you with a food supply that can last from three months to one year. You can opt for an assortment of items or individual supplies of fruit, meat, and vegetables.
The meals they have to offer include butter milk pancakes, a breakfast skillet, and crunchy granola for breakfast. For entrées, you can order rice and beef chili with beans, lasagna with meat sauce, teriyaki rice with beef, rice and chicken tortilla, fettuccine alfredo with chicken, rice and sweet pulled pork, and many others.
9. Lindon Farms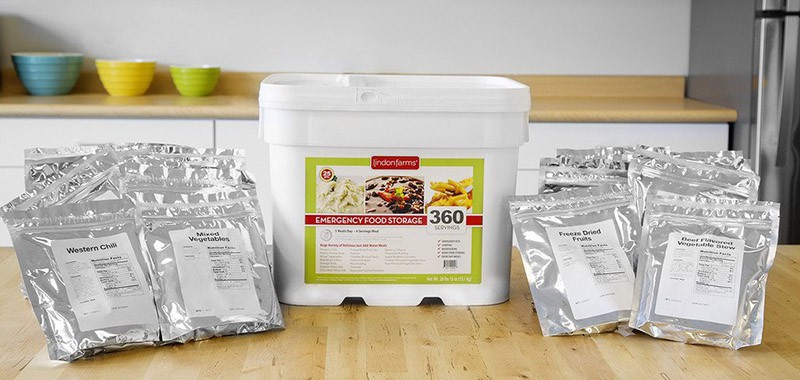 Lindon Farms offers food storage that lasts anywhere from seven days to three years, so it's safe to say you'll be covered in case of an emergency. These kits provide you with an assortment of meals that don't contain high fructose corn syrup or added MSG, so you can feel better about getting quality ingredients.
In your kit, you'll find breakfast options, entrées for lunch or dinner, drinks, and desserts. For breakfast, they offer apple blueberry granola, natural granola, freeze-dried fruit mix, oatmeal, and cinnamon rice pudding. For lunch or dinner, you're going to enjoy cheddar cheese pasta, western chili, hearty potato soup, beef flavored vegetable stew, cheddar broccoli soup, or any of their other available entrées. You also have the option to order separate servings of fruits or vegetables to ensure you have plenty of them on hand.
10. Valley Food Storage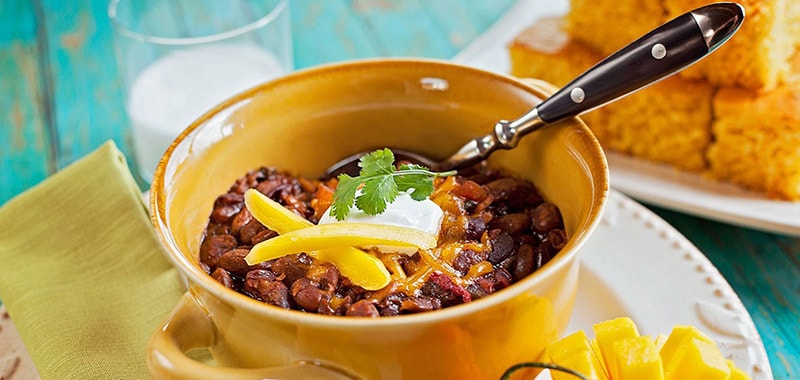 The goal with Valley Food Storage is to provide you with wholesome, nutritious meals that can be ready when you need them the most. After all, you shouldn't have to sacrifice flavor or nutrition when it comes to your emergency food storage. To help you get started with your stock, they offer food storage, emergency supplies, fruits and veggies, and water supplies to ensure you have everything you could possibly need.
You can order individual meals or purchase a kit with a longer supply of feed. Their breakfast options include strawberry cream of wheat, multi grain cereal, maple and brown sugar oatmeal, and even gluten-free buttermilk pancakes. For lunch or dinner, you can enjoy chicken and rice pilaf, enchilada beans and rice, creamy mushroom soup, Irish pub cheddar potato soup, mango habanero chili, and pasta primavera. Occasionally, the individual meals will go on sale, so you'll want to keep an eye out for extra savings if possible.
11. Augason Farms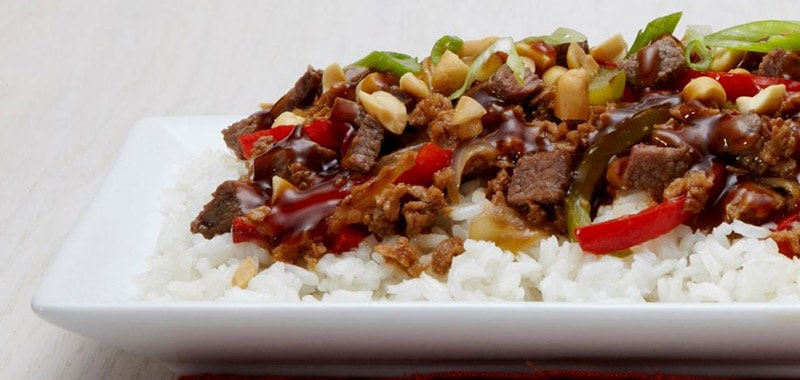 You can get prepared for any kind of emergency situation with kits from Augason Farms. They allow you to purchase emergency food kits that can last 72-hours, one week, two-weeks, or 30 days. There are also food storage kits designed to last three months, six months, or a year. That means you can select exactly what's right for you and your needs.
As far as food options go, they have plenty to choose from. There are an assortment of fruits and vegetables like sliced strawberries, whole raspberries, banana chips, apple slices, sweet corn, broccoli florets and stems, bell peppers, and more. To ensure you get your protein, they have chicken breast chunks, bacon flavored bits, black bean burgers, peanut butter powder, and others. There are also plenty of grains and beans to stock up on as well.