After a long and busy week, there's nothing better than settling in on the couch to watch a movie. You've already thrown on your comfiest set of PJs and scrolled through Netflix to find the perfect movie to watch. Now there's just one more important decision to make—what are you going to snack on?
The perfect movie snack completes the home entertainment experience. While popcorn might be king at the theater, an at-home movie night opens up a vast realm of snacking possibilities. Fully loaded nachos. Buffalo chicken dip. Pigs in a blanket. Whatever you're craving—sweet, salty, or savory—movie night is the ideal excuse to indulge.
A movie night at home enables you to completely customize your experience. So, if you're looking for an excuse to cook, now's the time to try out a tasty new recipe. If you're ready to just plop down on the couch and munch, a store-bought snack might fit the bill.
Today we're going to be exploring the best ready-made movie snacks and tasty movie snack recipes you can make from scratch, all guaranteed to make your next movie night one to remember.
Ready Made Snacks For Movie Night
When it comes to snacking, we all have our favorites. Salty, savory, or sweet, the right snack makes for a perfect movie night. Though, if you're looking for a quick and easy option, store-bought is the way to go.
Here are our top store-bought snacks for movie night...
Ice Cream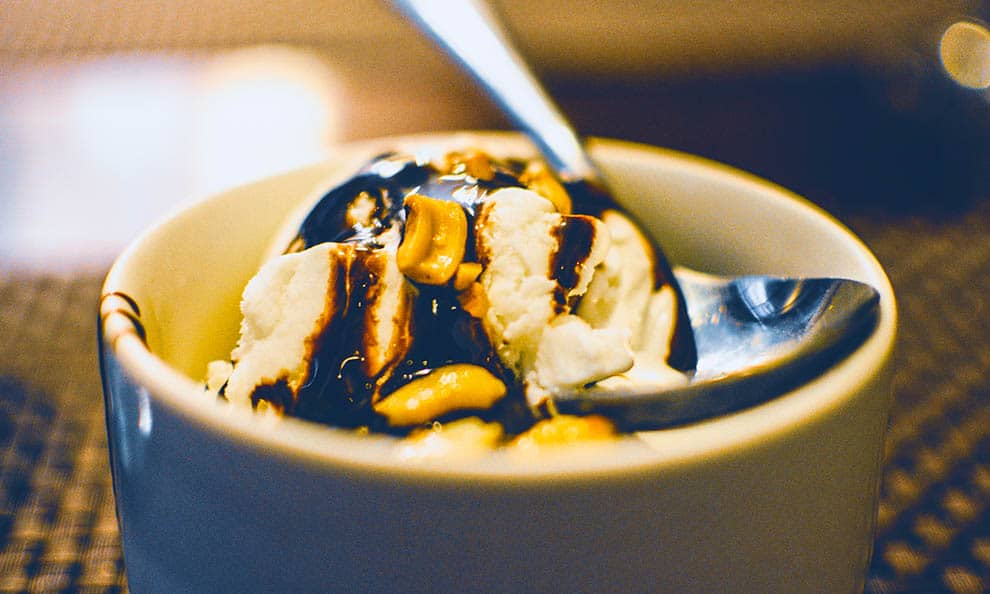 This one might be a bit controversial but hear me out. Ice cream isn't a snack option you'll usually find behind the concessions stand at the movie theater, so it's perfect for an at-home movie night. Of course, if you're sneaky, you might just be able to smuggle a pint into the theater like this redditor.
If you prefer sweet over salty, ice cream makes a perfect movie night snack. Just be sure to enjoy it before it melts!
The best ice cream to snack on at a movie is one that's going to be packed with toppings. This makes it more of a snacking experience over simply eating ice cream. Plus, more toppings means more snacking when the ice cream eventually melts. Here are some movie night ice creams to consider:
Netflix & Chilll'd™: If there was one ice cream that was literally made for eating while watching movies, it's this one from Ben & Jerry's. It's packed with peanut butter ice cream, sweet and salty pretzel swirls, and fudge brownies.
Half Baked: You can't go wrong with more Ben & Jerry's. Half Baked is one of their most popular options, and for good reason... It's delicious. This chocolate and vanilla ice cream is packed with gobs of chocolate chips, cookie dough pieces, and fudge brownies.
Chubby Hubby: Rounding out the Ben & Jerry's options is my personal favorite movie night ice cream to snack on. It's got vanilla malt ice cream, peanut and fudge covered pretzels, and peanut buttery swirls.
Gummy Candies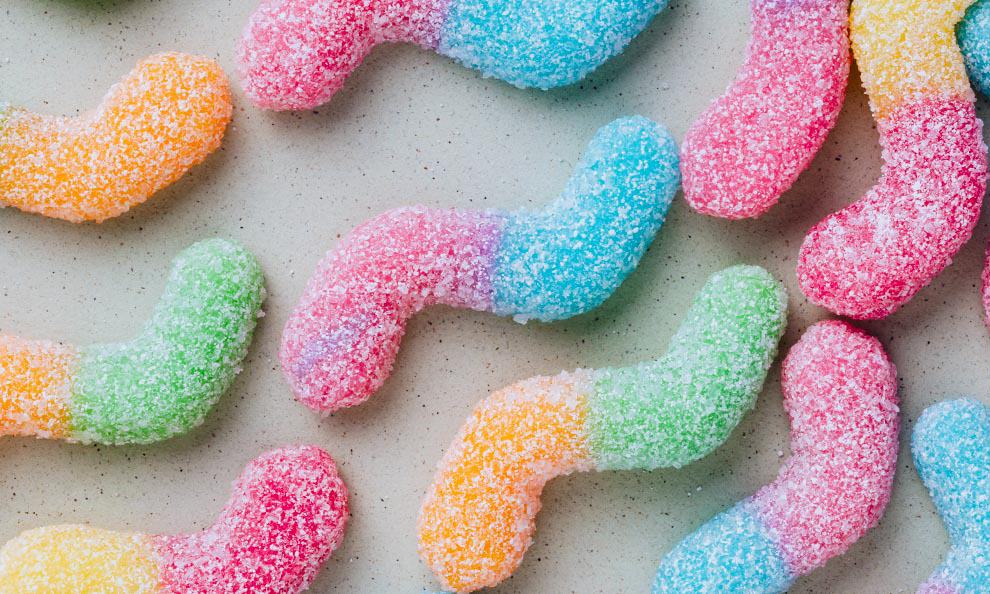 Sweet and chewy, gummy candies are a movie night staple. If you're not a chocolate lover, these are likely what you gravitate towards at the concession stand. Gummy candies have two huge advantages over many other popular movie snacks. First, there are a variety of different flavors out there (from sweet to sour and everything in between). Second, because they're so chewy, there's a good chance that this snack will actually last you most of the movie.
Here are our top gummy candies to consider snacking on at your next movie night:
Swedish Fish: As one of the classic movie gummy candies, you'll find Swedish Fish behind every movie theater concession stand. If you're looking for a traditional, no-fuss gummy candy to snack on, this is the one to pick.
Sour Patch Kids: Another classic gummy candy, Sour Patch Kids are worth snacking on if you want something that packs a sour twist. If you're looking for a more fruity option, their Sour Patch Watermelon flavor is a personal favorite of mine.
Jujyfruits: These are one of the more nostalgic movie candies listed here. They haven't changed their packaging since I was a kid so every time I see them they always remind me of picking out candy before heading into a movie theater. If you're looking for a mix of flavors, this is the gummy candy to go with. You'll find flavors such as raspberry, licorice, lime, orange, and lemon all in the same box.
All Haribo Gummy Candies: Goldbears, Happy Cherries, Fizzy Cola, and so much more. This list wouldn't be complete without mentioning the king of gummy candy, Haribo. They make so many different gummy candies, it might be hard to pick which you want for movie night.
Licorice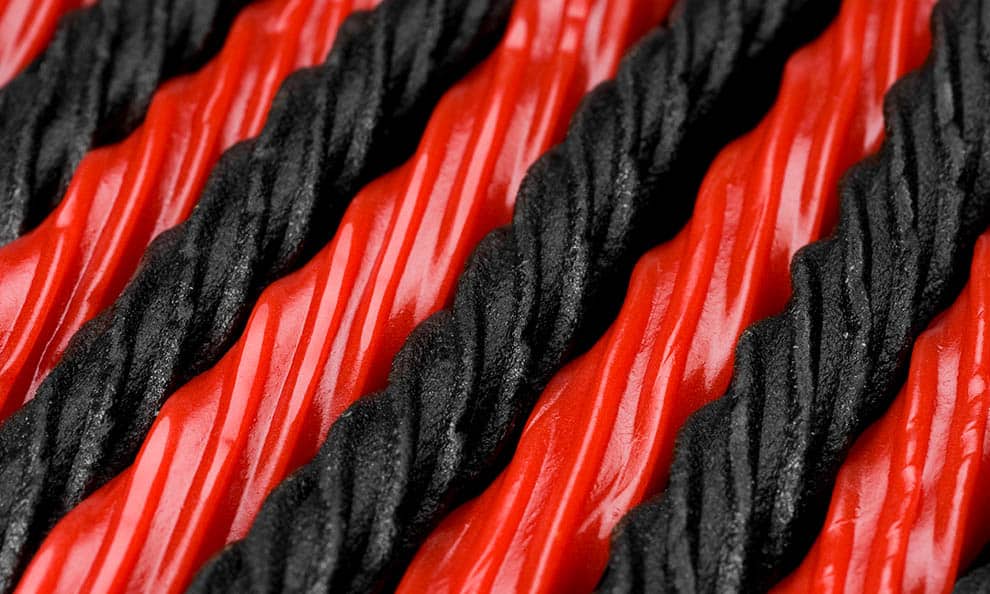 Licorice is one of the more unique and controversial candy flavors out there—you either love it or hate it. While sweet, it has layers to its taste. And when it comes to classic movie snacks, licorice-flavored candies are always on the menu. Here are some movie night favorites to consider:
Pretzels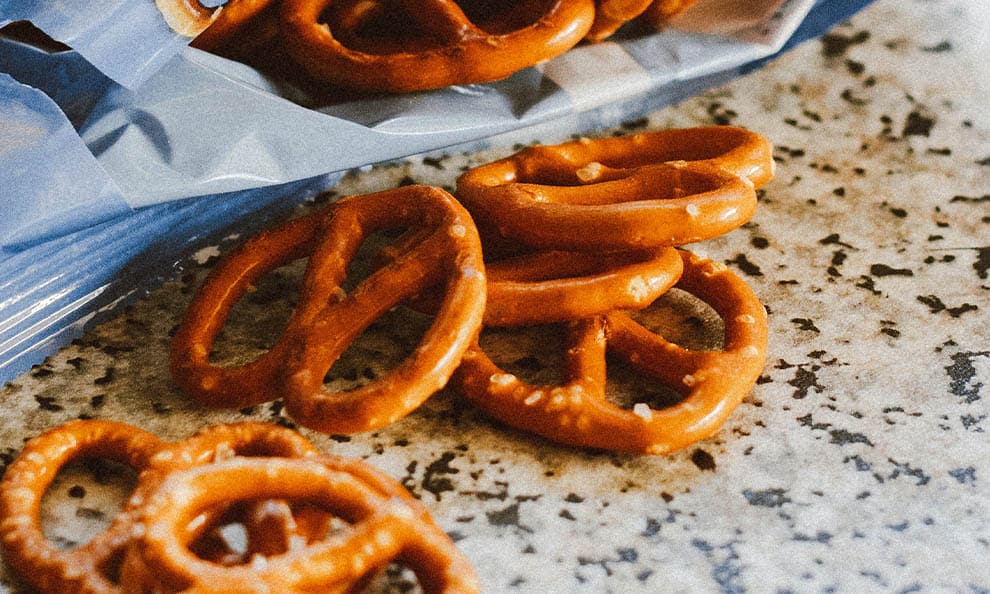 Perfectly salty with a satisfying crunch, pretzels are an ideal movie night snack for those who don't want to indulge in something loaded with sugar. What makes pretzels a great movie snack is the fact that they come in a ton of different varieties. Sure you can munch on plain pretzels but, when it comes to movie night, why not indulge in something more extravagant. Here are some options to consider:
Kirkland Signature Brand Peanut Butter Filled Pretzels: Trust me when I say that these peanut butter pretzels are addictive. Costco's brand, Kirkland, is known for their quality and these pretzels don't dissapoint. Next time you do a Costco run, pick up a jug of these for your upcoming movie night.
Strawberry & Yogurt Pretzels: Looking for something a little more decadent to liven up your pretzel snack? These Strawberry & Yogurt Pretzels are the perfect way to add a little bit of sweetness and creaminess to every bite.
Flipz Chocolate Covered Pretzels: If you're looking for a classic way to dress up your pretzels, you can't go wrong with chocolate covered pretzels.
M&Ms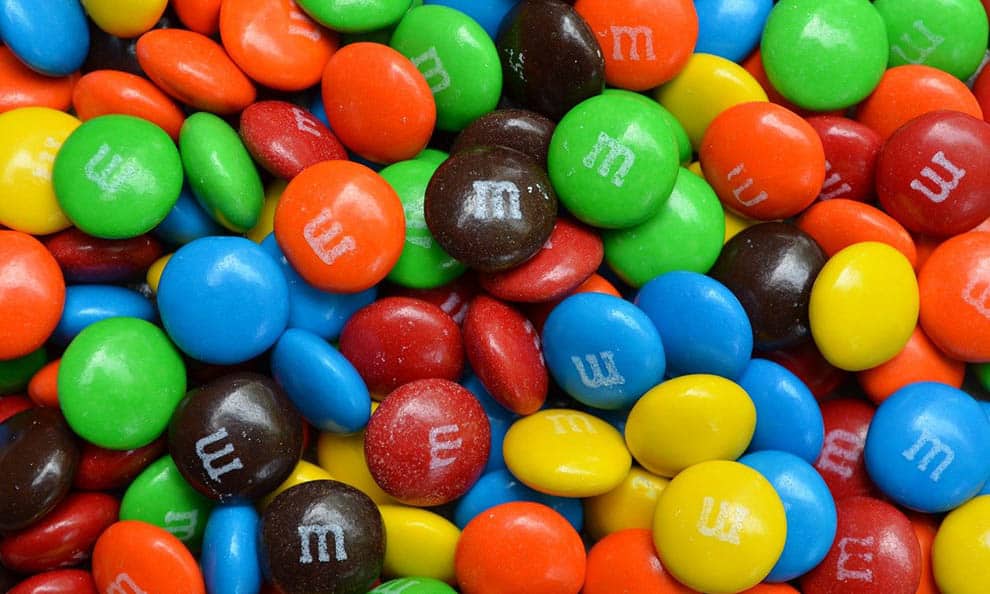 No list of candies is complete without the O.G. that is M&Ms. These little sugar-coated chocolate candies come in a ton of varieties and can even level-up other movie snacks. For example, throw some milk chocolate M&Ms into your bag of popcorn or pretzels and you've got yourself a deliciously sweet and salty treat. What makes these an ideal movie snack is the fact that, because they're covered in a sugar-coated shell, they don't melt as easily as regular chocolate candies.
Here are some of the classic movie night M&M flavors:
Peanut M&Ms: These are what I reach for to snack on any time I'm about to turn on a movie. Having chocolate-covered peanuts somehow makes me feel a little less guilty about finishing a whole bag.
Peanut Butter M&Ms: Not to be confused with the Peanut M&Ms above, Peanut Butter M&Ms are a much richer indulgence. These are packed with peanut butter chocolate goodness that starts every bite with a crunch and ends with gooey peanut buttery filling.
Plain M&Ms: None of the above fit your fancy? You can't go wrong with plain M&Ms. Whether you like to grab them by the handful or eat one color at a time, these are a classic traditional movie candy.
Milk Duds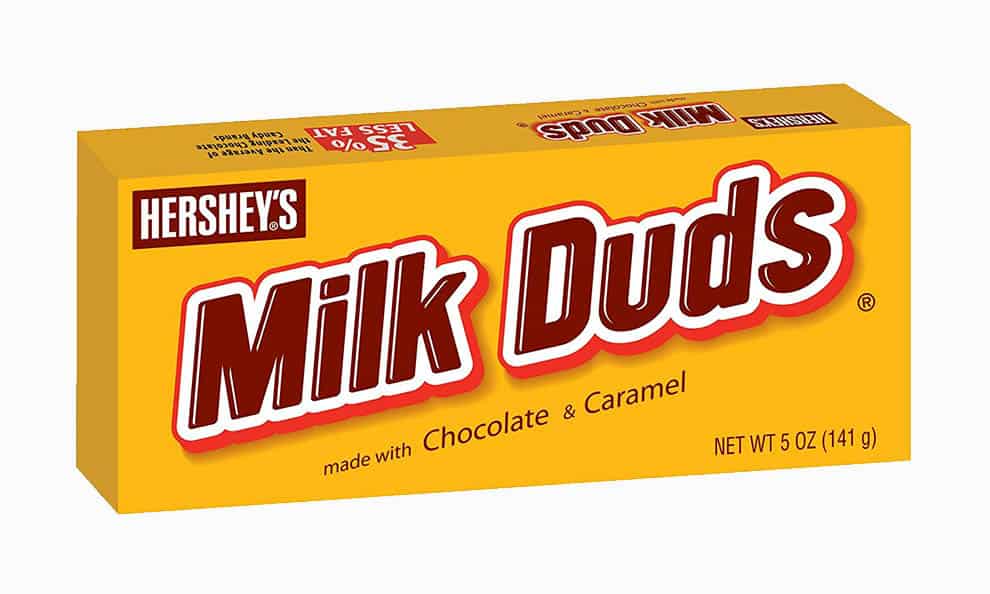 Another candy you're likely to find behind the counter at a movie theater concession stand, Milk Duds have stood the test of time when it comes to classic movie snacks. Why? It probably has to due with the fact that they're simply chocolate covered caramel bites. Nothing too fancy means they appeal to a wide range of people.
Chocolate Covered Raisins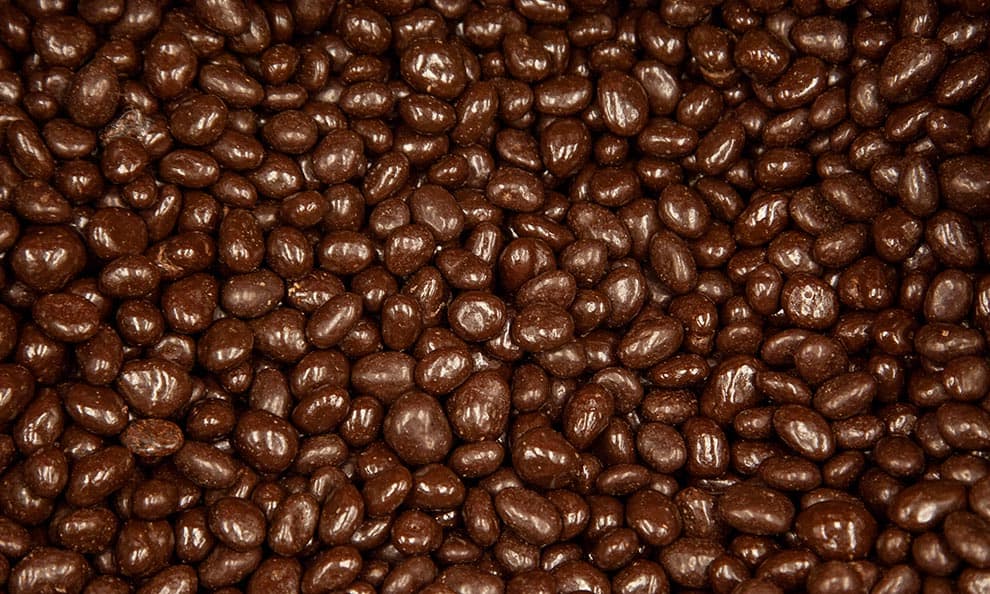 Chewy and chocolate covered, this sweet treat is the perfect movie snack for those who don't want to overindulge. Being that they're chocolate covered raisins (a fruit) you can at least feel a little better about eating the whole bag. Here are our favorite options for movie night:
Raisinets (Milk Chocolate): When you think "chocolate covered raisins", the brand that comes to mind is likely Raisinets. They've ruled the chocolate covered raisin market since its inception and there's a good chance you've eyed them at the movie theater concession stand before.
Raisinets (Dark Chocolate): If dark chocolate is your thing, you're in luck because Raisinets also offers this variety too.
Kirkland Signature Chocolate Covered Raisins: Looking for an upgraded version of Raisinets? These Kirkland brand chocolate covered raisins are my absolute favorite when I'm looking to splurge.
Chips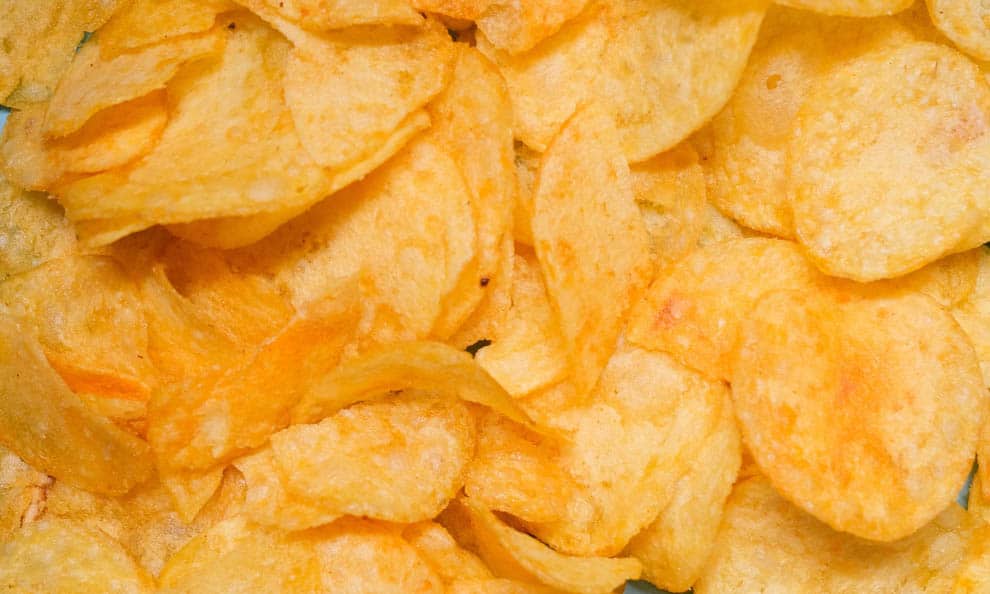 Potato chips. Flavored corn chips. Popcorn chips. The options are endless, but they all have one thing in common: crunchy deliciousness. Chips are best for those who crave salty and savory snacks. The only downside to munching on chips while watching a movie is the noise they make. Not only when you're eating them but from the bag as well. Movie snacking tip: pour the chips into a big bowl so you don't hear the crinkling of the bag every time someone reaches in to grab a handful.
Here are our top picks for chips to snack on when it's movie time:
Junior Mints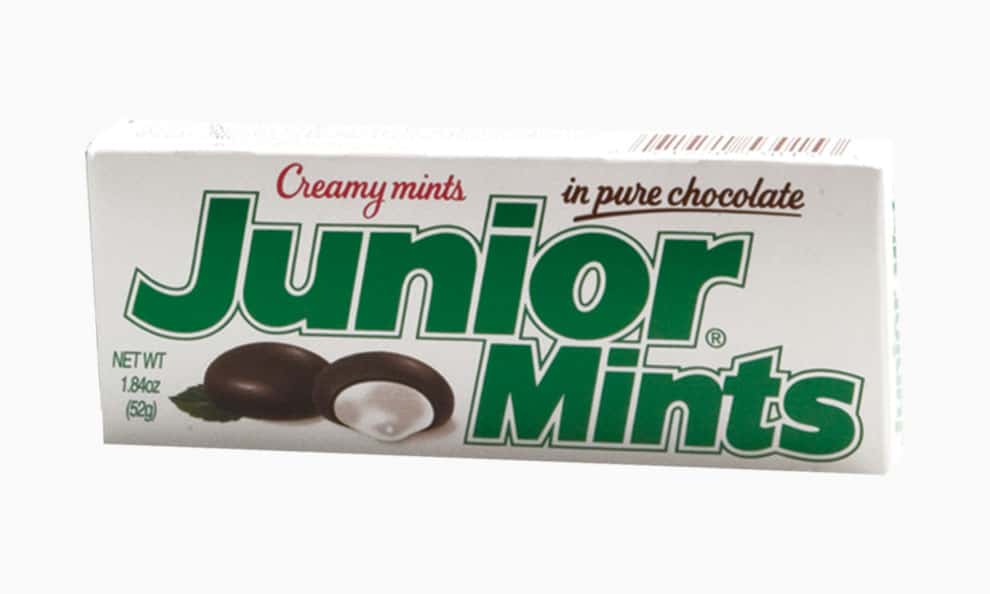 One of the more controversial picks on this list is Junior Mints. Like licorice, you either love them or hate them. Though, if you're a fan of peppermint and chocolate, this movie snack is probably one of your first picks.
Skittles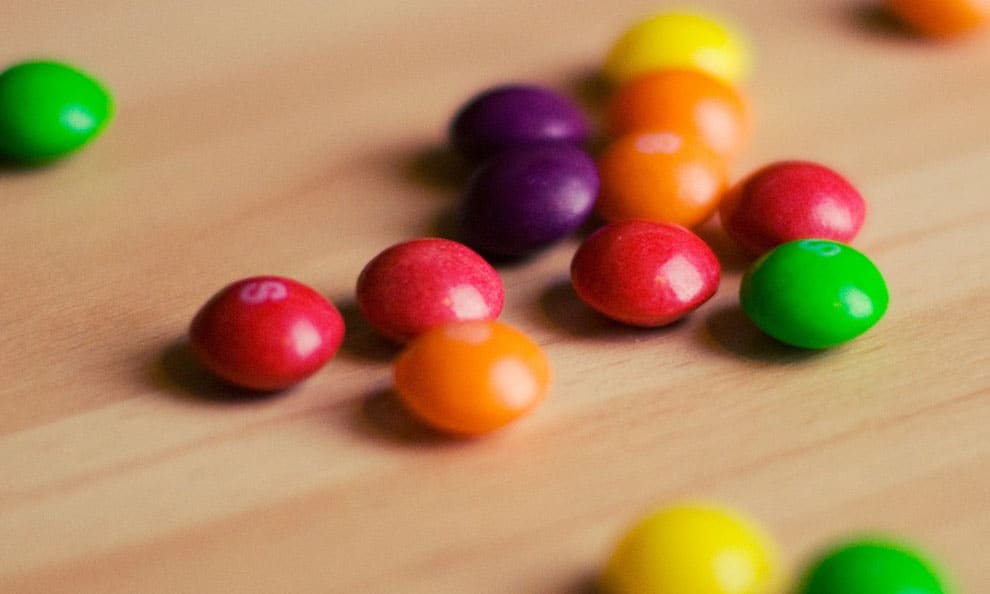 There's one sweet candy that has reigned supreme for decades and that is Skittles. These little bite sized balls of sugar are both crunchy and chewy, packing a huge burst of fruity flavor. While the traditional red-bagged Skittles get most of the love, they come in a variety of flavors. Here are some tasty Skittles options to consider for movie night:
Wild Berry Skittles: Inside you'll find flavors such as berry punch, strawberry, melon berry, wild cherry, and raspberry.
Sour Skittles: Looking for a sweet treat that packs a sour punch? If so, these Sour Skittles are going to be right up your alley.
Tropical Skittles: These tropical flavors include banana berry, kiwi lime, mango tangelo, pineapple passionfruit, and strawberry.
Reese's Pieces
Another classic movie snack, Reese's Pieces are not to be confused with Peanut Butter M&Ms (listed above). That's because they do not contain any chocolate. This gives them much more of a creamy peanut buttery flavor. If you're a peanut butter lover like I am, this is the movie snack for you.
Buncha Crunch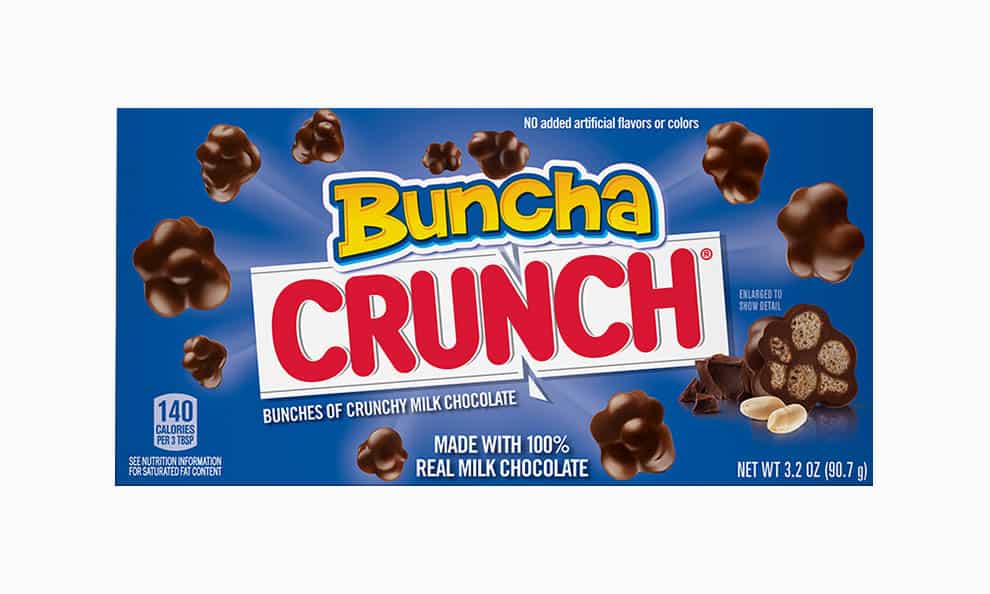 If you're a 90s kid like I am, chances are you snacked on Buncha Crunch at least once in your lifetime while watching a movie in theaters. For me, these might be the most nostalgic snacks on this list.
It's a pretty ingenious candy. Nestle simply took their Crunch bar (made with rice krispies and milk chocolate) and turned it into snackable clusters—perfect for chowing down on while watching a movie.
Butterfinger Bites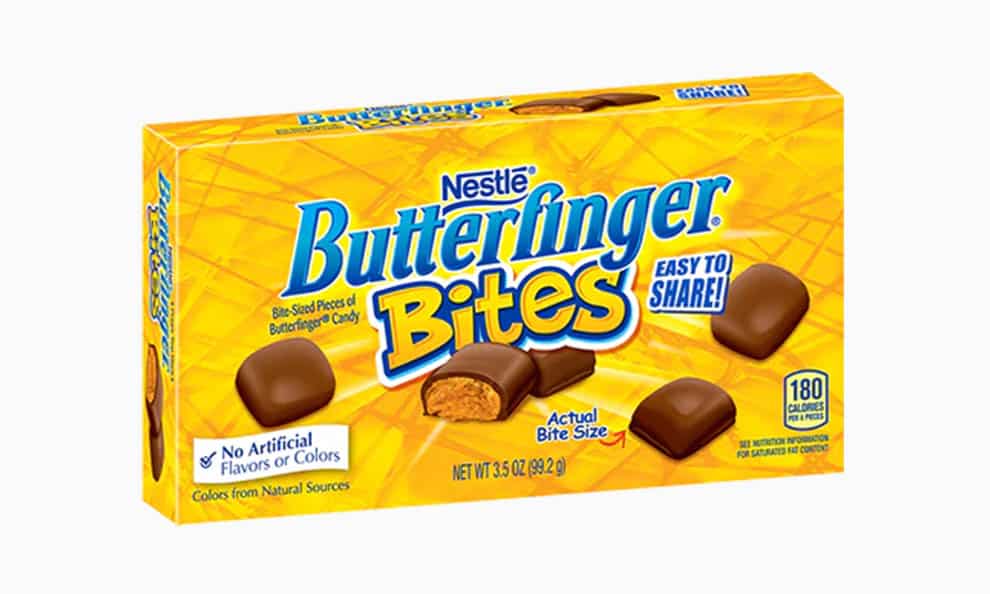 Another 90s specific movie theater candy, Butterfinger Bites are irresistibly crunchy, sweet, and savory. Just be prepared to have Butterfinger stuck in your teeth for hours after you're done eating them.
Popcorn
No movie snack list would be complete without popcorn. Whether you like caramel corn, cheddar popcorn, or plain old classic movie theater butter, there are options for everyone. If you're having a movie night at home and you're looking to replicate the popcorn you'd find at the theater, here are a few brands to consider:
Orville Redenbacher's Movie Theater Butter Popcorn: Complete with the movie theater tub, this popcorn is easily the closest it comes to the real thing. It's loaded with buttery goodness and salt already so just throw it in the microwave and you're ready to start snacking.
Act II Xtreme Butter: If butter is your favorite part of eating popcorn, this is the brand to go with. It is, without a doubt, the most butter-filled popcorn out there (perfect for satisfying the biggest butter lovers).
Great Northern Popcorn Movie Theater Style: If you're a popcorn connoisseur and you even have your own popcorn machine, this is the brand to go with. The kernels are surrounded in coconut oil and butter flavored salt for the most authentic movie theater popcorn experience.
Can't decide? Grab a few options. We all know it's important to moderate portions and to avoid overindulging, but movie night is a special occasion. If you want to avoid overdoing it, instead of bringing the whole bag or box of snacks over to the couch, fill a couple small bowls with your favorite snacks to limit the damage you can do.
Simple Tips to Upgrade Store-Bought Snacks
While the movie snacks listed above might fit your fancy, you might be looking to take things to the next level for movie night. Here's how to dress up three simple store-bought snacks to make them perfect for indulging on movie night...
1. DIY Gourmet Potato Chips
Store-bought potato chips can be plain but it's not always worth paying the extra $3 to $4 for fancy flavored options. If you're looking for a quick and easy way to spice up store-bought chips, here are a couple of ideas:
Pour the chips into a big bowl and drizzle lightly with olive oil. Grate parmesan cheese over top, add a little fresh cracked pepper, and toss it all together for gourmet Italian chips.
Grab a bag of sea salt chips and throw them in a zippered freezer bag. Add a healthy serving of your favorite hot sauce and shake until the chips are coated.
Dump some potato chips in a big bowl then drizzle lightly with honey and toss. Add a few pinches of mustard powder and toss until they are coated.
Make homemade BBQ chips by tossing potato chips in a mixture of chili powder, garlic powder, onion powder, smoked paprika, and cumin. Add cayenne for heat.
If none of these recipes suits your fancy, you can always get creative. Raid the pantry to see what spices or seasoning mixes you have on hand. Something as simply as a dash of cayenne can spice things up or even a little bit of garlic salt and onion powder.
2. Flavored Popcorn
Nothing is wrong with a bag (or two) of microwave popcorn, but if you're looking for a bit of added flavor, air-popped is where it's at. Air-popped popcorn is the perfect foundation for flavor and it's a great opportunity to, once again, get creative.
Grab some dried Italian seasoning or make your own blend with dried oregano, parsley, and basil. Add a pinch of chili powder and as much salt as you like.
Spritz the popcorn with olive oil spray and sprinkle with garlic powder and toss well. If you want to make it look fancy, add a little dried parsley.
Make your own sea salt and black pepper popcorn by tossing air-popped popcorn with fresh cracked pepper and coarse sea salt. Add a little olive oil spray to help it stick.
Add some salty savory flavor to your popcorn with fresh-grated parmesan cheese. If the popcorn is hot, the cheese will start to melt that that only makes it better.
Give your popcorn a south-of-the-border flavor with a squeeze of fresh lime juice and a pinch of cumin. You could even add a dash of hot sauce.
If you're more of a traditionalist, you can't go wrong with a little salt and melted butter. Whip out your air popper then drizzle the popcorn with melted butter, sprinkle with salt, and toss it all up.
3. Not-So-Bland Queso
Chips and dip are a movie night staple, but store-bought queso tastes, well, store-bought. Fortunately, there are plenty of simple ways to dress it up.
Dice up some fresh jalapeno, serrano, or cayenne peppers to add a kick. If you like it really spicy, keep the seeds when dicing.
Warm up a can of kidney beans or refried beans on the stove then spoon in your queso and stir it all together.
Add some flavor by drizzling in a little taco sauce or barbecue sauce. Add diced onions on top and, if you're feeling adventurous, bacon bits.
Turn boring queso into taco dip by frying up some ground beef and adding plenty of chili powder, paprika, and cumin. Stir in the queso and serve it warm.
If you don't want to put a lot of effort into this snack, just add cooked veggies! Sauteed onions and peppers can add both flavor and texture to a boring store-bought queso.
Take Movie Night Up A Notch With These 8 Tasty Recipes
While staying in to watch a movie might not be as glamorous as a night out on the town, it can be just as enjoyable—especially if you throw in a tasty homemade snack. Throw on your PJs after work and whip up one of these tasty recipes while your partner picks a movie.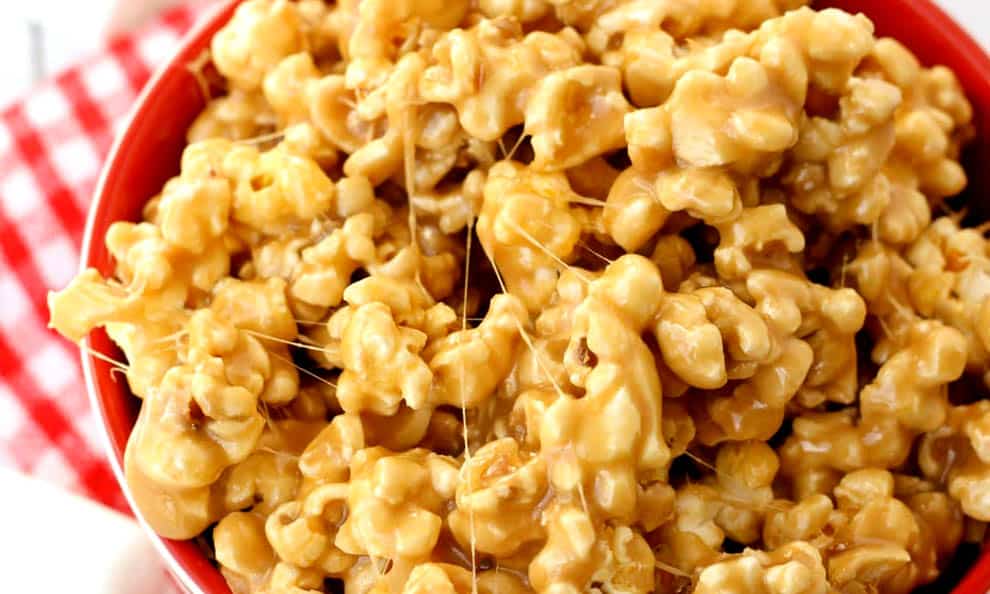 Servings: 4 to 6
Ingredients:
1 bag microwave popcorn
½ cup salted butter
1 cup brown sugar
1 tablespoon light corn syrup
20 large marshmallows
Instructions:
Pop a bag of microwave popcorn or grab a bag of store-bought and pour it into a bowl.
Melt the butter in a medium saucepan over medium heat.
Stir in the brown sugar and corn syrup until smooth.
Add the marshmallows and stir until they are melted.
Drizzle the mixture over the popcorn, tossing to coat.
Spread on a parchment-lined baking sheet and let cool before serving.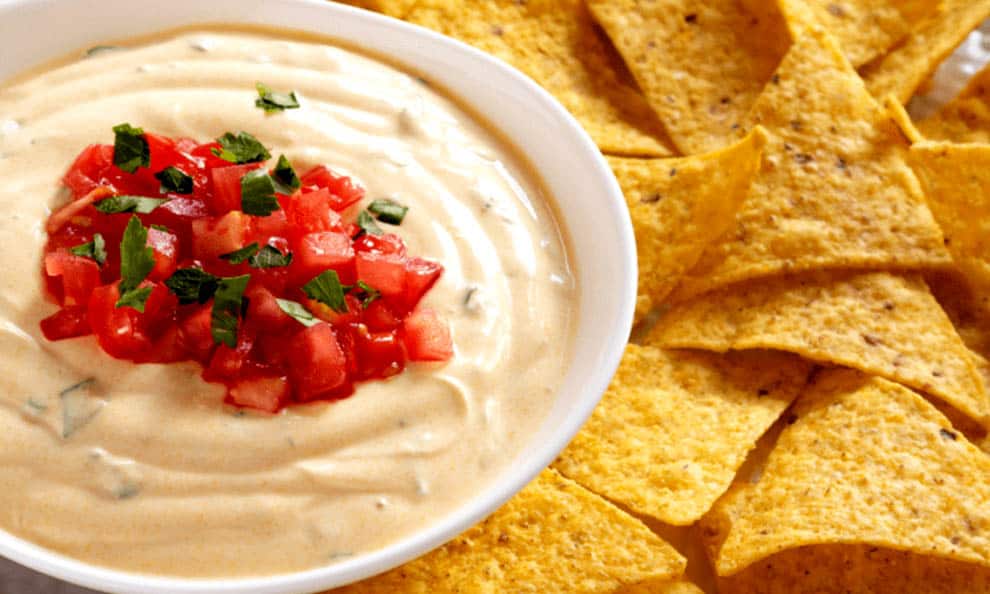 Servings: 6 to 8
Ingredients:
3 poblano peppers
8 ounces fresh tomatoes
Olive oil, as needed
Salt and pepper
1 cup shredded Monterey jack cheese
1 cup shredded provolone cheese
1 cup shredded cheddar cheese
1 cup heavy cream
1 ½ teaspoon fresh minced garlic
Instructions:
Preheat the oven to 450°F and line a baking sheet with aluminum foil.
Slice the poblanos and tomatoes in half and spread them on the baking sheet—remove the seeds if desired.
Drizzle with olive oil then season with salt and pepper.
Roast for 15 minutes then let cool for 5 minutes.
When cool enough to touch, remove the blackened skins and finely chop the flesh.
Combine the shredded cheese, roasted veggies, heavy cream, and garlic in a slow cooker.
Place the lid on top and cook for 2 hours on low heat, stirring every 20 minutes.
Serve when the cheese is thoroughly melted, seasoning with salt to taste.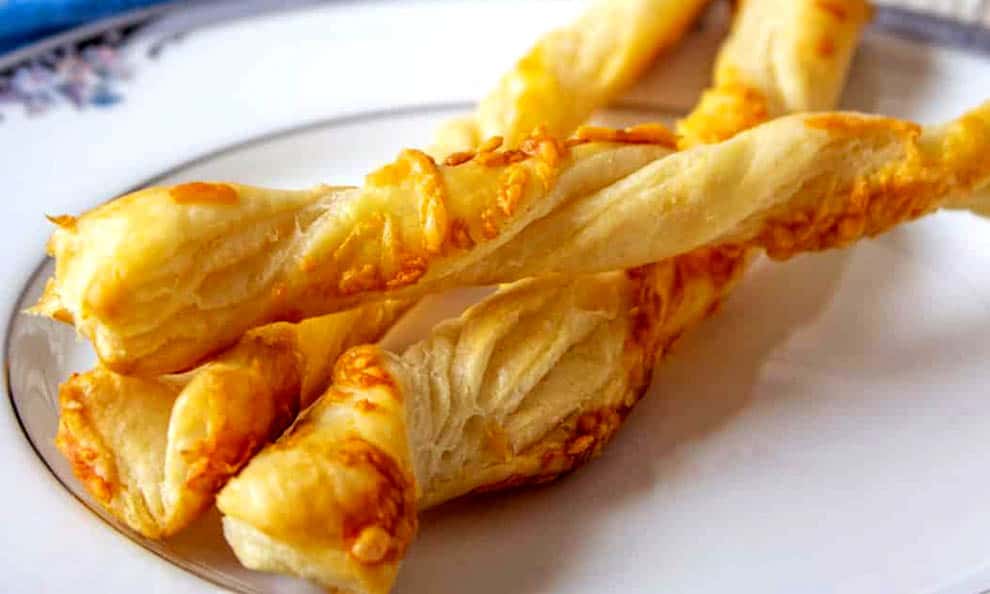 Servings: 4
Ingredients:
2 sheets frozen puff pastry, thawed
1 egg
1 tablespoon water
¼ cup grated parmesan
Salt to taste
Instructions:
Separate the two sheets of puff pastry and roll each piece to about 1/8 inch thick.
Beat the egg and water together then lightly brush the surface of the pastry with the mixture.
Sprinkle with parmesan cheese and salt.
Cut the dough into long strips about ½ inch wide.
One at a tip, pick up the ends of each strip and twist in opposite directions to make a spiral.
Place the spirals on a parchment-lined baking sheet, pressing in the ends to keep them twisted.
Cover the baking sheet and chill for 30 minutes.
Uncover and bake at 400°F for 15 minutes until crisp. Cool completely before serving.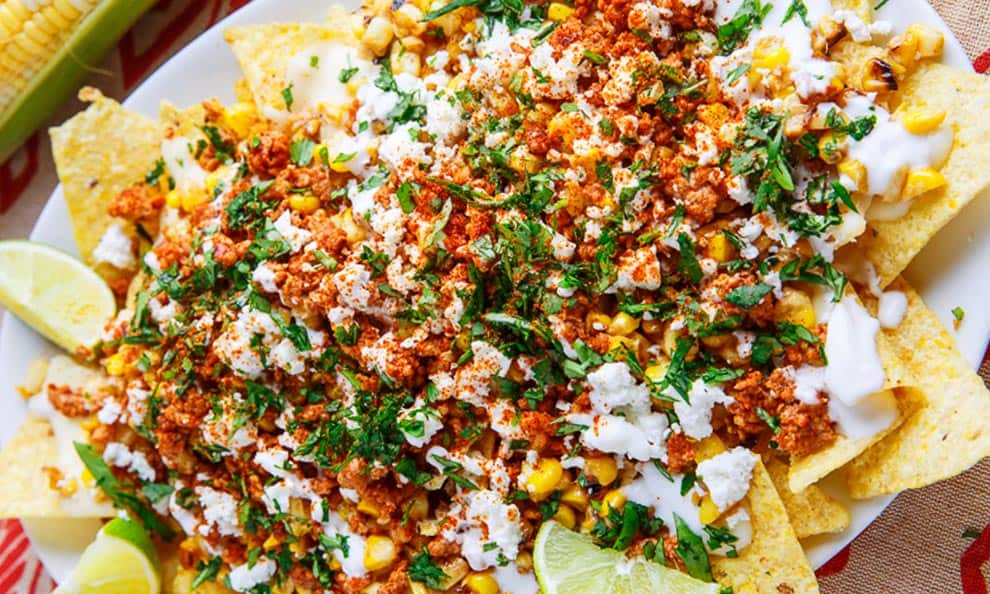 Servings: 8
Ingredients:
2 tablespoons butter
4 cups frozen corn
2 tablespoons mayonnaise
1 tablespoon cornstarch
1 cup heavy cream
8 ounces shredded Monterey jack cheese
1 (14 oz) bag tortilla chips
2 tablespoons sour cream
¼ cup cotija, crumbled
2 tablespoons chopped cilantro
Lime wedges
Instructions:
Melt the butter in a heavy saucepan over medium high heat.
Add the corn and cook until it starts to char, stirring occasionally.
Remove from heat then stir in the mayonnaise.
Whisk together the cornstarch and heavy cream in a small saucepan.
Bring to a simmer then add the cheese.
Reduce heat and cook until the cheese melts.
Spread the corn chips on a large platter and pour the cheese sauce over them.
Spoon on the charred corn then add dollops of sour cream.
Sprinkle with cotija and chopped cilantro then serve with lime wedges.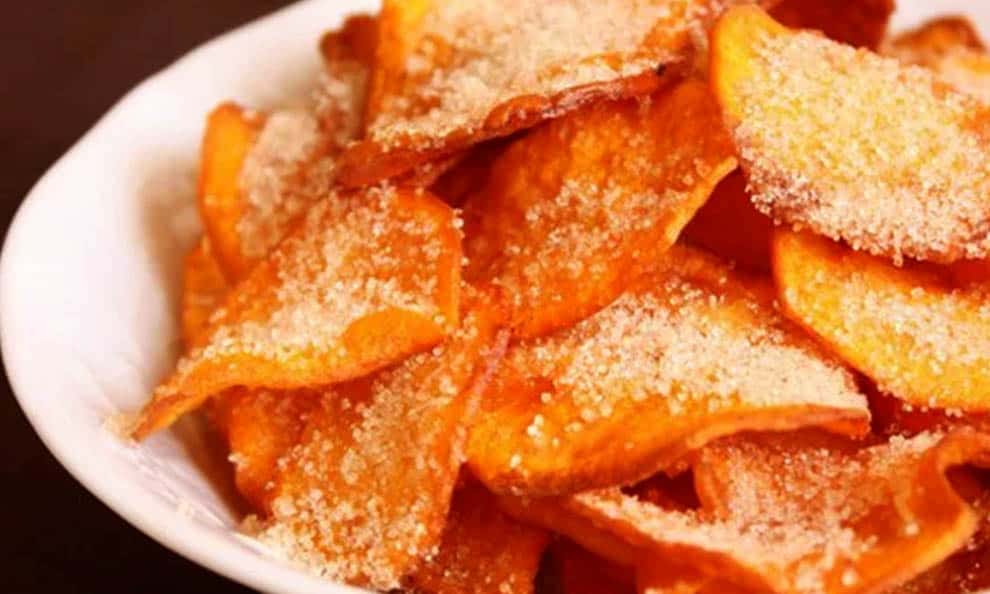 Servings: Variable
Ingredients:
1 sweet potato per person
Avocado oil
Brown sugar
Instructions:
Drizzle avocado oil into a large, heavy skill and heat over medium-high heat.
Slice the sweet potatoes as thin as possible using a mandolin.
Add the sweet potatoes to the hot oil in a single layer.
Cook until the sweet potatoes are browned, turning occasionally to brown evenly.
Remove the chips to paper towels to drain.
Repeat with the remaining sweet potatoes until they're all fried.
Sprinkle the sweet potato chips generously with brown sugar to serve.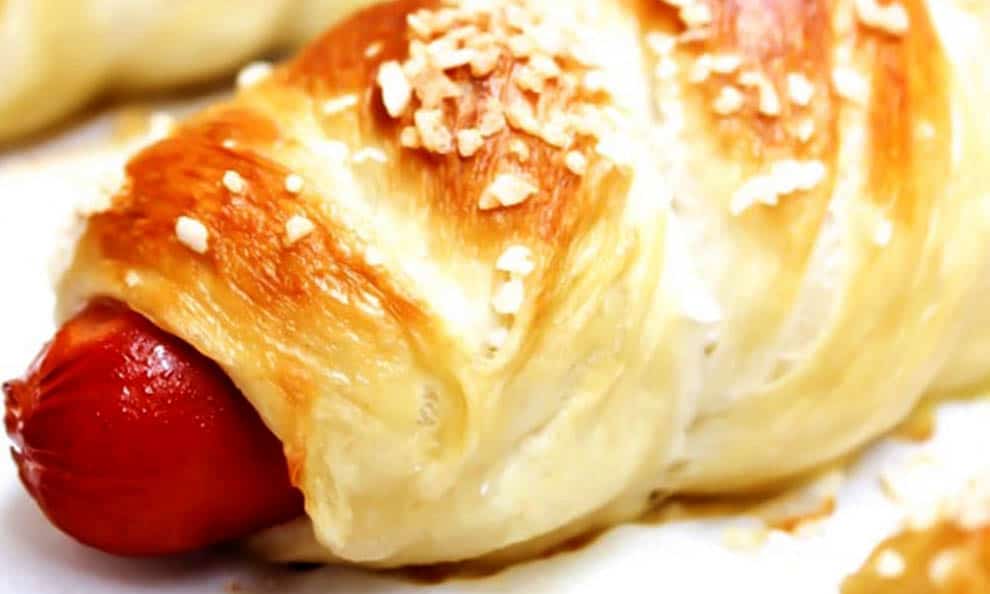 Servings: 8
Ingredients:
8 frozen dinner rolls
8 hotdogs
3 quarts water
¼ cup baking soda
1 egg
2 tablespoons water
Coarse sea salt
Instructions:
Defrost the frozen dinner rolls and roll each into a rope about 18 inches long.
Wind the dough ropes around the hotdogs, pressing the dough into itself at the top and bottom to keep it from unraveling.
Boil the water in a large saucepan and add the baking soda.
Place two wrapped hotdogs in the water and boil for 30 seconds.
Remove the pretzels to a cooling rack with a slotted spoon and repeat with the rest.
Grease a baking sheet with cooking spray and transfer the wrapped hotdogs to it.
Whisk together the egg and water then brush over the hotdogs.
Sprinkle with salt then bake at 450°F for 6 to 8 minutes until browned. Serve hot.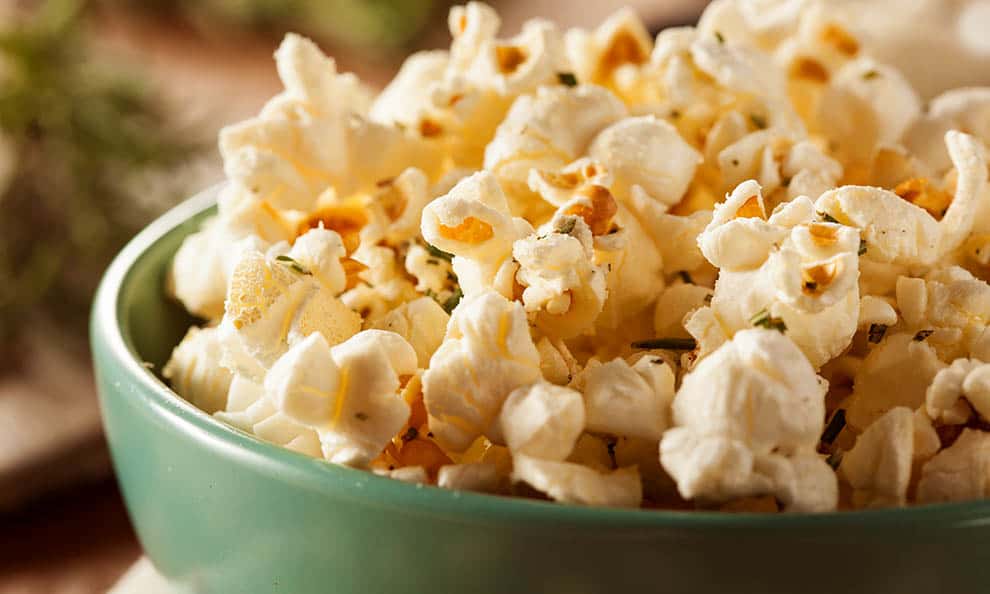 Servings: 4
Ingredients:
½ cup popcorn kernels, popped
¼ cup salted butter
¼ tsp chili powder
1/8 teaspoon garlic powder
¼ teaspoon salt
3 ounces finely shredded cheddar cheese
Instructions:
Pop the popcorn using your preferred method then pour into a large bowl.
Melt the butter in a small saucepan and stir in the chili powder, garlic powder, and salt.
Pour the butter mixture over the popcorn and toss until evenly coated.
Spread the popcorn on a parchment-lined baking sheet.
Sprinkle with grated cheese and stir until evenly distributed.
Place an oven rack in the middle of the oven and preheat the boiler on low heat.
Place the popcorn in the oven for 2 to 3 minutes until the cheese is melted.
Transfer to a large bowl to serve.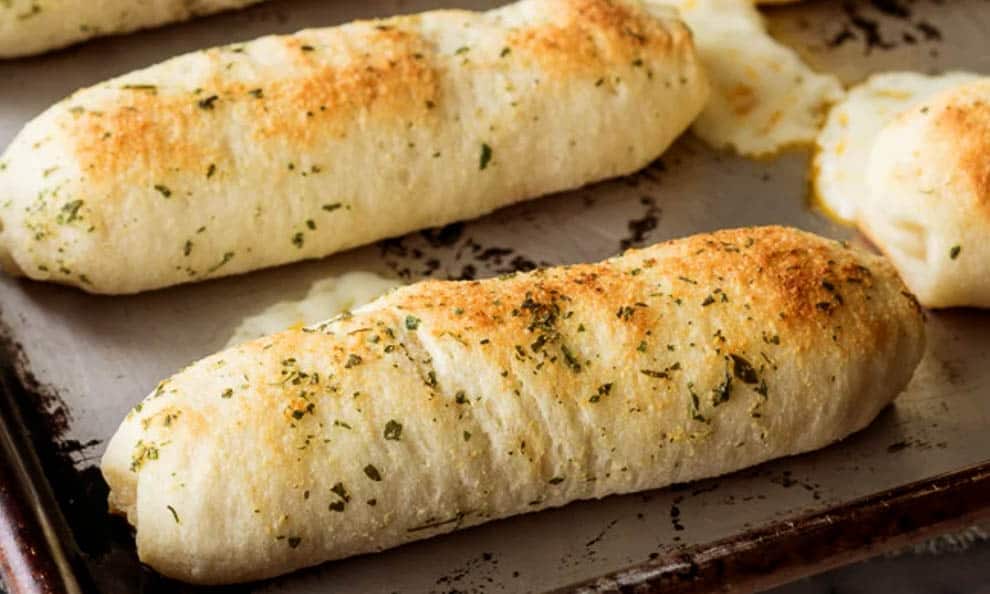 Servings: Makes 10
Ingredients:
1 roll refrigerated pizza dough
40 slices pepperoni
10 mozzarella cheese sticks
2 tablespoons butter
½ teaspoon garlic powder
½ teaspoon dried parsley
Marinara sauce
Instructions:
Preheat the oven to 450°F and lightly grease a baking sheet.
Spread the refrigerated pizza dough on the baking sheet and cut into 10 rectangles.
Place 4 pepperoni slices on each rectangle and top with a stick of mozzarella cheese.
Roll the dough around the fillings, pinching the seams closed.
Melt the butter then stir in the garlic and parsley.
Brush the mixture over the dough and bake for 10 to 12 minutes until golden brown.
Serve warm with marinara sauce for dipping.
No matter what you're watching, your next movie night is sure to be special with any of the snacks from this list. Whether you're keeping it simple with store-bought or putting in the effort to go homemade, grab your favorite beverage and get ready for snacking!
Which one of these movie snacks is your favorite? Do you have one we missed? Let us know in the comments below!