With meal kit subscription services being a dime a dozen these days, trying to figure out which is best for you can quickly get overwhelming. That's why we've taken it upon ourselves to compare the most popular meal kit options available.
Today we're going to be comparing Home Chef and Blue Apron, each industry heavyweights.
Both of these meal kits are not only well-known and widely used, they're also two of the longest running meal kits in the U.S.
Before we get to pitting them against one another, though, let's first get to know them a little better…
Quick Overview Of Home Chef
Founded in 2013 by Pat Vihtelic, Home Chef quickly progressed from its humble beginnings in Chicago, Illinois to grocery stores just five years later in a $700 million acquisition deal with Kroger. Today, customers get the option of subscribing to weekly meal kits through their website or they can also stop by Kroger-owned participating stores to pick up a meal kit or two while they shop for groceries.
Home Chef's main mission is to make meal prep easier for everyone by providing simple and quick meals that anyone can make. Even with the fairly recent acquisition by Kroger, I believe their mission still holds true.
Quick Overview Of Blue Apron
The meal kit industry in the U.S. first started to pick up steam around 2012 with the introduction of Blue Apron, a Queens-based start-up looking to disrupt the home-cooking industry after seeing what similar services were achieving in other countries (specifically HelloFresh).
The name "Blue Apron" is a reference to French culinary tradition, where apprentice chefs learning to cook wear blue aprons as a sign of their novice status. The same concept of culinary exploration and development is reflected in how Blue Apron is geared towards customers that are looking to change up their meal planning by opting for meal kits instead of the tedium of grocery shopping.
Ordering Process
As is usual for meal kit subscription services, you sign up for both Home Chef and Blue Apron through their website or mobile app. Side note, I highly recommend signing up on their websites since the onboarding process on their apps can sometimes be a little clunky.
The steps to do so are relatively straightforward, with minor differences that help them determine your meal plan preferences and delivery frequency.
With Home Chef, you start off by deciding between the standard Home Chef meal plan or Home Chef Fresh & Easy, where the meals featured are low-prep or no-prep (for example, oven-ready meals) to save time and effort when making food. After that, you have the option to select whether you'd like carb-conscious or calorie-conscious meals, as well as a section where you can note if you have any common allergens or protein types you'd like to avoid.
If picking between meal plans and dietary restrictions isn't for you, Home Chef also has a short quiz you can take before you sign up. They'll ask questions that help determine your preferences, like:
How much do you enjoy cooking.
Your usual meals on a weeknight.
The kind of meals you like the most.
Your main cooking priorities.
After you answer the quiz, they'll assign you a "chef type" based on your quiz results and bring you to the same screen you'd get when you select "Pick Your Meals" instead of "Take Our Quiz!".
While these types of onboarding quizzes are nothing new in the world of meal kits, I find Home Chef's does a good job of pointing you in the right direction. This can be especially helpful for those who are new to meal kits and don't know where to start.
The next steps are pretty simple. You sign up with your email and zip code so they can tell you whether they deliver to your area, then you decide how many people and how many meals you're serving in a week. After that it's time to fill in billing details and pick out meals for the week.
Before signing up, you can also navigate through Home Chef's website to look through their menu to see if their meals even interest you.
I especially like that they give you the ability to click through on each recipe to see more details about the meal, as this is important when making an informed decision before subscribing and committing to their service. Too frequently I see meal kit companies hide a lot of important meal and recipe information until after you input your payment details.
As for Blue Apron, you start off by signing up for an account with your email and password, after which you'll be taken to the next page, where you can pick between four different meal plans:
Signature: Blue Apron's standard meal plan for two.
Signature for 4: Blue Apron's standard meal plan for four.
Vegetarian for 2: Meat-free dishes for two.
Wellness for 2: Meals for the health-conscious (includes carb-conscious and WW dishes).
Once you've selected your meal plan, it's time to key in your billing details and get to selecting your meals for the next few weeks.
Like Home Chef, Blue Apron also lets you take a look at their menu beforehand, so you can check out what they have to offer before you subscribe. The recipe details on their website feature in-depth instructions with pictures accompanying each step, as well as images showing each individual ingredient on top of the usual finished product picture.
Overall, I found the sign-up and ordering processes for both Home Chef and Blue Apron to be fairly simple and intuitive.
While Home Chef gives you the option of taking a fun quiz and allows for ingredient customization early on, Blue Apron discloses complete nutritional information and includes elegant ingredient pictures as an additional visual aid for their recipes.
To be fair, since most of the differences in the ordering process were small ones, this round ends in a tie.
Meal Plans & Cost
How much a meal kit subscription sets you back in terms of cost is a huge factor in deciding whether to take the plunge. To make comparing easy, we calculated the average cost per serving for each option offered by Home Chef and Blue Apron.
| | | | | | |
| --- | --- | --- | --- | --- | --- |
| Home Chef | | | | | |
| 2 people | | | | | |
| Meals per week | 2 | 3 | 4 | 5 | 6 |
| Total servings per week | 4 | 6 | 8 | 10 | 12 |
| Cost per serving | $8.99 | $8.99 | $8.99 | $8.99 | $8.99 |
| Shipping | $13.99 | $9.99 | $9.99 | $9.99 | $9.99 |
| Total cost per week | $49.95 | $63.93 | $81.91 | $99.89 | $117.87 |
| Average cost per serving | ~$12.49 | ~$10.66 | ~$10.24 | ~$9.99 | ~$9.82 |
| 4 people | | | | | |
| Meals per week | 2 | 3 | 4 | 5 | 6 |
| Total servings per week | 8 | 12 | 16 | 20 | 24 |
| Cost per serving | $8.99 | $8.99 | $8.99 | $8.99 | $8.99 |
| Shipping | $9.99 | $9.99 | $9.99 | $9.99 | $9.99 |
| Total cost per week | $81.91 | $117.87 | $153.83 | $189.79 | $225.75 |
| Average cost per serving | ~$10.24 | ~$9.82 | ~$9.61 | ~$9.49 | ~$9.41 |
| 6 people | | | | | |
| Meals per week | 2 | 3 | 4 | 5 | 6 |
| Total servings per week | 12 | 18 | 24 | 30 | 36 |
| Cost per serving | $8.99 | $8.99 | $8.99 | $8.99 | $8.99 |
| Shipping | $9.99 | $9.99 | $9.99 | $9.99 | $9.99 |
| Total cost per week | $117.87 | $171.81 | $225.75 | $279.69 | $333.63 |
| Average cost per serving | ~$9.82 | ~$9.55 | ~$9.41 | ~$9.32 | ~$9.27 |
| | | | |
| --- | --- | --- | --- |
| Blue Apron | | | |
| 2 people (Signature for 2) | | | |
| Meals per week | 2 | 3 | 4 |
| Total servings per week | 4 | 6 | 8 |
| Cost per serving | $9.99 | $8.99 | $8.99 |
| Shipping | $9.99 | $9.99 | $9.99 |
| Total cost per week | $49.95 | $63.93 | $81.91 |
| Average cost per serving | ~$12.49 | ~$10.66 | ~$10.24 |
| 4 people (Signature for 4) | | | |
| Meals per week | 2 | 3 | 4 |
| Total servings per week | 8 | 12 | 16 |
| Cost per serving | $8.99 | $7.99 | $7.49 |
| Shipping | $9.99 | $9.99 | $9.99 |
| Total cost per week | $81.91 | $105.87 | $129.83 |
| Average cost per serving | ~$10.24 | ~$8.82 | ~$8.11 |
| 2 people (Vegetarian for 2) | | | |
| Meals per week | 2 | 3 | 4 |
| Total servings per week | 4 | 6 | 8 |
| Cost per serving | $9.99 | $8.99 | $8.99 |
| Shipping | $9.99 | $9.99 | $9.99 |
| Total cost per week | $49.95 | $63.93 | $81.91 |
| Average cost per serving | ~$12.49 | ~$10.66 | ~$10.24 |
| 2 people (Wellness for 2) | | | |
| Meals per week | 2 | 3 | 4 |
| Total servings per week | 4 | 6 | 8 |
| Cost per serving | $9.99 | $8.99 | $8.99 |
| Shipping | $9.99 | $9.99 | $9.99 |
| Total cost per week | $49.95 | $63.93 | $81.91 |
| Average cost per serving | ~$12.49 | ~$10.66 | ~$10.24 |
Home Chef doesn't have dedicated meal plans in the same way that Blue Apron does, besides their standard plan and their Fresh & Easy plan. Instead, they let you pick between boxes serving two to six people at a time. Their average cost per meal comes in at a hefty $12 at first, but the prices drop to about $9 per serving at their lowest.
Meanwhile, Blue Apron's average cost per serving starts out the same at $12 per meal, dropping down to $8 per serving with their Signature for 4 plan serving four people four times a week. Compared to Home Chef at the same number of servings, that's a $1.50 difference per serving spread out over 16 meals, which adds up to $24 a week.
Blue Apron's weekly meal plan price for two people doesn't change depending on which plan you're picking, whether it's their Signature for 2, Vegetarian for 2, or their Wellness for 2 menus. Home Chef's prices also don't change depending on the type of meals you're getting. For both these services, you might feel like you're paying a little extra if you're opting for plant-based protein over animal-derived protein, which is usually more costly.
While we're on the topic of costs, both Home Chef and Blue Apron do offer a variety of different discounts. Home Chef gives you half off your first box and 10% off all future orders up to $60 if you are a health care worker, military, a first responder, a student, or a teacher. On the other hand, Blue Apron offers a $100+ discount and free shipping on the first box for all doctors, nurses, hospital employees, first responders, military, seniors, students, teachers, and government workers.
For this round, Blue Apron is the winner. That small but significant difference in cost per meal at their lowest price really does become a big disparity week over week. Plus, their added discount for government workers, seniors over 55 years of age, healthcare workers, military, first responders, and those in education, is pretty great. If you're planning to pick a meal kit to go with and expense is a concern, Blue Apron ends up more affordable in the long run. Though, if both Home Chef and Blue Apron's prices seem too high for you, there are cheaper meal delivery services available.
Ingredients & Recipe Variety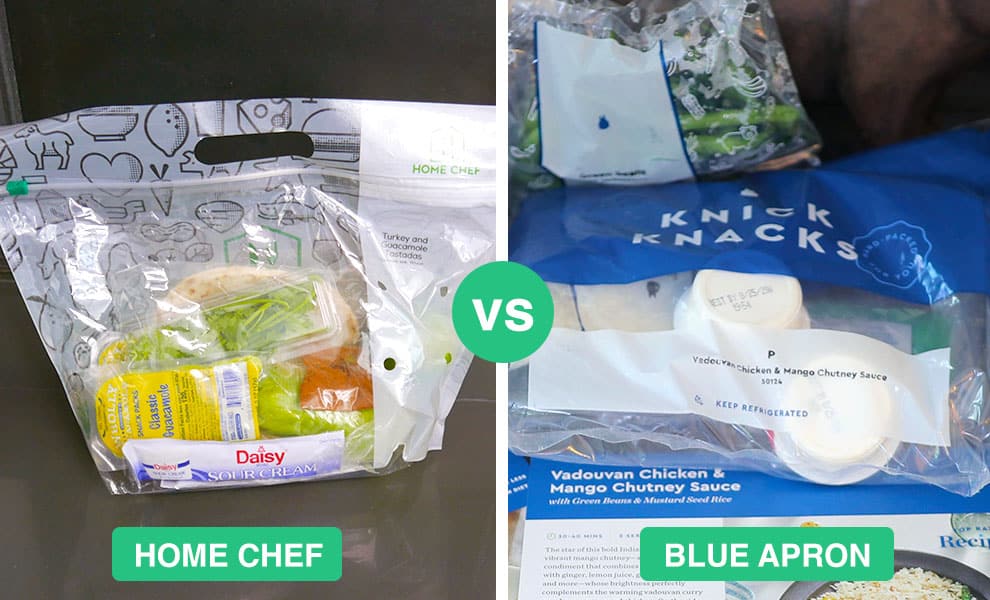 Based on my experience, Home Chef does its best to please a wide range of eaters, and they hit the mark (most of the time) with tasty, quality meals.
Their recipe range includes comfort food and classic dinner recipes that consist of meat, veggies, and starch, but I've also found a handful of more adventurous recipes each week as well.
Home Chef's menu of about 30 recipes rotated weekly allows for a surprising amount of customizations, where you can swap or upgrade proteins as well as change the serving size for your meals.
While their "Culinary Collection" meals cost a little extra, I personally like how these meals use higher-end cuts of beef and some seafood options like tuna and mahi-mahi. This isn't something I see too frequently with meal kits we've previously reviewed here at Food Box HQ. Since these premium recipes cost a little more than the regular recipes, I'll generally only throw one or two Culinary Collection meals into our box for the week. Do note that these recipes take a bit more time and effort when compared to their other recipes.
I appreciate that Home Chef allows for certain a la carte addons like breakfast, bread, and dessert items. They also allow you to add on protein portions. For big eaters, this is something I would consider to be a must have since meal kits in general are notorious for their "not so generous" portion sizes.
While some Home Chef ingredients are organic, there is no guarantee that all meal components are organic. Instead, they provide the option to swap for organic or antibiotic-free protein sources in certain dishes.
In general, Home Chef has a few recipe categories meant to cater to a variety of tastes and preferences, among them being:
Meal Kit: Classic, easy to follow recipes.
Culinary Collection: Higher quality ingredients and recipes (when compared to their regular meal kit meals) that come with a higher price. These are meant for those looking for more gourmet-style meals.
15-Minute Meal Kit: Recipes that consist of pre-chopped ingredients to cut down on time spent meal prepping.
Family Meals: Bulk serving dishes simplified to fit in one pan.
Fast & Fresh: Meals that use fresh ingredients which don't require any preparation or cooking. You'll find pre-made meals within this category.
Oven Ready: Recipes that some with pre-chopped ingredients as well as a tin pan, ready to put in the oven. Check out our video review of their oven ready meals here.
Grill Ready: Simple recipes that you can make on a BBQ grill.
Since Home Chef's recipes can be filtered according to the categories listed above, I found it makes picking out what I'd like to have for the week a pretty smooth and easy experience. For example, if I know I'll be working late one night, I can make sure to add any of their Fast & Fresh meals to make mealtime a bit quicker than usual.
Another plus is Home Chef doesn't restrict customers to a specific meal plan. Even if you've selected carb-conscious or calorie-conscious at the beginning of your signup, you can still choose meals outside of those categories without being locked in. With many other meal kit services I've reviewed, they make you switch your plan to receive meals that aren't on the plan you initially signed up with, which is a hassle.
Home Chef partners with local suppliers whenever possible, with extra focus on sustainable farming, industry-standard animal welfare, and ingredient quality. I noticed there isn't a lot of information available on Home Chef's website with regards to ingredient sourcing, but they sometimes disclose details about an ingredients origins if it's particularly of note.
As for Blue Apron, their weekly selection of recipes varies according to meal plans. Their Signature for 2 plan has the most variety in dishes by far, coming in at a decent 20 recipes compared to the four to five recipes allotted to their Vegetarian for 2, Wellness for 2, and Signature for 4 plans.
Within their menu, meals are divided into a handful of categories, namely:
600 Calories Or Less: Reduced-calorie meals for the calorie-conscious.
Vegetarian: Meat-free meals that may still contain dairy, eggs, and honey.
Diabetes-Friendly: Meals made according to American Diabetes Association guidelines.
Carb-Conscious: Meals that contain a maximum of 48 grams of net carbohydrates per serving.
Mediterranean Diet: Recipes with ingredients that fit into the Mediterranean diet.
WW-Approved: Recipes that include WW (Weight Watchers) points information. They generally focus on vegetables and lean protein sources.
Plant Forward: Meals that contain smaller amounts of animal-derived protein. I found that these meals lean more vegetarian than vegan.
Like Home Chef, Blue Apron also has a handful of pre-made meals on their menu to select from each week.
Unfortunately, they don't allow for as much customization when selection recipes as Home Chef does. That means if you're craving something different from what they're offering, you'll only be able to swap certain proteins and starches in some recipes.
What little Blue Apron has in their meal choice variety (when compared to Home Chef) they make up for with adventurous ingredient pairings and interesting recipes from around the world. I found them to be a great meal kit for exploring new flavors and ingredient combinations. Take, for example, their Blackened Honey Butter Scallops over Cheesy Garlic & Herb Polenta recipe. Being a bit picky when it comes to seafood, this is not a meal I would have ever thought of trying. That said, it was probably one of the most delicious scallop meals I've ever had.
Blue Apron also has a selection of wine, pantry items, meal prep bundles, kitchen tools, and gift cards available for purchase, even without a subscription. Home Chef, on the other hand, doesn't offer any of these extras.
In terms of ingredient sustainability, Blue Apron only sources its ingredients from farms and distributors that meet their animal welfare policy. The meat used in Blue Apron's meal kits comes from animals that are fed a diet free of animal by-products, antibiotics, and hormones. Their seafood is also sustainably sourced according to Seafood Watch, a sustainable seafood advisory list run by the Monterey Bay Aquarium as a non-profit program.
Blue Apron's ingredients are free of genetically modified organisms (GMOs), and some ingredients are organic, too. It's clear that Blue Apron takes their ingredient quality seriously.
What Home Chef has in terms of recipe variety and customization, Blue Apron more than makes up for with high-quality ingredients (sourced sustainably) and interesting extras such as wines, meal prep bundles, and more. It was another tough round, but each meal kit distinguished themselves in fairly unique ways, making this round end in another tie.
Cooking Process & Support Material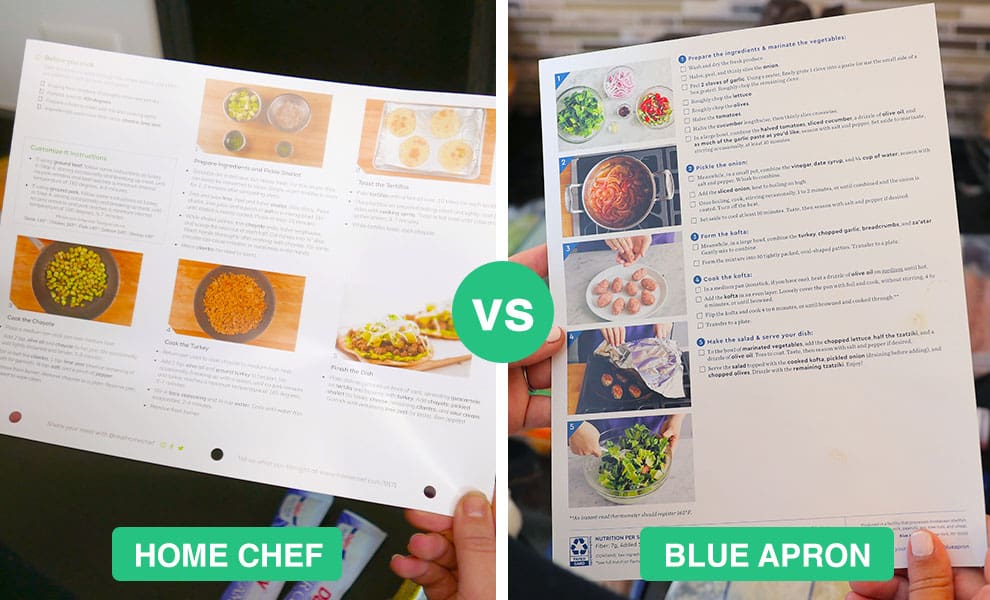 True to their mission of providing everyone with simple and tasty meals, I found Home Chef's meal kits are very easy to prepare.
Out of all of the different categories of meals they offer, their Fresh & Easy meals are the quickest to go from fridge to plate. These are going to be grill ready meals, oven ready meals, salads, 15-minute meal kits, and even pre-made meals that can be heated up in the microwave.
Even their standard recipes have only taken me, at the maximum, around 30-40 minutes to cook. Though, I found that their premium (Culinary Collection) meals generally involve a bit more of a time commitment.
Most Home Chef recipes that I've tried are simple enough that you only really need to know some basic knife skills and cooking skills. You'll need to have basic ingredients like salt, pepper, and oil, since that isn't included with their meal kits, and you'll also need basic kitchen equipment like a knife, a cutting board, some pots and pans, some baking dishes and a strainer among other standard cooking utensils.
Home Chef's recipe cards come labeled with appropriate skill levels ranging from easy to expert. Not every meal kit I've tried does this but I've found it's a good way to gauge the effort involved, allowing me to plan meals for my week accordingly.
Each recipe card comes with clear step-by-step instructions on how to make the dish, including full-color pictures as visual aids and additional details like extra preparations needed, required kitchen equipment, and nutritional facts.
Also worth noting, if you swap proteins I noticed that they don't give you an entirely new recipe card. Rather, they'll make a note in the recipe card of how to cook the other protein option.
You can also keep the recipe cards for later use. Home Chef delivers a binder with your first order and each card comes pre-punched with three holes so they can be put together, making for easy reference if you'd like to make the recipe again. If you've watched any of our YouTube videos, you may have seen that Emily and I actually still use the binder Home Chef sent us years ago with our first box.
Though, if physical recipe cards aren't your jam, Home Chef also has them available for download online and on their mobile app.
On average, Blue Apron recipes take about half an hour to make, with the more involved recipes taking around 45 minutes or more to make. Like Home Chef, they try to make their recipes easy and accessible for novice cooks, the twist being that they introduce a more diverse range of flavors and ingredients for, what I would call, more of an upscale restaurant type of experience at home.
Compared to Home Chef, though, I've found many Blue Apron's meals to be a bit more complex. For example, many recipes I've made involved multiple pots and pans, using more than one burner, and even the oven just for one recipe. Funny enough though, I never found it to be a problem in terms of cooking difficulty, as their instructions do a good job of breaking down the steps to make them easy for even beginners to follow. However, if you're pressed for time and energy, wrestling with a stack of dishes after making a meal might not be that pleasant of a task.
At a glance, Blue Apron's recipe cards are pretty impressive. I noted in an earlier section that Blue Apron's online menu features photos of individual ingredients, and the physical cards that come with your box are no different. Their step-by-step instructions come with full-color pictures illustrating what each step is supposed to look like, and a nice extra touch they had was scannable "point logging" barcodes on each recipe for those who are following the WW integration. Though, to be honest, I've never followed the Weight Watchers (WW) diet so I can't speak much of Blue Apron's point logging system.
The Blue Apron app has just about everything the website also has, so you can use your phone or tablet to cook instead of wrangling physical recipe cards that might get cooking gunk on them. I found their online support materials impressively robust, with how-to videos demonstrating simple cooking techniques as well as a very educational blog that helps equip chefs with new skills and knowledge.
That being said, Blue Apron's recipes usually involve a fair amount of multitasking, and you're expected to know a little more than the most basic cooking skills. While this isn't necessarily bad, I think their meals are better suited to intermediate chefs or chefs who are looking to experiment beyond their existing cooking capabilities.
This round goes to Home Chef. While Blue Apron has a polished feel to their support material, the overall cooking process is more important as that's the main point of meal kit delivery services. Home Chef's recipe simplicity makes them more accessible to everyone, especially those who are just starting out with cooking on their own.
Meal Taste, Nutrition, & Portion Size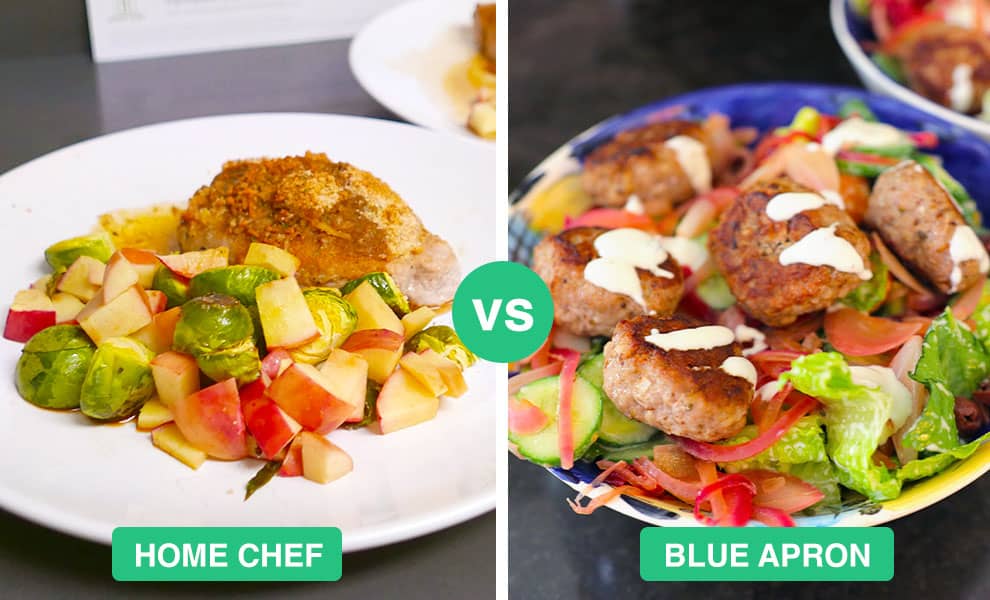 Taste can be a bit subjective but, for the most part, I've had delicious meals from both Home Chef and Blue Apron. Given enough time, with every meal kit you'll usually get a "dud" recipe. Sometimes it's hard to tell if that "dud" was due to the recipe or your cooking skills.
I've found Home Chef's meals to be more homestyle in the way that they taste. That's to say, they tend to taste like something we'd make at home on any given day.
Here's a look at some of the Home Chef meals I've enjoyed over the years:
Home Chef's meals are tasty, but are they nutritious? Since meal kit subscription services usually involve committing in the long run, their meals should have some level of nutritionally balanced meals to choose from.
They do offer simple and fast homemade meals that are convenient to make and tasty to eat, but their standard menu has quite a few dishes that are high in calories, saturated fat, and sodium.
While Home Chef's meals are high in protein, they are also low in fiber, meaning they're delicious but not necessarily the most nutritious to have all the time. Even just looking over some of my past favorite recipes while writing this comparison article, I noticed many are more indulgent than they are healthy.
In fact, some of their meals on Home Chef's menu are so high in sodium that they take up half the sodium intake recommended by the Dietary Guidelines for Americans. Technically, you can opt for healthier swaps on your own like reducing salt and changing up the dairy products used in their recipes, but that takes some extra work, and it defeats the purpose of getting meal kits to make dinnertime more convenient.
Home Chef only offers nutritional information for the basic macronutrients on their website, consisting of calories, carbohydrates, fat, protein, and sodium. They don't list full nutritional information or daily value percentages. If you're the type who prefers to have all the facts available when it comes to nutrition, you might want to opt for a different meal kit.
As for Blue Apron, I've also been impressed with how delicious many of our meals have come out. As mentioned above, I found them to be a bit more in line with what I might order at an upscale restaurant and there is much more flavor variety when it comes to actual taste.
Here's a look at some of my past favorite Blue Apron meals:
As you can probably tell already, many Blue Apron meals are pretty opulent. While Home Chef takes classic dishes and brings them to the next level, Blue Apron seems to be conceiving new recipes with ingredients I haven't even heard of before.
Blue Apron also does decent job of making more nutritionally balanced meals than Home Chef, with a good ratio of vegetables, carbohydrates, and lean proteins. A good example of the contrast between the two meal kits would be how Blue Apron's burger meals also include side salads whereas Home Chef's typically don't.
As touched on above, Blue Apron's meals are pretty indulgent, coming in at a maximum of 1,200 calories per serving compared to Home Chef's 1,100 per serving (on average). However, Blue Apron discloses the complete nutritional information for all their recipes on their website and their mobile app so you know everything about the meal before even making it.
Both Home Chef and Blue Apron live up to their promised portion sizes, with few leftovers for the next day unless you pad your meals with extra portions (which costs more). If you like leftovers or you're a big eater, it's worth going for more servings or add-ons so you can just make more of the same dish at one go, reheating the remainder for the next day.
Comparing Home Chef and Blue Apron's nutrition and portion size side by side, it's a clear win for Blue Apron, as they make the effort to disclose complete nutritional information and their meals generally contain less sodium than Home Chef's. I still think Home Chef offers delicious meals, but their ultimate focus on taste means that their meals are a little less nutritionally balanced than Blue Apron's.
Dietary Accommodations
I found that having so many options for omitting and adding ingredients helped in tailoring the Home Chef weekly menu to my dietary needs. While they don't exactly have bespoke meal plans that cater to specific diets you can filter for certain allergens and proteins as well as low-calorie or low-carb meals.
However, there is a limit to Home Chef's flexibility in that those with restrictive diets like vegan, ketogenic, or paleo diets will have a hard time finding something that works for them. As with most meal kit services, more constraints mean fewer options for selection, to the point where you might have trouble finding enough recipes to fill your box.
Home Chef's meals and boxes are also packed and produced in a facility that handles major allergens, so cross-contamination is still a risk. Those with specific, severe allergies and intolerances will have more peace of mind going for a different meal kit that caters to their dietary requirements.
Blue Apron has a selection of meals that adhere to recommendations set forth by the American Diabetes Association (ADA), and they also have WW meals on top of their Wellness for 2 and Vegetarian for 2 plans. That being said, it should be noted that you can only order four meals maximum on those more restrictive diet plans.
Like Home Chef, Blue Apron also allows for protein swaps and discloses allergens. Unfortunately, they're similar to Home Chef in that their meals are prepared in a facility that isn't allergen-certified, making cross-contamination a possibility.
In this round, Blue Apron and Home Chef are tied due to Home Chef's options for avoiding ingredients and Blue Apron's diabetes-friendly and WW-approved meals.
Delivery
During the signup process with Home Chef, you'll fill in your zip code and address so Home Chef can determine whether they deliver to you. They deliver to about 98% of the US except for Hawaii and Alaska, which is pretty comparable to where most meal kits can deliver. Blue Apron is about the same, with the exception being their wine selection, which they only deliver to certain states.
Both meal kits have specific days assigned to each delivery area. You'll only find out when they deliver once you're ironing out delivery details as you onboard to either meal kit. A couple things are constant with Blue Apron though: they don't deliver on Mondays and meal prep bundles bought through their market are only delivered on Fridays.
Overall, Home Chef and Blue Apron have relatively similar delivery restrictions, making them tied for this round as well. While Blue Apron has additional constraints for their bundle purchases and their wine subscriptions, I felt that them being add-ons meant that they could be left out of the equation when comparing Home Chef and Blue Apron's main meal kit delivery abilities.
Customer Support & Modifying Your Order
If you need help with your order, Home Chef support can be reached via a contact form, chatbot, and phone, while Blue Apron's options for getting in touch include email, a contact form, and phone. They both also have robust FAQ sections on their apps and websites, so customers can get the most common issues out of the way before reaching out to support for extra help.
While both these services aren't that different, I like the easy access that Home Chef's chatbot provides. I've had quick questions about meals and delivery dates in the past. Waiting for a response from a customer support representative in real-time feels just that little bit more efficient than waiting for an email reply or spending time on hold while on the phone.
Modifying your order and delivery is easy with both Home Chef and Blue Apron, with only minor differences in delivery cut-off time. All changes must be made before noon CT on the Friday before the delivery week with Home Chef, while with Blue Apron, any changes made to your order must be completed at least six days before the next delivery is due.
One big difference between them is how you cancel your account. Home Chef lets you cancel with a click of a button, with no questions asked, but Blue Apron requires that you send an email to cancellations@blueapron.com, after which you'll get an automated email with instructions telling you how to finalize your cancellation. Though, since I've canceled Blue Apron in the past and have received this email, you can bypass emailing them by simply going to the link they sent me here.
Between Home Chef's customer support chatbot option and Blue Apron's cancellation email requirement adding an unnecessary extra step to the mix, this round goes to Home Chef for their superior convenience and ease of modification.
Packaging Sustainability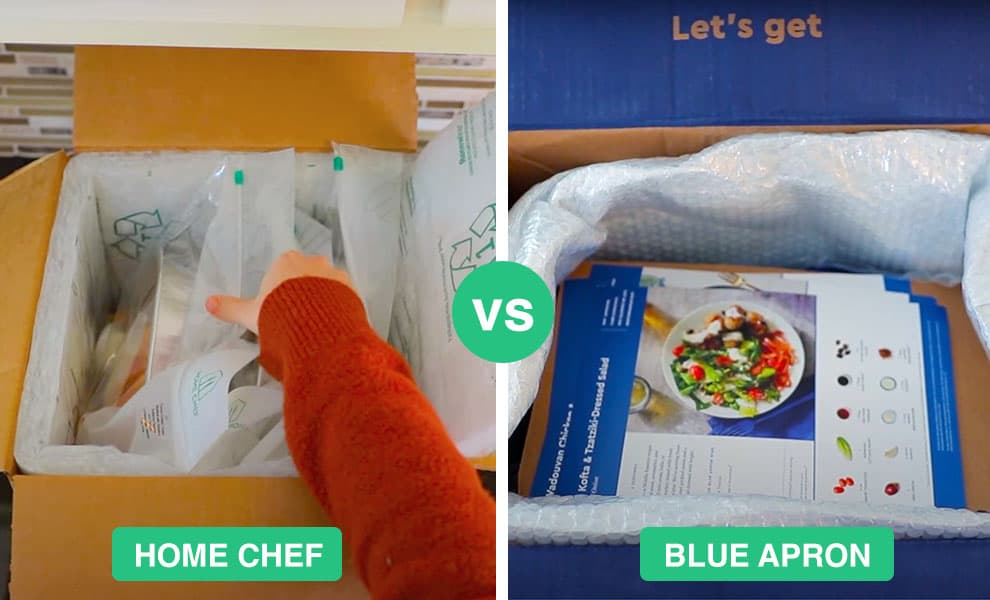 Meal kits are notorious for having large amounts of packaging. For someone like me who has tried literally hundreds of different meal delivery services, it's always interesting to see how meal kits like Home Chef and Blue Apron work within current packaging limitations to manage the impact they'll have on the environment.
With Home Chef, most of the packaging is recyclable. Deliveries come in a partially recycled cardboard box with an insulated liner that consists of recycled cotton and denim. The ice packs included in the box can be reused, or they can be recycled by cutting them open and draining the nontoxic fluid in the trash, and washing it out.
Some components of Home Chef's packaging will have to be deconstructed to be recycled, while some parts may not be accepted with curbside recycling. It's worth looking up local policies regarding what's recyclable and what's not, so you're not stuck throwing perfectly recyclable material into the trash. More information about how to recycle Home Chef's packaging can be found here.
As for Blue Apron, they have a comparable amount of packaging pieces included in their boxes. This seems like a necessary evil to keep food fresh, although while Home Chef opted to group their meal items together in transparent plastic bags, Blue Apron went without packaging recipes into groups.
Like Home Chef, most of Blue Apron's packaging material can be recycled, and they have a page dedicated to providing instructions on recycling best practices which can be found here. Among their materials, only the insulating bubble bag lining the inside of their boxes, their spice blend sachets, and their lidding film can't be recycled.
To be frank, I think they can do a little more work to make their packaging 100% recyclable. They think so too, as they've partnered with How2Recycle to implement a better material labeling program. Plus, one of their goals is to use completely recyclable, reusable or compostable packing by the year 2025.
Blue Apron's commitment to fully eco-friendly packaging is admirable, but Home Chef wins this round as they have completely recyclable packaging.
The Winner Is…
It was a bit close but Home Chef emerges as the clear winner in this comparison, with their convenience, variety, and customization being their main selling points. They're great for almost anyone, since their recipes are easy to make, with plenty of choices for even the pickiest of eaters.
| | | |
| --- | --- | --- |
| | Home Chef | Blue Apron |
| Ordering Process | TIE | TIE |
| Meal Plans and Cost | | ✔ |
| Recipe Variety and Ingredients | TIE | TIE |
| Cooking Process and Support Material | ✔ | |
| Nutrition and Portion Size | | ✔ |
| Dietary Accommodations | TIE | TIE |
| Delivery | TIE | TIE |
| Customer Support and Order Modifications | ✔ | |
| Packaging Sustainability | ✔ | |
| Total Wins | 3 | 2 |
Though, to be fair, Home Chef might not be the best option for everyone. They might come across as a little boring for chefs who are looking for a bit of a challenge after getting some experience in the kitchen.
On the other hand, Blue Apron's loss doesn't mean you shouldn't consider them at all. In fact, they're great for smaller groups of people who don't mind a little less choice for fancier meals. Their high-quality ingredients and sustainability practices are a big plus.
Blue Apron's more upscale offerings are also great for those who want more challenging and extravagant recipes to cook, with some extra adventure and diversity thrown in. Intermediate chefs will enjoy expanding their horizons with their exciting, intricate recipes.
I particularly like how Blue Apron has a marketplace where they allow you to try out their meal kit meals individually prior to subscribing. I know first-hand from speaking with readers of Food Box HQ that some people prefer testing the waters with a meal kit before subscribing.
Similar to Home Chef, Blue Apron is not a the best choice for individuals with severe allergies or intolerances where cross-contamination is a serious risk to their health, as both these meal kit services do not have allergen-certified facilities. Though, if you fall into this category, don't worry because there are many diet-specific meal delivery services out there these days.
Have a question about Home Chef or Blue Apron that I didn't answer? Let me know in the comments below!