If you're living with Irritable Bowel Syndrome (IBS), then you know all too well how debilitating and downright miserable it can be. Not only does it cause a host of painful symptoms, including bloating, gas, and cramps, but it can also affect one's social and work life. Thus, symptoms of IBS can greatly interfere with one's ability to live a happy, vibrant life.
That's why researchers and doctors have been trying to find a way to reduce these symptoms. Around 2006 Monash University developed a diet that has been able to successfully manage symptoms of IBS. Along with that, multiple studies have confirmed that following the Low FODMAP diet significantly reduces IBS symptoms.
The Low FODMAP diet isn't like any other, such as Whole30 or Keto, as it involves an intensive elimination and reintroduction phase. This diet is structured to support those with IBS and isn't meant for weight loss or performance. In fact, it is highly recommended to consult with a doctor and dietician before starting, as they will be able to help you correctly follow the protocols, track symptoms, and reintroduce foods.
Thankfully, there are a handful of meal delivery services available that can those following the Low FODMAP diet. We personally tested and reviewed each of them. Let's explore which are worth considering...
Food Box HQ Note: Do be aware that this article is not a replacement for medical advice. We are not dieticians, nutritionists, or doctors. You should speak with a professional before stopping or starting any diet.
The Best Low FODMAP Meal Delivery Service
ModifyHealth
What It Is: ModifyHealth is a pre-made meal delivery service that is certified Low FODMAP by Monash University. Their entire menu and programs are focused on supporting those who have IBS, SIBO, IBD, and celiac disease. They've also developed programs for those who simply want to eat healthier. Currently, they offer two plans/programs: Low FODMAP and Mediterranean. Both plans offer a program that includes one on one dietician support and educational resources. These programs are helpful for those who want to try the Low FODMAP diet and receive additional guidance for their gastrointestinal issues. All meals are crafted, evaluated, and tested by a team of chefs and dieticians, and every recipe is sent to Monash University to be certified Low FODMAP. Along with catering to a Low FODMAP diet, ModifyHealth is fully gluten-free, low sodium, and accommodating to dietary restrictions and allergens. In our tests, we found their programs to be very detailed and thorough, accommodating a variety of different allergens and tastes. Their system works by first having you select a plan or full program, and then selecting the number of meals you would like according to which plan you choose. We were surprised to see that their menu offers a wide variety of meals to try, which is a pleasant surprise given how restrictive a Low FODMAP diet is. Wherever you're at in your Low FODMAP journey, ModifyHealth may be the best meal delivery service to consider given their accreditation, ability to personalize the plan to your needs, and dietician support..
Types of Low FODMAP Meals Offered: Breakfast, Lunch, and Dinner
Lowest Price Per Meal: $7.85
Examples of ModifyHealth's Low FODMAP Meals:
BBQ Pulled Chicken with Broccoli & Roasted Potatoes
Herb Roasted Fish Filet with Squash & Rice
Coconut Curry Tofu with Bok Choy
Scrambled Eggs with Sweet Potato & Bell Pepper
Why ModifyHealth Made The List:
ModifyHealth is the only meal delivery service that is certified Low FODMAP by Monash University (the creators of the diet).
We've reviewed their meal delivery service in the past and can tell that it makes following a Low FODMAP diet incredibly easy. Every aspect of following it is taken care of—from counting serving sizes to ingredients.
Shipping is always free (regardless of the specific plan chosen).
They have a team of chefs, dieticians, and an impressive clinical advisory board made up of medical professionals. Thus, their meals are scientifically designed to ease symptoms of chronic gastrointestinal issues.
All the meals are pre-made, which saves time spent cooking, prepping, and meal planning.
From our tests, we found that ModifyHealth has an expansive menu (considering how restrictive the diet is).
We found their portion sizes to be fairly larger than most other pre-made meal delivery services.
Best For Meal Taste & Overall Variety
Epicured
What It Is: Epicured is a Low FODMAP and gluten-free pre-made meal delivery service. While Epicured is not certified Low FODMAP in the way ModifyHealth is, they do work closely with the Mount Sinai Gastroenterology care team and they have a dietician that reviews each recipe. What sets Epicured apart from ModifyHealth is the fact that their meal delivery service offers more than just meals, such as snacks, sides, smoothies, and desserts. Plus, you can choose to receive meals either a la carte or through one of their bundles. They offer different bundles to choose from, such as Chef's Choice, Fiber-Fueled, Vegan bundle, and more. What we really like about their service is you don't have to start a subscription to try their meals, you only have to subscribe if you'd prefer meals delivered every week. Also, unlike many meal delivery services we've reviewed, you're not locked into a certain amount of meals each week and can choose as many or as little as you'd like. We found that Epicured offers an expansive menu with additional filters for those with other dietary restrictions and preferences. Their filter includes options such as dairy-free, soy-free, GERD-Friendly, vegan, and more.
Types of Low FODMAP Meals Offered: Breakfast, Lunch, Dinner, Sides, Snacks, Desserts, and Beverages
Lowest Price Per Meal: $6.99
Examples of Epicured's Low FODMAP Meals:
Chicken Fricassee with Veggies and Rice & Quinoa Pilaf
Thai Green Curry with Choice of Protein and Rice
Turkey Meatloaf with Rosemary Whipped Potatoes & Green Beans
Chocolate Fudge Brownie Bites
Strawberry-Rose Chia Seed Pudding
Coco Berry Smoothie
Why Epicured Made The List:
Their entire menu is Low FODMAP, gluten-free, and accommodating to dietary restrictions.
They offer a wide selection of meals, snacks, and beverages which is unique for a meal delivery service catering to a restrictive diet.
Picking out meals is super simple and flexible; they don't make you choose a certain amount of meals each week.
Each meal allows you the option to swap out certain proteins and ingredients.
Every recipe is crafted by a team led by renowned chef, Dani Chavez-Bello and qualified dieticians. In our taste tests, we were pretty surprised at how delicious the meals came out for such a restrictive diet.
With Epicured, you can enjoy your meals without fear of aggravating gastrointestinal conditions.
Best Low FODMAP Online Grocery Store
Thrive Market
What It Is: Thrive Market is different than any other meal delivery service on this list, as it's an online marketplace hosting a variety of meats, pastas, pantry essentials, and specialty products. They offer a wide selection of snacks, protein and granola bars, condiments, sauces, soups, and side dishes. Other than fresh produce, Thrive Market has just about everything needed to keep your everyday household items and groceries stocked. The reason Thrive Market made this list is because they are especially accommodating to dietary restrictions and preferences, with a Low FODMAP filter and category that allows you to see all the products that fall under the diet. No other grocery or meal delivery service we've tested has this feature. So, if you're tired of scanning the grocery aisle shelves for products that won't irritate your gastrointestinal tract or you'd prefer to make your Low FODMAP meals from scratch, we highly recommend checking out Thrive Market.
Types of  Low FODMAP Meals Offered: Condiments, Snacks, Meats, Full Meals, Desserts, Vitamins, and Home & Beauty Products.
Lowest Price Per Meal: Depends on what you purchase, but the monthly membership fee is currently $5.
Examples of Low FODMAP Products Thrive Offers:
Thrive Market, Sweet Potato Chips
BelliWelli, The Low FODMAP Snackbar, Variety Pack
Bobo's Oat Bars
Thrive Market, Organic White Jasmine Rice
FODY Foods, Low FODMAP Green Enchilada Sauce
Why Thrive Market Made The List:
With their Low FODMAP filter, we found that they make it easy to find products that work within the diet.
While they don't have produce, they do have everything else needed to make Low FODMAP meals at home.
For someone following a Low FODMAP diet, we believe that Thrive Market could be a less stressful and time consuming than having to read the nutritional facts and ingredients lists of every product while grocery shopping.
Every time someone purchases a membership, Thrive offers a free membership to a family in need.
We love that they allow you to select ethical preferences for your products, such as cruelty-free and fair trade certified.
A Basic Overview of The Low FODMAP Diet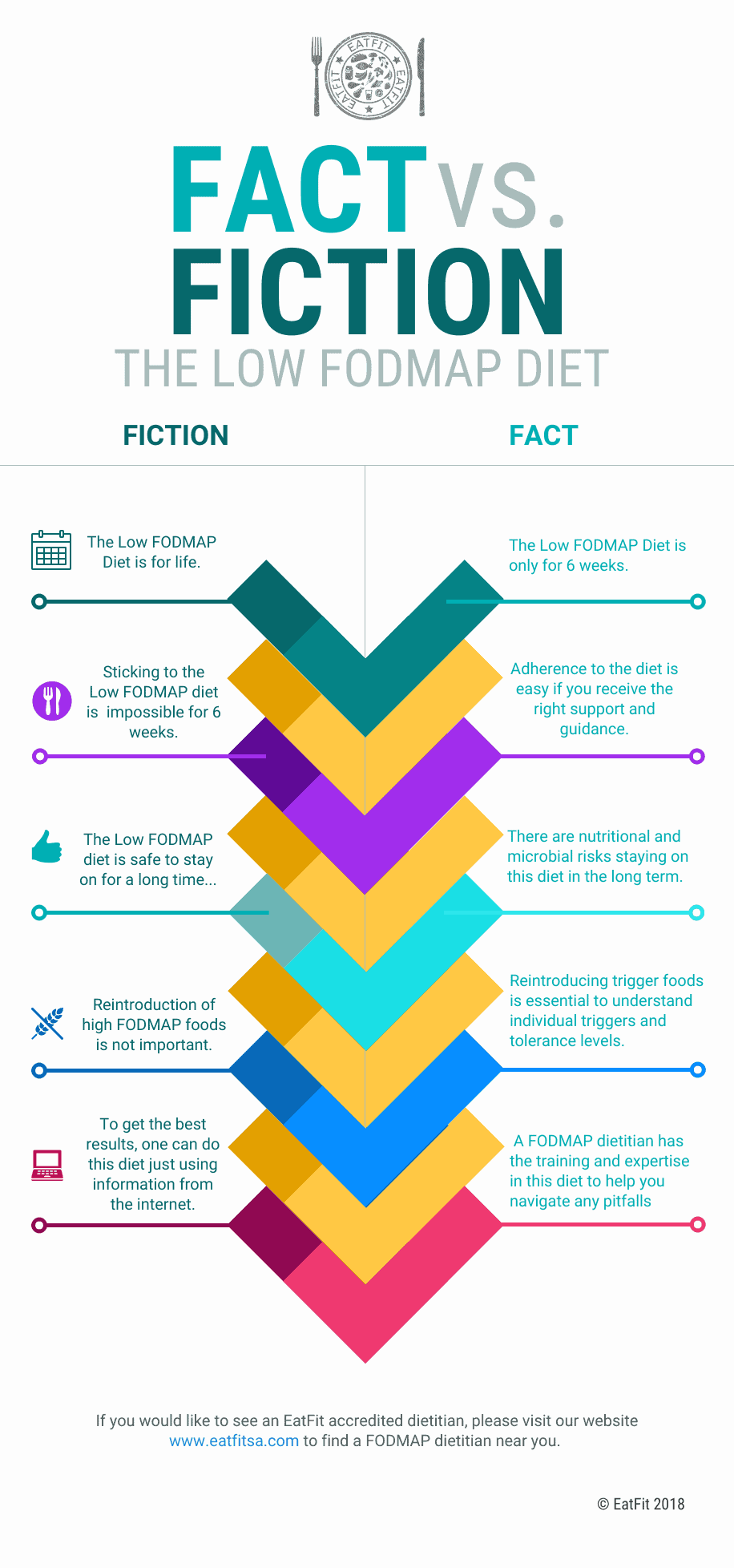 The Low FODMAP diet is designed for those with gastrointestinal issues, such as IBS, IBD, and SIBO. FODMAP stands for fermentable oligosaccharides, disaccharides, monosaccharides, and polyols. These long and hard-to-pronounce terms are short-chain carbohydrates (sugars) found in certain foods that are poorly absorbed in the small intestines. Because they aren't digested in the small intestines, they move to the large intestines where they are absorbed and fermented by gut bacteria, which uses them for energy. This fermenting process releases air into the intestines and causes water to accumulate in both the small and large intestines, which causes the symptoms of gas and bloating.
These uncomfortable and often painful symptoms arise in individuals with sensitive GI tracts, and they are not harmful to those with normal functioning digestive systems. In fact, they are a necessary part of forming a healthy microbiome and assimilating nutrients, which is why it is highly recommended to only follow this diet with the guidance of a dietician. Otherwise, there is a potential for this diet to cause more harm than good.
According to John Hopkins gastroenterologist Hazel Galon Veloso, M.D.;
"It's not a diet anyone should follow for long. It's a short discovery process to determine what foods are troublesome for you."
Common foods that are labeled as high FODMAP include grains such as wheat, rye, and barley, fruits such as apples and pears, many vegetables including onions, garlic, cauliflower, and asparagus, certain dairy products, and most beans/legumes. To view a more comprehensive list, check out this info page from Monash University.
The Low FODMAP diet consists of an elimination phase, a reintroduction phase, and a personalization phase. The elimination phase is the most intense part of the diet and cuts out all foods containing high amounts of FODMAP for 2 to 6 weeks. This allows time for symptoms to clear and digestion to normalize. Then, during the reintroduction phase, high FODMAP foods are incorporated back into the diet one at a time every three days. This part of the process is where one identifies what their trigger foods are, and which FODMAP foods are okay to eat. Once this process is complete, one is able to have a personalized diet where they are fully aware of what foods trigger their IBS symptoms.
There is much variability in this process as everyone has unique symptoms and sensitivities. There is also variability in the amount of FODMAPs that causes symptoms in individuals, which is another reason it is recommended to follow the diet alongside a dietician for the most successful results.
Which Low FODMAP Meal Delivery Service Is Best?
While there aren't many meal delivery services that cater to the Low FODMAP diet, from our tests we believe that ModifyHealth is the best choice. Here's why:
ModifyHealth is the only meal delivery service at this time that is certified Low FODMAP by Monash University.
They are the only meal delivery service with a full program, clinical advisory board and dieticians that helps one go through each of the Low FODMAP diet phases.
They use high-quality ingredients and offer delicious meals.
Their Low FODMAP recipes are based off of the Mediterranean diet, which is one of the most doctor-recommended diets out there.
Their portion sizes are larger than many other pre-made meal delivery services we've tested in the past.
Even though we find ModifyHealth to be the best overall, it doesn't mean it's automatically the best for you and your lifestyle. Maybe you're looking for more options outside of meals, such as snacks or beverages, in which case Epicured would be a better option. Or, on the other hand, maybe you've already personalized your diet and are fully aware of what your trigger foods are, in which case Thrive Market might be a better option.
What To Consider When Choosing A Low FODMAP Meal Delivery Service
Before committing to a meal delivery service, it's helpful to have in mind exactly what you're looking for and expecting from your service. This is especially important when considering a diet as restrictive as Low FODMAP. Since we've been reviewing meal delivery services for a while now, we've come up with some questions and topics we find the most helpful for you to keep in mind when choosing.
Are You New To The Low FODMAP Diet?
If the answer to this is yes, we recommend you try either ModifyHealth or Epicured. With ModifyHealth, you can work with a dietician and receive gut-friendly meals all in one. With Epicured, you can still receive Low FODMAP meals, but you may want to work one-on-one with a dietician as well so you're able to go through the process with adequate support and guidance.
If you're not new to the diet and have already identified your trigger foods, then all of these meal delivery services are great to consider. ModifyHealth also has a plan for Low FODMAP meals that doesn't include additional support and is just offers Low FODMAP meals.
How Many Low FODMAP Meals Do You Need To Eat Per Day?
If you're looking for a service that covers every meal, including breakfast, lunch, and dinner, then you might want to consider Epicured or ModifyHealth.
Thrive Market has a wide variety of grab-n-go style breakfast options, but less prepared meals to choose from.
Do You Have Any Other Food Allergies?
Because each of these services is accommodating to the highly restrictive Low FODMAP diet, they are also going to be accommodating to other dietary needs. This includes dairy, gluten, and soy-free options, as well as vegan and vegetarian options.
Thrive Market, Epicured, and ModifyHealth offer a lot of variety when it comes to dietary filters, such as low sodium, GERD-friendly (Epicured only), low carb, and many more.
If you have a severe food allergy, it's important to double-check if their meals are manufactured in the same facility as your allergen if there's any worry of cross-contamination. This can be easily found on the website of the service or by contacting their customer support team.
What Is Your Budget?
This may be the most important to consider, along with what you're willing to pay for. For example, if you're looking to go with the full Low FODMAP program with ModifyHealth, then expect to pay a bit more than the lowest price we listed above (which is just for the meals). That being said, they seem to be fairly priced based given the overall value of their service and support.
Are These The Only Low FODMAP Meal Delivery Services?
You may be wondering why this list is so short, and if these really are the only services to choose between. In short, the answer is yes. At this time these are the only meal delivery services that offer Low FODMAP meals. This is simply due to the highly restrictive and intensive nature of the diet.
There is another service we came across in our research for this article that is worth mentioning called WeTheTrillions. We didn't include them on our list because we haven't yet tested or reviewed their service and would like spend time using their service before providing them as a recommendation. That being said, they do offer an IBS-specific meal plan but don't mention the specific Low FODMAP meals included.
It's also worth mentioned that there are currently no meal kit services that cater to the Low FODMAP diet at this time. I'm hoping this changes in the future, as it would be helpful to have support in the cooking process if going through a Low FODMAP diet. Plus, some enjoy cooking their own meals more than pre-made meals.
If you've already gone through the elimination and reintroduction phases of the diet and identified your trigger foods, then you can still use a meal kit delivery service, such as Sunbasket, HelloFresh, or Home Chef. You'll just want to review every meal before it's sent to ensure they don't include any trigger ingredients (or swap them out before adding to your box). From our tests, we found Sunbasket is the most accommodating to dietary restrictions out of all of the popular meal kits on the market.
Our Methodology For Selecting The Low FODMAP Meal Delivery Services On This List
All of the Low FODMAP meal delivery services listed in this article have been vetted by me and my team. This includes, but is not limited to, purchasing the product, reviewing the service in its entirety, taste tests, and more. You can read more about our review process here.
We used these specific guidelines to evaluate every Low FODMAP meal delivery service we researched:
The meal delivery service has to offer a Low FODMAP menu, plan, or program.
The meal delivery service has to offer a variety of diet-specific meals to choose from.
They have to offer high-quality ingredients that meet the nutritional needs of the eater. This includes, but is not limited to, organic fresh produce, local produce, and organic, grass-fed meat.
The meal delivery service has to be able to ship to every state and town within the United States.
Have a question about any of the Low FODMAP meal delivery services we mentioned in this article? Let us know in the comments below!