Welcome to our Start-Up Stories series where we delve into the journeys of successful food box entrepreneurs to learn what it took to get to where they are today. Whether you're a foodie or simply curious about the stories behind your favorite meals, this series is for you.
In this interview, we'll be speaking with Taylor DeCosta, the founder of Taylor Made Cuisine. Starting as a private chef and caterer, Taylor's business quickly evolved into a meal delivery service that provides clean, high-quality meals to customers throughout Orange and LA Counties.
Taylor shares her journey of starting a business that prioritizes quality and customer satisfaction, overcoming tough early challenges, and expanding to become the fastest-growing catering company in Orange County. We talk about her detailed process of crafting new menu items, the importance of customer feedback, and her plans for future expansion.
Join us for an inside look at the story of Taylor Made Cuisine, its founder Taylor DeCosta, and the passion that drives her to succeed...
What Inspired The Founding Of Taylor Made Cuisine, And How Has The Company Evolved Since Its Inception?
I started Taylor Made Cuisine (TMC) as a private chef, back in 2016. Having various clients and also doing catering events on the side, I needed a way to organize my various streams of income. In 2017, I began offering meal delivery services - which took off quickly in Orange County. Later that year, I began bringing in other chefs to help me with the workload and brought in my husband, Mike, to create a website.
In late 2018, we outgrew our location and expanded into a commercial kitchen to begin growing our catering services. By mid 2019, we had expanded our meal delivery services to LA county and outgrew our space quickly! So, that summer we began the process of building our custom kitchen.
In 2020, the covid-19 epidemic decimated our catering business but doubled our meal delivery clientele base virtually overnight! In the middle of an unprecedented pandemic, we continued to work hard feeding our community fully-prepared clean meals, while also continuing to build our dream kitchen.
Despite countless setbacks, TMC moved into our current HQ in August of 2020, and have expanded this location twice since moving in. Today, Taylor Made Cuisine employs over 50 team members, is a leader in the food delivery industry and is the fastest-growing catering company in Orange County.
Could You Share With Us Your Journey Towards Becoming A Chef And How Your Education And Experience Have Influenced The Direction Of Taylor Made Cuisine?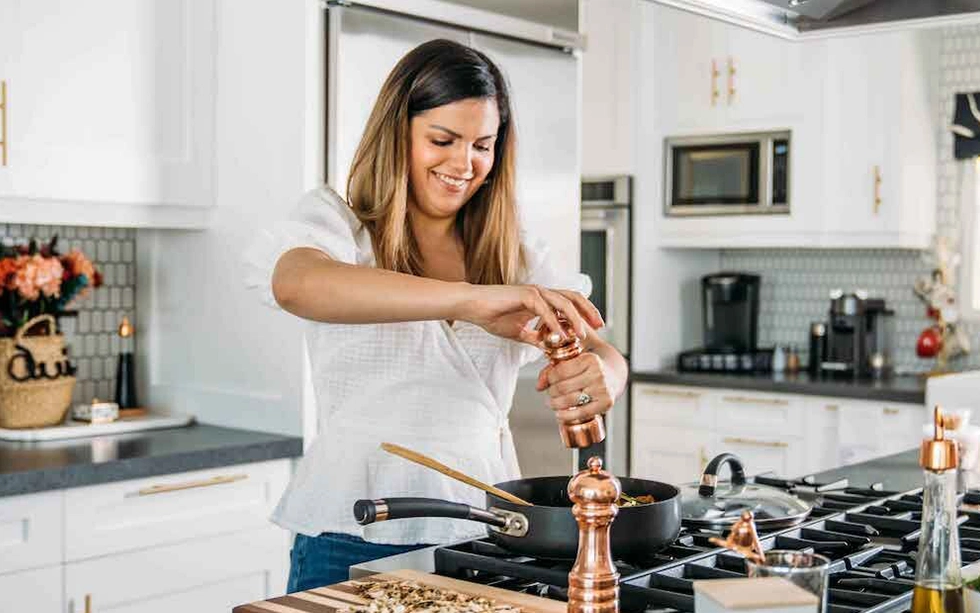 I've loved cooking since I was a kid! Something about it always spoke to me, and I was always watching PBS cooking shows in my room (in the years before Food Network, of course) or experimenting with recipes in my parents' kitchen. Cooking remained a hobby for me through high school and beyond; I even hosted my first Friendsgiving when I was 20!
When I met Mike in 2011, I used my secret cooking skills to impress and "woo" him. One of my favorite jokes is that my famous guacamole recipe was actually responsible for Mike falling in love with me!! After a few months of dating, Mike praised my natural abilities and encouraged me to enter culinary school. At that time, I had taken most of my general education community college courses, but really wasn't following any passions. I thought "what do I have to lose!?" and enrolled in the culinary program at Orange Coast College (OCC) in Spring of 2012.
I graduated in 2016 with an associates degree in advanced culinary arts, the highest certification offered in the culinary arts program at Orange Coast College. The foundation I built at OCC, not only through the courses I took but also through all the people I met, is the base upon which I have built my entire career. OCC is where I learned about technique, quality and availability of ingredients, hospitality, presentation, and even the finances of the food industry. I can honestly not say enough about what my education has provided me with over the years.
Could You Share Any Challenges That Taylor Made Cuisine Has Faced Along The Way, And How You Overcame Them?
I mean, anyone who has started a food business probably has COUNTLESS crazy stories (I do!). Everything from clients not paying, to our grease interceptor clogging/overflowing on a busy weekend. A lot of challenges are people-related, and people problems are always the trickiest to overcome - especially for an empath like me.
I created TMC knowing I wanted a modern workplace, where my team feels valued and respected. Sometimes that kindness has been taken for granted, and that's always a hard pill to swallow as a leader. You want to think that people are going to treat you with the same respect you treat them, but that is not always the case. I've been heartbroken by people on my team more times than I can count, but one instance in particular sticks out in my mind as "life-changing."
In the early days of TMC I didn't follow any formal HR protocols, problems were only ever addressed verbally, and it started to backfire on me. I would give verbal warnings, receive positive responses, but ultimately see no improvement. My kitchen manager was repeatedly violating kitchen rules (such as leaving the trash overnight, not labeling items in the walk-in, not covering finished product, etc.) and after months of verbal warnings, I finally decided to write them up to prove a point. They were very upset with my decision, and 2 days later came to work (on a day when neither Mike nor I was there, which was rare at that time) and convinced 3 other team members to quit with them.
One-by-one, they all quit via text and stated that they would not be returning to finish out their two weeks. I lost half my kitchen team all at once, on a day I wasn't even in the office - it felt like a punch to the gut. I cried ugly tears and briefly panicked about the future of our business. This happened in February 2020, just one month before the pandemic began. Although all the restaurants and caterers around us shutdown, we remained open and were able to hire so many amazing people who had lost their jobs, and rebounded quickly.
We overcame the stress of this event by rolling up our sleeves, getting to work, and never giving up. It's your mindset that will make or break you, because every setback is an opportunity to pivot or plummet.
Could You Describe The Process That Your Food Undergoes Before Being Featured On Your Menu?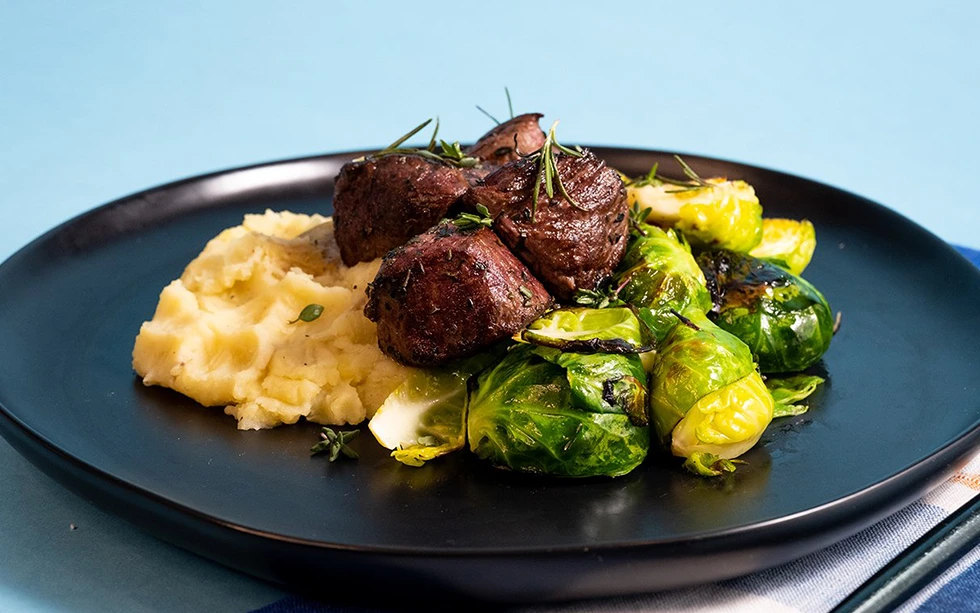 We do not take this responsibility lightly and never release an item before it has completed our mandatory 8-step process. Every couple of months, I sit down with our sous chef and wellness team to talk about new item ideas. We take turns sharing our ideas, and by the end settle on 6-8 new items to work on until the next meeting.
Step 1 is finding a recipe to start with. Sometimes we source a base recipe from the internet, and other times the recipe begins from a list of ingredients and a general idea of technique.
Step 2 is creating a small batch of the item to taste test and once we test it, there's usually 1-2 rounds of recipe "tweaking" before the recipe is approved.
Step 3 is scaling the recipe for bulk production, which often requires tweaks to the technique portion of the recipe. Once the recipe is fully approved, we move on to packaging and storage. Here at TMC, we use a state-of-the-art blast chiller to freeze our proteins, soups, sauces, and baked goods. This allows us to not only support 8 different dietary programs, but also extends the shelf-life of our products.
Step 4 is the freeze test: where we blast chill the item and then re-heat it to check the ultimate quality our customer will end up with. If the re-heated product does not meet our standards, we go back to step 2. If the item passes step 4, we begin the process of launching on the website.
Step 5 is figuring out packaging/labeling, step 6 is a photoshoot, step 7 is building out the item's page on the website (including meal pairings, a detailed description and nutritional information) and step 8 is marketing the items launch to our email list and on social media.
All in all, this process takes 4-6 weeks per item and we usually launch approx. 3 new items every month.
Does Your Meal Delivery Service Work With Any Specific Dietary Restrictions?
We support more dietary restrictions than any of our competitors: Low Carb (Keto), Paleo, Vegan, Vegetarian, Candida Cleanse, Low-FODMAP, Low Calorie (TMC Fit), and Classic Healthy. All of our meal plans are fully customizable, and we do not have a cap on allergies or omitted ingredients.
Every meal plan purchase is accompanied by a questionnaire, where we gather information about the customer, including their favorite/least favorite foods and restrictions/allergies. Their information gets saved as a customer profile in our proprietary menu software, which helps our team write menus that only contain items the customer wishes to receive.
How Has Your Partnership With Mike Impacted The Growth And Success Of Taylor Made Cuisine?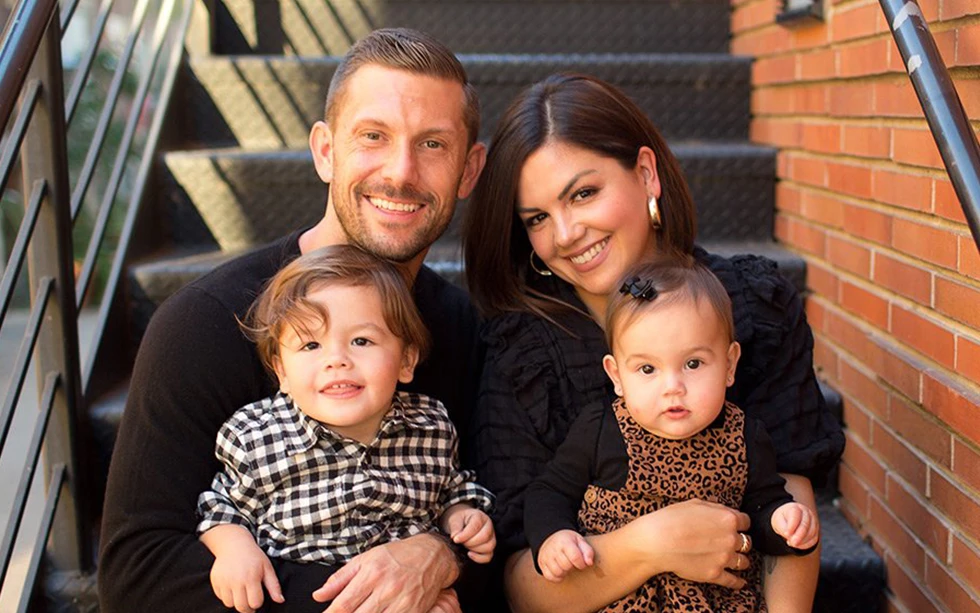 I always say without Mike, I'd still be forgetting to bill people!! I'm the ideas gal: creative, innovative and enthusiastic about all things. He's my get-it-done guy: constantly figuring out how we make my ideas a reality. As our CFO, he also keeps me in line with budgeting and helps us reach our goals while maintaining healthy margins. I truly believe our partnership is the key to our success!
How Does Taylor Made Cuisine Prioritize Customer Satisfaction And Feedback, And What Steps Do You Take To Continuously Improve The Customer Experience?
Customer experience is of the utmost importance here at TMC. I have a whole team dedicated to the satisfaction of our meal delivery customer's: TMC's Wellness Team. We have at least one person from the team in the office every day of the week, making sure there is always someone available to answer questions or solve problems should they arise.
Additionally, I am a customer of my own service and receive TMC meals to my home every week. As a busy working family with two toddlers, TMC's healthy meals are a life-saver for Mike and I! But having these meals delivered also makes it possible for me to keep a constant eye on food quality.
I know when something is hitting the mark, when something misses the mark, and am able to move quickly on problems. They say "nothing is perfect", but the truth is I'm always going to strive to reach perfection for our customers.
Are There Any Dishes That You And Your Team At Taylor Made Cuisine Are Particularly Fond Of? Any Favorites?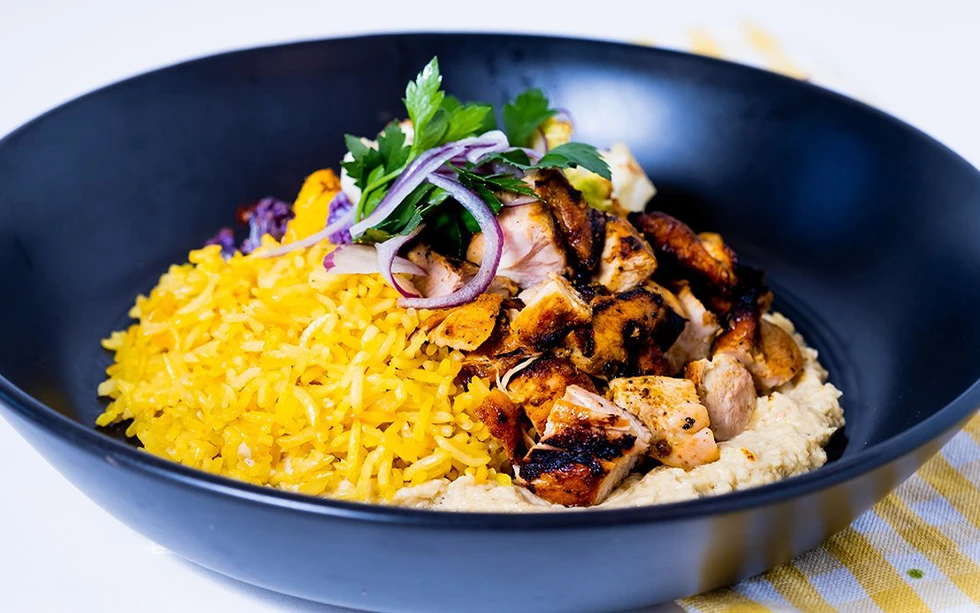 Items worth noting: chicken shawarma, pozole (red or green!), superfood salad, lemon dill salmon with house buffalo sauce, malibu chicken salad, overnight oats, banana staxxx pancakes and our protein cake pops.
We are also launching paleo-compliant plantain-crusted chicken fingers to our kids menu in a couple weeks that I swear gives Tyson a run for their money! To be honest, nothing makes it to the menu without my stamp of approval and I'm really picky!!
Can You Share Any Future Plans Or Expansion Goals For Taylor Made Cuisine?
We actually took out a lease late last year on another suite, that we are currently using as a warehouse for pallets and such. I do see that turning into more offices at some point in the near future! I could also see us expanding our kitchen into that space as well. My 5 year plan is to own a catering venue!
You can stay up to date with Taylor Made Cuisine by following them on Facebook and Instagram.