When you think about the snacks you eat on the regular, you probably picture things like potato chips and granola bars. And while they're great, it can get boring if you don't have a little variety in your snacking life. So, how would you like to try something new? And what if that something new could transport you to another country in a single bite?
Well, that's exactly what Bokksu is for! It's a monthly subscription service that allows you to discover Japan through authentic Japanese snacks. They partner with 100+ year old snack makers to deliver you delicious treats that are exclusive to the beautiful country of Japan.
This box gives you the taste of Japan without even having to leave the comfort of your own home. And let's face it, this monthly subscription is much cheaper than plane tickets!
Let's dive in to find out if it's right for you...
How to Join Bokksu

To get started, you'll first need to decide which Bokksu box you'd like to receive. It comes in two different sizes, the Classic Box and the smaller Tasting Box. Which one you go with really depends on how many snacks you'd like to receive with each order.
From there, you'll need to choose your payment plan. You can choose between a monthly subscription, a three-month subscription, a six-month subscription, or the 12-month subscription. Like most subscription boxes, the more months you pay for in advance, the more of a savings you'll get. However, you may want to start out with a monthly subscription until you decide whether or not Bokksu is right for you. Once you've made your decision, it's time to check out and your first box will been on its way to you very soon.
Plans They Offer
To get the full experience the service has to offer, you'll want to choose the Classic Bokksu box. It features 20-25 authentic snacks in every order, as well as a tea pairing. You'll also find a 24-page Culture Guide Magazine to learn even more about Japan while you snack away.
If you want to give it a try before buying the larger box, you can always start with the Tasting Bokksu box. This one will feature a similar assortment of treats as the Classic Bokksu box. However, it won't have nearly as many items inside as it only contains 10-14 items. It's simply a sampling of the products included in the monthly assortment.
Each month's box features a fun theme for you to enjoy. For instance, October has a spooky, Halloween theme that has traditional fall flavors like pumpkin and sweet potato. It featured treats such as the Tsukisamu Anpan: Kabocha Pumpkin Red Bean, Satsuma Precious Chips in the Salt + Brown Sugar Flavor, Halloween-themed Baby Star Ramen Sticks, and Funwari Meijin Mochi Puffs: Annou Imo Sweet Potato.
Delivery
Once you place your first order with Bokksu, it will ship out within five days. You can then expect it to arrive one to four weeks after the ship date. However, you'll want to give it up to six weeks simply because there can be issues like weather or customs delays. Our box actually got stuck in customs for a few days. You won't receive tracking information for your order, but it will be shipped out via Japan Post, which is supposed to be reliable.
The good news is, these boxes are shipped all over the world 100% free of charge. The value for each item in the box is, at most, 2000 JPY (around $18 USD), so it should be within the duty-free allowance for most countries. If you're concerned, you can double-check your country's imports regulations before placing your order.
Packaging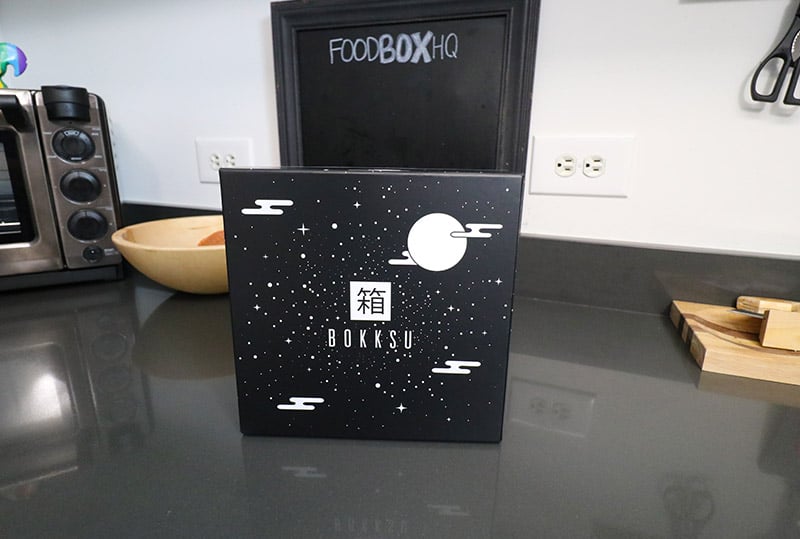 All of your authentic, Japanese treats will arrive packaged neatly in an orange Bokksu box. Occasionally, the box design will change to fit the theme of the month though (such as the box you see in this article and our video review). You can easily reuse the box for stashing all of your snacks or you can recycle it when you're done. Whether or not you can recycle packaging for individual snacks will vary, so make sure you read the label before tossing it in the trash.
What Came In Our Box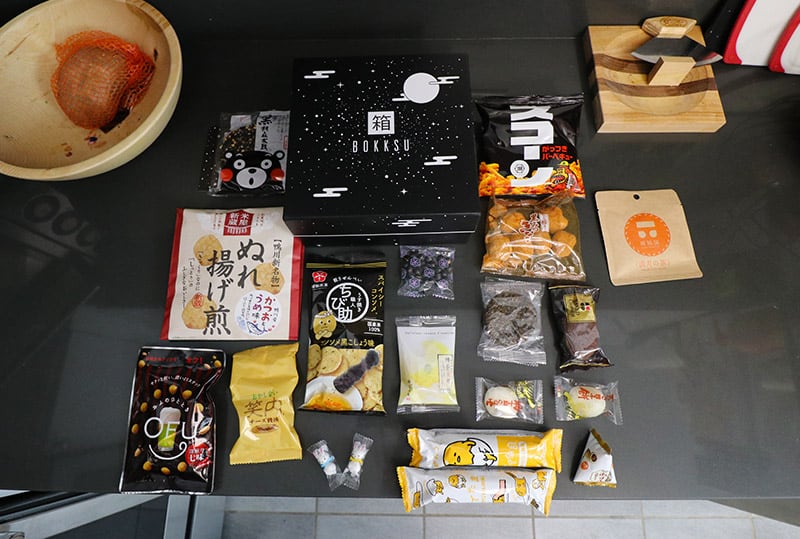 The box we got was a limited edition Classic "Moon Festival" box. It's a box to celebrate Otsukimi, which literally translates to "moon-viewing". This is a Japanese festival that honors the autumn moon.
Here's what came in our box...
Black Sesame Taiko: Kumamon Design
Usagi Chocolate Ball
Rich Baked Chocolat
Chocolate Azuki Beans: Black Sesame Kinako
OFU Smoked Crackers and Peanuts: Fukairi Shichimi Seven-Flavor
Black Sesame Genmai Rice Cracker: Honey Soy Sauce Flavor
Kuromame Black Bean Tea
Organic Drip Tea: Full Moon Tea
Scone: Barbeque Flavor
Mitarashi Mochi
Nure-Agesen: Katsuo + Ume Plum Flavor
Gudetama Golden Pack: Tamago Kake Gohan Flavor
Hakata Mitsuki: Delicious Cheese Financier Cake
Funwari Meijin Mochi Puffs: Kuromitsu Black Syrup Kinako
Okashinai Cheese Manju
Usuyaki Shokunin Chibisuke: Consomme Black Pepper Flavor
Also included was a booklet that provides details on all of the snacks included, such as where they came from, how to best eat them, and more.
Taste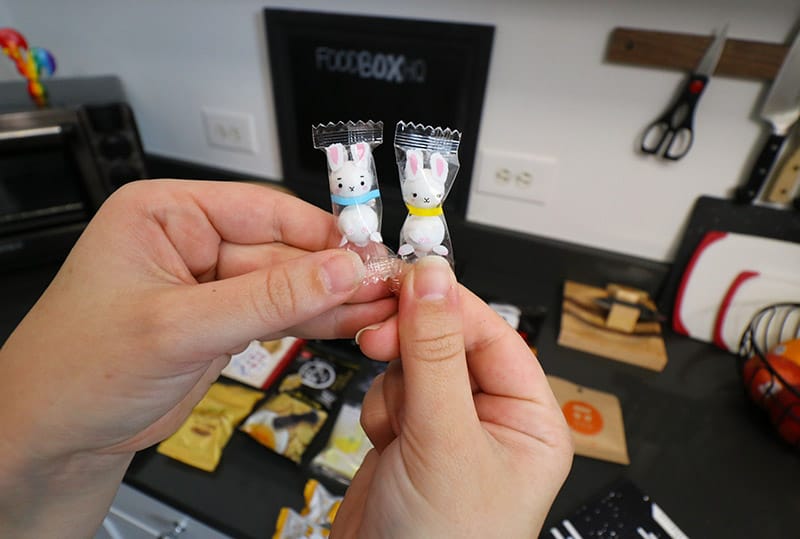 Now let's get to the good stuff. How did our snacks taste? Well, since we got a ton of snacks in this box, we decided to pick out a few random snacks to taste test in this review and the video.
Chocolate Azuki Beans — This was a mini ball of soft white-chocolate. In one word, it was delicious. It wasn't overly sweet, just the perfect amount of chocolatey goodness.
Gudetama Golden Pack — This one opens up and looks a bit like a Twinkie but hard. Once you bite in, however, you realize it tastes like a giant Cheeto with a "kick" aftertaste.
Nure-Agesen — This snack is tuna flavored, which actually caught us by surprise. It's also got a satisfying crunch, which would make it perfect for dipping or maybe even pairing with a beer.
With tasting these snacks, have an open mind. They are definitely not what you're likely to find at the local convenience store. So think of tasting them as an experience. Read over the details in the booklette as you bite in and maybe even invite over a friend to join in on the fun.
Pricing
The Classic Box from Bokksu contains 20-25 snacks in every order. This option will cost up to $39.99 per box. However, if you commit to a longer-term subscription, you can save some cash each month. The three-month subscription is $38.99. The six-month subscription is $37.99. And the 12-month subscription is $36.99.
If you want the smaller Tasting Box with 10-14 snacks inside, that will obviously cost you a bit less. The monthly subscription runs $26.99 per box. The three-month subscription is $25.99. The six-month subscription is $25.49. And the 12-month subscription is $24.99.
Choose wisely! And remember that shipping is always free! You can also pause or cancel your subscription whenever needed.
Pros & Cons
So, what are some of the pros that make Bokksu worth considering?
It provides the authentic taste of Japan right at home. Dream of traveling to Japan, but haven't made it happen yet? Or maybe you have traveled to Japan, but you're really missing exploring the country? Bokksu allows you to experience Japan without ever having to leave home thanks to authentic treats you're unlikely to easily find anywhere else.
It's educational thanks to the 24-page magazine. You'll learn so much about your Japanese treats, thanks to Bokksu's guide. And if you have children, this is something you can share with them as well. You'll discover each product's origin, flavors, and more.
Now, let's talk about a few of the cons of this service:
You aren't able to customize your box. Each month, it's going to be a complete surprise what you receive. That means you aren't able to choose items. Nor will you be able to exclude snacks that contain potential allergens should you need to avoid things like dairy, soy, nuts, or gluten. There also aren't options for specifically vegan or vegetarian boxes.
You'll be waiting a bit for your box to arrive. Since Bokksu ships directly from Japan, it's no surprise that it'll take a while before it lands on your doorstep. You'll be waiting anywhere from one to four weeks before it arrives, but it could take up to six weeks if there are any delays with the carrier or customs.
Final Thoughts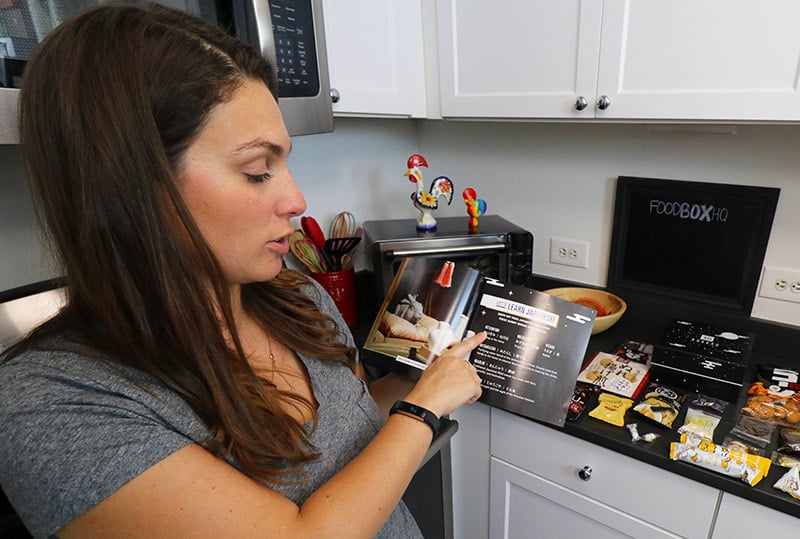 For anyone who loves to experience other cultures through taste, Bokksu is one to take a look at! While there are other Japanese subscription services on the market, this one has something that makes them special. Instead of filling each box with mass-produced, mainstream snacks, each item is sourced from local snack makers in Japan. This truly gives you the experience of traveling to the country and trying these treats for yourself!