Are you a lover of German foods or are you just feeling a little adventurous when it comes to your cuisine? Maybe you know someone who would love to taste the food of their homeland again.
Well, you're in the right place because the German Food Box curates a selection of foods from Germany and ships them directly to your home each month. It's like getting a little taste of Germany without ever having to leave the couch!
Let's explore this international food box to see if it's right for you...
How to Join & Place Your First Order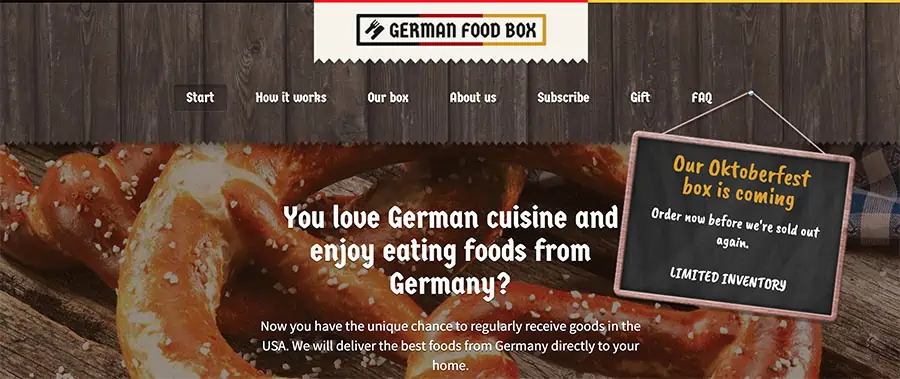 Joining is pretty simple. After adding the box to your cart and checking out, you're basically done.
Unlike other meal kits where you have to choose your meals each week, German Food Box only sends you a box each month. Your box will include six to eight authentic German products, which will vary from month to month. Unfortunately, you won't have the opportunity to choose what's in the box but, if you're adventurous, it could be a fun surprise. It'll give you the ability to try an assortment of new foods. Plus, you'll receive traditional German recipes, allowing you to whip up something delicious in the comfort of your own home. It's a great way to put some of your brand new foods to use and it's sure to impress your loved ones.
Types of Food They Offer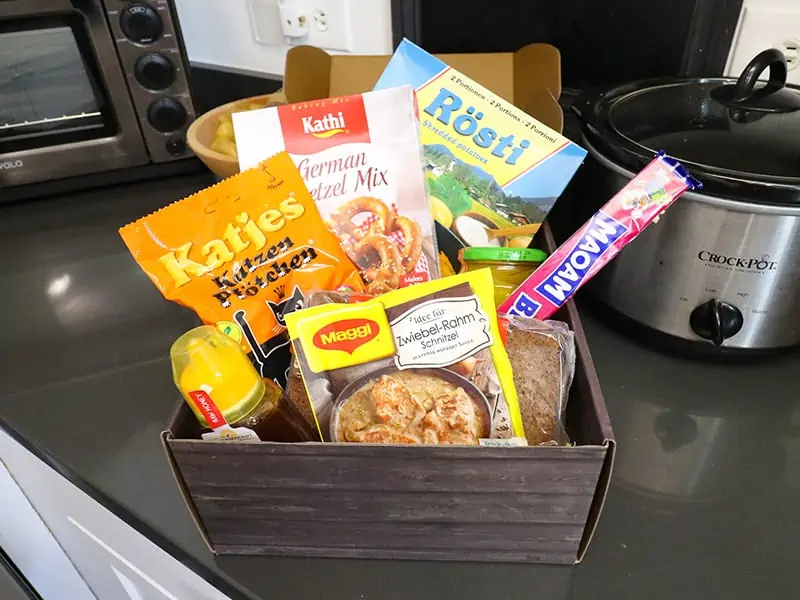 So, what kind of foods can you expect to find inside your box? Well, that depends on the month. The selection is always going to be a surprise. For some of you, that might be exciting. For others, it might be a little scary putting faith in someone else to pick out food for you. However, considering the German Food Box has a team of "German" experts rounding up the items in each monthly box, it's safe to say you can trust everything will be high-quality.
You'll find items like traditional Munich Weisswurst (minced calf sausage), Schaumkuesse (chocolate-coated marshmallow treats), Spaetzle (a soft egg noodle), and Weizenmischbrot (mixed wheat bread).
Delivery
When ordering a German Food Box of your very own, keep in mind that this is a monthly service, not weekly. Boxes are only shipped out once per month, specifically in the middle of the month. This means you'll need to place your initial order before the 10th in order to receive a box that same month. If you order after the 10th, you'll have a bit of a wait until you receive your first box since it won't arrive until the month after.
Each box is shipped from Florida right here in the United States. You'll pay $10 for shipping, which includes APO, Hawaii, Alaska, and Hawaii. That's definitely a plus since many food delivery services aren't able to reach locations like Hawaii and Alaska.
There's also no need to be home to receive your delivery. If it arrives while you're out, the carrier will leave it safe and sound on your doorstep. So, it'll be waiting for you once you arrive home.
Packaging
Everything will be packaged neatly in a decorative gift box, making it perfect for gifting to a friend or family member. Because nothing needs to be kept cold during transit, you won't have to worry about ice packs, dry ice, or any type of excessive packaging. The food within the package is all shelf-stable. You can simply unpack all of your food items once they arrive and place the cardboard box out with your curbside recycling or take it to your local recycling facility.
All of your items should arrive perfectly in tact, but if something is damaged, don't panic. You can contact German Food Box to receive a replacement for the item. They will ask for pictures before offering a refund or new box, so don't throw it out before getting in touch with their team.
Taste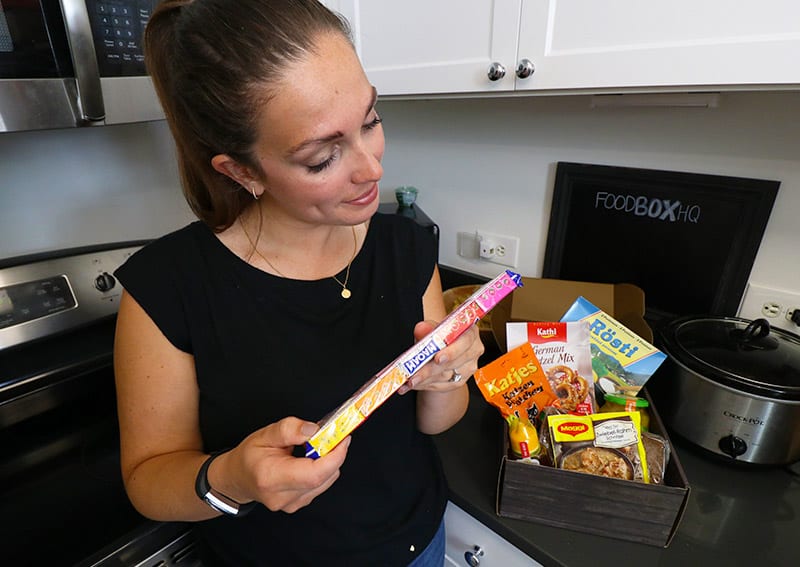 With six to eight authentic German products in each box, there's a good chance you'll find something you'll enjoy (even if you are the pickiest of eaters).
Here's what we got in our first box:
They also gave us a recipe for the traditional German dish called "Schupfnudeln". The box does not include any of the ingredients you need to actually make this recipe.
Schupfnudeln (also referred to as Fingernudel) is a type of German noodle. It's a thick dumpling, similar to Italian gnocchi.
The recipe was relatively involved since there's a lot to prep — we needed to make everything from scratch. There's also a bit of cleanup involved because of this.
However, the end result was delicious! This wasn't really surprising because who doesn't love a little carbohydrates, fat, and salt :).
Pricing
So, how much will this subscription cost? The German Food Box is $39 per month, plus an additional $10 for shipping costs. You can pause or cancel your subscription at any time should you need a break or decide you no longer want to continue with the service. That's definitely a plus since you won't have to worry about being locked into a long-term subscription.
Final Thoughts
Overall, the German Food Box is a fun way to get a taste of Germany delivered to your door every month. And at the price of $39, it's much cheaper than the cost of airfare!
It's the perfect way to explore traditional dishes from another country and expand your knowledge and palate. On the flip side, it also makes a great gift to give a friend or family member who is originally from Germany.
The addition of the traditional German recipes in every box is a nice touch! Just be warned that they are a bit involved so try to make it an experience. For those with German ancestors, it's a great way to whip up some of the dishes their family members may have eaten years ago.
Have a question about German Food Box? Leave a comment below and we'll get back to you as soon as possible!