Calling all lobster lovers! How would you like to get lobster and other seafood (like oysters, scallops, and crab legs) delivered straight to your door? Sounds perfect, right? Well, that's exactly what Get Maine Lobster does!
They're a delivery service that ships plenty of lobster, as well as some of your other seafood favorites, allowing you to whip up a delicious dinner right in your own home. Instead of going out in search of great seafood in your local community, you can place an order and with just a few clicks, it'll all be on its way to you.
But how does this service work and is it right for you? Here's what you need to know before you order!
How to Place Your First Get Maine Lobster Order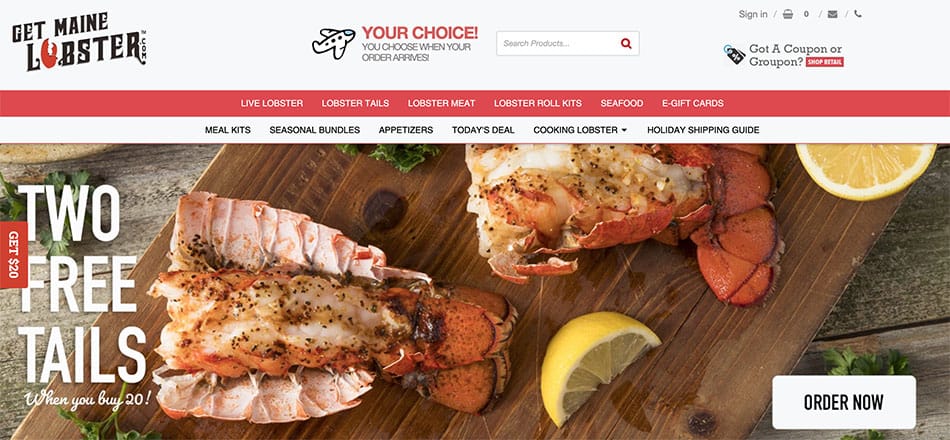 One thing that's important to note about Get Maine Lobster is that this isn't necessarily a weekly delivery service where you'll automatically get new shipments on a regular basis. It's set up so that you will just visit their website and place an order whenever you're in need of a seafood fix.
This means you aren't limited to what's on a certain menu each week, which is definitely a plus. All you need to do is head over to their website and take a look at what they have to offer. And it's actually quite a lot, so don't feel too overwhelmed by the choices.
You can get various types of lobster, order a pre-made meal kit, or snag some other kinds of seafood on the menu. They also offer seafood appetizers, as well as seasonal bundles to get the most bang for your buck.
And since we all know that seafood can be pricy, they provide daily specials, allowing you to snag some extra savings on your order. Just make sure you check their "Today's Deal" page to see what they have. You'll find offers like buy 10 Maine lobster tails and get 10 free!
Types of Food They Offer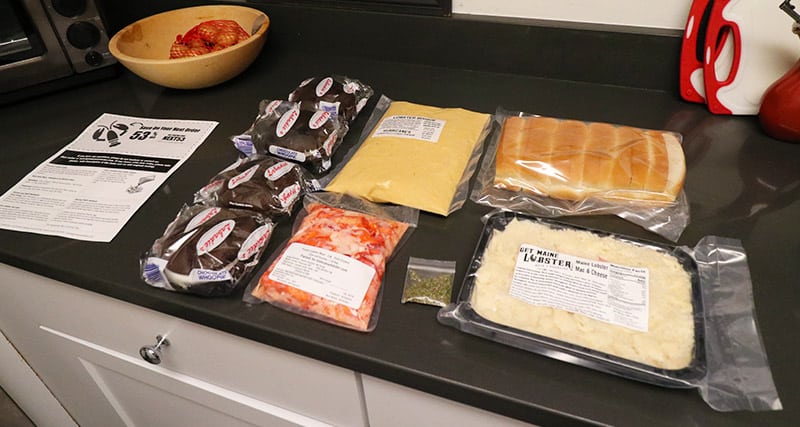 This service isn't like others where you select a meal plan and have to choose your dinners each week. Instead, you're able to shop their online store and fill your shopping cart with whatever you want, whenever you want, a la carte style.
They offer signature dinners like the Maine Lobster Tail and Beef Wellington Dinner, the Lobster Roll Dinner, and the Lobster Mac and Cheese Tail Feast. But you can also order yourself some live lobster, lobster tails, and lobster meat on its own without additional sides. While lobster may be their speciality, they do offer other seafood like oysters, yellowfin tuna, wild-caught shrimp, mussels, snow crab legs, haddock, and more.
Delivery
Orders can be shipped across the United States, however they cannot deliver to APO/FPO, P.O. Boxes, and certain rural routes. If you live outside the United States, you're unfortunately able to receive orders from Get Maine Lobster.
When you check out, you will be able to select your preferred delivery date, ensuring your order arrives at a time that's best for you. Obviously, you'll want to be around when your order makes it to your door so the seafood can be kept cold. Get Maine Lobster recommends placing your order at least a few days in advance of the requested delivery date, so you'll want to plan ahead. Orders are then shipped via UPS overnight.
With overnight orders, they typically arrive earlier in the day, but can be delivered as late as 8 PM, so just be aware that it can take longer. You will be provided with tracking information, allowing you to keep an eye on your package as it makes its way to your door.
There's no signature required for the delivery so you don't need to be home in order to receive your delivery, but it is encouraged to have someone there and waiting for the package. If you can't be at your house when it's delivered, consider having it shipped to where you work so it can be kept cold until you're home.
They also provide Saturday deliveries in most areas, but it will cost an additional $15.
Packaging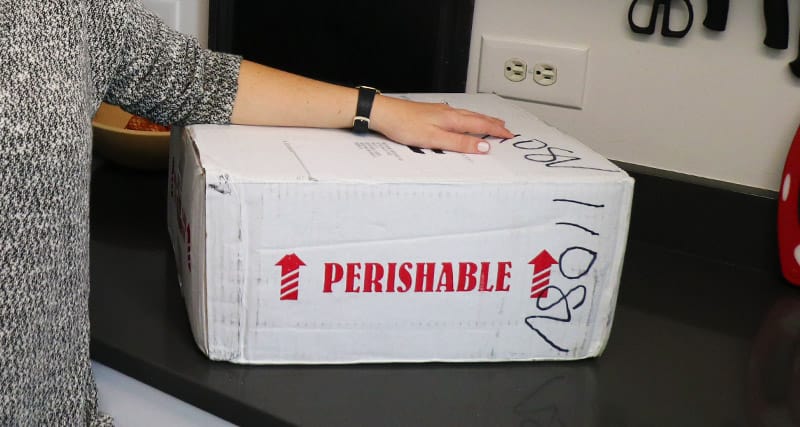 All orders will be packaged to ensure your seafood stays fresh during transit. And since they're shipped overnight, they won't be in transit very long. This means that you shouldn't have to worry about your food spoiling before it lands on your doorstep.
Sometimes live lobsters may die in transit :(. However, that doesn't mean it isn't safe to eat. Should this happen, make sure you read the instructions on Get Maine Lobster's website, as they recommend cooking a dead lobster within eight hours of discovering it has died.
Cooking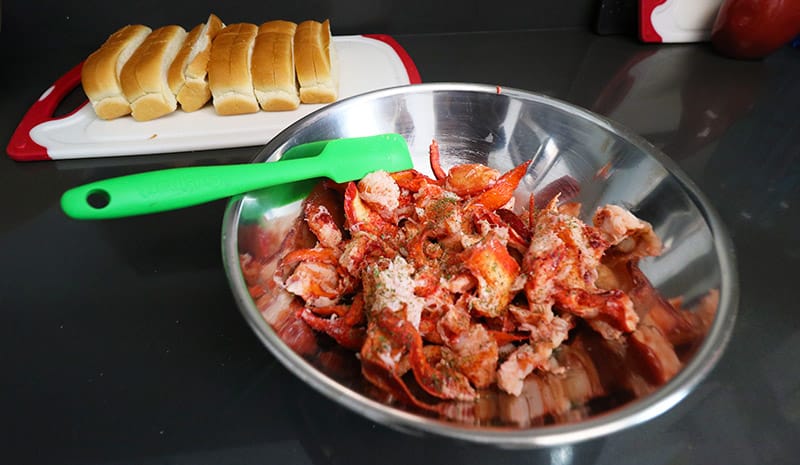 Now that we've talked about all of the details of their service, let's jump into our experience with Get Maine Lobster. Here's what we got in our box:
Lobster Meat
Lobster Bisque
Lobster Mac & Cheese
Bread Rolls
Seasoning
This was a combination of their Lobster Roll Dinner and Lobster Mac and Cheese meal kit.
One of the biggest benefits of a service like Get Maine Lobster is the fact that they sell these pre-made meal kits, which take all the guesswork out of cooking. Essentially, all of the food we got in our box was pre-made and frozen. The only additional ingredient we needed to provide was mayonnaise for the lobster toll. Overall, it just needed to be properly thawed, heated, and plated before we could eat. The total prep/cook time was under 15 minutes.
Taste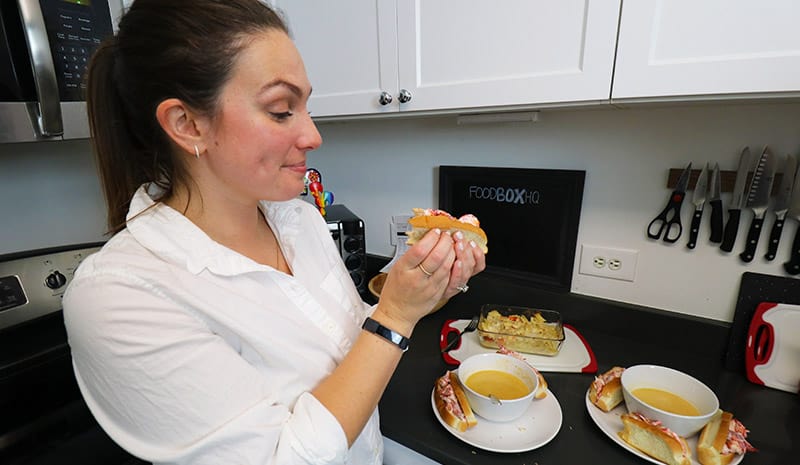 Ordering seafood online might seem a bit crazy to some but, let me tell you, one bite of their lobster dinner rolls could change your mind.
The taste of the overall meal was delicious. It's the best seafood "comfort food" we've had in a long time.
The lobster rolls had the perfect amount of flavor and, when dipped into the lobster bisque, made it even more tasty. The lobster mac and cheese was super cheesy (in a good way) and they didn't skimp on the lobster.
And I couldn't skip over the incredible whoopie pies that were included in the box. While we didn't review them in the video, since we wanted to focus on the seafood, I have to say these are literally the best whoopie pies I've ever tried. What's cool is that they come from a bakery in Maine called Labadie's that is known worldwide for their whoopie pies
I'd definitely recommend watching the accompanying video review to get a full look at our taste test reaction.
Freshness & Quality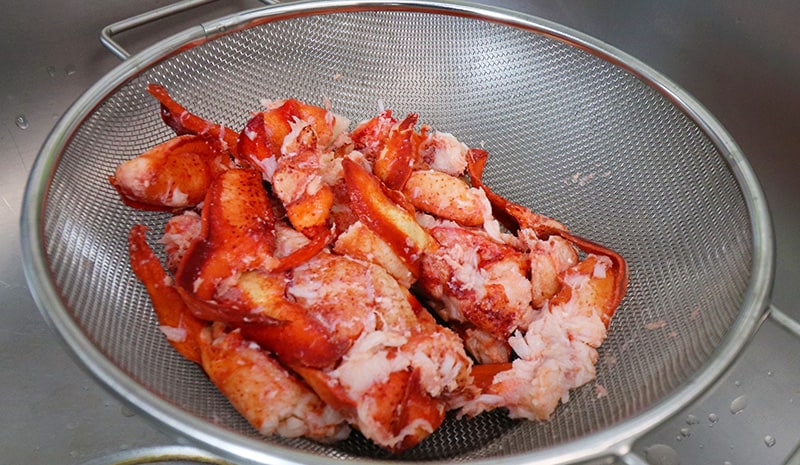 Get Maine Lobster proves that you can not only safely buy seafood online, it can be top-notch quality too. Everything came perfectly frozen. That's saying a lot. Having reviewed 100+ different boxes on this site, we sometimes get boxes of perishable foods that are somewhat thawing before we open it. You definitely don't want to see that when it comes to seafood.
The secret to ensuring their foods stay fresh from door to door is that they only ship overnight. This means that the time it takes for them to catch, cook, and get the food to you is extremely quick compared to other meal delivery services. Less time spent in transit equals higher quality food.
Pricing
Because this isn't a traditional meal delivery service with a weekly subscription, there isn't one flat fee that you can expect to pay. Your final cost will depend on exactly what you order.
For instance, if you want to order live lobsters, it's going to depend on just how much you order. 1.4 to 1.6-lb of lobsters will cost $99.99. Searching for lobster tails? You could pay up to $164.99, depending on the size you choose.
And of course, there are handy meal kits that make dinnertime so much easier. The Maine Scallop Dinner contains New England scallops, Maine crab cakes, Maine clam chowder, and whoopie pies for dessert. You can get this dinner for two, four, or six people. A dinner for two will cost $110.
Pros & Cons
So, what are the benefits of using a service like Get Maine Lobster?
It's an easy way to get quality seafood, as it gets shipped directly to you instead of you having to find a local supplier.
There's no weekly subscription, meaning you can order whenever you want to add a little seafood into your weekly dinner menu.
And the signature dinners allow you to put together a wonderful seafood dinner with ease, even providing a little treat for dessert.
Now what are the downsides?
The only real downside is how pricey seafood can be as well as overnight shipping (which is necessary for freshness). As mentioned before, they do have daily deals that will allow you to keep some extra cash in your pocket.
Final Thoughts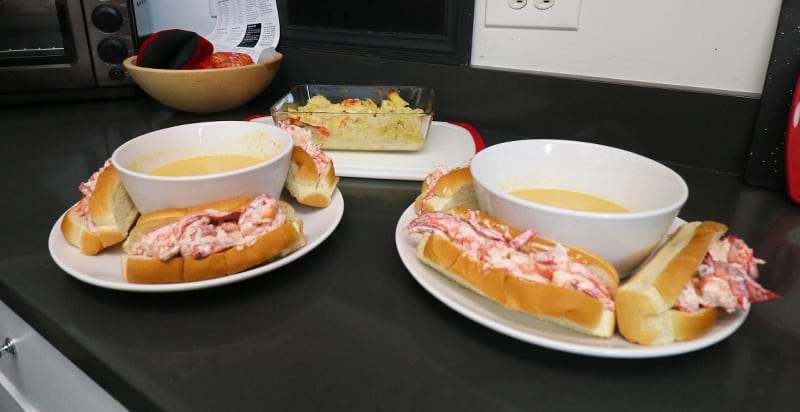 Overall, Get Maine Lobster is worth considering if you want an easy way to get fresh, Maine lobster and other seafoods delivered to your home.
While a bit pricey, you're getting more than just food in return for what you pay. You're getting the assurance that the food you order is fresh and delicious.
Get Maine Lobster would be the perfect option if you're hosting a dinner party. Their pre-made meal kits are super simple to whip-up, taste delicious, and are actually fun to eat.
So if you're on the lookout for one of the best places to buy lobster online, definitely consider checking out Get Maine Lobster!