How would you like to take a trip to Japan without ever having to leave the comfort of your own home? Well, you can experience the unique tastes this beautiful country has to offer through Japan Crate.
Japan Crate is a subscription snack box that provides you with a variety of Japanese treats you can eat (and even play with). It allows you to experience unique treats that you wouldn't otherwise be able to get your hands on easily in the United States. In fact, the box actually ships from Japan.
Let's explore this interesting box of treats to see if it's right for you!
Types Of Boxes You Can Choose

Placing your first order with Japan Crate only takes a few clicks and your box will be on its way to you shortly! First, you'll want to head over to their site and check out all their Japan Crate has to offer.
You'll have three different size boxes to choose from. First, there's the Mini box. This one features just five Japanese treats inside each order. Then, they have the Original box, which contains 10 items. And for the Premium box, every order will contain 18-20 items, including a drink and a fun DIY. Plus, there will also be a monthly bonus item for you to enjoy.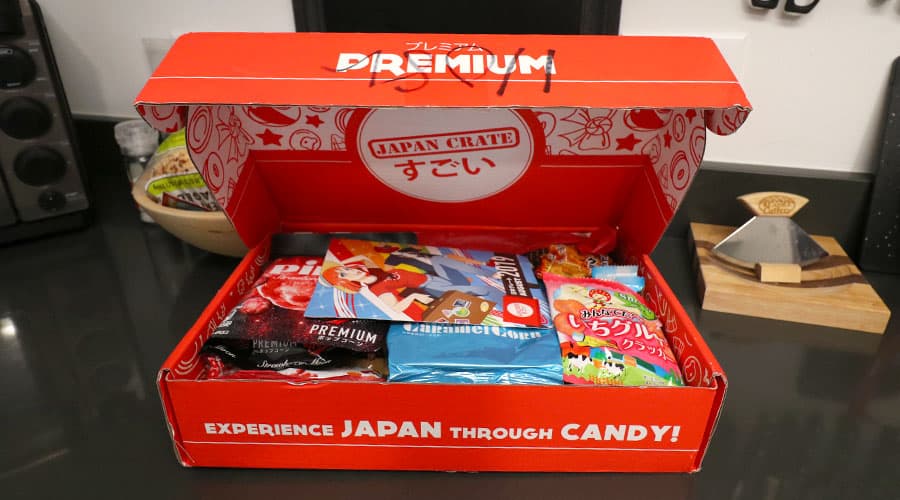 The Premium box is the one we received for this review. You can watch us unbox it in the video above!
In addition to the 3 main snack boxes, they also offer other Japanese-related monthly subscriptions, such as...
Doki Doki Crate which delivers you "kawaii" ("cute" in Japanese) toys.
Umai Crate which delivers you traditional instant Japanese noodles
Kira Kira Crate which delivers you Japanese beauty products
Gacha Gacha Crate which delivers you gachapon figures
For this review, we'll just be focusing on their snack boxes — Mini, Original, and Premium — not the toy crates.
Once you've made your decision, you'll notice that the top of the "Select Your Crate" page shows how many days you have left to order the box for that particular month. Then, add it to your shopping cart and make your way through the checkout process.
One thing to note is that each box will be a complete surprise when it lands on your doorstep. You won't see what's inside before it arrives, nor are you required to select items beforehand. Everything is chosen by the team at Japan Crate and sent directly to you. Think of it like a mystery gift box you can receive every month.
What We Received In Our Premium Box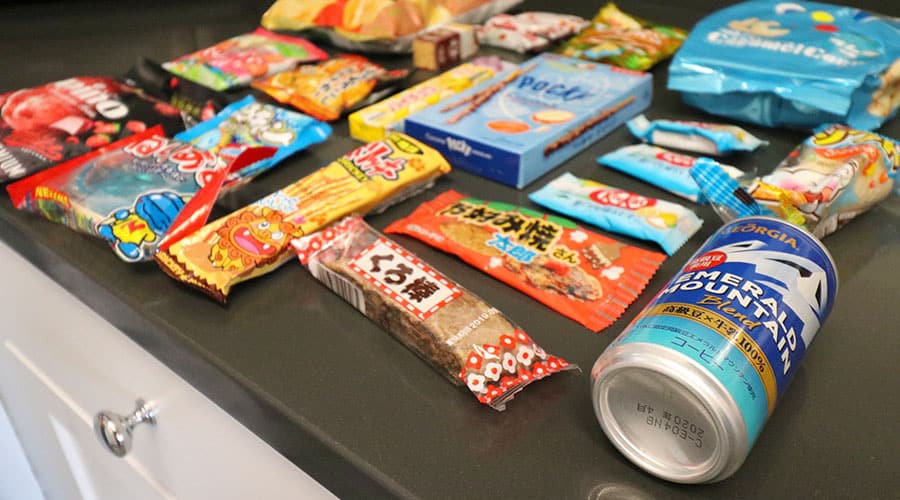 Inside the Premium Japan Crate, you'll discover a ton of Japanese treats to indulge in. Here's exactly what we got in our box...
Kataage Potato Shrimp & Salt Chips
Coro Can Soda Soft Candy
Chocotto Soft Marshmellow & Chocolate Cream
DX Sour Pack
Chu Chu Gummy Lips
Mike's Pino Strawberry Moon Caramel Corn
Neriame DIY Candy Maker
Okonomiyaki Taro (Pancake with Meat, Vegetables, Egg, Sauce, Squid, and Fish)
Kurobo Stick (Brown Sugar Treat)
Porikky Brown Sugar Pretzel Sticks
Grilled Corn Crackers
Hi-Chew Banana Flavor
Ramune Caramel Corn
Ichigo Yogurt Cracker (Strawberry Flavor)
Sours Jewel (Pineapple Flavor)
Coconut Pocky
Georgia Emerald Mountain Blend
Bonus Snack: 3 Lemon KitKats and 3 Cranberry Almond KitKats
As you can see, they pack a lot of different treats into the Premium box. However, these aren't all full sized treats. Most of them are the smaller "trial" size.
Taste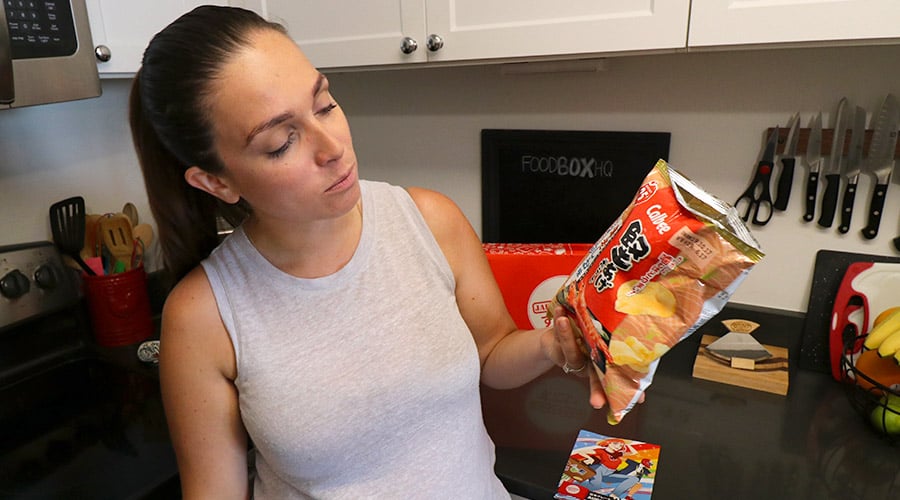 When it comes to taste, this Japanese snack kit is probably one of the most unique and interesting boxes we've tried. Tasting each snack was kind of like a mystery adventure because the majority of the treats packaging is written in Japanese. This means that you don't really know what you're about to bite into.
For our video review above, we decided to pick out a handful of snacks to taste test. Here's a taste review of each one that we picked...
Kataage Potato Shrimp & Salt Chips: As mentioned above, these treats are going to be unique and different, especially for Americans who aren't used to Japanese flavors. While "shrimp" chips might sound a little strange, these actually had a great flavor. They tasted like regular salt chips with a hint of a fish flavor.
Sours Jewel (Pineapple Flavor): These were a chewy candy with crystallized sugar on the outside. While it had a pineapple flavor, it actually wasn't overly sweet.
Lemon KitKat: This candy really surprised us with its taste. It sounds like an odd combination — lemon and white chocolate — but it tasted delicious. They added a bit of salt to it too, which really brought out the chocolate flavor. It ended up being our favorite treat in the entire box.
Porikky Brown Sugar Pretzel Sticks: These were pretzel sticks that were dipped in brown sugar. They had a bit of a savory and sweet flavor. They're definitely one of those snacks you can just keep eating, one after the other.
Neriame DIY Candy Maker: This was definitely the most unique snack we received in the box. It actually encourages you to play with the candy and create your own bite-sized versions with 2 sticks they provide you. It's fun to play with but definitely can create a mess so be careful. In terms of the taste, it packed a ton of sugar. If you love sugary snacks, this might end up as your favorite.
Now that we've gone over the different types of boxes they offer and snacks you can expect, let's look at the delivery options, packaging, and pricing before wrapping up with our final thoughts.
Delivery
No matter where you are in the world, you can experience Japan through any one of Japan Crate's monthly subscription boxes. They deliver worldwide and never charge for shipping.
They have also implemented a rolling shipment system to organize their monthly deliveries. Each month, there will be three separate shipment "waves" that correspond with the date of your first order, which will also be your renewal date for your subscription.
If your order/renewal date was the 1st-14th of a month, you can expect your book to ship out on the 20th of that same month. Orders placed between the 15th and the 23rd will ship that month on the 28th. And if you ordered your box anytime from the 24th-31st, you can expect your box to ship on the 3rd of the next month.
For those with a prepaid multi-month subscription, your second order will be included in the first wave of shipments. And if you want to receive your order a bit earlier, you can actually request to change your renewal date by getting in touch with their customer service team.
Because of customs and the possibility of other delivery delays, you'll want to allow six weeks from your shipment date for your order to arrive. After that point, if your Japan Crate still hasn't arrived, you can get in touch with them to try and locate it.
Our box did have a slight delay in getting to us because of US customs but it didn't cause much of an issue at the end of the day.
Packaging
Your Japanese goodies will come packaged in a brightly colored box with adorable designs, which are sure to put a smile on your face. Because none of their food boxes need to be kept cold, there's no need for insulated packaging materials, ice packs, dry ice, or anything else of the sort. There's simply a cardboard box that you could keep or recycle with your paper and cardboard materials.
The only slight issue is that there isn't much on the inside of the box to protect it while it's being shipped so things can get jostled around. Also, depending on the temperature, certain snacks can melt. For example, our KitKats did melt a little in the packaging but they were still fine to eat (and ended up being our favorite snack anyway).
Pricing
Pricing will obviously depend on which size Japan Crate box you choose to order.
The Mini box is $12 per month for five items
The Original box s $25 per month for 10 items
The Premium box is $35 per month for 18-20 items (plus a bonus snack)
Don't forget that shipping is always free!
Final Thoughts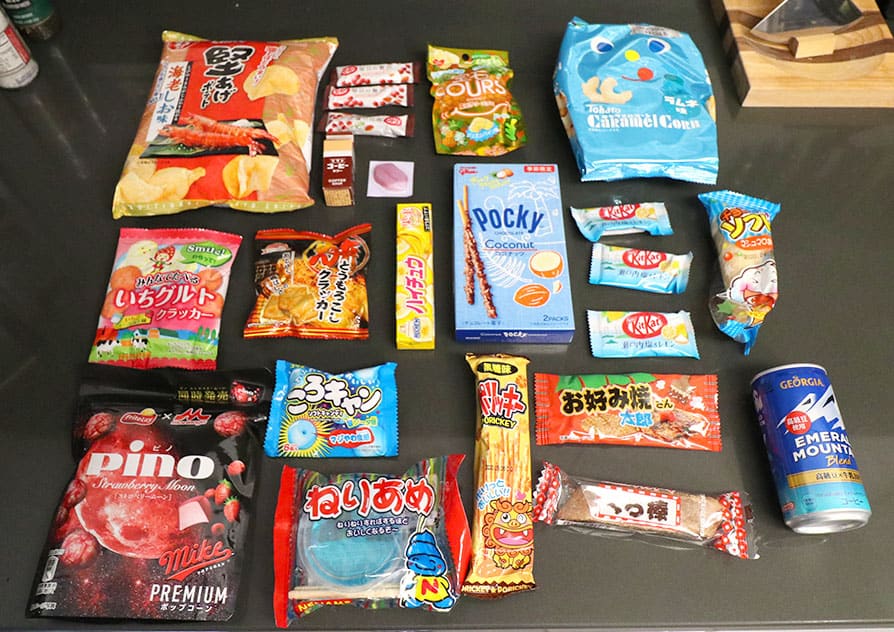 Japan Crate is more than just a subscription snack box, it's an experience. There is no doubt that you'll receive some interesting, unique, and probably even weird snacks. But that's part of the fun because it's an adventure.
These are snacks that you're very unlikely to ever find in the United States. In fact, we even tried to find them on Amazon and couldn't.
Japan Crate would also make for a fun gift idea for someone with adventurous tastes or even someone who loves Japanese culture (a "Japanophile").
Regardless of whether it's a gift or for yourself, we definitely recommend sharing your box with friends. Half the fun is seeing others reactions when they bite into something they aren't sure of. Just look at Emily's face in the video above when she's taste testing all the different snacks!
Have you tried Japan Crate before? Have a question we didn't answer? Let us know in the comments below!