Are you someone who absolutely loves cereal? You may eat cereal for breakfast, as a snack, and sometimes you have a bowl for dinner too. There's nothing wrong with having a passion for cereal, but maybe you're older now and you realize the importance of eating good food.
For years now, Emily and I have been looking to replace any of our past bad eating habits with healthier alternatives. So when an Instagram ad for Magic Spoon popped up in our feed, it intrigued us. They bill themselves as a cereal that actually tastes good too. (The last "healthy" cereal I had was unsweetened granola that almost broke my teeth with each bite.)
Magic Spoon may be the flashiest, coolest cereal on the market right now. Upon first glance, heir branding looks like something you'd see from a new tech start-up, not necessarily a breakfast food. That may be for good reason. The folks behind Magic Spoon have experience getting people to buy (and more importantly, enjoy eating) unique foods. You may already be familiar with their last company, Exo, which created protein bars made from ground insect flour.
Needless to say, Magic Spoon has built a lot of hype — from it's branding to it's hip social media accounts. But does the Magic Spoon experience actually live up to the hype and, most importantly, does it taste good? Keep reading to find out...
How It Works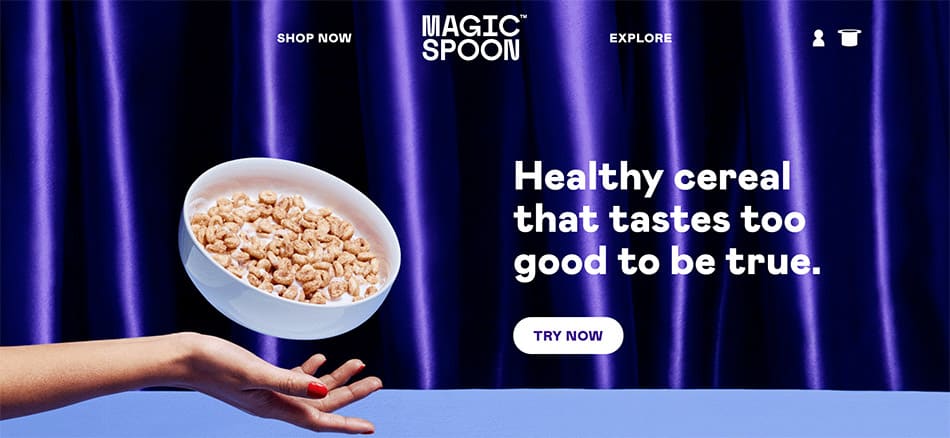 To get started and place your first order with Magic Spoon, you're going to have one very difficult decision to make: What flavor cereal would you like to receive in each box?
They currently offer four different flavors (more on those in a moment), as well as a variety box. Occasionally they will release limited edition boxes, usually around holidays/seasons.
Once you've made your flavor selection, you'll need to choose between making a one-time purchase or signing up for a subscription. With the subscription option, you'll receive four boxes of cereal per month, giving you plenty to enjoy. Plus, you get a small savings when you subscribe. These boxes feature a 28-day supply of cereal. That means it'll have four boxes, each containing seven servings of cereal.
Types of Plans They Offer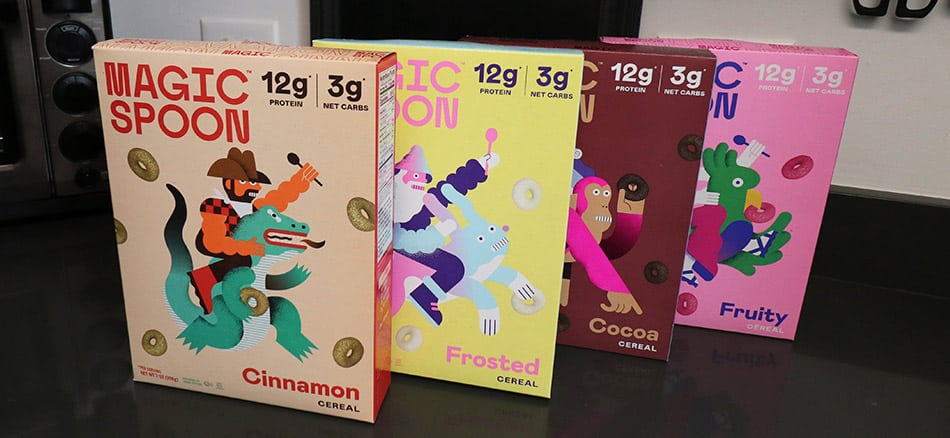 There are five different plans to choose from when ordering cereal from Magic Spoon. Depending on your flavor preferences, you can select their cinnamon cereal, frosted cereal, fruity cereal, or cocoa cereal. But if all of those sound good to you, you can opt to order the variety box which has a little bit of everything, ensuring you always have something to satisfy your cereal cravings.
Delivery
When placing your order, you'll be able to choose from standard or expedited shipping options. This way, if you need your cereal fix in a hurry, you can choose to get your boxes delivered sooner. Standard shipping should take between two to five days depending on where you live. And the expedited shipping will be through FedEx's two-day shipping.
You can skip a delivery or cancel your subscription whenever needed. You don't have to be worried about getting locked into something long-term. So, if you decide it just isn't for you, you're free to go at any time.
Our box was shipped via USPS and took 3 days to get from their warehouse in Berlin, CT to our doorstep in Hoboken, NJ.
Packaging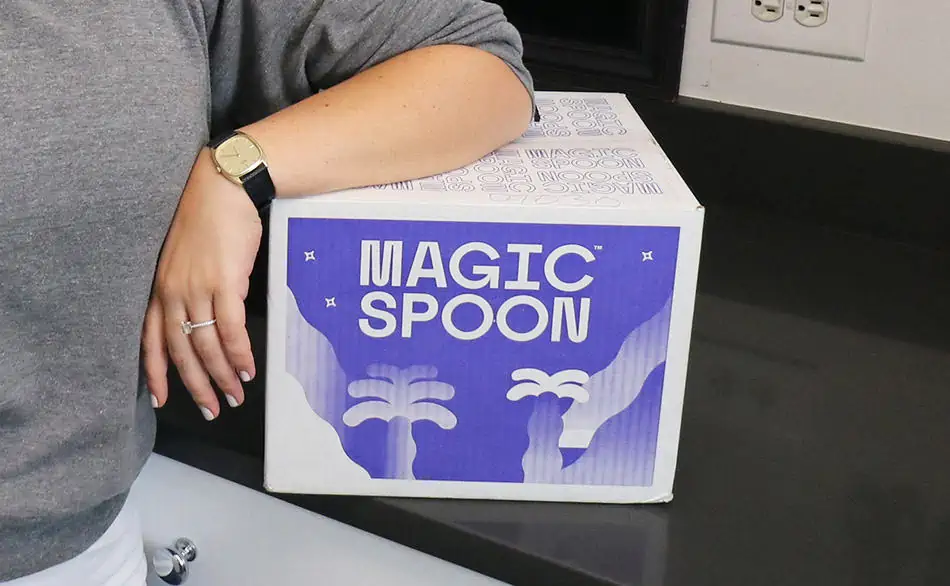 The packaging that the cereal boxes comes in is pretty basic. There isn't any insulation or padding. But, it is just cereal that's being shipped so that isn't really needed.
The cardboard box is recyclable and can be recycled at your local recycling facility or with curbside pick-up. The cereal box itself can also be recycled once you've finished enjoying your cereal.
However, as mentioned above, the cereal boxes themselves are basically works of art. They were created by the team at Gander, a design shop based out of Brooklyn, NY. Each one has an eye-popping design that's unlike any cereal box you're likely to find at your local grocery store. My guess, this is exactly what they wanted in order to vastly differentiate Magic Spoon from their sugary competitors.
Taste
In our box, we received their four main flavors — Cinnamon, Cocoa, Froster, and Fruity. To hear the crunch of each spoonful from all the different flavors, watch our full video review above where we taste test each (with milk).
The overall conclusion is, yes, these do taste like those sugary cereals... but not entirely. They're about 90% of the way there. They have all of the satisfying crunch, smell, texture, and even sugary-taste (thanks to allulose, monk fruit extract, and stevia extract). However, when you're chomping down, it seems like your tastebuds are being tricked. Everything tastes great but something just seems a little "off" (not in a bad way) when you try to do a one to one comparison to the original flavor. All that being said, these cereals are as close to the real thing as I've ever tried.
One note — eat them with milk. It could be real milk, almond milk, oat milk, etc. The cereal by itself can have a slight aftertaste (possibly from the protein or sweetener). However, we found when you add milk, it completely goes away.
What Makes Magic Spoon Cereal Sweet?
Magic Spoon has taken a cue from many of the other popular keto snacks on the market these days and used allulose, monk fruit extract, and stevia extract as major ingredients to give its cereal that sweet, delicious, nostalgic Saturday morning cereal taste.
But what exactly are these sugar alternatives?
Allulose
Allulose is a low-calorie sugar alternative (having approximately 1/10 the calories) that actually tastes as close as possible to the real thing. It's relatively new to the world of food, having been harvested in mass-quantities by a German start-up. Previously, allulose was only found in small quantities in foods such as raisins, figs, molasses, and maple syrup. In addition, recent research has found that it has no impact on blood glucose levels, making it diabetes-friendly.
Monk Fruit Extract
Monk fruit extract is a natural alternative to sugar that amazingly has zero calories and is 100–250 times sweeter. In addition to it being able to rival sugar, it's also rich in mogrosides, a unique antioxidant, which gives it its sweetness. Studies show that mogrosides also have anti-inflammatory properties.
Stevia
Stevia, which comes from the stevia plant, is a sugar substitute that has nearly zero calories. It has been found to have the potential to treat diseases such as obesity, diabetes, and hypertension. Like the others mentioned above, the main benefit of stevia is to help people maintain a healthy weight.
Freshness & Quality
Think of Magic Spoon as a healthier option of those childhood favorites like Cinnamon Toast Crunch, Frosted Flakes, Froot Loops, or Cocoa Puffs. It's the grownup version.
With each serving, you'll get 12g of protein and just 3g net carbs, making it keto-friendly. Each cereal is also low in sugar, as there's no cane sugar, corn syrup, or sugar alcohols used. You won't find gluten, wheat, rice, corn, or soy in any of the cereals. Plus, they keep things non-GMO and make each cereal without any artificial colors or sweeteners.
When opening up our box you could tell just by the first smell that these were kept fresh in the box. Each bite had a hearty and satisfying crunch too. Remember as a kid when you'd bite into old cereal and it would feel like cardboard? None of that here.
Of course, it's up to you how fresh it stays after you open. We'd recommend keeping your box in a cool, moisture-free container, preferably with the least amount of oxygen touching it as possible. Airtight cereal containers work best but if you can't get your hands on one of those, just roll up the plastic part of the bag, clip it to keep it from unrolling, and pack it away in the box as tightly as possible.
Pricing
For a one-time purchase of the four-box variety pack, Magic Spoon will cost $39, which comes to about $1.39 per bowl of cereal or $10 per box of cereal.
If you love their cereal, it'll be worth switching to the subscription service, as it will save you money in the long run. With a monthly subscription, you'll receive 10% off your order, costing just $35.10 per month. That comes to about $1.25 per bowl.
Although it may seem to be more expensive than many of your traditional cereals, you have to consider the quality of ingredients inside and the overall value (e.g. no more midnight sugary cheat meals).
They do have a happiness guarantee in which they'll refund you if you're not happy with your cereal.
Pros & Cons
So, what are the positives to this cereal subscription service?
It provides you with healthier versions of your favorite cereals. Instead of giving into the temptation of sugar-loaded cereals, you can enjoy that same flavor with these better-for-you options. This way, you don't have to miss out or restrict yourself!
The cereals go well with any kind of milk. Dairy milk, soy milk, oat milk, or coconut milk. It's totally up to you! Each one pairs well with Magic Spoon's cereals. They also suggest using the cereal as yogurt or ice cream toppings.
The packaging is still fun for kids. With amusing imagery and bright colors, children are still likely to be drawn to this cereal. And that's definitely a plus for parents.
But what are the downsides?
You'll only receive four boxes of cereal per month. For many people, this will be totally fine. However, if you have a big family that eats cereal every day for breakfast and snacks, you could potentially go through four boxes very quickly.
There's no way to mix and match. Unfortunately, you can't mix and match your favorites. You can either get a box full of cinnamon, frosted, fruity, or cocoa cereal. Or you can get a variety box that has one of each.
It can be expensive. For many, $10 per box of cereal is a lot any way you slice it.
Final Thoughts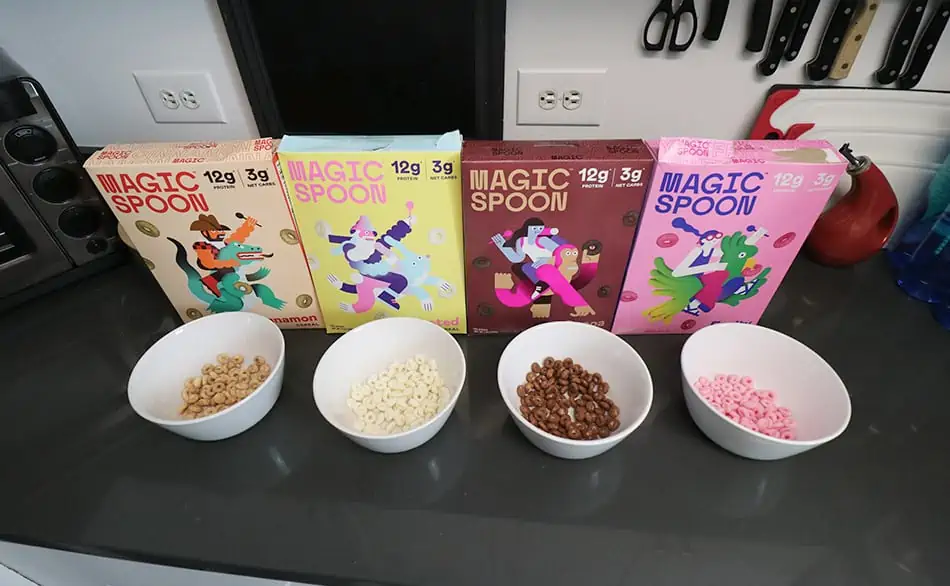 Overall, a "healthy" cereal delivery service like Magic Spoon is a really fun idea for someone who would eat it for breakfast, lunch, dinner, or even as a late-night treat. Sure it's going to be a bit more expensive than what you'd buy at the grocery store but you make up for it in the nutrition — less sugar, less carbohydrates, more protein. And of course, the taste is on par with those sugar-coated cereals of yesteryear.
Have you tried Magic Spoon? Have a question about their cereal? Leave a comment below and let us know!