Losing weight can be tricky. You have to make smart decisions about what you're eating, which can often be stressful if you don't know what you should eat in order to facilitate weight loss. And then there's the fact that we're all busy and we don't always have time to prepare a healthy, home-cooked meal!
The great news is, there are so many meal delivery services out there that make eating good food much easier. And that leads us to today's review — Personal Trainer Food.
We're doing a deep dive into this prepared meal delivery service to find out if it's the right meal kit to help you shed the weight while eating great. Let's jump in to it!
How to Join
To get started with their service, you'll need to choose between a single delivery or the 14-day subscription box that automatically renews. The single delivery gives you 28 days worth of food in one order and is ideal if you have plenty of freezer space for storage. If you don't have enough room in the freezer, you can go with the 14-day plan and receive deliveries every two or four weeks instead.
No matter which option you go with, you'll have the ability to choose every meal you receive. That means you don't have to worry about getting something you don't want to eat.
Plans They Offer
Now, let's dive into the good stuff like the plans they offer and what kind of food you can expect to receive in your subscription box.
At this time, Personal Trainer Food offers three different meal plans for customers to choose from. The plan you go with is really dependent on your weight loss goals.
There's a plan called "REV!", which is designed for rapid weight loss. This is an extreme fat-burning and accelerated weight loss plan that provides daily email support, weekly weight loss calls, and one-on-one weight loss coaching. Then, there's also the "Core" plan, which still aims to provide weight loss, but isn't going to provide results as quickly as the REV! plan. It does, however, still offer the email support and weight loss coaching.
But if you're someone who needs more flexibility, there's a the "You Choose" option that allows you to mix and match any combination of breakfast, lunch, dinner, and snack foods that you'd like. This is ideal if you want to be in full control.
So, what's on their menu? Well, there are plenty of breakfast options to choose from including the Cheddar Omelet & Turkey Sausage, Cheddar Omelet & Cranberry Chicken Sausage, and the Maple Breakfast Scrambler.
For entrees, you'll be able to choose from dishes such as the Italian Turkey Burger, Buffalo Ranch Chicken Sticks, Teriyaki Chicken, Apple and Gouda Juicy Sausage, and Smoked BBQ Pork Ribs. You can also add on various veggies and snacks so you'll always have plenty of food in the house.
Delivery
Personal Trainer Food ships their meals everywhere in the United States except Alaska and Hawaii. Unfortunately, they're unable to ship to those two states just yet, but check back in the future to see if they've been able to expand their reach.
To make this service even easier for you, you'll have the ability to choose your preferred delivery date. And that includes Saturday! In some locations, you can place your order and have it delivered as soon as the next day. Once your order ships out, you'll receive FedEx tracking information to keep an eye on it every step of the way.
And there won't be any surprise charges at checkout. Shipping is always free!
Packaging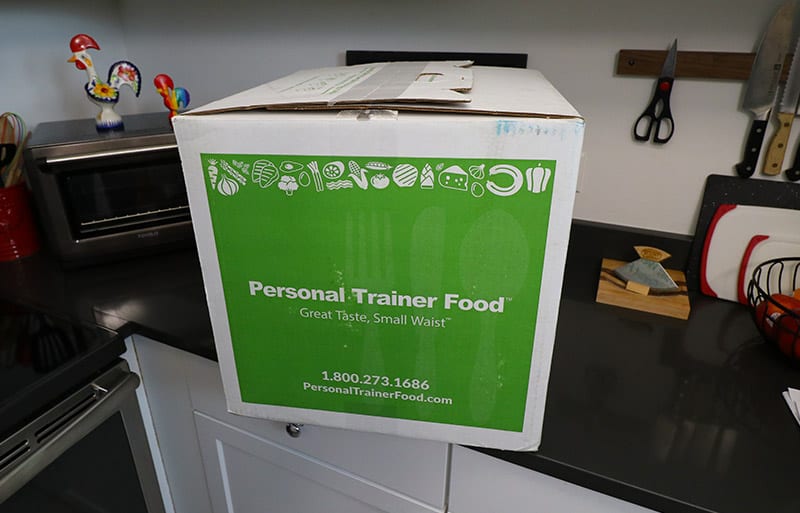 Because you're receiving pre-made meals in every order, it's important that your food stays fresh during transit. No one wants to open their meal delivery box only to discover spoiled chicken inside! Luckily, you won't have to worry about that thanks to the packaging used.
The frozen meals are packaged inside an insulated, recyclable cardboard box that is also lined with Styrofoam. Dry ice is also included to keep things at the ideal temperature. And you'll notice that they increase the amount of dry ice during those hot, summer months.
Once you've unpacked everything, you can even take things one step further to reduce, reuse, and recycle. The team at Personal Trainer Food has partnered with Give Back Box to donate clothes and household goods to those in need. You can fill the box your meals arrived in with things you wish to donate, print out a free shipping label, and send it off. And there are more creative ideas for reusing your box on their site.
Cooking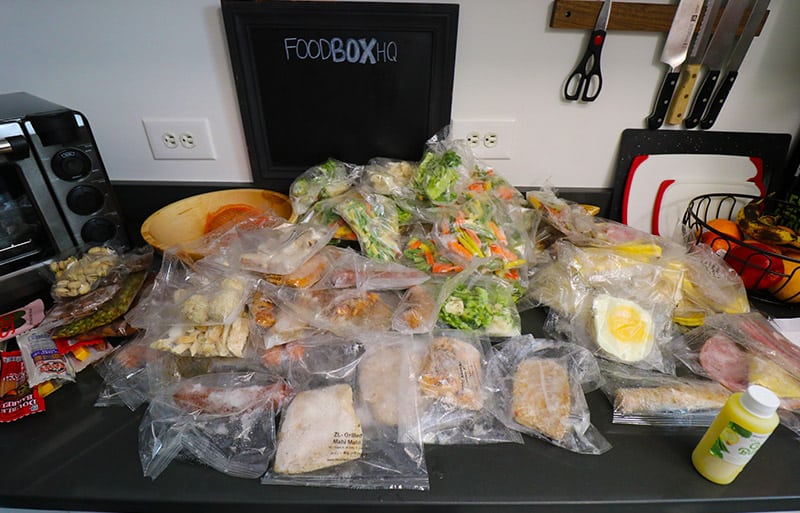 Now that we've talked about all of the details, let's go over the food. If you watched our video above, you'll see that we had so much food we literally couldn't even show all of it on camera. This is, without a doubt, the most food we've ever received from a meal delivery service.
For our first meal we decided to cook up the nantucket blend vegetables, spicy breaded chicken breast, and the OLOVES seasoned with chili and oregano.
Technically, all of the meals are pre-made so there is no real prep or cooking involved. Since they're frozen, you simply need to heat and eat. This saves a ton of time. In fact, we spent no more than 7 minutes total heating everything up and plating it.
Taste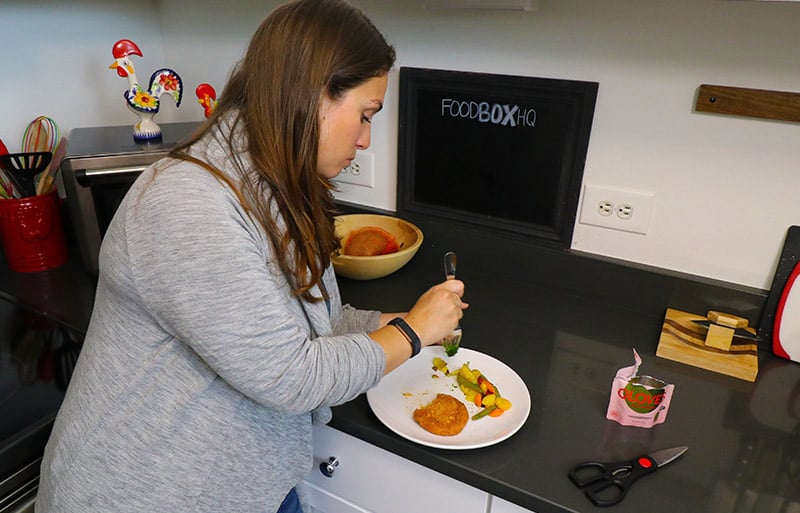 After we had heated up our nantucket vegetables and chicken breast, we decided to let them cool and have the OLOVES first. These are a snack that Personal Trainer Food includes as an option on their site, not cooked by them. That being said, they were really delicious. Olives are a snack that some people like and others don't. But if you are one of those people that likes olives, I think you'll love OLOVES (see what I did there?). Since these were made with a bit of chili and oregano, they had a bit of a spicy "kick" with each bite.
Once the meal itself cooled down, we tried the veggies first. Surprisingly, they were very good for frozen vegetables. Sometimes when you reheat vegetables they become mushy and soggy, without the "crunch" you usually want out of a vegetable. They also seemed to have a little bit of seasoning, which wasn't overpowering.
Last, we had the spicy breaded chicken breast. What's interesting is that it tasted good for a meal box that is geared towards weight-loss. It didn't seem like they skimped on any of the flavor. The one downside is that it did seem to have a higher amount of salt taste than usual. Looking at the nutrition facts shows that this spicy breaded chicken breast does have a relatively high amount of sodium at 1010mg (42% daily value).
Pricing
The "REV!" meal plan costs less than $16 per day, while the "You Choose" plan is less than $15 per day, and the "Core" plan starts at less than $14 per day. And shipping is always free. When you consider how much you spend on groceries and eating out each week, you may find using a service like this will actually save you some money.
Personal Trainer Food offers a Money Back Guarantee if you aren't happy with your meals. You simply need to let their team know you're unhappy within five days of receiving your delivery.
You also don't need to worry about being locked into any kind of long-term commitment when you start your subscription. You can cancel at any time without incurring any additional fees. Simply give their customer service team a call, let them know you want to cancel at least 10 days prior to your next scheduled delivery date, and that's it.
Pros & Cons
Alright, so what are the pros to using this particular service?
It takes the guesswork out of weight loss. Instead of struggling to figure out what you should be eating to shed a few extra pounds, you'll have a service that provides you with plenty of healthy options to choose from. No more wondering what's acceptable to eat or scouring the web for new recipes.
Pre-made meals will save you time. Don't have time to cook three meals per day? Or maybe you're just not confident in your kitchen skills? That's okay because these meals are already prepared and just need to be heated!
There are options for breakfast, lunch, dinner, and snacks. Many meal delivery services only provide you with three or four dinner options per week. This service will take care of all three of your daily meals, plus snacks. That cuts down on grocery shopping and cooking.
Having support will help boost results. The fact that you can get email support and coaching from the team at Personal Trainer Food could make all the difference in your success. It provides accountability when you need it most to ensure you're staying on track.
And now the downsides?
Breakfast is focused mainly around eggs. If you don't like eggs, you'll want to prepare your own breakfast each day because only one option doesn't contain them.
It's not vegan-friendly. Vegans will need to find a different option, as the breakfast and entree options feature animal products.
Many of the meals are high in sodium. If you're looking for low-sodium meals, you'll have to keep an eye out when ordering.
There aren't organic or non-GMO options. While Personal Trainer Food sources their ingredients from top USA vendors, they don't currently offer organic or non-GMO meals plans. If that's important to you, you'll want to search for another service to try.
Final Thoughts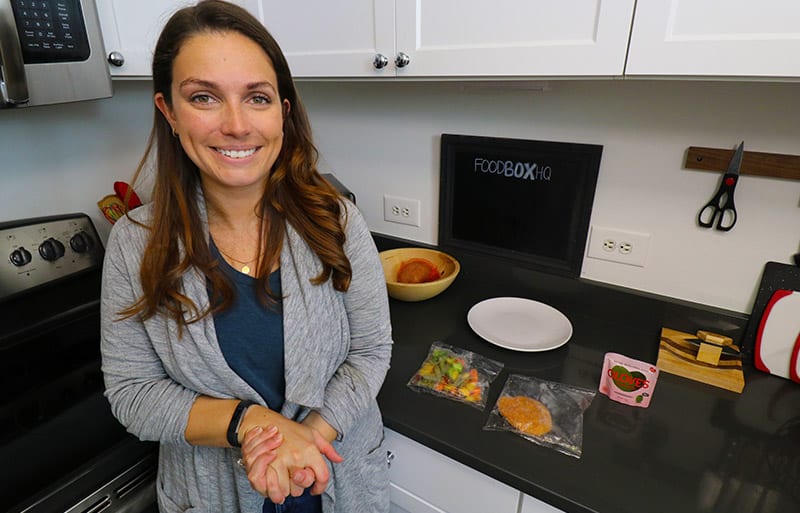 Personal Trainer Food is worth considering if you're looking for already prepared meals that are designed to help you see weight loss. You'll receive full portions of food, as well as accountability from their team to keep you on track with your goals. It's designed to make weight loss both healthy and easy. Check out their success stories and their menu to see if it's the right meal delivery service for you.