If you're someone like Emily and I, who loves smoothies, you know what a hassle they can be sometimes.
First, you have to plan out the flavors of the smoothies you'd like to make so you can get all of the necessary ingredients at the grocery store. Then, you have to wash and prep your ingredients.
And finally, you get to throw everything into the blender and blend up your delicious smoothie to enjoy it. But then you realize, you've created a mess in your kitchen. And, not only that, about two weeks later, you'll realize you didn't use all of that produce before it spoiled, meaning you're basically tossing money in the trash. Not fun and it's enough to dissuade anyone from actually making a smoothie.
Smoothies are great. When done right they can be healthy and delicious. However, Emily and I usually find ourselves too busy to prep the smoothie or the ingredients have gone bad. This just leaves our NutriBullet collecting dust.
So, wouldn't it be easier if we had a pre-made smoothie subscription service that could help?
Well, that's exactly what Revive Superfoods has set out to do with their smoothie subscription service. But what do they offer, how much does it cost, and (most importantly) how do they actually taste? Our review has everything you need to know to help you decide if it's right for you...
How It Works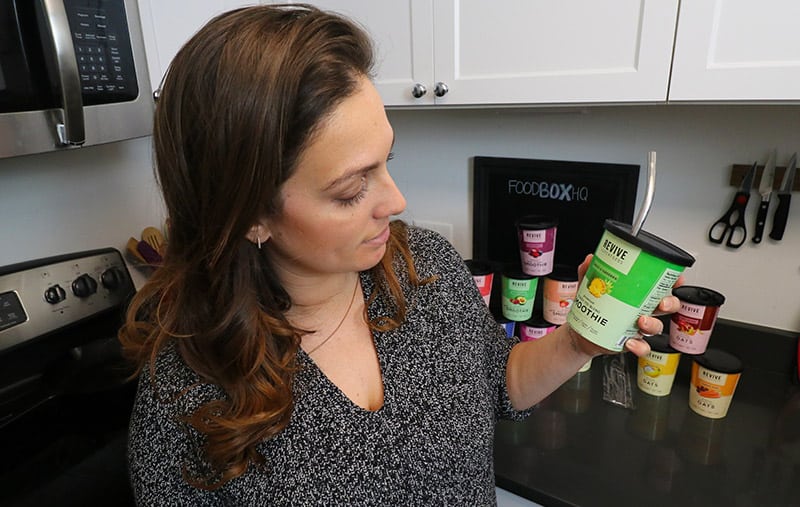 To get started, you'll first be prompted to enter your zip code and email address to check if Revive Superfoods orders can be delivered to your area. If you're covered, then you're good to go and will move onto choosing your plan. If they are currently unable to deliver to you, they'll have your email to keep you updated in the future if they expand the delivery area.
Now, onto the plans! You will see two different plan options: weekly and monthly. Ask yourself how often you want to receive deliveries. This will depend how many smoothies you'll plan to enjoy each week and also how much space you have to store them in your freezer!
With the weekly plan, you can opt to receive 9, 12, or 24 smoothies per week. And with the monthly plan, you can choose either 12 or 24 smoothies per month.
From there, you can choose which smoothies you want to receive in your order, which we'll get into a little further down.
Besides the custom boxes where you get to select everything inside, they also offer some pre-made boxes to make ordering a bit easier. There's a vegan box with an assortment of smoothies that contain zero animal products. They have a Power Protein box to fuel your body post workout. There's also a kid-friendly Mom & Tot box, plus a number of others to choose from.
Types of Smoothies & Other Food They Offer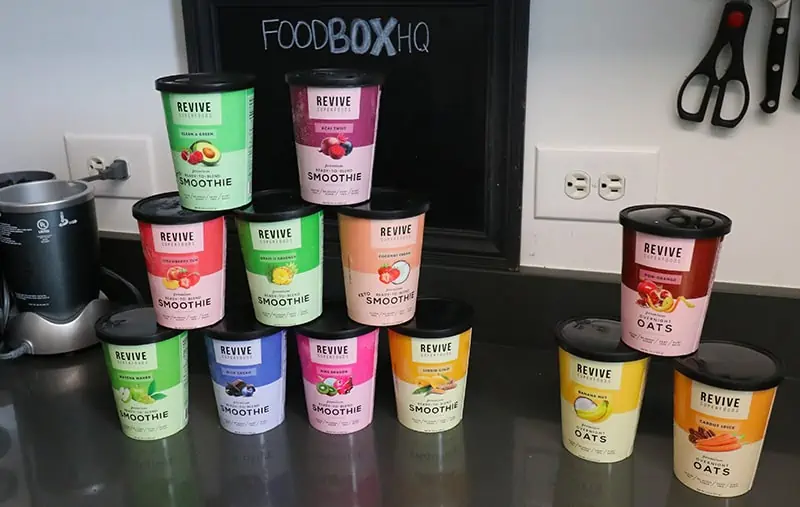 So, what kind of smoothies are on the menu?
In our box, we received the following smoothies and oats:
Blue Cacao Smoothie made with Blueberries, Banana, Kale, Avocado, Medjool Dates, Cashew Butter, Himalayan Salt, Maca Powder, Cacao, and Vanilla Extract
Matcha Maker Smoothie made with Banana, Kale, Pineapple, Cucumbers, Spinach, Green Apple, Lime, Matcha, Hemp, and Parsley
Acai Twist Smoothie made with Blueberries, Acai, Hemp Seeds, Raspberries, Banana, Beets, and Cherries
Coconut Cream Smoothie made with Strawberries, Cauliflower, Raspberries, Coconut Oil, Vanilla Extract, Ceylon Cinnamon, Hemp Seeds, Psyllium Husk, and Monk Fruit
Pink Dragon Smoothie made with Strawberries, Lychee, Kiwi, Dragon Fruit, Chia Seeds, Flax Seeds, Banana, and Beets
Strawberry Zen Smoothie made with Strawberries, Peaches, Zucchini, Whole Grain Gluten Free Oats, Chia Seeds, Goji Berries, Banana, and Raspberries
Liquid Gold Smoothie made with Mango, Carrots, Pineapple, Papaya, Ginger, Coconut Oil, Chia Seeds, and Turmeric
Clean & Green Smoothie made with Avocado, Raspberries, Spinach, Celery, Zucchini, Hemp Seeds, MCT Oil, Psyllium Husk, Turmeric, and Monk Fruit
Grass is Greener Smoothie made with Mango, Kale, Pineapple, Cucumbers, Coconut Oil, Ginger, Lime, Camu Camu, and Wheatgrass
Carrot Spice Overnight Oats made with Whole Grain Gluten Free Oats, Chia Seeds, Coconut, Fava Bean Powder, Carrots, Pumpkin, Maca Powder, Nutmeg, Ginger, Maple Syrup, Vanilla Extract, Himalayan Salt, Cardamom Pecans, Raisins, and Ceylon Cinnamon
Pom-Orange Overnight Oats made with Whole Grain Gluten Free Oats, Chia Seeds, Dried Cranberries, Pomegranate, Molasses, Raspberries, Pomegranate Seeds, Orange Zest, Maca Powder, Maple Syrup, Vanilla Extract, and Himalayan Salt
Banana Nut Overnight Oats made with Whole Grain Gluten Free Oats, Chia Seeds, Coconut, Fava Bean Powder, Banana, Medjool Dates, Cocoa Powder, Ceylon Cinnamon, Vegan Chocolate Chips, Maple Syrup, Vanilla Extract, and Himalayan Salt
And these aren't all of their flavors. They currently have 15 different types of smoothies and 4 different types of overnight oats.
As you'll notice, and what surprised Emily and I, they have some pretty interesting flavor varieties and ingredients. Take for example the Pink Dragon Smoothie — I would have never guessed Lychee, Kiwi, and Dragon Fruit would go together but they do!
Delivery
Revive Superfoods ships orders to all of Canada and the United States. In fact, they actually were founded and started out in Canada and eventually branched out to the United States.
There are a few exceptions for certain zip codes, but you can check delivery availability easily on their website to see if you're able to receive deliveries.
At checkout, you can choose to have your order delivered on Tuesday, Wednesday, Thursday, or Friday based on your zip code. You don't need to be home in order to receive your delivery. As long as the carrier feels it's safe to leave your package, it will be left outside your home.
Our box was shipped via Fedex and only took 3 days to make it to our apartment.
Packaging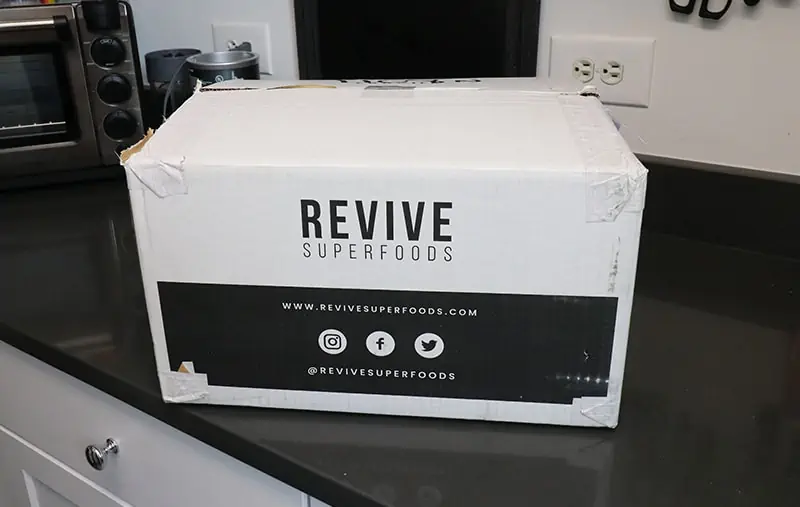 The box is packaged with enough dry ice to keep everything frozen for several hours after the delivery has been made (probably more). This way, you don't have to worry about anything spoiling before it makes its way to your doorstep. It is important that you unpack the box and place your smoothies in the freezer as soon as you get home though.
Insulated bags are also used to keep your items ice cold during transit. This bag is recyclable, which is definitely a plus. And you'll want to make sure you safely dispose of the dry ice that's included in the box. They've packaged the dry ice in a silver, insulated bag. All you need to do is place the bag (with the dry ice still inside) in a well-ventilated area and leave it until the ice has completely dissolved. Be sure to never touch the dry ice with your bare hands and keep it away from children.
Emily and I weren't home when the first box was delivered. Even though it was a few hours until we could get home and pack it away in our freezer, everything was still very frozen (including some dry ice still unmelted).
Making The Smoothies
Even though these are technically "pre-made" there is still a little bit of work that goes into making them prior to you actually getting to eat them.
If it's a smoothie, all that's needed is to open up the cup, pour in your preferred liquid base (water, almond milk, etc), and dump it into a blender to blend. We use a NutriBullet since it's compact and easy to clean between uses but you can really use any blender. I would suggest using the "pulse" setting for a bit longer than you may think you need to. The contents of the smoothie are very frozen and hard so the blender needs to work enough to blend and almost warm up the ingredients enough so they blend properly.
After blending, you can pour back into the cup it came with, pop the top back on (which has a straw hole), and sip away!
As for the overnight oats, they're pretty much just as simple to make but just take longer before they're ready to eat. First fill up the oats cup with your liquid base and give everything a stir to ensure it's mixed properly. Second, let your oats soak overnight (hence the name). Finally, the next morning you're ready to eat!
You can also technically heat up your overnight oats, which I'm not a huge fan of. But if you are, it's even easier to make these oats. You simply fill up with the same liquid base and pour all the contents of the cup into a saucepan or microwave friendly bowl to heat for 3-6 minutes (stirring as it heats). Then you're ready to eat!
Taste Test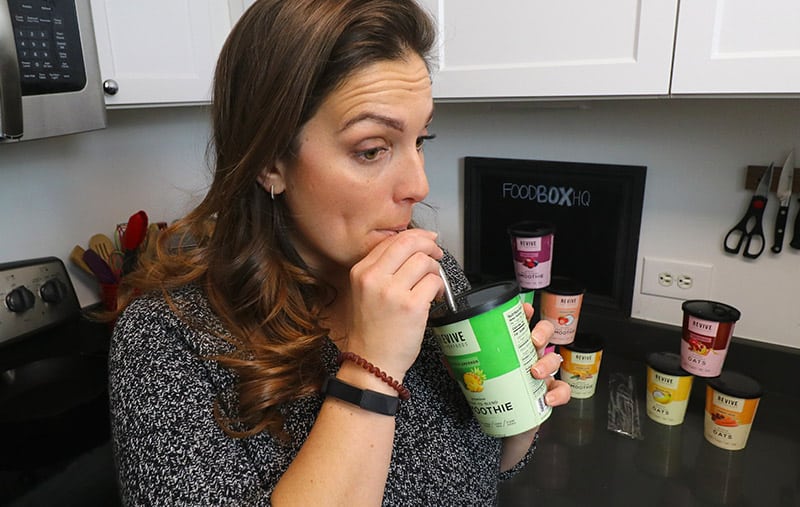 To save time in the video review, we didn't taste test all 12 of the smoothies and overnight oats we received. However, if you're interested, you can see what we thought of each one below...
Blue Cacao Smoothie: This one was a delicious blend of fruits and cacao. And although I couldn't really taste the maca, I definitely felt more energized after sipping this one down.
Matcha Maker Smoothie: While this one is named the "Matcha Maker", the banana and pineapple are really what you taste. This one also gave me a burst of energy after drinking (probably due to the matcha).
Acai Twist Smoothie: I love acai bowls so this one ended up being one of my favorites. Acai bowls are usually super sweet just due to the natural flavor and sweetness of acai. But this smoothie had a good blend of acai, raspberries, cherries, and even beets to mellow it out.
Coconut Cream Smoothie: I'm not a huge fan of coconut or cauliflower so this one wasn't exactly my favorite.
Pink Dragon Smoothie: I didn't think I'd end up liking this one since I'm not too familiar with dragon fruit or lychee but it ended up being delicious. It's probably one of the most unique flavors I tried.
Strawberry Zen Smoothie: This one threw me off a bit since it's made with oats I thought it was an oat bowl, but it's not. It's a bit thicker than the rest because of the oats, as well as the chia seeds.
Liquid Gold Smoothie: This was another interested flavor with the addition of turmeric, which you can definitely taste in each sip.
Clean & Green Smoothie: Avocado and spinach in smoothies are another healthy favorite of mine. And while it wasn't my favorite tasting, it was my favorite in terms of the "healthiness" of the ingredients.
Grass is Greener Smoothie: This is the smoothie we taste tested in the initial video review. From the first sip you can taste all the citrus zest and ginger. It's very tangy and sweet at the same time. The pineapple, one of Emily's favorites, gave the whole smoothie a slightly fizzy taste too.
Carrot Spice Overnight Oats: I never would have thought I would like this oat bowl because it has such an interesting variety of flavors (such as pumpkin, fava beans, coconut, and raisins) but it actually ended up tasting really good. I ate it cold but it may be even better warm, almost like a hearty soup.
Pom-Orange Overnight Oats: This one has a sweet and tangy flavor. It wasn't my favorite but the flavor definitely wasn't bad. The only negative would be the pomegranate seeds were a bit of an odd taste and texture.
Banana Nut Overnight Oats: This one ended up being my favorite of the oat bowls. Bananas are one of my favorite fruits and with the edition of nuts and chocolate, it made the flavor 10x more delicious.
Overall, what Emily and I liked most about these smoothies and oats is that the taste was naturally sweet. It felt like a little dessert, but obviously healthier. This is thanks to the fruits but even more so by the natural "sweeteners" like monk fruit, maple syrup, and acai. You won't find any cane sugar or even stevia in these.
Quality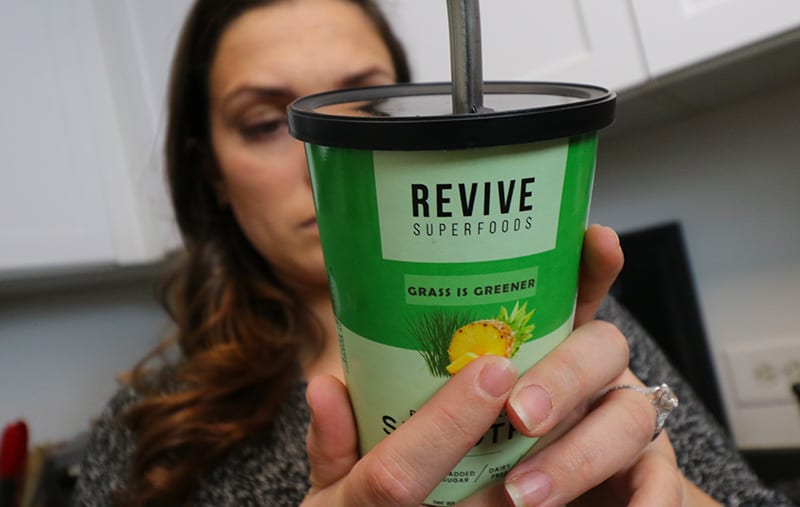 Pre-made smoothies are going to need to be frozen to keep them fresh for longer. Since they're frozen, they won't have the exact same flavor as smoothies with fruits and veggies that were freshly picked. That being said, these smoothies and oat bowls still tasted great. I think it has to do with the fact that they picked fruits and vegetables that are naturally packed with a ton of flavor so even if they lose some in the freezing process, there's still plenty left.
Pricing
Now, how much will it cost for you to get your fix of Revive Superfoods smoothies? Well, you'll be paying $5.75 per cup if you choose the weekly, nine-cup plan. If you go for the weekly or monthly, 12-cup plan, it costs $5.49 per cup. And it's $4.99 per cup for the weekly or monthly, 24-cup plan.
Shipping is always free, so you don't have to worry about any additional costs there.
Pros & Cons
Here are a few of the main benefits we uncovered in our review of Revive Superfoods...
They've made it incredibly easy to enjoy smoothies and oat bowls on the go.
There's a good variety of unique smoothie flavors that feature a variety of fruits and veggies to satisfy your taste buds.
The addition of the oat bowls is a nice touch for anyone who wants to switch things up and enjoy something different instead of a smoothie one day.
All of the products are plant-based, gluten-free, preservative-free, and contain no added sugar. They also have some keto-specific cups too.
But what are the downsides?
Not all the ingredients are organic. They do source their ingredients direct from the farms and try to be organic when they can.
It's not cheap. Around $5 to $6 for a smoothie might be a bit expensive for some people. But if you value health, it could be a good price for the quality of ingredients and the fact that it saves you time.
Final Thoughts
If you're looking for an easier way to enjoy a delicious smoothie, check out Revive Superfoods. I'm a big fan of smoothie delivery services for their ease of use and ability to make healthy eating easier — Revive didn't disappoint in either category.
Both Emily and I really liked that they have an eclectic mix of flavors. You definitely won't find any "boring" ones. And they tend to balance the ingredients very well. So you're not sipping on something that's too sweet or too tangy, which sometimes happens to us when we make smoothies at home.
Have a question about Revive Superfoods we didn't cover in this review? Let us know in the comments below!