Looking for a way to provide your baby with full daily nutrition through balanced meals that contain only fresh, organic ingredients? What if you could do that without dealing with the hassle of buying all the ingredients to try homemade puree recipes (that your child might not actually even like).
That's where Square Baby comes in! They hand-craft organic baby purees that are made out of clean ingredients such as steamed and roasted fruits and veggies, healthy fats, good protein sources, and flavorful herbs and spices.
All you have to do is thaw them out and heat them up when your baby gets hungry, making it a simple solution for busy parents who are also health conscious.
Let's go over all the details of Square Baby to find out if this is the right baby food subscription for your family...
How It Works & How to Sign Up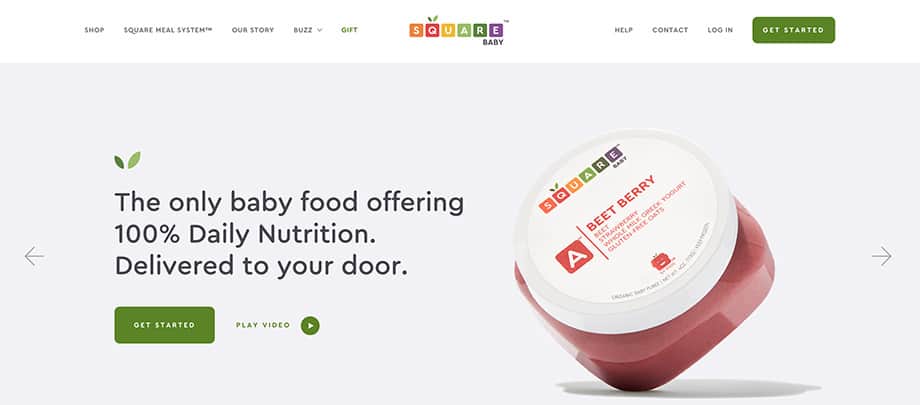 So, how does the Square Baby service work? It's not setup like any other baby food you're likely to buy online. You'll first get started by personalizing the meals to your baby's needs. Everyone is unique (including your little one!) so they ask for your baby's age, optional dietary restrictions, and their preferences (because sometimes we have picky eaters). From there, they'll customize a 100% daily nutrition plan for your baby that delivers all the essential vitamins and nutrients through foods they'll love to eat.
If you'd rather choose your baby's meals a la carte, they allow that too. Their Square Meal System allows you to choose between the customized meal plan that has been designed by their Registered Dietitian and Pediatrician or you create one of your very own. This will allow you to pick and choose each meal yourself. This is a great option if you know your baby only eats certain foods.
After you've made your selections and placed the order, you can expect to receive fresh Square Baby meals every two weeks. Each serving of Square Baby food is four ounces (or 113g). It's the perfect size for a hearty meal. And based on your plan selection, you can choose to receive 14, 28, 42, or 56 meals every two weeks. That'll take a some of the weekly meal prep off your plates, parents!
Types of Baby Food They Offer
Square Baby offers organic purees that are made fresh by hand and crafted in small batches. They use over 55 organic ingredients to create these purees. The purees feature steamed and roasted fruits and veggies such as mango, peach, strawberries, spinach, sweet potato, broccoli, cauliflower, and many others.
They also use whole and sprouted grains in their purees. Sprouted grains are great for babies (and adults!) because they're easier to digest and they're more nutritious than non-sprouted grains. Healthy fats are also included in the purees (which are wonderful for brain health) and come from sources such as avocados, salmon, egg, sprouted chia, and coconut milk.
They incorporate various herbs and spices like turmeric, mint, rosemary, ginger, cardamom, nutmeg, cinnamon, and cumin. The reason this is beneficial isn't just because it makes the purees taste delicious, but it also aids in palate development. If you're looking to give your child a more sophisticated palate, rather than just the same old pasta and chicken dish, the incorporation of these flavor notes are a huge plus.
One important thing to note is that they do offer plenty of protein sources too, whether your baby is a meat eater or not. When shopping their selection of purees, you will find vegetarian and vegan options as well. There are also dairy-free and gluten-free purees, making it meals much easier for kids with dietary restrictions.
Browsing their available purees, you'll find a wide variety of flavors, such as: Apple Curry Chicken, Avocado Greens, Salmon Mash, Spinach Dahl, Peachy Oatmeal, Veggie Scramble, Mango Rice Pudding, Apple Rosemary Lentils, and more. We recommend watching the video review above to get a better idea of the specific flavors and tastes.
Delivery
At this time, Square Baby's service is only available to a few locations across the United States. If you're located in Washington, Oregon, California, Idaho, Utah, Nevada, Arizona, or Colorado, you're in luck! You are within their delivery range. If you live outside of one of those states, you can submit your email address on their website and they'll notify you once delivery has been expanded to your area.
Orders are typically shipped out via FedEx. And when you place your first order, you can expect it to ship out the next Tuesday. However, if you place your order on a Monday, it'll ship out on the Tuesday of the following week (eight days away). That's the only exception. And from there, you'll receive orders every two weeks.
The delivery timeframe is based on your location, but it usually arrives one to two days after the shipment date. And since they always ship on Tuesdays, you expect your order to arrive on a Wednesday or Thursday. You will receive tracking information, so you'll always know where your order is. And you don't have to worry about being at home to receive the delivery. If you can't be there, FedEx will leave it on your doorstep and it'll be waiting for you when you arrive.
Packaging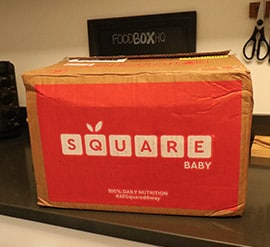 So many companies are making an effort to reduce waste these days and Square Baby is no exception. They have parented with another company called Vericool, Inc. to make their packaging more eco-friendly. The boxes they use are 100% recyclable and compostable. You'll find instructions on the box to help you with this. No foil, plastic inserts, or styrofoam lining your box!
The 4 oz. food containers are made from PET, while the white lids are made from polypropylene. Both are BPA-free and BPS-free and do not contain any additives, fillers, or phthalate plasticizers. They are also recyclable, but you'll want to check with your local curbside recycling to make sure they except #5 polypropylene, which are the lids. But you don't have to toss them in the recycling bin after you're done. They're actually sturdy and reusable, so you can easily wash them and reuse them in the future.
And to keep everything cool while it's in transit to your home, they add dry ice to the box as opposed to cold packs. Just make sure you handle the dry ice with care and everything will be fine!
The only thing to note is that the inside of the package uses "puff" style insulation (they look like white cheese puffs) to help keep everything safe and cool during transit. Since they're small individual pieces, make sure they don't spill on to the ground or you'll have to pick them up, one by one.
Freshness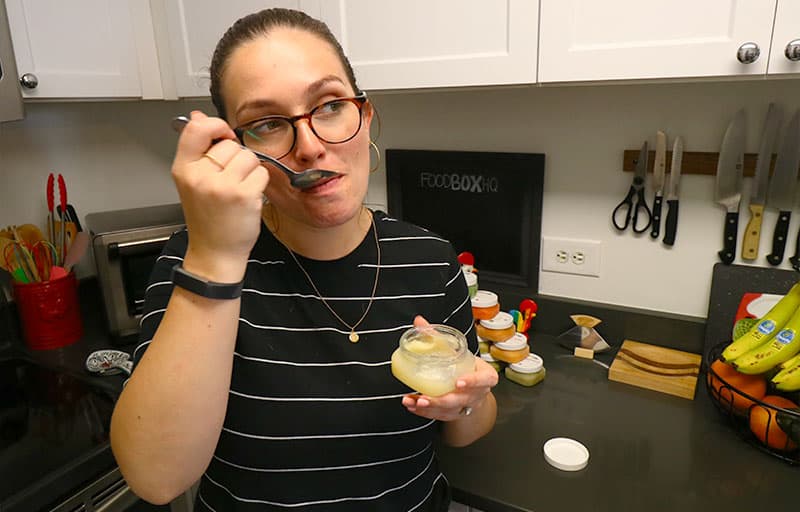 As mentioned before, these organic purees are made fresh by hand and they're also crafted in small batches to ensure quality and their high standards. To prepare each puree, their team peels, chops, steams, and roasts various fruits and veggies. Then, everything is blended in small batches and quickly frozen. Their entire cooking, handling, and storage process has also been evaluated and accepted by the FDA for food safety, so you can rest easy there.
You'll notice a "Best By" date on each puree. You'll have a minimum of two weeks (usually longer) to thaw and serve the meals before reaching the "Best By" date. Meals that have been properly stored in the freezer will be safe to eat for two months beyond the "Best By" date.
The fact that these meals are frozen may throw some people off but there are some things to consider. First, freezing is not going to damage the meal in any way. Second, they do not add preservatives to extend the shelf-life. Lastly, freezing makes it considerably easier to keep and make the meals over time.
Ease of Cooking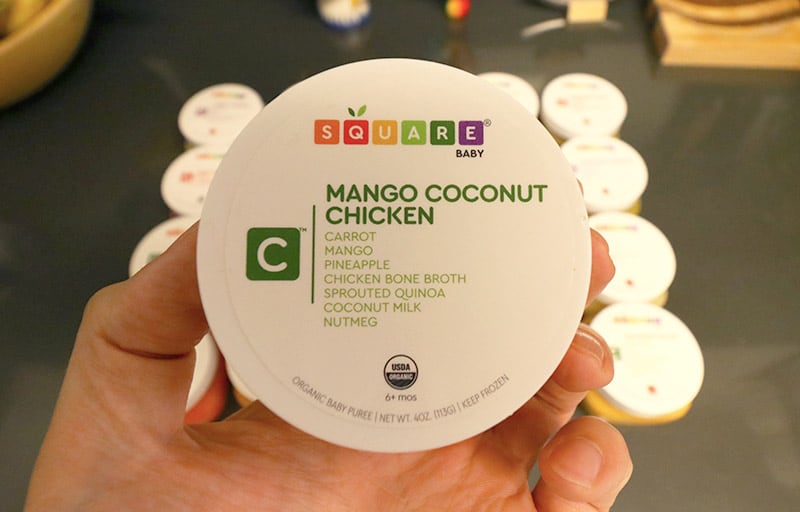 As a busy parent or guardian of a baby, you're going to love this news… As mentioned above, it takes very little effort on your part to fix one of Square Baby's purees. First, you'll want to thaw out the meals you're planning to feed your baby. You can do this by selecting a puree the night before and moving it from the freezer to the fridge. This way, it'll be ready to enjoy the next day. If you're in a bit of a hurry, you can thaw faster by placing the closed food container in a water bath or under running, cold water.
Then, you'll simply need to give the puree a good stir and you're set to feed baby. However, your little one might find that they prefer meals warmed up, instead of cold. It doesn't say whether to eat the meal warm or cold on the container, it all comes down to personal preference. To it heat up, simply place the puree into a glass or microwave-safe container and microwave it in 10-second intervals. Stir the puree to eliminate any hot spots, check the temperature, and microwave again if needed until you've reached the desired temperature. It's very important to never heat the purees in the plastic containers.
Please note that Square Baby states all purees should be consumed within two days once they've been refrigerated. So, you won't want to thaw out a puree unless you're planning to use it.
Square Baby also recommends throwing away any leftovers in which the baby's spoon has been dipped. The reason for this is that bacteria gets introduced to the puree once you put a licked spoon back into the container. If your baby isn't going to consume a full container of food, portion it out to eliminate waste.
Pricing
How much will Square Baby cost? Well, it depends on your plan selection. These are the available options:
You can receive 14 meals every two weeks, which provides one Square Baby meal per day for $79 ($5.64 per meal)
You can receive 28 meals every two weeks, which provides two meals per day for $149 ($5.32 per meal)
You can receive 42 meals every two weeks, which provides three meals per day for $219 ($5.21 per meal)
And you can receive 56 meals every two weeks, which provides four meals per day for $279 ($4.98 per meal)
Shipping is always free on every order, no matter the size.
Final Thoughts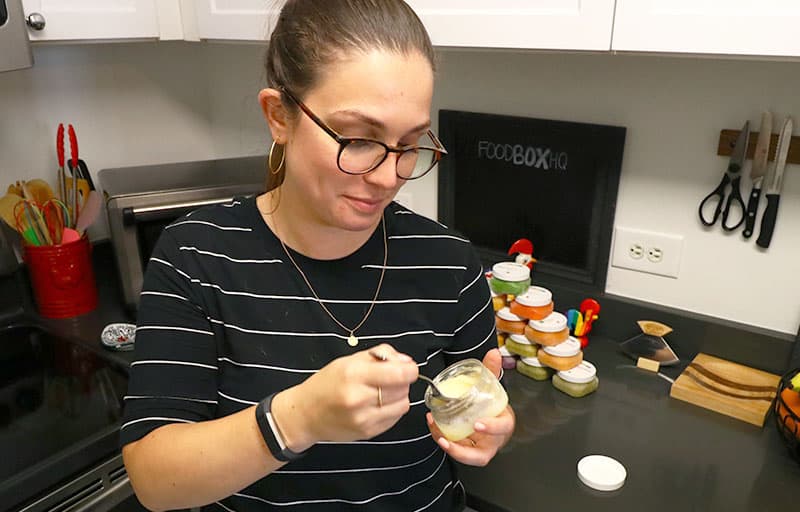 For any parents who are ready to ditch the store-bought purees and aren't interested in making their own, Square Baby is worth checking out. You don't have to stress or worry about what your baby is eating because there are no mystery ingredients, additives, or weird chemicals here. The ingredients are very clean and simple, ensuring your baby is only getting the best. Plus, the ability to use a meal plan crafted by a Registered Dietician and a Pediatrician is a huge bonus. You'll always know your baby is getting the essential vitamins and nutrients for a strong, healthy child.
One of the main things that we personally liked about Square Baby was the fact that it's founder, Katie Thomson (also their staff Registered Dietician), created the company out of necessity. In this press release she states, "When I had my first baby, I went to the grocery store to look for healthy, balanced meals for my son and was shocked to find a sea of unbalanced, fruit-heavy purees that consisted mostly of applesauce. As a registered dietitian with experience in the food industry, I knew the sugar content alone was far too high for a balanced meal."
The fact that she's not only a Registered Dietician but also a mother herself, means that she knows what it takes to make healthy and delicious meals that babies actually want to eat.
If you're a parent looking for a great baby meal delivery service, check out Square Baby!