Have a major sweet tooth? Then you'll want to check out Wicked Good Cupcakes. You may have seen them before on TV shows such as Shark Tank, Good Morning America, and The View.
They're a bakery that sends cupcakes (and pies) straight to your door. But these aren't like regular cupcakes you're used to, they're perfectly layered in mason jars for easy portability and consumption.
But do they have the flavor and texture of a true, scrumptious cupcake? That's what we'll be exploring in our review today!
How It Works
When ordering from Wicked Good Cupcakes, you have a few different options.
Their most popular packages include their custom box which comes in twelve, six, four, or two cupcakes. This allows you to select each of your flavors, so there are no surprises as to what comes in your box. And if you want to just try out the service, getting just two cupcakes is a great way to start. It's not a huge upfront cost so you can taste them yourself to see if you want to order more.
For our initial review, we decided to go with their four cupcake box to get a little variety in the types of cupcakes they offer without going overboard.
Once you select how many cupcakes you want to receive, you'll be able to choose your flavors. It's "a la carte" style so you can add all different flavors or snag all of your favorite flavor.
In addition to being able to buy cupcakes for yourself, they've also created other packages:
Treat of the Month Club (a cupcake of the month club where you can get two, four, or six of their cupcakes each month)
Gift Boxes
Party Packs
Birthday Boxes
Thinking Of You Boxes
Corporate Gifts
Wedding and Event Packs
Types of Cupcakes & Pies They Offer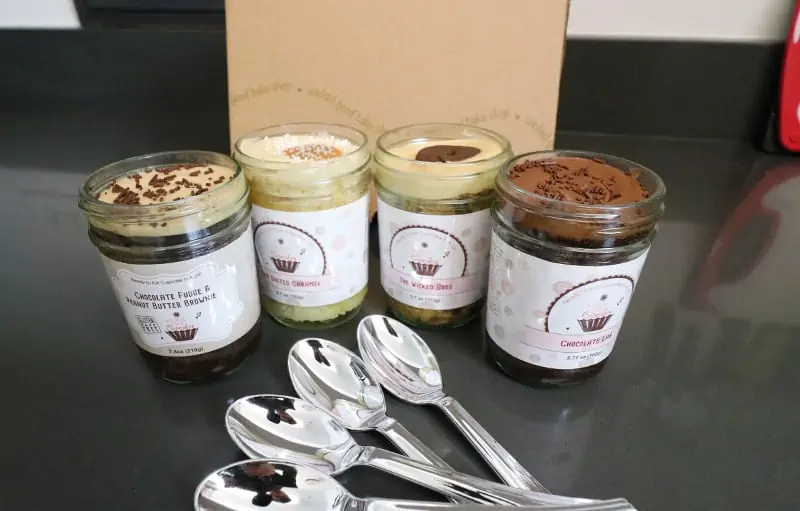 Wicked Good Cupcakes has over 20 different varieties of cupcakes and pies to choose from. Here's a rundown of the flavors, along with the ones we received.
Caramel Apple Streusel Cupcake
Gimme S'more Cupcake
Mocha Madness Cupcake
Vanilla Birthday Cake Cupcake
Chocolate Birthday Cupcake
Cookies & Cream Cupcake
Marble Mutt Cupcake
Chocolate Lab Cupcake (we got in our box)
The Wicked Good Cupcake (we got in our box)
National (Security) Velvet Cupcake
Natalie's 24 Karat Kake Cupcake
Sea Salted Caramel Cupcake (we got in our box)
Mr Wonderful's Cookie Butter Cupcake
Peanut Butter Surprise Cupcake
In addition to the above, they offer gluten free variation of some of their most popular options such as Gluten Free Flourless Chocolate and Peanut Butter Brownie (we got in our box), Gluten Free Chocolate Lab Cupcake, and Gluten Free Sea Salted Caramel Cupcake.
They also put out limited edition seasonal flavors such as Holiday Chocolate Peppermint and Chocolate Gingerbread plus Eggnog during the holidays.
Although they started by just offering cupcakes, they've branched out to create pies in jars as well. Their pie flavors include: Apple Crumble, Pumpkin Pie, Blueberry Cobbler, Peanut Butter Pie, Boston Cream Pie, Cherry Pie, and Pecan Pie.
Delivery
At checkout, you'll be able to select the arrival date of your package up to 30 days in advance. Sometimes certain dates become unavailable if they've reached their capacity for the number of products they can produce in a day, as each product is baked fresh. You'll also want to keep holidays in mind and order early to ensure it arrives on time and that you receive the best price for shipping.
All orders from Wicked Good Cupcakes are shipped via UPS. Once your order has shipped out, you'll receive a confirmation email with tracking so you can keep an eye on your package as it makes its way to you.
You don't need to be home in order to receive your package. As long as the UPS carrier deems it safe to leave the package, it will be left soon your doorstep. It'll be waiting for you as you arrive home.
Our box came pretty quick — about a day after the order was placed. Although, we're in New Jersey, which is pretty close to Massachusetts (where it's shipped from) so it may not be as quick of a delivery for you.
Packaging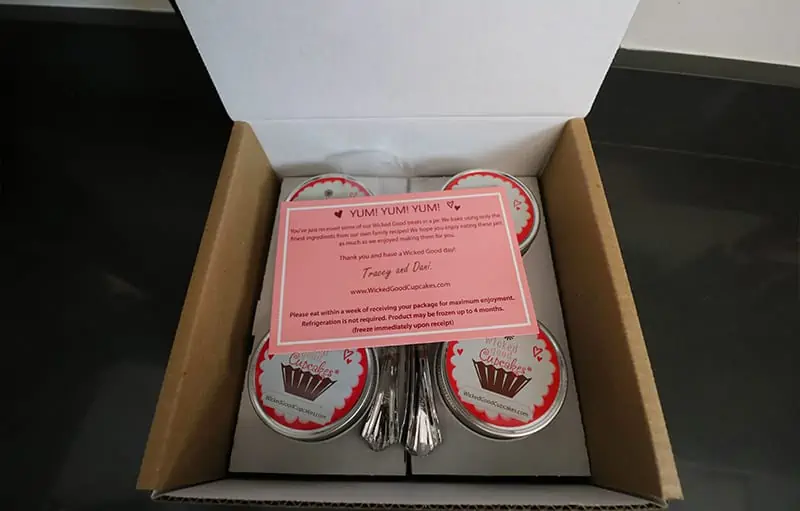 Every cupcake and pie is carefully layered into a glass jar. Beyond being a pretty fun way to eat a cupcake, it actually has a few other benefits. First, and most obvious, there's less waste since no single-use plastics are involved. Plus, you can reuse the mason jars after you're done eating the cupcake. And second, the jar protects the cupcake in transit so even if it gets jostled around, it'll make it to you protected.
The cupcake jars themselves are packed into a cardboard box. As you can see in the picture, our box came unscathed. The jars are packed pretty tightly and well inside the box so I doubt you have to worry about the glass breaking.
Taste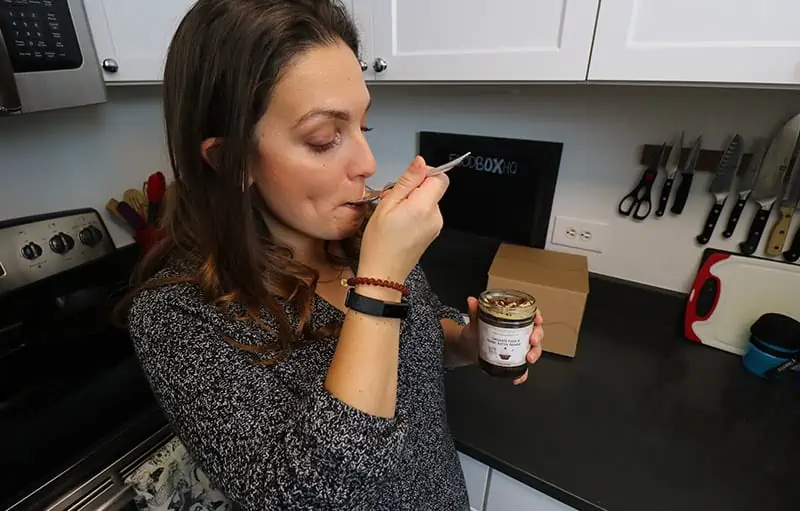 Now for the fun part — the taste test!
As mentioned above, we received a four cupcake box with the Chocolate Lab Cupcake, Wicked Good Cupcake, Sea Salted Caramel Cupcake, and Gluten Free Flourless Chocolate and Peanut Butter Brownie. Since we got one of their smaller boxes, we decided to taste test each one. Here's how it went...
Chocolate Lab Cupcake: This is one of their most popular cupcake flavors made with chocolate cake, chocolate ganache center, and chocolate buttercream frosting. If you couldn't tell by the ingredients, it's packed with chocolate. If you love chocolate, this one will probably be your favorite.
The Wicked Good Cupcake: This is their signature cupcake made with peanut butter, chocolate chips, peanut butter frosting, and chocolate ganache. What's interesting about this one is it's almost half cupcake and half cookie. If you look at the layers, you can see the layers of "cookie" packed between the cupcake. It had a great balance between chocolate and peanut butter, two of my personal favorites, and it wasn't overly sweet.
Gluten Free Flourless Chocolate and Peanut Butter Brownie Cupcake: This flavor seemed to be based off of the Wicked Good Cupcake but made gluten free. It had basically the same delicious taste but the texture was a bit different. This is most likely due to the fact that it was made without flour.
Sea Salted Caramel Cupcake: This flavor was apparently a big customer request so they decided to make it a reality. It's made with vanilla  layered between caramel sauce, sea salted cream cheese, butter cream, and caramel frosting sprinkled with white nonpareils. We may be a bit biased since Emily and I both love almost anything sea salt and caramel but this one was our favorite.
Freshness & Quality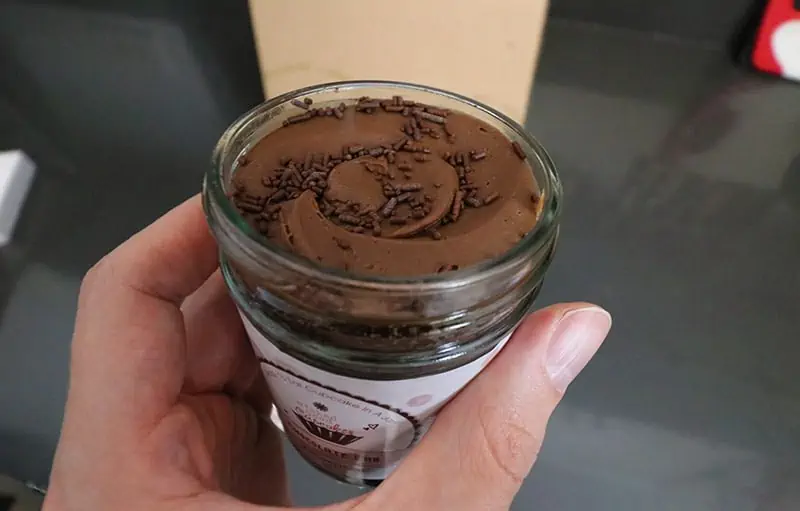 While they say on their website that you can keep these unrefrigerated for up to ten days, we decided to stick our cupcakes right in the fridge from the moment we got them. This, I think, is what helped keep them as fresh as possible before we ate them. The only issue with keeping them cold is that since they're jam packed with layers of cake, frosting, and cookie, it can be hard to actually "dig in" with a spoon.
I wouldn't compare Wicked Good Cupcakes to cupcakes you'd bake at home since it's almost a completely different food. While they call them "cupcakes" they're basically mini layered cakes. Since they come in glass jars, they seem to retain a lot of their "fresh from the oven" qualities. For example, they all had the same moistness and consistency levels — nothing we ate was dry or crumbly.
Pros & Cons
So, what are some of the pros of Wicked Good Cupcakes?
They have a great variety of flavors. They don't just stick to the normal chocolate or vanilla flavors. You'll find a variety of unique and limited edition versions too. And if you're not a cupcake person, they have pies too.
They're fun to eat. These would make for the perfect gift to send someone who has a sweet tooth.
You can reuse the mason jars. One of the biggest issues when it comes to food delivery is the fact that there is a ton of waste involved, especially single-use plastics. It's great that these mason jars can be washed out and reused after you're done eating.
Now, for the cons…
It's not cheap. Currently, a two-pack of cupcakes is $21.45 (without shipping) so that comes out to over $10 per cupcake. Even when going up to their six-pack of cupcakes at $60.45, where shipping is free, each cupcake still comes out to over $10.
The gluten free options aren't certified gluten free. If you have celiac disease, you may want to look elsewhere for cupcakes since Wicked Good Cupcakes aren't technically certified gluten free.
Final Thoughts
So are Wicked Good Cupcakes really "wicked good"? Based on our experience, we think so!
I wouldn't say these are something that are right for everyone. If you don't love sweets or cake, you may not love them as much as we did. And, because of their price, I would consider them more of a "luxury" dessert.
That being said, these would be perfect as a gift or even for a party. For example, if you're having a wedding, they'll create custom labeled jars and custom icing decorations on top of the cupcake.
Have you tried Wicked Good Cupcakes? Have a question we didn't answer? Let us know in the comments below!