Having used Green Chef for over 6 years now, I've witnessed this once small health-focused meal kit company grow from its humble beginnings as a start-up into one of the leading names in the industry.
I still vividly remember when I was first considering signing up for Green Chef back in 2017, only a few years after they launched, when there were only a handful of meal kit options on the market. While weighing my choices at the time, I decided to take a chance on the Colorado-based startup. And while I'm glad I did, there's a lot I wish I had known as a Green Chef newcomer before placing that very first order.
After half a decade of honing my skills as a Green Chef cook, I've learned many tips and tricks through trial and error. Looking back, there is a lot I wish I had understood from the start to make the most of this meal kit.
So whether you're on the fence about signing up for the first time or just received your first box, let me provide you with some insider wisdom from a Green Chef veteran. These are the 8 things I wish I knew before ordering my first box…
Food Box HQ Note: If you want to see what my full experience was like using Green Chef, you can read my in-depth review here as well as watch our multiple unboxing and taste test videos.
1. Green Chef Is One Of The Most Eco-Friendly Meal Kits I've Tried (But They Definitely Are Not Perfect)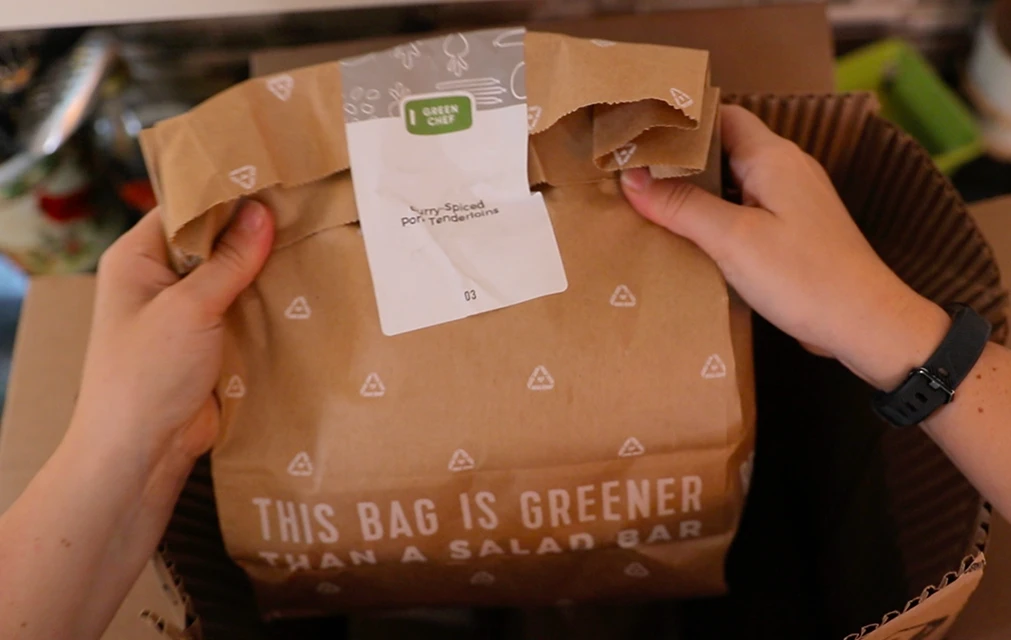 One major reason I was drawn to Green Chef was their commitment to more sustainable practices compared to other meal kits out there. I was impressed that Green Chef put thought into their facilities, packaging, and supply chain. Despite being acquired by HelloFresh in 2018, Green Chef has remained dedicated to their sustainability values even under new ownership. This is quite apparent from their most recent Sustainability Report.
From that report, I learned that one of the biggest things that Green Chef is doing is taking meaningful steps to shrink their carbon footprint across their entire company. For example, in many of their recipes, they are sourcing lower emission ingredients like plant-based proteins. They're also collaborating with suppliers on more sustainable agriculture techniques and expanding their electric vehicle fleet, which are powered by renewable energy.
Minimizing food waste is another priority they're outlined in their Sustainability Report. Green Chef has set a goal to cut food waste sent to landfills in half and is leveraging digital tracking to identify optimization opportunities. Going off of that, they also donate over 60% of surplus ingredients to combat food insecurity. In fact, they recently donated to a food insecurity program in my state called the Food Bank of South Jersey.
Lastly, Green Chef claims to offset 100% of their carbon emissions and  100% of plastic usage through many of the sustainability projects outlined above.
With all that said, even after years of deliveries and setting ambitious sustainability targets, Green Chef still has room for improvement—especially when it comes to packaging. The inherent nature of nationwide shipping for meal kits means there will be substantial amounts of single-use plastics and ice packs in every box that undermine a lot of those sustainability efforts.
In the past, I have received Green Chef boxes filled with ingredients wrapped excessively in plastic, even for tiny components like chives. I understand the need to separate raw proteins or fragile ingredients. However, over-wrapping vegetables, dry goods, and other items that could easily touch adds to unnecessary plastic waste.
2. Skipping Weeks & Canceling Is Easy But Deleting/Deactivating Your Account Is Not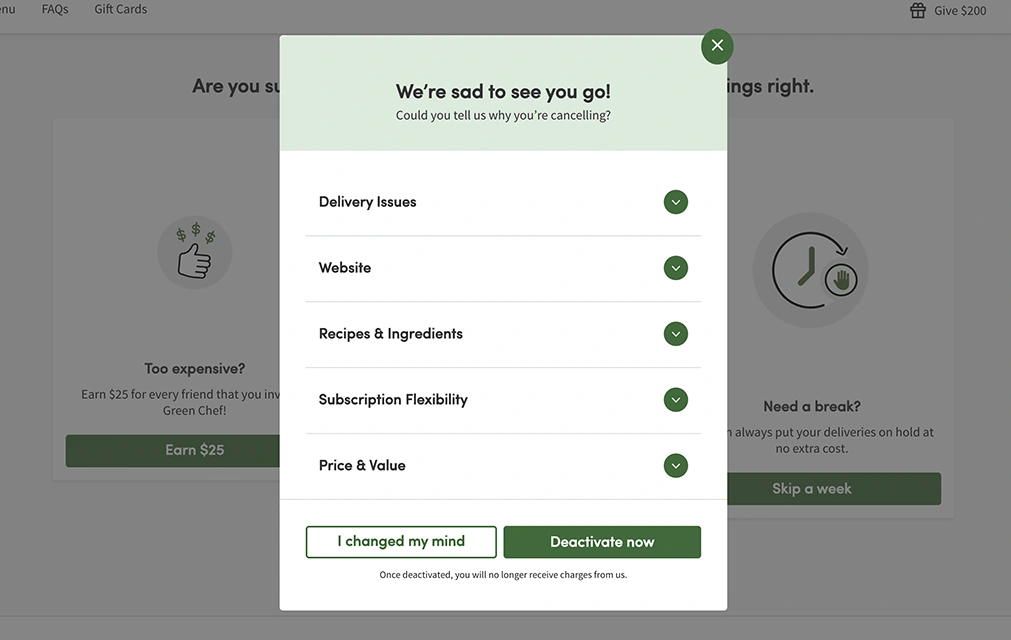 One of Green Chef's best features is the flexibility to easily skip weeks or pause deliveries as needed through your online account. Over the years, I've skipped weeks and even completely canceled/paused and resumed my subscription countless times to accommodate vacations, busy periods at work, and changing household needs. I've always found the process to be quick and hassle-free.
However, while canceling is simple, fully deleting or deactivating your Green Chef account is surprisingly challenging. There is no self-service option to completely remove your account details through their website or app the way that there is for skipping weeks and canceling. You have to contact customer service by phone or email to initiate account deletion.
They state in their terms and conditions: "To deactivate your Account, please call Green Chef Customer Care at 888-236-7295 or email help@greenchef.com stating that you wish to terminate your account, along with your full name and registered email address."
If you just need to pause deliveries temporarily, Green Chef makes it easy and intuitive. However, those wanting to permanently delete their data, order history, and payment info, should be prepared for a more time-intensive process.
3. Higher Quality Organic Ingredients Equal Higher Costs Than Other Meal Kits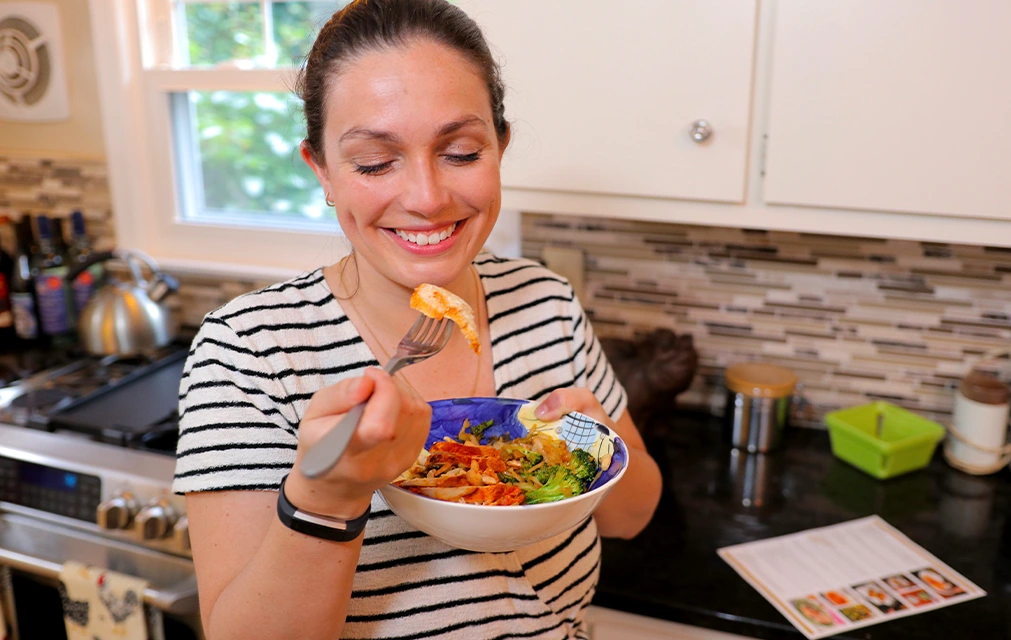 One reason I chose Green Chef over other meal kits is their commitment to fresh, high-quality ingredients. As a certified organic meal kit, their meals feature organic produce, antibiotic-free meats, and sustainably-sourced seafood. While I personally appreciate these higher quality meals, the focus on premium ingredients also makes Green Chef one of the more expensive options compared to other meal kit companies.
Over the years, I've found their meal costs run about 20-30% higher than competitors on average. For example, on the same 2 person plan with 4 meals per week, HelloFresh comes out to $9.79 per meal and Green Chef comes out to $12.99 per meal.
That sizeable price difference is mainly attributable to the higher ingredient quality. Organic ingredients simply cost more than conventional ingredients.
While the higher price point may be prohibitive for some buyers, I find it worthwhile if you value quality ingredients and can fit it in your budget. However, cost-conscious consumers may prefer more budget-friendly meal kit options if organic certification and ethical sourcing aren't top priorities.
For me, I'm comfortable paying more knowing I'm getting top-notch organic ingredients and supporting sustainable food systems. But I can understand how the cost could be restrictive for some households.
4. Green Chef Isn't Great For Really Big Eaters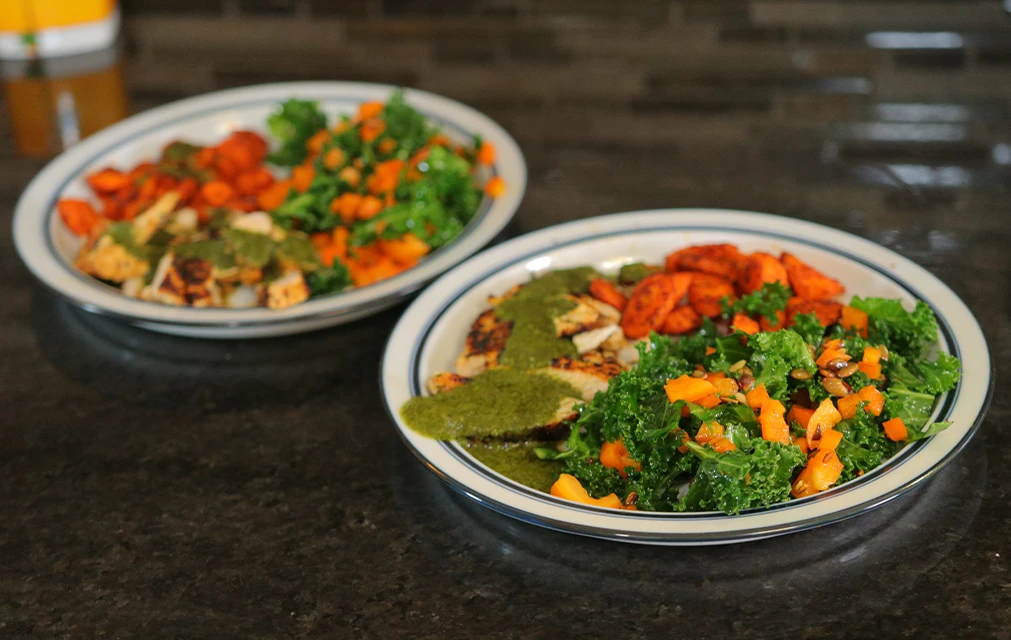 While I've found the meals to be filling—especially due to the high protein and fiber content in most meals—portion sizes are on the smaller side, so hungrier households may find themselves wanting more.
If you have bigger appetites to feed, I recommend using Green Chef's marketplace to supplement orders. You can easily add extra proteins, meals, or snacks into your weekly box. Things like chicken breasts, salmon fillets, and more are available à la carte.
Another option I've seen some people do is double up on the serving sizes for their plan. Choosing the 4-serving recipes instead of 2-serving allows you to make more food, eat larger portions, and save any leftovers for the next day's lunch or dinner. Doubling the servings is an easy way to get more value from each meal without having to supplement separately. Though, it obviously will cost more so doubling portion sizes regularly may not fit everyone's budget.
5. The Recipes May Look Intimidating But They're Very Simple To Follow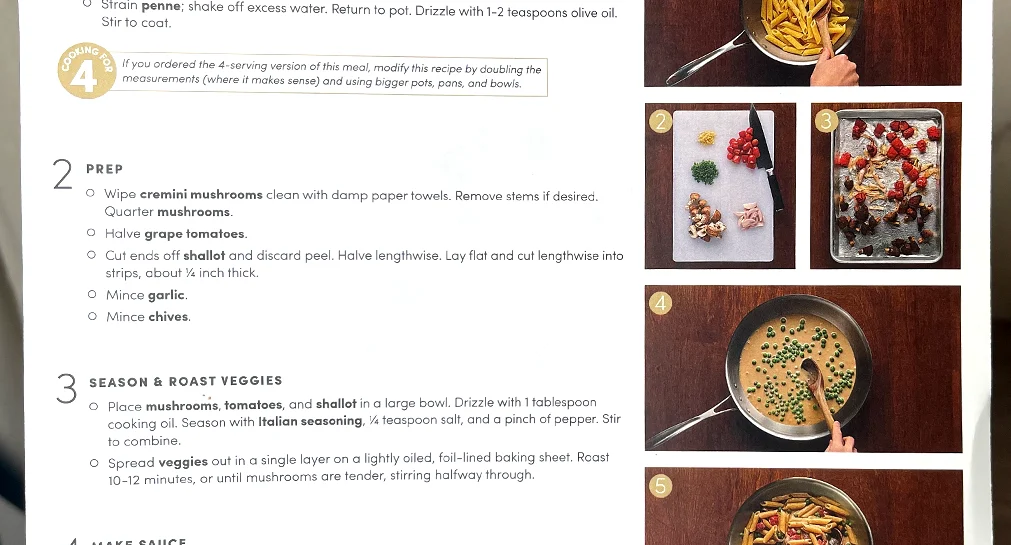 One thing I've found that Green Chef does exceptionally well is the design and organization of their recipe cards. The instructions are clearly written out with numbered steps, estimated cook times, photos, and even some handy tips at points in the recipe that could be confusing.
What's more, Green Chef has breaks up each step into bullet points and even bolds the specific ingredients needed in each step. This makes following along and knowing exactly what you need and when a breeze.
These details may seem insignificant but they add up to make the entire cooking experience a lot easier to manage, especially for someone like myself who doesn't necessarily consider themselves a natural cook.
Having tried dozens of meal kits over the years, I can tell you from experience that the design of the recipe card is a make or break factor in the overall user experience. I've found poorly formatted recipes, even for simple dishes, can quickly lead to frustration and mistakes in the kitchen.
Green Chef's well designed recipe cards stand out as some of the very best I've encountered in the meal kit industry. The clear organization, helpful photos, timed guidance, and bold ingredient callouts intuitively lead you through every cooking step, preventing the hiccups I've experienced with others.
6. Green Chef's Keto Plan Is Actually Keto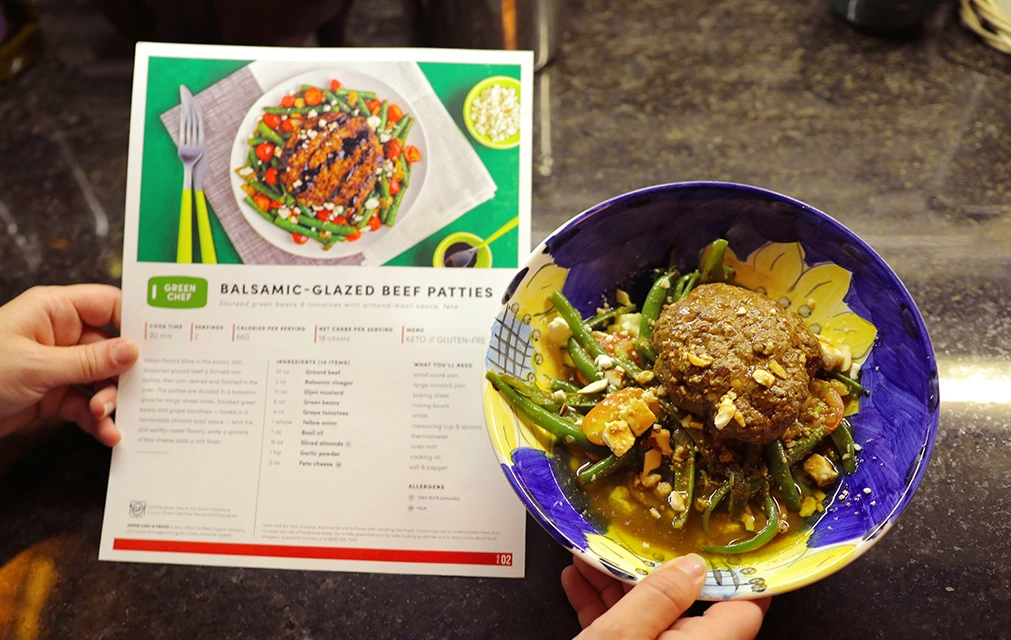 One of the things I've noticed since the keto diet became more mainstream is a lot of meal kit companies jumping on the bandwagon and creating their own keto meal plan. However, I've also noticed that a lot of those plans that are labeled as "keto" don't provide meals that accurately follow the keto diet. Often the recipes are too high in carbs or lean too heavily on processed convenience foods rather than real, low-carb ingredients.
Green Chef is one of the few meal kit services I've found that provides recipes and meals that truly align with the standard ketogenic diet macronutrient ratios—carbs being 5-10% of your calories, fat being 70-80% of your calories, and protein being 10-20% of your calories.
Don't just take my word for it, though. Let's take a look at an example full day of eating on Green Chef's keto menu and compare the macros to those needed for a true keto diet.
Breakfast: Mushroom & Ricotta Frittata With Pesto Red Peppers, Kale, Peas, Tomato, Parmesan, Mozzarella (21 grams of carbohydrates, 44 grams of fat, 34 grams of protein)
Lunch: Monterey Jack Smothered Chicken Creamy Mushroom Sauce, Roasted Summer Squash & Tomato (10 grams of carbohydrates, 48 grams of fat, 39 grams of protein)
Dinner: Middle Eastern–Style Beef & "Rice" Bowls Cauliflower "Rice" With Dates, Squash, Lemon Crema, Feta (24 grams of carbohydrates, 78 grams of fat, and 34 grams of protein)
Adding up those macros we get 55 grams of carbohydrates, 170 grams of fat, and 107 grams of protein.
Knowing that carbohydrates provide 4 calories per gram, protein provides 4 calories per gram, and fat provides 9 calories per gram (source), we can look at the total caloric value of each macronutrient in the meals above:
Carbohydrates: 55 grams x 4 calories per gram = 220 calories
Protein: 107 grams x 4 calories per gram = 428 calories
Fat: 170 grams x 9 calories per gram = 1,530 calories
Let's add up these totals to find the overall caloric intake:
Total Calories: 220 (from carbohydrates) + 428 (from protein) + 1,530 (from fat) = 2,178 calories
Now, let's break down the percentages of each macronutrient to see how they align with the standard ketogenic diet ratios:
Carbohydrates: (220 / 2,178) X 100 ≈ 10.1%
Protein: (428 / 2,178) X 100 ≈ 19.6%
Fat: (1,530 / 2,178) X 100 ≈ 70.3%
These macros align almost perfectly with the standard ketogenic diet macronutrient ratios.
Of course, you will still want to make sure that, when you're choosing keto meals on their menu, that they align to the right macros. I've noticed that there have been some times where my fats for the day have been too low so I've had to supplement with a keto-friendly snack.
7. The Biggest Plan Isn't The Best Value (But I Found The One That Is)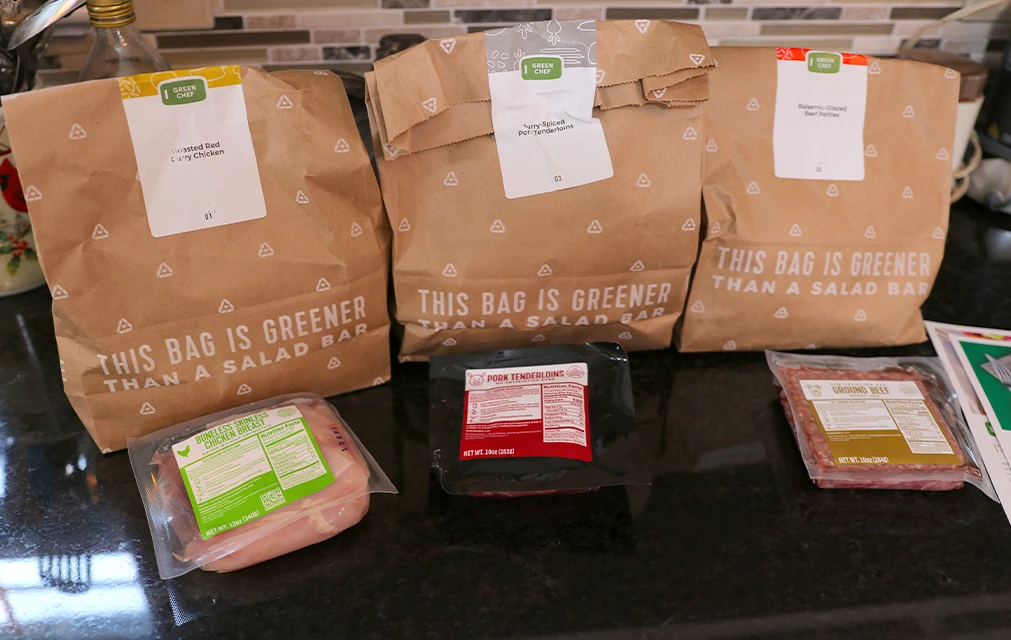 With most meal kits I've tried, the bigger your plan size and the more meals that you order, the less each meal ends up costing. However, that is not the case with Green Chef. Let me show you what I mean by breaking down the per-serving cost on each plan size:
Here's what you can expect to pay per serving on the 2 person plan…
3 meals for 2 people per week (6 total servings) comes out to $13.49 per serving.
4 meals for 2 people per week (8 total servings) comes out to $12.99 per serving.
Here's what you can expect to pay per serving on the 4 person plan…
2 meals for 4 people per week (8 total servings) comes out to $12.99 per serving.
3 meals for 4 people per week (12 total servings) comes out to $12.49 per serving.
4 meals for 4 people per week (16 total servings) comes out to $11.99 per serving.
Here's what you can expect to pay per serving on the 6 person plan…
3 meals for 6 people per week (18 total servings) comes out to $11.99 per serving.
4 meals for 6 people per week (24 total servings) comes out to $11.99 per serving.
As you can see, the 4 meals for 4 people per week plan is where the pricing hits the lowest per-serving cost at $11.99 for the least amount of meals. The $11.99 per serving cost stays the same across the entire 6 person plan.
The only reason I'd suggest going up to the 6 person plan is if you really need to cook for more than 4 people consistently or want a ton of leftovers. Otherwise, the 4 person plan gives you the best bang for your buck.
8. They're One Of The Only Meal Kits That Offers Nutrition Coaching
I initially started using Green Chef as a way to eat better and get my health back on track. But when I first signed up years ago, they didn't offer any coaching services. This meant I had to figure everything out on my own—from determining the optimal meal plan for my needs to identifying the best dietary approach for my health goals. I ended up bouncing around over the years, from plan to plan, to find the right fit for me. Today, though, they provide free nutrition coaching to anyone considering their meal kits.
The nutrition coaching Green Chef now provides includes…
Free 20-minute 1:1 nutrition coaching session with a registered dietitian
Science-backed nutrition advice tailored to your goals like weight loss, muscle gain, overall diet improvement
Personalized recommendations on Green Chef meal plans and recipes to match your nutrition targets, lifestyle, and dietary needs
Guidance to help set achievable nutrition and health goals
Support to increase nutrition knowledge and confidence in meal planning
Customized suggestions based on your specific issues and needs
Help ordering optimal Green Chef meals to fit your diet and preferences
Having this personal nutrition coaching available is a huge benefit, especially if you're where I was when I first started using Green Chef and you don't know where to start. It can help you choose the meal plan that's right for you which can set you up for long-term success.
Final Thoughts
While there are a lot of things I wish I had known starting out, like that the portion sizes aren't massive and largest plan isn't necessarily the best value, Green Chef still remains one of my favorite meal kits after using them for years.
Are they flawless? Definitely not but no meal kit is. That said, Green Chef delivers high-quality ingredients, innovative recipes, and balanced meals that keep me coming back.
From their commitment to organic and eco-friendly ingredients to the convenience of delicious diet-friendly meals arriving at my door, Green Chef is a great option for those looking for a hassle-free way to maintain a more nutritionally balanced lifestyle. Whether you're an expert in the kitchen or just starting to cook for yourself, their variety and consistent quality offer something for nearly everyone.
If you're considering Green Chef, I hope learning from my experience makes your first order smoother. I'm happy to answer any questions in the comments!