When it comes to affordable meal delivery services, EveryPlate reigns supreme as one of the most popular choices on the market. With meal prices averaging around $5 per serving on select plans, it's hard to find a competitor that can match its unbeatable value. In fact, the only other meal kit service I've tried that comes close in terms of affordability is Dinnerly (which is also around $5 per serving).
Whether you're a curious potential subscriber eager to explore the variety of recipes EveryPlate has to offer, or an existing member seeking fresh inspiration, you're in for a treat.
Having been an avid EveryPlate user since its early days in the meal kit scene, I've had the pleasure of sampling countless recipes, allowing me to curate a list of my favorites to share with you today. From comforting classics to bold and adventurous culinary creations, I've assembled a diverse selection that caters to nearly every type of eater.
Let's jump into it!
Food Box HQ Note: If you want to learn more about what my experience has been using EveryPlate over the years, you can read my in-depth review here.
Monty Jack Burgers with Potato Wedges, Caramelized Onion & Garlicky Horseradish Sauce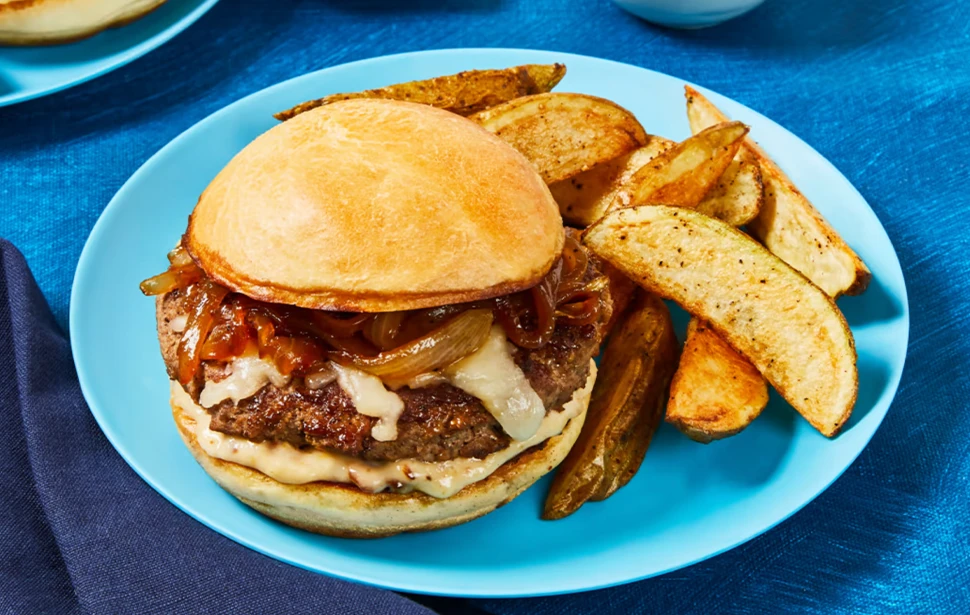 I've had about a dozen different burgers from EveryPlate and while many have been winners, the Monty Jack Burger is my personal favorite. Why? It satisfies my burger cravings with a delightfully delicious twist.
This dish combines the classic American comfort of juicy beef patties with a cheesy surprise in the form of melted Monterey Jack cheese. The recipe is accompanied by a zesty mayo-based sauce, crisp lettuce, and vine-ripened tomato. EveryPlate classifies these burgers as spicy but the spice level is so mild that I barely noticed.
To prepare these delectable burgers, you'll start by shaping the ground beef into patties and seasoning them with a blend of aromatic spices. While the patties sizzle on the stove or grill, you'll have the opportunity to melt the Monterey Jack cheese on top, creating a gooey, cheesy layer that adds a delightful richness to each bite.
Super Smashed Burgers with Caramelized Onion, Chipotle Aioli & Potato Wedges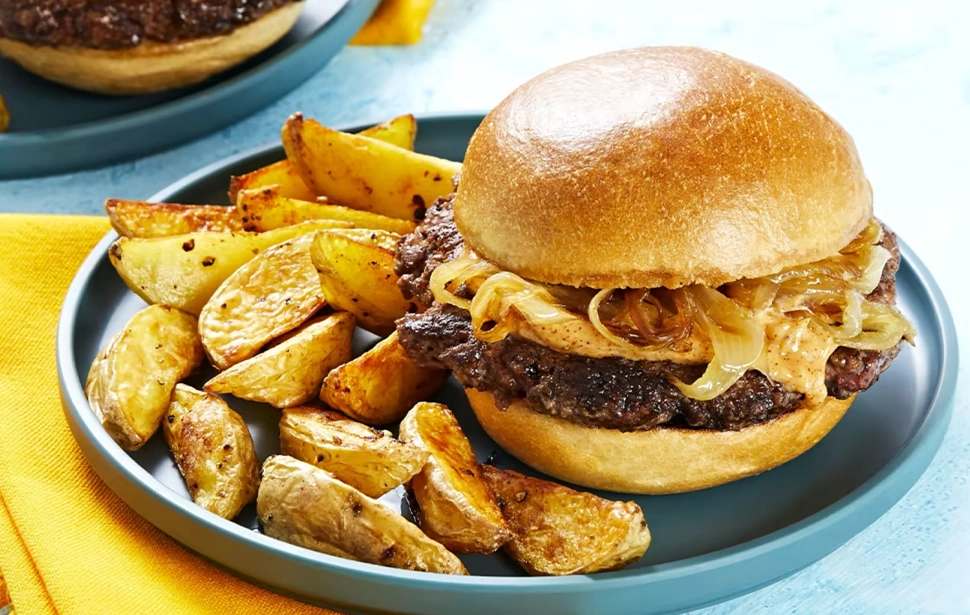 As with the Monty Jack burgers, the Super Smashed burgers are another recipe that I think EveryPlate knocked out of the park. Not only are they delicious but they're super simple to make.
If you've never had a "smash burger" before, you're in for a treat because this recipe makes smashed beef patties with a mouthwatering sear, resulting in a crispy exterior and juicy interior. One bite and you'll understand exactly what I mean.
To prepare these burgers, you'll start by shaping the ground beef into individual patties. Instead of the traditional thick and rounded patties, the Super Smashed Burgers recipe encourages you to smash them down onto a hot skillet or griddle. This smashing technique creates maximum surface area, allowing for an irresistible crust to form during the cooking process.
As the patties cook and develop that desired crispy crust, the recipe suggests adding slices of American cheese to melt over the top. The melted cheese adds a creamy and indulgent element to the burgers, complementing the savory flavors of the beef.
Once the patties are cooked to perfection, it's time to assemble the burgers. The recipe recommends spreading a tangy special sauce onto the toasted buns, providing a flavorful contrast to the rich meat. Top the patties with crisp lettuce, slices of tomato, and any other desired toppings to complete the ensemble.
The result is a delectable burger experience that combines the satisfying crunch of the seared patty with the creamy cheese, tangy sauce, and fresh vegetables.
Farmers Market Linguine with Chicken with Lemon & Parmesan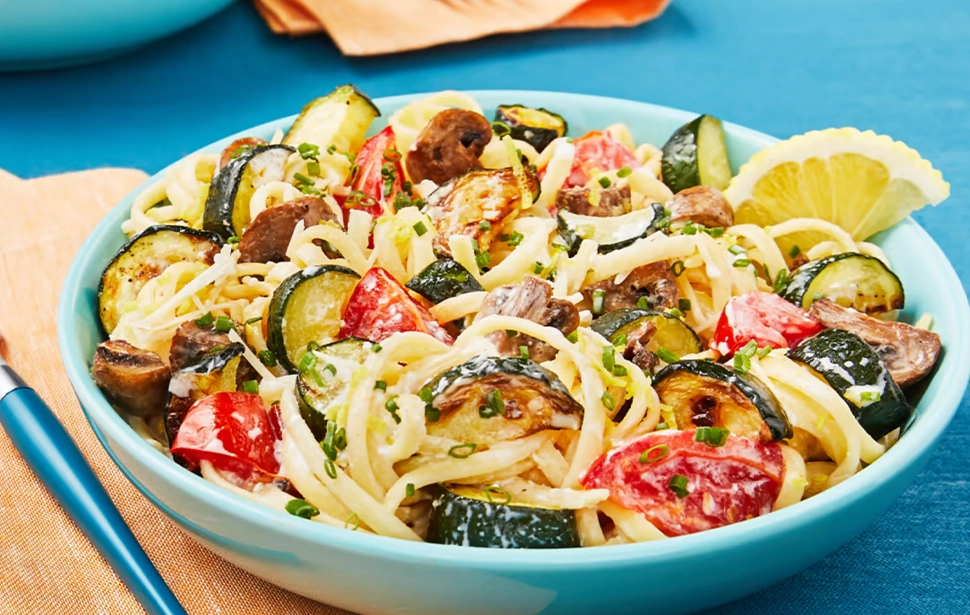 One of the things I like most about EveryPlate's recipes is that even though they keep things simple in terms of the ingredients and complexity of the recipe, they know how to bring out the most flavor in their meals. That's especially true with this pasta dish.
This recipe combines tender chicken, cherry tomatoes, zucchini, garlic, and linguine pasta to create a tasty, veggie-packed, and satisfying meal.
To start, boneless, skinless chicken breasts are cooked until golden and perfectly cooked through. This ensures juicy and flavorful chicken as the star protein of the dish. Meanwhile, linguine pasta is cooked until al dente, providing a firm texture that holds up well with the other ingredients.
In the same skillet, zucchini, cherry tomatoes, and garlic are sautéed, allowing their natural flavors to develop and meld together. The vibrant colors of the vegetables add visual appeal and freshness to the dish. Once the vegetables are tender and aromatic, the cooked linguine is added to the skillet, creating a flavorful base for the entire dish.
To bring it all together, the linguine and vegetable mixture is tossed until well-coated, ensuring that each strand of pasta is infused with the delicious juices and flavors from the skillet. The cooked chicken breasts are then sliced and arranged on top of the linguine, providing a protein-rich element and completing the dish.
For a finishing touch, a sprinkle of grated Parmesan cheese adds a savory note and enhances the overall richness of the dish. The combination of the tender chicken, al dente linguine, and the burst of flavors from the farmers market vegetables creates a simple yet delicious meal.
Crispy Buffalo Ranch Chicken with Honey Roasted Carrots & Mashed Potatoes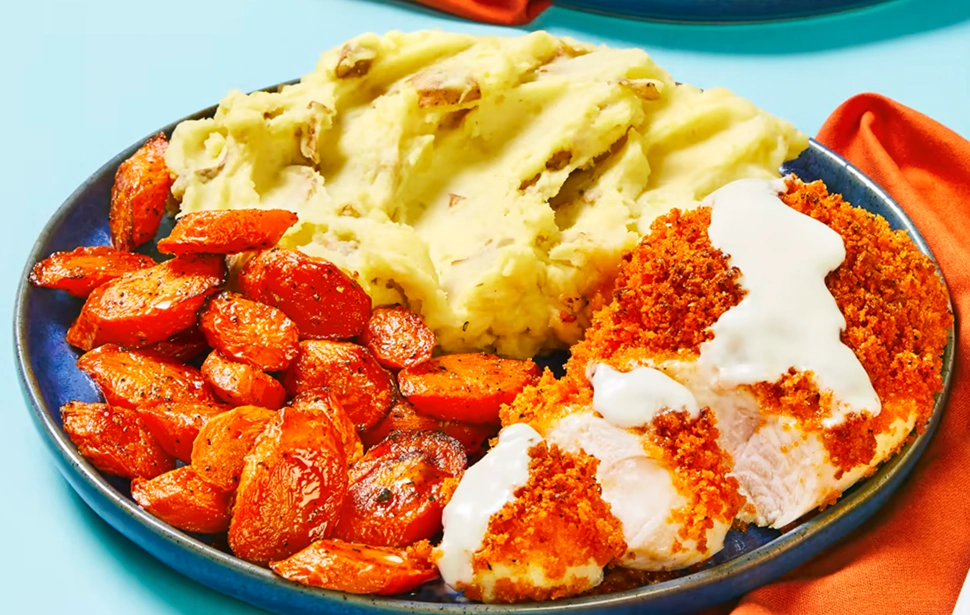 If you're a big eater, this is the dish for you. This recipe takes the classic flavors of buffalo sauce and ranch dressing to create a mouthwatering dish that is both crispy and savory.
I was a bit apprehensive of this recipe when I first saw it because I'm not a huge fan of spicy foods but decided to give it a go because the portion sizes looked big in the picture on the menu. Thankfully, the spice level is very mild. Plus, cooking it is super simple.
To start, tender chicken breasts are transformed into culinary perfection by being brushed with creamy buttermilk Ranch dressing. Then, they are generously coated with Buffalo-spiced panko breadcrumbs, creating a crunchy crust that will have your taste buds dancing with joy. As the chicken bakes, the crust becomes golden and crispy, while the meat inside remains moist and tender.
To add to this delicious culinary creation, honey-roasted carrots are served alongside. A drizzle of honey adds a touch of indulgence and creates a delightful contrast to the savory flavors of the chicken.
And of course, what would this dish be without a final flourish of Ranch? A drizzle of the remaining Buttermilk Ranch Dressing over the crispy chicken takes it to a whole new level of deliciousness.
Each bite of the Crispy Buffalo Ranch Chicken showcases the crispy coating, followed by the bold and tangy flavors of the buffalo sauce, perfectly complemented by the creamy and cooling ranch dressing.
Smoky Chicken Flautas with Pico de Gallo & Sour Cream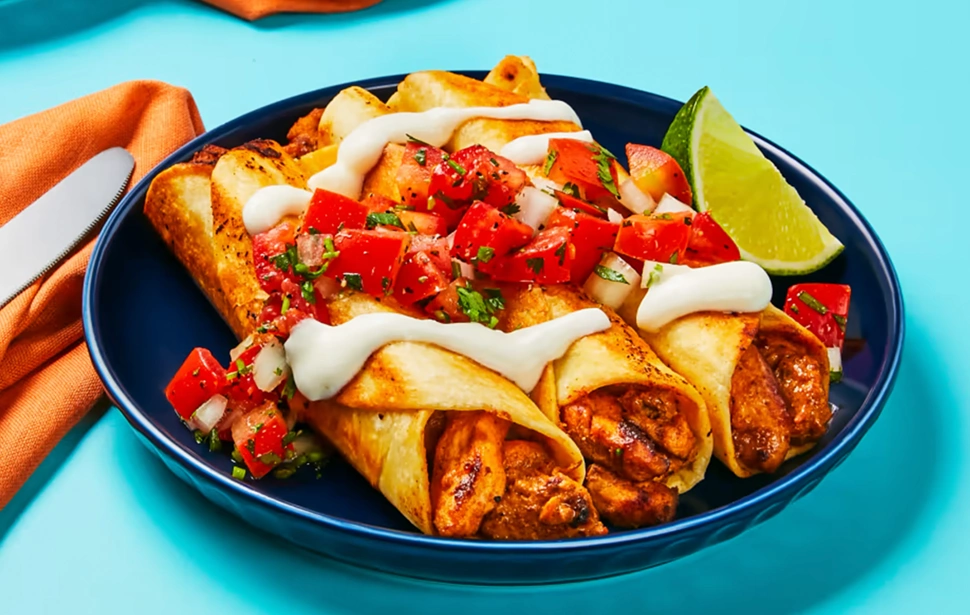 If you're looking for a mouthwatering and satisfying Mexican dish that's also fairly simple to prepare, EveryPlate's Smoky Chicken Flautas are one of my favorites. These delectable flautas feature tender strips of smoky chicken simmered in a creamy sauce, all wrapped in flour tortillas and pan-fried to perfection.
To assemble the flautas, the chicken and creamy sauce are carefully rolled into flour tortillas, creating a savory and satisfying filling. The tortillas are then pan-fried until golden and crispy, adding a satisfying crunch to each bite.
Adding a creamy and cooling element to dish, the flautas are drizzled with sour cream, which adds a velvety texture and a slight hint of tanginess. If you're a fan of spice, feel free to add a dash of your favorite hot sauce from your pantry to give these flautas an extra kick. I try to keep my spice levels low so I opt to skip out on the hot sauce.
Beef Banh Mi Bowls with Carrot, Pickled Cucumber & Sriracha Mayo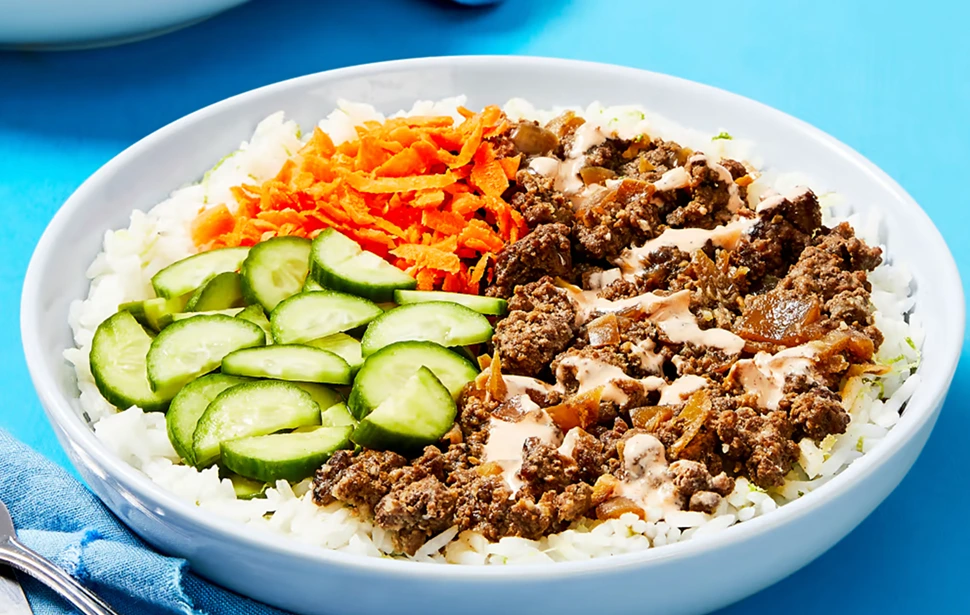 EveryPlate has taken the popular Vietnamese banh mi sandwich and transformed it into a delightful and convenient bowl format with their Beef Banh Mi Bowls. This dish captures all the vibrant flavors of the traditional banh mi while adding a unique twist.
In this recipe, the classic banh mi components come together in a bowl filled with saucy beef, carrot, pickles, and spicy mayo. Though I personally think the star of the dish is the tender beef, simmered in a flavorful sauce that infuses it with a savory and aromatic essence.
To add a refreshing and tangy element, EveryPlate includes carrot and pickled cucumber in the bowl. The carrot adds a delightful crunch and a touch of natural sweetness, while the pickled cucumber brings a tangy and zesty flavor profile.
No banh mi experience is complete without a kick of heat, and EveryPlate's Beef Banh Mi Bowls deliver with their sriracha mayo. This mildly spicy mayo drizzle adds a creamy element that isn't overpowering, which I appreciate.
To round out the bowl and provide a satisfying base, the recipe includes lime rice. This zesty and aromatic rice complements the other flavors and adds a touch of brightness to each bite. Between the fairly large portion of lime rice and beef, this dish is much more filling than many other EveyPlate meals I've had.
One-Pan Sweet Chili Turkey Lettuce Wraps with Lime, Cilantro & Peanuts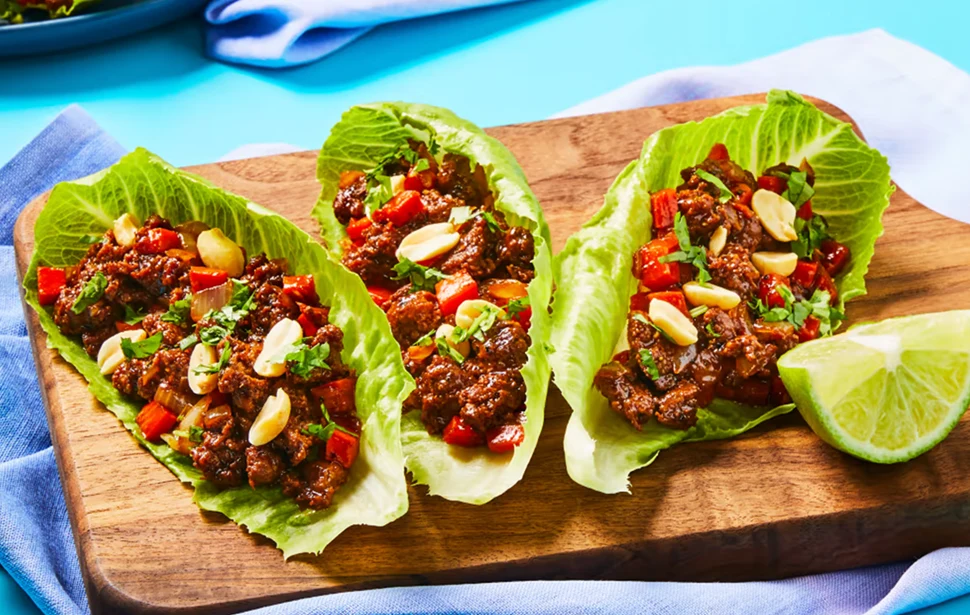 As I write this article, it's the middle of the hottest part of the year here in the northeast. It's days like today where a light, refreshing, and easy to make meal like this one-pan sweet chili turkey lettuce wrap are ideal.
In this recipe, sautéed ground turkey and bell peppers are simmered in a tantalizing chili-soy sauce. The result is a sweet and savory filling that perfectly complements the crisp and refreshing romaine lettuce leaves.
Each bite of these lettuce wraps is a symphony of flavors. The tender and seasoned ground turkey, combined with the vibrant and crunchy bell peppers, creates a savory base that is elevated by the irresistible combination of the sweet chili and soy sauce.
To add a delightful crunch and nutty dimension, peanuts are generously sprinkled on top. They provide a satisfying texture and bring an extra layer of flavor to the wraps. Squeeze a bit of lime juice over the wraps to add a zesty and tangy kick that brightens up the flavors and brings a refreshing twist to each bite.
Light, refreshing, and tasty—this is one of my favorite meals to cool down on a hot summer day!
Philly Cheesesteak Pasta Skillet with Green Pepper & Onion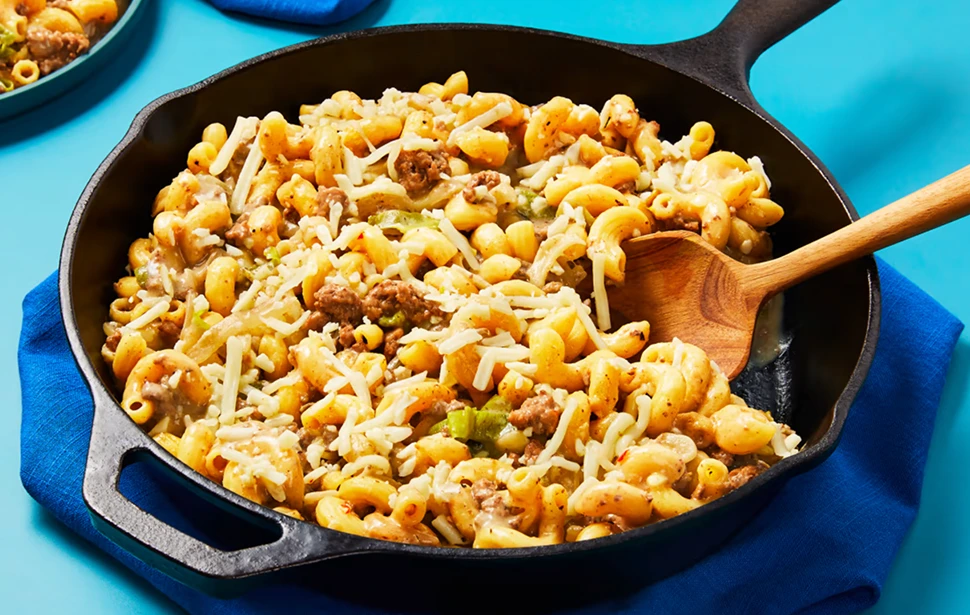 If there's one thing I know EveryPlate does well, it's comfort foods and this cheesesteak pasta skillet is no exception.
This recipe takes the beloved flavors of a piping hot Philly cheesesteak and transform them into a mouthwatering one-skillet pasta masterpiece. If you love cheesesteak and pasta, trust me when I tell you that you have to try this dish.
In this recipe, the journey begins with ground beef sizzling alongside green peppers, onions, and garlic. Once the ground beef is browned and cooked through, curly cavatappi pasta takes its place in the skillet. The pasta simmers in a creamy and beefy sauce, absorbing all the deliciousness and becoming tender with each passing minute.
To take this dish to the next level, you'll add melty, gooey pepper jack cheese, giving the meal a luscious and indulgent layer of flavor. As the cheese melts and blankets the pasta and beef, it creates a savory and cheesy paradise.
For those seeking an extra kick of spice, a pinch of chili flakes or a dash of hot sauce from your pantry can be added to give the dish a fiery edge. I tend to skip this step but if you're a fan of spicy foods, you should give it a shot. One of the things I most appreciate about EveryPlate's recipes is that they try to make it as customizable as possible given the ingredients included.
BBQ Pineapple & Pepper Jack Flatbreads with Roasted Tomato, Onion & Green Pepper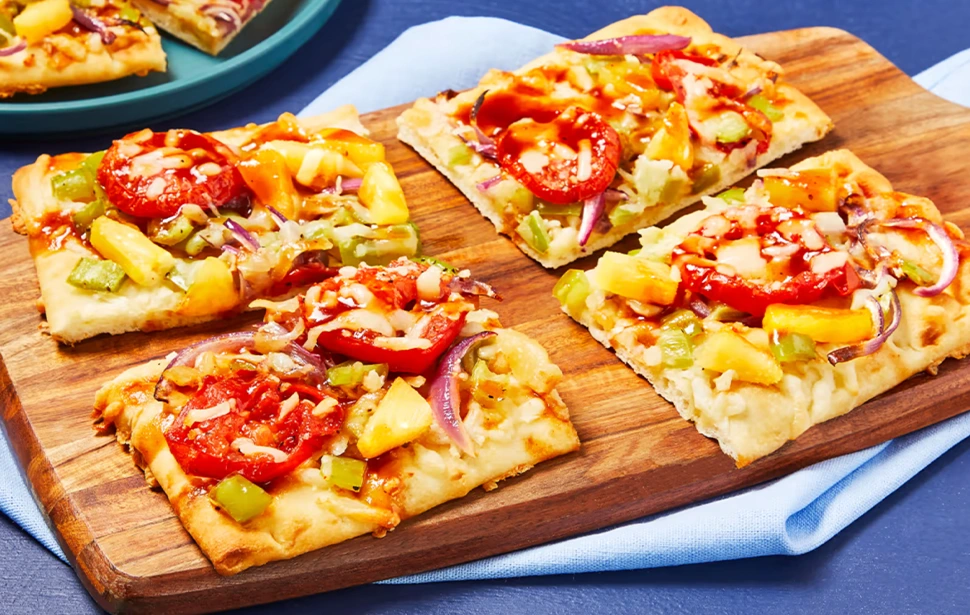 I'm one of those crazy people that loves a good Hawaiian pizza. Some may scoff at the idea of adding pineapple to a pizza but it's more delicious than you might think. So when I saw these BBQ Pineapple & Pepper Jack Flatbreads on the EveryPlate menu, I knew I had to try them.
In this recipe, the flatbreads become a canvas for a symphony of flavors and textures. The base is generously slathered with BBQ sauce, creating a mouthwatering foundation for the toppings to come.
Roasted tomato, green pepper, and red onion are sliced thinly and roasted to perfection. As they cook, the veggies release their natural sweetness and develop a tantalizing charred aroma. These roasted gems add layers of depth and a burst of fresh flavors to the flatbreads.
But the star of the show is the succulent pineapple. Its natural sweetness harmonizes with the tangy BBQ sauce, creating a burst of delicious flavors with each bite. The juicy pineapple adds a tropical touch that perfectly complements the savory elements of the dish.
Turkey Shepherd's Pie topped with Garlic Mashed Potatoes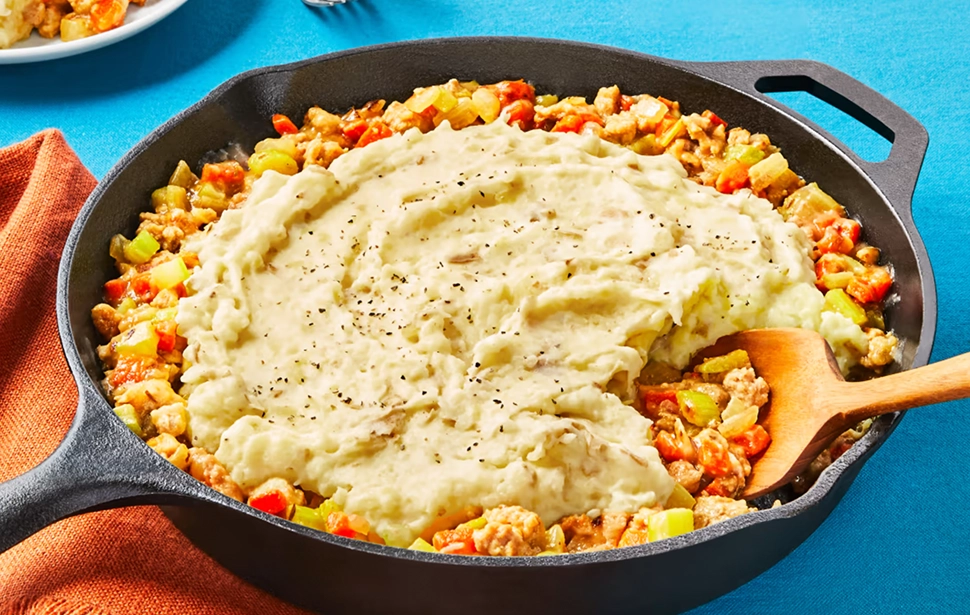 If you're a big eater, like I am, and you're on the hunt for a dish that's as tasty as it is filling, EveryPlate's Turkey Shepherd's Pie is a winner.
This recipe takes the concept of meat pies to new heights by featuring hearty ground turkey as the star of the show. Say goodbye to fussy pie crusts because we're diving into a world of creamy mashed potatoes that blanket the flavorful turkey filling like a warm and cozy embrace.
In this recipe, the focus is on the rich and savory filling, where ground turkey takes center stage. As it cooks alongside a medley of diced carrots, celery, and onion, the kitchen fills with enticing aromas that promise a comforting and delicious meal.
To enhance the savory notes, a blend of dried thyme and chopped garlic is added to the mix. This infusion of herbs adds depth and complexity, tantalizing your taste buds with each bite.
The ground turkey and vegetable medley create a flavorful base for the shepherd's pie. A velvety gravy-like sauce, crafted from butter and flour, coats the ingredients, enveloping them in a rich and comforting embrace. The combination of the tender turkey, vegetables, and savory sauce creates a harmonious blend that is both satisfying and comforting.
As the savory filling simmers, the attention turns to the crown jewel of the dish—the garlic mashed potatoes. These creamy potatoes, cooked until tender along with whole garlic cloves, bring a luscious and aromatic element to the pie. Mashed with butter and sour cream, they become silky and smooth, offering a delightful contrast to the savory turkey filling.
With the mashed potatoes prepared, it's time to assemble the shepherd's pie. The creamy garlic mashed potatoes are spread lusciously over the turkey mixture, creating a cozy and inviting blanket of flavor. As the pie bakes, the mashed potatoes develop a golden crust, adding a satisfying textural element to each mouthwatering bite.
I found this dish to be perfect on cold winter nights where I'm craving something warm, hearty, and tasty.
One-Pan Chicken Fajitas with Green Bell Pepper, Pico de Gallo & Lime Crema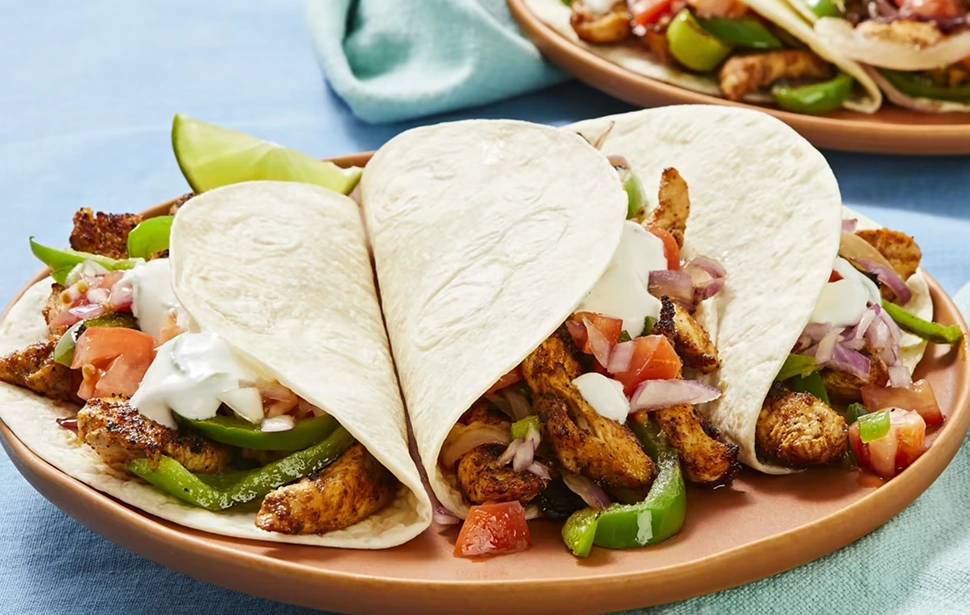 While EveryPlate doesn't offer a ton of international cuisines on their menu but of the ones they do offer, their Mexican dishes are some of my personal favorites. This one-pan chicken fajita dish is as easy to make as it is delicious.
The star of the show is the succulent chicken breast strips, perfectly seasoned with aromatic Southwest spices, salt, and pepper. As they sizzle in the pan, the spices infuse the chicken, creating a mouthwatering blend of flavors that will have your taste buds dancing with delight.
Joining the chicken in the pan are vibrant strips of green bell pepper and thinly sliced red onion. As they cook, the vegetables develop a delightful caramelization, adding a touch of sweetness and a satisfying crunch to each bite. Seasoned with salt and pepper, these veggies complement the chicken perfectly.
Diced tomatoes, finely chopped onions, a squeeze of lime juice, and a hint of jalapeño come together to create a vibrant and zesty salsa that adds a burst of freshness to each bite. The combination of juicy tomatoes, crisp onions, and the slight kick from the jalapeño creates a flavor explosion that harmonizes beautifully with the chicken and peppers.
To elevate the fajitas even further, a luscious lime crema is prepared. Creamy sour cream is blended with zesty lime zest, a squeeze of lime juice, and a dash of water, creating a velvety sauce with a tangy citrus kick. The lime crema adds a cool and refreshing element to the dish, balancing the bold flavors and enhancing the overall flavor.
Southwest Beef & Bean Chili with Sour Cream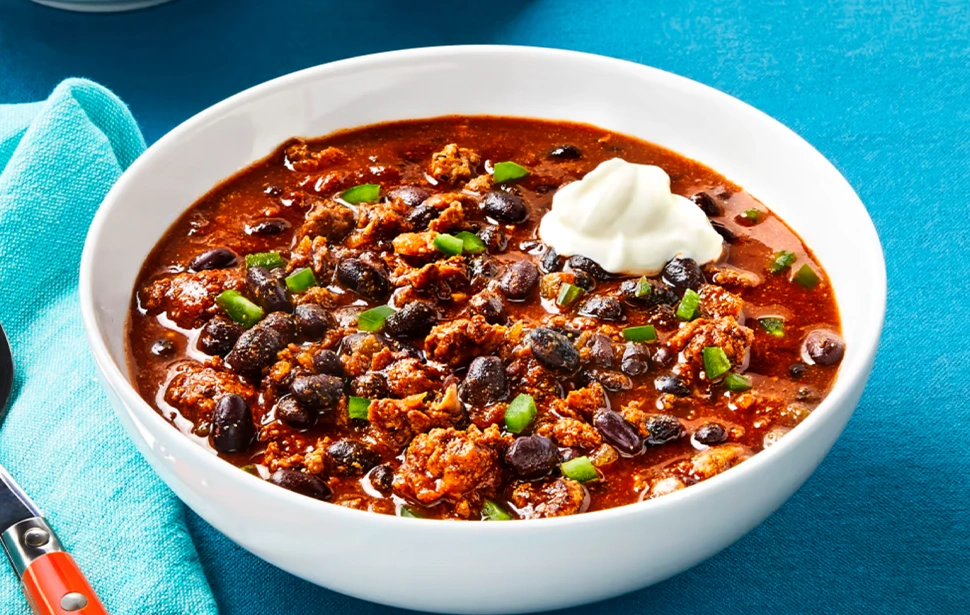 As someone who loves a hearty dish, this southwest beef and bean chili always hits the spot. I'll usually throw this in my EveryPlate box for the week and make it after a hard workout since it packs 34 grams of protein per serving.
At the heart of this delicious chili is tender ground beef, simmered to perfection with a captivating blend of Southwest spices, onions, and garlic. The combination of these aromatic ingredients infuses the meat with a symphony of smoky, savory, and slightly spicy notes that dance on your palate with every bite.
To add a touch of indulgence, a dollop of cool and velvety sour cream is the perfect finishing touch. I found that its tangy creaminess complements the bold flavors of the chili, creating a delightful contrast that soothes and enhances each bite.
Final Thoughts
For a cheap meal delivery service, EveryPlate knows how to serve up some seriously scrumptious meals. While I don't think their recipes are on the same level as more expensive meal kits like HelloFresh or Blue Apron, for the price it is tough to beat EveryPlate's value.
Want to learn more about EveryPlate's menu? Read my article outlining what I wish I knew before I signed up.
If you have a question about EveryPlate or their recipes, please leave a comment below and I'll get back to you!