You know what they say: don't judge a book by its cover. The same goes for EveryPlate. Just because it's easy on the wallet doesn't mean it serves up a boring menu. In fact, based on my personal experience, EveryPlate compensates for its fairly limited selection in ways that surprised me and might surprise you as well.
EveryPlate is a meal kit that's all about keeping things simple and affordable. While it may not offer an overwhelming variety of options like some of the bigger players in the meal kit world, it more than makes up for it with its straightforward approach to creating meals that won't break the bank.
Having used EveryPlate for years now, I want to everything I think you should know about EveryPlate's menu. From tips on customizing it to the cuisines they feature and more, consider this your ultimate guide to navigating EveryPlate's menu.
Food Box HQ Note: Want to learn more about what I think of EveryPlate, including a video unboxing, what it's like cooking the meals, how they taste, and more? You can read my full EveryPlate review here.
A Brief Overview Of EveryPlate
If you're new to the world of meal kits or simply curious about what EveryPlate's menu has to offer, let me give you a brief rundown based on my experience. EveryPlate is a budget-friendly meal kit service that aims to make convenient cooking accessible to more people.
What many people don't know is that EveryPlate was actually created by HelloFresh as a sister meal kit, catering to individuals seeking the convenience of a meal kit at a more affordable price point than the others out there. Whereas most meal kits offer meals around $9 to $14 per service, EveryPlate goes as low as around $5 per serving (on some plans).
I've found that EveryPlate works very similarly to most other meal kits. They provide a range of meal plan options to accommodate households of different sizes and offer a selection of dietary preferences. This is not to say that EveryPlate is a good option for those with specific dietary needs, though, since the diets they cater to are by no means extensive.
After choosing a meal plan and signing up for EveryPlate, you'll have access to your personalized menu (which I'll cover more in-depth below). Once you choose your meals and any optional add-ons, they'll be shipped to your doorstep on the delivery day you selected upon signing up.
EveryPlate operates on a subscription model, meaning that you receive meals on a weekly basis. You have the flexibility to choose your desired meals for the upcoming week until three days before your preferred delivery day. Once this deadline passes, the menu is finalized, and if you haven't made a selection, EveryPlate will automatically choose meals for you based on your plan preferences and past selections.
If you ever feel the need to adjust your plan or cancel your subscription, EveryPlate offers a pretty straightforward process to make these changes at any time.
What You Should Know About EveryPlate's Menu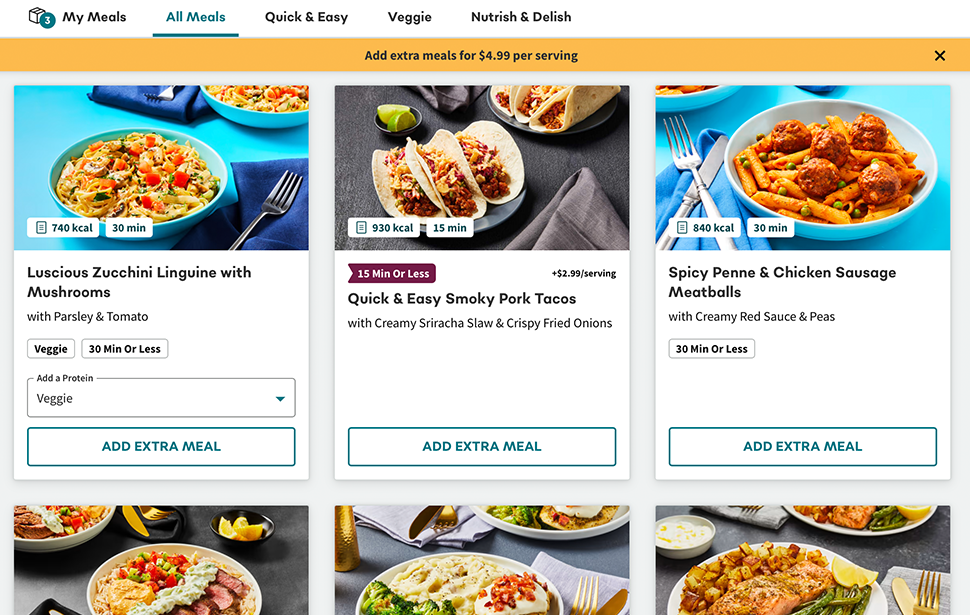 With around 25 to 30 different recipes on their menu each week, EveryPlate provides a decent range of options to suit various tastes and preferences. Their menu typically includes a mix of meat, poultry, and vegetarian dishes. I've also seen the occasional seafood dish on their menu from time to time (though, they tend to be "premium" meals, which cost on additional fee).
EveryPlate, like many other meal kit services, refreshes its menu on a weekly basis. Personally, I appreciate the weekly menu updates as they prevent me from falling into a culinary "rut", where I repeatedly prepare the same dishes out of habit.
What's most nice about their rotating menu is that while each week is different, I've noticed that they will periodically bring back customer favorites. While I like to save the recipe cards of EveryPlate recipes that I particularly enjoy so that I can make them again in the future, it's nice knowing that I can order them again if I see them on the menu.
During the summer months, EveryPlate's menu often highlights lighter and refreshing options that perfectly complement the warm weather. Think of vibrant veggie bowls bursting with seasonal produce, or delectable flatbreads topped with fresh herbs and colorful toppings.
On the other hand, as the colder months set in, EveryPlate tends to introduce heartier and comforting meals that are great for warming up during chilly evenings. I often see hearty stews, nourishing chilis, and comforting soups on the menu during the fall and winter seasons.
I've found that this seasonal approach adds a sense of variety and excitement to the dining experience. I always find myself eagerly looking forward to the change of seasons, as it presents an opportunity to explore new and interesting menu options.
While the menu regularly rotates and changes with the seasons, EveryPlate usually sticks to the same cuisines throughout the year. Here are the types of meals I usually see on their menu:
American
Mexican (and Tex-Mex)
Italian
Asian
Mediterranean
Middle Eastern
In addition to the above, I also see a decent amount of miscellaneous comfort foods on the menu each week. For example, I almost always see a burger dish and plenty of indulgent pasta dishes.
EveryPlate's Add-On Menu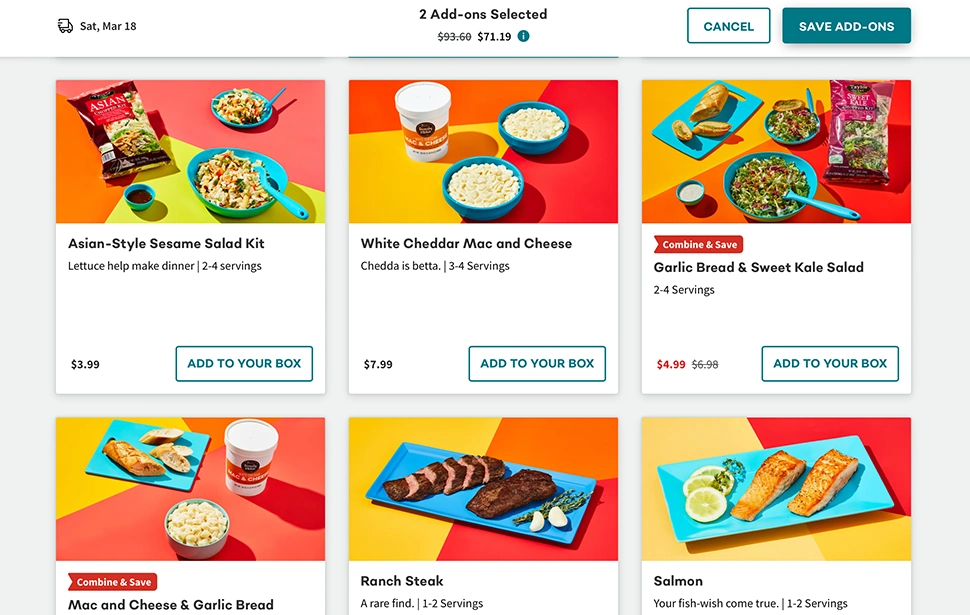 EveryPlate offers an additional "add-on" market menu alongside their regular recipe menu. While their add-on menu may not be as extensive as what some other meal kit services offer with their add-on menus, it still provides a decent selection of around 20 different items each week.
The add-on market menu typically includes a variety of options such as soups, salads, breads, pre-made breakfasts, desserts, and a few additional meal choices. While it may not offer as wide a range as other meal kit add-on menus, it still presents opportunities to complement your meal selections or add convenience to your dining experience.
One aspect I particularly appreciate about EveryPlate's add-on menu is the flexibility it offers. For instance, I often choose to include some of their pre-made breakfasts in my box. This allows me to simplify my mornings and enjoy a hassle-free breakfast option alongside the main meals.
What's even more enticing about EveryPlate's add-on market menu is that they frequently offer discounts on select items. These discounts can range from a modest 10% to a significant 25% off the regular price.
Here are some examples of items you might see on EveryPlate's add-on menu:
How To Customize Your EveryPlate Menu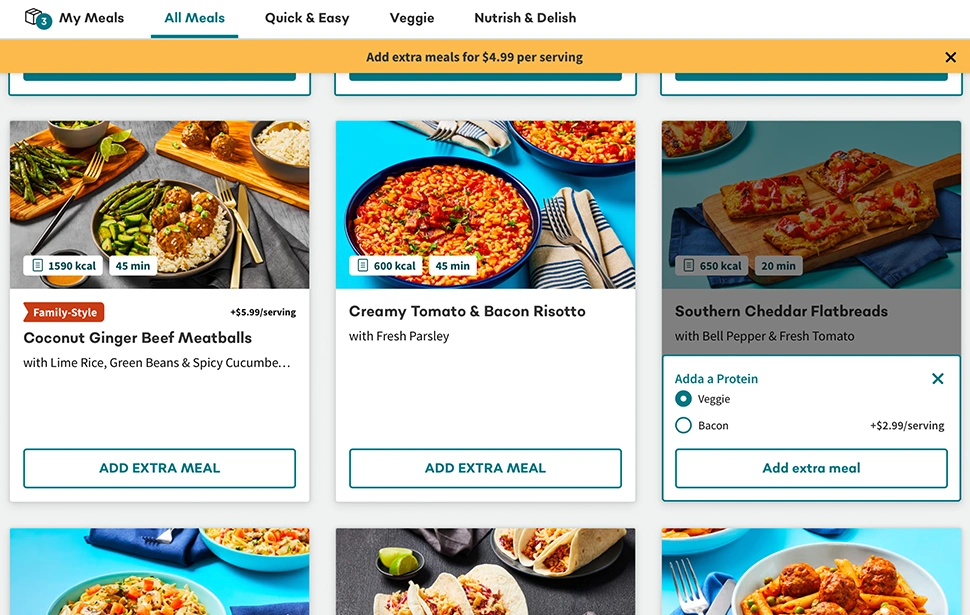 One common misconception about meal kit menus is that everyone's menu experience is the same. While it is true that the general menu itself remains consistent for all customers on a week-to-week basis, what sets it apart is the personalized meal recommendations tailored to each individual's specific preferences.
Every week, EveryPlate carefully curates a selection of recommended meals to fill your box, and these choices are not random. When determining the recommended meals for you, EveryPlate considers a range of factors to ensure a personalized experience. These factors may include your initial customization when signing up, your feedback on previous meals, whether you order a meal more than once, and any specific dietary preference you have shared when signing up.
In addition to EveryPlate customizing your recommended menu, they also give you the ability to customize some of the meals on their menu through their "CustomPlate" feature.
This feature allows you to add, swap, or upgrade proteins, depending on the specific recipe, giving you the freedom to tailor meals to your liking and dietary preferences. Whether you prefer a different protein option or want to explore a more premium choice, the CustomPlate feature allows you to make those adjustments. Furthermore, if the CustomPlate option is available for sides, you can choose to swap their veggies or potatoes.
Speaking from my own experience, I find the CustomPlate feature particularly useful because I'm not a big fan of pork. Whenever I come across a recipe that includes pork, I usually take advantage of the CustomPlate option to easily swap it out for chicken.
Although I don't find myself customizing the meals too frequently, I appreciate having the flexibility to personalize my dishes when needed. It allows me to fine-tune the recipes and make them more tailored to my liking.
What To Know About The Menu Options For Each EveryPlate Plan Preference (Plus Example Meals)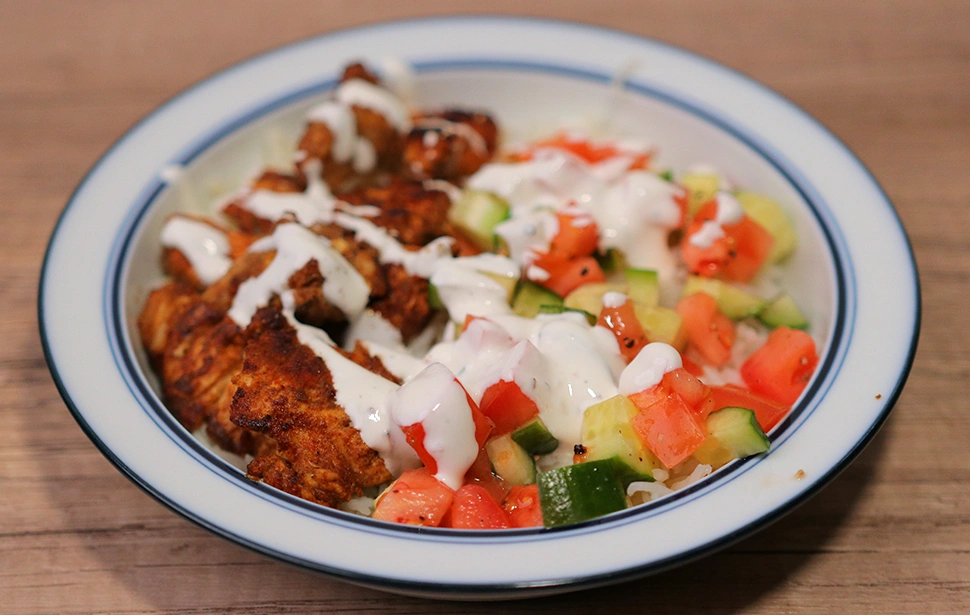 As mentioned earlier, EveryPlate offers a variety of plan preferences that allow you to customize their menu experience to suit their unique tastes and dietary needs. What's nice is you're not limited to one plan preference.
During the sign-up process, you have the flexibility to choose multiple meal preference options. For example, if you enjoy a combination of Meat & Veggies meals as well as Quick & Easy options, you can select both preferences to create a more varied and personalized menu.
Depending on the plan preferences you choose, EveryPlate curates recommended meals that cater to your specific dietary requirements and preferences. Below is an overview of the plan preferences and types of meals you can expect to see on your menu.
Meat & Veggie EveryPlate Plan Menu
This is the plan I initially chose upon signing up for EveryPlate. In my experience, this plan offers the broadest range of meal options.
EveryPlate's menu under this plan typically features chicken, pork, turkey, ground beef, and occasional shrimp dishes. While there are occasional steak and seafood options available, they are usually categorized as "premium" and come with an additional fee. It's worth noting that EveryPlate does not offer more exotic meats such as venison or duck.
In terms of vegetable offerings, I have noticed that EveryPlate's inclusion of side vegetables can sometimes be limited. On some occasions, the dish may only feature a small amount of chopped zucchini or bell peppers, without a dedicated side of vegetables. However, when they do include a side of vegetables, it typically consists of options like green beans, broccoli, or carrots.
For those who are new to EveryPlate and do not have specific dietary preferences, I would recommend trying out this plan to start (you can always change it later). It provides a good overview of the diverse range of meals EveryPlate has to offer and features a lot of EveryPlate's top recipes.
Here are some example meals you may see on the Meat & Veggie plan menu:
Veggie EveryPlate Plan Menu
As one might assume, the menu on this plan tends to feature meals that have more vegetables and less meat. The meals on this plan do feature more carbs (for example, pasta dishes and flatbreads).
While EveryPlate doesn't offer the same variety of vegetables as I've seen from other bigger meal kits, they still do a good job of keeping the meals on this menu diverse and interesting. You can expect to find meals that celebrate the vibrant colors and textures of a wide array of vegetables, including leafy greens, root vegetables, cruciferous vegetables, and more.
The meals on this plans menu offer a mix of nutritionally balanced options (such as veggie bowls) as well as more indulgent options (such as mac and cheese). If you're trying to pull back on eating meat and you're looking to incorporate more vegetables into your diet, this could be the best option for you.
Here are some example meals you might see on the Veggie plan menu:
Family Faves Plan Menu
The meals on this plan are meant to be the most crowd pleasing. You can expect to find a range of meals that feature a combination of meat and vegetables, as well as a handful of dedicated vegetarian options. This variety ensures that there is something for everyone at the table.
While the name suggests that the meals might be larger in order to accommodate a family, I've found that the meals are the same size as the other options on the menu. That said, they are both filling and satisfying.
Here are some example meals you might see on the Family Faves plan menu:
Quick & Easy Plan Menu
The meals on the Quick & Easy plan menu are exactly what you might assume—quick to prep and easy to cook. Despite having started with the Meat & Veggies plan, I increasingly found myself adding Quick & Easy plan meals to my weekly box, especially on busy weeknights.
What sets the Quick & Easy plan apart is its emphasis on efficiency. With a cooking time of approximately 20 minutes or less, depending on the recipe, these meals are designed to be as hassle-free as possible. This makes them ideal for those who want a homemade meal but don't want to spend a lot of time in the kitchen.
Though, what I appreciate most about these meals is that many of them use one pot or pan, which makes cleanup easy as well.
Here are some example meals you might see on the Quick & Easy plan menu:
Nutrish & Delish Plan Menu
This plan is one of EveryPlate's newer menu offerings and it includes meals that are more nutritionally balanced than many of their other offerings. I've noticed that the meals are less caloric (at around 650 calories) and feature more vegetables.
Unfortunately, the biggest drawback of this plan is the fact that its menu doesn't feature a lot of meal options. I usually only see around 3 or 4 Nutrish & Delish meals offered each week (sometimes less).
Here are some example meals you might see on the Nutrish & Delish plan menu:
Premium Menu Items
In addition to the meals from the plans listed above, you'll also see a handful of "premium" meals on the menu each week as well. These premium meals feature higher-end ingredients, such as steak, and usually offer bigger portions or more elaborate recipes.
While they do come at an additional cost, usually around $2 to $3 extra, they provide an opportunity to switch up your routine and indulge in something special. While I rarely add premium meals to my box, when I do I like to make sure it's for a special occasion such as having people over or a holiday.
Since the meals are more elaborate, they tend to require more time to prepare compared to the regular meals on their menu. For example, one of my personal favorites, the Lemon Herb Risotto with Chicken, takes approximately an hour to cook and assemble.
Here are some example Premium menu items:
Final Thoughts
The beauty of EveryPlate's menu lies in its simplicity. They focus on straightforward, no-fuss recipes. While other meal kit services may boast a wide range of options, EveryPlate takes a different approach by streamlining their menu to ensure affordability.
However, this approach does have a drawback. Compared to HelloFresh or Blue Apron, I've noticed that EveryPlate's meals tend to lack the same depth of flavor. This doesn't mean that EveryPlate's meals are not delicious, but their budget-friendly nature requires them to scale back on certain ingredients, resulting in slightly less pronounced flavors in their dishes.
Despite this, I have been consistently impressed with the offerings on EveryPlate's menu over the past few years. While the meals may not reach the level of gourmet cuisine other meal kits offer, they more than make up for it by being hearty, filling, and, most importantly, tasty.