If you've purchased a meal delivery service before or even considered it, you've likely heard of Blue Apron. It's arguably one of the most well-known services currently on the market. However, it's certainly not the only one!
There are tons of options out there, which means you're sure to find the meal delivery service that's right for you even if Blue Apron wasn't the best fit. You just have to do your research to find one that suits your needs! To help you out, we've compiled a list of 13 Blue Apron competitors you should consider. Keep reading to learn more about each one!
View Our Favorite Blue Apron Competitor
1. Home Chef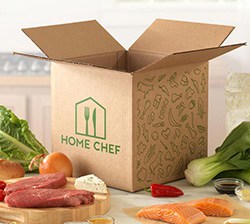 For those who love to cook, but are craving an easy way to put a delicious dinner on the table, Home Chef is one option to consider. Similar to Blue Apron, Home Chef provides you with a a new menu each week. You have the ability to choose the meals you want, which means you can select recipes that fit your personal preference.
Once you've placed your order, you'll receive fresh, pre-portioned ingredients straight to your door. Plus, there are easy-to-follow recipe cards that will guide you through the process every step of the way. Putting dinner on the table doesn't get much easier than that!
You can expect to select from some tasty dishes each week, including things like: Sirloin Steak with White Wine Demi-Glace and Garlic-Herb Potatoes, Teriyaki Ginger-Glazed Salmon with Stir-Fried Bok Choy and Carrots, Chicken with Goat Cheese Butter and Roasted Beet and Butternut Squash, Italian Sausage Lasagna Skillet with Mozzarella and Parmesan Cheeses, and Beef Empanada Cups with Mozzarella and Jalapeño.
Another benefit of Home Chef is that you can actually see menus for up to five weeks in advance. This means that you won't have to wait until the week before to select your meals. You can actually plan them out ahead of time!
Pricing: Meals on the Classic Plan with Home Chef are priced at $9.95 per serving. Shipping is $10 for orders under $45, but free if you've spent over that.
2. Hello Fresh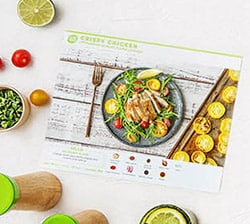 Another great meal delivery service to consider is Hello Fresh. When ordering with them, you will also receive a weekly menu with a few different dinner options to choose from. Once you've selected your ideal dinners, you can expect pre-portioned ingredients and the step-by-step recipes to arrive at your home.
Choosing your dinner options ahead of time takes the guesswork out of what you're having for dinner. There won't be any last-minute debates about what you and your family should eat, plus there will be less temptation to hit the drive-thru. What's even better is that Hello Fresh has a few different options to suit your needs.
You can choose their Classic Plan, which can serve two to four adults, or their Family Plan if you have children to feed as well. For those who are vegetarian, you also have the ability to order their Veggie Plan, which serves two or four adults depending on how many servings you need. You can change your plan at any time if you need to increase or decrease the amount of servings you get with each weekly order.
When ordering from Hello Fresh, you'll see new recipes on the menu each week. You'll find dishes such as: Zesty Breaded Chicken Breasts with Roasted Potatoes and Creamy Mixed Greens, Meatloaf Balsamico with Sweet Potato Mash and Green Beans, Tex Mex Tilapia with Cilantro Lime Couscous and Green Beans, and Gremolata Skirt Steak with Cauliflower Mash and Warm Heirloom Tomatoes.
Pricing: When ordering from the Classic Plan with Hello Fresh, your dinners will cost $9.99 per serving. The Family Plan costs $8.74 per serving and the Veggie Plan is $9.99 per serving.
3. Plated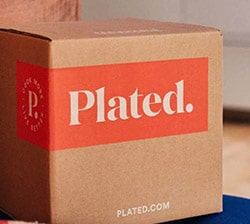 Plated is designed to help you put a delicious dinner on the table every night, while also helping you improve your skills in the kitchen. With high-quality ingredients and thorough recipes, you'll be able to whip up a great dinner for you and your family in no time at all.
One of the things worth noting about Plated is that they strive to use organic produce and locally-sourced ingredients. The meat they use is 100% antibiotic-free and the beef is made without added hormones. They also use sustainably-sourced fish whenever possible. This means you can always feel good about the ingredients you're getting for each meal.
Another great thing about their meal delivery service is that you get to select your meals from a globally inspired, chef-designed menu each week. There will be plenty of recipe options to choose from, plus dessert items as well. You'll even have the flexibility of choosing how many servings you want and how many nights per week you'd like to have dinners from Plated.
You can expect to find a variety of unique dishes on the menu, including: Mushroom Risotto with Truffled Parmesan Frico, Pan-Roasted Chicken with Brussels Sprout Gratin and Apple Cider Pan Sauce, Chicken Paprikash with Bell Pepper and Egg Noodles, Seared Steak with Roasted Brussels Sprouts and Creamy Mushroom Gravy, and Crispy Flounder with Herb-Roasted Potatoes and Horseradish-Lemon Sauce.
Pricing: To order with Plated, you'll start by selecting how many servings you want (two, three, or four). If you only need two servings, your dinners will cost $11.95 per serving. Three or four servings costs $9.95 per serving.
4. Sun Basket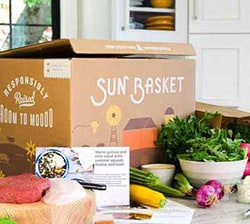 Another meal delivery service that aims to provide customers with high-quality ingredients is Sun Basket. They're actually a certified organic retailer through California Certified Organic Farmers (CCOF). This means that all the ingredients you receive for your meals is free from toxic fertilizers and pesticides.
They take the time to carefully screen any suppliers they use to receive produce, aiming to select ingredients that are non-GMO and free of herbicides and pesticides. The meat and seafood you receive is free from antibiotics and artificial hormones and only come from ranchers and fisherman who are committed to sustainable practices.
Sun Basket aims to provide organic ingredients whenever possible, however they're sometimes unavailable due to weather conditions and seasonality. They will label anything in your order that is organic so you will know exactly what you're getting with each box.
When ordering from Sun Basket, you'll be able to choose from dishes such as: Steak and Roasted Sweet Potato with Scallion-Ginger Relish, Chicken and Cauliflower with Rosemary-Roasted Onion and Oranges, Salmon and Braised Fennel with Charred Orange and Green Goddess Dressing, Pork Carnitas with Avocado and Cabbage-Radish Slaw, and Chicken Chile Verde with Tomatillos and Jicama Salad.
Pricing: You have two options with Sun Basket, including their Classic Menu and Family Menu. If you go for the Classic Menu, the price per serving is $11.99. This plan allows you to receive three recipes each week. For the Family Menu, the price per serving is $9.99. When feeding a family, you have the option to receive two, three, or four recipes.
5. Chef'd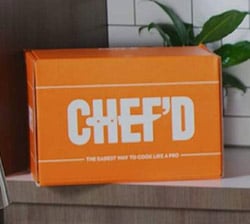 One of the things that's so unique about Chef'd is that they've collaborated with a variety of sources to create their meal delivery service. When ordering with them, you can choose from meal plans designed by the American Diabetes Association, Atkins, The New York Times Cooking, Spoon University, or Weight Watchers.
Having the ability to choose from these plans means you're able to select the meals that are right for your dietary preferences. You can ensure your body is getting the proper nutrition, as it helps you make healthier choices with your weeknight dinners. Alternatively, Chef'd has an a la carte menu that allows you to choose the dishes you want and how many servings you need.
Similar to the other services, you'll receive fresh, pre-portioned ingredients with corresponding recipes delivered to you each week. This means you'll get to spend time in the kitchen whipping up your dinner without the hassle of meal planning or grocery shopping.
You'll find recipes like: Chicken Cauliflower Mac and Cheese, Zucchini Chicken Alfredo, Pork Tenderloin Medallions, Greek Hamburger, Spicy Shrimp Diablo, Cajun Blackened Salmon, Spicy Ahi Tuna Salad, and Red Snapper with Tomatoes and Olives. With so many dishes to choose from, you're sure to find something that suits your tastes.
Pricing: When ordering from Chef'd, prices will range from $9 to $17 per serving. It all depends on the specific ingredients used within your chosen dish. With the a la carte menu, you can see exactly what you're spending, which will be handy if you're on a budget with your shopping. Shipping is free for orders over $40, but will cost $10 for order under that price.
6. Marley Spoon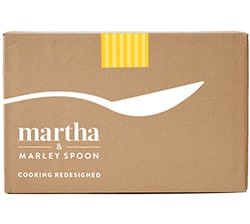 If you're looking for a meal delivery service that's backed by Martha Stewart, Marley Spoon is your go-to. Each week, you'll be able to choose from some of the Martha Stewart's top recipes. Then, the pre-portioned ingredients and corresponding recipes are delivered directly to you, cutting down on your weekly grocery shopping trips.
There will be 10 new recipes to choose from each week, which means you'll always have plenty of options to choose from. You're sure to find something that suits your taste buds! Marley Spoon even offers healthy recipes and kid-friendly dishes for you to order. They've also added vegetarian and gluten-free meals to cater to a variety of dietary preferences.
Marley Spoon works with some of the finest purveyors to ensure they deliver only the best ingredients to their customers. Those ingredients will be used to make dishes such as: Pan-Seared Pork Cutlets with Brussels Sprouts and Carrots, Beef and White Bean Chili with Whole Wheat Couscous, One-Pan Chicken Chilaquiles with Tomatillo Sauce and Spinach, Creamy Whole Wheat Ramen with Swiss Chard & Caramelized Onions, and Chickpea & Red Pepper Soup with Cheesy Pull-Apart Rolls.
Pricing: When placing your order, you'll first need to chose how many servings you need. You can choose from two people or three to four people. Then, you'll need to select how many dinners you'd like to receive each week (two, three, or four). With the plan for two people, you're looking at spending $10.25 per serving. The price per serving for three to four people is $8.90.
7. Terra's Kitchen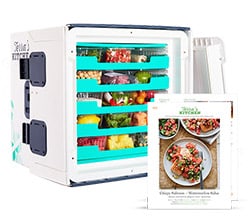 If you're interested in following a Mediterranean diet, Terra's Kitchen is one meal delivery service to consider. The recipes they allow you to choose from are all based on the principles of the Mediterranean lifestyle. Terra's Kitchen aims to provide their customers with quick and healthy meals every time. In fact, everything is always ready within 15 to 30 minutes and it doesn't get much easier than that!
You can expect to receive fresh, pre-chopped ingredients that have already been washed are ready to be cooked. The proteins you receive are non-GMO, as well as hormone and antibiotic-free. The seafood is sustainably-sourced. And Terra's Kitchen seeks to provide customers with organic ingredients whenever possible.
Customers have the ability to choose from Paleo, low-calorie, gluten-free, vegetarian, and vegan options when searching for their perfect meal. You can also order salads, snacks, desserts, beverages, and side dishes. With so many options to choose from, you'll never worry about going hungry.
You'll discover dishes like: Grilled Chicken Tacos with Avocado Goat Cheese Sauce, Low Country Shrimp Bowls, Mushroom Stroganoff, One Pot Orzo and Shrimp, Seared Tuna with Rustic Ginger-Tomato Sauce, Tandoori Chicken with Garlic and Spinach Rice Pilaf, and Spice-Rubbed Steak and Vegetable Sauté Bowls.
Pricing: The price you pay will depend on how many servings you need and the recipes you're ordering. Two-serving recipes can range in price from $9.99 per serving and up to $17.99. Delivery on your first weekly order is free. After that, orders that cost more than $100 will qualify for free delivery. Orders under $100 will cost $4.95 for delivery.
8. Green Chef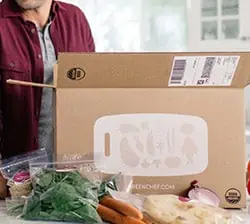 If you need a meal delivery service that caters to your specific needs, you'll want to take a look at Green Chef. They offer an array of meal plans including their Omnivore Plan, Paleo, Keto, Vegan, Vegetarian, Carnivore, and Gluten-Free. In fact, Green Chef is the first meal kit company to receive Gluten-Free Certification from the Gluten Intolerance Group's GFFS program. Their Gluten-Free, Paleo, and Keto plans are all safe for those with a sensitivity or allergy to gluten.
So, how does it work? Green Chef delivers premium, organic ingredients straight to your door. Everything is pre-measured and prepared, which saves you time in the kitchen. You'll be provided with step-by-step instructions to help you prepare your meal in about 30 minutes. It's quick and easy!
With a new menu every week, there will always be great dishes to choose from. For example, a few dishes you'll find on the Gluten-Free plan includes: Coconut-Ginger Chicken with Broccoli, Mango, Cashews, and Curry Sweet Potatoes, Southwest Broiled Steak with Braised Carrots, Pepita Pesto, and Paremsan Polenta, and Loaded Sweet Potato with Broccoli & Garbanzo Beans, Salad, and Schug Sauce. Other dishes include Vietnamese Shrimp Bowl with Rice Noodles, Fresh Veggies, Thai Basil, & Mint, and Cumin-Spiced steak with Cheesy Potatoes, Arugula & Fig Salad.
Pricing: The price you pay is based on the plan you choose and how many servings you'll need for each dinner. The Two-Person Plan contains three dinners for two people, while the Family Plan contains two dinners for a family of four. You can expect the Two-Person Plan to range from $10.49 per serving to $14.99 per serving. The Family Plans will cost either $11.99 per serving or $12.99 per serving.
9. Gobble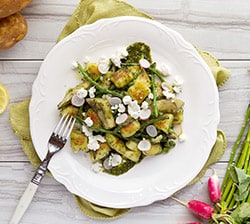 How would you like to have a gourmet meal ready in about 15 minutes? Well, that's exactly what Gobble aims to help you do in your own kitchen. When joining their meal delivery service, you will receive prepared ingredients that are ready to be cooked. All you have to do is follow the step-by-step recipes to bring your dinner to life. Gobble even has plenty of three-step recipes that are designed for one pan cooking, making dinnertime so much easier.
The whole premise behind Gobble is that they want to help you say goodbye to grocery shopping, meal planning, meal prep, and clean-up. If that sounds like just what you need in your life, their meal delivery service might be the right one for you.
You'll find dishes such as: Meyer Lemon Gnocchi with Asparagus Tips & Artichoke Hearts, Chicken Southwestern Sedona Bowl with Chipotle Ranch Dressing, Shrimp Scampi with Cherry Tomatoes & Arugula, and Chinese Chicken Lettuce Cups with Fragrant Jasmine Rice. There's also Pan-Roasted Chicken with Broccoli & Quinoa Gratin and Carne Asada Street Tacos with Avocado & Poblano Elote Salad.
Pricing: Gobble aims to keep their pricing simple for customers. They charge an all-inclusive price of $11.95 per meal if you order six or more meals and $13.95 per meal if you only order four meals. This means that if you order six meals, you can expect to pay $71.70 total. There's no tax, shipping, or gratuity.
They also offer two subscription plans, which include: three dinner kits for two people or three dinner kits for four people. This can be changed at any time to suit your needs.
10. Dinnerly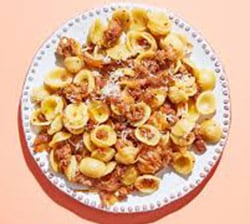 If simple and delicious dinners are your thing, let Dinnerly come to your rescue. To make dinnertime even easier, they strive to provide customers with dishes that contain just six ingredients. It's less work on your part, but still gives you plenty of flavor with every meal. They even have tons of 30-minute recipes, which means you don't have to spend tons of time in the kitchen. Dinner will be ready before you know it!
If you like to cook dinners at home, but want to save some cash in the process, Dinnerly is a great option. They'll provide you with fresh ingredients to make a dinner that tastes great and suits even the pickiest of eaters.
Once you join their meal delivery service, you can expect to find a range of dishes to choose from. They provide things like: Mexican Bean Stew with Tortilla Strips, Spicy Sausage Pasta with Caramelized Onion, and Honey Mustard Drumsticks with Green Beans and Carrots. They also have Saucy Parmesan Chicken with Spaghetti, Gingery Pork Meatball Soup with Orzo and Baby Kale, and Cheesy French Bread Pizza with Marinara Sauce.
Pricing: The thing that stands out the most about Dinnerly is their price. They consider themselves to be the most affordable meal delivery service out there and it's for good reason. Your dinners will only cost $5 per person when you order with them, which means you don't have to break the bank to get their quick and easy meals.
11. PeachDish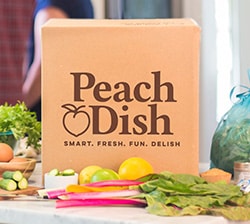 When ordering with PeachDish, you have two convenient options. You can choose to start a subscription that sends you automatic weekly deliveries. With this choice, you can pick your meals or let PeachDish pick them for you, but you're also able to skip a week or cancel at any time. If you aren't ready for the commitment of weekly deliveries, you can also choose to order just one box at a time. This allows you to get to know PeachDish, their service, and their recipes.
Similar to the other services mentioned here, you'll receive pre-portioned ingredients that are ready to be cooked. This helps to cut down on prep time, but also helps to eliminate food waste. With ingredients that are ready to go, you'll be able to cook up a delicious dinner in no time at all, which is incredibly convenient for those with a busy lifestyle.
PeachDish provides plenty of variety for their customers, which options to suit many different diets. They have vegetarian and omnivore selections, as well as ones with no added gluten. With new recipes every week and premium ingredients, you're sure to find something you'll enjoy eating.
Some of the items you can expect to find on the menu include: Autumn Chicken & Butternut Squash with Arugula Salad in Honey Dressing, Stir-Fried Garlic Shrimp with Spinach & Pea Greens over Rice, Huevos Rancheros with Refried Beans & Arugula Salad, Georgia Grown Strip Steak with Scallion Butter & Gruyere Potato Gratin, Pastured Prok & Creamed Rice with Kale-Sorghum Salad, and Stuffed Delicata Squash with Grass-Fed Beef, Rice Grits & Manchego Cheese.
Pricing: Prices will range depending on the dish you choose to purchase. For many dishes, you can expect to pay around $25 to receive two servings of one dish.
12. Freshly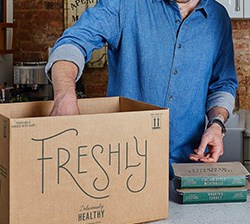 If cooking isn't your thing, you can consider ordering from a service like Freshly. Instead of sending you pre-portioned ingredients and recipes for you to cook, you'll receive pre-made meals instead. These meals are prepared and cooked by the chefs at Freshly, then delivered fresh to you. They're never frozen! All you have to do is heat them up, which should only take about three minutes.
For those looking for a fast and easy way to get dinner on the table, this is certainly it. Each meal is gluten-free, packed with protein, free from refined sugars, and all natural. This means you don't have to feel guilty about eating pre-made meals because they're much better for you than what you'll typically find at the store.
What can you expect to find on their menu? You'll see dishes such as: Steak Peppercorn with Sautéed Carrots & French Green Beans, Buffalo Chicken Breast with Loaded Cauliflower, Veggie Baked Penne with Sautéed Zucchini and Spinach, Grilled Chicken Risotto with Butternut Squash, Three Bean Ancho Turkey Chili, and Sicilian-Style Chicken Part with Broccoli.
Pricing: Their plans rename from four meals per week, six meals, nine meals, or 12 meals. If you just need four meals, you're look at a cost of $12.50 per meal. It's $9.99 per meal if you choose the six or nine meal option. If you want 12 meals, it will cost $8.99 per meal.
13. Munchery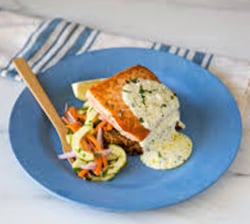 Last but not least, we have Munchery as another Blue Apron competitor for you to choose from. Their meals are designed to be "from the farm to your fork." They use fresh, local, all-natural ingredients which they source and use to prepare their meals. You'll receive the pre-made meals straight to your doorstep and they simply need to be heated before you can enjoy them.
You can feel great about the meals you receive from Munchery because of the seasonal, all-natural, and organic produce. Plus, they offer antibiotic-free meats and wild caught fish whenever possible.
Pricing: You can select from receiving four meals or six meals. The four meal option will cost $14.49 per serving, while the six meal option costs $12.99 per serving. You will receive free shipping with every order.