Are you looking for a way to cure your sweet tooth? Well, you're in luck! We've rounded up 22 of the best candy subscription boxes that will really come in handy whenever you need a little extra sugar in your life.
From chocolate to gummies, international treats and gourmet goodies, there are plenty of options here for you to choose from on this list.
It's safe to say that sugary stash of yours will never run empty with monthly deliveries from one of these subscription services!
Let's get into it...
1. Candy Club
If you're ready to open your life up to a world of sweetness, you're going to love the monthly deliveries from Candy Club. Each box you receive will be packed with three delicious candies, plus an extra splash of candy to fill up your stash.
One of the the things that makes Candy Club super special is that you'll have access to a variety of candies that you probably won't find at your local supermarket. For example, in our first box we received yummy peanut butter pretzel clusters, chocolate drizzled caramelcorn, and cookie dough bites. Is your mouth watering yet? If not, there's still a bunch of options you're sure to enjoy... In your box, you could find treats such as: Asher's Chester's Critters Milk Chocolate Covered Crackers, Funky Chunky Chocolate Pretzels, Sweet's Orange & Vanilla Salt Water Taffy, Fini Red Hot Chili Gummies, Dorval Sour Power Mango Belts, Mayfair Butterscotch Buttons, Pearson's Bit-o-honey, and classics like Reese's Peanut Butter Cup Minis. You'll notice they have a variety of different types of candy, which is the biggest draw of Candy Club. These aren't just regular old candy you're going to find in your local grocery store, it's an eclectic mix of goodies.
What's even more cool is the fact that you can rate your candy after you receive it. This helps Candy Club learn what you like so they only deliver candies based on your unique flavor profile.
Read our full review of Candy Club here.
2. Graze
For those who are familiar with Graze, candy probably isn't the first thing that comes to mind. Odds are, you think of the snack packs they offer, which includes things like oat flapjacks, trail mixes, and dried fruit. However, they do have plenty of tasty treats to satisfy your sweet tooth.
If you're a chocolate lover, you'll want to keep your fingers crossed that the Chocolate Pretzel Dipper lands in your subscription box. For other sweet treats, you'll enjoy the Jelly Doughnut pack and their Triple Berry Smoothie pack.
The great thing about Graze is that you can tell them what you like the best, which ensures you get your favorite treats in your box. Like Candy Club, you want to make sure you're rating every snack you receive, which helps their team better tailor the snacks to you. Then, you can get a little box of happiness delivered to your door every week, bi-weekly, or monthly.
Our favorite part of Graze is that they portion control the candy and snacks that they send you. So, if you're someone like me, who tends to over snack, this is a great added feature.
Read our full review of Graze here.
3. InstaCandy
https://www.instagram.com/p/BjBVSfpnDXM/?hl=en
How would you like to receive unique old-school candies such as the Raindrop Gummy Cake, KaDunks, Startup Candy Jumbo Pop's, or Soda Can Fizzy Candy? Well, those are the types of candies you might find with a subscription to InstaCandy.
Unlike other candy clubs where you know what you're getting before the box comes, InstaCandy is a surprise. Each month a mystery candy box is sent to your doorstep that's sure to put a smile on your face when you take a peek inside and see what you treats await. Whenever you find treats you love, you can simply order more from their online store, allowing you to stock up on all your favorites.
What we love about InstaCandy is the fact that they send full-sized candy. Many other candy of the month clubs only send small or "fun size" candy.
4. Treatsie
My July #treatsie box 😍😍😍 pic.twitter.com/3P155tD7Vn

— ForbiddenFree (@KnightSus) July 24, 2016
If you're tired of the selection in your grocery store's candy aisle and want something a bit more special, check out Treatsie. Instead of sending you a box that's packed with candy from the big name brands, you'll receive artisanal sweets instead. Each month, they'll send you a box that's packed with some of the best artisan sweets from confectioners based all over the country. And when you find candy you love, you'll be able to order more from their online shop.
What we love most about Treatsie is the fact that you're getting "craft sweets", not simply the run of the mill grocery store checkout isle candy. Many of the treats they send are from local and small candy shops that make their own candies, not sourced from massive manufactures. These are candies you're very unlikely to see anywhere else.
5. Dylan's Candy Bar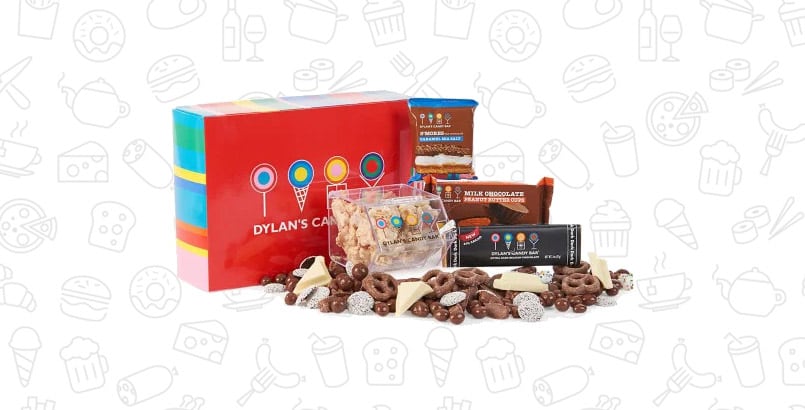 When it comes to candy, it's safe to say Dylan's Candy Bar is one of the biggest names out there. You may be familiar with their brick-and-mortar stores in major cities across the United States—from New York City to Los Angeles, California. And if you're a fan of their sweet treats, you're going to love their subscription box.
Dylan's Candy Bar offers two different options for their candy of the month club. You can choose their "Signatures" box, which features their tried-and-true favorite treats. Inside this box, you'll find favorites such as Whirly pops, chocolate bars, s'mores, mini-bin fillables, and much more. But if chocolate is more your thing, their "Chocolates" box will fill your needs with their chocolate bars such as Dark Sea Salt Bar, Peanut Butter & Jelly Bar, and Milk Chocolate Pretzel Bar.
What makes Dylan's Candy Bar unique is the fact that the candy they send in their boxes is all theirs. And it's far from simply the usual stuff. For example, they have a Potato Chip Chocolate Bar, Pizza Chocolate Bar, and even a Bubblegum White Chocolate Bar.
6. Chococurb
https://www.instagram.com/p/BhfqEY0AzIZ/
If you're looking for the perfect candy box to satisfy your chocolate cravings when they strike, you'll definitely want to take a look at Chococurb. It's designed specifically with the chocolate lover in mind, as they send a delectable assortment of chocolates to your door each month. And these aren't just any old chocolates, they're premium, gourmet treats that you're sure to love.
You'll have a few different options for variety and size... You can choose between their mini subscription that features three treats or their classic subscription that contains five to seven treats. From there, you simply tell the Chococurb team what your preferences are and they'll select some chocolates for you.
With Chococurb, you'll find luxurious chocolate treats from all over the world such as:
Dominican Republic Rizek Cacao (85% Dark)
La Naya Chocolate with buckwheat honey and breadcrumb
Vosges Haut-Chocolat Super Dark Coconut Ash and Banana
All chocolates sent by Chococurb are full-sized.
7. Taste Trunk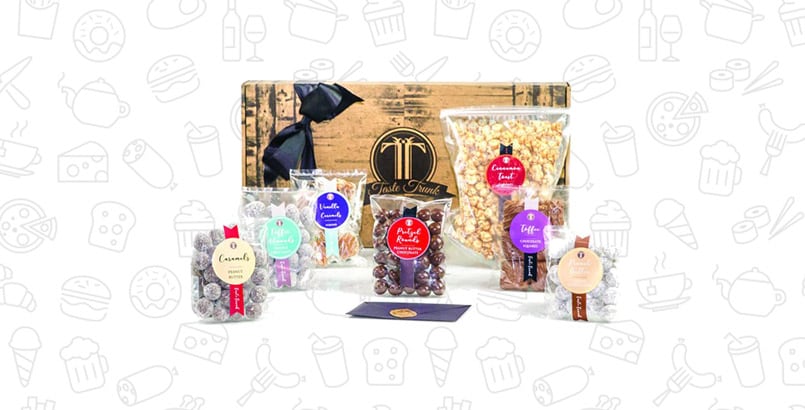 Although they offer a variety of items in their online shop, Taste Trunk's Sweet Subscription is one that shouldn't be overlooked! It includes chocolates, cakes, baked goods, and dessert sauces that anyone with a sweet tooth is sure to enjoy. Each month, your box will contain four or five of their favorite items from different brands. They're chosen to work together, while still giving you plenty of variety.
You'll receive treats such as Pretzel Rounds, Cinnamon Toast popcorn, Toffee Chocolate Squares, and even a cookie or two. While this subscription is definitely more expensive than most at $99 for three months, the quality and variety just might make it worthwhile for you.
8. Mystery Chocolate Box
https://www.instagram.com/p/Bd3rjbrhdw5/
Like surprises? Like chocolate? Mystery Chocolate Box might be right up your alley. What makes this subscription so much fun is that you aren't just receiving a delivery of delicious chocolates each month. You'll receive premium, full-size chocolate bars. However, the bars are in plain labels, meaning you won't know what's inside.
You get to taste the chocolate bar (and get your friends and family in on the action) and make your guesses as to which ingredients are inside the bar. So, it's not just a chocolatey treat, but a fun guessing game as well! Guesses can be submitted on their website and they'll tell you how well you did. As an added bonus, you can order the ones you like right in their store.
Beyond the fact that Mystery Chocolate Box is one of the most unique in their approach to a candy club, they also have a wonderful charitable aspect to their business. For every box they send you, they donate two meals to charity (one to the United States and one to the rest of the world). Here's a page on the site that explains their mission and goes into more detail on how they do it.
9. Standard Cocoa
https://www.instagram.com/p/b_baZbGTwV/
If you're looking for local, small-batch, craft chocolate, Standard Cocoa is the right choice. Their boxes feature some amazing cacao-containing treats from all over the world.
What makes them different is due to the fact that they use hand selected cocoa for its unique notes and flavor. This allows for much higher quality chocolate. Standard Cocoa also works with chocolate makers who are committed to sustainable farming techniques and fair trade relationships.
In the past, they've worked with chocolate makers who have sourced cacao from places like Venezuela, the Dominican Republic, Ghana, Ecuador, and Peru. It's like traveling all over the world through one piece of chocolate.
10. Candy German
Danke Schoen to @Aninma_S for sending a Huge Box of German Candy to the Attic!

(We are STILL Recovering) pic.twitter.com/Q3fR2hdNkW

— Nerd Out With Me (@NerdOutWithMe) April 2, 2018
For those who are more interested in trying some international treats, one great European option is Candy German. As the name suggests, this is obviously your "go to" box for authentic, German candies.
Each month, you'll receive a box of goodies all the way from Germany. There will be six to eight full-size candies inside, allowing you to experience the taste of Germany from the comfort of your own home. Here are just some of the treats you may find in your box: Mr. Tom Bar, Milka Bar, Nussknac, Haribo, and Baiser Eier.
The Candy German box would make the perfect gift for German expats or people of German heritage.
11. Bar & Cocoa
https://www.instagram.com/p/BkBED1Dh8TU/
Another company that is focused on delivering an assortment of craft chocolates to their subscribers is Bar & Cocoa. Each month, you'll receive a box that contains four full-sized dark chocolate bars from some of the world's finest chocolate makers. They've carefully selected each bar to ensure you're getting only the best with each order.
Each of the four dark chocolate bars feature cacao from different origins, allows you to try all kinds of flavor profiles. Not only that, but this chocolate is pretty hard to get. You definitely  won't be able to find it at your local grocery store.
Another huge plus (and my personal favorite) is that they use minimal, eco-friendly packaging so you can feel good about joining.
You're also able to shop a variety of delectable chocolate bars right on their website. That means you never have to worry about your chocolate stash going empty.
Here's a selection of chocolate bars you might find in your box:
Dormouse Pancake Day Bar made with Peruvian milk chocolate
Michel Cluizel Noir Infini 99% Cacao made with Blended cocoa from South America, Central Africa and Java
Raaka Guatemala 75% made with Asochivite cocoa beans from a coalition of 40 families in San Juan Chivite
12. GrubBox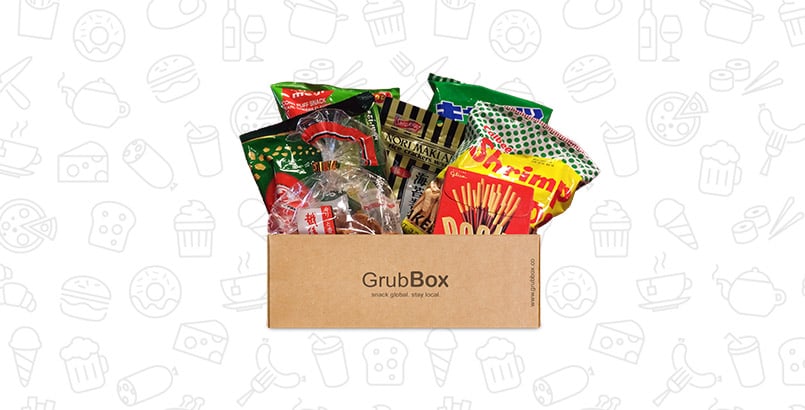 Want to try candies from all over the world? GrubBox is here to help! They hand-select a variety of fun foreign treats from all over the world and send them your way each month.
They offer two box options. Their GrubBox sends you 10 full-sized candies and snacks. While their Grubiest Box sends you 20 full-sized candies and snacks.
Inside, you'll find a variety of treats, including sweets like TimTam, Smash, Perugina Dark Chocolate Covered Whole Cherries, King Choc Nut, and Lion Bar. In addition to candies you may also find some more savory treats mixed in like Lay's Ketchup Chips and Takis.
13. Freedom Japanese Market
https://www.instagram.com/p/BkaT4zgHBNl/
Asian culture more your thing? If your answer is yes, Freedom Japanese Market has you covered with their monthly box. It's packed with all kinds of goodies you won't easily find anywhere else and you're sure to love receiving this surprise each month.
They offer three sizes for their subscription, allowing you to choose what best suits your needs and budget. You can get the Puchi Pack, which contains five to eight full-size and sample snacks if you want a little taste of Japanese treats. Or if you're ready to commit to something more, go for the Original Pack with 12-16 full-size and sample snacks or the Family Premium Pack that contains 24-32 full-size and sample snacks.
No matter which order you pick, you'll also get a real handmade origami! The two larger boxes also come with a DIY Candy Kit for even more fun.
What makes Freedom Japanese Market unique is that they ship all of their boxes directly from Japan (at no additional cost).
14. Candy Japan
https://www.instagram.com/p/BVgzpFTAmQh/
Another great option for Japanese candy is Candy Japan. They ship out boxes of candy from Japan twice per month, giving your even more goodies to enjoy. All you have to do is subscribe, they'll shop for you in Japan, and then they ship the candy directly to you. Once it has arrived, you can sit back and chow down on all your favorites.
Inside the box, you'll find sweet treats such as matcha snacks, Mario chocolates, a candy fishing DIY kit, Kameda Chocolate Persimmon Seeds, Sakuma Drops, and DARS Milk Chocolates. It's a super simple way for you to explore the extraordinary candies Japan has to offer.
15. Bokksu
https://www.instagram.com/p/Bk4DJY_BY69/
Bokksu also provides a monthly subscription service of authentic, gourmet Japanese snacks. With their box, you may find things like Hokkaido milk cookies and Kyoto hand-ground matcha. What makes Bokksu a bit different is that they send 20-25 Japanese snacks in each box, plus a tea pairing. In addition they also include a tasting guide that explains the story and flavors of each candy you recieve. Not only do you get to experience new treats, but you get to educate yourself on them as well. This added touch makes Bokksu one of our favorites when it comes to international and Japanese candy boxes.
16. TokyoTreat
Great box. I will be enjoying it ✨✨ @TokyoTreat 😚 #フモフモさん pic.twitter.com/KtPBuU7sci

— ❤️‍🔥🖤Sith Mafer 💢🫳 (@MaferMunuera) June 28, 2018
Okay, we have one final way to treat yourself to a little taste of Japan! TokyoTreat is a snack box that features all kinds of Japanese candy and snacks for you to enjoy. It's delivered from Japan and all of the treats are 100% authentic.
What makes TokyoTreat a bit different is that not only do they send candies/snacks but they also send drinks too. This might not sound like a big deal but Japan is known for their incredible soft drink selection. They have drinks such as clear Coca-Cola, Coca-Cola Lime, Coca-Cola Orange, Coca-Cola "Life", and much more.
Lastly, TokyoTreat has a happiness guarantee. That means if you're not happy with your box, just let them know and they'll help you out.
17. Try Treats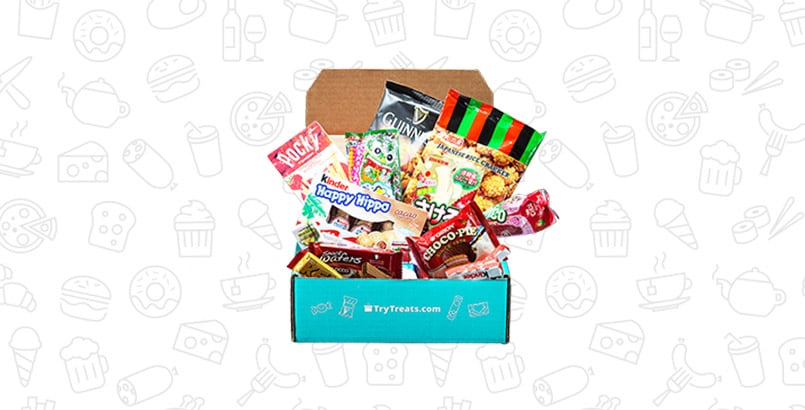 Try Treats is a great option for anyone who wants to experience a variety of international candies and snacks but doesn't know where to start. They offer two different boxes, which includes their Standard Box and the Premium Box. With the Standard Box, you'll receive at least five international snacks inside, whereas the Premium Box gets you at least 10 snacks. No matter which one you choose, you'll be able to taste a new country every month, allowing you to explore the tastes of the world from the comfort of your home.
They've featured treats from Asia, Latin America, Australia, Europe, Africa, and North America. With the North American treats, you'll get to taste treats such as Nestle Coffee Crisps, Dare Maple Leaf Cookies, Aero Candies, and Nestle Smarties. European options will include Bahlsen Waffeletten Milk, Roland Chocolate Tartlettes, Loacker Chocolate Wafers, and Takovo Isleri Eurocrem.
18. Bocandy
https://www.instagram.com/p/0lbWFcm99z/
Another way to taste the candy of the word can be done through Bocandy. They offer a few different boxes, including The Bocandy Big Box, The International Candy Taste Box, The Asian Snack Box, and The Premium Box. Each one has a different purpose, so make sure you choose wisely!
With The Bocandy Big Box, you'll get imported and craft snacks from around the world, but also speciality items from America. That means you may find things like German Haribo gummies, Japanese Pocky, British wine gums, s'mores from Colorado, and Bulgarian Peanut Puffs. With The International Candy Taste Box, you'll get an assortment of Japanese, Mexican, European, and British candies. But if you just want Asian candy in your life, The Asian Snack Box has got you covered. And the final option is The Premium Box, which is bigger than the International Candy Box and the Asian Candy Box combined! This makes it the perfect option for families, to share with friends, or just to gorge on yourself.
What makes Bocandy special is that they've shipped out candy from all around the world, including Iceland, Germany, Brazil, Australia, South Korea, Russia, the Bahamas, Egypt, Morocco, and many others. Each month, you'll receive a selection of treats alongside some fun facts. You'll receive a link that allows you to hear Bocandy's thoughts on each snack in your box, plus any history about it they can share with you. The added touch of allowing you to educate yourself on the candies you're eating is something we love about their box.
19. Yum Yum Candy
https://www.instagram.com/p/BSUpArfFzO3/
Over at Yum Yum Candy, they have a team of experts who curate a selection of assorted candies for each monthly box. These candies are either unique, nostalgic, hard-to-find, or simply yummy. Either way, you can count on getting something delicious with each order that lands on your doorstep!
All you need to do is select which box you want. They offer the I-JOY BOX, which contains at least seven treats inside. But if that's not enough, you can go for the WE-JOY BOX that has at least 12 items. What comes in each box will be a surprise, but there's no denying it'll be a fun and tasty experience for you to enjoy.
Past boxes have featured items such as Razzles Fizzles, Mallo Cup, Toffee Crisp, Rocky Road S'Mores, Fry's Chocolate Cream, Black Cow Chewy Chocolate Caramel Candy, and Japanese Kit-Kats. There's plenty here to satisfy your sweet tooth, whether you want chocolate, gummies, or something sour.
20. British Candy Box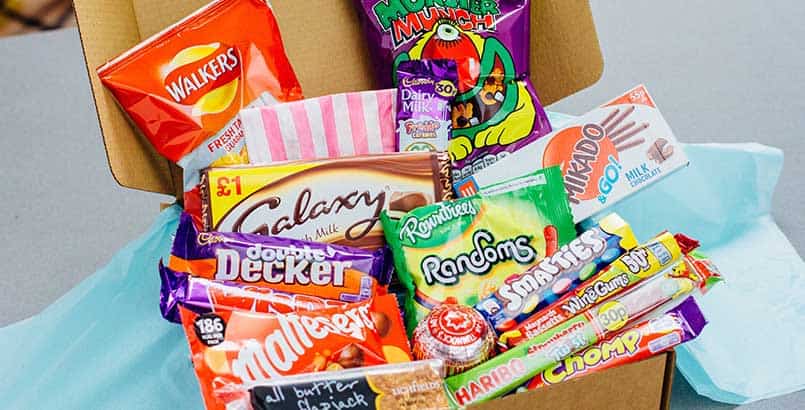 If you'd rather try a selection of treats specifically from Great Britain, sign-up for the British Candy Box! It features 100% authentic and British sweets and snacks for you to enjoy.
They offer two subscription boxes, which includes The Ultimate British Box and The Great British Box. However, they do have one-off boxes as well like The Royal Wedding Box and The British Party Box.
If you're wondering what you'll find inside, pay close attention because it's pretty impressive! The Ultimate British Box will contain 15-16 items, which includes: one large chocolate bar, four full-size chocolate bars, three smaller chocolate bars, four snacks/potato chips/biscuits, three sweets (candy or lollipops), and one pick 'n' mix bag. In your box you'll find English favorites such as Walkers chips, Malteesers, Cadbury Dairy Milk, and much more!
21. Mexitreat
https://www.instagram.com/p/BYezBu4gO9-/
Interested in trying some Mexican delights? Mexitreat is going to be your go-to. Inside your box, you'll find a curated selection of snacks and candies, which includes some of the most popular brands and items. You'll also receive rare and hard to find Mexican treats. Their box is not simply Mexican candy, they deliver the perfect balance of sweet, sour, and spicy treats. You'll be able to snag items like Carlos V Sugar-Free Milk Chocolate, Chocolate Ibarra Hot Chocolate Bars, Sonrics Tix Tix Sour Bubble Gum, and Candy Pop Rebanaditas Watermelon Lollipops.
22. Nostalgic Candy Club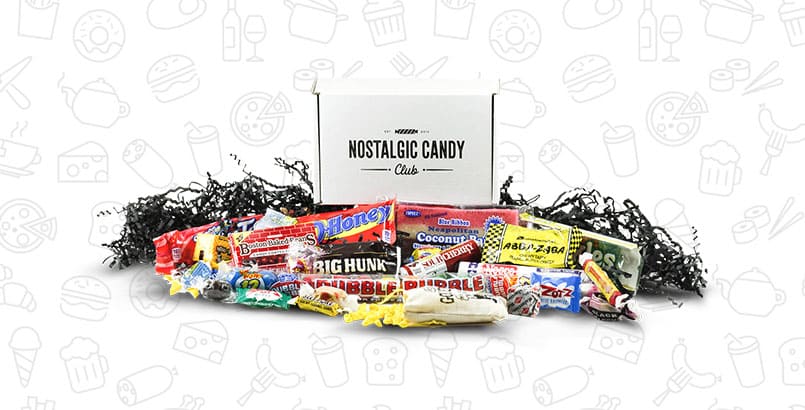 Last, but certainly not least, if you want to take a trip down memory lane, get yourself signed up for Nostalgic Candy Club. This is your place to go for candies and other sweet treats from the 1950s, 1960s, 1970s, 1980s, and 1990s. Each box contains a selection of curated candies, chocolates, and snacks from from the past 50 years.
How We Chose These Candy Subscription Boxes
To bring you a selection of the best candy of the month clubs, we put a lot of time, energy, and effort into researching and testing. We started with nearly 100 candy subscription boxes to choose from and narrowed it down to the 22 that you see on this list currently. To do so, we based our decision on the following points...
How long has the candy of the month club been in business?
Companies come and go. Some are just looking to make a quick buck by reselling random candy at a higher markup. We're not interested in featuring those types of boxes. Instead we narrowed down our selection of candy clubs to ones that have been around for at least a year. Most have been in business for over 2.
What are long-term customers saying?
It's one thing to try a candy club box once and make a judgement. It's another thing entirely to be a long-term, loyal customer. We scoured the web to find in-depth reviews, social media posts, and more from customers talking about the candy boxes they received.
What makes this candy of the month club unique?
As mentioned above, there are a ton of candy clubs to choose from (exactly why we wrote this post). That makes narrowing them down pretty hard. One of the key elements of each box on this list is that they offer something unique, rather than just plain old candy. Some boxes send special international candy, some send artisanal craft chocolate. Each one brings something unique to the table.
Do they offer anything extra?
Lastly, we looked at what miscellaneous things the candy box offered. For example, do they have a satisfaction guarantee? Do they offer free shipping? Do they give back to charity? All of these elements added to our overall decision.