Calling all candy lovers! Wouldn't it put a smile on your face to receive a monthly delivery of premium candies delivered straight to your door? Well, if you need something new to satisfy that sweet tooth of yours, you should check out Candy Club.
While other companies are helping you get into the kitchen and prepare dinner, Candy Club is giving you your regular sugar fix. With gummy treats, sour candies, chocolate, and more, you'll always have a great stash of sugary treats on hand. After all, who couldn't resist having a little something sweet after dinnertime?
To help you decide if it's right for you, we're sharing how you can join, which kinds of candy you can expect to find in your order, and more.
How to Join & Choose Your Items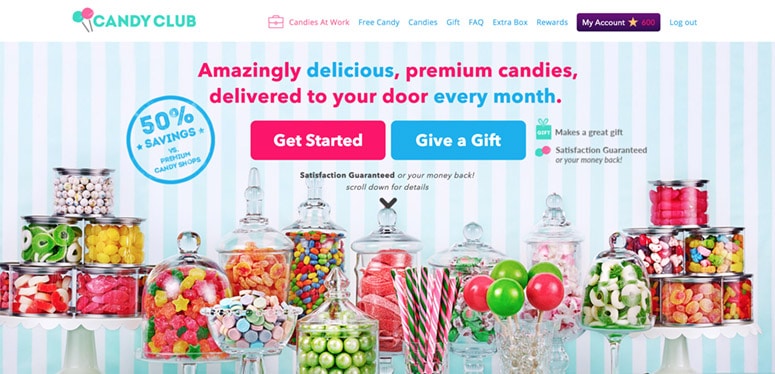 To get started and place your first order, you'll begin by selecting your plan. Candy Club has three different options for you to choose from:
Monthly plan
Six month plan
12-month plan
The decision you make obviously depends on how often you'd like to receive a new box of candy, but you can change your plan at any time if you'd like to increase or decrease the amount of boxes you're receiving.
Inside each box, Candy Club includes three of their featured candies. They'll be packed into their custom Candy Club containers. A splash of wrapped candies will also be included inside the box for an extra special treat. The amount of candy you receive will total up to three pounds, so you'll want to take that into consideration when choosing your subscription.
Once you've selected your plan, you'll have the option to "supersize" your subscription. This will allow you to add one, two, or three extra candies per month at an additional fee. From there, you'll be prompted to sign-up by entering your name, email address, and a password for your account.
Then, you'll have to complete a quiz, which helps Candy Club select the candies they think you'd be most interested in. This helps to ensure you're receiving candy you'll actually like, which is definitely a bonus.
You'll also have the ability to choose the candies you receive in every box. To do this, you'll need to log into your account three days prior to your order date every month. You'll be able to make your candy selections based on what's available. If you don't pick your candies before the deadline, or if you'd rather it be a surprise, the Candy Club team will choose your three candies for you. It's totally up to you!
Types of Food They Offer
Candy Club rotates their selection of candies every month, so you'll always have some different options to choose from. This means you're not likely to get bored with their offerings and you're sure to find just the right candy to suit your taste buds!
They offer customers gummy/chewy candies, sour candies, and chocolate. There's even nostalgic candy and "Better For You" candy. The Better For You candies are more health-conscious. They're made with non-GMO ingredients, sweetened with fruit juice, and don't include any artificial colors or flavorings. If you're someone who strives to make smarter choices with their sweet treats, you'll want to check out the candies in this category.
A few of the chocolate candies they feature include: Albanese Milk Chocolate Pretzel Balls, Arway Chocolate Drizzled Caramel Corn, Taste of Nature Cookies N Cream Bites, and Zachary Dark Chocolate Covered Raisins. If you're into gummy candies, you can expect to find some of the following in your orders: Vidal Spicy Mango, Albanese Fall Mini Gummi Worms, Sweet's Lemonade Rings, Albanese Gummi Strawberry Banana Rings, Kookaburra Liquorice Shooters, and Gustaf's Rainbow Laces.
If sour candy is more your thing, you'll love the Dorval Sour Power Quattro Doubles, Promotion In Motion Sour Jacks Watermelon, Vidal Sour Green Apple Gummy, Gustaf's Sour Mini Gummy Piglets, and Nassau Sour Gummy Octopus. For nostalgic treats, they offer: Goetze's Mini Cow Tales, Mayfair Butterscotch Buttons, Ferrara Pan Atomic Fireballs, and Mike And Ike Tropical Typhoon.
For those who are interested in the Better For You options, you can expect to find: Sweet's Fish Non-GMO, Gustaf's Sour Blue Raspberry Cola Bottles, Guftaf's Sour Mini Bubblegum Flavored Bottles, Gerrit's Gummy Pink Cadillacs, and Gustaf's Sour Strawberry Laces.
Candy Club Collections
Another fun thing about Candy Club is the "Collections" they do each month. It's a rotating group of candies that are curated to follow a specific theme. The collection can be based on taste such as spicy, bold flavors and sometimes they're festive and tailored to the holidays. Sometimes, Candy Club will use these collections as way to simply show off the new candies they have available for their customers.
It's really just an easy way for you to see what Candy Club has to offer, while still allowing you to try some new and delicious treats. It's their hope that these curated collections make it easier for customers to choose their preferred candies each month.
Delivery
All Candy Club orders are expected to ship within one to three business days after the order has been placed or you select the candies you'd like to receive in your box. You'll then want to allow three to five business days for transit time before it arrives on your doorstep.
There's no need to be home during delivery either. Your parcel carrier will leave it in a safe place for you to retrieve it when you return home. Nothing need to be kept cold, so you won't have to worry about anything spoiling. However, if the weather is hot, there's always the potential of something melting if it's left outside for too long.
If you'd prefer, you can also have your order shipped to your P.O. Box instead of to your home address. Candy Club uses FedEx SmartPost for shipping. This means that FedEx initiates the delivery process, but then hands your package off to the United States Postal Service to make the final delivery. This means they are able to ship to P.O. Boxes if you'd like.
Packaging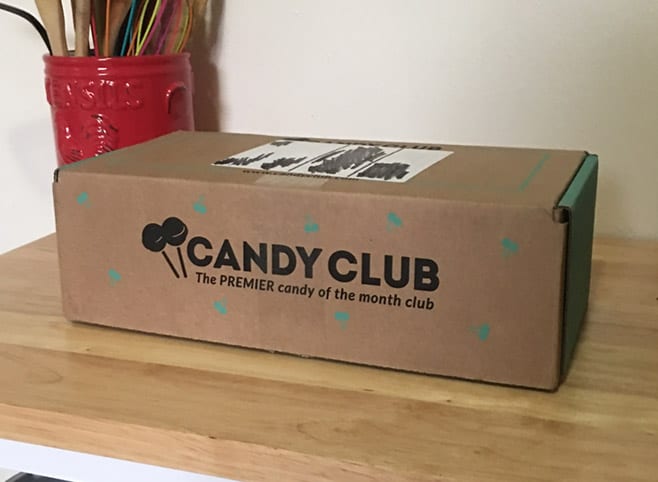 Your order will arrived packed inside a cardboard box. Instead of throwing this out with your regular trash, it can be recycled. The candy will come packed inside custom Candy Club plastic containers. These containers house your candy, so you're able to keep the candy inside these containers until it's finished. Once you're done with them, you can dispose of the containers or reuse them. They'll certainly come in handy for the sweet treats you receive in future boxes.
Pricing
As mentioned previously, there are three different plan options to choose from when placing your order with Candy Club. They offer a monthly plan, a six-month plan, and a 12-month plan. The monthly plan cots $29.99 per month, plus an additional shipping fee. For the six-month plan, you're looking at paying $24.99 per month plus shipping. And finally, the 12-month plan will cost you $21.99 per month and shipping costs.
No matter which plan you go with, you will receive three containers of candy in your box each month. There will also be a splash of additional wrapped candies inside the box for you to enjoy. However, if you'd like to receive an extra sweet treat or two, you can "supersize" your order.
Candy Club gives you the option to add additional candy to your box before completing your checkout. You can add one additional candy for $7.99, two additional candies for $6.99, or three additional candies from $5.99. The more you get, the more you save with Candy Club so there will never be a shortage of candy at your home!
Sweet Rewards Program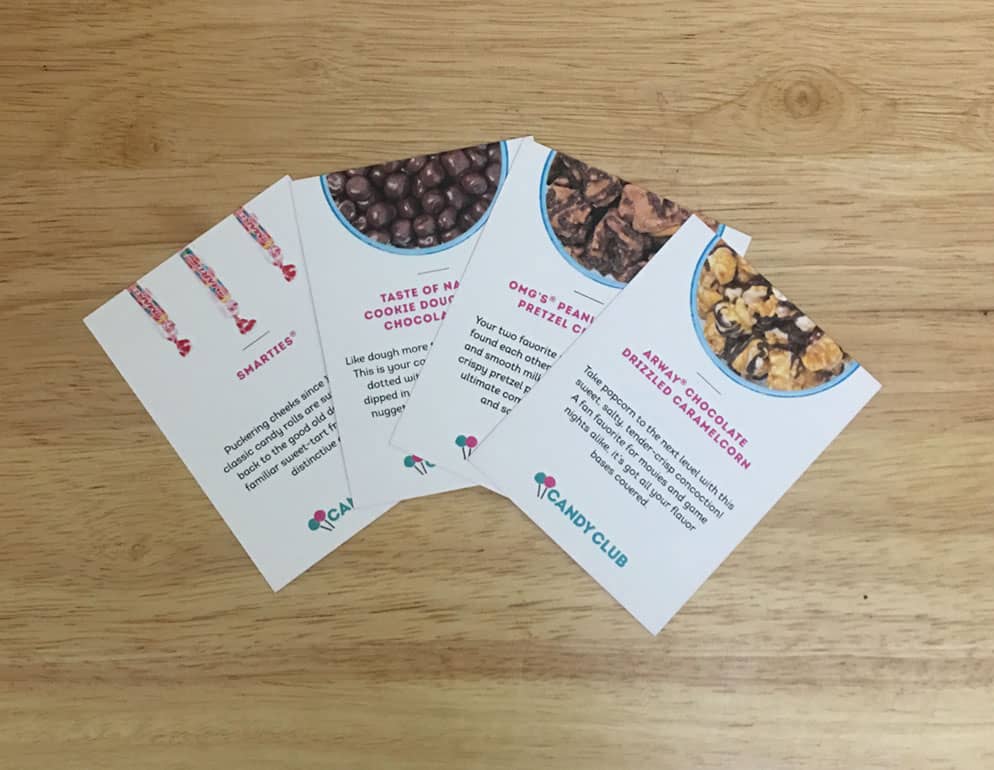 Another benefit of signing up for a subscription with Candy Club is that they'll reward you when you purchase with them. And yes, that means you can receive some free candy! Once you've made an account, you can check out your member dashboard to learn about different ways you can earn points that'll get you some free treats. You'll start earning points for every canister of candy that you purchase for your monthly subscription or when you purchase a single box of candy.
You'll receive additional points for doing things like sharing about Candy Club on social media or rating the candies you've received. For more ways to score extra points, you'll want to pay attention to the emails that Candy Club sends you as well. When you've racked up 3,000 points, you'll be able to redeem your points for a free canister of candy. This free package of candy will ship with the next monthly order you receive.
Membership to the Sweet Rewards program is totally free, so you don't have to pay any additional costs in order to work towards some fee candy. You'll automatically become a member of this rewards program when you place your first Candy Club order. Plus, you don't have to worry about your points ever expiring. You will have them so long as you have an active account. Your points will even be saved if you choose to cancel your subscription, but you are required to have at least one active order to redeem them.
Final Thoughts
If you're looking for a fun way to satisfy your sweet tooth, Candy Club is where it's at! With three tasty candies delivered to your door each month, you'll never have a shortage of sweet treats at your house. This means that you'll always have something tasty to reach for when those candy cravings strike.
Not only that, but Candy Club has made it easier for customers to try new candies they might not have tasted otherwise. From their special collections and the candies they offer on a regular basis, there's a lot to choose from and sure to be something you'll like.
Plus, the addition of their Sweet Rewards program is a fun way to encourage customers to stay subscribed and do extra tasks to rack up points. When you can earn points to get free candy, what could be better?