If you're looking for a delicious, home-cooked meal but don't have the time or energy to cook it yourself, you might be considering a meal delivery service.
Today there are a ton of different meal delivery services to choose from, and because of that it can be hard to decide which one is right for you.
Two of the most popular meal delivery options out there are Freshly and Blue Apron.
While on the surface they may seem similar, both of these meal delivery services have some pretty big differences.
Having spent over 5 years ordering from both Blue Apron's meal kit and Freshly's pre-made meal delivery service, today I'm putting both head to head to see which comes out on top.
In comparing Freshly vs. Blue Apron, my hope is that you'll be able to come to the right conclusion as to which is the best meal delivery service for you.
Food Box HQ Note: In this head-to-head comparison, we'll be evaluating both Freshly and Blue Apron in terms of key criteria. We'll then pick a winner each round and explain why we made that choice. At the end, we'll tally up the score to see which comes out victorious.
Convenience & Ease Of Use
The main reason I use meal delivery services, like many people, is to make my life easier. Whether that means less trips to the grocery store, less time searching for recipes, or even cutting out prepping/cooking entirely.
In terms of convenience and ease of use, both Blue Apron and Freshly have their pros and cons.
Blue Apron meals come as a kit with all the ingredients you need to make a dish from scratch, including spices and sauces. All you need to provide is some basic kitchen supplies and about 30 minutes of your time.
Freshly meals, on the other hand, come fully cooked and ready to eat.
You can either heat them up in the microwave, stove top, or oven, or enjoy them cold if you're in a hurry. No shame—it's what I do when I'm in the middle of a busy day!
While this means less time spent in the kitchen, it also means you have to be more mindful of when you'll need to eat each meal.
I find that I need to plan ahead a bit more with Freshly, since the meals only last in the fridge for about 3 to 5 days.
With Blue Apron, I find that I can cook a meal and then have leftovers for lunch or dinner the next day or later.
From my experience, I believe Freshly is more convenient and easier to use than Blue Apron. However, picking a winner this round is a tough decision to make because the decision really comes down to the ease of use between meal kits and pre-made meal delivery services.
Since pre-made meal delivery services don't involve cooking at all, they'll nearly always have the edge over meal kits when it comes to convenience and ease of use.
My honest opinion is that Freshly is more convenient in the moment, whereas Blue Apron is more convenient in the long run.
I have to give Freshly the win this round, mainly for being a pre-made meal delivery service.
Taste & Quality Of Meals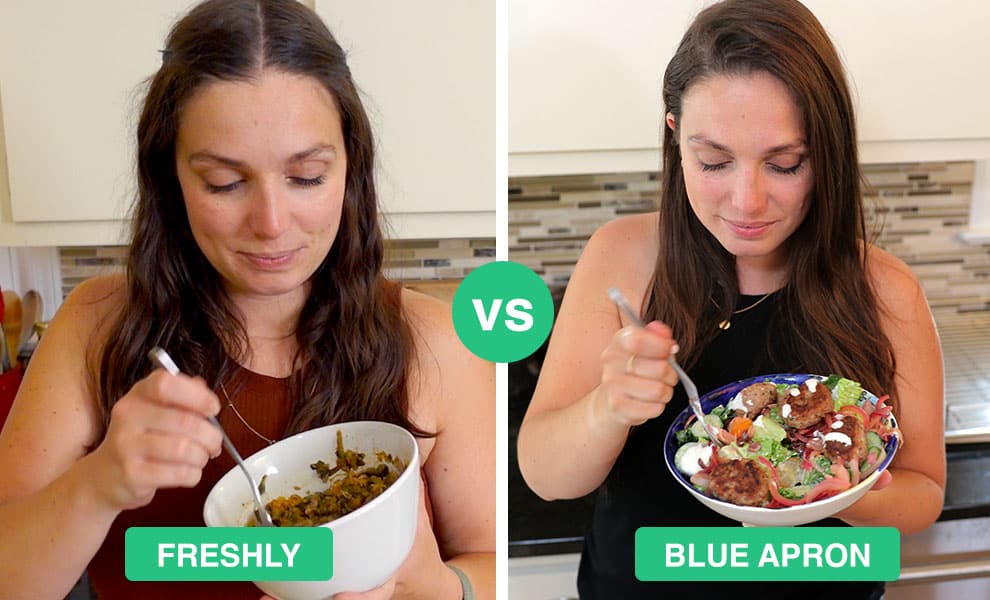 One of the most important factors in any meal delivery service is, of course, the food quality.
After all, what's the point of ordering from a meal delivery service if the food isn't any good?
In my experience, both Blue Apron and Freshly have some great meals and some not-so-great meals.
It really varies from box to box, or in Freshly's case, from meal to meal.
However, I will say that I've mostly been happier with the food from Blue Apron.
This is because I've found their cuisines to be more creative and interesting than the meals I've tried from Freshly. Plus, I find that the food from Blue Apron tends to be more flavorful. This might come down to the cooking process, though. With Blue Apron, you cook the meals fresh. With Freshly, you're basically reheating a meal that was cooked days previously.
For reference, here are some of my favorite Blue Apron meals:
Chicken & Sweet Pepper Tacos with Monterey Jack Cheese
Vadouvan Chicken & Mango Chutney Sauce with Green Beans & Mustard Seed Rice
Korean Beef & Rice Bowls with Vegetables & Fried Eggs
And here are some of my favorite Freshly meals:
Steak Peppercorn with Sautéed Carrots & French Green Beans
Chicken With Butternut Mac & Cheese
Sausage Baked Penne with Sautéed Zucchini & Spinach
However, taste isn't the only criteria we should consider when comparing both Freshly and Blue Apron. The quality of the ingredients used and how they are sourced are, in my opinion, equally as important as taste.
Blue Apron sources their ingredients from a network of farmers, fisheries, and ranchers. Many of them are local, family farms.
None of the ingredients that Blue Apron uses in their meals have added hormones or antibiotics in them. They also only use non-GMO ingredients and use organic ingredients when possible.
The Monterey Bay Aquarium's Seafood Watch has certified Blue Apron's seafood as "Best Choice" or "Good Alternative." In layman's terms, this means that Blue Apron works to ensure the sustainability of the seafood they use.
Freshly, on the other hand, isn't as straightforward about the specifics of where or how they source their ingredients. Their FAQ page simply states that they aim to use high-quality food, without any artificial or processed ingredients. While this is all well and good, it would be nice to know more about where the ingredients come from.
Blue Apron wins this round for having rich and flavorful meals, sourcing high-quality ingredients, and being transparent about where they come from.
Variety Of Meals
From my experience, I have to say that both Blue Apron and Freshly offer a wide variety of meals to choose from each week.
Blue Apron has anywhere from 18 to 21 different meals to choose from each week, while Freshly offers over 50 different meals.
So, if you're just looking for more meal options week to week, Freshly is the way to go.
However, one important thing to keep in mind is that Freshly does not vary or rotate their menu as frequently as Blue Apron. In fact, week over week, I've noticed that much of Freshly's menu stays relatively the same.
Compare that with Blue Apron, where each week is a completely different menu. Only once in a while does Blue Apron bring back some of their top meals.
Blue Apron has also recently began incorporating some pre-made meals into their service. So, now when I log into my account, I have the ability to add both meal kit meals and pre-made meals to my box each week.
Also worth noting, I've had more cuisine variety to choose from while using Blue Apron.
Whereas Freshly really focuses on comfort meals and classics (think Buffalo Chicken or Turkey Meatloaf) Blue Apron offers recipes from all over the world.
For example, in one of our recent Blue Apron boxes I cooked Togarashi Tilapia & Garlic Rice with Marinated Cucumbers & Radishes. This is definitely not a recipe I would have cooked on my own.
Blue Apron wins this round. While Freshly does offer more meals on their menu each week, Blue Apron offers more cuisine variety, rotates in new meals every week, and even offers pre-made meals too.
Add Ons
Both Blue Apron and Freshly offer additional items that can be added into your box.
Freshly offers a handful of add-ons, such as sides like green beans and extra meats like grilled chicken breasts.
Blue Apron offers a bit more when it comes to what you can add to your box each week. These include appetizers such as Tomato & Basil Pesto Crostini with Garlic & Capers, desserts such as Carrot Cornmeal Cake with Mascarpone Maple Frosting, and sides such as Truffled Potato Cakes with Fontina & Sour Cream.
What's more, Blue Apron also gives you the ability to add a wine pairing to every meal. Even though I know nothing about pairing wine to food, this is one of my personal favorite aspects of Blue Apron. No other meal kit currently offers wine pairing, so it's always a fun time when I add them to our box for date night with my wife.
As you can probably tell, Blue Apron does a spectacular job with what they allow you to add to your box each week. Because of that, they win this round.
Portion Sizes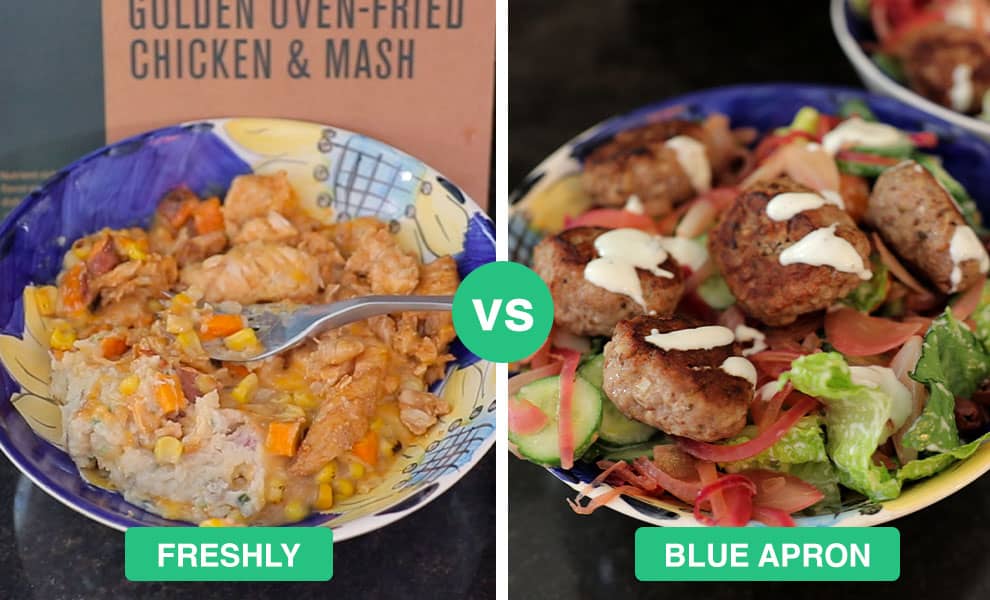 In general, I've never been "wowed" by the portion sizes from any pre-made meal delivery service (except for Mosaic Foods Family Meals).
Freshly's portion sizes are no different. An average meal barely fills a regular sized dinner plate.
On the other hand, Blue Apron's portion sizes are a bit more substantial. I find that their meals usually fill up an entire dinner plate. Occasionally I'll even cook a meal that has some leftovers to spare.
Blue Apron wins this round by having more substantial portion sizes.
Diets & Allergies Accommodated
Both Freshly and Blue Apron have meals that accommodate certain diets. However, both accommodate different diets.
Freshly accommodates the following diets and allergies...
Gluten-Free (they are certified gluten-free)
High Protein (above 30g protein)
Dairy-Free
Soy-Free
Low Carbohydrates (under 35g net carbohydrates)
Low Calorie (under 500 calories)
Vegetarian
Vegan
Freshly also offers a line of meals they describe as being more carb-conscious, called FreshlyFit.
Blue Apron accommodates the following diets...
Vegetarian
Vegan (they use Beyond Meat)
Low Carbohydrates (under 35g net carbohydrates)
Low Calorie (under 500 calories)
Weight Watchers
The biggest diet that Blue Apron accommodates is Weight Watchers (WW). They have a direct partnership with WW, allowing them to craft meals that best fit the specifics of the diet and list out points for each.
The issue I have with Blue Apron is that they are not really that accommodating to those who have food allergies. On their website they state: "All of our ingredients are packaged in a facility that also processes milk, eggs, fish, shellfish, tree nuts, peanuts, wheat and soy. Because of this, we don't recommend ordering Blue Apron if you have a severe food allergy."
Freshly wins this round for being a bit more accommodating to those with specific diets and those who have certain food allergies.
Nutritional Balance Of Meals
When it comes to Freshly, I find their meals do a decent job at staying balanced in terms of a lean meat (mainly chicken) and vegetables. Freshly also has a meal plan that is dedicated to crafting more nutritionally balanced meals, called "FreshlyFit".
These meals generally stay fairly low in carbohydrates (less than 30g per meal) and are relatively high in protein (above 30g). They're also lower in calories than their signature meals (less than 500 calories).
On the flip side, while Blue Apron's meals are a bit more extravagant in terms of cuisines and flavors, I find them to be a bit less nutritionally balanced.
One of my biggest gripes with Blue Apron's meals is that many of their meals are packed with sodium.
I personally like to keep my sodium intake in line with what the FDA recommends (no more than 2300mg per day). At 3 square meals per day, that comes out to around 766mg max per meal.
Whenever I peruse the Blue Apron menu and check the nutrition facts, it's tough to find meals with sodium levels under that. Here's an example of what I mean. Their Indian-Style Paneer & Creamy Tomato Curry has a whopping 1370mg of sodium. There are some lower sodium options on their menu but, from my experience, Freshly has even more low-sodium meals to choose from.
Freshly wins this round for having FreshlyFit, a full meal plan that is dedicated to nutritionally balanced meals.
Delivery Areas
Both Blue Apron and Freshly only deliver to the contiguous United States (also called the lower 48 states). This means that they both cannot delivery to Alaska or Hawaii.
Also worth noting, because Blue Apron allows you to pair wine with their service, they are restricted by states alcohol laws in where they can deliver. They can't deliver wine to the states listed here.
Since Blue Apron's wine delivery limits where they can deliver, Freshly wins this round.
Packaging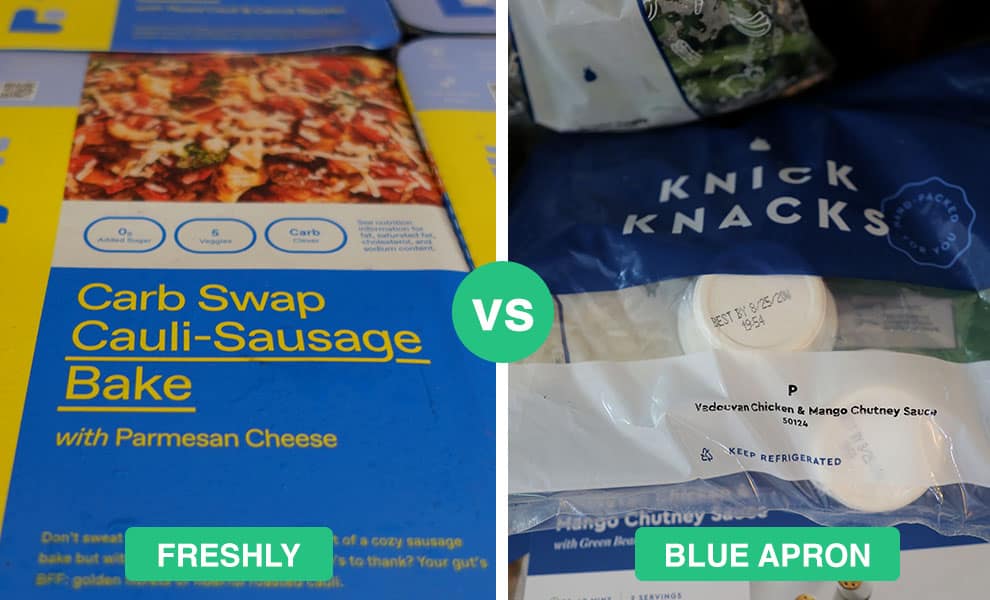 While sometimes overlooked, how a meal delivery service packages the food they deliver is important.
First and foremost is the organization of the food within the package.
Being a pre-made meal delivery service, Freshly's unboxing experience is very organized. All of the meals are individually boxed up and neatly placed within the cardboard package it's delivered in. The outer tray of the meal has important key info, such as what the meal is, the best by date, nutrition facts, and heating directions.
I found Blue Apron's unboxing experience to be a bit less organized. For example, all of the ingredients are thrown in the box, seemingly at random. It would be much more helpful if they bagged up each set of ingredients by recipe (like HelloFresh does).
When it comes to which boxes packaging is most eco-friendly, Freshly wins by a landslide. This again has to do with the fact that Freshly is a pre-made meal delivery service so they use less packaging materials (such as hard to recycle plastic).
Being a meal kit, Blue Apron wraps each of their ingredients in plastic, creating much more waste.
Freshly wins this round for offering a more organized unboxing experience and having the more environmentally friendly packaging.
Ease Of Canceling & Making Changes
Canceling Freshly is very simple, you just head over to "settings" in your account where you'll see "cancel subscription".
Blue Apron does not make it as easy to cancel your account. Instead of simply giving you the ability to cancel within your account, you have to email cancellations@blueapron.com.
The good news is, from my experience, the process is automated. Once I emailed them to cancel my account, they immediately sent back instructions on how to complete the cancellation process.
Making changes to your plan or account on either is pretty straightforward. For example, both Blue Apron and Freshly give you the ability to skip a week of meals. You can also easily change the specifics of your plan within your account settings.
Since Blue Apron makes it a bit harder to cancel your plan, I have to give the win to Freshly this round.
Pricing
Both Freshly and Blue Apron have different meal plans, each with their own unique pricing.
With Blue Apron, pricing can vary as high as $9.99 per meal to as low as $7.49 per meal depending on the exact plan and serving size you go with. It's also important to note that Blue Apron charges $9.99 for shipping on every box.
As for Freshly, they price their meal delivery service based on the amount of meals you order (rather than the plan, like Blue Apron does).
I have to say, the way Freshly breaks up their pricing is a little confusing. They "tier" their plans out in an effort to make it seem more flexible but it really just becomes a headache trying to calculate what one meal costs at each level.
Here's a breakdown of their pricing:
4 meals a week is $47.16 + $9.99 shipping = $57.15
5 meals a week is $58.95 + $9.99 shipping = $68.94
6 meals a week is $59.94 + $9.99 shipping = $69.93
7 meals a week is $69.93 + $9.99 shipping = $79.92
8 meals a week is $75.92 + $9.99 shipping = $85.91
9 meals a week is $85.41 + $9.99 shipping = $95.40
10 meals a week is $92.90 + $10.99 shipping = $103.89
11 meals a week is $102.19 + $10.99 shipping = $113.18
12 meals a week is $107.88 + $11.99 shipping = $119.87
You'll notice that the more you order, the less expensive it is on a per-meal basis. To put this is perspective, on their lowest 4-meal per week plan, each meal comes out to $11.79. And on their highest 12-meal per week plan, each meal comes out to $8.99.
Like Blue Apron, Freshly also charges for shipping on every order. However, Freshly charges up to $11.99 for the largest box they offer.
Blue Apron wins this round for offering less expensive meals as well as charging less for shipping.
Refund Policy
In my opinion, it's important that a meal delivery service has a proper refund policy in place. The last thing you want is to order a box of food for it to arrive spoiled and be left having wasted money.
Blue Apron has, what they call, a "Freshness Guarantee" whereby they will credit or refund your account if you're unable to cook with one of their ingredients.
Freshly is a little vague on what the specifics of their refund policy is. However, they do say that they will help in the case where your meals arrive damaged. There is no exact language on how they will help by processing a refund or credit.
Since Blue Apron is more forthcoming on their refund policy, they win this round.
Customer Support
If you have a question or concern, whether you're a customer or not, it's important that you have the means to get in touch with the company.
Fortunately, Freshly makes it very easy to get in touch with them about anything. They offer support services in the following ways:
Chat
Facebook Messenger
Email
Phone
Text Messaging
On the flip side, I've found that it's much tougher to get in contact with a Blue Apron representative. While they have a robust Help Center, even going to their "Get In Touch" page leaves you without a direct way to contact them directly until you dig even further by going here. What's more, even by going to that contact page, you have to click even further to find a contact form to fill out here. To be honest, it seems like they're trying to hide the contact page.
Freshly wins this round by a mile for providing multiple simple ways to get in touch with them.
The Winner Is...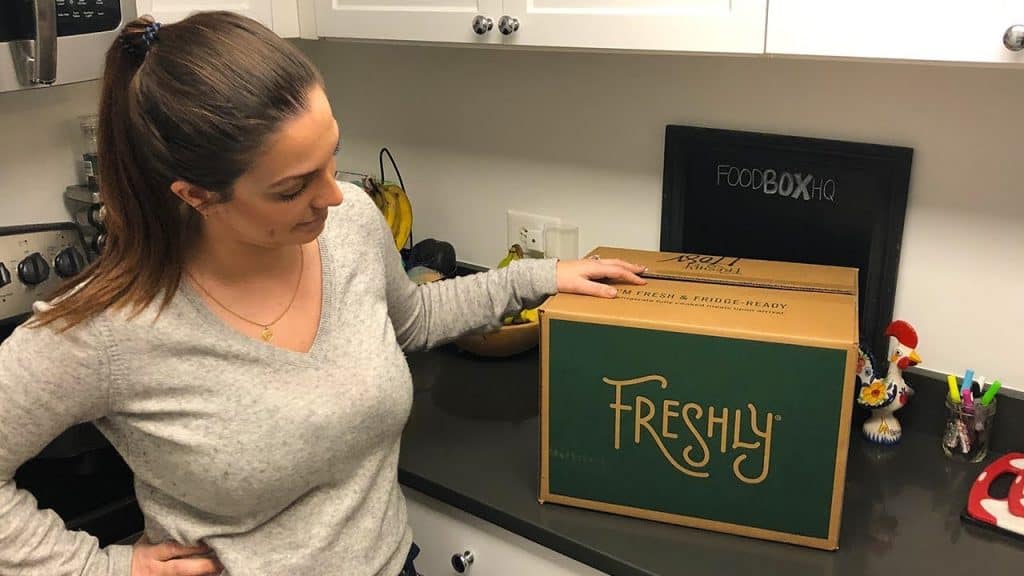 This was one of our closest comparisons to date. It almost ended in a tie!
However, Freshly just barely nudged out Blue Apron to take the win.
In all honesty, neither Blue Apron or Freshly are "bad" meal delivery services. In fact, both have made many of our top picks articles.
While I hope this comparison helped you understand the key differences between both meal delivery services, your final decision should be make on what you personally value most.
If you are between both, I highly suggest reading over our in-depth reviews of both Blue Apron and Freshly. This will not only provide you with a deep dive on what they offer but also give you more insight into our own personal experience using them over an extended period of time (our favorite meals, pros/cons, how to recycle the packaging, taste tests, coupons, and more).
Our Methodology For Comparing Meal Delivery Services
As you can probably tell from reading this article, we take reviewing meal delivery services seriously. As such, we want to make sure you know what goes into comparison articles like this one. Below is an overview of how we prepare and write these articles.
Every meal delivery service we compare if first thoroughly reviewed by the Food Box HQ team. This include, but is not limited to, purchasing the meal delivery service, using it for an extended period of time, and gathering notes. We then turn those reviews into articles you can read here and/or watch here.
To prepare for these comparison articles, we look back at our notes, past review articles, past review videos, and perform the necessary research to ensure we answer any and all questions someone might have about either meal delivery service.
While we do sometimes include affiliate links to help us pay for the meal delivery services and hosting the website, we never accept sponsored content or payment to write about any meal delivery service.
Have a question about either Blue Apron or Freshly that we didn't answer here? Have you tried one or both of these meal delivery services? Let us know in the comments below!