You've just gotten home at the end of a long day. You're tired and hungry, but the last thing you want to think about is what's for dinner. Preparing a meal takes time, from the planning stages to the actual cooking. If you're like me, some days you just don't have the energy and you find yourself dialing up your favorite takeout restaurant – again.
There's nothing wrong with enjoying a meal someone else prepares for you, but it can end up being both expensive and unhealthy.
Cooking for yourself at home takes time, sure, but it doesn't have to be difficult. With a great recipe, the right tools, and a few simple tips you can learn how to prepare healthy and delicious meals that don't keep you in the kitchen all night.
Get On Board With Meal Prepping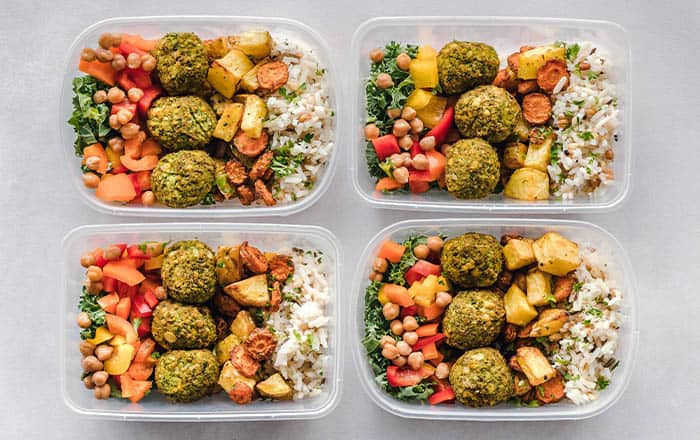 It's all over Instagram and Pinterest. People who are serious about eating clean or just saving time during the week spend an hour or two every Sunday prepping meals for the week.
You don't have to go all-out but taking an hour to prepare everything all at once can save you a lot of time later in the week. If half the work is already done, you'll likely be less tempted by the convenience of take out. You can even prep your lunches for the week, like me, while you're at it.
Here are some simple tips I've found for meal prepping success:
Start simple. It may not be particularly exciting but starting simple with meals like chicken breast with steamed veggies can help you ease into the habit of meal planning. This is where an Instant Pot can come in handy.
Keep it balanced. When planning your meals for the week, be sure to include all the major food groups to keep it balanced. Protein is important, but healthy carbs like brown rice, quinoa, and veggies will round out the meal and leave you feeling satiated.
Invest in storage containers. If you're going to any prep ahead of time, you'll need some decent storage containers. Plastic wears out and is prone to scratching, so go with glass. You can find glass containers with matching lids in just about every size. Good Housekeeping recommends the ones I use—simple glass Pyrex containers. Or, if you want to get fancy, I've seen a lot of people use these types of meal prep containers that separate food out. They're also stackable, which keeps things a bit more organized.
Make it a habit. Once you start meal planning, you'll get a feel for how long it takes you to choose recipes for the week and to do the basic prep work (if you decide to do it all at once). From there, you simply have to make time for it in your weekly routine and keep doing it week after week.
Keep track of your favorite recipes. We all get bored of eating the same things from week to week, so it's good to have a large repertoire of recipes. Keep all of your recipes centralized and flag the ones your family really likes so they're easy to find. Since we order so many meal kits, Emily and I like to save the recipe cards from meals we enjoy and remake them in the future.
If you're completely clueless with where to start with meal planning, you can find plenty of guides online. One of my personal favorites is Meal Prep On Fleek. They have a ton of simple delicious recipes on their site. Plus, they make it easy to filter by calorie count.
Keep Your Pantry Well Stocked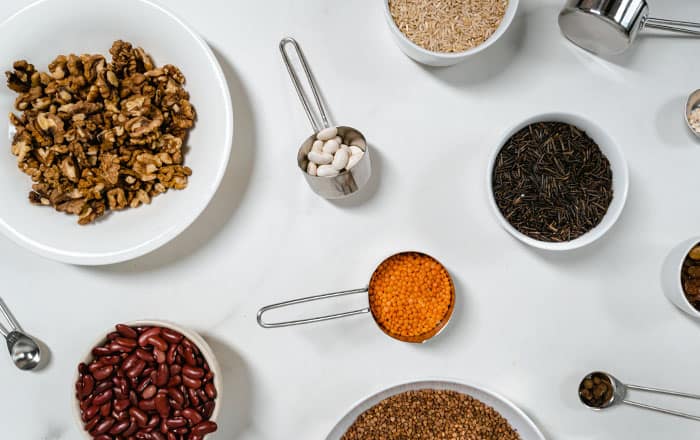 Whether you choose to plan your meals ahead of time or not, having a well-stocked pantry is the key to success. Nothing is worse than setting out to prepare a meal just to discover you don't have one of the main ingredients. If you keep the essentials on hand, you'll never have to worry.
When it comes to pantry essentials, we're talking more than just cooking oil and spices. Here's what we keep within arms reach in the kitchen:
Brown rice
Quinoa
Whole-wheat pasta
Canned vegetables
All purpose flour
For more inspiration, here is a pretty extensive list from the NY Times that could be help you too.
But if you have a preference for certain (more unique) ingredients, I'd suggest stocking up on them in bulk so you never run out in the middle of a prep. Costco is your friend :).
Invest In Time-Saving Appliances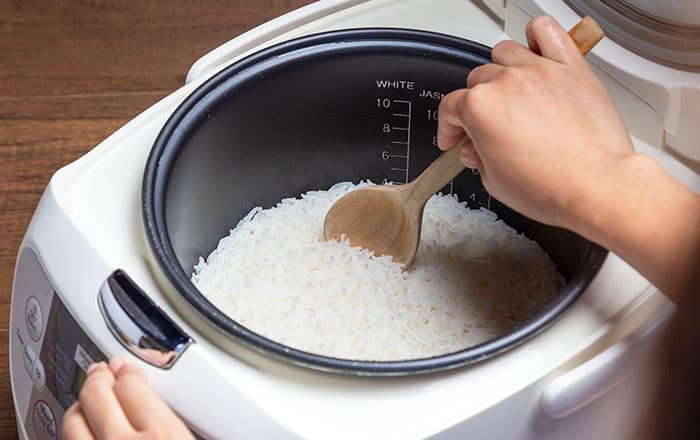 You don't have to have an unlimited budget (or unlimited storage space, for that matter) to have a well-stocked kitchen. Investing in a few simple appliances can save you a lot of time in the kitchen and if cooking is made a little bit easier, you're more likely to do it.
Here are the top three small kitchen appliances to consider:
Rice Cooker – There's nothing too difficult about making rice, but when you're caught up in chopping and sautéing, it can be easy to forget about it. A rice cooker is easy to use, and it guarantees perfect rice each and every time. Plus, they come in all different sizes so you can cook enough for a single meal or make a whole week's worth of rice at once. Here's my personal favorite. I like that it comes in multiple different sizes, it's super simple to operate, and it's cheap!
Slow Cooker – If you don't have the time or motivation to cook after work, let a slow cooker do it for you. It only takes a few minutes to prep a simple slow cooker recipe and you can set it to cook while you're away and come home to a hot and tasty meal. We use an old crock pot like this one but there are a lot of cheaper options out there.
Pressure Cooker – Chicken, pork, and even the toughest cuts of beef can be prepared in minutes with a pressure cooker. To make things even easier on yourself, go with a multi-functional model like the Instant Pot which combines a rice cooker, slow cooker, and pressure cooker. Not only do I have one but I gift it to family members whenever I can. They aren't cheap but they make cooking so much more simple and quick! The best part is if you opt for the Instant Pot over a traditional pressure cooker, it also doubles as a slow cooker.
Once you get into home cooking, you might want to expand your arsenal of kitchen appliances. A food processor makes quick work of tedious tasks like shredding or slicing, and a pro-level blender is a valuable tool for making purees, soups, and smoothies.
While a bit more expensive, you may also want to consider a chest freezer down the line. I've found that it makes stocking up on frozen meats much easier. This is the one I ended up going with.
Make A Detailed Grocery List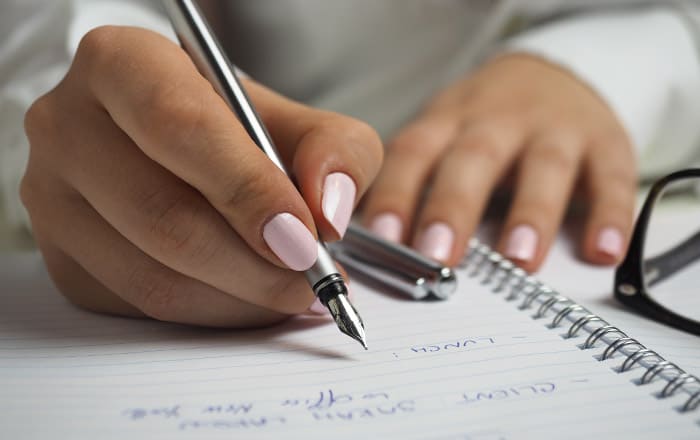 Whether you're choosing your meals ahead of time or not, it's a good idea to have some kind of plan when you go to the grocery store. Having a list helps make sure you don't end up coming home with a lot of things you don't need. It can also save you money!
If you're going to be planning your meals, run through the recipes ahead of time and make note of everything you'll need. If you prefer to be a little more spontaneous, simply stock up on the essentials like fresh meat and produce to pair with your pantry staples.
Another way to save time before you even start cooking is to shop for groceries online. These days I use Instacart but Shipt is another good alternative. Many major grocery chains offer online ordering too (for example, Whole Foods). You can have your groceries delivered or pick them up outside the store.
Always Make A Little Extra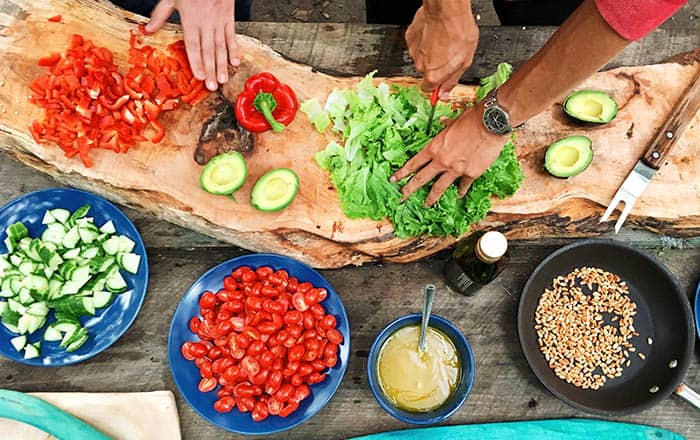 If you're going to put in the effort to prepare a meal, be sure to make the most of it. Double the recipe or prepare a few extra servings so you can enjoy the leftovers for lunch or reheat them for dinner the next day. You might even want to pop a few servings in the freezer, like I do, for later.
Here are 6 simple meals that I find are great for leftovers:
Chili – Warm it up in a saucepot and serve it with diced red onion and shredded cheese.
Stuffed Shells – If you're planning for leftovers, save some of the assembled shells before baking so they'll taste nice and fresh.
Casseroles – Many casseroles are one-pot recipes that are simple to prepare, and they tend to freeze well.
Soups and Stews – Most soups and stews tend to freeze well – just be sure to leave room at the top of the container for the liquid to expand.
Mac & Cheese – Nothing is better than homemade mac and cheese, except maybe being able to enjoy it again the next day.
Rice Dishes – Rice is a filling foundation for a great meal and it's easy to pack up single servings for leftovers to keep in the fridge or freezer.
There are plenty of meals that make for great leftovers – some of them even taste better the next day.
If you're planning to store a few servings in the freezer, just be sure to use freezer-friendly containers. Storing frozen food improperly can lead to freezer burn. Here are some tips from Taste Of Home that I've found helpful.
Make Cleanup Quick & Easy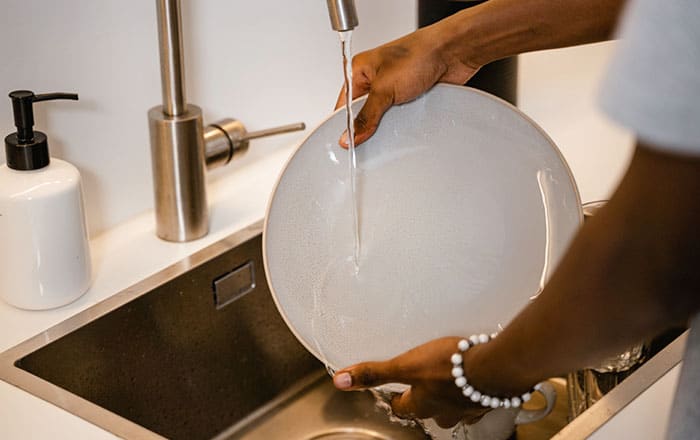 For many people, half the problem with cooking is the fact that you have to clean up afterward. This is actually one of the main reasons I'm such a big fan of pre-made meal delivery services—no cleanup! Fortunately, there are simple things you can do to minimize kitchen cleanup when you're done cooking. Here are some of my favorite tips and tricks I've picked up along the way...
When baking things in the oven, use parchment paper or tin foil to cover the baking tray or pan. If that doesn't quite work with your recipe, be sure to use plenty of cooking spray so you don't end up spending time having to scrape and scrub it later.
As tempting as it may be to leave dishes to soak, there's a good chance they'll end up sitting there for days on end. I find loading the dishwasher as I cook helps me massively cut down on time later on.
If your chopping skills aren't lightening speed like this guys, I'd recommend buying pre-chopped produce. They may cost slightly more than whole veggies but it cuts out some tedious steps of the cooking process.
Keep Your Knives Sharp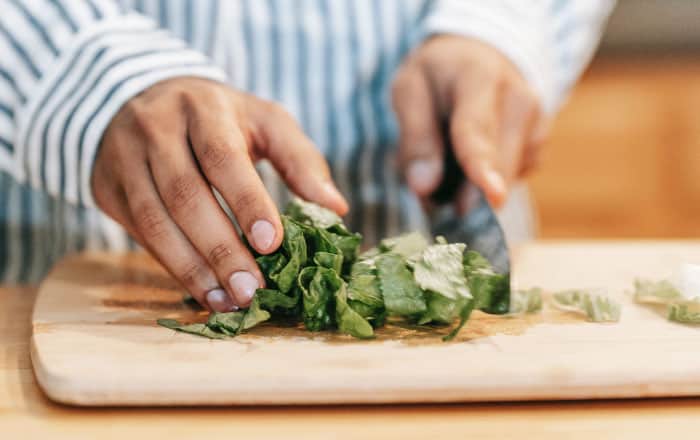 When you think of kitchen essentials, things like the oven and stove top probably come to mind. Before you even get to the point of cooking, however, you're probably going to have to chop something. I can tell you from experience that having a good set of kitchen knives makes prep work a heck of a lot less frustrating.
You don't necessarily need to spend a lot on kitchen knives, and you don't even need an expansive set. If you're building a set from scratch, start with a chef's knife. Something in the 8- to 10-inch range is ideal because the longer edge makes the knife more versatile.
We picked up a chef's knife from Misen since we do so much different cooking for this blog and our YouTube channel. It's a bit more expensive than what I'm normally used to spending but I am thoroughly impressed with how well it cuts and how good it feels in the hand.
The next most important kitchen knife to have on hand is a paring knife. These are smaller knives, generally between 3 and 5 inches long. They're ideal for slicing and mincing foods that are too small for your chef's knife. Just be sure not to use them on hard veggies like carrots – that's what your chef's knife is for. If you have the budget, you might even want to splurge for paring knives in a few different sizes.
Once you've assembled your knife kit, it's essential that you keep them sharp. Some cooks consider the honing steel the second most essential tool in the kitchen (after the chef's knife, of course). Hone your knives every time you use them but know that you may still need to have the blades professionally sharpened about once a year to keep them in tip-top shape. Or, if you're like me and you want the cheap and easy option, there are a ton of electric knife sharpeners out there. We have one like this for times when we need to sharpen quickly.
Learn How To Keep Food As Fresh As Possible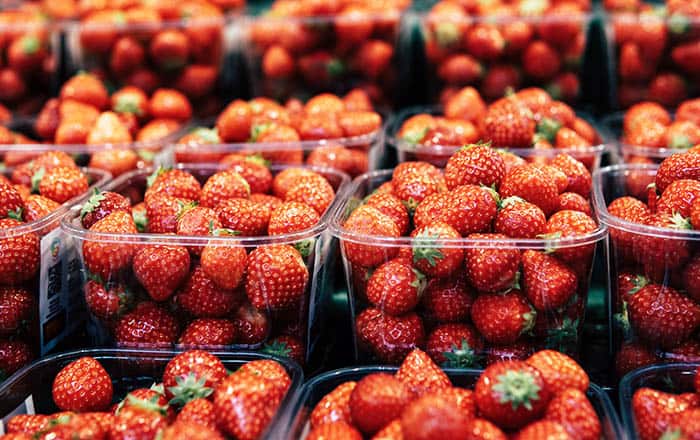 Nothing is a bigger waste of time than getting halfway through a recipe just to find that your greens have wilted or your onions have gone bitter. Cooking is much easier with high-quality ingredients, so it pays to learn how to keep your food fresh so you can make the most of it.
Here are 6 simple tips I've picked up over the years for proper food storage:
Store greens in a plastic container with paper towels. Line the container with paper towels to absorb excess moisture and save your greens from going damp and wilted.
Keep herbs fresh in a glass of water or roll them up in damp paper towels. While you want to keep greens from getting too damp, herbs stay freshest when they're kept hydrated.
Store your tomatoes at room temperature. Keep them out of the sun and store them stem-side-down on the countertop away from the stove. This helps them stay ripe for longer.
Wash and dry berries before storing them. Rinse fresh berries in a mixture of one part white vinegar and three parts water before thoroughly drying and storing in a sealed container. This helps rid the berries of microscopic mold spores.
Keep onions, potatoes, squash, and garlic out of the fridge. Storing these foods in the fridge can cause them to go bitter or to spoil sooner.
Don't store fruits and vegetables together. Fruits give off ethylene gas which can cause your veggies to spoil faster, so keep them separate.
If you find yourself with extra ingredients on hand or ones that are going to go bad soon, I recommend trying to look for a way to use them. Why? Nearly 40% of all American food is thrown away every year.
Don't Feel Bad About Buying Pre-Packaged Items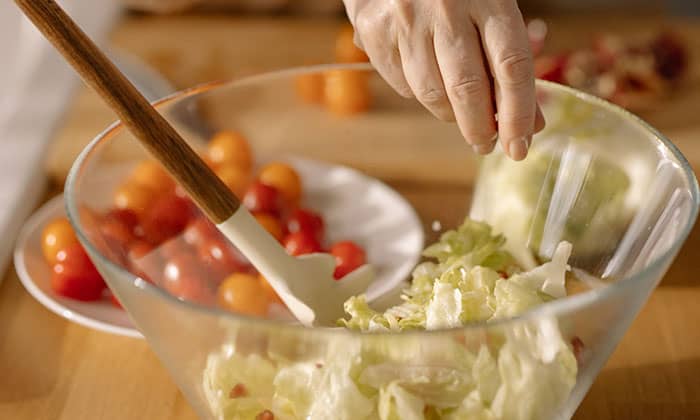 Although I made note of this in an above point, it's worth repeating for the sake of your convenience.
Sure, fresh pesto tastes great tossed with tender pasta, but do you really have the energy to make it yourself? There's no shame in taking a few shortcuts when it comes to home cooking. Things like pesto, pasta sauce, and pre-shredded cheese can save you time and hassle when prepping a meal.
If you're really new to home cooking and looking to simplify, you can even find pre-chopped veggies in the produce section at your grocery store. Many stores go to the extra trouble to package veggies that tend to go together like onions and peppers. If you're worried about chopped veggies going bad, you can always stick with frozen veggies instead.
In fact, the freezer section is a great place to shop if you're looking to minimize your time in the kitchen. You can find everything from pre-cooked chicken breast to oven-ready lasagna. Even if some of these options don't fully count as "home cooking," they're still an agreeable alternative to takeout.
A Final Word
When it comes to cooking at home, there's no set formula you have to follow. Choosing recipes is all about personal preference, and you can always improvise with whatever ingredients you have on hand. You don't have to be a professional chef – you just have to show up and try.
As you get into the habit of home cooking, don't be too concerned with doing things "right" from the start. Your kitchen table doesn't have to look like an Instagram post from Martha Stewart. With time and practice, you'll get into the habit of planning and prepping your meals to best .
Before you know it, your takeout menus will be gathering dust and your family will be enjoying a healthy, home cooked meal more nights than not.