Whether you're looking to eat healthier, try a new diet, or simply don't have the time to make meals, pre-made meal delivery services can be a lifesaver.
However, there's no single service that can meet the needs of every individual. That's why you'll find dozens of different meal delivery services available these days, each with their own unique advantages (and disadvantages).
Trifecta Nutrition is no different. While it can be a great choice for some individuals with specific dietary goals, it may not be the right choice for others.
In this article we'll explore the most important aspects of Trifecta Nutrition that you should be aware of prior to ordering. In doing so, you'll be able to make the most informed decision about whether it's really the right choice for you.
Food Box HQ Note: This article will focus on information about Trifecta Nutrition rather than my personal view of Trifecta's meal delivery service. If you're more interested in hearing what our personal thoughts are on Trifecta Nutrition (having used them throughout the years), I highly suggest you read our in-depth review of them here.
Before getting into the specifics of what you should know, let's first get a bit of a background on Trifecta Nutrition…
First, What Is Trifecta Nutrition?
Trifecta Nutrition is a pre-made meal delivery service focusing on healthy, whole-food meals. They're mainly geared towards athletes and bodybuilders who want to feel nutritionally supported as they reach their fitness goals, which includes bodybuilders and athletes who need to hit restrictive macro goals and eat specific foods. They also provide plans for those looking to lose weight with a specific diet, such as keto.
As a pre-made meal delivery service, all their food arrives cooked and ready to eat. All you need to do is heat in the microwave, stovetop, or oven, and you'll have a fresh and hot meal ready. Additionally, they provide meals for breakfast, lunch, and dinner (as well as an optional 4th meal) 7 days a week, which means you can have every meal covered.
While Trifecta might seem like just a meal delivery service on the surface level, it surprisingly has a lot to offer besides just ready-made meals. This aspect of their service is what sets them apart from other health-focused pre-made meal delivery services. Be sure to keep reading as I'll go more in-depth about what those special perks are below.
Understanding Trifecta Nutrition's Plans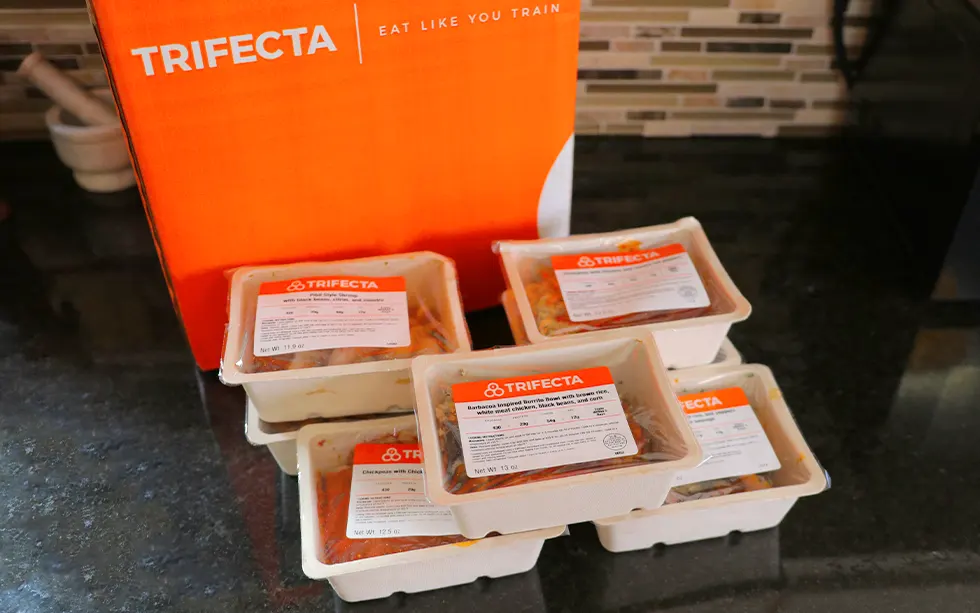 Trifecta Nutrition offers 2 different sets of plan: Convenience and Control. Here's what you need to know about each...
Their Convenience Plans
Trifecta designs their recipes based on the meal plan you choose. They currently offer 6 meal plans, which are:
Keto Meal Plan
Paleo Meal Plan
Clean Meal Plan
Whole 30 Approved Meal Plan
Vegan Meal Plan
Vegetarian Meal Plan
These meal plans are under their Convenience category, which means that the meals are "chef selected." In other words, the meals are picked for you rather than you picking the meals yourself.
The menu changes weekly, and each meal is made with fresh, sustainably sourced ingredients. Because Trifecta focuses on quality over quantity, they only use in-season produce. They also do not use any artificial or processed ingredients or preservatives.
On any Convenience plan that you choose, you are able to add breakfast, lunch, dinner, and a fourth meal option as well. This is for big eaters or athletes and bodybuilders who are trying to put on weight.
Their Control Plans
Trifecta offers a Meal Prep Plan with a bulk a la carte menu under the Control category. This is a great plan to consider If you want full control of your meals but still want the convenience of prepared and cooked ingredients. On this menu, you can find single ingredients, such as grilled chicken breasts, green beans, and white rice. Then, you create a meal at home with the fully cooked ingredients that you ordered.
Also under the control category are the Classic Meals Plan, Budget Meal Prep, and Meat Lovers Meal Prep Kit.
The Classic Meals are simple, pre-made meals featuring a protein, a carb, and cooked vegetables without any sauces or specific seasoning. The Budget Meal Prep is the same as the Meal Prep bulk a la carte plan, but at a cheaper price with fewer options. Finally, the Meat Lovers Meal Prep Kit is simply bulk meat options, best for people who want to stock up on meat or those following the carnivore diet.
Who Comes Up With Trifecta's Recipes?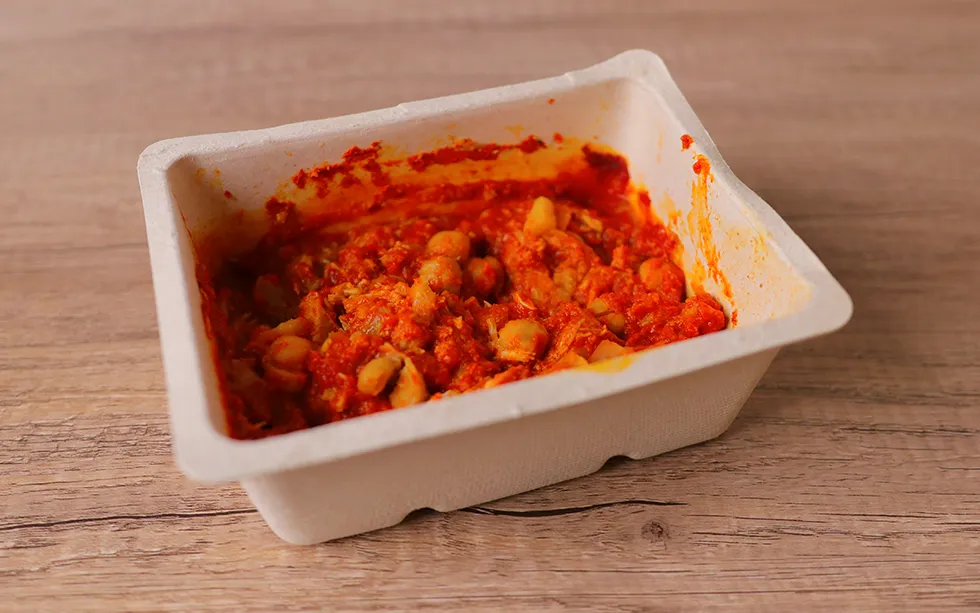 The recipes offered by Trifecta Nutrition are crafted by Executive Chef Mario Limaduran, who vast amount of experience in creating healthy, nutritionally-dense meals for athletes. With a background that includes creating meals for Olympic athletes and cooking for professional sports teams such as the NFL, MLB, NHL, and MMA, Chef Limaduran brings a wealth of knowledge and expertise to the Trifecta team.
In addition to Chef Limaduran's expertise, the recipes are also co-created by the in-house nutritionist and dietician, Emmie Satrazemis. With her experience serving as a dietician for the Navy SEALs, she brings a unique perspective to the recipe development process, ensuring that each recipe is both delicious and nutritionally sound.
The weekly menu is also carefully managed by the Trifecta team, which includes Kiah Connolly, MD (health director) and Scott Leibfried (Director of Product-Food Manufacturing).
Together, this team of culinary experts ensures that each recipe adheres to a specific dietary plan and is macro-balanced.
Can Trifecta Nutrition Cater to Specific Allergies?
Yes, Trifecta Nutrition caters to specific allergies, including dairy, soy, tree nuts, gluten, shellfish, and mushrooms.
All of their meal plans are gluten-free, except the Keto plan. That said, their meals are not made in a certified gluten-free kitchen. This is something to consider if you have a severe gluten allergy or intolerance. The Paleo and Whole 30 Approved meal plans are completely free of dairy, gluten, soy, and grain to align with those diets.
No matter the meal plan you choose under the Convenience category, you'll be able to choose two items to exclude: shellfish, salmon, white fish, tree nuts, chicken, red meat, mushrooms, turkey, pork, and duck.
If you have a food allergy or intolerance that isn't listed above, you'll want to choose a meal plan under the Control category, such as Meal Prep or Budget Meal Prep. That way, you'll receive the exact ingredients you want without worrying about a potential food allergen.
How Customizable Is Trifecta Nutrition?
When it comes to meal delivery services, customization is a key factor to consider. Everyone has different dietary needs and taste preferences, and being able to tailor your meals to meet those needs is one of the key benefits of using a meal delivery service in the first place.
Trifecta Nutrition is one of the most customizable meal delivery services we've reviewed here at Food Box HQ.
As mentioned in the previous section, you're able to exclude specific ingredients from your meals. While impressive, there are other meal delivery services that offer this too (such as Fresh n Lean and ModifyHealth).
Where Trifecta Nutrition takes customization to another level is with their Meal Prep plans. In these plans you have the ability to truly create your own meals. By giving you the ability to select their own meats, carbohydrates, and vegetables, you're able to mix and match the individual foods to create a meal that not only hits the specific macros you want but also the taste.
Trifecta Nutrition's Range Of Prices For Their Plans
Trifecta Nutrition's pricing can vary depending on the plan and the number of meals/days you choose. Here's the pricing for each meal plan in the Convenience category if you were to choose breakfast, lunch, and dinner for 7 days a week:
Keto Meal Plan: $310.99 per week (about $14.80 per meal)
Paleo Meal Plan: $310.99 per week (about $14.80 per meal)
Clean Meal Plan: $310.99 per week (about $14.80 per meal)
Whole30 Approved Meal Plan: $310.99 per week (about $14.80 per meal)
Vegan Meal Plan: $239.99 per week (about $11.42 per meal)
Vegetarian Meal Plan: $239.99 per week (about $11.42 per meal)
Here are the prices for various food items you can purchase in their meal prep plan under the Control category:
Free-range chicken breast (1lb / 16oz / 4 servings) - $24.99
Grilled Salmon (1lb / 16oz / 4 servings) - $37.49
Grass-Fed Bison Burger (1lb / 16oz / 4 servings) - $32.99
Grass-Fed Beef Burger (1lb / 16oz / 4 servings) - $20.95
Organic Sweet Potato (1lb / 16oz / 4 servings) - $9.99
Organic Brown Rice (1lb / 16oz / 4 servings) - $10.99
Organic Broccoli (1lb / 16oz / 4 servings) - $15.99
Organic Asparagus (1lb / 16oz / 4 servings) - $19.99
Butternut Squash (1lb / 16oz / 4 servings) - $19.99
Are the Ingredients High-Quality & Sustainable?
Yes, Trifecta Nutrition focuses on using organic, minimally processed, and sustainably sourced ingredients. They try to source as much as possible from local family-run suppliers who practice sustainable agriculture.
Even though they use organic as much as possible, they are not certified organic. Here's what they have to say in their FAQ section concerning organic ingredients:
"The USDA has regulations for different levels of organic. In order to have the USDA Organic seal on an item, 95% or more of the ingredients must be certified organic. We do not currently have the USDA organic seal on our meals. We use organic vegetables as often as possible for our Clean, Paleo, and Whole30 meal plans but cannot guarantee that all or any specific % of ingredients will be organic due to fluctuations in supplier availability."
That said, Trifecta Nutrition is currently working to include the organic seal in the future. Below you'll find an interesting infographic explaining the differences between meals that have a USDA organic seal and Trifecta's meals.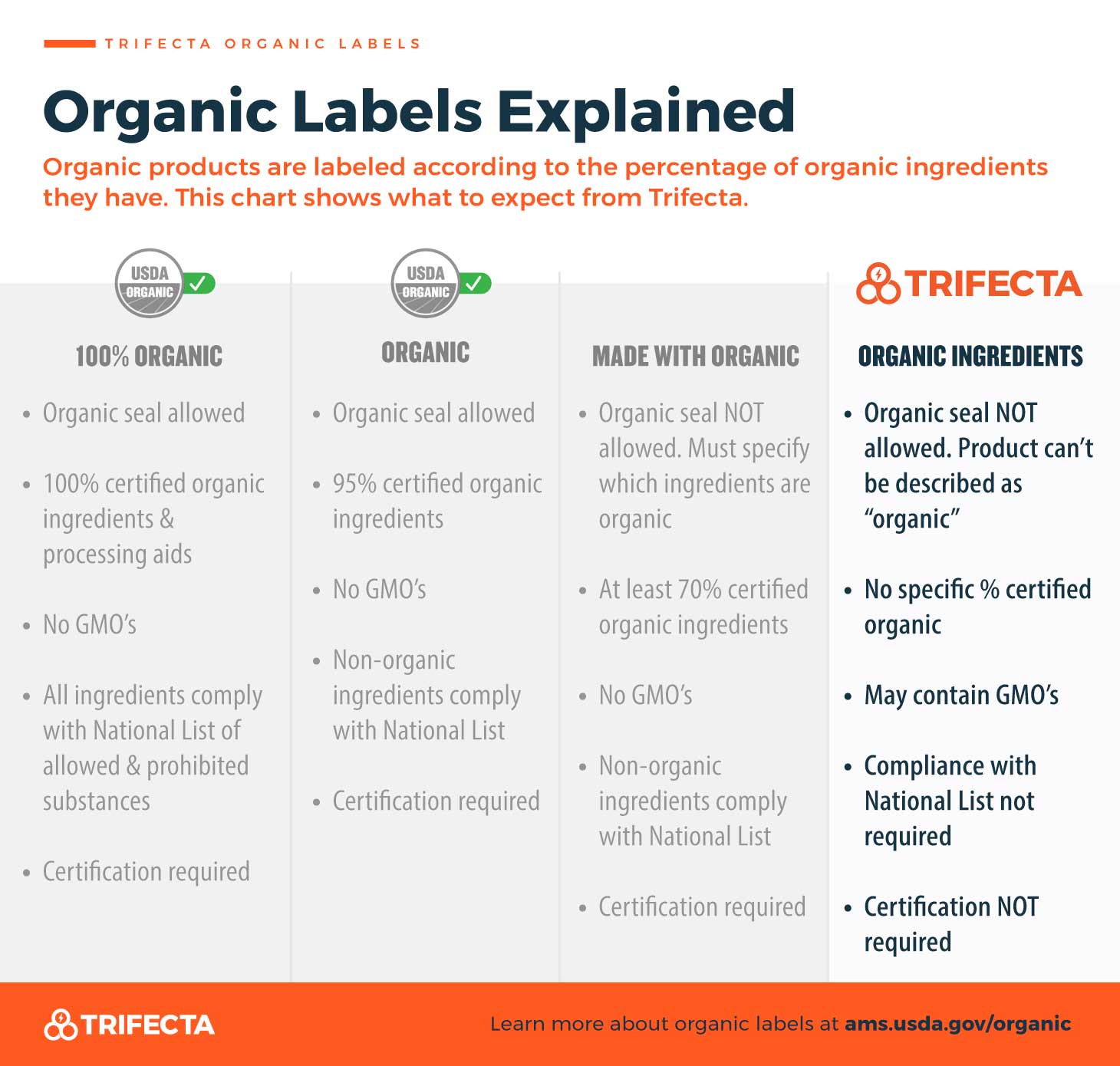 Along with high-quality vegetables, Trifecta Nutrition uses humanely raised meats. They source from suppliers who provide humane environments for their animals that encourage natural behavior. The beef is grass-fed, non-GMO, and antibiotic free. The seafood is sustainably caught, non-GMO, and antibiotic free. These same standards apply to the pork, turkey, and chicken, and all these meats are raised crate/cage-free.
However, these meat quality standards (non-GMO, organic, humanely raised, free-range, antibiotic-free, etc.) seem to only apply to the meats in the Clean, Paleo, Whole30, and Meal Prep plans. This is what they have to say regarding the Keto and Classic meal plans:
"It's our mission to offer proteins of the highest possible standard for all Trifecta plans, and are currently working on sourcing for our Keto and Classic meal plans."
This statement implies that the meat used in the Keto and Classic meal plans isn't the same quality or meets the same standards as the other plans. As to why that is, unfortunately they don't offer any further explanation. Keep this in mind if you're interested in either of those plans, especially if those meat standards are important to you.
The Trifecta Nutrition App Makes It More Than A Meal Delivery Service
If you've used other meal delivery services that offer a mobile, you'll know that the app is mostly a copy of their website made just for picking and rating meals. While those features are still available, Trifecta Nutrition's app is much more comprehensive than others, making their service more than just meal delivery.
On their app, you can track your macros (calories, protein, carbohydrates, fat), what meals you eat every day, your workouts, and your water intake. Plus, they offer additional resources through their app like daily workout routines, coaching and support, workout tips, timers, and more.
If you upgrade to their premium app ($9.99 per month), you'll have access to even more resources. The upgrade includes a movement library (100+ videos of movement demos by celebrity athletes), upgraded macro tracking, performance and diet analytics, movement and workout log (track specific movements like back squats), and feed customization.
Does Trifecta Nutrition Charge Shipping?
Yes, Trifecta Nutrition charges a flat rate shipping fee of $9.99 for the contiguous United States. They deliver everywhere in the United States, including Hawaii and Alaska (which is unheard of in the meal delivery industry). For deliveries to Hawaii and Alaska, they charge a $49.99 shipping fee due to travel costs.
Is Trifecta Nutrition Good For Weight Loss?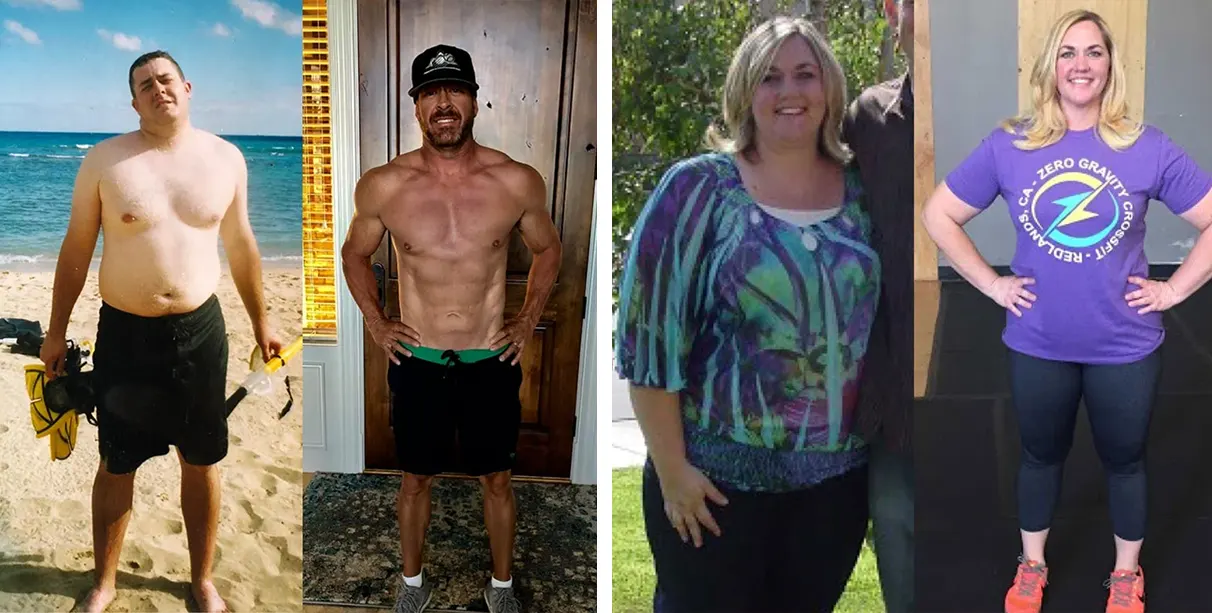 Yes, Trifecta Nutrition is one of the few meal delivery services out there that specifically caters to people who are looking to lose weight.
What's interesting is that they do this through more than just their meals. As mentioned above, their app has a library of workout plans allowing people to do what's necessary for their eating and activity levels in order to lose weight.
They call their weight loss program "TrifectaME." The key to this program is three-fold—nutrition, workouts, and community support. With TrifectaME you're granted access to a community of others who are also in the same boat.
Trifecta has cataloged many of their customers who've used their service to lose weight. If you're interested in using Trifecta to lose weight, I highly suggest reading about their stories here.
What To Know About Canceling & Customer Service
Trifecta Nutrition doesn't offer a simple, hassle-free process for canceling your account. To cancel your subscription, you have to call their customer support or email them (info@trifectanutrition.com). Unfortunately, they make you answer questions about why you're canceling your account, and they try to convince you to keep your subscription.
If you want to cancel due to a problem, they say they are often able to remedy the issue (including food preference or shipping issues). To address an issue, you don't have to call or email them - their website offers a chat feature where you can ask questions, including; questions about your account. I used this chat feature to ask them a question, and they were friendly and got back to me relatively quickly.
If you decide to cancel your account, they ask that you give them 7 days' notice before your next delivery date before canceling. This is because they prepare meals fresh each week for each of their customers specifically, which means they include dietary restrictions and allergens. Plus, meals can't be returned after they're delivered. This is standard procedure for just about every meal delivery service we've covered here at Food Box HQ.
If you just need to skip a week, you don't need to cancel your subscription. You can skip a week under the My Account section and pause up to 4 weeks between deliveries. As with canceling your account, they ask you to give them at least 7 days' notice before your next delivery date if you plan to skip a week.
Who Trifecta Nutrition Is Really Built For...
Trifecta Nutrition is a great choice for health-focused and fitness-minded individuals who want support in maintaining a macro-controlled, nutritious diet. Ideally, you would want to consider Trifecta if you're also interested in tracking macros, daily exercise, and PRs, as their app allows you to do all of this and much more.
Furthermore, Trifecta is well suited for athletes and bodybuilders who have to eat a specific amount of food per day as well as those who want to lose weight by following a specific diet.
If you're simply looking to enjoy healthy and balanced pre-made meals, other services may be better suited for your needs, such as Factor Meals and Fresh n Lean. Both of these services are not as comprehensive or as customizable as Trifecta Nutrition but they cover many of the same diets and come in cheaper per meal.