With Emily's family being from Portugal, I've come to appreciate a good seafood dish — especially salmon. That being said, it's tough to find quality seafood in some of our local supermarkets. Most of the fish we get is just "okay", usually a little on the bland side. Every once in a while, the stars align and we stumble on that perfectly packed with flavor, juicy salmon.
Instead of taking our chances with farm-raised grocery store salmon, we wanted to see if there was a seafood delivery service that would send us quality fish. That's when we originally stumbled upon Wild Alaskan Company.
Over the past few months we've been trying out there seafood delivery box and have been pleasantly surprised (especially when it comes to their sockeye salmon).
Let's jump into the review so you can find out if Wild Alaskan Company is right for you!
How Wild Alaskan Company Works
Wild Alaskan Company was founded by a third generation Alaskan fisherman, Arron Kallenberg, after realizing just how hard it was to get real fresh fish. Having grown up fishing true wild Alaskan salmon, he saw too many people thought they didn't enjoy the taste of fish purely because they were eating farmed salmon, not wild-caught. That's what sparked the idea for him to start a company that focuses on sending customers solely the freshest, wild-caught Alaskan fish.
Wild Alaskan Company is a subscription seafood delivery service. That means you sign up for a plan based on how much fish you'd like to receive and they send you a box monthly or every 2 months. While technically a seafood subscription box, their main focus is salmon and white fish (such as cod and halibut).
Why Wild-Caught Alaskan Fish?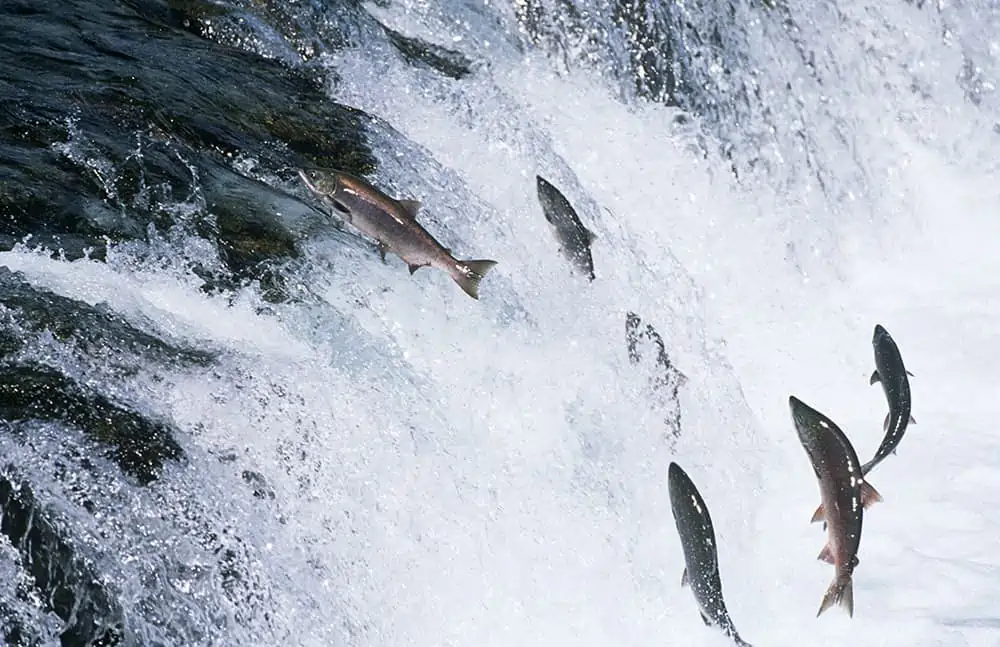 Alaska provides almost half of the world's supply of wild salmon. This is due to the fact that it's the perfect breeding ground for them, attracting tons of fishers year round — from tourists to commercial fishermen. It's been said that you can stick your fishing pole nearly anywhere in Alaska and catch a prize-winning fish.
But there's a big difference between wild-caught fish (specifically from Alaska) and the fish you're likely to see at your supermarket. This is because it's been shown that fish that have specifically been wild-caught in Alaska show lower contamination of toxins (e.g. mercury). In fact, the government of Alaska actually recommends that anyone concerned about the mercury levels in fish can reduce their exposure by eating fish lower in mercury, such as any type of wild-caught Alaskan salmon.
While being better for you, wild-caught Alaskan fish is also better for the environment than alternatives. Farmed fish are associated with numerous environmental issues: water pollution, parasites and more. These issues arise because many farmed fish are kept in open net pens. This style of farming fish leads to overcrowding, breeding diseases which require antibiotics to control.
Types of Wild-Caught Fish Wild Alaskan Company Offers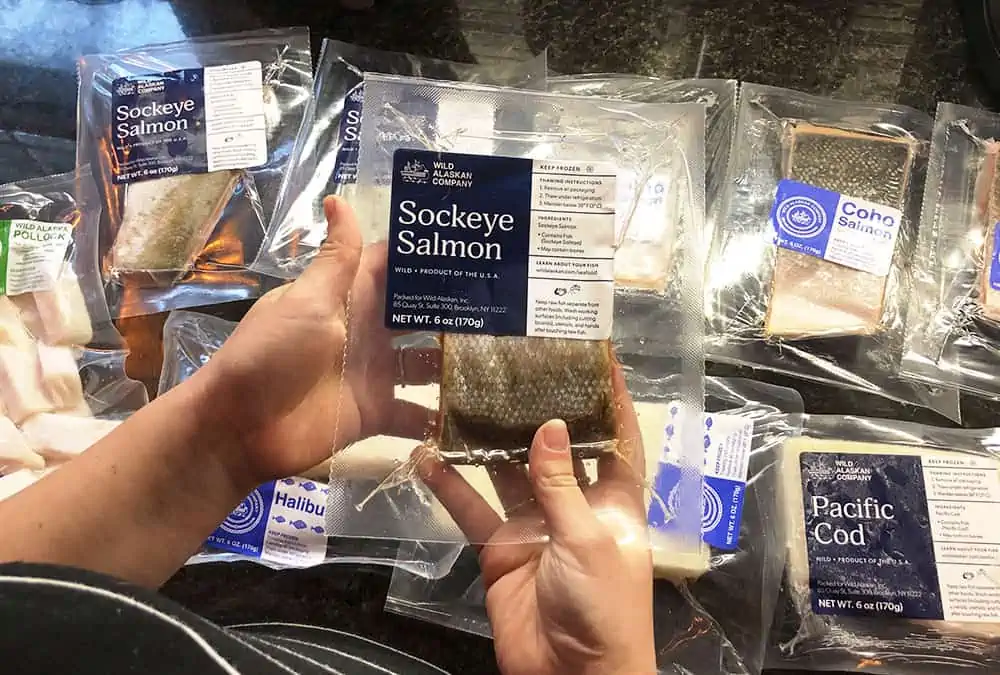 Wild Alaskan Company mainly focuses on salmon. However, they also offer a variety of white fish and occasionally send scallops too. Here's a rundown of specifically what fish they have to offer…
Sockeye Salmon: These are arguably the most flavorful salmon varieties and my personal favorite. The meat is a dark orange tint from the high quantities of red krill, plankton, and shrimp they eat. Wild Alaskan Company currently sends Bristol Bay sockeye salmon and Lummi Island reefnet sockeye salmon.
Coho Salmon: A little less fatty and more meatier than sockeye, Coho has a more mild "salmon" flavor and a delicate taste. Its meat is a reddish-orange color as well. Their coho salmon is from Southeast Alaska.
Halibut: Having a mild yet sweet taste, Halibut is much a much leaner meat than the salmons mentioned above. Without all that extra fat, it's easy to overcook.
Pacific Cod: Also low in fat, Pacific Cod is a bit more savory than Halibut.
Rockfish: Also known as Pacific Snapper, Rockfish have a mild, sweet flavor with a slight nutty accent.
Sablefish: Also known as Black Cod, Sablefish are known for their high oil content. This makes their texture smooth and velvety, and the flavor sweet and buttery.
Weathervane Scallops: These are only available to add to your box at certain times. When they are though, they're worth the wait. They have a sweet flavor and a delicate, "melt in your mouth" texture.
Pollock: Available as an add-on to your regular plan, pollock has a mild, delicate taste. It has a similar flavor to cod.
Smoked Sockeye: Also available as an add-on, this is a thinly sliced, smoked version of their sockeye salmon. It's perfect on a bagel with cream cheese, onions, and a little lox!
Wild Alaskan Company Plans
There are currently 3 different plans that are available in 2 different sizes each (12-pack of fish and 24-pack pack of fish).
Wild Salmon Box: This will get you 6 oz portions of sockeye salmon, coho salmon, or a mixture of both.
Wild Combo Box: This will get you a variety of different portion sizes and cuts of salmon and white fish. This is the box we usually get.
Wild Whitefish Box: This will get you a variety of portion sizes, cuts and types of wild white fish (ex: halibut and cod).
They also have add-ons whereby you can add specific fish to your box each month, such as the pollock and scallops mentioned above.
One thing to note is that you don't get to choose exactly what salmon or whitefish come in your box. It all really depends on what they can source the freshest at the time your box needs to be sent.
If you're new to seafood delivery and you're not sure which plan to get, I recommend going with their Wild Combo Box. It allows you to try a bit of everything they have to offer. You also can't go wrong with their Wild Salmon Box. While I enjoy the whitefish they've sent, I've fallen in love with their salmon (more on the taste later). So we're thinking of switching over to their Wild Salmon Box.
Delivery
Wild Alaskan Company is one of the few food boxes we've seen that delivers to all of the United States — including Alaska (obviously) and Hawaii. Most only ship to the contiguous United States (the 48 adjoining states).
Shipping is only free for the larger, 24-pack plans. However, it makes sense why they need to charge. They need to ship your box as quickly as possible so the fish stays fresh and frozen in transit. Our most recent box took less than 24 hours from when we received the Fedex tracking notification to when it arrived at our door.
Packaging
One of the biggest hesitations I had trying out a seafood delivery service like Wild Alaskan Company is that the fish wouldn't stay frozen in the box. I had terrible thoughts of opening a box of room temperature, stinky fish.
Luckily, Wild Alaskan Company goes above and beyond when it comes to packaging.
Whenever I open their box, it's packed to the brim with dry ice. This keeps all the fish inside frozen solid. It's also layered internally with a special cornstarch insulation called "Green Cell Foam". Not only does this keep the fish safe from bumping around while being delivered and keep everything frozen, it's also 100% biodegradable. You can actually put it under water and it'll fully dissolve.
I credit their packaging to why we've never had any issues with thawed (or even partially thawed) fish in our box. In fact, we've even left our box waiting for about 4 to 5 hours in our mailroom after it was delivered, before we were able to it in our freezer, and everything was still frozen solid!
What We Got In Our Recent Box (April 2020)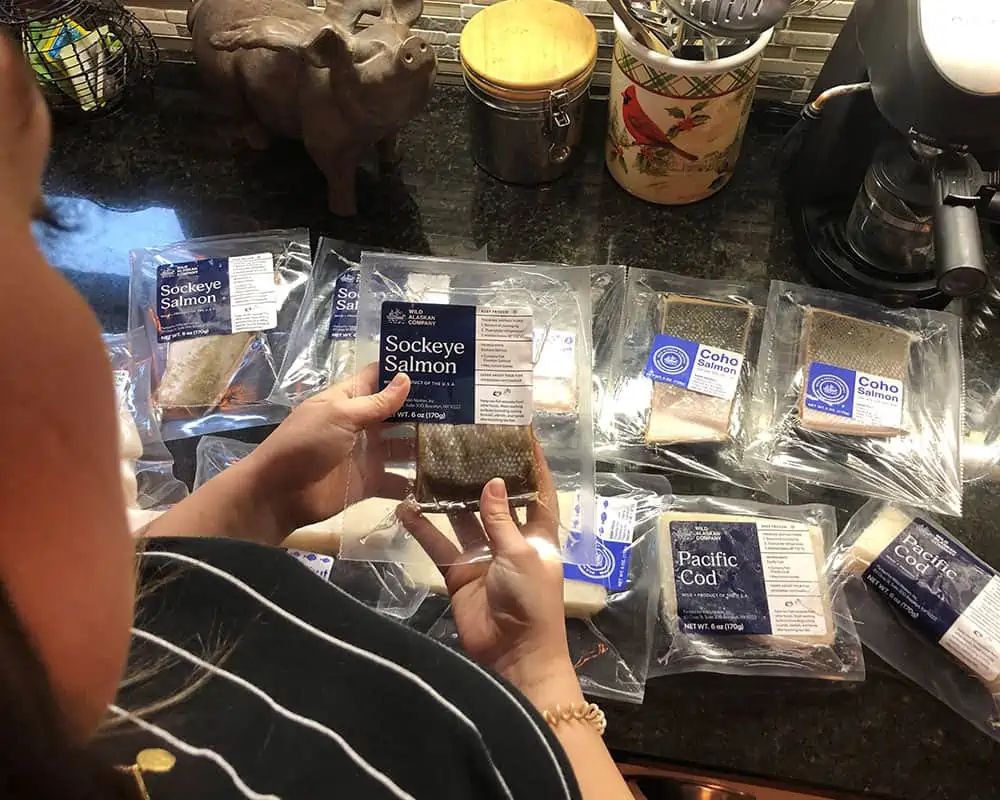 Here's what we received in our most recent Wild Combo Box (12-pack size):
3 Sockeye Salmon
3 Coho Salmon
2 Wild Alaska Pollock
2 Halibut
2 Pacific Cod
While all the fish we've received from Wild Alaskan Company has been delicious, it's their salmon that really shines.
Emily and I generally have generally eaten Trader Joe's salmon once or twice per week for the past few years. While we cook it the same way each time — season with salt, pepper, drip a little olive oil over it, and bake at 425 — it's always hit or miss in terms of flavor and texture. Some filets come out tasty, while others are devoid of flavor. That's not the case with Wild Alaskan Company salmon.
Each salmon filet we've received, both sockeye and coho, have come out absolutely delicious. But I have to say that the sockeye salmon is the best fish I've ever had. Check out the taste test video we did here and you'll see the reaction on Emily's face when she takes her first bite of the sockeye salmon.
Food Box HQ Salmon Cooking Tips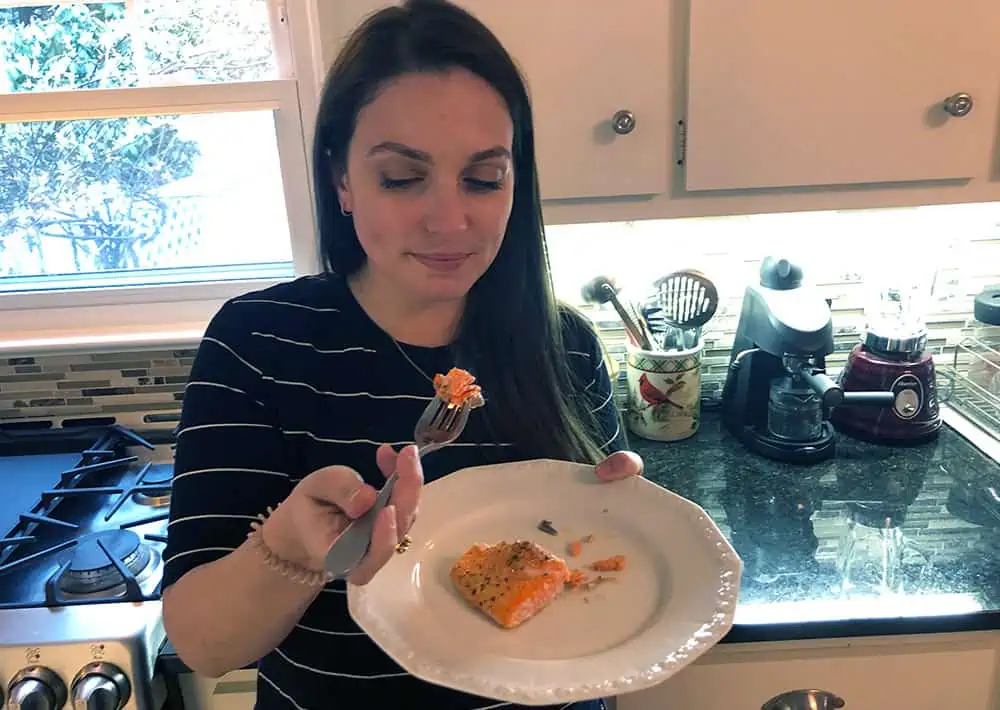 We usually bake salmon because it's the quickest for us to get a delicious, healthy dinner on the table. However, there is a slightly more involved way to pan cook it for maximum flavor. This recipe is ideal if you enjoy crisped salmon skin.
Pat the skin dry with a paper towel to get the most moisture out of the salmon. Try to get it as dry as possible.
Make small 1-inch cuts on the skin side about ¼ inch apart. This will get the skin to crisp up perfectly.
Season both sides with salt and pepper. Adding in a little rosemary, if you have it, adds a nice touch of flavor too. Finish with a little oil.
In an oven-safe pan (preferably a cast iron) on medium/high heat add oil to the pan and sear the skin side first. Be sure to allow the pan and oil get hot — you want to hear it sizzle when you place the salmon on!
Once you see the skin start to crisp up, flip the salmon and finish in the oven for 3 to 5 minutes depending on the size of the fillet.
It's still a relatively simple way to cook up salmon but increases the flavor 10-fold.
Wild Alaskan Company vs Similar Seafood Delivery Services
Before discovering Wild Alaskan Company, I didn't think there were any other "seafood of the month" style boxes out there. Turns out, I was wrong.
There are a ton of seafood delivery services out there but only a handful compare to Wild Alaskan Company:
Sea To Table: Unlike Wild Alaskan Company, Sea To Table allows you to do one-off orders or subscribe to their boxes. They also have much more variety. You'll see everything from salmon and cod to shrimp and lobster. Their fish isn't specific to Alaska, they work with fisheries around the US, but it is all wild-caught.
OceanBox: Like Sea To Table, OceanBox fish aren't specific to Alaska, and they also have a lot more variety than Wild Alaskan Company. They include a mix of farmed fish and wild-caught fish in their boxes.
Alaska Home Pack: These guys are probably closest in similarity to Wild Alaskan Company. They're a family business based out of Juneau, Alaska that sends a variety of different salmon, whitefish, and even crab.
If you're looking to explore the world of seafood delivery boxes, we put together a pretty extensive list of the best ones around here based on our research. You'll see Wild Alaskan Company made our number one pick!
Pros & Cons of Wild Alaskan Company
Now that we've gone over all the details of Wild Alaskan Company, you might be wondering if it's the right box for you. To help you make the best decision, let's go over what we love about it and what we don't…
Wild Alaskan Company Pros
It's the best salmon I've ever eaten. Salmon is my favorite fish and I've been eating it my entire life. I've never eaten a better salmon filet than Wild Alaskan Company's.
100% money back guarantee. If for any reason you don't like the fish or there's any other issues, they'll refund or replace the total purchase price.
Easy way to eat a healthier diet. One of the biggest personal pros of using Wild Alaskan Company is it allows Emily and I to stick to the Mediterranean diet easier, which is known for being one of the healthiest ways to eat.
Sustainable seafood. Sustainability is literally written into the Alaskan state constitution where it says, "Fish, forests, wildlife, grasslands, and all other replenishable resources belong to the State shall be utilized, developed, and maintained on the sustained yield principle, subject to preferences among beneficial uses."
Wild Alaskan Company Cons
It's not cheap. As of writing this, the least expensive box is $131.88 (not including shipping). But you get what you pay for, higher quality means higher cost.
Not a ton of variety. Since they only send Alaskan wild-caught fish, it narrows down the variety that they can send. You're getting quality over quantity.
You don't get to choose specifically what's in your box. The biggest con, in my opinion, is that you can't choose the specific fish you get in each box (aside from any add-ons). For example, if you go with the Wild Salmon Box but you only want sockeye, you're likely to get a mix of both sockeye and coho.
Wild Alaskan Company Coupons
If you're ready to take the plunge and order your first Wild Alaskan Company box, we're here to help save you some of your hard earned money!
I spoke with a Wild Alaskan Company rep and told them how much I love their box. They set me up with a special coupon to share with our readers. Use promo code "FOODBOXHQ15" for $15 off your first box.
Final Thoughts: Who Is Wild Alaskan Company Right For?
Even though it's recommended by the USDA that Americans eat around 8 oz of seafood per week, studies show most fall far short of that. Why? It's likely because most people just can't find high-quality fish that actually tastes good (especially those not close to the ocean). Wild Alaskan Company allows everyone to get access to premium, wild-caught fish.
Their box is perfect for those who understand the health benefits of eating wild-caught fish and appreciate the amazing flavor of a well-cooked fish filet. And if you're a salmon lover like I am, you're likely to find your new favorite meal.
Have you tried Wild Alaskan Company before? Have a question we didn't answer? Feel free to let me know what your experience was like in the comments below!