Are you considering trying out Factor Meals but not sure what to expect from their menu?
Well, fear not, because I've been using this meal delivery service on and off for years now, and I've got all the inside scoop on their menu.
In this article, I'll provide you with a comprehensive overview of what you need to know before placing an order with Factor Meals, from key menu details to my personal favorite and least favorite meals on their menu.
Let's jump into the details!
Brief Overview Of Factor Meals
If you're not familiar with Factor Meals, they're a meal delivery service that specializes in pre-made meals designed for specific diets.
Once you sign up, you'll be delivered a box filled with freshly made meals that are created by their in-house dieticians and prepared by their chefs.
Factor's meals are made primarily with whole foods, lean proteins, vegetables, and other nutrient-dense ingredients. They also have a marketplace where you can purchase add-ons like snacks, juices, pre-cooked meats, and desserts.
Their meal delivery service operates on a subscription-based model. This means that you'll receive meals on a weekly basis depending on how you initially set up your plan. You have until Wednesday at 11:59 PM CST each week to choose your meals. After that, the menu "locks," and if you haven't chosen your meals, Factor will select them for you based on your plan preferences and past meal selections.
If you need to make changes to your plan or cancel your subscription, you can do so at any time.
What To Know About Factor Meals' Menu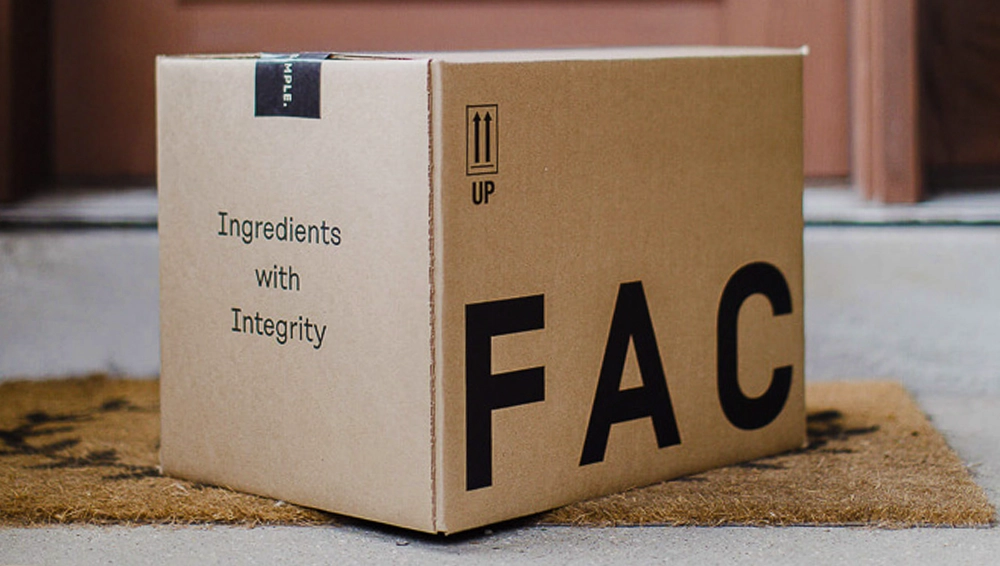 Factor Meals offers a wide range of meal plans (more on that below), making it easy to find options that fit specific dietary needs and preferences. Here are a few key things to know about their menu before placing an order…
Nutritional Information: Each meal on Factor Meals' menu includes detailed nutritional information such as calories, fat, saturated fat, carbohydrates, sugar, fiber, protein, cholesterol, and sodium. However, to get to this information, you do have to click on the individual meal on their menu to see it.
Ingredients: Factor lists the specific ingredients each meal on their menu uses.
Preparation Instructions: Factor lists a few different ways that you can prepare their meals. While they recommend the microwave, I found that heating them up in the oven actually helps retain the flavor best.
Allergens: Factor lists out all of the allergens the meal on their menu contains. While Factor does offer meals for a variety of dietary needs, including gluten-free and dairy-free options, I would not recommend them for anyone that has a specific food allergy. This is because they prepare their foods in a facility that contains soy, wheat, dairy, tree nuts, and other potential allergens, so there is risk for cross-contact.
Menu Updates: Factor Meals updates their menu on a regular basis. You can see up to 3 weeks of menus at a time and plan out your meals accordingly.
Menu Locks: It's very important to be aware that Factor Meals' menu "locks" on Wednesday at 11:59 PM CST each week, as I mentioned above. This means that if you haven't selected your meals by that time, Factor Meals will choose them for you based on your plan preferences and past meal selections.
Number Of Meals On The Menu: I've seen upwards of 35 meals on Factor's menu.
While Factor Meals' menu offers a wide range of options and includes helpful info (such as ingredients, nutritional facts, and preparation instructions), I believe there are some things that could be improved.
First, Factor's main menu doesn't give you the key info about the meals (just the meal name and what plan it falls under). To give you a comparison, Territory Foods lists out specific macros like calories, fat, carbs, and protein. I find this super helpful to see as I'm scrolling through the menu and trying to pick meals for the week.
Going off of that, Factor also doesn't give you much ability to filter their menu. They only allow you to filter by a few preferences such as non-spicy and pork-free. This is a bit of a pain because it means you have to read through all of the meals on their menu for the week rather than simply filtering by your personal preferences (to narrow down the choices).
Last, they don't tell you the net weight of the meals anywhere on their menu. This may seem like a small complaint but being able to see the net weight gives you a good indication of the actual portion size of the meal.
What To Know About the Menus For Each Of Factor Meals' Plans (Plus Example Meals)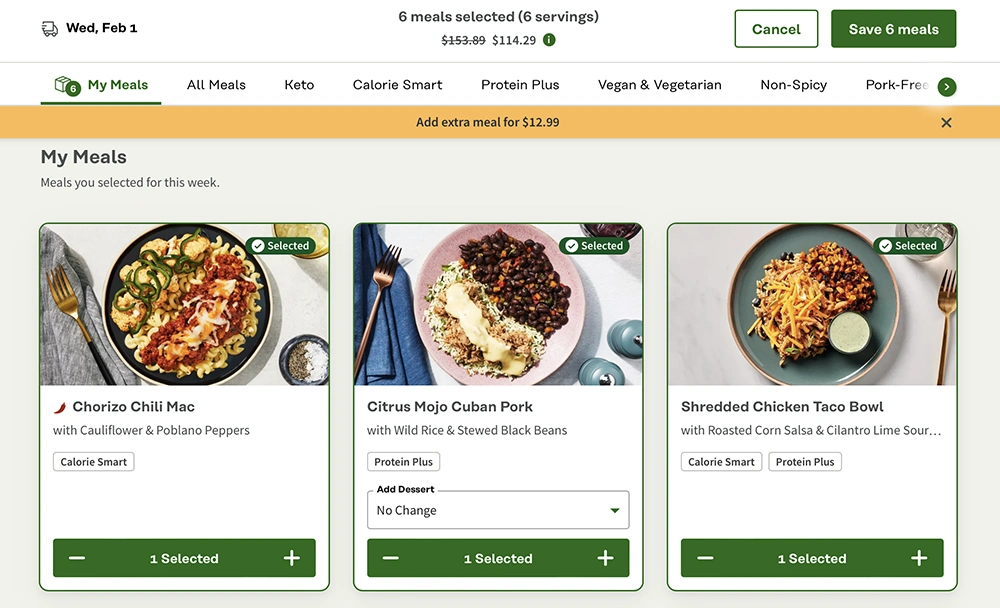 Depending on which plan you choose when you sign up for Factor Meals, you'll see a different menu of meals.
Here is what you should know about each of the different plans and their menus…
Chef's Choice Plan Menu
If you want to see all 35+ meals that Factor has to offer, Chef's Choice is the plan to go with. Going with this plan, your menu will have all of the meals from their other plans combined. This is the plan I almost always go with because it gives me the greatest flexibility when it comes to choosing menu items.
You'll see meals on the menu such as…
Fusilli & Ground Pork Tomato Ragu with Roasted Green Beans
Italian Herb Chicken with Vegetable Risotto & Roasted Green Beans
Tomato & Romano Chicken with Roasted Zucchini & Parmesan Herb Butter
Keto Plan Menu
Factor's Keto plan menu includes meals that are low in carbohydrates and high in fat. When I'm not using Factor's Chef's Choice plan, I'm using their Keto plan. If you're interested in learning more about this plan, I highly suggest reading my in-depth analysis of whether this plan truly is keto-friendly (spoiler: it is).
The Keto plan menu includes around 15 meals per week. I've noticed the exact number tends to fluctuate depending on the week.
You'll see meals on the menu such as…
Grilled Steakhouse Filet Mignon with Parmesan Creamed Spinach, Broccolini & Asiago Butter
Cheeseburger & Bacon-Tomato Chutney with Garlic Broccoli & Parmesan Herb Butter
Garlic-Mushroom Chicken Thighs with Creamy Cauliflower Rice & Garlic Green Beans
Calorie Smart Plan Menu
Factor's Calorie Smart plan menu features around 16 meals that are dietician-approved (by their in-house team). Factor says on their website that these meals come in around or under 550 calories but, from my experience, most of them are under or around 450-500 calories.
The meals you'll see on this plan are really geared towards weight loss. With that said, you'll want to be mindful of the calories you're taking in and ensure that you're not going too low.
You'll see meals on the menu such as…
Creamy Lemon Pepper Chicken with Carrot-Pea Rice Pilaf, Roasted Broccoli & Carrot Coins
Shredded Chicken Taco Bowl with Roasted Corn Salsa & Cilantro Lime Sour Cream
Tomato Basil Chicken Risotto with Parmesan Broccoli
Vegan & Veggie Plan Menu
This is the plan I least recommend to anyone considering Factor Meals, mainly due to the fact that the menu only contains around 8 or so meals each week (sometimes lower). Depending on the amount of meals you chose to go with when subscribing (6, 8, 10, 12, 14, or 18), it would mean that many people would have to order the same meal twice or even three times.
While I believe there are better vegan and vegetarian meal delivery services out there, if you are considering this plan, here are some examples of meals you'd likely see…
Roasted Five Vegetable Enchilada Bowl with Mexican-Style Cilantro Rice
Three Bean Vegan Chili with Cornbread Casserole & Tofu-Based Crema
Vegan Mushroom Marsala with Onion Risotto & Roasted Garlic Green Beans
Protein+ Plan Menu
Factor's Protein+ plan features a menu filled with meals that have around or over 30 grams of protein. I usually see anywhere from 20-25 meals on this menu. It's important to note that much of the Protein+ plan menu overlaps with the Keto plan menu. This means you'll want to expect the majority of the meals on this menu to have a high fat content as well.
Here are some of the meals you'll see on this menu…
Black Pepper & Sage Pork Chop with Smoked Cheddar Brussels Sprouts & Creamy Broccoli
Cheesy Chicken & Peppers with Garlic Butter Zucchini
Tomato & Romano Chicken with Roasted Zucchini & Parmesan Herb Butter
Factor's Marketplace Menu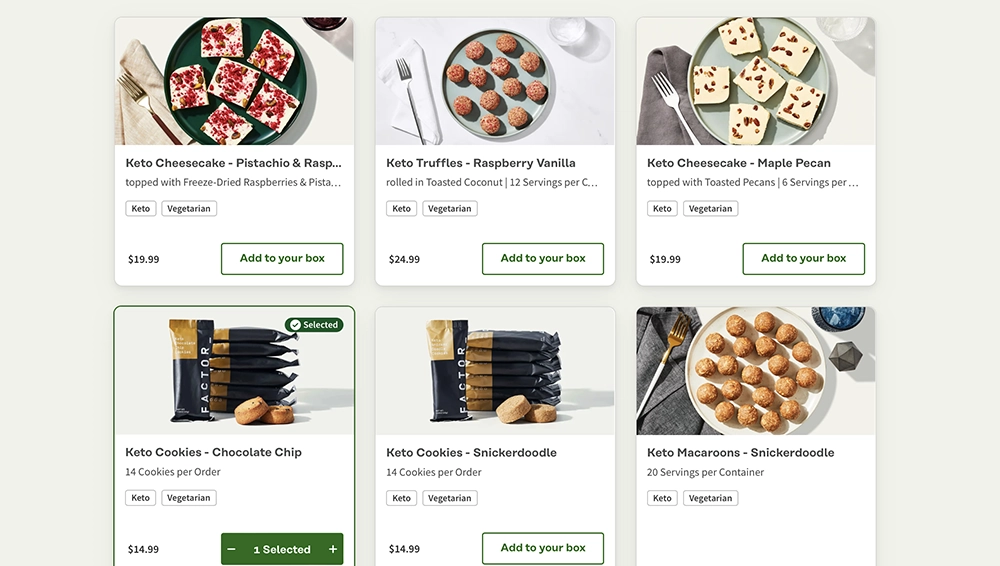 In addition to Factor's main menu (where you'll find all of their meals) they also have a marketplace menu. It's important to note that these are separate menus so you'll have to scroll all the way past the main menu until you see a section called "Featured Add-ons."
This menu features add-ons such as…
Breakfast meals and bundles
Drinks (such as cold pressed juices and shakes)
Desserts (such as cheesecake and macaroons)
Pre-cooked meats (such as burgers, salmon, and chicken)
Sides (such as green beans and chicken salad)
Snacks (such as granola and biltong)
What I like most about Factor's marketplace add-on menu, beyond the variety, is that they often discount certain items. For example, the breakfast bundles are often discounted by around 15%.
You'll want to keep in mind that because Factor leans heavily keto and low-carb, most of the marketplace add-on menu items are also going to be keto and low-carb.
My Personal Favorite & Least Favorite Factor Meals Menu Items
Now that we've covered all of the details about Factor's menu, let's dive into which meals you should consider adding to your box (if you see them on the menu) and which you might want to avoid.
My Favorite Meals On Factor's Menu
Char-Grilled Burger & Mushroom Cream Sauce with Steamed Spinach, Tomatoes & Parmesan Cauliflower Mash
Shredded Chicken Taco Bowl with Roasted Corn Salsa & Cilantro Lime Sour Cream
Grilled Steakhouse Filet Mignon with Parmesan Creamed Spinach, Broccolini & Asiago Butter
Truffle Butter Filet Mignon with Potato-Leek Mash & Roasted Carrots
My Least Favorite Meals On Factor's Menu
Peanut Buddha Bowl with Cilantro Quinoa, Gochugaru-Spiced Peanuts & Sesame Broccoli
Vegan Mushroom Marsala with Onion Risotto & Roasted Garlic Green Beans
Herb Cream Cheese Salmon with Red Pepper Cauliflower "Grits" & Broccoli
Final Thoughts
While I'm a fan of Factor Meals' menu, their meal delivery service may not be the right fit for everyone out there. The menu tends to mainly feature dishes that are high in fat and protein (due to their Keto and Protein+ plans). That being said, I have found most of the meals on the menu to be tasty.
If you're interested in getting a better look at the meals and add-ons on Factor's menu, you can watch our unboxing and taste test reviews on YouTube at the links below…
Have a question about Factor's menu? Let me know in the comments!