While Green Chef's commitment to organic and sustainable ingredients might be the first thing that catches your eye, don't be misled into thinking that its offerings are limited to only things like salads and vegetable dishes. There's much more to this meal kit than meets the eye.
As a Green Chef customer since 2017, I've witnessed firsthand how their menu has grown and evolved over the years. Today, I'm here to offer you an in-depth rundown on everything you need to know before you hit that 'order' button. From tailoring your menu to suit your tastes to navigating their unique marketplace, consider this article your comprehensive guide to mastering the Green Chef menu.
Overview Of Green Chef
If you're fresh to the meal kit game or just pondering what Green Chef brings to the table, allow me to break it down based on my own journey with them. Green Chef positions itself as the go-to option for people who value quality food without compromising their commitment to a healthy lifestyle. This means that their meal kit is one of the only USDA certified options available.
What you might not know is that Green Chef is part of the HelloFresh family, serving as their more "health focused" counterpart. Unlike some meal kits that offer a broad spectrum of meals, Green Chef narrows it down by emphasizing organic and sustainably-sourced ingredients. Though, unfortunately, this does mean that their meals are some of the most expensive on the market.
Just like most meal kit services I've tried, Green Chef offers a variety of meal plans to fit different household sizes and dietary preferences. However, it's worth noting that Green Chef excels in catering to specific dietary needs, offering specialized menus like Keto, Paleo, and Plant-Powered options.
Once you sign up, select a plan, and choose your preferred dietary preferences, you'll gain access to a rotating menu that you can personalize to fit your needs. After making your selections, your meals will arrive at your doorstep on your pre-selected delivery day.
It's important to note that Green Chef runs on a subscription model, sending meals your way every week and charging you each week based on your set plan and preferences. The service allows you to choose or modify your meals up to a certain deadline before your delivery day. Fail to pick out your meals in time? No worries—Green Chef will handpick meals based on your past meals and plan type. This means you'll always receive meals that adhere to your specific preferences.
What To Know About The Green Chef Menu
Every week, Green Chef rotates its menu, offering a variety of meals that typically range from 35 to 40 recipe options.
What I find most impressive about Green Chef's rotating menu is its dedication to seasonal and organic options. To give you an example, in autumn, you more likely to find heartwarming dishes featuring butternut squash or root vegetables, whereas the summer menu might boast lighter fare like salads and grilled proteins.
When it comes to the cuisines, Green Chef brings to the table a mixture of international flavors and traditional American favorites. Whether it's a unique twist on a stir-fry or a gluten-free version of a classic American dish, I've noticed that Green Chef shows a lot of culinary creativity. This is seen especially in their more diet-focused plans like Keto and Gluten-Free.
Here's a quick look at the details Green Chef provides for each meal on their menu:
Green Chef's menu interface also offers filters like "Protein Packed," "Vegan," and "Gluten Free," among others. These come in handy when you're looking for something that aligns with your current mood or dietary preferences.
Customizing The Green Chef Menu
When it comes to tailoring the meal experience to your exact preferences, Green Chef does offer some room for customization, but it's not as extensive as some other meal kits I've used in the past, such as HelloFresh and Home Chef.
The first step in customization comes right at the beginning when you sign up for Green Chef. You can choose a plan tailored to your dietary needs, whether that's Keto, Mediterranean, Gluten-Free, and many others. This will set the "base" menu you'll work from each week. Though, be aware that you will still have access to the full menu to choose from.
Once you're reviewing the weekly menu options, Green Chef allows you to make some ingredient substitutions. For example, if a dish comes with chicken but you'd prefer steak, you can sometimes make that switch. I've found it to be a convenient feature if you're trying to align your meals more closely with personal taste or dietary restrictions.
It should be noted, however, that while Green Chef does allow some customizations, I do find them lacking in comparison to many others out there like HelloFresh and Home Chef. Many other services offer a broader range of customization options.
Also, customizing the menu can bump up the price. For example, if you swap for a more premium ingredient such going from a chicken to a steak, it will cost more (usually around $2-$3 more per meal). Green Chef already leans towards the higher end of the meal kit cost spectrum, thanks to its focus on organic and sustainably-sourced ingredients, so being aware of the costs of adding or swapping ingredients is something to consider if you're budget-conscious.
What To Know About The Menus For Each Green Chef Plan
One of the standout features of Green Chef is its variety of specialized meal plans. Whether you're following a Keto diet, leaning into a Plant-Based lifestyle, or simply want to explore their Delicious Discoveries, Green Chef has a lot of options.
But what exactly can you expect from each menu? Below we'll delve into the nitty-gritty details of each Green Chef plan's menu. From the types of meals you can expect to example dishes that could grace your dinner table.
Mediterranean Plan Menu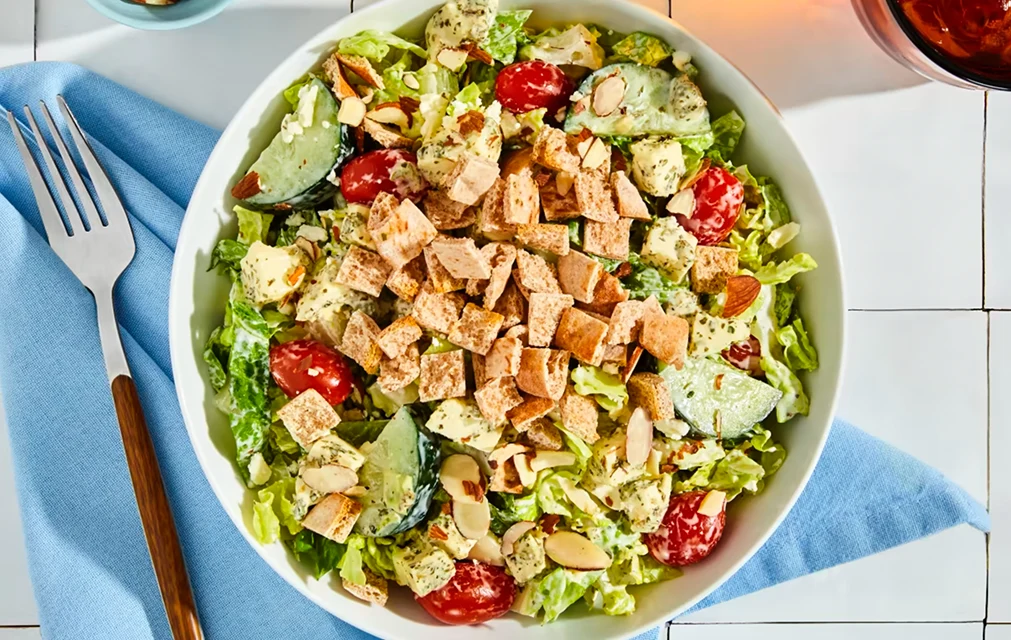 The menu for this plan is notably diverse and in line with the Mediterranean diet's guidelines. I often see meals on this menu that are centered around lean proteins such as turkey, chicken, or occasionally fish.
The vegetable offerings go beyond the standard fare like broccoli and green beans, introducing you to a wider array of produce like yellow squash, chard, and sun-dried tomatoes.
What sets the Mediterranean plan apart is how filling the meals are. Thanks to the diet's focus on lean proteins, high-fiber vegetables, and healthy fats from sources like almonds and olives, you'll find that the portions are satisfying without leaving you feeling overly full.
All in all, Green Chef's Mediterranean plan offers a menu that is not just in tune with the Mediterranean dietary principles but is also satisfying and diverse, making it a strong choice for those interested in this popular and doctor-recommended way of eating.
Example meals on Green Chef's Mediterranean Menu:
Calorie Smart Plan Menu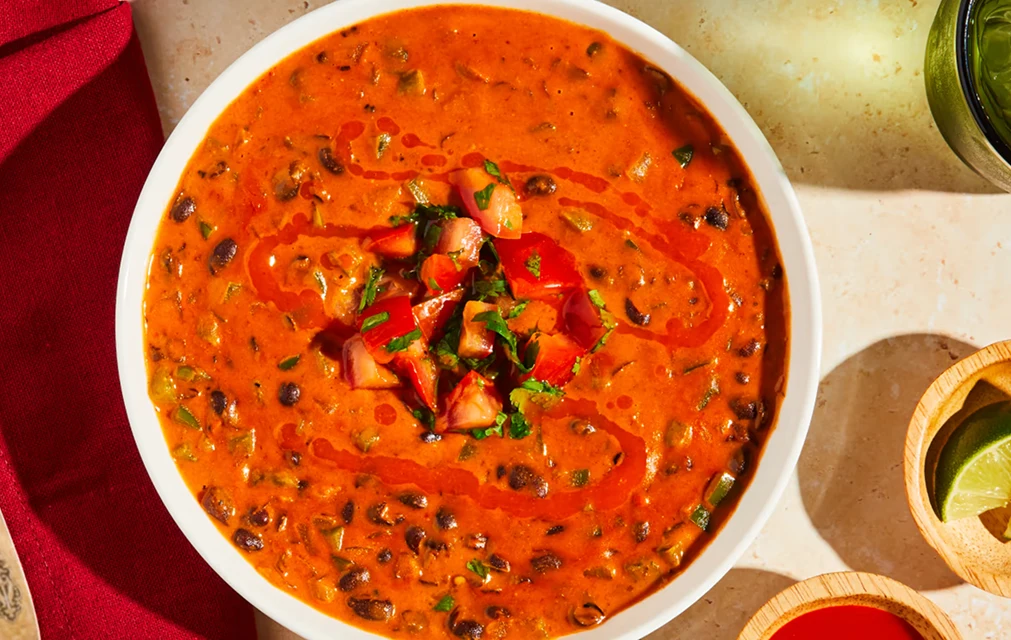 If you're keen on cutting calories without sacrificing taste, the Calorie Smart plan's menu is designed with you in mind. Meals typically land under or around the 650-calorie mark per serving, offering a balance of portion size and flavor.
When it comes to protein, expect lean options such as chicken and fish. The plan doesn't skimp on the produce, either. You'll find vibrant fruits and vegetables—like zesty radishes and tropical mangos—making regular appearances.
However, the Calorie Smart plan doesn't particularly restrict carbohydrates. For example, the Sriracha-Tamari Tofu Bowls may be just 610 calories, but they pack a staggering 67 grams of carbs. And while some might appreciate the low-calorie options that hover around the 300-calorie mark, it's worth noting that such low-calorie meals might not meet everyone's nutritional needs.
Example meals on Green Chef's Calorie Smart menu:
Quick & Easy Plan Menu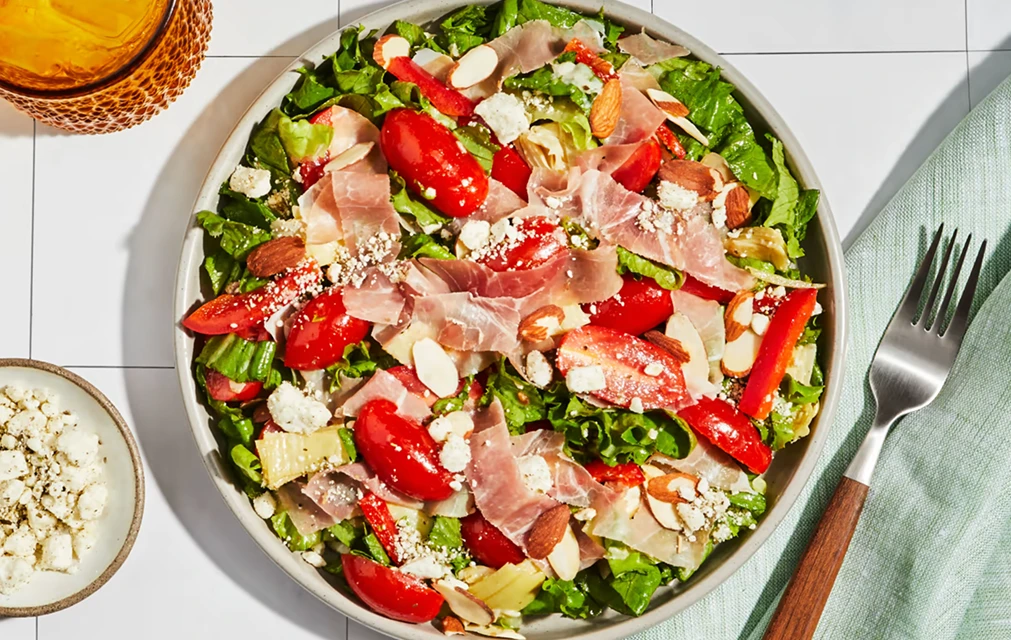 The menu for Green Chef's Quick & Easy plan is a fairly straightforward and delightful selection of recipes aimed at saving you time. The meal options primarily include uncomplicated yet tasty dishes such as tacos, salads, and soups. But don't let the simplicity fool you—Green Chef goes above and beyond to add a unique twist to these classics.
The menu also scores high marks for convenience, not just in cooking time but also in clean-up. From my experience, many of the meals are designed to use only one or two pots or pans, with some options even crafted as one-pan dishes that you can simply throw in the oven and forget.
Example meals on Green Chef's Quick & Easy menu:
Plant Based Plan Menu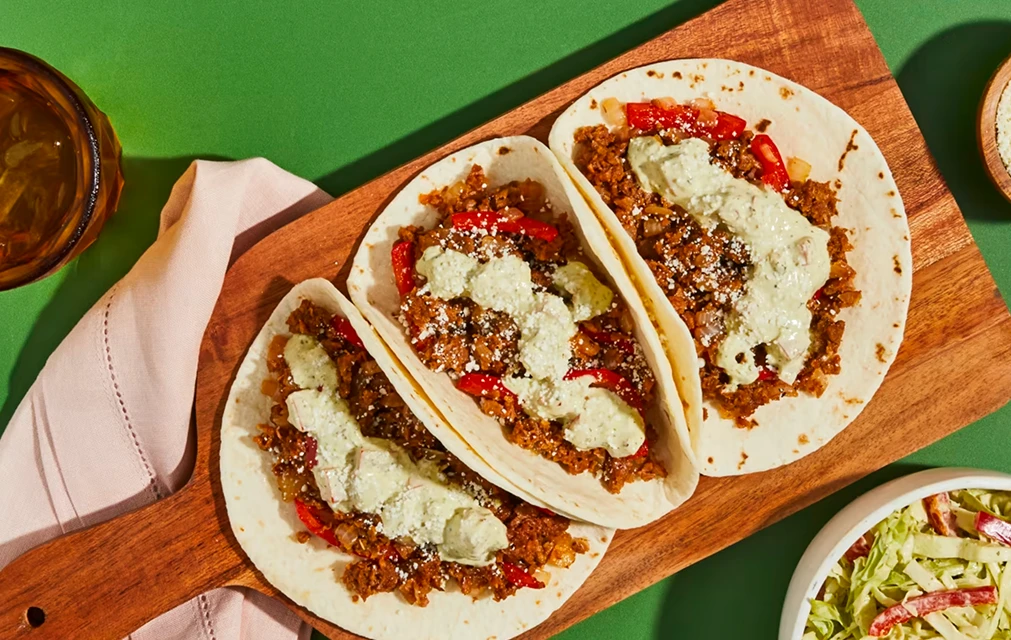 Green Chef's Plant-Based menu is a refreshing departure from the typical vegan fare you might expect. Instead of just salads and tofu, the offerings are both unique and full of flavor. A prime example is their Falafel & Kale Stuffed Pitas, which come with tasty extras like harissa hummus dressing and lemon aïoli. This dish is not only mouth-watering but also quick and easy to prepare, taking only around 10 minutes from start to finish.
What also sets this menu apart from other plant based plan menus from other meal kits I've tried is its variety. Unlike many plant-based meal plans that rely heavily on pasta dishes, Green Chef's selection offers a broader range of choices. This means you're not stuck with just high-carb options when you're trying to eat plant-based.
Example meals on Green Chef's Plant Based menu:
Protein Packed Plan Menu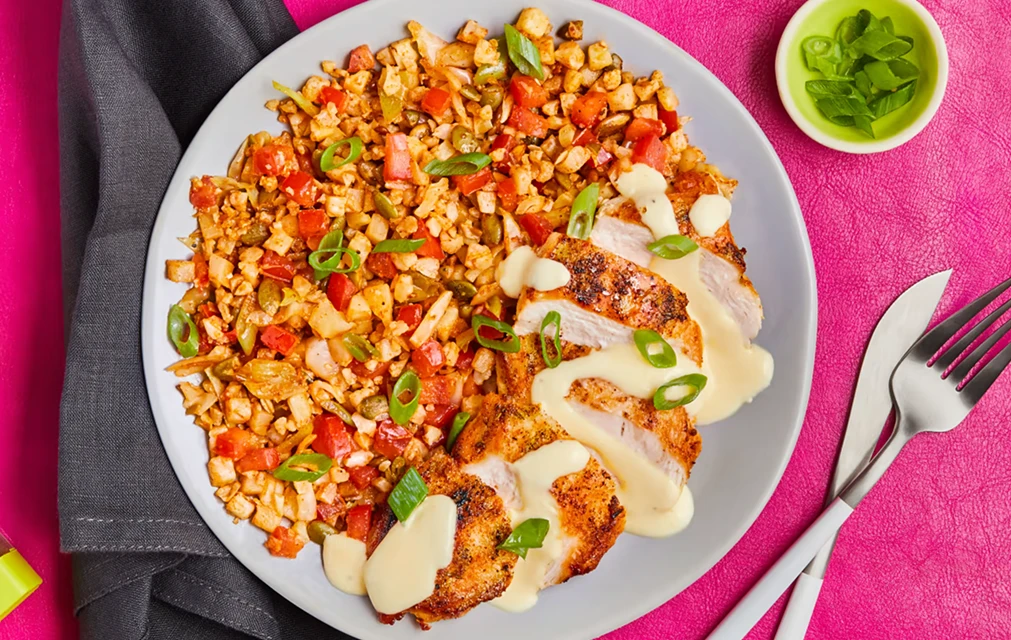 Green Chef's Protein-Packed menu is a standout option for those focused on a high-protein diet, and it's unlike anything I've seen in other meal kits. What's impressive is the variety of protein sources they offer. Instead of just sticking to the usual chicken or beef, they get creative. Take, for instance, their Southwest Shrimp & Bacon Cobb Salad, which not only features shrimp and bacon but also includes hard-boiled eggs, packing in a hefty 47 grams of protein per serving.
But it's not only about the protein content, the meals are actually quite delicious. If you've ever been on a high-protein diet, you'll know that the meals can sometimes get repetitive and lack flavor. Green Chef seems to have figured out how to keep these protein-rich meals both interesting and tasty.
Example meals on Green Chef's Protein Packed menu:
Keto Plan Menu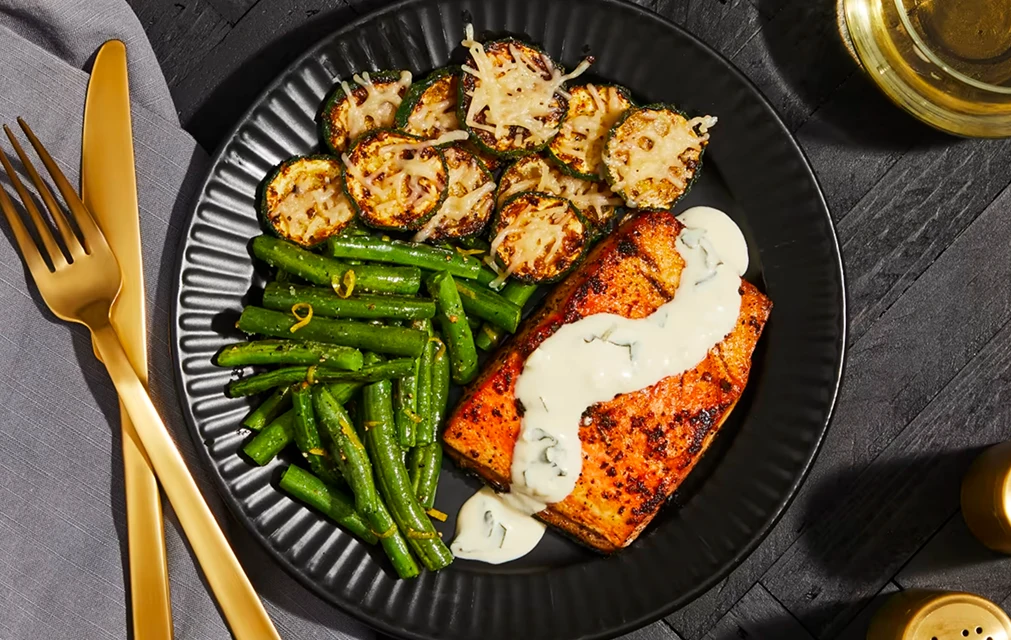 Green Chef's Keto Plan is designed for those who are serious about sticking to a ketogenic diet. Each meal on this plan comes with less than 20 grams of net carbs, and there's a strict no-go on gluten, additives, or added sugar. Out of all the keto meal delivery services I've tried, Green Chef is one of the few meal kits that truly aligns with the rigid guidelines of the keto diet.
Food Box HQ Note: I broke down an example day of eating on Green Chef's keto menu in my full review here. You'll see that Green Chef sticks very closely with the standard keto diet of carbs being 10% of your calories, fat being 70% of your calories, and protein being 20% of your calories.
Example meals on Green Chef's Keto menu:
Delicious Discoveries Plan Menu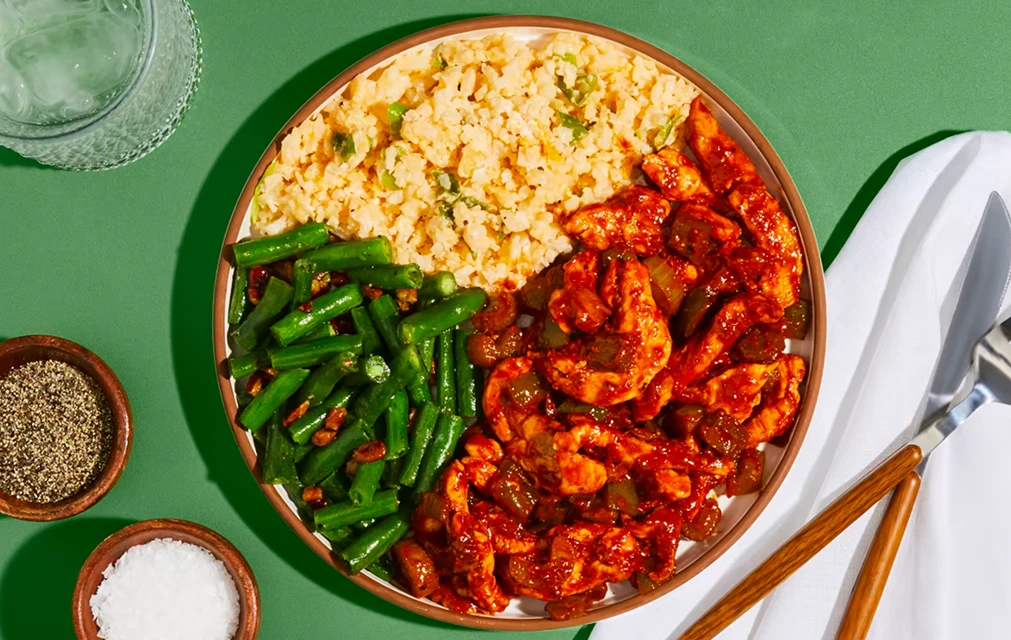 The Delicious Discoveries Plan's menu is a feast for the adventurous eater. This isn't your run-of-the-mill meal plan, it aims to introduce you to flavors from around the globe. Whether it's a dish with a kick of kimchi or the luxurious touch of truffles, the menu is curated to expand your culinary horizons.
That said, I didn't find these global dishes to be overly complicated to make. From my experience, the majority are relatively simple to prepare and cook, letting you enjoy exotic flavors without stressing too much in the kitchen.
But there is something you should be aware of… If you prefer sticking to familiar flavors, this menu might be a bit out of your comfort zone. It's designed for those who are willing to venture beyond the usual and try something new.
Example meals on Green Chef's Delicious Discoveries menu:
Gluten Free Plan Menu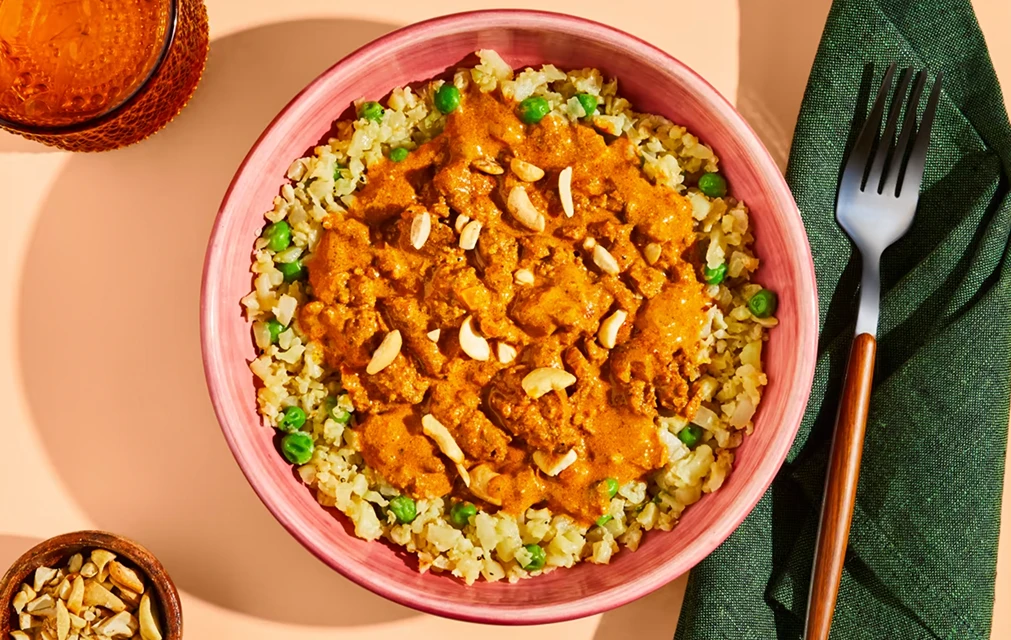 Green Chef's Gluten-Free plan offers a menu that goes beyond the basic "gluten-free versions" of standard dishes. Instead, it leans into cuisines that are naturally devoid of gluten, such as Thai, Indian, and Mexican meals. This means you'll often find carbohydrates coming from naturally gluten-free sources like rice rather than typical gluten-containing foods like pasta.
One standout feature is that rather than just removing gluten-containing items, Green Chef fills the gap with a broader range of vegetables, grains, and beans. This leads to meals that are often lower in carbs and richer in fiber, which is a win in my book.
It's important to note, however, that while Green Chef itself is not certified gluten-free, its meals on this plan do carry the Gluten-Free Food Service (GFFS) validation badge from the Gluten Intolerance Group's Gluten-Free Safe Spot Program. This adds an extra layer of assurance, although it doesn't completely eliminate the risk of cross-contamination for those with extreme sensitivities, like celiac disease.
Example meals on Green Chef's Gluten-Free menu:
Green Chef Add-Ons Menu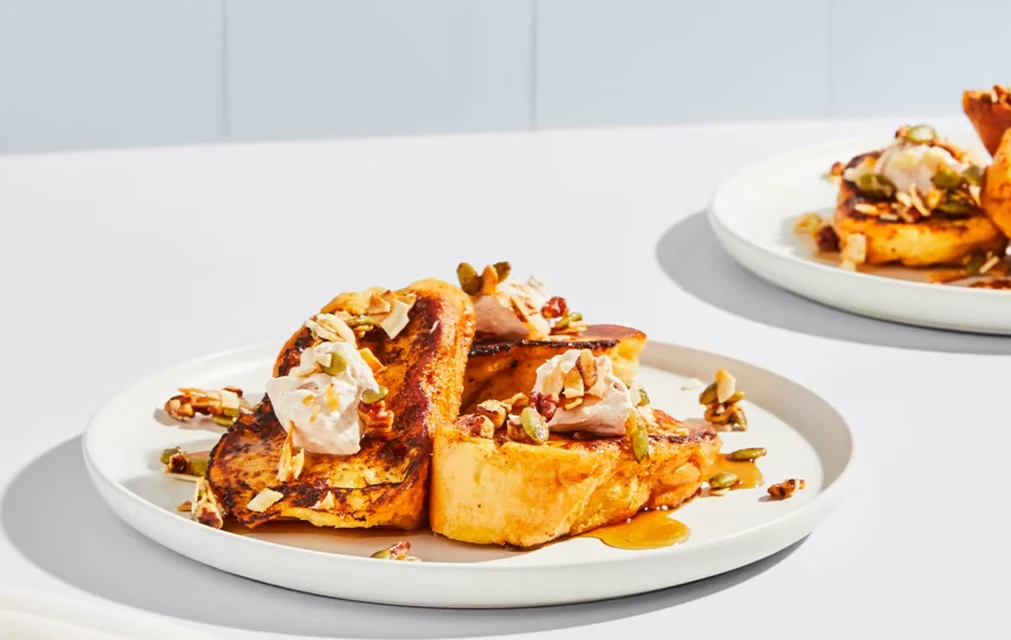 Green Chef's add-on marketplace serves as a supplement to their main meal plans, giving you the option to add extras like snacks, desserts, additional proteins or meats, lunches, and breakfast items. While their primary focus is on lunch and dinner meal kits, the add-on marketplace helps to round out other meals of the day if you're aiming for more comprehensive meal coverage.
Compared to other meal kit services like HelloFresh or Sunbasket, Green Chef's marketplace may not have as wide a range of options, but they do put an emphasis on quality. For instance, they offer premium cuts of meat such as Bavette Steaks and high-quality fish options like Barramundi Fillets. Even their coffee selection comes from renowned providers like La Colombe.
Examples from Green Chef's add-ons menu:
Final Thoughts
Wrapping up, Green Chef offers a diverse range of meal plans catering to various dietary needs and preferences—from Mediterranean and Calorie Smart to Quick & Easy and Protein-Packed. Each plan presents a unique set of meals that not only align with specific dietary principles but also prioritize flavor and simplicity. Whether you're a food adventurer, a strict dieter, or someone in between, there's likely a Green Chef plan that fits your lifestyle.
But the meal kit doesn't stop at just dinner. Their add-on marketplace allows you to augment your meal plan with high-quality extras like snacks, desserts, and even additional proteins. While not as expansive as some other meal kit marketplaces, Green Chef's add-on options maintain the brand's focus on quality over sheer variety.
It's worth noting that Green Chef has a strong commitment to organic and sustainable ingredients across all their plans, much more so than many other meal kit that I've tried. This makes them an appealing option for those who prioritize these factors in their food choices.
Before taking the plunge, however, it's essential to consider your specific dietary needs and consult with a medical professional if you have special nutritional requirements. The service does offer gluten-free options and undergoes validation for gluten-free safety, but those with severe sensitivities like celiac disease should exercise caution.