Are you considering giving HelloFresh a try, but unsure about what to expect from their menu?
Having used HelloFresh for years now, I'm here to spill the beans on everything you need to know about their menu.
In this article, I'll give you an in-depth look at HelloFresh's menu, including key details about the different plan preferences, how those plan preferences impact what your personal menu looks like, how to customize your menu, and much more.
Let's dive into the details…
Brief Overview Of HelloFresh
If you aren't already familiar with HelloFresh, they're a meal kit that delivers pre-measured ingredients and easy-to-follow recipes right to your doorstep.
Founded in 2011, they quickly one of the most popular meal kit delivery services in the world, operating in 14 different countries. Through their growth, they've acquired many other meal delivery services, including Factor Meals, Green Chef, Chef's Plate, and more.
HelloFresh offers a variety of meal plans to suit different dietary needs and preferences, including vegetarian, low-calorie, and family-friendly options. They prioritize using high-quality, fresh ingredients in their recipes, and are committed to sustainability and reducing food waste.
Once you sign up and pick your plan preferences, you'll be able to see your personalized menu (more on that below). After choosing your meals and adding any additional marketplace items to your box, they'll be sent to your doorstep.
HelloFresh's service is designed as a subscription-based model, which means that your meals will be delivered to you on a weekly basis according to your initial plan preferences. Every week, you have until 3 days before your preferred delivery day to select the meals you want for the upcoming week. Once this deadline passes, the menu "locks," and if you haven't made a selection, HelloFresh will choose meals for you based on your plan preferences and past meal selections.
At any point in time, if you find the need to modify your plan or cancel your subscription altogether, HelloFresh makes it pretty simple to do so.
What To Know About HelloFresh's Menu
Each week HelloFresh rotates their menu to feature around 40 different recipes. I've noticed that they tend to feature a decent amount of seasonal meals throughout the year. For example, in the fall, they usually feature more dishes that include seasonal vegetables such as butternut squash or sweet potatoes, while in the summer, they focus on lighter meals featuring fresh vegetables.
While HelloFresh's menu features a range of international flavors and cuisines, they also do a good job at putting their own unique spin on classic American comfort dishes. From burgers to pasta dishes, HelloFresh has a knack for infusing traditional dishes with creative and delicious flavors. This is particularly evident in their gourmet and premium menu items, which feature indulgent, elevated versions of classic dishes that I've found to be perfect for special occasions or a date night at home. Though, be forewarned that these meals do have an additional cost.
While HelloFresh does offer meal plans tailored to specific dietary needs, such as low-calorie and vegetarian options, it is worth noting that the menu may not fully meet the needs of those following these diets exclusively. While these plans can be a good starting point for someone who is looking to incorporate more healthy and plant-based meals into their diet, they may not provide enough variety or customization for those who are strictly following these diets.
Here's a rundown of all the information HelloFresh provides about the different meals on their menu:
Full recipe: The complete recipe with step-by-step instructions on how to prepare the dish. I find this particularly helpful for when I misplace my physical recipe card.
Nutritional info: Detailed information on the nutritional content of the dish, including calories and macronutrient breakdown.
Spice level: Information on the level of spiciness of the dish designated by a little chili icon.
Ingredients you get: A list of all the ingredients that will be provided in the meal kit.
Ingredients you'll need on hand: A list of any additional ingredients that you will need to provide (usually salt, pepper, and/or cooking oil).
Cookware needed: A list of any specific cookware or utensils required to prepare the dish (such as a baking sheet or a fry pan).
Allergens: Information on any potential allergens present in the dish, such as wheat, nuts, or dairy.
Since HelloFresh offers 40+ meals each week, they give you the ability to filter the menu by quick and easy, new, fit and wholesome, bestsellers, lunch, specialties, veggie, and seasonal. I find this particularly helpful if I'm in the mood for something specific.
Customizing The HelloFresh Menu To Your Personal Preferences
Over the years I've noticed HelloFresh has made a concerted effort to make their menu more personalized.
One of the main ways they do this is through personalizing your recommended meals each week. When I first signed up for HelloFresh I assumed that these meals were just randomly recommended each week. However, the more that I started to use HelloFresh and provide feedback, I started to realize that my recommended meals were becoming increasingly tailored to my personal preferences.
This is because HelloFresh's algorithm takes into account factors such as your past meal selections, whether you've ordered a certain meal multiple times, how you've rated meals, and other feedback, as well as your stated preferences and dietary restrictions upon signing up, to generate a list of personalized meals each week.
What's more, HelloFresh has recently taken things a step further by offering a new feature on their menu called "HelloCustom."
View this post on Instagram
HelloCustom is a relatively new menu feature that allows you to customize your meal kit even further by swapping, adding, upgrading, or changing certain ingredients in each recipe. This feature is available with every plan and allows you to tailor your meals to their specific tastes and dietary needs.
You can choose from a dozen or so different sides and proteins each week and swap them out for similar options. For example, if someone doesn't eat pork, they can swap out pork strips for chicken strips. What's more, it enables anyone to tailor their meals to better align with their personal nutritional goals or preferences.
What I like the most, though, is that I can also add extra ingredients to my meals, such as more bacon or more shrimp. Be aware this does increase the cost.
What To Know About The Menus For Each HelloFresh Plan (Plus Example Meals)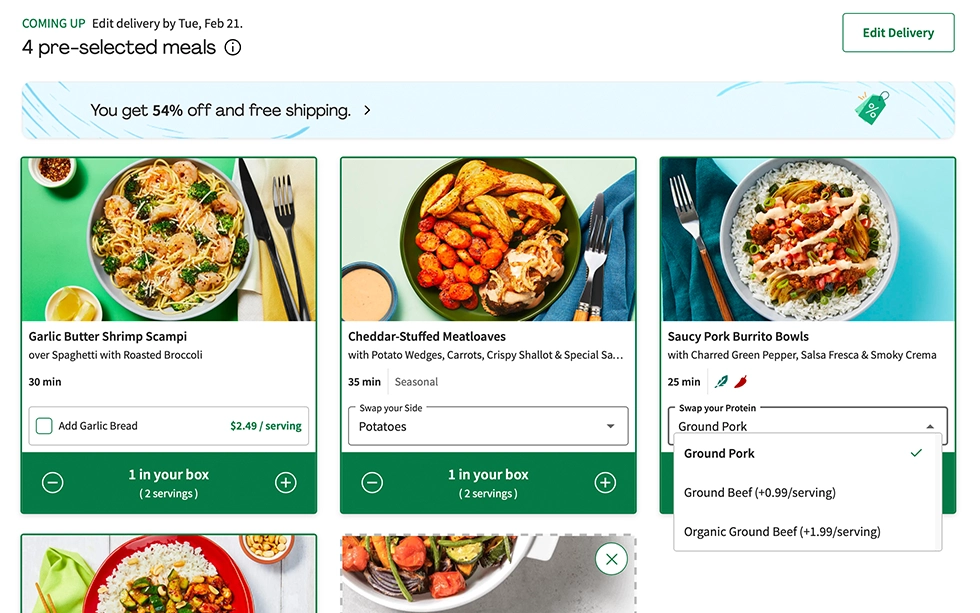 As mentioned earlier, HelloFresh offers various plan preferences that enable customers to tailor their menu experience to their unique tastes. Depending on the plan preferences you select, you'll have access to a range of meals that suit your dietary and lifestyle needs.
It's worth noting that HelloFresh doesn't limit you to one plan preference. I found that you can actually choose as many as you'd like upon sign-up. This means, for example, if you want to see a mix of Meat & Veggies meals and Pescatarian meals on your menu, you can select both.
Here's a breakdown of the types of meals you can expect to see on your menu, depending on the plan preferences you choose.
Meat & Veggies Plan Menu
In my experience with HelloFresh, the Meat & Veggies plan preference is one of their most comprehensive plan options that includes a variety of meals featuring both meat and vegetables. The plan covers a broad spectrum of cuisines, ranging from classic comfort foods such as chicken pot pie to more imaginative dishes like chicken and waffles.
When it comes to the meat options, the plan does an great job of mixing things up on a weekly basis. I've noticed that there are many chicken, turkey, and pork options available, whereas many beef and fish menu options typically fall under the "Premium Picks" category, which requires an additional fee. However, it's worth noting that more exotic meats such as venison or bison are usually not included in this plan. Though, I have seen duck on the menu before.
The vegetable options on the Meat & Veggies plan are a bit limited, with the main options being green beans, carrots, and Brussels sprouts. Occasionally, there will be meals featuring asparagus or bok choy, but these are less common.
One thing to keep in mind is that the meals on this plan may not be the healthiest options, as many of them tend to be carb-heavy, sodium-heavy, and high in calories. While HelloFresh does offer some healthy choices, the majority of meals on this plan prioritize flavor over nutrition.
Here are some example meals you might see on the Meat & Veggies plan menu:
Veggie Plan Menu
The Veggie Plan focuses on vegetarian meals, occasionally featuring fully plant-based (vegan) options. Compared to other meal plans offered by HelloFresh, I find this one to be the most diverse in terms of cuisine, with unique and exciting vegetarian options that go beyond basic salads.
However, I've noticed that the meals on this plan tend to be more carb-heavy, with a greater emphasis on pasta-based dishes. As a result, most of the meals were quite filling and indulgent. Although HelloFresh does provide some healthier and lower-carb options, such as zucchini fritters or cauliflower rice bowls, they are not as plentiful as I would prefer.
Here are some example meals you might see on the Veggie plan menu:
Family Friendly Plan Menu
The Family Friendly Plan from HelloFresh is specifically designed for families and is a great option for picky eaters. This plan offers meals that are more crowd-pleasing and contain fewer spicy or exotic ingredient options than other plans.
However, it's important to note that despite the name, the portion sizes may not necessarily be larger. As a result, families with more members may need to increase the portion size or add extra side dishes to ensure everyone is adequately fed.
One aspect that sets the Family Friendly Plan apart is its versatility. The meals are simple and quick to prepare, making them perfect for busy families with limited time to cook. Additionally, this plan includes a wide range of meal options, from classic favorites like burgers to pasta dishes that are sure to satisfy even the pickiest eaters.
Here are some example meals you might see on the Family Friendly plan menu:
Fit & Wholesome Plan Menu
If you're looking for meals with a health focus, HelloFresh's Fit & Wholesome Plan is a good option to consider. This plan offers meals that are lower in calories (around 400 to 600 calories per serving) and sodium (less than 650 mg per serving), with leaner meat options like chicken breasts and turkey.
Compared to other plans, the Fit & Wholesome Plan is a great choice for those who want to prioritize nutrition and balance in their meals. While some meals still contain carbs, they tend to be more vegetable-focused, providing a good way to incorporate more nutrient-dense foods into your diet. As someone who is health-conscious, I appreciate the variety of healthy options available on this plan.
Here are some example meals you might see on the Fit & Wholesome plan menu:
Quick & Easy Plan Menu
If you're often short on time when it comes to making a meal, the Quick & Easy Plan from HelloFresh is a good option to go with. This plan features recipes that are designed to be quick and simple to prepare, making it ideal for individuals with busy schedules or those who don't have a lot of time to spend in the kitchen.
What I appreciate about HelloFresh is their ability to provide a wide variety of recipes that cater to different lifestyles and preferences. On the Quick & Easy Plan, you'll find recipes that vary in length and difficulty, allowing you to choose options that best suit your needs.
One of the things I love about this plan is that many of the meals are one-pot or one-pan recipes, making for easy cleanup and less time spent washing dishes. Additionally, the plan includes oven-friendly options and delicious soups (depending on the season) that I enjoy on chilly nights.
While some of the recipes on this plan may be less complex than those on other plans, they are by no means boring. The Quick & Easy Plan offers a range of flavorful and delicious meals that are perfect for those who want to save time without sacrificing taste.
Here are some example meals you might see on the Quick & Easy plan menu:
Pescetarian Plan Menu
While this plan is designed for individuals who follow a pescatarian diet, it's worth noting that HelloFresh doesn't offer a wide variety of seafood meals.
At the time of writing this, my menu only features three seafood-based meals, two of which require an additional fee. However, if you're someone who wants to eat more seafood without following a strict pescatarian diet, the Pescetarian Plan is a good option to consider.
One thing I appreciate about HelloFresh is that their seafood meals are well-balanced, flavorful, and offer a range of different options like salmon, shrimp, and tilapia. Although the selection is not as extensive as I would like, I still find the meals to be delicious and a good way to incorporate more seafood into my diet.
If you're a seafood lover, the Pescetarian Plan can be a good way to switch up your meal routine and enjoy more fish-based dishes. However, if you're strictly following a pescatarian diet, it's important to note that HelloFresh may not offer enough variety for your needs.
Here are some example meals you might see on the Pescetarian plan menu:
HelloFresh Market Menu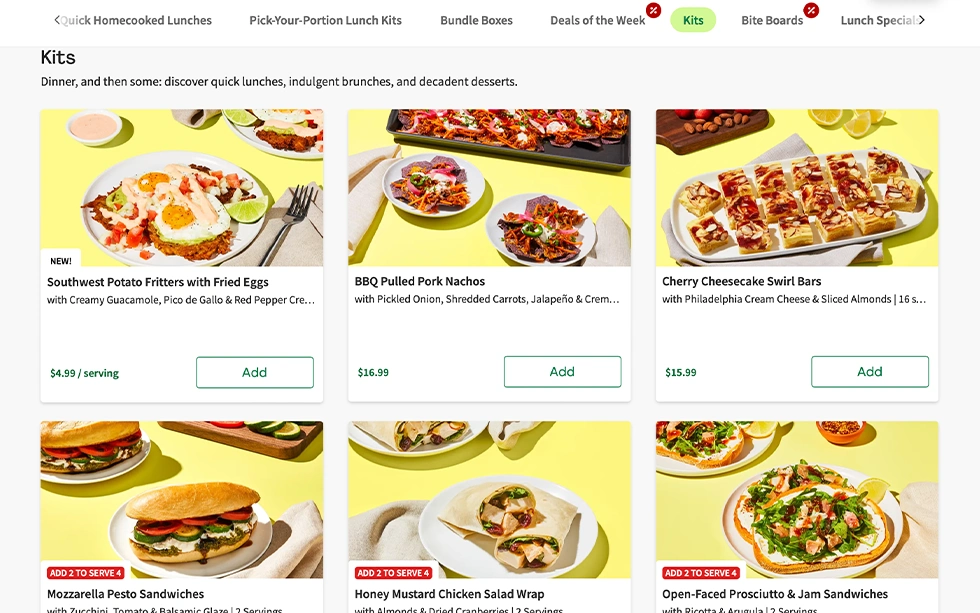 In addition to HelloFresh's main menu, they also offer a marketplace where you can add other items to your box each week.
While the marketplace was once quite limited, I've seen a significant improvement in recent years. In fact, the selection is now nearly three times the size of the main meal kit menu.
Previously, the marketplace mainly offered a few produce options and snacks. In my last video review, I mentioned how we were only able to purchase a handful of items from the marketplace. But now, the marketplace offers a diverse array of items, catering to different dietary needs and preferences.
Here's an overview of the types of foods you're likely to see on the HelloFresh Market menu:
Pre-made meals such as braised beef with tri-color peppers and cheesy spinach mashed potatoes.
Pre-made sides like creamy tomato soup.
Pre-made salads, such as sweet kale salad with chicken, that make for a quick and healthy lunch option.
Additional pre-cooked meats like chicken breasts, shrimp, and steak.
Snacks, ranging from granola bars to chocolates.
Hors d'oeuvres, including buffalo chicken dip, onion dip, artichoke dip, and charcuterie board bundles. I've found these to be great for entertaining guests or snacking at home.
Pastas like ravioli.
Soups, including French onion, chicken soup, and gumbo, that make for a warm and cozy meal on a cold night.
Baked goods, such as waffles, pound cakes, muffins, and crumb cake.
Desserts like cheesecake and chocolate lava cake.
Breads, like focaccia, that pair well with their soups or make for a great side to many HelloFresh meals.
Bundle boxes, such as light breakfast bundles, smoothie bundles, and dessert bundles.
One thing I love about the updated market menu is that it's much more organized and easy to navigate. They've grouped items into different categories, making it simple to find what you're looking for.
Final Thoughts
HelloFresh offers a variety of menu options to cater to different taste preferences. Their rotating menu of around 40 new recipes each week features diverse cuisines and seasonal ingredients, with options to customize and tailor meals through their HelloCustom service.
While some plans may be more indulgent and carb-heavy, there are also some more nutritionally balanced options available for those looking to prioritize nutrition. Additionally, their marketplace offers a range of add-ons including pre-made meals, sides, snacks, and desserts, making it easier for customers to supplement their meals with additional options.
Overall, HelloFresh's menu has something for nearly everyone, with a diverse range of meals and customization options to cater to various dietary preferences and lifestyles. Whether you're looking for comfort food classics or more adventurous and exotic flavors, you're likely to find it on their menu.
Have a question about HelloFresh's menu? Let me know in the comments below!