If you're thinking about trying a meal delivery service, there's a good chance you might be overwhelmed with all the available choices. It seems like every day there is a new meal delivery kit out or some new local meal delivery service opening. There are tons of options out there. To sift through the pros and cons of each one would be pretty time-consuming.
If you're thinking about going with one of the "big guys" in the meal kit industry, you've probably looked at Plated and Home Chef. Both are incredibly popular meal delivery services but which one is the best?
Today we're taking a look at both to help you make the right choice. In this comprehensive comparison, you can easily see what kind of foods each have to offer, how easy the recipes are to follow, delivery details, and so much more.
Let's get into it!
Variety of Food & Meal Plans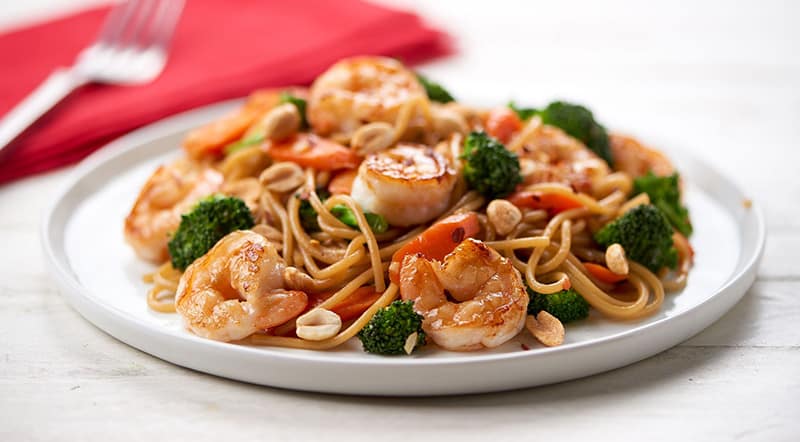 With many meal delivery services, they provide a selection of meal plans based on diet type (e.g. gluten-free meal delivery or vegan meal delivery). This allows you to customize the meals as closely to your specific needs as possible.
Plated
One thing that's different about Plated is that they don't have these kinds of options. When you're choosing your meal plan, your only options are based on how many servings you need and how many nights you want meals, not what types of meals you'd like to receive. This is a bummer since most of the big meal delivery services out there offer at least a few different meal plans. However, one of the benefits of Plated is that they have a lot of recipe options each week, including dessert. In fact, there are 20 recipes you get to choose from, which is significantly more than what most services offer.
Example Plated Dishes: Taiwanese Chicken Lettuce Wraps with Cashews and Dates, Beef Wellington with Sherry-Thyme Mushrooms and Goat Cheese, and Za'atar Chicken Flatbread with Spinach and Pine Nuts.
Home Chef
Home Chef is set up in the same way. They present you with a selection of recipes each week and you'll choose the ones you'd like to make. However, Home Chef does make a bigger effort to customize your meals based on your personal preferences. When signing up, you will be prompted to choose what you prefer to eat, if you have any dietary preferences, any ingredients you're trying to avoid, etc.
Example Home Chef Dishes: Chicken with Green Peppercorn Sauce and Panko-Crusted Broccoli, Chile-Lime Tilapia with Roasted Sweet Potatoes and Edamame, and BBQ-Ranch Chicken Salad.
Winner: Home Chef
Portion Sizes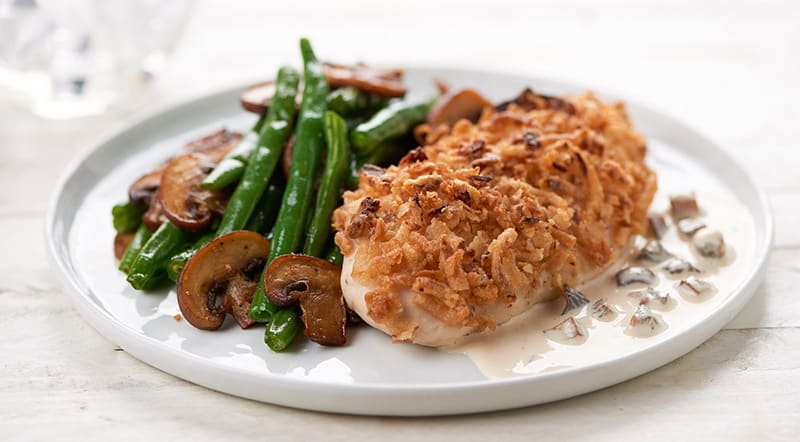 Do you have a big family to feed or only cooking for one? Portion size and the ability to control it when you're ordering is an important factor to consider when choosing the right meal kit.
Plated
If you have a family to feed, Plated is going to be your best bet between these two options. Plated allows you to select the number of servings you need for each of your meals. You can choose between two, three, or four servings. Two servings is perfect for two adults, one adult and two kids, or someone who just loves leftovers. Three servings provides enough for two adults and two kids or just three adults. And four servings is ideal for families with two adults and two teenagers.
Home Chef
Unfortunately, you aren't able to customize your servings with Home Chef. Each one of the meals you order will provide you with enough ingredients for only two servings. Depending on how many people you're trying to feed, two servings with Home Chef could still be enough.
Winner: Plated
Are Ingredients Pre-Portioned?
Both Plated and Home Chef will deliver fresh, pre-portioned ingredients straight to your doorstep. This means that you'll be provided with the exact amount you need to whip up a delicious meal.
The great thing about this is that you don't have to worry about food waste. You will need to have a few kitchen staples on hand for your meals though. Things like salt, pepper, olive oil, and vegetable oil, will come in handy with most of the recipes sent by both.
Winner: It's a tie!
Recipe Cards & Cooking
One of the main reasons why people choose to use a meal delivery service is because it makes their lives easier by cutting out the need to go grocery shopping and search for recipes. You're not just paying for the food, you're paying for the ease of the cooking experience.
Plated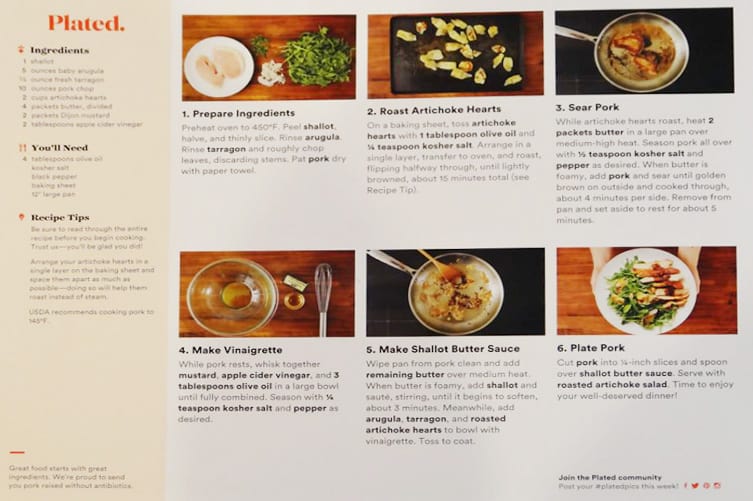 On the Plated recipe cards they lists out all the ingredients and equipment you'll need to create the meal on the left side of the recipe. They also include helpful tips for cooking the best meal. The main recipe is very easy to follow. Not only are the steps simple but they include pictures above each to make following along a breeze.
On the back of the recipe card you'll see a big picture of what the final dish will look like (yum). They also include a helpful glossary, cooking tips, how many people the meal will serve, and estimated cooking time.
Home Chef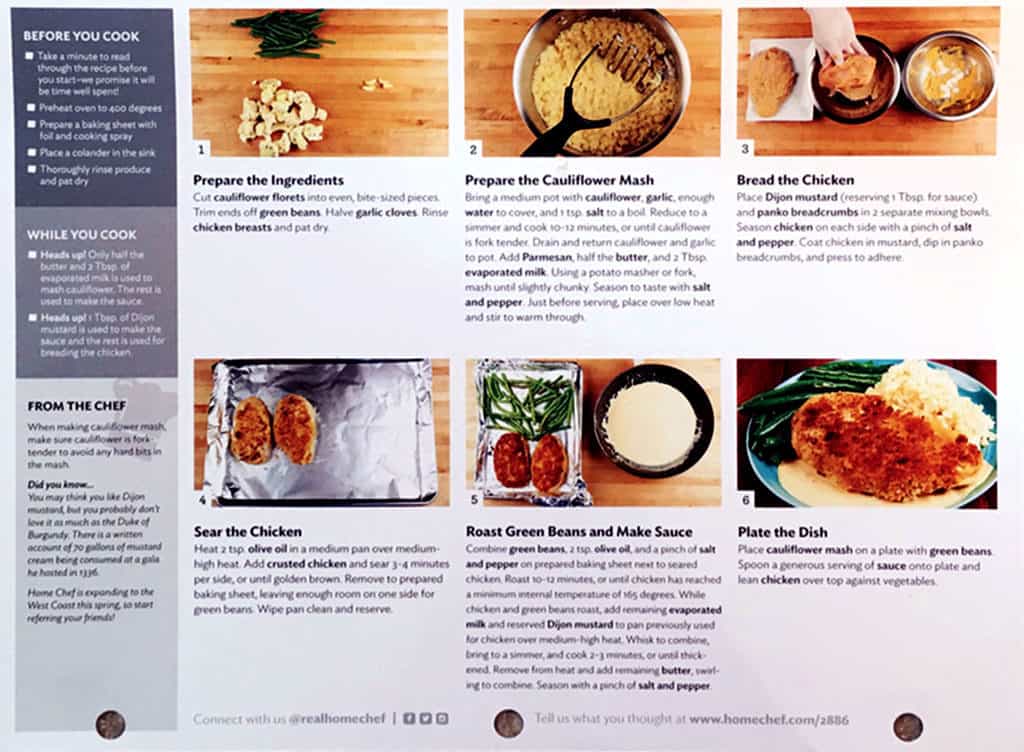 Home Chef takes their recipe cards a step further and actually allows you to see photographs and instructions before ordering your meals (example). This is great for anyone who wants to see what each meal will require before making your selections.
When you look at Home Chef's recipe cards you can tell they put a lot of thought into the design. Here's why... First, each card has a three-hole punch in it. This allows you to organize recipes in a binder for future reference. We found this to be super handy. Second, they give you a breakdown of the nutritional information for each meal. You'll see the exact amounts of carbohydrates, protein, fat, and sodium. Even if you're not on a diet, the inclusion of this nutritional info is very helpful. Lastly, they include a note from the chef who created the recipe. Little extra details like this are what make the whole meal kit experience fun.
The rest of the recipe card is about the same as Plated. Home Chef's cards also have images that help you follow along, cooking tips, equipment needed, cooking time, serving size, and more. The one thing we noticed when it came to cooking is that Home Chef meals were very quick to prep and cook. With every meal we cooked it only took around 20-minutes until we were eating.
Winner: Home Chef
Taste
Let me preface this section by saying this section is subjective. Everyone has different taste preferences. However, to give you the best comparison possible, how could I write about two meal kits and not mention how each taste? 🙂
Plated
We've tried a few different boxes from Plated over the years. The one thing we noticed is that their meals are super creative. After cooking and digging in, we usually always say something like, "I've never cooked this meal like this before." All of the meals we've tried from Plated not only taste great but were also very unique in their flavor. If you're looking to try meals that you may have never cooked before and expand your palate, Plated is for you.
Home Chef
Home Chef focuses on giving you meals that are quick to make and relatively healthy while also being flavorful. That's pretty tough to do but they certainly deliver. For each meal only having a cooking time of around 20-minutes, they all tasted really great. In fact, we save the majority of our Home Chef recipe cards.
Winner: Home Chef
Delivery & Shipping Options
When it comes to meal kits, there can be no issues with delivery. One delay can mean spoiled food. Taking delivery and shipping into consideration with your final choice is very important.
Plated
With Plated boxes, you can expect them to be delivered via a local courier or through FedEx. Your food should arrive between 8 AM and 8 PM on the date of delivery. They'll also deliver to all of the continental United States, so that means Alaska and Hawaii are unfortunately unable to receive meals from Plated. If your order is over $50, you won't have to pay any shipping fees. Otherwise, there is an additional $10 cost.
You will receive tracking information, so you'll always know when your delivery is going to arrive. But the good news is, you don't need to be home in order to accept your package. The carrier will leave it on your doorstep and it'll be there, waiting for you to return home.
Home Chef
When ordering with Home Chef, you'll receive free delivery for orders that are over $45. If your total order costs less, you will need to pay a $10 shipping fee. Packages will be delivered Tuesday through Friday and they do allow you to choose the day of the week that's most convenient for you. Your delivery options will vary depending on where you live, so you'll have to see what Home Chef has available to you.
As with Plated, you will receive tracking information on your box but you don't have to be home when they deliver it.
Winner: Home Chef
Packaging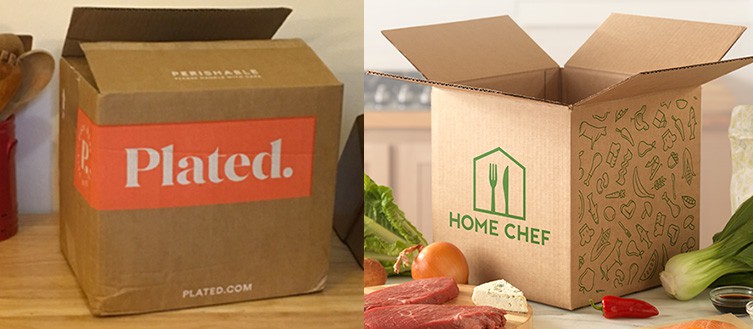 Both Plated and Home Chef have to be smart about their packaging materials since the food they're shipping needs to be kept fresh as it ventures toward your home. In addition to keeping food fresh, packaging should also be environmentally friendly (since you'll likely be receiving boxes more than once per month).
Plated
Plated works with cardboard suppliers that are part of the Sustainable Forestry Initiative. They are a nonprofit organization dedicated to promoting sustainable forest management. Their boxes can be recycled with your usual curbside pick-up or it can be dropped off at your nearest recycling facility. Depending on the time of year it is, your packaging will be different as well, as they'll use either jute or denim insulation. The jute that they use is compostable, while the denim lining can be reused or donated to a local textile exchange. Their gel packs are reusable, but you can discard the gel and recycle the packaging with a facility that accepts #4 plastic.
Home Chef
Home Chef ships their ingredients in biodegradable, insulated boxes using water soluble, cool gel packs. You can reuse or recycle the gel packs just like you would with Plated's. Their boxes are lined with recycled cotton-enhanced biodegradable textile fiber material (wow, that's a mouthful). Both the box and the linter (minus the plastic outer layer) can be composted. All the plastics inside that hold the ingredients can be recycled.
Winner: It's a tie!
Money Back Guarantee
Ordering anything online poses a small risk. Are you really going to get what you ordered? What happens if it gets damaged while being shipped? Having a money back guarantee or satisfaction guarantee goes a long way in the world of meal delivery kits.
Plated
If you're not happy with your Plated delivery or if something is missing, you can get in touch with them about a possible refund. They'll make the decision if your issue warrants a refund and they'll refund the money to your Plated account.
Home Chef
Home Chef also has a refund policy that's specifically if you receive a "defective" product from them. They'll allow you to choose between receiving a Home Chef credit or a refund. If part of a product is defective, they'll determine whether or not you're entitled to a credit or refund in an amount equal to the value of the defective portions or provide you with the full amount.
Winner: Home Chef
Customer Service
Good customer service is important when it comes to meal kits. There are often questions that need to be answered and having someone there to help when you need them can make or break your meal kit experience.
Plated
If you ever need to contact Plated's customer service department, there are a number of options you can use. They offer a live chat on their website during business hours, a phone number you can call, and an email address. They also have also have a help section on their website that answers some of the most frequently asked questions they receive from customers. You'll want to check there for support before contacting them.
Home Chef
Home Chef also has a very detailed FAQ section for their customers to browse. It's organized by category and features a variety of questions their customers need answers to. However, if you'd prefer to speak to someone directly about an issue or question you have, they do have a contact page to get in touch with them. There's a place to submit a request via email or you can give them a call during business hours.
Winner: Plated
Miscellaneous Positives
What extra things do each include that you might benefit from?
Plated
With Plated, you can sign-up for their ambassador program if you're interested. This is something you do have to apply for, but you'll receive a referral code that allows you to spread the word to friends and family. This will allow you to receive credit for free plates, as well as other perks.
Home Chef
Home Chef has created a referral program that you can benefit from if you'd like to save on your future orders. You can refer your friends to Home Chef by giving them a $30 credit to get started. For every person you get to sign up, you'll receive a $30 credit as well.
Final Thoughts
To be quite honest, there's a reason why Plated and Home Chef are so popular—both are great choices. When making your final decision, it really comes down to your personal preferences.
Are you looking to make fun, unique meals that you may have never tried before? Go with Plated.
Are you looking for healthy, quick-to-make, and flavorful meals? Go with Home Chef.
Have a question about either? Feel free to leave a comment below and I'll answer it asap!