Food has always been a source of joy and comfort for me, but as a busy professional, finding time to prepare delicious and nutritious meals can be a challenge. That's why I was intrigued when I first heard about Tovala over four years ago.
When I saw the oven and found out it could cook with steam, I was impressed. But when I learned it pairs with a meal delivery service, I was hooked.
Over the years, Tovala has become a staple in my kitchen. Whether I'm in a rush in the morning and need a quick breakfast option, or I'm coming home after a long day at work and don't have the energy to cook, Tovala's meals have always been there to save the day. But, of course, it's not without its issues and I have had my fair share of hits and misses with Tovala's menu.
In this article, I want to share my honest thoughts about Tovala's meals, including what I like and what I don't. My goal is to provide a comprehensive and candid review that will help you decide if Tovala's meal delivery service is right for you.
Food Box HQ Note: In this article I'll be talking about my experience using Tovala's meal delivery service. If you'd like to learn more about the Tovala ovens, you can read my full review of them here.
How Tovala's Meal Delivery Service Works
Tovala's meal delivery service is unlike any other meal delivery service I've tried, and that's saying a lot because I've tried a lot of them. I've tried meal kits where I had to spend time chopping, mixing, and cooking myself, and I've also tried premade meal delivery services where the meals come ready to eat, but often lacked the freshness and quality of homemade meals. Tovala's meal delivery service is a unique blend of the best aspects of both meal kits and premade meal delivery services—highly convenient yet with a homecooked feel.
When I first heard about Tovala, I was intrigued by the concept of receiving meals that were uncooked but included everything needed to make them in the Tovala oven (including aluminum tray, sauces, and spices). It sounded like the future of meal delivery services.
To be honest, when I was first exploring the idea of getting Tovala, I assumed it was too good to be true. I thought, if it actually lived up to its claims, it would be the perfect solution for someone like me who loves to cook but doesn't always have the time or energy to do so.
The process of cooking a Tovala meal is very simple. I'll get into the specifics a little later but you just put everything in the tray, use the Tovala oven to scan the code on the side of the meal packaging, put the meal in the oven, press start, and the Tovala oven sets up everything, including time and temperature. It's so easy that even on the busiest of days, I can have a meal prepped and cooking in less than 5 minutes.
The process of getting a Tovala meal from prepped to plated is much simpler than any meal kit I've ever tried because not only is there minimal prep work involved, there's also minimal cleanup due to everything being cooked in one or two aluminum trays. After cooking, I simply rinse the aluminum tray and put it in the recycling bin (or reuse it in a future meal). The only other thing I need to clean is the Tovala oven, which I wipe down about once per week.
Tovala's Meal Plans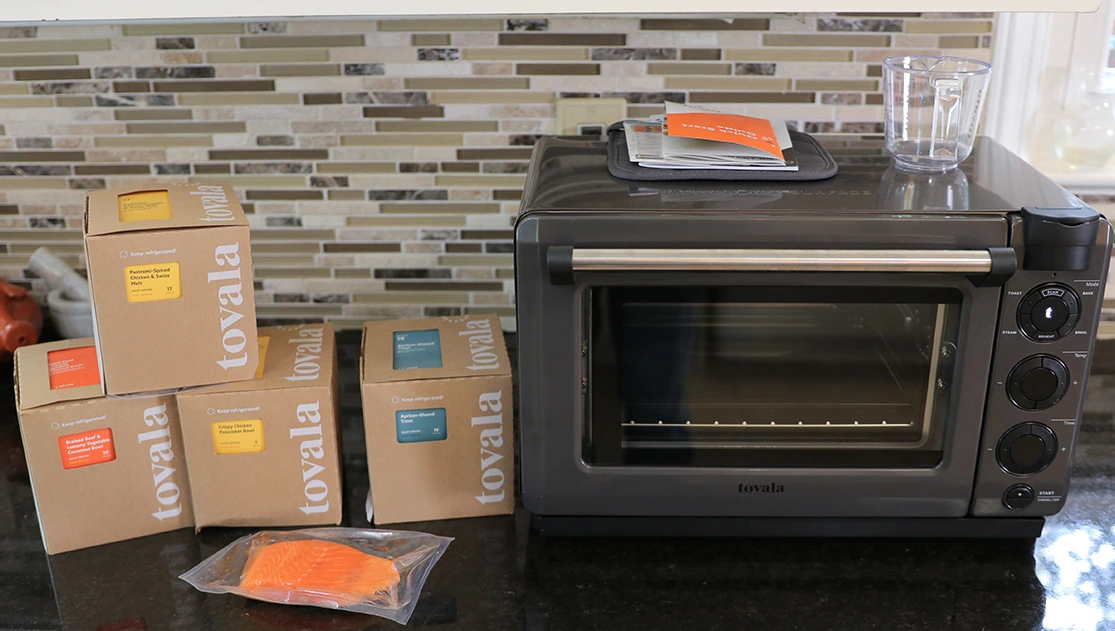 Tovala's meal delivery service is unique in that it offers plans for 4, 6, 8, 10, 12 or 16 meals per week, and all of these plans are designed to serve one person. This sets Tovala apart from other meal delivery services I've tried, such as HelloFresh, which only offers 2-person and 4-person plans that vary in meal quantity. It also means that Tovala is one of the only meal kit services that offers plans fit for single-person households.
Unlike other meal delivery services, though, Tovala does not offer plans for specific dietary preferences such as keto, paleo, or vegan. For example, when I initially signed up for Home Chef, I took a quiz so that my plan could be customized to fit my personal tastes. Unfortunately, Tovala's meal plans are not as customizable.
Meal Variety
At any given time, Tovala's menu will feature 30+ different meals to choose from. For comparison, HelloFresh offers a rotating menu of 40+ meals on their menu each week and Blue Apron offers around 15 each week.
They categorize their meals in a variety of different ways. Below are each of the categories, along with some example meals.
Chef's Picks: These are the meals that have been curated by Tovala's chefs as their top picks, usually featuring new or special menu items.
Pork Chop Cuban Sandwich with Seasoned Potato Wedges
Kung Pao Chicken & Fried Rice Bowl
Four Cheese Risotto with Brussels Sprouts in Champagne Vinaigrette
Premium: These are meals that use premium ingredients, such as steak, lobster, or truffles, and may have an additional cost.
Smoky Salmon Tzatziki Bowl with Lemon Garlic Riced Cauliflower & Cherry Tomatoes
Chimichurri Steak with Seasoned Potato Wedges & Garlic Mayo
Spanish-Style Garlic Tomato Shrimp with Braised Spinach & Chickpeas and Flatbread
+2 Minute Prep: These are meals that slightly more prep work than the average Tovala meal, usually just two minutes or less, before being placed in the Tovala oven.
Jalapeño Ranch Chicken Burrito Bowl with Riced Cauliflower, Roasted Peppers, Black Beans & Corn
Cilantro Chimichurri Shrimp Bowl with Spinach Tomato Quinoa & Roasted Sweet Peppers
Jalapeño Ranch Chicken Burrito Bowl with Riced Cauliflower, Roasted Peppers, Black Beans & Corn
Calorie Smart: These are meals that are lower in calories and designed to help you maintain a healthier lifestyle.
Smoky Salmon Tzatziki Bowl with Lemon Garlic Riced Cauliflower & Cherry Tomatoes
Dill Roasted Salmon with Lemony Snow Peas & Tartar Sauce
Honey Mustard-Glazed Chicken Breast with Roasted Brussels Sprouts in Apple Cider Vinaigrette
Vegetarian: These are meals that do not contain meat, poultry, or fish, and instead feature plant-based proteins like tofu, tempeh, and/or beans.
Harissa Lentil & Riced Cauliflower Bowl with Roasted Carrots, Garlic White Sauce & Flatbread
Baked Caprese Pasta & Spinach in Balsamic Vinaigrette
Hearty Vegetarian Minestrone Soup with Freshly Baked Biscuits
Gluten Friendly: These are meals that have a low amount of gluten, but are not entirely gluten-free.
Apricot-Glazed Chicken Breast with Creamy Caesar Broccoli
Bacon BBQ Cheddar Chicken Melt & Potato Wedges
Buffalo Chicken Melt with Loaded Mashed Potatoes
Carb Conscious: These are meals that are lower in carbohydrates, making them a good option for those who are watching their carb intake.
BBQ-Rubbed Chicken Breast & BBQ Ranch Salad
Chipotle-Rubbed Chicken & Tex-Mex Cheesy Bean Soup
BBQ Chicken Cheddar Melt with Honey Mustard Roasted Broccoli
In terms of cuisines, I've noticed that Tovala's menu features a diverse selection of meals. From Mediterranean-inspired dishes like almond-crusted salmon to Indian-inspired chicken tikka masala, I've been impressed with the range of cuisines I can choose from.
That being said, while there are a variety of lunch and dinner options, I've noticed that breakfast options are much more limited. In fact, I've never seen more than 2 breakfast options on the menu.
Meal Customizability
One thing that Tovala has more recently started to integrate into their menu is the ability to customize the meals. As someone who likes to experiment with different flavors and spices, this was a welcome addition to the Tovala menu.
The customization options are not extensive, but they are enough to make a noticeable difference in the taste of the meal. For example, you can swap out the protein in a meal or choose a different side to pair with the main dish. This is particularly helpful when I like a dish but am not fond of a specific ingredient.
It's worth noting that not all meals are customizable, but the ones that are clearly indicate which parts of the meal can be changed. Additionally, the customization options may be limited depending on the meal and the ingredients that come with it.
Celebrity Chef Partnerships: My Experience With The Graham Elliot & Tovala Meals
Although Tovala's menu may not be as extensive or customizable as some others I've tried, they do a great job in teaming up with notable famous chefs to introduce more exciting and diverse options to their menu.
For example, the first celebrity partner meals I tried were from Tovala's partnership with Graham Elliot. If you don't know who Graham Elliot is, he's a world-renowned chef, restaurateur, and television personality who's known for being a judge on MasterChef.
Prior to learning about the partnership between Tovala and Graham Elliot, I wasn't familiar with the chef's work. So I was going into trying his meals with an open mind.
The first meals I received were the Italian Sausage and Rapini Orecchiette with Candied Nut & Dried Apple Harvest Salad in Red Wine Vinaigrette and Sweet Chili-Glazed Salmon with Nori Sesame Peanut Crumble.
The Italian Sausage and Rapini Orecchiette meal was surprisingly larger than many of the other Tovala meals I've had in the past (portion sizes are something I'll be talking more about a little later on). The seasoning and spices used in the dish were well-balanced and added depth to the flavor profile without overpowering the other ingredients. Overall, it was surprisingly sweeter than many other Tovala meals I've had in the past.
As for the Sweet Chili-Glazed Salmon, it was another standout dish that I thoroughly enjoyed. The salmon was cooked to perfection, flaky and moist, with a delightful crisp on the outside. The sweet chili glaze added a layer of sweetness and spice that elevated the dish and complemented the salmon's natural flavor.
Overall, Graham Elliot's approach to cooking aligned well with Tovala's philosophy of simplicity and balance. The meals were full of flavor but remained uncomplicated, allowing the ingredients to shine. This emphasis on minimalism and balance is a hallmark of Tovala's menu, and it was refreshing to see it reflected in the partnership with Graham Elliot.
Diets Tovala's Meals Cover
Let me start off by saying that, from my experience, I don't think that Tovala's meals are good for anyone trying to follow a very specific diet.
This is because their menu doesn't currently cater to people with highly restrictive dietary needs. For example, if you are following a vegan, vegetarian, or gluten-free diet, you may find the menu options limited or not suitable for your needs.
That being said, Tovala's meals are still a great option for people who are looking for nutritionally balanced and convenient meal options without any specific dietary restrictions. They broadly accommodate lower calorie and lower carb meals. Their "Calorie Smart" menu items feature meals with around 450 to 600 calories per serving and their "Carb Conscious" menu items feature meals with around 25 to 35 grams of carbohydrates.
And while they technically do have vegetarian meals on their menu, I've never seen more than 4 meals at any given time. If you're only a part-time vegetarian, Tovala's meals could work for you but if you're a fulltime vegetarian, I'd look elsewhere.
Sodium Levels In Tovala's Meals
One thing I do want people to be aware of is that some of Tovala's meals can be on the higher end when it comes to sodium levels. This is something that I have noticed in some of the meals that I have tried, and it's worth keeping in mind for people who are watching their sodium intake.
For example, while delicious, Tovala's Sesame Soy Braised Beef & Broccoli with White Rice, Bell Peppers & Onions dish comes in at 2060mg of sodium. To put that in perspective, the Dietary Guidelines for Americans recommends adults limit sodium intake to less than 2,300 mg per day. At 2060mg, that Sesame Soy Braised Beef meal is nearly an entire day's worth of sodium in one serving.
That being said, it's important to note that not all of Tovala's meals are high in sodium. Many of their dishes are well within the recommended daily sodium intake. Even some of their more "indulgent" meal options have lower sodium. For example, their Truffle Mac & Cheese with Roasted Broccoli only comes in at 760mg of sodium.
Prep & Cooking: What's Involved In Making A Tovala Meal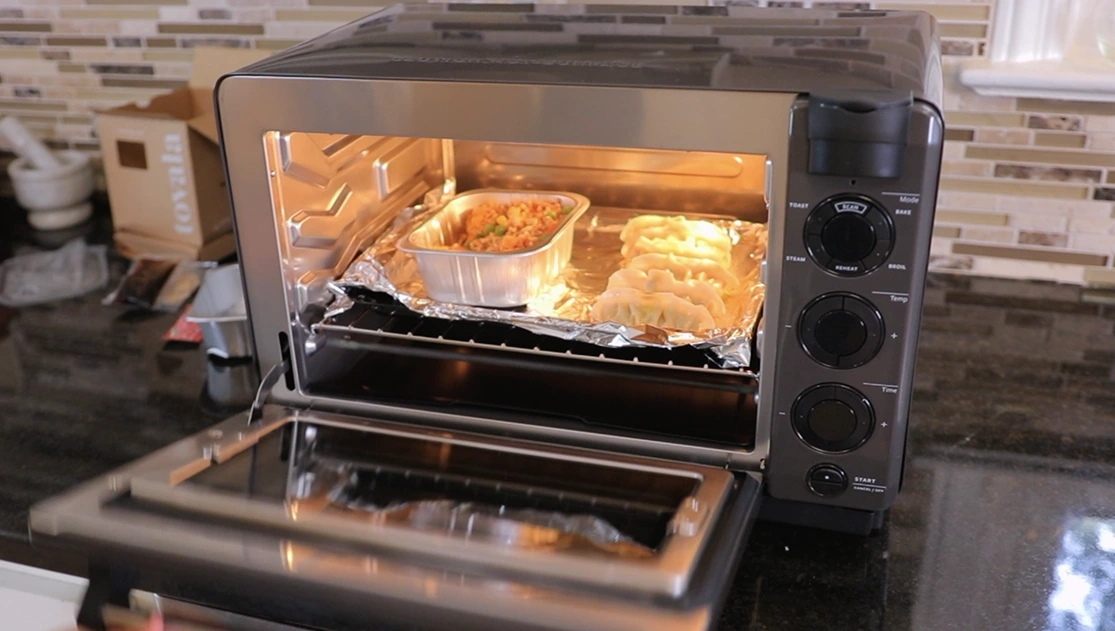 One of the things that sets Tovala apart from other meal kit services is the convenience and ease of cooking. Tovala's meals are designed to be cooked in their proprietary smart oven, which makes the cooking process very straightforward.
To give you an idea of what the prep and cooking process is, here's a walkthrough of what I needed to do in order to cook my Apricot Glazed Trout meal in my Tovala Smart Oven Pro.
First, I unboxed everything to get organized and read over the instructions. The instructions are usually pretty simple. Since everything comes pre-prepped, it mostly involves putting ingredients together and letting them cook.
My Apricot Glazed Trout meal came with 2 aluminum trays—one for the trout and one for the side of broccoli. Once those were in their trays, I just had to spread the apricot glaze that the meal came with on to the trout.
That was the entirety of the preparation process… It's remarkably simple.
To cook the meal, all I needed to do was load the aluminum trays into my oven, press the "scan" button, scan the QR code on the meal instructions, let the oven load all the info about the recipe (i.e. what cooking mode, how long to cook, and what temperature to use), and press "start."
Physically pressing the start button is a feature I actually quite like. I've read about other ovens that have accidentally turned on at night, causing major safety issues.
Compared to nearly every other meal kit I've tried, Tovala's meal prep is very simple and requires little effort. Even meal kits like Gobble, which advertise themselves as quick and easy to prepare, can't match the level of simplicity of Tovala's meals. This is because, not only are Tovala's meals pre-prepped and pre-portioned, but they also come with an accompanying aluminum tray that can be used to cook everything in. What's more, the instructions are clear and straightforward, usually consisting of only 3 to 4 simple steps. I've found this makes the entire cooking process incredibly easy and hassle-free, even for people with limited or no cooking experience.
Taste Testing Tovala's Meals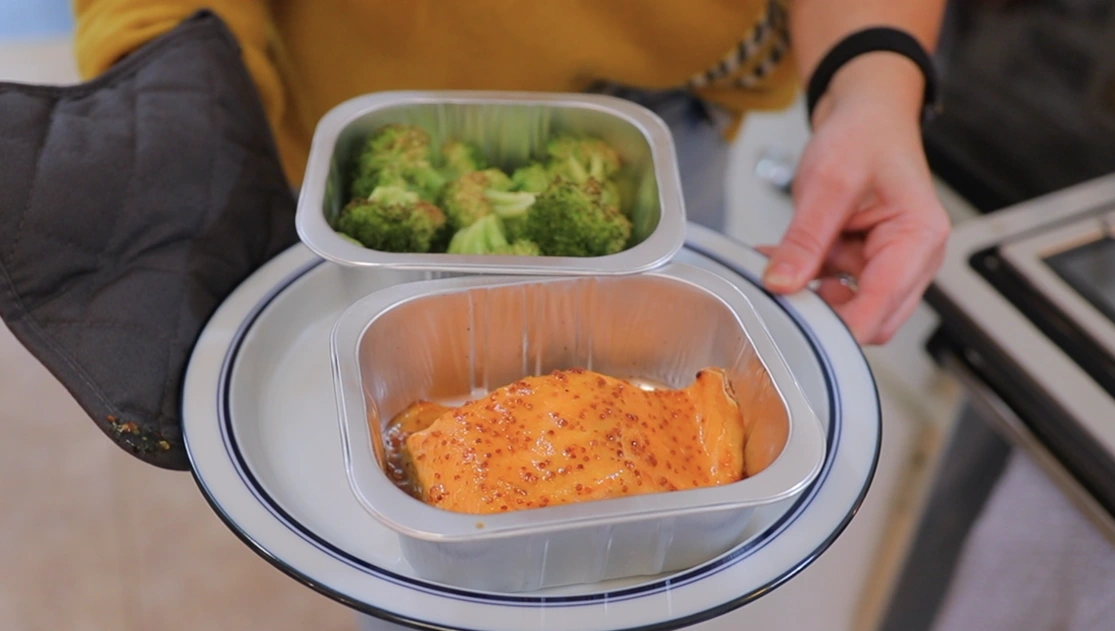 Now let's get to the most important part of Tovala's meals—how they taste!
Since Tovala's meals and menu is constantly changing, I've had the opportunity to try a variety of their dishes. To give you an idea of how their meals taste currently, here's what I thought of the meals in my most recent box:
Pastrami-Spiced Chicken & Swiss Melt with Potato Wedges: This dish was well-seasoned and flavorful, with tender chicken and crispy potato wedges. The melted Swiss cheese added a nice creaminess to the dish.
Braised Beef & Lemony Vegetable Couscous Bowl: The beef was tender and flavorful, and the lemony vegetables added a nice brightness to the dish. The couscous was perfectly cooked and served as a nice base for the beef and vegetables.
Crispy Chicken Potsticker Bowl with Veggie Fried Rice, Corn-Edamame Salad & Scallion Vinaigrette: This meal had a good balance of flavors and textures, with savory potstickers, well-seasoned fried rice, and a refreshing corn-edamame salad.
Apricot Glazed Trout With Creamy Caesar Broccoli: The trout was cooked perfectly and had a nice sweet and tangy glaze. The creamy Caesar broccoli was a tasty side that complemented the fish nicely.
From my experience, Tovala's meals are consistently well-balanced and flavorful. The Tovala oven does a great job cooking meats, specifically meats that tend to dry out more than others (like turkey and pork).
Though, compared to other meal kits like HelloFresh, Blue Apron, and Marley Spoon, the flavors of Tovala's meals aren't as distinctive and may not be as adventurous. That's not to say that Tovala's meals have been bad but, compared to other meal kit meals, I think the flavor of many meals may lack some of the pizzazz and creativity that other meal kit services offer. However, I will say that this isn't the case with the premium and celebrity chef meals. I've found that they are particularly more delicious than many of Tovala's standard meals.
Portion Sizes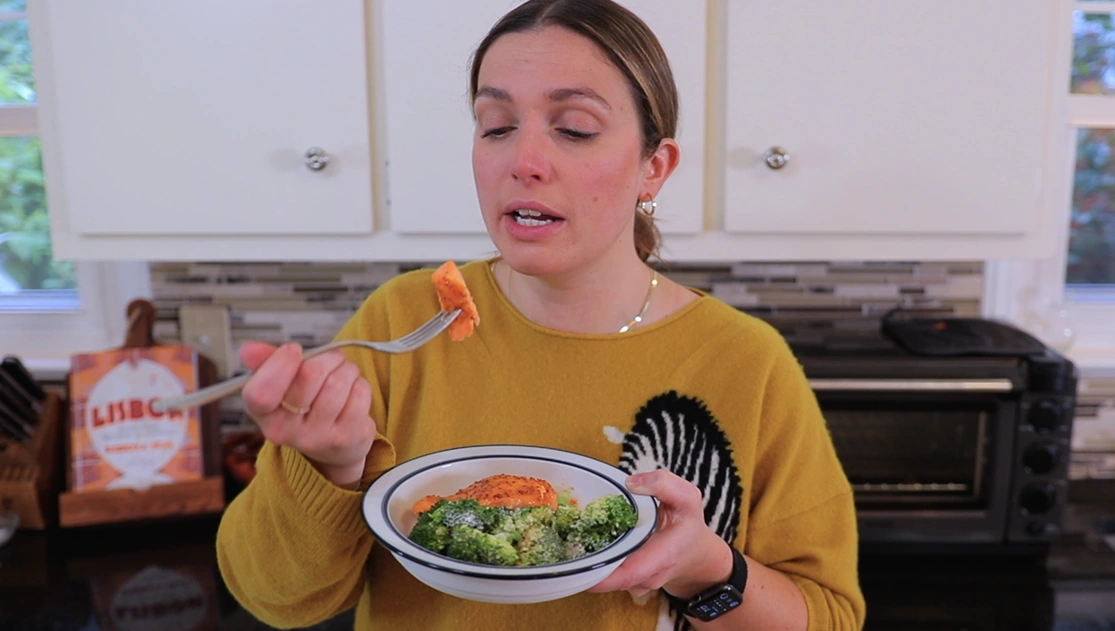 One of the downsides of Tovala's meal delivery service is the portion sizes of some meals. While they may be good for an individual who is watching their portion control, the meals might not be filling enough for those with a larger appetite or those who are looking to share the meal with someone else.
For instance, the apricot glazed trout dish I mentioned above was tasty but I was a bit disappointed by the size of the trout fillet and the side of vegetables that came with it. As someone who enjoys a hearty meal, I found myself still feeling a bit hungry after finishing the dish. Unfortunately, this has been a consistent issue with some of the meals I have received from Tovala.
To address this issue, Tovala does offer some meals that are designed to be more filling, such as their protein-heavy meals or meals that include a side of grains. It's also possible to customize some meals with additional sides if needed. However, this can add to the overall cost of the meal.
Quality Of Tovala's Meals
While the majority of the meals I've had from Tovala have been tasty, I haven't been able to learn much about their quality. Compared to other meal kit services, Tovala doesn't provide much information about the sourcing of their ingredients, where they come from, or whether they are organic.
This lack of transparency can make it difficult for customers who prioritize knowing where their food comes from and how it's produced to assess the quality of Tovala's meals.
In comparison, other meal kit services like Blue Apron and HelloFresh provide more information about the sourcing of their ingredients and their commitment to sustainability. They disclose details about their ingredient sourcing and are more transparent about their practices.
While I don't know the specifics about Tovala's meal quality, the meals I've had have always been fresh and well-prepared. While it would be nice to know more about where the ingredients come from, the taste and quality of the meals suggest a commitment to using high-quality ingredients. Of course, I can't know for sure because of Tovala's lack of transparency.
Delivery & Packaging Of The Meals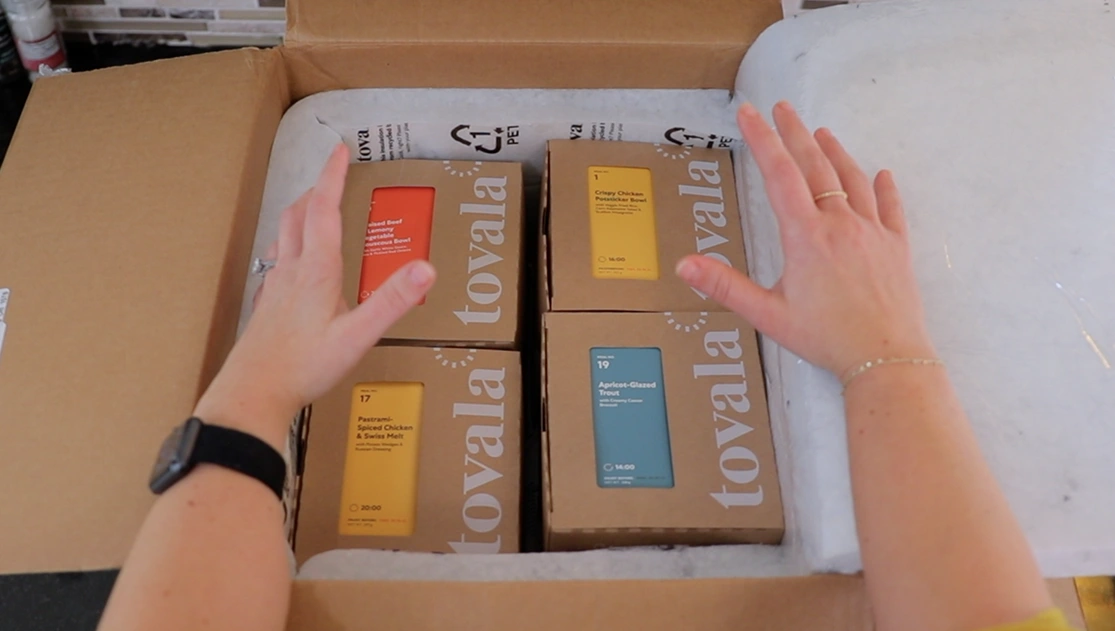 It's clear that Tovala's delivery and packaging have been well thought out and carefully designed to ensure that the meals arrive at your doorstep as fresh as possible. In my experience, the meals have come shipped via FedEx and have only taken around 2 days to make it to my doorstep. Upon receiving the box, I found that it was well insulated with ice packs to keep everything cold. The meats are always packed as close to the ice packs as possible to ensure that they stay fresh.
Each meal is packed inside a box that holds all the other ingredients as well as aluminum trays to cook everything in. The meal box is very well organized with everything fitting perfectly inside it. The meal packaging is also easy to break down and recycle, which is always a plus in my book.
Speaking of recycling, Tovala's meal packaging is one of the most environmentally friendly that I've encountered. Not only is there minimal plastic compared to other meal kits I've tried, the vast majority of the materials are recyclable.
Managing Tovala Meals Subscription
Managing your Tovala meals subscription is nearly identical to every other meal kit I've tried. They offer a great deal of flexibility for making changes, skipping weeks, pausing and even canceling your subscription.
When it comes to making changes to your upcoming meals, you'll want to make sure you do so before the Wednesday at 6 p.m. CT deadline. Now, let's say you miss that deadline and want to make a change to your order. With most other meal kits I've used, you're out of luck. However, Tovala allows you to submit a request to change your meal order after orders are processed as long as it's done before 11 a.m. CT Thursday. You can simple email support at support@tovala.com to let them know which meals you'd like to remove and which you'd like to add in their place.
Skipping weeks works just as easily. If you choose to skip a week, you won't receive any meals that week, and your meal plan will resume the following week without any action needed on your end. To do so, just log into your account and look for the "skip/adjust" button on the upcoming menu.
The ability to skip a week is a great feature for those who may be going on vacation or simply don't need as many meals for a particular week. Even if you're subscribed, you can still skip a week without penalty.
Tovala has made it easy to pause your subscription if you need to take a longer break from receiving meals. In your account settings, you can select "Stop Deliveries" to pause or cancel your subscription. However, it's important to note that cancelling your account will delete it entirely.
Food Box HQ Note: You can manage your Tovala meals subscription on their website at Tovala.com or via their app (available for free on the Apple App Store and Google Play Store).
Tovala's Meals Customer Support
While I've never had any instance where I had to contact customer support due to an issue with my meals, it's important to know that they're there for you if you need it. Fortunately, Tovala's customer support is easy to reach.
If you have any questions or concerns, Tovala's customer support team is available by phone at (312) 818-4437 or via email at support@tovala.com. They also offer a convenient web form on their website where you can submit your inquiry, and they will respond via email. There's a chat bot on the website but it works similarly to the web form in that they will respond via email.
Tovala's website also has a helpful FAQ section where you can find answers to common questions about their meals, ingredients, and delivery. If you prefer, you can also reach out to them via their social media accounts, such as Facebook or Twitter.
Tovala's Meals vs. The Competition
Tovala is unique in the world of meal delivery services in that there are only a few others that offer a joint smart oven and meal delivery service. Below are Tovala's closest competitors and how they compare to each other.
Tovala Meals vs. Suvie Meals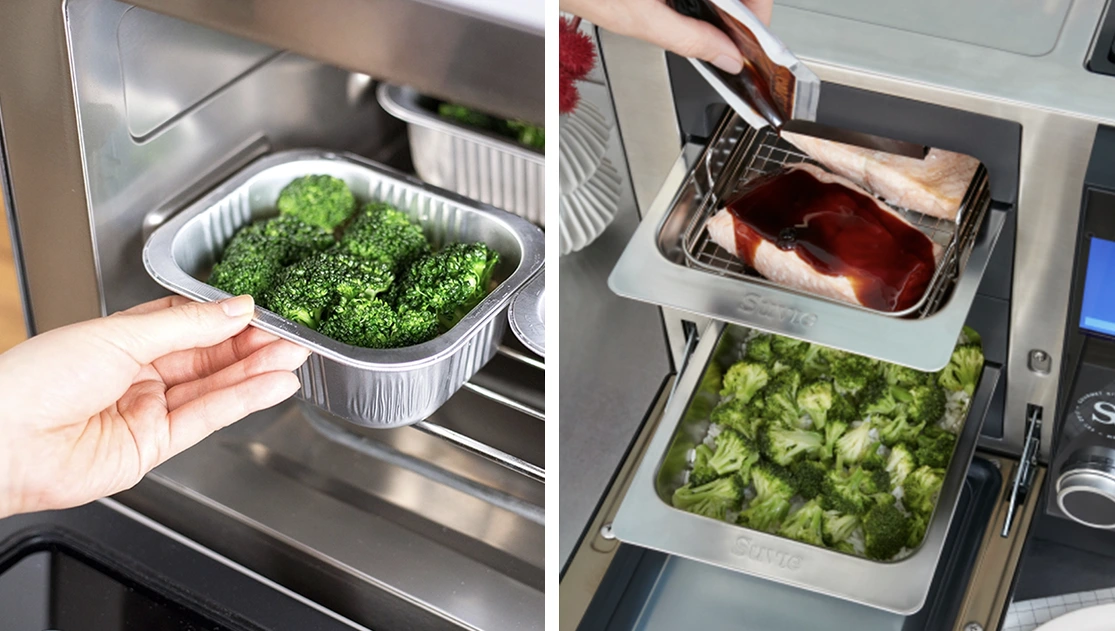 Tovala and Suvie both offer a convenient way to enjoy a home-cooked meal without the hassle of grocery shopping or meal prep. However, while Tovala offers meals that are pre-prepped and ready to heat up in their smart oven, Suvie offers sous-vide meals that can be refrigerated and cooked in their own oven.
In terms of meal selection, both companies have an ever-changing menu that includes a variety of cuisines and dietary preferences. Suvie organizes their menu by categories such as Carb Conscious, Vegetarian, Rapid Cook, Slow Cook, Breakfast, and Dessert. They also have a menu filter for Allergens, allowing customers to easily find meals that fit their dietary restrictions.
When it comes to the quality of ingredients, Tovala does not disclose much information about where they source their ingredients or if they are organic, while Suvie claims their ingredients are free from antibiotics and added hormones.
Tovala Meals vs. Celcy Meals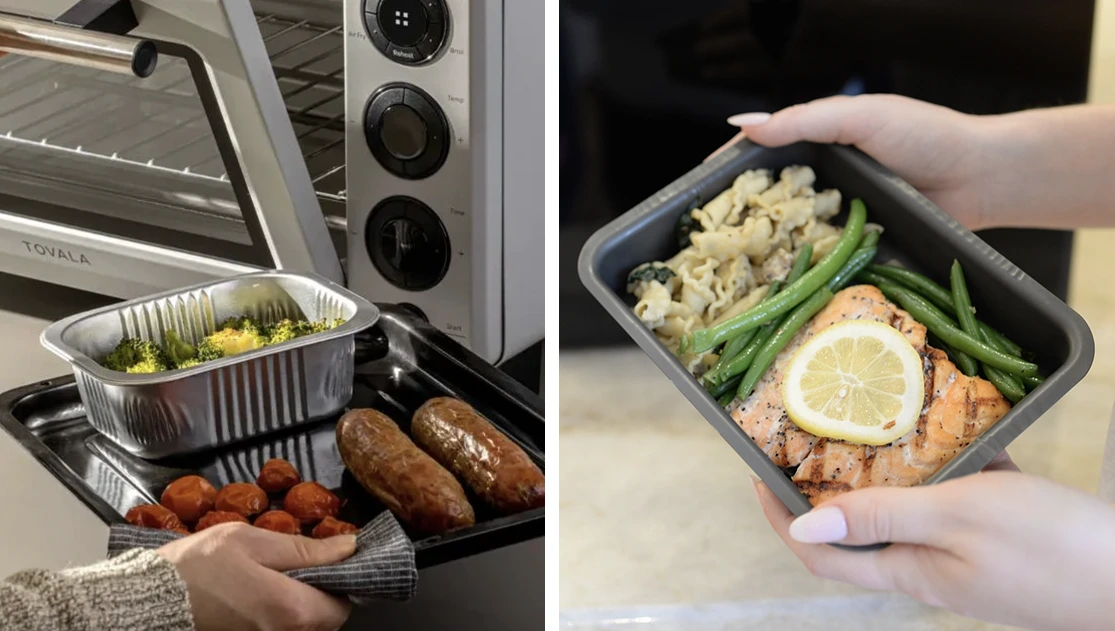 Celcy meals focus on providing single-serve, chef-prepared meals that are made with fresh, preservative-free, and flash-frozen ingredients. Their menu includes a variety of breakfast, lunch, dinner, dessert, and snack options. They also offer options for vegetarian, gluten-free, and a handful of other dietary needs.
In comparison, Tovala meals offer a more diverse and changing menu of pre-portioned meals. That said, like Tovala, Celcy doesn't provide much information about the quality of their ingredients, such as whether they are organic or hormone-free.
Just like Suvie, Celcy meals can be kept cold and cooked all within the Celcy oven. In comparison, this is a feature that Tovala doesn't offer.
It should be noted that Celcy is newer to the scene, having been launched in 2022, whereas Tovala has been around since 2015.
Tovala's Meal Plan Costs
Tovala's meal plans are priced a bit differently than how most other meal delivery services and meal kits price out their plans. Rather than paying a flat fee each week and getting a set amount of meals, Tovala's meal plan allows you to sign up for a set amount of meals (4, 6, 8, 10, or 12) but each of the meals ranges in price.
The price per meal depends on the meal chosen. From what I've seen it ranges from around $7 on the low end to around $18 for more premium meals. Though, the majority of the meals on their menu tend to be around $10 to $13.
Whereas with other meal delivery services, the more you order the less you pay per meal, this doesn't seem to be the case with Tovala's meals. Even if you go with their largest plan, the price you pay per meal is the same.
Compared to Tovala's nearest competitors, though, their meal prices tend to be very similar. Suvie's and Celcy's meals also start at around $10 per meal.
Food Box HQ Note: Keep in mind that in order to purchase Tovala's meal delivery service, you also must own a Tovala oven.
Pros & Cons Of Tovala's Meals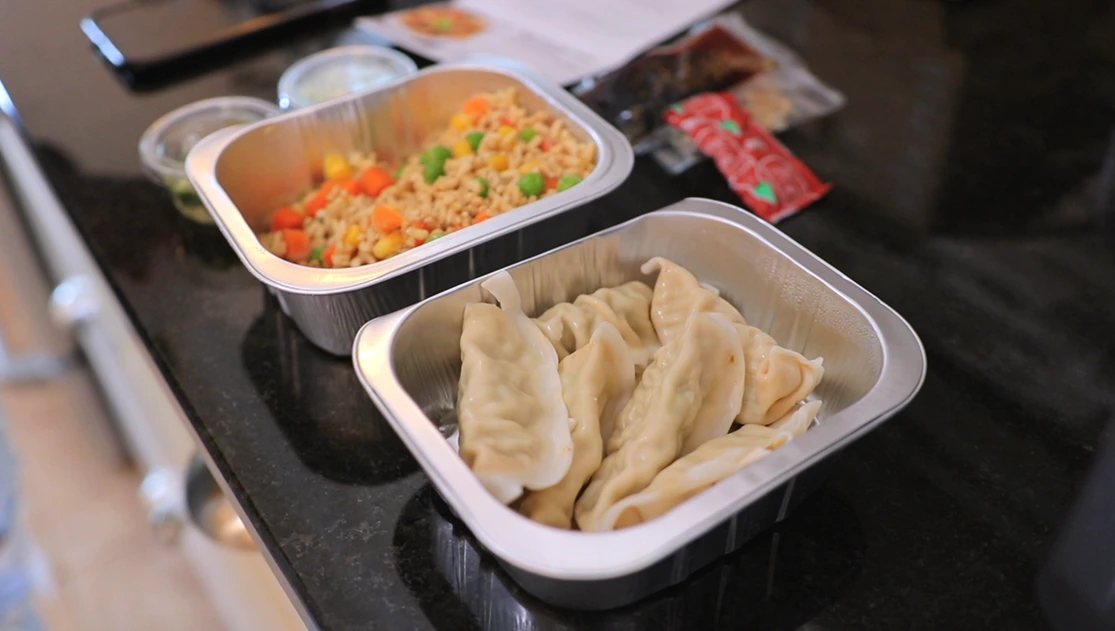 Now that we've covered everything about Tovala's meals, including my personal experience and what they cost, let's recap what the main pros and cons are of their meal delivery service so you can decide if Tovala's meals are right for you.
Pros Of Tovala's Meals
Convenience: One of the biggest pros of Tovala's meal delivery service is the convenience factor. Honestly, it's their main selling point. Most Tovala meals take less than 5 minutes to prepare, which is a huge time-saver compared to other meal kits that require much more preparation time.
Interesting Menu: Tovala's menu offers a range of options, including a variety of nutritionally balanced options and comfort foods. Plus, the menu changes weekly.
Customization: Tovala gives you some ability to customize your meals. For example, swapping different meats as well as adding on sides and desserts.
Packaging: Tovala's meal packaging is top-notch. Each meal is packed inside a box that holds all of the other ingredients, as well as aluminum trays to cook everything in. The packaging is not only convenient but also environmentally friendly, as it is mostly made from recyclable materials.
Innovative Cooking Technology: Tovala's meals are cooked using innovative cooking technology that includes steam, convection, broiling, and more to create meals that are perfectly cooked (this includes meats that are tough to cook properly without drying them out, such as pork and turkey). Additionally, Tovala's oven is WiFi-enabled, so you can control the cooking process from your smartphone or tablet.
Cons Of Tovala's Meals
Portion Sizes: One my biggest gripes with Tovala's meals is the portion size of some meals can be small. This can be a problem for those with a hearty appetite or who are used to larger meal portions.
Lack Of Information About Ingredients: Tovala doesn't provide a lot of information about the ingredients used in their meals. While they do list the major ingredients, they don't disclose whether they are organic or non-GMO, and they don't provide any information about the sourcing of their ingredients.
Limited Menu: While Tovala's menu is interesting and the majority of the meals I've had have been tasty, it is relatively limited compared to some other meal delivery services. Plus, you can only order up to 12 meals per week, which is smaller than the largest plan that most other meal kits offer.
Coupons & Deals
If you're interested in trying Tovala's meal delivery service, you'll be happy to know that they offer various deals and discounts to new customers.
The deepest discount that they offer comes when you purchase the oven and subscribe to their meal delivery service. The exact discount varies depending on the promotion they're running and which Tovala oven you go with but I've seen promotions as high as $150+ off an oven if you subscribe to their meal delivery service for 6 weeks.
Tovala also offers various other discounts and deals throughout the year. For example, during Black Friday and Cyber Monday, they often offer deep discounts on their meal plans.
Another way to save on Tovala's meals is to sign up for their email newsletter. I've noticed that they frequently offer special promotions to their subscribers. Plus, by signing up for their newsletter, you'll be the first to know about any new menu items or special events they have coming up.
Final Thoughts: Who Is Tovala's Meal Delivery Service Right For?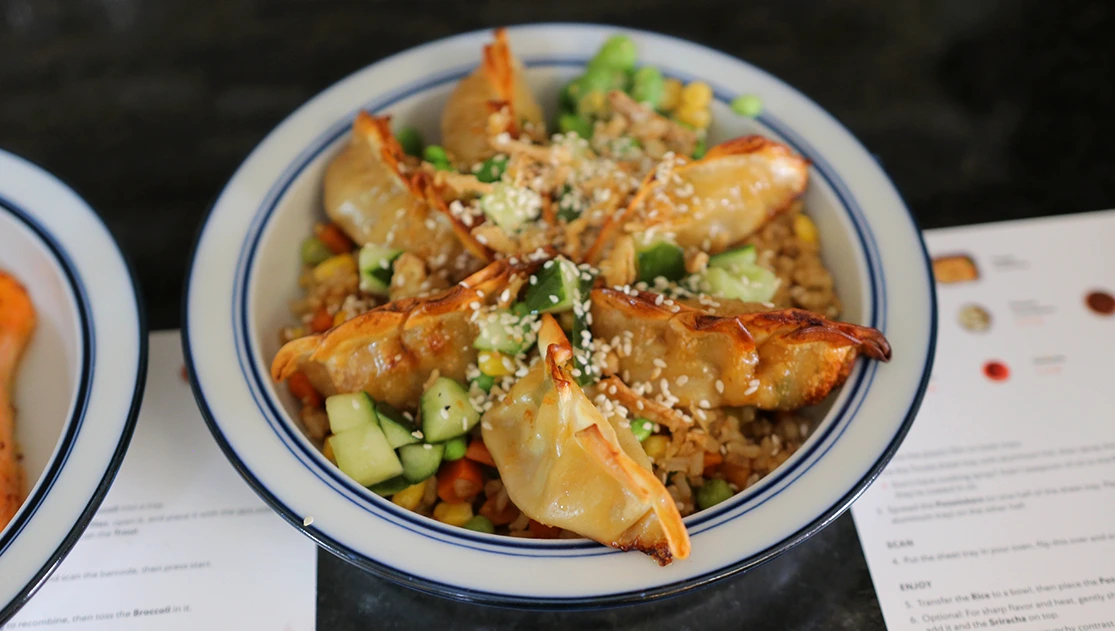 While not perfect, I've been impressed with Tovala's meals. They have consistently exceeded my expectations in terms of taste and quality, and the convenience factor cannot be overstated. The biggest issue for me is their portions sizes—I wish they were just a bit bigger.
Tovala's meal delivery service is a good choice for those who, like me, prioritize convenience. If you live alone and want to enjoy fresh, home-cooked meals without the hassle of cooking, then Tovala's meals could be an ideal solution for you. The customizable options and innovative cooking technology, along with the variety of interesting menu choices, make it a unique and enjoyable experience.
That being said, if you're someone who is budget-conscious, has a large family or big appetite, or you're someone who simply enjoys spending time cooking, Tovala's meal delivery service may not be the best option for you.
Have a question about Tovala's meals? Let me know in the comments!